Paul Verhoeven's 1987 sleeper hit was obviously going to generate a sequel one way or another, but even though Verhoeven and the film's original writers were at one point interested in returning for the inevitable "Robocop 2," Orion passed on their initial premise. The producers courted "River's Edge" director Tim Hunter and, in lieu of a writer's strike, hired celebrated "Dark Knight" graphic novelist Frank Miller to work on the picture's screenplay. Desperately needing the film for Summer 1990, Orion dumped Hunter when it seemed apparent he wasn't working fast enough, and brought onboard "Empire Strikes Back" veteran Irvin Kershner to steer the ship.
With a strikingly violent, nasty tone, "Robocop 2″ was instantly derided by critics and dismissed by many fans. Miller and Walon Green's screenplay finds Robocop taking on a drug dubbed "Nuke" that's hit the mean streets of future Detroit and distributed by a cult-like leader (Tom Noonan) whose network of associates includes a 12-year-old (Gabriel Damon) who shoots Robocop in the head and calls him "f—ker" – elements that were jaw-dropping for their time. Peter Weller returned as the former Officer Murphy with Nancy Allen as his partner, though neither of them have much to do here, and as the script went through constant revisions, so too was Allen's part diminished as the frantic production rolled its way through Houston, its shooting locale in the Winter of 1989.
Watching "Robocop 2″ today, the movie is still a mess – big, loud, and determined to not only not repeat its predecessor, the sequel also does everything imaginable to tick off the audience. No, this isn't quite "Alien 3," but it's still hard not to peg "Robocop 2″ as nearly as much of a failure given the popularity of the first film and how Orion viewed the franchise as one of its major players at a time when it was teetering on the edge of bankruptcy. Hopes were high that this sequel was going to save Orion from going over the cliff, yet all the film did was provide a brief respite before its eventual demise.
It's no surprise, either, given the movie's messy script and tasteless violence, which flew in the face of the franchise's increasingly younger fan base. Robocop himself is off-screen for too much of the film's 117 minutes – in fact, there's one stretch where the title character is off taking a nap for an entire half-hour while the villains are given too much leeway to run around. It's also a different kind of "nasty" than Verhoeven's often satiric predecessor – here, the action is ramped up in a more cartoonish – and occasionally repellent – manner, not unlike one of the bombastic Data East arcade games plastered all over the film (the company produced a series of "Robocop" games for both the arcade and home console market back in the day).
The movie is still watchable, especially from the perspective of buffs who can easily rip apart its abundant issues, but it's shocking how its two top-billed stars have so little to do, with Miller more interested in the drug kingpin and his loonies than Robocop himself (given his subsequent output, though, is that any surprise?). And the less said, the better about Leonard Rosenman's disastrous score, dismissed (to put it charitably) by many of us at the time of its release. By today's low standards, one could argue it's superior to most of the nondescript dreck that accompanies action films today, but the passage of the years still hasn't lessened the embarrassment of hearing a chorus sing "Robocop!" during Rosenman's main theme.
"Robocop 2″'s problematic journey to the screen is highlighted in Shout Factory's marvelous Collector's Edition Blu-Ray of the sequel. Thanks to a half-hour new documentary, you'll quickly learn how high the stakes were for Orion's baby, and how – due to Miller's inexperience and a rapid-fire shooting schedule – the ensuing film failed to deliver. Allen in particular is candid about her miserable experience working with Irvin Kershner, going so far as to say she considered quitting the film due to her diminishing role and lack of connection with the director. Tom Noonan's comments are also engaging – the character actor likewise had a terrible time on the film but did get along with Kershner, who bemoaned the movie's lousy script along with him. All the participants, including behind-the-scenes guru Paul M. Sammon, dive into Miller's daily script revisions, which were extensive and didn't seem to enhance what was originally on the page to begin with.
A separate commentary with Sammon, additional featurettes on the FX, the "Robo-Fabricator" and "OCP Declassified" are on-hand, along with trailers, a TV spot, still galleries and a brand-new 2K scan of the Interpositive. This Shout-exclusive 1080p (1.85) transfer is superior to MGM's earlier "Robocop 2″ release, marked by less noise and a bit more detail, and both 5.1 and 2.0 DTS MA offerings that are roughly equivalent to each other.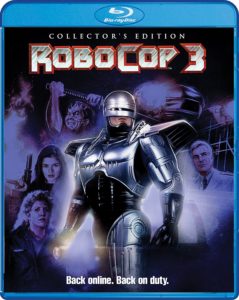 Belatedly shifting gears to nab a younger audience that had gravitated towards the character thanks to video games and an animated TV series, ROBOCOP 3 (**, 1992, 105 mins., PG-13) sat on the Orion shelves for nearly two years before being released to negligible box-office returns in the fall of '93. This unremarkable – but at least competent – follow-up boasts Jill Hennessy in an early lead role and Robert John Burke following in Peter Weller's metallic footsteps as Robo and Lewis (a brief appearance by Nancy Allen) take on OCP after the corporation begins clearing out homes in order to begin construction on their new "urban renewal" project, Delta City.
Thankfully, as uninspired as Fred Dekker's more kid-centric PG-13 rated film often is, it's still not nearly as much of a disaster as its immediate predecessor. Dekker retooled Frank Miller's script, which was filled with concepts he didn't get to use on "Robocop 2," and toned down the nastiness from its immediate predecessor. As a result, this is a kinder, gentler Robocop movie with a few effective action sequences, once again punctuated by Phil Tippett's stop-motion FX – yet one can't deny the all too obvious lack of energy here, with the shift to Atlanta shooting locales and a lower budget giving off a TV-like feel. Too little and too late to the party, "Robocop 3″ fizzled in theaters, with Orion having missed the window to cash-in on the height of the character's popularity, particularly with younger viewers.
Shout Factory has, at least, produced another strong Collector's Edition Blu-Ray package for "Robocop 3." Dekker is on-hand in a new commentary and documentary, "Delta City Shuffle," which examines the sequel's production. As you might expect given the candid nature of "Robocop 2″'s supplements, "Robocop 3″ is likewise marked by extensive, honest comments from Dekker, who takes full blame for the movie's faults, which he primarily places with his own limp story and screenplay. A separate featurette recounts the work of FX wizards Phil Tippett and Peter Kuran among others, while character actor Felton Perry discusses his tenure in the series. Additional featurettes, trailers and still galleries, plus another commentary from the "Robo Doc" documentary crew, make for a fine package with DTS MA 5.1 and 2.0 audio options sporting Basil Poledouris' score. The 1080p (1.85) transfer is not a new scan and looks to be roughly identical to MGM's prior, movie-only Blu-Ray release.
Though the films are each disappointing in their own way, Shout's collective special features put the "Robo-sequels" over-the-top thanks to their tasty anecdotes and unflinching honesty. Recommended for fans and buffs alike.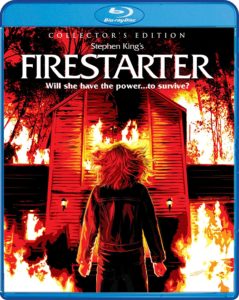 Supplements are also a main draw to Shout's Collector's Edition of FIRESTARTER (**, 115 mins., 1984, R),the Mark L. Lester-directed adaptation of Stephen King's bestseller. One of producer Dino DeLaurentiis' several King films – and the first of many Dino productions to lense in North Carolina – "Firestarter" is a fairly mundane outing, despite a top-flight cast (young Drew Barrymore, David Keith, Martin Sheen, George C. Scott, Louise Fletcher, Art Carney, Heather Locklear) and a faithful script by Stanley Mann. Despite all the necessary ingredients, "Firestarter" just doesn't, well, light up for the most part, though the widescreen lensing and polished filmmaking at least makes it a passable mid '80s concoction.
Shout's Blu-Ray boasts a new 2K scan of the Interpositive and DTS MA mono sound – not having seen Universal's prior movie-only Blu-Ray, I don't know how it matches up, though this presentation is quite good on its own merits. Extra features include an enjoyable, lengthy doc on the production featuring comments from Lester (who also provides a new commentary), co-stars Freddie Jones and Drew Snyder, stuntman Dick Warlock and Tangerine Dream composer Johannes Schmoelling. There's also a new interview with Schmoelling, who discusses the Dream's approach to scoring and even performs the film's main theme – truthfully, I didn't find this to be one of the group's better scores, but fans should still be delighted with the music-related material present here. A trailer, radio spots and still galleries round out the release.
In retrospect, DeLaurentiis may have been better off making John Carpenter's "Firestarter" instead, but the director's script apparently drifted too far afield from King's book. What we ended up getting was a movie that was probably too close to the novel, and feels like a "safe" adaptation that never really comes to cinematic life.
John Milius' silly, comic book styled WWIII actioner RED DAWN (**½, 1984, 114 mins., PG-13) is the latest "Shout Select" Collector's Edition Blu-Ray, which is primarily driven by an hour-plus documentary on the production of the movie. Sadly, with Milius and most of the major cast not on-hand, the doc is instead led by comments from casting director Jane Jenkins, production designer Jackson DeGovia, editor Thom Noble and co-star Doug Toby – making for an interesting though pretty dry, and certainly not essential, retrospective on the production. Aside from what appears to be altered framing, the Blu-Ray also looks and sounds pretty much the same as MGM's prior Blu (the disc uses the same transfer), though with the added option of 2.0 DTS MA audio (the same 5.1 track is also present).
Carried over from that release is "Red Dawn Rising," a basic, 25-minute featurette recounting the production's history, highlighted by then-new, 2007 interviews with Milius, stars Patrick Swayze, C. Thomas Howell, Charlie Sheen and Lea Thompson, along with what appears to be an older conversation with Powers Boothe. Three shorter featurettes – "Building the Red Menance," "WWIII Comes to Town" and a military training segment – all offer additional, more technically oriented background on the film, notable for being the first picture to be released with a PG-13 rating (as well as a solid success at the box-office). With a similar a/v package and nothing new outside the documentary, though, fans may be best off sticking to MGM's currently-available (and much less expensive) Blu-Ray…Much more satisfying is the Shout Select edition of COLORS (***, 127 mins., 1988, R), the taut look at a pair of LAPD officers (Sean Penn, Robert Duvall) combating East L.A.'s warring gangs. Maria Conchita Alonso leads a supporting cast that also includes Don Cheadle, Damon Wayans, and Richard Brooks in a Dennis Hopper-directed Orion release that's compelling and finely acted. Shout's Blu-Ray adds several minutes of deleted footage (to augment restored scenes from the movie's longer International Cut) along with an interview with writer Michael Schiffer, technical advisor Dennis Fanning, a strong 1080p (1.85) transfer and 2.0 DTS MA stereo sound.
WHEN CALLS THE HEART: THE HEART OF FAITH DVD (84 mins., 2017; Shout Factory): Christmas-themed episode of the popular Hallmark Channel series finds Hope Valley preparing for holiday celebrations. Rosemary and Lee are back from their honeymoon, while a traveling peddler is mistaken for Santa and a thief in equal measure, and a supply train's derailment creates complications for all. Fans of "When Calls the Heart" should snap up Shout's DVD, now available with a 16:9 transfer (1.78) and 5.1 Dolby Digital soundtrack.
---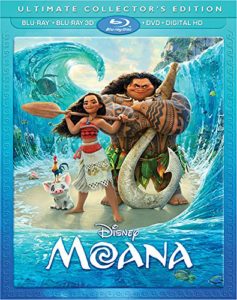 New & Noteworthy
MOANA 3D Blu-Ray Combo Pack (***½, 107 mins., 2016, PG; Disney): I often get on Disney for their endless output of comic book franchises and reboots of everything from Star Wars to live-action remakes of their animated films. That's often for good reason, but whenever the company does stray off the safe and preordained path, it's the right time to laud their efforts, which is certainly the case with "Moana," one of Disney's finest animated features in years.
Sure, there are times when the movie's story is messy and a little bit weird – perhaps the result of countless writers and years in development – but regardless, "Moana" is a jaw-droppingly beautiful and charming tale of a Polynesian girl who sets off on her own journey to restore the heart of an Island Goddess whose mythical stone was stolen by the playful, it not scheming, demi-God Maui. With her people suffering from a lack of food both on land and in the sea, Moana's journey takes her to far reaches of the ocean in an adventure encompassing certain ancient and mythical traditions of Polynesian culture.
"Moana" was directed by John Musker and Ron Clements, whose previous classics included "The Little Mermaid" and "Aladdin." Their prior two outings – "Treasure Planet" and "The Princess and the Frog" – didn't meet with nearly the same level of success, but this first CGI foray for the duo is a winner on numerous levels. The character articulation of Moana and Maui is just delightful, possessing the "warmth" and appeal of hand-drawn animation in a spectacular 3D environment that offers constant pleasures: the deep blue waves and lush seascapes of the South Pacific are brilliantly rendered in a visual pallet that's as sumptuous as any I've ever seen in an animated feature. Beyond the technical achievements, though, lies an appealing story that isn't just a standard Disney fairy-tale recycling, with Moana's personal quest and Maui's chance at redemption making for an offbeat and thoroughly entertaining oceanic adventure. All of it is enhanced with a fine score by Mark Mancina, incorporating original songs from "Hamilton"'s resident genius, Lin-Manuel Miranda, and Opetaia Foa'i that are fresh and fun.
While a little bit long and offering at least one strange run-in with a singing crab, "Moana" manages to be the right antidote for those of us worn out by Disney's fairy tales and standard-issue live-action fare. Disney's 3D Blu-Ray is a format release that's truly demo worthy with its spectrum of deep colors and eye-opening animation that represents a new high for the studio. The 3D presentation is superb, but this is one of those instances where the stronger colors of the 2D presentation are even more spectacular to behold. Extra features are in abundance in Disney's Collector's Edition, including Making Of featurettes, deleted scenes, "easter eggs," one deleted song with Miranda's introduction, a music video, the short film "Inner Workings" which preceded "Moana" in theatrical release, a Digital HD copy, DVD, and superbly mixed 7.1 DTS MA audio. A delight that comes strongly recommended!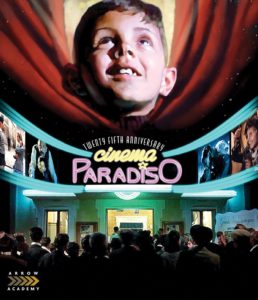 CINEMA PARADISO Blu-Ray (***½, 1989, 124/174 mins [Both U.S. Theatrical and Director's Cut Versions]; Arrow): Superb Arrow double-disc edition of Giuseppe Tornatore's acclaimed 1989 smash offers both the U.S. theatrical version of "Cinema Paradiso" as well as the director's longer, though somewhat more problematic, cut. Both transfers are newly restored from the original camera negative and offer uncompressed 2.0/5.1 Italian soundtracks with English subtitles. A reprise of Arrow's wonderful European release, the package offers commentary with Tornatore and critic Millicent Marcus; a 52-minute doc on the director; a 27-minute look at "Cinema Paradiso" itself; "The Kissing Sequence" featurette with comments from Tornatore; original trailers; and a reversible sleeve. Highly recommended.
FENCES Blu-Ray (***, 138 mins., 2016, PG-13; Paramount): Expectedly "stagy" adaptation of the Pulitzer Prize-winning August Wilson play stars Denzel Washington, repeating his Broadway revival performance, as a trash collector and former Negro League baseball player living in Pittsburgh during the 1950s. His alternately loving and combative relationships with his wife (Viola Davis), son (Jovan Adepo), brain-damaged brother (Mykleti Williamson) and son from another marriage (Russell Hornsby) comprise this emotionally charged film, uniformly well acted and shot by Washington. There's no denying, though, that you're watching a stage play translated to the screen, and it's easy to surmise Wilson's material likely would've been more powerful in the context of a live theatrical performance than a film. That said, the performances make "Fences" worth seeing, and Paramount's Blu-Ray includes a handful of featurettes that look at Washington's work with the material (Davis had previously performed the role with him on-stage), a 1080p (2.35) transfer, 5.1 DTS MA sound and a Digital HD copy.
---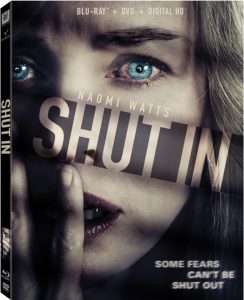 Quick Takes
SHUT IN Blu-Ray (91 mins., 2016, PG-13; Fox): It hasn't been an easy ride so far for Europacorp's US arm, having failed to produce a commercial hit in North America thus far. If that movie where Kevin Spacey is reincarnated as a cat didn't do it for you, one could always try "Shut In," a pedestrian "psychological thriller" starring Naomi Watts as a child psychologist who – after becoming bound to her house after a tragic accident claims her husband – tends to her bed-ridden stepson. When a winter storm rages outside and another child goes missing, Christina Hudson's script and director Farren Blackburn attempt to ratchet up the tension, but "Shut In"'s mostly a miss, despite appropriately wintry atmosphere. Fox's Blu-ray includes a DVD, Digital HD copy, two featurettes, a 1080p (2.39) transfer and 5.1 DTS MA audio.
SOLACE Blu-Ray (102 mins., 2017, R; Lionsgate): As direct-to-video offerings go, this is a superior thriller from director Alonso Poyart. Jeffrey Dean Morgan and Abbie Cornish play FBI agents on the trail of a serial killer (Colin Farrell) with the help of a clairvoyant former fellow agent (top billed Anthony Hopkins), only the culprit can read their minds. This is not a half-bad movie with decent performances (excepting Cornish, who seems out of her league) and a solid first half before the movie falls apart a bit in its concluding third. Lionsgate's Blu, still worth a rental at least, offers a featurette, commentary by Poyart, Digital HD copy, 1080p (2.40) transfer and 5.1 DTS MA sound.
100 STREETS Blu-Ray (94 mins., 2016, Not Rated; Sony): Three stories are interwoven in this story of a former rugby star (Idris Elba) facing a failing marriage to an ex-actress (Gemma Arterton); a small-time drug dealer (Franz Drameh) looking for a way off the street; and a couple (Charlie Creed-Miles, Kierston Wareing) finding their hopes of having a family thwarted by an accident. Jim O'Hanlon's London-set drama is new on Blu-Ray from Sony offering a featurette, 1080p transfer and 5.1 DTS MA sound.
INSECURE – Season 1 Blu-Ray (226 mins., 2016; HBO): Issa Rae's entertaining HBO comedy skewers African-American female stereotypes as it paints a portrait of two friends trying to navigate modern Los Angeles. "Insecure" isn't just a "Black Sex and the City" as plenty of laughs and relatable situations abound in this new series, whose acclaimed first season hits Blu-Ray this week from HBO. Two behind the scenes featurettes and the segment "Conjugal Visits" are on-hand for special features, with 1080p transfers, 5.1 DTS MA soundtracks and Digital HD copies also included.
JACKIE Blu-Ray (100 mins., 2016, R; Fox): Natalie Portman's strong performance as Jacqueline Bouvier Kennedy is the whole show in Pablo Lorrain's slow-going, expectedly depressing portrait of the First Lady's reaction to her husband's assassination. Writer Noah Oppenheim had written his "Jackie" project originally as an HBO mini-series, only to have it severely condensed by director Lorrain, who reconfigured what was reportedly going to be a more conventional picture into a moody "indie film" which failed to drum up much business on the art-house circuit. Despite attempts to push Portman's performance as an Oscar candidate, "Jackie" didn't move the needle with audiences, and it's such an unrelentingly sad film that it's easy to see why. Fox's Blu-Ray includes a single featurette, stills gallery, 1080p (1.66) transfer, 5.1 DTS MA sound, DVD and Digital HD copy.
---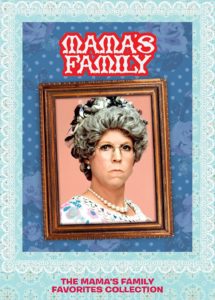 On DVD
MAMA'S FAMILY – The Mama's Family Favorites Collection DVD (Time Life): Vicki Lawrence hand-picked these volumes of "Highlights" from the long-running comedy series, which spent most of its life in first-run syndication. Though not a Complete Series set, Time Life's DVD includes 37 episodes from "Mama's Family" on six discs, hitting most of the show's most popular episodes. For individual details on the series, check the Aisle Seat Archives search page for prior coverage of the respective releases.
WOLF CREEK – Season 1 DVD (5 hours, 2016; Liosgate): An American college student finds herself trying to bring serial killer Mick Taylor to justice after her family is murdered in the Australian Outback. This small-screen serialized version based on the Aussie cult movie franchise debuts on DVD from Lionsgate March 21st. Included in the two-disc set are a number of featurettes (Cinema to Series: The Legacy of Wolf Creek, Making a Television Series, Meet the Stars, Discovering the Outback, Visual Effects Featurette, Meet the Supporting Cast) along with 16:9 transfers and 5.1 Dolby Digital soundtracks.
THE C WORD DVD (93 mins., 2017, Not Rated; Virgil Films): Director Meghan Ohara's documentary looks at how we are, and how we're not, battling cancer. Profiling both her own struggle and recovery from the disease as well as French neuroscientist and cancer authority Dr. David Servan-Schreiber, "The C Word" is a natural, powerful but also funny documentary hitting DVD this month from Virgil Films. The disc is chock full of extras as well as a 16:9 transfer and 5.1 Dolby Digital soundtrack.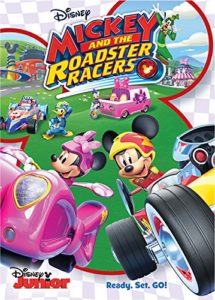 Family Finds
MICKEY AND THE ROADSTERS DVD (68 mins., 2017; Disney): Our toddler hasn't watched a lot of Disney Junior, but the channel is hugely popular with kids and both little ones – and perhaps some older fans, too – ought to enjoy "Mickey and the Roadsters." This latest series featuring Mickey, Donald, Minnie, Goofy and the gang places the group in a fast-moving show with auto-racing action and some message-building thanks to their enrollment in "Minnie's Happy Helpers." Four episodes (Mickey's Wild Tire/Sittin Kitty, Goofy Gas/Little Big Ape, Race for the Rigatoni Ribbon/Roamin Around Rome, Mickey's Perfecto Day/Running of the Roadsters), two music videos, 16:9 (1.78) transfers and 5.1 Dolby Digital soundtracks make for a nice package for little Mickey fans.
TALES OF THE TEENAGE MUTANT NINJA TURTLES: SUPER SHREDDER (247 mins., 2016-17; Nickelodeon/Paramount): The latest animated incarnation of the Teenage Mutant Ninja Turtles fight their way against the vile Super Shredder in this two-disc Nickelodeon anthology. Included on DVD here are the episodes The Super Shredder; Darkest Flight; The Power Inside Her; Tokka Vs. The World; Tale of Tiger Claw; Requiem; Owari; Scroll of the Demodragon; The Forgoten Swordsman; Heart of Evil; and End Times, all in 16:9 transfers and 5.1 Dolby Digital sound.
THE JETSONS & WWE: ROBO-WRESTLEMANIA DVD (81 mins., 2017; Warner): The Jetsons return in this new original animated movie. After George Jetson unearths the WWE's "Big Show," who has been frozen for 100 years, there's a battle for the WWE Championship Belt with Big Show taking on a robot as well as a fight for Orbit City altogether. Sheamus, Alicia Fox, Seth Rollins and other WWE personalities pop up in this DVD exclusive, now available from Warner featuring three featurettes, a trio of bonus cartoons, a 16:9 transfer and 5.1 Dolby Digital soundtrack.
NEXT TIME: Warner Archive new releases, including Blu-Rays of S.O.B. and WHEN DINOSAURS RULED THE EARTH. Until then, don't forget to drop in on the official Aisle Seat Message Boards and direct any emails to our email address. Cheers everyone!