Kicking off this month's new releases from our friends at Arrow Films is a features-packed Blu-Ray special edition of DONNIE DARKO (**, 132 mins., 2004, R). Some cult movie fans have turned Richard Kelly's indie fave into a full-blown phenomenon, though my viewing of the "Director's Cut" of "Donnie Darko" only confirmed my hesitation towards Kelly's original theatrical version: namely, what's the deal? This intentionally weird jigsaw puzzle of a film — complete with '80s tunes, pop culture references and a giant rabbit — gives you so little to go on that it's not even up to sub-Lynchian standards, though some critics, and fans, have long proclaimed it a masterpiece so judge for yourself.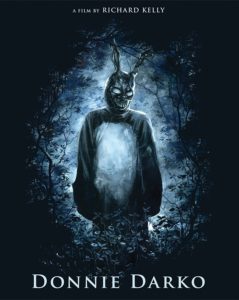 Previously available on Blu-Ray from Fox (the rights have since reverted to the movie's owners), Arrow's disc includes 4K restorations of the longer version of the film (which fleshes out the story more than the theatrical cut) as well as the original release cut, plus three previously-released commentaries from Kelly and Kevin Smith (Director's Cut), Kelly and star Jake Gyllenhaal (Theatrical Cut), and yet a third track with assorted cast and crew members (Theatrical Cut). Ballyhoo Motion Pictures' "Deus ex Machina: The Philosophy of Donnie Darko" is a brand new look back on the film, sporting conversations with Kelly, producer Sean McKittrick, cinematographer Steven Poster, editor Sam Bauer, composer Michael Edwards, costume designer April Ferry, actor James Duval and critic Rob Galluzo. "The Goodbye Place," Kelly's 1996 short, is also included, along with the archival "Donnie Darko Production Diary," 20 deleted/alternate scenes, archive interviews and featurettes, B-roll footage, "Cunning Visions" infomercials, trailers, TV spots, Gary Jules' music video, storyboard comparisons, still galleries and an extensive collector's book. The 1080p (2.35) transfer and 5.1 DTS MA sound are superb and DVD copies are also housed in the oversized, hardbound collector's package, which is bound to be considered as the film's definitive release by fans.
CALTIKI: THE IMMORTAL MONSTER (76 mins., 1959; Arrow): Mario Bava reportedly directed large sections of Riccardo Freda's "Caltiki," a black-and-white late '50s chiller about a malevolent Mayan God who's woken up by a team of archeologists trying to find out what happened to the inhabitants of a lost city. A new 2K restoration of the original negative (1.66) is the highpoint of Arrow's Blu-Ray/DVD combo pack, which also includes new English subtitles; an alternate full-frame (1.33) presentation of the film; Tim Lucas' informative audio commentary; another new commentary by Italian horror expert Troy Howarth; an interview with critic Kim Newman on "Caltiki" and the films that influenced it; an archival conversation with critic Stefano Della Casa; another vintage interview with Italian director Luigi Cozzi; the US trailer; and soundtracks in both Italian and English. A full 54-page French "Caltiki" comic is available on BD-ROM.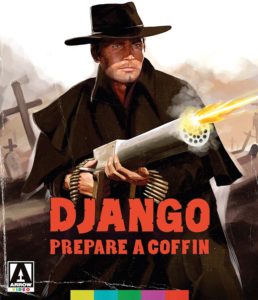 Also New From Arrow: Terence Hill steps into the title role in Ferdinando Baldi's DJANGO PREPARE A COFFIN (92 mins., 1968), one of the only pure sequels among the litany of westerns with "Django" in their title. Here, Hill's Django is a gun-for-hire, working with a corrupt politician who's framing innocent men in order to seize their property. Arrow's Blu-Ray/DVD combo includes English and Italian audio, the trailer, booklet notes, and a new talk with spaghetti western authority Kevin Grant. The HD transfer (1.66) is in decent shape though has not been meticulously restored like other Arrow releases….Director Elio Petri's THE ASSASSIN (97 mins., 1960) was one of several films that helped usher in the Italian New Wave, coming on the heels of hits like "La Dolce Vita" and "La Notte." "L'Assassino" stars Marcello Mastroianni as an antiques dealer arrested for murdering his older lover (Micheline Presle). The subsequent investigation makes for a potent thriller of political paranoia, restored in 2K (1.85) by the Cinteca di Bologna. Extras in Arrow's Blu-Ray/DVD include uncompressed PCM audio (Italian with English subtitles), an introduction to Petri and the film by Italian cinema authority Paquale Iannone; a documentary about writer Tonino Guerra; the trailer; and booklet notes…Coming May 9th from Arrow is an elaborate Blu-Ray/DVD set chronicling the work of Japanese auteur Kiju Yoshida, whose output has been difficult to find in the United States. Arrow's KIJU YOSHIDA: LOVE + ANARCHISM seeks to rectify that, offering a trio of the director's works from the late '60s and early '70s that formed a loose trilogy reflecting Japan's shifting socio-political mores. Present here on both Blu-Ray and DVD are "Eros + Massacre," in both its 164-minute theatrical version and 215-minute director's cut, plus "Heroic Purgatory" and "Coup d'etat," the latter a biopic of Ikki Kita, who tried to overthrow the Japanese government in 1936. Uncompressed PCM audio, new digital transfers (2.35/1.33) supervised by Yoshida, fresh English subtitles, a half-hour doc on "Eros + Massacre," introductions to the latter two films by Yoshida, introductions and scene-select commentaries by David Dresser; trailers; and an extensive 80-page booklet make for an essential package for the filmmaker's devotees…Finally, Francesco Rosi's THREE BROTHERS (107 mins., 1981) follows Philippe Noiret, Vittorio Mezzogiorno, and Michele Placido as siblings who return to their ancestral home in southern Italy to pay homage to their late mother. Arrow's Blu-Ray includes a 2K restoration of the picture from original film elements (1.85) with PCM mono audio (Italian with English subtitles), Francesco Rosi's 1987 interview with Derek Macolm, the trailer, and insightful booklet notes.
---
New From Warner Archive
The Warner Archive is riding high on Blu-Ray these days, much to the delight of buffs everywhere. New this week are a pair of MGM catalog offerings, both of which carry their own distinct appeal.
Sam Peckinpah's RIDE THE HIGH COUNTRY (***½, 1962, 92 mins.) is a short but bittersweet western that pays tribute to the sagebrush efforts of yesteryear with a maturity few films of its era possessed. Joel McRea and Randolph Scott play a pair of aging cowboys in a fading Old West (a recurring theme in many Peckinpah films), hired to transport a shipment of gold from a mountain mining company to the town below. Along the way they run into a bride-to-be (Mariette Hartley) and attempt to remain true to their own moral code in spite of their way of life rapidly vanishing from the plains.
Warner's 1080p (2.35) AVC encoded transfer piggybacks over the film's last DVD appearance (over a decade ago, incredibly) and looks smashing in every capacity. Lucien Ballard's cinematography perfectly compliments the twilight-mood of the story and the veteran performances from Scott and McRea. The DTS MA dual-mono sound is perfectly acceptable and the group commentary from Peckinpah authorities David Weddle, Paul Seydor, Garner Simmons and moderator Nick Redman touches upon the film's numerous themes and its importance to the genre. The theatrical trailer is on-hand, along with Redman's 2006 featurette, "A Justified Life," which interviews Peckinpah's sister, Fern Lea Peter, who discusses the filmmaker's upbringing.
James Garner fans may have particular reason to invest in the offbeat WWII thriller 36 HOURS (115 mins., 1964), George Seaton's memorable tale of an American soldier (Garner) with amnesia being held in a ersatz Nazi hospital where its main "Doktor" (Rod Taylor) attempts to extract information on D-Day. Eva Marie Saint co-stars in this tense black-and-white thriller, preserved on Blu-Ray with a stellar 1080p (2.35) transfer and DTS MA mono sound. The preservation of the wide Panavision frame of the movie is essential to the entertainment and its splendid performances, and comes highly recommended.
---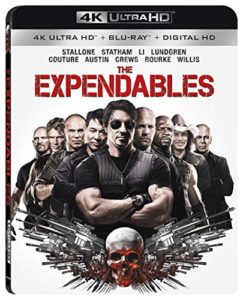 4K UHD New Releases
THE EXPENDABLES 4K UHD Combo Pack (***, 103 mins., 2010, R; Lionsgate): Critics were divided by Sylvester Stallone's original '80s action-throwback, but audiences ate it up: with a worldwide gross of $274 million, "The Expendables" was one of its year's few consistent performers at the late-summer box-office.
It's certainly a more lighthearted romp than Sly's effective but ultra-violent "Rambo" revisit, with Stallone, Jason Statham, Jet Li, Dolph Lundgren, Terry Crews, Randy Couture and Mickey Rourke comprising a team of mercenaries hired by shady Bruce Willis to dispose of a ruthless South American dictator. Stallone and Dave Callaham's script is just an excuse for the boys to blow lots of things up, generate a few laughs and leave as many dead bodies in their wake as possible, but the fun is how disarming "The Expendables" is – from the much-discussed cameo scene for Arnold Schwarzenegger and Willis (complete with a hilarious punch line), to Statham and Stallone's air-assault on the island (the film's most memorable set-piece), this is just hugely entertaining for genre addicts, even if Sly the director's shaky-cam threatens to completely ruin a car-chase sequence.
The performances are all appropriately laid-back – Sly generating good chemistry with both Statham and the film's female lead, lovely Mexican actress Giselle Itié, whose role might have ended up partially on the cutting room floor (like "Rambo," perhaps a casualty of editing for the young male demographic Lionsgate covets), while a Lundgren-Li brawl ends up being particularly amusing.
It's nothing extraordinary, and may not resemble the epic Stallone-Schwarzenegger team-up fans were clamoring for, but "The Expendables" is definitely entertaining, throwback fun for action fans, and superior to its two sequels. Lionsgate's UHD release offers a strong enhancement on the Blu-Ray, sporting a 2.35 encode that offers crisp detail – especially compared with the film's sequels (the original was shot on film and looks it). On the downside, only the theatrical cut of the film is preserved here, which may irk some fans. Extras from the Blu-Ray include Stallone's commentary, featurettes, a deleted scene, Dolby Atmos audio, a Blu-Ray and Ultraviolet copy rounding out the release.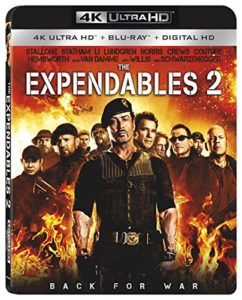 THE EXPENDABLES 2 4K UHD Combo Pack (***, 102 mins., 2012, R; Lionsgate): Sly, Statham, Lundgren, Arnie and Bruce are back for more in another plot-deprived, yet entertaining enough, action sequel. This time out, the Expendables head to Europe to recover an item from a downed plane, only to run into crazy psycho Jean Claude Van Damme.
With Simon West taking over for Stallone behind the camera (Sly still wrote the film with Richard Wenk), "The Expendables 2″ fares better in terms of the shaky-cam visual element. The lightening of the overall tone also serves the film well, with plenty of chemistry between the stars, though dramatically there's scant investment made in the plot, which serves only to give the aging genre heroes a platform to interact with one another. Ultimately, "The Expendables 2″ is fun and engaging, even if the film technically seems to have been pieced together with occasionally cheap looking digital backdrops and star cameos (from the likes of Chuck Norris and even original star Jet Li, who contributes less than 10 minutes of screen time) that seem to have been hastily shot and edited.
A movie that's suffered from an erratic appearance from the time it originally appeared in theaters, Lionsgate's UHD ups the prior Blu-Ray edition to a degree, but it can only do so much with elements that are uneven to say the least. Detail and overall appearance look a little sharper than the Blu-Ray but the film is never going to be reference quality due to its shoddy visuals. A new Dolby Atmos soundtrack is available, and extras reprieved from the prior editions include a commentary from West, several featurettes, deleted scenes, a gag reel, and both a Blu-Ray and Ultraviolet copy. (Both Available May 2nd)
---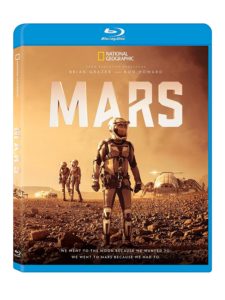 Blu-Ray New Releases
MARS Blu-Ray (283 mins., 2017; Fox): The world's attempts to colonize Mars are given a dramatic/pseudo-documentary reading in this National Geographic Channel effort from producers Ron Howard and Brian Grazer, with scientific-based comments from the likes of Neil deGrasse Tyson and Elon Musk interspersed along with a speculative story told through the perspective of twin female twin astronauts working on the project. Fox's Blu-Ray includes the series' first season in 1080p (1.78) AVC encoded transfers with 5.1 DTS MA audio.
THE RED TURTLE Blu-Ray (81 mins., 2016, PG; Sony): Studio Ghibli returns with this animated effort from Dutch director Michael Dudok De Wit – a slow-moving albeit beautifully realized tale of a man lost on a desert island, where he tries to survive and eventually forms a bond with another woman. Stripped of dialogue, "The Red Turtle" is all about storytelling, and De Wit offers an at-times puzzling film that plays out like a semi-remake of "The Blue Lagoon"…kind of. Some viewers might eat this up, others might be put off by the general tone and lack of excitement, but it's certainly worthwhile for animation enthusiasts. Sony's gorgeous 1080p (1.85) AVC encoded transfer is on-hand along with commentary with the director, a pair of featurettes, an AFI Fest Q&A, and 5.1 DTS MA sound (sporting lovely music from Laurent Perez Del Mar).
GOLD Blu-Ray Combo Pack (120 mins., 2016, R; Anchor Bay): Matthew McConaughey headlines this sounds-better-than-it-actually-is drama about a struggling American prospector who travels to Indonesia along with a geologist (Edgar Ramirez) in order to find gold. Their subsequent travails once they return to the U.S. is part of a wildly uneven Steven Gaghan film, one based on a true story that initially drew the interest of Michael Mann and Spike Lee among others. The resulting, long-gestating film is certainly watchable but doesn't quite come together, feeling as if it had been assembled on the cutting room floor. Anchor Bay's Blu-Ray of this box-office underachiever includes commentary from Gaghan, three featurettes, a deleted sequence, Ultraviolet HD copy, a 1080p (2.40) AVC encoded transfer, and 5.1 DTS MA sound.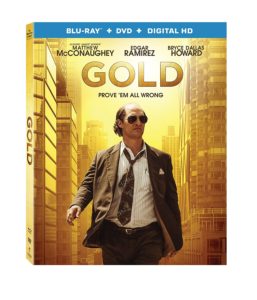 THE GIRL WITH ALL THE GIFTS Blu-Ray Combo Pack (111 mins., 2016, R; Lionsgate): Zombie fans who don't believe that their fave genre is played out might well enjoy this better-than-average British production from director Colm McCarthy. Mike Carey's script, based on a novel, once again finds humanity at the brink, having mostly been wiped out by a disease that turns its victims into flesh-craving parasites. However, a group of children being studied at a base in rural England pose a possible solution, seemingly being immune to its effects. Gemma Arterton, Paddy Considine and Glenn Close star with Sennia Nanua in the title role in a film with few surprises that nevertheless manages to execute its premise better than most of its contemporaries. Lionsgate's Blu-Ray boasts a featurette, 1080p (2.00) transfer, 5.1 DTS MA audio and both DVD and Digital HD copies.
THE MARINE 5: BATTLEGROUND Blu-Ray (91 mins., 2017, R; Sony): WWE Studios is back with another small-screen premiere, this one offering Mike "The Miz" Mizanin as a veteran now working as an EMT after returning home from combat. Unfortunately, The Miz is quickly (literally) trapped, having to save a marked man targeted by a biker gang. Claustrophobic thrills follow in a pretty tedious affair co-starring other WWE personalities. For fans only. Sony's Blu-Ray includes "Evening the Odds" and "Superstar Studded" featurettes, a 1080p (1.78) AVC encoded transfer and 5.1 DTS MA sound.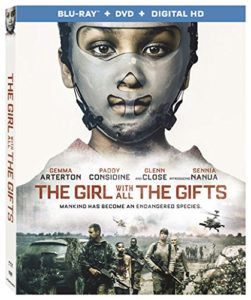 DETOUR Blu-Ray (97 mins., 2017, R; Magnolia): Tye Sheridan plays a law student whose mother ends up in a coma. Blaming his stepfather (Stephen Moyer) for the crash, Sheridan hires a grifter (Emory Cohen) to rub him out – only to end up in a triangle involving the hired gun and his stripper pal (Bel Powley). Christopher Smith's twisty thriller makes its Blu-Ray debut this week from Magnolia in a Special Edition package offering deleted scenes; interviews with Sheridan and Smith; the trailer; a featurette; 1080p (2.39) transfer and 5.1 DTS MA sound.
Olive New Releases: A pair of foreign works highlight Olive's Blu-Ray release slate this month. The little-seen (at least in North America) anthology film THE WORLD'S MOST BEAUTIFUL SWINDLERS (95 mins., 1964) ranked as a minor outing for its esteemed cast and directors. Unreleased in the U.S. until 1967, it's nontheless an interesting multi-part film starring the likes of Jean Seberg, Catherine Deneuve, Jean-Pierre Cassel, and Ken Mitsuda, who star in a quartet of stories involving swindlers as a linking theme. Claude Chabrol, Ugo Gregoretti, Hiromichi Morikawa, and Jean-Luc Godard helmed the respective parts, shot in B&W widescreen in an effort that encompassed French, Italian, and Japan production entities. Olive's Blu-Ray, licensed through Gaumont, includes a 1080p (2.35) transfer and mono sound…the eclectic filmmaker Walerian Borowczyk's GOTO, ISLE OF LOVE (94 mins., 1968) also joins Olive's roster this month. Pierre Brasseur stars here as a jealous dictator married to a woman who's carrying on an affair with one of his guards. Cinematographer Guy Durban's interesting mix of color and black-and-white comprises an unusual visual scheme in this typical Borowczyk work, recommended most especially to his admirers. Olive's Blu-Ray, also available this week, includes a 1080p (1.66) transfer and mono sound.
---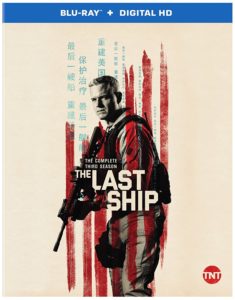 TV on Disc Wrap
ANIMAL KINGDOM – Complete First Season Blu-Ray (500 mins., 2016; Warner): TNT's attempt to corner the "Sons of Anarchy" crowd after the conclusion of that hit FX series is set in a Southern California beach town. As seen through the eyes of a 17-year-old whose troubled mother just died from an overdose, "Animal Kingdom" profiles yet another crime family presided over by a particularly fierce matriarch (here essayed by Ellen Barkin), with its conflicted lead character having issues acclimating himself to his extended family. Sounds familiar, but it's slickly executed just the same. Warner's Blu-Ray of "Animal Kingdom"'s first season includes 1080p (1.78) AVC encoded transfers, 5.1 DTS MA soundtracks, Digital HD copies, six featurettes and deleted scenes.
Also new from Warner on Blu-Ray is Season Three of THE LAST SHIP (572 mins., 2016). This time out, the crew of the USS Nathan James heads to Asia after hearing rumors that China's President Peng has been hoarding the "Scott cure" instead of handing it out to his people. Meanwhile, rumors swirl that a mutation of the original virus has spread into Japan in this third go-around for the popular TNT original series. Warner's Blu-Ray, out next week, includes "Inside the Episode," "Behind The Curtain," and "From America's First Fighting Ship To The Last Ship" featurettes, 1080p transfers and 5.1 DTS MA soundtracks. Digital HD copies are also included.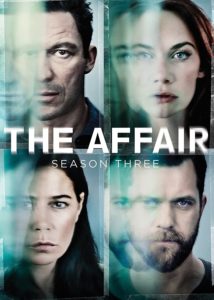 THE AFFAIR – Season 3 DVD (9 hours, 2016-17; CBS): One of Showtime's superior series hit something of a snag in its third season. With Noah Solloway (Dominic West) having admitted to the murder of Scott Lockhart – in order to spare his wife (the terrific Maura Tierney) from prison – "The Affair" jumps ahead three years as Noah is haunted by not only his time behind bars but his lifelong feelings of guilt and abandonment. Brendan Fraser plays a large role here as a sadistic prison guard, but the central storyline is never that compelling, and the mostly useless side stories for the rest of the cast come off as underwhelming. There's also a sense that the show's creators had nothing new to say this season, which doesn't bode well for season four, obviously. All of that said, "The Affair" is still stylish and superbly performed by one of TV's best ensemble casts, and CBS' DVD includes three featurettes, 16:9 transfers and 5.1 soundtracks.
VEGA$: The Complete Series DVD (aprx. 57 hours, 1978-81; CBS): Robert Urich IS private eye Dan Tanna, who investigates a series of murders, landowner disputes, and the seedier side of Las Vegas in this Michael Mann co-created prime-time series, which helped launch Urich as a leading man. Judy Landers, Phyliss Davis, Will Sampson, Bart Braverman, and Greg Morris co-star alongside Tony Curtis, who plays Tanna's landlord "Slick" Roth. Guest stars across the series' 67 episodes – all of which have been compiled on DVD by CBS – run the gamut from Muhammad Ali to a young Kim Basinger, Demi Moore, and Melanie Griffith, plus "Guest Star" TV series staples (Leslie Nielsen, Lorne Greene, etc.) of the era. DVD SPECS: CBS' complete series box houses "Vega$"' entire run with crisp 4:3 transfers and mono soundtracks across 18 discs. Housed in one of CBS' typical oversized plastic containers with "free-floating" spindles (to avoid broken hinges), episodic promos are also included on certain episodes. AISLE SEAT BOTTOM LINE: "Vega$" was a bit before my time but it's nostalgic entertainment for fans craving some late '70s prime-time goodness, and Urich certainly was "the man" back then as well.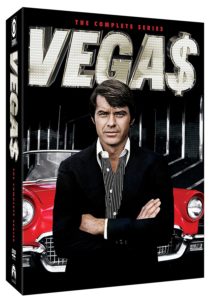 RUGRATS – Season 1 DVD (316 mins., 1991-92; Paramount)
RUGRATS – Season 2 DVD (657 mins., 1992-93; Paramount): One of the most popular cable cartoons of all-time, Nickelodeon's "Rugrats" was also one of the highest-rated series for Nickelodeon during the '90s. Paramount has at last listened to fans clamoring for comprehensive DVD releases of the program and produced Season 1 and 2 packages that hit stores next week. Season 1 is a 2-disc set featuring the first 25 episodes from the series, while Season 2 includes over 10 hours of family fun, including fan-favorite episodes "Reptar On Ice," "Visitors From Space," "Tooth or Dare" and more. Stereo soundtracks and 4:3 transfers make these a must for "Rugrats" fans, some of whom likely have kids of their own by this point.
DIVORCE – Season 1 Blu-Ray (300 mins., 2016; HBO): Sarah Jessica Parker is back in her first post-"Sex and the City" series, starring here as Frances, a woman who reassesses her life with her husband (the always reliable Thomas Haden Church) and decides it's time to make a clean start. Season 1 of "Divorce" comes to disc May 9th sporting commentaries with Parker, executive producer Paul Simms and writers Tom Scharpling and Adam Resnick; Digital HD copies; 1080p (1.78) transfers and 5.1 DTS MA soundtracks.
BOB HOPE SALUTES THE TROOPS DVD (395 mins., Time Life): Terrific three-disc set offers hours of classic comedy with Bob Hope on his various USO tours, performing in front of scores of US servicemen and women. Appearances from Ann-Margret, Lola Falana, Ann Jillian, Jill St. John, Anita Bryant, Marie Osmond, Redd Foxx, Bing Crosby, and countless others are present in these vintage clips, along with the bonus feature "Bob Hope: Memories of WWII," which includes a look at Hope's start with the USO.
---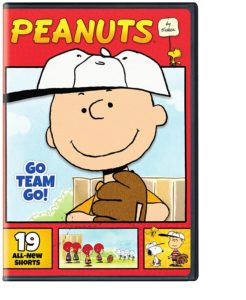 Also New on DVD
PEANUTS: GO TEAM GO! DVD (140 mins., Warner): Warner Home Video has released the second volume of episodes from the recent "Peanuts" animated series that was produced in France. Airing on the US' Boomerang channel, this entertaining take on Charlie Brown and company offers seven-minute, self-contained segments that, in some regards, more faithfully adapt the strip-nature of Charles M. Schulz's source material than the longer-form TV specials.
Though animated in flash format, the colorful, loving rendering of the material in French studio Normaal's production – scripted by Alexis Lavillat – captures the essence of Schulz's characters in an accessible format perfect for long-time fans and younger viewers alike. Warner's new double-disc package, "Go Team Go!," offers an additional 19 episodes from the series in vivid 16:9 transfers capturing all the color and fun of these inspired shorts. Though Vince Guaraldi's classic music doesn't appear, the energetic scoring is splendid and suits the material perfectly, while the soundtracks were re-recorded for the U.S., reportedly using young talent that tried out for "The Peanuts Movie" in an effort to make it sound more like the original network TV specials.
THE GREAT BRITISH BAKING SHOW Seasons 1-3 DVD (PBS): Popular British series – a step up from the usual American reality fare from what I've sampled – offers a number of amateur bakers engaging in a typical "TV competition" formula. Each week the respective competitors engage in a specific culinary challenge as judged by Mary Berry and Paul Hollywood, in three separate categories that prove to be too much for some of the contestants to bear. Entertaining fluff (sometimes literally) that PBS has brought to disc this month in three separate DVD releases, offering the first three seasons from the series with 10 episodes on each platter. The 16:9 transfers and stereo soundtracks are all perfectly fine.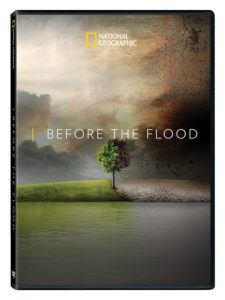 WALKING WITH THE ENEMY DVD (124 mins., 2013, PG-13; Fox): A man (Jonas Armstrong) attempts to find his displaced family in Hungary during the final months of WWII, and does so by utilizing a stolen Nazi uniform, enabling him to go behind enemy lines. This 2013-produced independent film from director Mark Schmidt seemed to be well liked by viewers who saw it, even though the picture is just making its DVD debut from Fox. In addition to a Digital HD copy, the 16:9 (2.40) transfer reproduces the strong work of veteran cinematographer Dean Cundey.
BEFORE THE FLOOD DVD (96 mins., 2016, PG; Fox): Environmental activist Leonardo DiCaprio produced and appears in this documentary about global warming, from its worldwide impacts to perceived future ramifications. Fisher Stevens directed the National Geographic production, arriving on DVD with exclusive deleted scenes and a featurette from Fox. The 16:9 (1.78) transfer and 5.1 Dolby Digital sound are both superb.
TUNNEL DVD (127 mins., 2016; Well Go USA): Korean box-office hit makes its North American DVD debut from Well Go. Available May 2nd, "Tunnel" stars "The Handmaiden"'s Ha Jiung-woo as a family man trapped after a tunnel collapse with only his cell phone offering a way to communicate with the outside world. His plight as well as the efforts of first responders trying to stage a rescue make for a tense, claustrophobic thriller from director Kim Seong-hun. Well Go's DVD offers a 16:9 transfer and 5.1 Korean audio with English subtitles.
NEXT TIME: Criterion's RUMBLE FISH, Kino Lorber April Wrap and more! Until then, don't forget to drop in on the official Aisle Seat Message Boards and direct any emails to our email address. Cheers everyone!