Despite being one of its more lucrative commercial properties, MGM seemingly held on to the Blu-Ray rights of "The Pink Panther" series for many years, resulting in everything except the original "Panther" bypassing the high-definition format. After years of speculation and rumored releases, the series – all of it – is finally out on Blu-Ray for the first time this week, via separate efforts from Shout! Factory and Kino Lorber.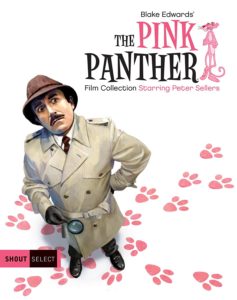 In terms of the original, Peter Sellers "Pink Panther" films, Shout's THE PINK PANTHER COLLECTION STARRING PETER SELLERS offers the original run of Inspector Clouseau's adventures including, for the first time, "Return of the Pink Panther." The latter was distributed by ITC and its various successors since United Artists thought the film was going to be a box-office bust and let Lew Grade produce it in exchange for distribution rights (one of many poor decisions by UA prior to their eventual demise). This six-disc set includes excellent transfers and numerous new supplements, in addition to Jerry Beck's casual look at the franchise in a full-color booklet.
Leading off the franchise, naturally, was THE PINK PANTHER (***½, 115 mins., 1963) itself, which set the standard for the series – a laid-back caper comedy that first introduced the world to Inspector Clouseau, albeit with Sellers billed under David Niven's suave jewel thief Sir Charles Litton. Edwards' original script was intended to be a vehicle for Niven, initially in a "To Catch a Thief"-type of plot, but as filming progressed, it was clear that Sellers' performance as the bumbling French detective was driving the film and would become its focal point – despite the involvement of a star-studded ensemble cast (Claudia Cardinale, Robert Wagner, Capucine) and breezy location filming. Seen today, the original "Panther" isn't as manic – or as funny – as some of its successors, but as a studio vehicle of its era, it remains a solid piece of entertainment.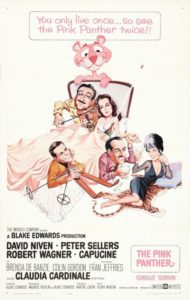 Shout's Blu-Ray presentation of "The Pink Panther" closely mirrors the prior, out-of-print Fox/MGM release in the format. The AVC encoded transfer (2.35) appears similar in nature with fine detail and warm colors, and just the occasional instance of dirt or speckles here and there. The audio is presented in a number of DTS MA flavors: 2.0 stereo and mono, plus a 5.1 track, which provides a more engaging forum for Henry Mancini's classic score, though is fairly limited in terms of its stereophonic nature. All of the prior disc's extras – commentary from Edwards, documentaries on the film and the cartoon Pink Panther, an interview with Wagner among them – have been ported over with the addition of a new 12-minute interview with Claudia Cardinale. Speaking in French, Cardinale discusses her work on the film, with Edwards, and even spends a few minutes talking about her involvement on "Son of the Pink Panther."
Initially a stage play by Harry Kurnitz that producer Walter Mirisch had hired Anatole Litvak to direct – with Sophia Loren as its star – A SHOT IN THE DARK (****, 103 mins., 1964) instead became a vehicle for Blake Edwards when the original project stalled out. Once Edwards came onboard along with friend and fellow scribe William Peter Blatty, the script was reworked as an Inspector Clouseau sequel, allowing for Peter Sellers to return in what many critics consider to be one of the all-time classic screen comedies.
Interestingly, despite having its genesis in an outside property, "A Shot in the Dark" is, more so than its predecessor, really the picture that firmly established the framework for the Pink Panther franchise: the plot provides Clouseau with a "whodoneit" in the form of a murder at the estate of a wealthy millionaire (George Sanders), while introducing the marvelous Herbert Lom as Inspector Dreyfus, Burt Kwouk as Clouseau's faithfully combative servant Cato, and a number of classic gags that would be reworked in subsequent sequels – follow-ups that would not be produced for over a decade due to the fractured, problematic relationship between Edwards and the enigmatic Sellers. It's unfortunate it took that long for the duo to work together again, as "A Shot in the Dark" is intelligent and great fun, and remains arguably the highlight of the entire series.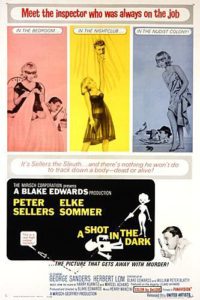 "A Shot in the Dark"'s Blu-Ray debut comes courtesy of a sturdy MGM-licensed 1080p (2.35) transfer with 5.1 and 2.0 (stereo and mono) DTS MA soundtracks. This is a fine presentation with natural detail, even if the print shows its age more frequently than "The Pink Panther," and the colors don't display the same pop. A brand new, 23-minute interview with Walter Mirisch is one of the set's most informative extras, with Mirisch detailing the unlikely "Panther" sequel's strange genesis along with Sellers' negative reaction to the film, which was the reason why the series ended up taking an extended hiatus thereafter. Mirisch also discusses how "Return of the Pink Panther" came to be and how his involvement in the series ended when UA passed on producing it, something that occurred presumably just before he departed the studio for Universal. In addition to a handful of still galleries, the disc's other supplement of note is a seven-minute clip with Blake Edwards on The Dick Cavett Show, which is mostly comprised of rare outtakes from "A Shot in the Dark." Finally, a new commentary is included with Jason Simos of the Peter Sellers Appreciation Society.
When Mirisch's "Inspector Clouseau" spin-off (reviewed below) starring Alan Arkin failed to muster much box-office interest in 1968, it looked like the Panther series would remain active only via DePatie-Freleng's popular cartoons starring the title character…at least until Blake Edwards and Peter Sellers' respective careers hit such a low ebb that the duo decided to repair their fractured relationship and make another "Panther" with THE RETURN OF THE PINK PANTHER (***, 1975, 119 mins., PG).
Though theatrically released by United Artists, this sequel – rated among the series' best by critics and fans alike – was produced by Lew Grade's ITC Entertainment, which funded the film when UA declined to make it, and as such has been owned and distributed outside the parameters of MGM/UA throughout the years. This new release of the film offers the first time MGM has distributed the movie on home video (to the best of my knowledge at least), though the transfer is the same international Universal master that was released on Blu-Ray in the UK a year ago.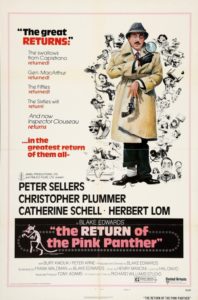 Either way, it does justice to this often hilarious, if disjointed, Panther comedy, one that marked a resurgence for both director and star. Sellers' return ensured box-office success, and his Clouseau here is just as daffy as before (if not more so), following on the trail of the Phantom (Christopher Plummer in the David Niven role), whom he suspects of stealing the world-famous Pink Panther diamond. With one of the series' best animated title sequences (courtesy of Richard Williams) and a handful of big laughs, "Return of the Pink Panther" is one of the crown jewels the series has to offer.
The grainy but still attractive 1080p (2.35) AVC encoded transfer has, again, been derived not from a new master but Universal's high-definition transfer as seen in the Fabulous Films British Blu-Ray. While certainly satisfactory on its own terms, it's not as vibrant in its overall appearance as the other Panther films, or as healthy in terms of its source materials, and the DTS MA audio only houses the original mono soundtrack. A half-hour interview with production designer Peter Mullins, who worked on several Panther films, is among the highlights of "Return"'s extras, along with a 20-minute conversation with Catherine Schell, the vintage featurette "The Return of Laughter," scores of trailers, still galleries, TV and radio spots, and another commentary with Jason Simos of the Peter Sellers Appreciation Society.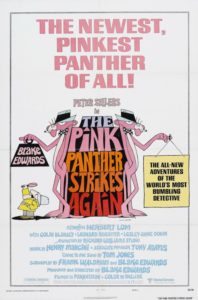 "Return" re-launched the franchise on a global scale, paving the way for the subsequent Sellers sequels – 1976's ridiculous but gleefully entertaining THE PINK PANTHER STRIKES AGAIN (***½, 103 mins., 1976, PG) and 1978's less inspired REVENGE OF THE PINK PANTHER (**½, 98 mins., 1978, PG) – to both achieve impressive box-office receipts in the U.S. and worldwide.
In analyzing these follow-ups, there's no question "Strikes Again" is the best of the duo: a zany, over-the-top affair that ramps up the madcap comedy with Herbert Lom's completely deranged Dreyfus seeking revenge against Clouseau. With a number of hilarious gags, an outrageous climax, some of the best Clouseau-Cato sequences and a perfect ending (scored to Henry Mancini's love theme, "Come to Me," performed by Tom Jones), "Strikes Again" is a fan-favorite Panther entry that's one of the most repeatable Clouseau adventures in the entire series.
"Pink Panther Strikes Again" makes its way to Blu-Ray in one of the best transfers in the set, along with a superlative 5.1 DTS MA soundtrack that nicely benefits Mancini's score. Interestingly, the 2.0 stereo and mono tracks seem to have been mastered at a lower pitch, though are still in sync with the video – neither, though, are as satisfying as the 5.1 remix. Visually, the 1080p (2.35) transfer has speckles, dirt and the occasional problematic splotch, but still looks like a newer scan (there's some indication it was mastered in 4K though there's nothing confirmed on the packaging) with crisp detail.
For extras, a 25-minute conversation with editor Alan Jones offers his remembrances of working with Edwards on "Return" (where he was brought in to recut the film several times after new footage was added), "Strikes Again" and "Trail," which he laments wasn't a "That's Clouseau!" type of retrospective. A 20-minute interview with Lesley Anne-Down, who looks great by the way, is on-tap as well as the vintage featurette "Clouseau: The Greatest Fumbler in the World," and another extensive array of still galleries, trailers, TV/radio spots, a commentary from Jason Simos, and a rare behind-the-scenes photo gallery.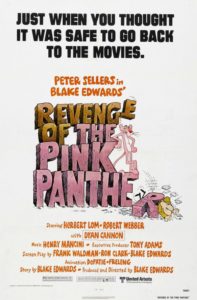 "Strikes Again"'s robust box-office, which came in a bit under "Return," brought back Sellers for one more outing as Clouseau in 1978's "Revenge," though this third entry in Clouseau's '70s capers has only a few fleeting moments of inspiration – most notably a lively Hong Kong climax, set to Henry Mancini's wonderful "Hong Kong Fireworks" composition – as it serves up a flabbier pace without as many laughs as its predecessors. Shout's Blu-Ray here is once again just fine, featuring a 1080p (2.35) AVC encoded MGM licensed transfer with a trio of soundtracks (5.1 DTS MA and 2.0 mono/setereo mixes) and a commentary from author/historian William Patrick Maynard.
Sellers' untimely death in 1980 – while he was developing "Romance of the Pink Panther", albeit minus Blake Edwards, with whom he had another falling out – did not deter Edwards from continuing the series, first in 1982's TRAIL OF THE PINK PANTHER (**, 96 mins., 1982, PG). This Christmas '82 box-office flop combines amusing outtakes – mostly from "Pink Panther Strikes Again," which reportedly ran three hours (!) in its original cut – with new footage of Sellers' co-stars from the preceding films. The result is certainly watchable and amusing for fans – especially during its first half – but the story comes apart as it progresses, resulting in a weird "transitional" film that UA insisted Edwards produce before formally restarting the series with a new lead.
Shout's Blu-Ray is highlighted by another superb commentary from William Patrick Maynard (he also recorded the commentary for Kino's "Inspector Clouseau" below). Maynard is much more insightful than Simos on these tracks, divulging trivia about the film – especially helpful in terms of where the various outtake material originates from – and offers a solid overview of the film's weaknesses. MGM's transfer for the film (2.35) is marked by excellent detail, with a trio of DTS MA soundtracks (5.1, matching stereo/mono 2.0), still galleries and trailers bringing Shout's box-set to a close.
It all makes for a must-have release for Pink Panther fans that's long, long overdue.
---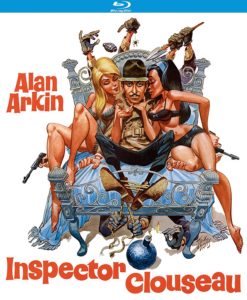 Panther Adventures From Kino Lorber
Also new this month are the Blu-Ray debuts of the Sellers-less, "black sheep" entries in the series: 1968's "Inspector Clouseau," as well as Blake Edwards' own "Curse of the Pink Panther" (1983) and "Son of the Pink Panther" (1993), which Shout apparently did not want to include as part of their box-set and have been issued on their own, respective Blu-Rays from Kino Lorber instead.
After masterminding "The Pink Panther" and "A Shot in the Dark," Blake Edwards sat on the sidelines while The Mirisch Corporation moved ahead with a sequel of their own: INSPECTOR CLOUSEAU (**½, 1968, 96 mins.), with Alan Arkin, coming off the success of "The Russians Are Coming, The Russians Are Coming," facing the difficult task of stepping into Peter Sellers's shoes for director Bud Yorkin's caper.
I don't believe "Inspector Clouseau" was ever released on VHS, and at the very least, it made very few appearances on television over the years. For the majority of viewers out there, Sony's DVD from a decade ago was the first time fans had a chance to lay their eyes on this little-seen comedy, which isn't so bad on its own terms as it is inferior to Edwards' own "Panther" outings.
Arkin's Clouseau falls somewhere between a reprisal of Sellers' clumsy detective and an awkward imitation by a younger, more commercially viable leading man (which is what Arkin was back in the day, of course), and the star does flounder a bit with his French accent. Still, Arkin compensates for his muddled dialogue with an appealing performance on the whole; he's not Sellers, but once you get past that obvious fact, Arkin's interpretation isn't nearly as disappointing as you might have heard.
Neither, for that matter, is the movie, which sports a few mildly amusing gags and scenic London locales captured in full Panavision widescreen. The plot – by Frank and Tom Waldman, who later collaborated with Edwards on scripts for "Return" and "Strikes Again" – is disposable (Clouseau arrives in London to work with Scotland Yard on derailing a robbery attempt), but the film has numerous British character actors on-hand (Frank Finlay, Barry Foster, Patrick Cargill) and a surprisingly infectious score by Ken Thorne that avoids the tendency to go for a "period" late '60s sound like most of the films of its era. (One can also clearly see a gravestone for Yorkin's long-time associate Norman Lear at one point!) Interestingly, while Mirisch's top choice to direct the film, Richard Lester, turned them down, the producers nevertheless retained several of Lester's collaborators – including Thorne – in making the picture.
Perhaps because the movie has been circulated so little over the decades, it should come as no surprise that the source materials for "Inspector Clouseau" do show their age here and there. The Blu-Ray's crisp 1080p (2.35) transfer and mono sound, though, are superbly delivered by Kino from what appear to be the same source materials as Sony's 2006 DVD, just upped here in high-definition. Kino's disc also includes another welcome and agreeably critical commentary from William Patrick Maynard, who delivers an even-handed analysis about the film and its shortcomings, as well as its production genesis. Trailers are also on-tap.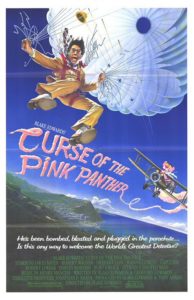 Filmed at the same time as "Trail of the Pink Panther" was more of a "true" sequel to the series, CURSE OF THE PINK PANTHER (**½, 1983, 110 mins., PG), which – in spite of tepid reviews – is actually a much better movie than its immediate predecessor, if only because Edwards attempted to legitimately relaunch the series here with a new hero: "Soap" alumnus Ted Wass, playing American detective Clifton Sleigh, who became Edwards' protagonist after top choice Dudley Moore turned his "10″ collaborator down.
The Edwards-Geoffrey Edwards script finds Sleigh being recruited by Dreyfus (the ever-underrated Herbert Lom) to investigate the disappearance of Clouseau. Along the way, he not coincidentally visits all the stars who popped up in "Trail" (Burt Kwouk's Cato, Robert Loggia's mafia boss, not to mention David Niven, Robert Wagner and Capucine, with Niven's voice having been dubbed by Rich Little). The plot, though, holds together better than "Trail," with Edwards offering several inspired sight gags – especially when Wass is nearly swept away in an airport by a driving rain storm – and a particularly amusing cameo for star "Turk Thrust II" substituting for Sellers at the film's end.
"Curse" made its widescreen home-video debut a decade ago on Sony's DVD release. Like "Inspector Clouseau," those same elements seem to have been utilized for this superior 1080p (2.35) AVC encode, which has some speckles here and there but at least looks colorful and nicely composed – restoring Edwards' wide Panavision frame to its original scope proportions. The DTS MA mono soundtrack is also just fine, offering a superb Henry Mancini score that's appreciably livelier than his "Trail" offering – in fact, it's one of the best of the entire series, with a particularly satisfying rendition of the original "Panther" theme over the end credits.
The disc's new extra is a 16-minute interview with Ted Wass, who discusses how he was cast in a difficult role compounded by Edwards' own, seeming preoccupation with other things – to wit, Wass describes how hard it was to talk with the director prior to shooting (he memorably discusses how he phoned Edwards while he was in Paris, and that Julie Andrews' mother basically brushed him off!), and how little the part was cultivated before production began.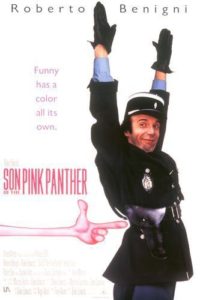 "Curse of the Pink Panther" is no classic, and cannot be compared favorably to the best Sellers films, but – like Alan Arkin's "Inspector Clouseau" – it's also certainly not as bad as its reputation would lead you to believe. Wass' game effort was quickly written off (as was the franchise) after scant box-office returns, but Edwards would try one more time to relaunch the series in 1993's SON OF THE PINK PANTHER (**, 94 mins., 1993, PG), which puts Roberto Benigni through the slapstick paces as Clouseau's illegitimate son. Despite Benigni's involvement – several years prior to his "Life is Beautiful" triumph – the feeble "Son" tanked even more than "Trail" and "Curse," ranking still as the lowest-grossing film in the entire series.
It's not a total trainwreck, at least: the low-energy plot involving the kidnapping of princess Debrah Farentino (then married to producer Tony Adams) is tired and Edwards seems disinterested in cultivating it, but the Benigni sequences at least show the Italian star trying his best to sell material that was far from the director in his prime. Best of all are Herbert Lom's scenes as Dreyfus – displaying a wider range here, Lom seems relaxed and engaged as Dreyfus utilizes Clouseau's son's shenanigans to his advantage, and the scenes with him and Claudia Cardinale (one of the stars of the original "Panther," here in Elke Sommer's role from "A Shot in the Dark") are fun to watch.
Henry Mancini's score is certainly an asset, but it's a bittersweet film as "Son" ultimately put a cap on not only Edwards' big-screen output but Mancini's as well – a mediocre movie that marked the end of two legendary careers. Despite its subpar attributes, the picture still displays the craftsmanship of both men in a movie that's at least more watchable than the strenuously unfunny Steve Martin Panther comedies that followed over a decade later.
The MGM transfer (2.35) utilized in Kino Lorber's Blu-Ray looks a little bit blah as far as colors go, though details are present and accounted for. The 2.0 DTS MA stereo sound is passable, Mancini's score appearing after a CGI opening that spotlights Bobby McFerrin's version of the Pink Panther theme (an expensive title sequence that's quite well done, and gives maestro Mancini a cameo for good measure). Extras include two deleted scenes seen in Italian prints, an archival Making Of featurette, trailers, an extended, rarely-seen trailer (taken from a VHS tape), and a final commentary from Jason Simos from the Peter Sellers Appreciation Society.
---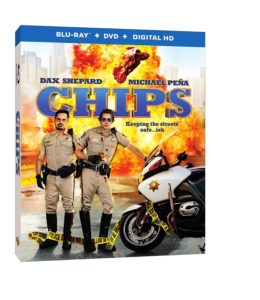 Also New & Noteworthy
CHIPS Blu-Ray Combo Pack (**, 101 mins., 2017, R; Warner): It must have been the success of the "21 Jump Street" films that led Hollywood to believe audiences wanted raunchy, R-rated versions of previously family-friendly TV series. Unfortunately, as the failure of "Baywatch" and Dax Shepard's ill-fated "Chips" movie attest, the "Jump Street" films were unique comedies that made fun of source material nobody today cared about – the sheer fact it was being made was a joke itself. With these two franchises, fresher in the minds of viewers (and also more popular), the fact the source material had been twisted around so much that they scarcely resembled their respective namesakes seemed to confuse, if not disinterest, prospective audiences.
That's the case, certainly, with "Chips," which has almost nothing to do with the hit '70s NBC series outside of following a pair of California Highway Patrol officers named Ponch (Michael Pena) and Jon (Shepard). The R-rated humor is hit or miss, but Shepard – who wrote and directed the film as well – does manage to generate a few laughs in a movie that might've had more of a fighting chance if it had nothing to do with the "Chips" brand at all. As it is, fans of the original series will find little here that resembles a show that's still in reruns today. Warner's Blu-Ray combo pack includes a 1080p (1.85) AVC encoded transfer with 5.1 DTS MA sound, 10 deleted scenes, making of featurettes, a DVD and Digital HD copy.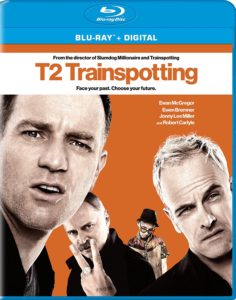 T2 TRAINSPOTTING Blu-Ray (117 mins., 2017, R; Sony): Danny Boyle's long-in-the-works sequel to his 1996 indie smash brings back the original crew – Ewan McGregor, Ewen Bremner, Jonny Lee Miller and Robert Carlyle among them – as McGregor's Mark Renton returns from Amsterdam, years after having stole the gang's money after a drug deal. Back in Scotland, he finds time, and assorted substances, have taken their toll on many of his ex-associates, along with the family he left behind. Boyle's "T2″ is a melancholy trip that adapts portions of Irvine Welsh's follow-up novel, "Porno," to the screen in a watchable movie that just doesn't have the impact its predecessor did. That said, for fans, the movie is worth seeing, even though it's primarily effective through its various allusions to the original picture. Sony's Blu-Ray, out this week, includes deleted scenes, an interview with Boyle and cast members, a commentary with Boyle and screenwriter John Hodge, a 1080p (1.85) transfer and 5.1 DTS MA sound.
WILSON Blu-Ray (94 mins., 2017, R; Fox): Offbeat is the word to describe this adaptation of Daniel Clowes' graphic novel, starring Woody Harrelson as a strange middle-aged man who finds out he has a daughter (Isabella Amara) from his ex-wife (Laura Dern). A few laughs are sprinkled about Craig Johnson's self-consciously "quirky" indie which might find more takers among fans of the source material than casual viewers. Fox's Blu-Ray includes deleted scenes, featurettes, a DVD, Digital HD copy, 1080p (1.85) transfer and 5.1 DTS MA sound…new from Fox on DVD only is THIS BEAUTIFUL FANTASTIC (102 mins., 2017, PG), a British production starring Jessica Brown Findlay as a quiet, withdrawn librarian facing eviction and whose garden is livened up after she meets her grumpy, horticulturalist neighbor (Tom Wilkinson). Simon Aboud's film debuts on disc this week sporting a 16:9 (2.35) transfer, 5.1 sound and a Digital HD copy.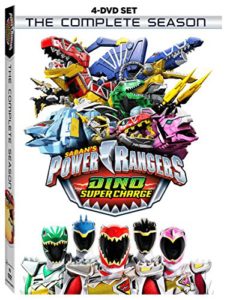 POWER RANGERS: DINO SUPERCHARGE COMPLETE SEASON DVD (4 hours, 2016) includes both volumes from the franchise's latest live-action rendition, which were released separately earlier this year by Lionsgate. ROAR (2 hours, 2015) boasts 10 episodes from the Saban franchise (When Evil Stirs; Forgive and Forget; Nightmare in Amber Beach; A Date With Danger; Roar of the Red Ranger; Forged Under Fire; Home Run Koda; Riches and Rags; Besties 4Eva!; and Gone Fishin'); EXTINCTION (2015), meanwhile, offers 10 more episodes from the live-action series: Love at First Flight, Catching Some Rays, Recipe For Disaster, Silver Secret, Wings of Danger, Freaky Frightday, Worgworld, The Rangers Rock, Edge of Extinction and End of Extinction. The two-disc set contains 16:9 transfers and 5.1 Dolby Digital sound.
INCORPORATED – Season 1 DVD (8 hours, 2016-17; CBS): Short-lived Syfy Channel series was set in the year 2074, when evil corporations have taken over the world after climate change has split apart countries. Despite bearing the political stripes of executive producers Ben Affleck and Matt Damon, and a fine cast in Julia Ormond, Dennis Haysbert, and Allison Miller, "Incorporated" failed to close the deal and was canceled by Syfy after just one season. CBS' DVD contains the complete (one) season of the series with a single extended scene, gag reel and promo featurettes, 16:9 transfers and 5.1 Dolby Digital soundtracks.
BUNNICULA – NIGHT OF THE VEGETABLE Season 1, Part 1 DVD (223 mins., 2016; Warner): I recall reading the children's book "Bunnicula" in the '80s when the title was popular among younger readers, but it's taken decades for the series to reach the screen in the form of an OK Cartoon Network adaptation. A bit more frenetic and silly than its source material, this bombastic rendition is now on DVD sporting the first 20 episodes from the "Bunnicula" series, with voices provided by Chris Kattan and Sean Astin among others. Warner's two-disc Season 1, Part 1 set includes 16:9 transfers and 2.0 Dolby Surround soundtracks.
NEXT TIME: A Fourth of July edition with LAUGH-IN and more! Until then, don't forget to drop in on the official Aisle Seat Message Boards and direct any emails to our email address. Cheers everyone!