Message Board (open 24 hours!)
Twitter - @andredursin (for everything else!)
The modern preoccupation with belated film sequels and remakes has trickled down to even "Blade Runner," Ridley Scott's seminal sci-fi classic that drew neither widespread critical kudos or commercial acceptance when it was first released in 1982. A cult favorite that's obviously been more warmly embraced as the years have passed, Scott is onboard as a producer of BLADE RUNNER 2049 (***, 163 mins., R), an ambitious follow-up from one of its predecessor's original writers and director Denis Villeneuve, architect of glacially paced works like "Sicario" and "Arrival."
Ryan Gosling here plays the title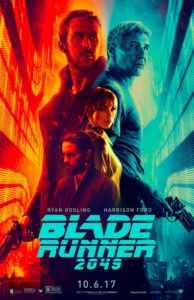 role: a replicant named K working for the LAPD to hunt down the last remnants of the now-defunct Tyrell Corporation's original automatons. After taking down one such target, K's latest job involves the discovery of a crate bearing human(oid) remains that offer possible evidence of a replicant birth. This leads factions of both corporate interests – in the form of a brilliant but psychotic android maker (Jared Leto) – and the replicants themselves to pursue K and the existence of a "child" that could tilt the playing field towards the androids who desire inalienable rights in a world uncertain of whether they possess a soul.
The hint of a possible replicant uprising feels like the type of modern "sequel building" so prevalent in today's franchise-oriented fare, but such a follow-up would likely betray the more intimate, character-driven dimensions of both "Blade Runner" and this successor, which has a lot of nifty ideas floating around a movie that's not always convincingly tied to its classic forerunner.
Villeneuve and cinematographer Roger Deakins don't attempt to recreate the blue-hued, musty futuristic visuals of Scott and "Blade Runner" DP Jordan Cronenweth, instead crafting an emptier, less colorful visual scheme that's a byproduct of both modern CGI and Budapest shooting locations. Certain plot elements do, of course, directly connect with what came before, though even here, when Harrison Ford reappears as Rick Deckard, he seems like's playing Harrison Ford, not an extension of the original character – ditto for Edward James Olmos' cameo as Gaff, who again doesn't even sound like he did in the original (did he just forget his accent after all these years?). For these reasons, stylistically and otherwise, I'm not sure if "Blade Runner 2049" wouldn't have worked better with a clean slate and/or without as much of a direct line to the first picture – though I have to credit Villeneuve and writers Hampton Fancher and Michael Green for going against the tide of Scott's later "Blade Runner" recuts and bringing back the mystery surrounding Deckard's potential Replicant identity (for those of us who never really cared for that narrative "twist," this picture can be satisfyingly interpreted as if it never happened at all).
If one takes a step back from the sequel component, "Blade Runner 2049" works well enough as a futuristic noir on its own terms, though the movie even here isn't without its problems. The running time could've been spruced up by a good 15-30 minutes or with an action set-piece or two added into the mix – Villeneuve's overly methodical pacing doesn't always serve the story well, with the few sections of fisticuffs feeling like a total afterthought in relation to the movie's more "existential" moments. Gosling, meanwhile, provides a mostly one-note performance in keeping with his character's background, but he's never a compelling presence – and the less said, the better about the score by Hans Zimmer and Benjamin Wallfisch, which reprises the 1982 "electronic sound" of Vangelis without any of that classic score's nuance or melodic components.
Eventually, "Blade Runner 2049" goes to a satisfying place with a surprisingly emotive ending, ultimately resembling in many respects a hard-boiled detective story updated to futuristic terms. The interesting use of a holographic companion (Ana de Armas) for K is also consistently engaging, and there are moments of brilliance scattered throughout an overlong film that's thoughtful in its extension of its predecessor's themes, even if it never quite feels like it's directly related to them.
---
It's unfortunate that, despite producing four sequels that have generated literally billions of dollars, Disney and producer Jerry Bruckheimer have never been able to successfully follow through on the promise of the original "Pirates of the Caribbean." Their latest sequel, PIRATES OF THE CARIBBEAN: DEAD MEN TELL NO TALES (**½, 129 mins. 2017, PG-13), likewise plays to diminishing returns, though unlike most of its predecessors, at least it provides a satisfying ending to the entire franchise – righting some of the narrative stumbles that plagued the various entries that followed 2003's original "Curse of the Black Pearl."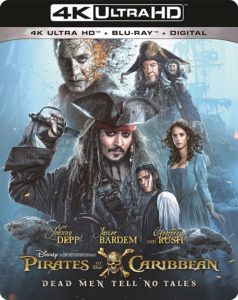 Though still overlong (clocking in at a full two hours minus credits), this shortest series installment finds Will Turner's son, Henry (Brenton Thwaites), trying to break his father (Orlando Bloom) from the Dutchman's curse. He finds a solution in Poseidon's Trident, a mysterious artifact that can reset all the various curses of the sea, but is being pursued by the villainous, ghostly Captain Salazar (Javier Bardem), who wants vengeance on Jack Sparrow (Johnny Depp), who sent him to the bottom of the ocean floor as a teenager. Using the help of a budding female scientist (Kaya Scodelario), Jack and Henry form an uneasy alliance as they search for the Trident, with Captain Barbossa (Geoffrey Rush) also in hot pursuit for reasons of his own.
It will surprise no one that "Dead Men Tell No Tales" is best recommended for series fans. If you found the previous "Pirates" movies loud, overbearing and tedious, you're basically going to have a similar issue here, as the movie plays right along the formula set by its predecessors. What's different though is a seemingly reduced budget that results in both positive and negative attributes: on the one hand, this fifth adventure seems to lack a certain energy, relying heavily on CGI instead of actual shooting locales (no Caribbean settings here – this one was shot in Australia and sound stages in England and Canada). "Kon-Tiki" directors Joachm Ronning and Espen Sandberg fail to bring a distinctive voice to the shenanigans, though there's at least one set-piece (ghost sharks!) you haven't seen before. Among the cast, Depp tries as always, but Sparrow as a character hasn't grown at all since he was first on-screen, making him more of a prop than ever before, while young leads Thwaites and Scodelario aren't going to linger long in the memory.
Even if the energy flags, at least Jeff Nathanson's script is straightforward and avoids the clutter of prior scripts in the series. The third "Pirates," "At World's End," supplied a strenuously unsatisfying ending to the franchise's initial trilogy, and after a fourth picture that generally functioned as a standalone, Nathanson's job here was clearly to provide a less cluttered finale that directly addressed fans' disappointment over that sequel. In that regard, "Dead Men" does its fairly job well, particularly considering that endings haven't been the strong suit for this particular franchise. Bardem is fun when the movie gives him the fleeting chance to exact villainy (even if he's bathed in too much CGI), and there are just enough reflective moments here to balance out the action.
It may not be surprising or all that involving, but if this is Jack Sparrow's swan song, at least it's a respectable adventure that should please series buffs, and that's more than one can say for the waterlogged outings that preceded it.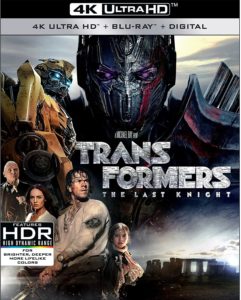 Disney's 4K UHD presentation of Pirates V is generally very good, though the use of HDR isn't as widespread or impressive as you might expect. Too many sequences in the film come off as dark and murky, and while colors pop in certain scenes (especially outdoors), its overall appearance compared to the 1080p Blu-Ray isn't a night/day enhancement by any means. On the audio end, the UHD boasts a Dolby Atmos mix with 7.1 DTS MA on the Blu-Ray side, with Geoff Zanelli recycling Hans Zimmer's original themes with a slightly more orchestral flavor. Extras include a decent 47-minute documentary taking fans behind the scenes, Bruckheimer's photo gallery, plus a couple of minutes each of deleted scenes and bloopers. A digital copy is also included in the combo pack.
TRANSFORMERS: THE LAST KNIGHT (*½ , 154 mins., 2017, PG-13: Paramount): Also debuting on 4K UHD this week is the latest "Transformers" adventure, which – like most sequels released in Summer 2017 – generated far less enthusiasm with audiences than its previous franchise installments.
It's no better or worse, really, than any of its predecessors, with Michael Bay's film set in a post-TF world where Optimus Prime has taken a vacation to the far reaches of the galaxy in search of his origins. Back on Earth, his absence is felt as Mark Wahlberg's returning Cade Yeager is recruited by a mysterious British benefactor (Anthony Hopkins) into finding an ancient alien staff which helped King Arthur centuries before. Throw in a goofy Stanley Tucci cameo as Merlin (!) and you can pretty much guess what kind of entertainment "The Last Knight" has to offer.
Four different writers collaborated on this fifth "Transformers" movie, which still managed to gross over $600 million worldwide – a hefty sum that's nevertheless a sizable drop from even its immediate predecessor. The game of declining franchise returns seen throughout this past summer seemed to particularly affect this sequel, though taken on its own merits, "The Last Knight" offers the same form of entertainment as Bay's first four TF movies: it's big, loud, brainless, packed with dopey humor, painfully overlong and gorgeously designed.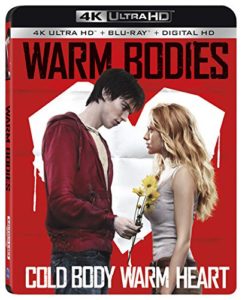 Especially in Paramount's new 4K UHD combo package, "Transformers" boasts a spectacular image with great use of High Dynamic Range, with HDR highlights accentuating scene after scene – big alien ships, shapeshifting robots, and vivid locales are presented with eye-popping clarity and color….and yet a few minutes of this is likely to suffice for all but the most hardcore "Transformers" fans, the movie concluding on a cliffhanger setting up a sixth adventure that may or may not happen at this rate. Paramount's release also includes a boisterous Dolby Atmos soundtrack, a number of mostly fluffy featurettes on the standard Blu-Ray, plus a Digital HD copy.
Also new on 4K UHD this week from Lionsgate is WARM BODIES (**½, 97 mins., 2013, PG-13),Jonathan Levine's agreeable zombie-sleeper that pairs a human survivor in a post-apocalyptic world (Teresa Palmer) with a member of the undead (Nicholas Hoult) who's starting to exhibit signs of humanity. Their Romeo & Juliet-esque relationship makes for a movie that's a lot more entertaining than its genre contemporaries – and certainly unique with its comedic and romantic components, a mix that helped the film do fairly well at the box-office.
Like most of Lionsgate's recent UHD releases, this 4K catalog title offers a decent uptick in color and lighting over its Blu-Ray counterpart (also included), though the color scheme of "Warm Bodies" doesn't always make great use of HDR. There's Dolby Vision capability and Dolby Atmos to match, along with the Blu-Ray reprising the various extras from its prior release (deleted scenes, commentary, short-ish featurettes). A Digital HD copy is also included in a package that may be worth a look for hardcore fans of the film.
---
CLICK HERE FOR THE REST OF THIS WEEK'S AISLE SEAT