The near 2½-hour extravaganza opens up with "Driving Miss Daisy" though the overall accent here is on Zimmer's more recent cinematic excursions. Suites from "Pirates of the Caribbean" and 'The Dark Knight" offer music that will be familiar to even casual listeners – as will a particularly impressive collection of tracks from "The Lion King," complete with Lebo M appearing to offer his trademark vocals. Dramatic performances of "Crimson Tide" and "Inception" are also on tap, with Zimmer appearing throughout, giving quick anecdotes and introductions to some of the selections.
Though I wish more of Zimmer's earlier scores were represented – and I had to quickly fast-forward through a suite from "The Amazing Spider-Man 2" — I doubt Zimmerites are going to be disappointed with this concert, which has been spectacularly captured in HD. The transfer is superb but it's the Dolby Atmos audio that should prove to be the main draw here, with pounding bass (I had to turn my subwoofer down!) and excellent fidelity making for one of the best-sounding titles I've yet heard on my new HD receiver. A PCM stereo track is also available, but it sounds limp in comparison with the tremendous Atmos audio in Eagle Rock's just-released Blu-Ray.
---
Shout! New Releases
GREEN ACRES: The Complete Series DVD (1965-71, aprx. 75 hours, Shout! Factory): Several decades ago, it wasn't uncommon for sitcoms to be stretched out to some 30 new episodes per-season, which is the case with the well-remembered slice of '60s TV known as "Green Acres." Obviously this silly but intermittently inspired sitcom starring Eddie Albert and Eva Gabor as a NYC couple who move "down on the farm" needs little introduction to most viewers: though the show is outlandish and cartoonish at times, it also sports some occasional self-parody that makes it a lot smarter than you might anticipate…especially when compared to other shows like "The Beverly Hillbillies."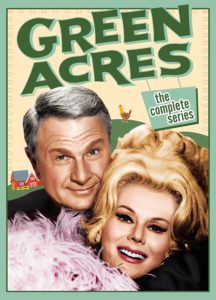 A series that's been kept in circulation for years through syndication, "Green Acres" was a big hit but became a casualty of TV's "rural purge" in the early '70s. Sony previously released Seasons 1-3 from the series on DVD but (as they had for too many other series) never completed the run. Thankfully Shout! Factory has come to the rescue with this brand-new set, sporting all 170 episodes from the show's 1965-71 run. Transfers are all decent though obviously not recently remastered, but should still suffice for any fan. Extras include the new featurette "Green Acres is the Place to Be" with show expert Stephen Cox; a 1966 clip from The Merv Griffin Show with Gabor and Albert; original "Granby's Green Acres" radio shows; a commentary on the pilot from Russell Dyball; and a photo gallery.
Leading the way among Shout's November Blu-Ray releases is THE PAUL NASCHY COLLECTION II, the second HD retrospective celebrating the "Spanish Lon Chaney," who starred in countless genre exercises over the years, earning him widespread celebrity in his native country and the Spanish-speaking world. Naschy is a name I recall reading in many a horror movie guide, but I confess to having actually seen little of his work — goofy efforts that get the job done through Naschy's unique charisma and enthusiasm, with the actor often writing/producing/directing many of his own efforts. This second go-around includes Blu-Ray presentations of "Hunchback of the Morgue" (87 mins., 1972), "A Dragonfly For Each Corpse" (85 mins., 1973), "The Devil's Possessed" (95 mins., 1974), "Exorcism" (90 mins., 1974), and "The Werewolf and the Yeti" (94 mins., 1975). All titles include English dubs and their original Castilian audio, plus 1080p (1.85 on all except 1.33 on "Werewolf and the Yeti") transfers and a number of extras. Among the supplements are commentaries on "Hunchback," "Dragonfly" and "Exorcism," plus still galleries, trailers, and selected additional extras on "Exorcism" including alternate "clothed" scenes for its Spanish release and a 24-page booklet by Mirek Lipinski that fans should love.
Shout Select New Releases: A pair of Universal catalog titles make a welcome return to the home video arena as Shout Select Blu-Rays this month. I have vague memories of watching THE INCREDIBLE SHRINKING WOMAN (89 mins., 1981, PG) as a kid, with Lily Tomlin starring in a comic spin on Richard Matheson's original "Shrinking Man," which had previously been brought to the screen as a serious (and seriously good) '50s Jack Arnold-directed fantasy. With a script by Tomlin's associate Jane Wagner, this one targets '70s/'80s consumerism as housewife Pat Kramer (Tomlin) begins shrinking after being exposed to new household chemicals. Charles Grodin, Ned Beatty and Henry Gibson star in this enjoyable if not especially memorable picture which finally receives a satisfying transfer via Shout's 1080p (1.85) AVC encode. Though still grainy and soft looking (as many of Universal's films from the era typically are), the image is far more satisfying than any prior video release, and Shout's extras are exemplary. A new talk with Tomlin and Wagner leads an impressive slate of extras that also include a lengthy audio conversation with composer Suzanne Ciani, who talks about her work writing commercial jingles and new wave music, and also spurning a career in film scoring; an interview with Schumacher; a talk with cinematographer Bruce Logan; an "On Location: Now and Then" featurette; the trailer, a photo gallery, and a brief "Edith Ann" deleted scene that showed up in Universal's syndicated TV airings.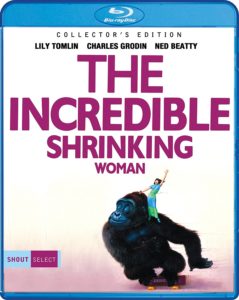 John Landis' INTO THE NIGHT (115 mins., 1984, R) is also new to Blu-Ray from Shout this month. This is a quite watchable, yet very uneven, thriller that pairs Jeff Goldblum – as an unhappily married engineer who finds out his wife is cheating on him – with Michelle Pfeiffer's mysterious heroine, who jumps out of a car and is pursued across the L.A. nightscape by a group of terrorists. All kinds of directors and David Bowie pop up in cameos during "Into the Night," which was written by Ron Koslow, whose handful of screenwriting credits include the terrific "Lifeguard" and underrated '80s drama "Firstborn." I'm not sure how Koslow's script read but "Into the Night" is a film that's occasionally marred by jarring shifts of tone, from some brief bursts of violence to broadly played comic shenanigans involving the killers. Goldblum is also dialed down so much that his hero is often glum, resulting in a film that's not really "fun" but is still entertaining enough for buffs. The 1080p (1.85) AVC encoded transfer and mono DTS MA soundtrack are fine – the score graced by B.B. King's vocals – and extras include new interviews with Landis (himself involved in the "Twilight Zone: The Movie" trial at the time of shooting) and Goldblum, plus the vintage documentary "B.B. King Into the Night" and the trailer.
Also New From Shout: Coming November 14th from Shout is the Blu-Ray/DVD combo pack release of IN THIS CORNER OF THE WORLD (128 mins., 2017, PG-13), a sensitively drawn if episodic Japanese production. Set in Hiroshima and surrounding areas during WWII, Sunao Katabuchi's film examines the life of a young girl who marries a man from a nearby city and moves away from Hiroshima. Her daily struggles once the war impacts their quiet, previously idyllic area are framed in an interesting picture that seems to linger on a bit longer than it should've, but is nevertheless effectively drawn and atmospheric. Shout's attractive Blu-Ray houses a 1080p (1.85) transfer with 5.1 English and Japanese audio (with optional English subs), interviews with the director and producer Masao Maruyama, the trailer, U.S. Tour highlights, the featurette "Hiroshima & Kure; Then & Now," and a DVD copy.
A pair of IFC Midnight/Scream Factory releases are also new in Blu-Ray/DVD combo packs. The Australian import KILLING GROUND (89 mins., 2016, Not Rated) focuses on a couple who head out to the beach for a weekend, only to run into a pair of killers who terrorize both them and a young child they find at an abandoned campsite. Shout's combo pack includes 5.1/2.0 DTS MA soundtracks and 1080p (2.37) AVC encoded video on the BD side. DARKNESS RISING (81 mins., 2016, Not Rated) is a more conventional haunted house affair starring Tara Holt as a young woman whose mother murdered her younger sister. Austin Reading's film is new to disc as well, hitting stores in a Blu-Ray/DVD combo with 1080p (1.78) video and 5.1/2.0 DTS MA stereo offerings.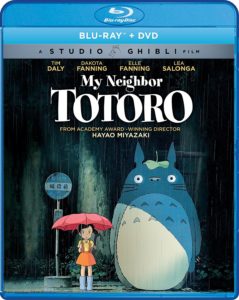 Studio Ghibli Titles
GKids has taken over distribution of the Studio Ghibli catalog, resulting in a series of attractive new Blu-Ray/DVD combo packs that are affordably priced at a myriad of venues.
Despite boasting nicely detailed animation and a gorgeous score by Joe Hisaishi, one of the highest-profile Ghibli releases in North America, PRINCESS MONONOKE (**½, 133 mins., 1997, PG-13), left me a little cold. Yes, this fairy-tale adventure (suitable only for teenagers due to a good deal of violence) was the highest grossing picture released in Japan in 1997, and there are some unforgettable sequences mixed into the fabric of Hayao Miryazaki's film. But at over 130 minutes, this is a sluggish, slow-moving fantasy, one that tends to ram home its pro-environmental message without adding any additional subtext.
Although the Disney Americanization featured a solid vocal track featuring Minnie Driver, Billy Cudrup, Billy Bob Thornton, and Claire Danes among others, perhaps something was lost in the translation of the film to American shores — or too much of the movie is steeped in Japanese culture and legend to have the same significance here. (As my friend Paul MacLean pointed out to me, why is the movie called "Princess Mononoke" when she's basically a supporting character to the Prince?).
Still, even for those not familiar with Ghibli's features, I would recommend the movie due to its artistic design and the lyrical score by Hisaishi, both of which are prominently highlighted by GKids' Blu-Ray offering 5.1 DTS MA English or Japanese tracks. Extras carried over from the previous releases include TV spots, trailers, storyboards, two featurettes and a booklet.
More satisfying among Ghibli's output over the last 15 years is SPIRITED AWAY (***, 125 mins., 2001, PG), the Oscar winner from Miyazaki that became an international hit for Ghibli; the entertaining fantasy HOWL'S MOVING CASTLE (***, 119 mins., 2004, PG); plus THE SECRET WORLD OF ARRIETTY (***, 95 mins., 2012, G), even though this Disney release generated just modest box-office despite being geared more to western audiences, through its adaptation of Mary Norton's beloved book "The Borrowers."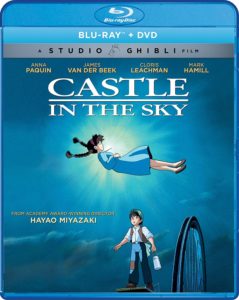 Directed by Hiromasa Yonebayashi but scripted and designed by Miyazaki, "Arrietty" charts the relationship that develops between a human boy and Arrietty – one of the tiny Borrowers who lives under the floor in a house owned by the elderly Aunt Jessica. When her great-nephew, Sean, comes to live with her, he uncovers the Borrowers and strikes up a relationship with the little Arrietty, in spite of the Borrowers being forbidden to make contact with humans.
"The Secret World of Arrietty" isn't quite on the level of the best Studio Ghibli pictures – it's more of a straightforward picture aimed specifically at children – but it's nevertheless an enchanting film with lovely animation and a pleasant score by French singer Cecile Corbel.
Disney's prior Blu-Ray was just fine but this Gkids effort does add a few new extras, while the other discs mostly reprise supplemental contents from their earlier counterparts (including Miyazaki's trip to Pixar on "Castle"). In addition to a comparable 1080p transfers and 5.1 DTS MA English/Japanese soundtracks, the disc includes interviews with director Yonebayashi and Miyazaki, storyboards, and the trailer.
PONYO (103 mins., 2008, G) was Miyazaki's gentle variation on Andersen's "The Little Mermaid," co-produced by Disney and Kathleen Kennedy, Frank Marshall and John Lasseter. Like Disney's prior Blu-Ray, GKids' offering boasts the movie's original Japanese language track plus an English-dubbed version with a script authored by Melissa Mathison and voices provided by Cate Blanchett, Matt Damon, Tina Fey, Liam Neeson and Lily Tomlin among others. With beautiful animation and a typically terrific score by Joe Hisaishi, "Ponyo" offers more Miyazaki magic, and like "Arrietty," the film is particularly geared towards young viewers than other, later Ghibli outings, as evidenced by its G rating and somewhat broadly drawn, and not always well-defined, characters. Disney's Blu-Ray presentation was gorgeous and Studio Ghibli's Blu-Ray/DVD carries over the same transfer/sound (5.1 Japanese/English tracks) plus extensive extras chronicling the film's production and a history of Studio Ghibli, plus a storyboard presentation of the film and an introduction from the producers. The standard DVD rounds out the package.