Message Board (open 24 hours!)
Twitter - @andredursin (for everything else!)
It's entirely likely that either you or a movie buff you know is ready to make the leap into the world of 4K this holiday season. Having spent the last year extensively researching the format and eventually jumping onboard (mostly because of the 4K UHD discs I've received for review), I have a few suggestions to keep in mind as visions of Ultra High Definition images dance around in your heads.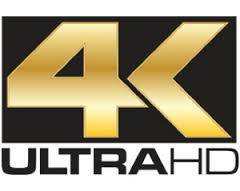 *If the big difference between DVD and Blu-Ray was resolution, the major enhancements of 4K are color and contrast. That's why a 4K TV with HDR (High Dynamic Range) – and a set that replicates it well — is so important. HDR is what really separates 4K content from 1080p high definition. Unless you're utilizing a projector or a set reaching upwards of 100 inches, most humans aren't going to see a difference in detail alone between the 1080p of "standard high definition" and 4K resolution's 2160p. 4K does, however, often implement the use of HDR, which accentuates color and brightness to a degree that 1080p Blu-Rays simply cannot replicate, and subsequently, the best 4K UHD format discs stand out because of it. Compare the "Blade Runner" Blu-Ray to the 4K UHD and you can immediately see the difference in color gamut and brightness. That's where the main advantage in the format lies – not necessarily from a detail standpoint.
*Not all 4K TVs are created equal. Lower-priced 4K sets might be fine and dandy for some – but most of these low-end units either don't offer "proper" HDR or can't do it at all. If you're going to invest in a 4K set, make sure it's a good one, and spend a few more dollars to make the most of the format's capabilities. With so many 4K's permeating the market, things are changing quickly with countless LCD units and more expensive OLED units also in the wild. A site I find invaluable is Rtings.com, which has extensive reviews on the newest TVs and also calibrated settings you should implement once you buy your set – absolutely vital as 4K (as I've found out myself) isn't exactly "user-friendly" in terms of picture settings, with HDR and non-HDR settings being completely separate in most 4K TVs. What's more, most of these sets come with all kinds of image-degrading "picture processing" settings like "Dynamic Contrast" turned on by default. Rtings will help you weed through these unnecessary options and get the most natural image out of your new TV (for example, I found out from personal experience that my 4K Samsung TV just needed the basic color setting turned up to make HDR stand out – not the "artificial sweeteners" manufacturers pack into these sets to mostly make them "pop" in retail showrooms).
*4K UHD isn't a ploy to make you re-buy your physical collections again. Yes, there are some impressive 4K catalog transfers – "Blade Runner" and "Close Encounters" being two of those – but I don't see a glut of catalog titles rushing to the 4K UHD format. If a movie has a 4K transfer but hasn't been remastered with HDR, it's going to be debatable whether or not you'd ever see a difference over that same source in a "standard" high definition transfer. For that reason (and the time/money it's going to take to invest in remastering a title to make it worthwhile for 4K), I only see major catalog releases ever coming to the UHD format. For new releases – where most UHD releases are going to originate from – if you're worried about future-proofing, buy the UHD/Blu-Ray combo packs, especially when they go on sale (most 4K releases come with a Blu-Ray copy). That said…
*If you haven't moved on from DVD, it's time. I would advise anyone still living with lots of DVDs to upgrade to Blu-Ray where applicable because 4K upscaling of 1080p sources is infinitely better than looking at standard-definition DVD transfers. That's not exactly breaking news but the difference between 480p standard-def and 1080p high-def is even more pronounced with 4K. You'll get a lot of benefit from looking at Blu-Rays upscaled to 4K – in fact, if a quality 1080p transfer is transferred at a high-bit rate, it's going to be hard to tell that you aren't looking at a UHD disc to begin with, at least in terms of detail. On the flip side, there's really no benefit at all watching a DVD upscaled to 4K instead of 1080p, so if you haven't moved away from DVD yet and plan on upgrading to 4K, you should.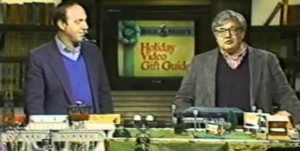 *To get the most out of your 4K TV, plan on making other upgrades. The sad reality with new tech is you're likely going to need upgrading in other areas of your home theater as well. The good news, at least, is that many AV Receivers offer 4K passthrough and the latest sound formats (Dolby Atmos, DTS: X) at affordable levels. From my personal experience, I highly recommend the Sony STRDN1080, which offers superb audio performance and 4K capability at a solid price. UHD players, meanwhile, are becoming less expensive all the time, all of them producing the same image output for 4K (in terms of Blu-Ray/DVD upscaling, these players aren't created equal, but if your TV does an adept job handling non-4K sources on its own, you can always set these players to "Source Direct" and let the TV do the upscaling instead. In other words, you don't necessarily need to spend $500 on an Oppo!). If you're planning on gaming at all, the Xbox One X offers brilliant HDR and 4K gaming that's the best on the market right now. It also plays UHD discs as well, making it a good general value even at its $500 price tag (there's also the far cheaper Xbox One S that likewise plays UHDs but doesn't offer the same graphic enhancements).
*Research! The internet is a savior with so much confusion and uncertainty regarding 4K and not just HDR but how it's implemented (I could spend an entire article on the whole HDR10 vs. Dolby Vision debate – but I'd rather not confuse you completely!). Sites like the AVS Forum are invaluable at times like these, so be sure to take advantage of them. At its best, 4K offers a gorgeous image – just be aware you may have to work at it to get there!
---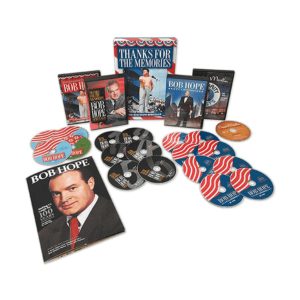 Time-Life New Releases
This year's best home video releases come in a wealth of shapes and sizes, with two of the finest TV-centric releases coming from Time-Life. Both the 19-disc THANKS FOR THE MEMORIES: THE BOB HOPE SPECIALS and the 22-disc RED SKELTON HOUR IN COLOR offer the most comprehensive packages of each legendary performer's output to date, in superlative releases that should appeal to die-hard fans and casual viewers just discovering their work alike.
THANKS FOR THE MEMORIES offers over 37 hours of specials, including the debut of 20 specials that haven't been seen since their original broadcast. The set includes "Thanks For the Memories: The Bob Hope Specials" (6 discs featuring 13 specials from 1956-96, including Hope's first color show and his 90th birthday party special); the 4-disc "Bob Hope: Entertaining the Troops," which is comprised of Hope's USO Christmas specials; the 8-disc "Bob Hope: TV Legend," offering 16 Hope specials from 1958-73; and a bonus DVD, "The Dean Martin Celebrity Roasts" special, featuring Martin, Jimmy Stewart, Jack Benny, Milton Berle, Don Rickles and John Wayne among others roasting Hope.
THE RED SKELTON HOUR IN COLOR, meanwhile, includes 130 remastered episodes with 31 never-before-released color shows plus the entire final season from Skelton's series also in color. Time Life's set is here comprised of three specific collections: "The Red Skelton Show: The Early Years," an 8-disc assembly of Red's earliest work over some 72 episodes; the 10-disc "Red Skelton Hour: In Color," with 31 episodes featuring guests like Simon & Garfunkel and Frankie Valli; the final season of Skelton's show, "The Complete 20th Season: In Color," a three-disc set that bids adieu to the comedian's classic characters; and "The Farewell Specials," a single-disc DVD compilation of Skelton's "goodbye" programs.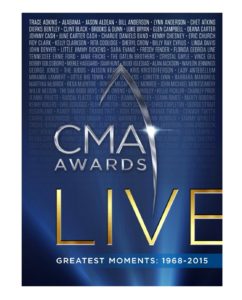 Both sets are now available to order and come strongly recommended as tremendous presentations of TV history.
SWEATIN' TO THE OLDIES: Complete Collection 30th Anniversary DVD (Time Life): Looking to burn some calories, old-school style? Richard Simmons has broken out of his tabloid rut and helped produce this Time Life six-disc box-set, offering all five of his original "Sweatin' to the Oldies" exercise videos, which he hosts to a series of '50s/'60s era tunes. These popular titles sold well on VHS and DVD, and have been remastered here in uncut form along with a 20-page booklet, Simmons' motivational video "Love Yourself & Win," and 100 minutes of bonus material, including an exclusive Simmons interview and other goodies.
CMA AWARDS LIVE – Greatest Moments: 1968-2015 DVD (Time Life): 9-disc DVD set compiles memorable performances from 1968-2015 from the Country Music Awards, offering legends like Johnny Cash, Glen Campbell and modern stars Carrie Underwood, Luke Bryan and many others. In all, some 127 performances are captured, spread out over five decades, from the program, along with a 44-page booklet and a bonus DVD of backstage interviews.
---
Universal Gift Guide 2017 Recommendations
Recently reissued in time for the holiday season, ALFRED HITCHCOCK: THE MASTERPIECE COLLECTION is Universal's 15-disc Blu-Ray box-set packed with a 58-page book and plenty of extras – plus a pair of bonus DVDs featuring 10 episodes from Hitchcock's television work.
This stunning release, first available in 2012, is an absolutely essential if you've only purchased a smattering of the studio's Hitchcock DVD/Blu-Ray releases previously, compiling in one convenient release (carrying an affordable price in that) some of the master's finest works.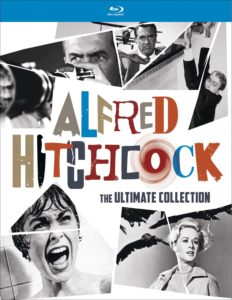 Housed in a deluxe, hardbound book-styled package are: the 1942 production "Saboteur" with Robert Cummings and Priscilla Lane; "Shadow of a Doubt," also from 1942, starring Joseph Cotten and Teresa Wright; Hitch's (largely) single-take attempt, "Rope," the 1948 feature that also marked his first work in color; his seminal 1955 classic "Rear Window" with Jimmy Stewart and Grace Kelly; the delightful black comedy "The Trouble With Harry" from 1956, and the underrated remake of Hitch's own "The Man Who Knew Too Much" also from that same year, starring Stewart and Doris Day; Stewart again in the 1958 noir "Vertigo," co-starring Kim Novak (not one of my favorite Hitchcock films but still a favorite of many viewers); the 1960 classic "Psycho," which needs no other introduction; 1963's "The Birds," another genre favorite; Sean Connery and Tippi Hedren in the icy and sometimes sluggish 1964 effort "Marnie"; the disappointing 1966 thriller "Torn Curtain," with Paul Newman and Julie Andrews, that also marked the departure of long-time composer Bernard Herrmann from Hitch's film entourage (his score was replaced with another soundtrack by John Addison); the tepid 1969 spy thriller "Topaz"; Hitch's return to his native England in 1970's "Frenzy"; and his final film — the engaging 1976 "Family Plot" — sporting a playful score by John Williams. Licensed from MGM, meanwhile, is "North By Northwest," the classic Cary Grant adventure that puts the icing on the cake.
Each film has its own documentary (produced by Laurent Bouzereau), all of which were contained in Universal's original DVD/Blu-Ray editions from years back. In addition, each of the various supplements contained on those discs are here reprised (storyboards, interviews, trailers, etc.) This includes the smattering of scenes scored by Herrmann for "Torn Curtain," a deleted sequence from "The Birds" (and storyboards for an unused ending), and no less than three alternate endings from "Topaz." ("North By Northwest" is the same Blu-Ray that Warner Home Video previously released). A full color booklet offers stills and credits for each film, along with a brief plot synopsis. Meanwhile, exclusive to this set are a pair of DVDs that house seven episodes from "Alfred Hitchcock Presents" and a trio of episodes from "The Alfred Hitchcock Hour," respectively, all in 1.33 B&W.
Retailing for under $100 but recently discounted substantially less than that at Amazon (keep an eye out), you can get all of Universal's 14 Hitchcock Special Edition Blu-Rays plus "North By Northwest" in one convenient box fans are certain to get repeated use out of. Highly recommended!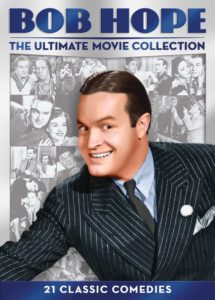 Universal has also produced a brand-new Blu-Ray edition of the holiday perennial HOLIDAY INN (75thAnniversary Edition, 101 mins, 1942), the Irving Berlin musical with Bing Crosby and Fred Astaire that always plays around Christmas time – even though only a section of the film has to do with this particular season. Still beloved as the film that introduced "White Christmas" to the masses (and superior to its informal follow-up of the same name), "Holiday Inn" is reprised here on Blu-Ray in a 1080p (1.33) AVC encode that includes both its original B&W and a Colorized version from Legend Films. Commentary, the trailer, featurettes and – best of all – a new bonus Blu-Ray includes a HD-captured performance of "Holiday Inn: The Broadway Musical," making for a strong package all around.
On DVD, Universal has released BOB HOPE: THE ULTIMATE MOVIE COLLECTION, sporting 21 Hope vehicles produced between 1938-49. Included are the terrific PBS documentary "American Masters: This Is Bob Hope," along with assorted extras and the movies The Big Broadcast of 1938, College Swing, Give Me A Sailor, Thanks For the Memory, Never Say Die, The Cat and the Canary, Road To Singapore, The Ghost Breakers, Road To Zanzibar, Caught In the Draft, Nothing But The Truth, Louisiana Purchase, Star Spangled Rhythm, My Favorite Blonde, Road To Morocco, Road To Utopia, Monsieur Beaucaire, Variety Girl, Where There's Life, The Paleface and Sorrowful Jones.
A new release that might be worth checking out as a prospective present — and hits stores December 19th — is VICTORIA AND ABDUL (111 mins., 2017, PG-13). This genial if not entirely convincing historical drama from director Stephen Frears stars Judi Dench as Queen Victoria, who forges an unlikely and close friendship with an Indian clerk (Ali Fazal) sent to England to participate in the her Golden Jubilee celebration. This finely acted picture smacks of modern social enlightenment — it's hard to believe the real Queen spoke some of the dialogue in Lee Hall's script — but if taken less as a historical account and more a "fanciful speculation," the film works well enough, anchored by its central performances. Universal's Blu-Ray combo pack includes two featurettes, a 1080p (2.40) transfer, 5.1 DTS MA audio, a DVD and Digital HD copy.
---
Twilight Time New Releases
If you're looking for great gift ideas, be sure to check out Twilight Time's mounting list of catalog excellence at both the label's website as well as Screen Archives. Head on over to the Aisle Seat archives for my monthly reviews of their titles, and in the meantime, here's a look at their latest limited-edition efforts new on Blu-Ray: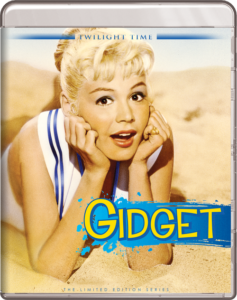 GIDGET (95 mins., 1959): Glossy beach fun, the first – and best — "Gidget" at last surfs its way to Blu-Ray in full Cinemascope (2.35) for the first time on home video. Twilight Time's Blu-Ray makes it easier than ever to enjoy the shenanigans of Sandra Dee's Southern California surfing princess, with Arthur O'Connell as her father and James Darren (the one and only Moondoggie) and Cliff Robertson as the competing objects of her affection. Paul Wendkos' film is a lot more heartfelt and genuine than the sequels and ripoffs that followed, including American International's glut of "Beach Party" films, and Dee's star-making performance remains charming. TWILIGHT TIME BLU-RAY BREAKDOWN: Even Sony's Gidget DVD box-set, released in 2004, only boasted a full-screen only DVD copy of this 1959 hit, meaning it wouldn't take much for Twilight Time's Blu-Ray to surpass it. The Sony-licensed 1080p AVC encode does that and then some, preserving the movie's widescreen cinematography in a lovely, highly detailed image. The 1.0 DTS MA mono soundtrack is acceptable with an isolated score track and the trailer included for extras.
DOCTOR DOOLITTLE (151 mins., 1967, G): One of the movies that helped doom the movie musical during the late '60s, "Doctor Doolittle" was a massive production from 20th Century Fox and producer Arthur P. Jacobs, who packaged another musical flop with "Goodbye Mr. Chips" over at MGM just a couple of years later. Still impressive from the standpoint of its physical production – captured brilliantly in Twilight Time's 1080p (2.20) transfer, remastered by Fox in 4K for this presentation – "Doolittle" is an overlong and old-fashioned film that was antiquated in many ways at the time of its original release. For those who grew up in the era or watched it on TV when they were younger, the film may hold some appeal, and Leslie Bricusse's score features a couple of memorable tunes including the Oscar-winning "Talk to the Animals," even if it's performed in "spoken word" form by Rex Harrison, playing the title hero of Hugh Lofting's stories. TWILIGHT TIME BLU-RAY BREAKDOWN: That gorgeous transfer is the main draw in TT's Blu-Ray, also sporting 5.1 and 2.0 DTS MA stereo audio, an isolated score track, an AMC Biography special on Harrison, the trailer, and a very enjoyable commentary with Bricusse and Mike Matessino.
THE YELLOW HANDKERCHIEF Blu-Ray (109 mins., 1977): A story by American writer Pete Hamill served as the unlikely inspiration for this acclaimed, award-winning 1977 Japanese drama from director Yoji Yamada. Hamill's columns revolved around an ex-con who undertakes a road trip to reconnect with his ex-wife and joins up with a pair of teenagers likewise trying to find themselves; Yamada's film works superbly as it unfolds at a slow clip, revealing its central trio's backstories and anchored by the great Ken Takakura as the glue holding the film together. TWILIGHT TIME BLU-RAY BREAKDOWN: Impressively shot in widescreen (2.35), "The Yellow Handkerchief" makes its overdue North American home video debut from Twilight Time. The Shochiku-licensed transfer is colorful and detailed, sporting mono DTS MA Japanese audio with English subtitles. Well worth a look, and superior to the American remake with William Hurt and Kristen Stewart that was produced some 20 years later.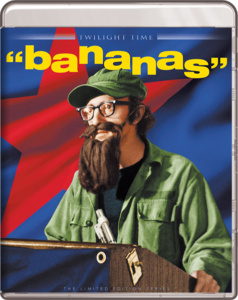 SAYONARA Blu-Ray (147 mins., 1957): Marlon Brando starred in Joshua Logan's 1957 adaptation of the James Michener novel as an American serviceman, stationed in Japan during the Korean War, who falls for a Japanese actress (Miiko Taka). Their relationship, the hostile reaction of the American military, and the tragic relationship between one of Brando's fellow airmen (Red Buttons) and a local woman inform this slow-going yet attractively lensed, sensitively drawn picture, which manages to be both forward thinking (its depiction of interracial relationships in the mid '50s) and dated (Ricardo Montalban essaying a Kabuki performer!) at the same time. TWILIGHT TIME BLU-RAY BREAKDOWN: An independent William Goetz production that Warner Bros. originally released, "Sayonara" comes to Blu-Ray from Twilight Time featuring an MGM licensed 1080p (2.35) AVC encoded transfer. The transfer itself is quite good with the occasional speckle and dirt popping up in the source materials. The trailer is on-hand plus an isolated music/FX track which gives listeners an opportunity to savor Franz Waxman's score, with Irving Berlin's title track making an appearance.
BANANAS (82 mins., 1971, PG-13): Before he decided that drawing room domestic dramas were more his forte, Woody Allen's penchant for free-wheeling comedy found a perfect forum in "Bananas." This often uproarious 1971 outing stars Allen as Fielding Mellish, who falls for an activist (Louise Lasser) that sends him to a "banana republic" in South America that's embroiled in revolution. From the opening appearance of Howard Cosell through a higher quotient of successful gags than usual thanks to Allen and Mickey Rose's script, "Bananas" is one of Allen's funniest pictures. TWILIGHT TIME BLU-RAY BREAKDOWN: Nothing fancy here, just a rock-solid MGM-licensed 1080p (1.85) catalog transfer with DTS MA mono sound, the trailer, and an isolated score track of Marvin Hamlisch's soundtrack.
---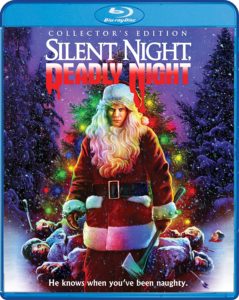 Shout December Releases
SILENT NIGHT, DEADLY NIGHT Blu-Ray (*½, 79/85 mins., 1984, R/Unrated): Remember all the controversy that spiraled out of control due to Tri-Star Pictures' 1984 "Killer Santa" slasher film? This new Scream Factory Collector's Edition offers the original movie that started it all in a superior, remastered high-definition package – and it's junky '80s horror at its pulpiest, a cheapjack tale of a traumatized young man who vows revenge on Christmas after he recalls his horrifying experience with a costumed St. Nick as a child.
In the annals of yuletide horror movies, "Silent Night, Deadly Night" is fondly remembered by some genre fans but it's a tasteless, poorly executed affair, far inferior to the likes of "Christmas Evil" and "Black Christmas" among macabre holiday offerings, and pedestrian in both its performances and script.
Shout's new Blu-Ray is, at least, a big improvement on the earlier Anchor Bay HD release in a number of areas. Like its format predecessor, it recycles some supplemental content and does an excellent job by touching upon the original's back story, by including a phone interview with its director, Charles E. Sellier, Jr. I distinctly recall the movie opening locally in Rhode Island just days prior to Christmas '84, and critic Mike Janusonis ripping its tasteless Christmas setting (sure enough, Mike's review is excerpted in the the disc's critic comments, dubbed "Santa's Stocking Of Outrage"). It's also interesting to note that Tri-Star's logo and credit on the movie have been totally blacked out (apparently the movie really was a black eye in their view), though Sony did work with Scream Factory in producing this new Blu-Ray.
Where the disc has a huge advantage over the Anchor Bay release is in its new HD transfer. While the extra footage for the movie's unrated version still had to be pulled from secondary sources (Sony couldn't locate the material in their vaults), the main transfer is detailed, colorful and an appreciable upgrade on the Anchor Bay presentation. DTS MA mono audio replaces the prior disc's faux 5.1 track, and new extras include the new doc "Slay Bells Ring," featuring fresh interviews with writer Michael Hickey and assorted cast/crew; a locations featurette; and new commentary with Hickey and composer Perry Botkin among others. The earlier Blu-Ray commentary plus trailers and TV spots round out the release.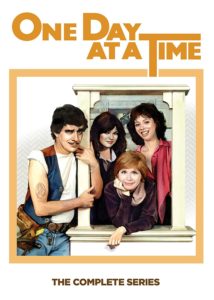 TV on DVD Gift Ideas: One of the seminal sitcoms of the '70s, ONE DAY AT A TIME (1975-84) starred Bonnie Franklin as Ann Romano, a divorced mom who moved back to her hometown of Indianapolis to find work and raise her two teen daughters, Barbara (Valerie Bertinelli) and Julie (Mackenzie Phillips). The apartment building the family moved into was overseen by a Midwestern lothario, Schneider (Pat Harrington), whose comic shenanigans helped propel the series into one of the longest-running series of its day.
Running some nine seasons and over 200 episodes, "One Day at a Time" was one of CBS' highest-rated sitcoms for a time, running on Tuesdays and Sundays for most of its original broadcast. Shout Factory's Complete Series DVD box houses all 208 episodes from its 1975-84 run, which saw Ann engaged in a variety of relationships and the girls growing up and getting married on their own. Sadly, Mackienzie Phillips' well-documented health issues forced her to be written out of the series at two different points, though the performances of Franklin, Bertinelli and Schneider kept the program on-track throughout it all.
A staggering 27 discs feature Sony-licensed full screen transfers from the videotape masters, with extras including a welcome 20-page episode guide, featurette on the series, "One Day at a Time" reunion and – exclusive to this set – brand-new interviews with Mackenzie Phillips and Glenn Scarpelli.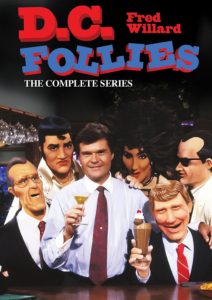 Another new Shout release that's worth a look is D.C. FOLLIES (16 hours, 1987-89), a syndicated series from Sid and Marty Krofft which starred Fred Willard as a bartender at a Washington bar frequented by both political figures and celebrities – most of whom appeared in the form of Krofft's puppets. A few real celebrity guests – Martin Mull and Robin Leach among them – also popped up at times in this half-hour series, which launched in the fall of 1987 and ran for two seasons, skewering politics and '80s celebs alike (Woody Allen, Jack Nicholson, Oprah, etc.). Shout's DVD features all 44 episodes from the series in MGM-licensed 1.33 transfers supported by the show's original mono audio.
Also New From Shout Factory: The 4K UHD presentation of MYSTERIES OF CHINA (40 mins., 2016) is a visually impressive IMAX-shot travelogue, narrated by Avery Brooks, that takes viewers – in typical "big screen" form – through China's landscape via aerial photography, time-lapse footage, and archeological events that tell of its vast history. The 4K photography and HDR delivery of Shout's release are top notch, complimented by Dolby Atmos audio, interviews and behind-the-scenes footage. If you like IMAX travelogues, "Mysteries of China" is a good one and comes recommended for those with 4K set-ups…Colin Hanks' documentary EAGLES OF DEATH METAL: NOS AMIS (OUR FRIENDS) (84 mins., 2017) nets a Blu-Ray release from Shout Factory this week. This probing and emotional doc looks at the band Eagles of Death Metal, the American band that was performing when the November 13, 2015 terrorist attack on Paris broke out, claiming 89 of 130 lives at the Bataclan Theatre alone. Shout's Blu-Ray includes a 1080p (2.00) transfer and 5.1 and 2.0 DTS MA stereo audio…Coming December 5th is DIGIMON ADVENTURE TRI: CONFESSION (102 mins., 2016), the latest feature adventure from the anime series. This time, Tai and his friends try to tack down what caused the Meicoomon infection while all the Digimon are quarantined. Shout's Blu-Ray/DVD combo also includes a digital downloadable copy, both Japanese and Englsh audio, 1080p video, and an Anime Expo 2017 "Premiere Panel" with cast members Joshua Seth, Colleen O'Shaughnessey and Jeff Nimoy…Available also December 5th on Blu-Ray is the newest adventure for "Howard Lovecraft," HOWARD LOVECRAFT AND THE UNDERSEA KINGDOM (79 mins., 2017), who here has to work with his father and Dr. Henry Armitage to stop dark forces that threaten all of humankind. Bruce Brown and Dwight L. MacPherson's graphic novel served as the basis for this animated offering featuring the voices of Christopher Plummer, Mark Hamill, Jeffrey Combs, Ron Perlman and Doug Bradley. Shout's Blu-Ray/DVD combo also includes an interview with Combs, the trailer, a 1080p (1.78) transfer and 5.1 DTS MA audio…Steve Coogan and Rob Brydon reunite in Michael Winterbottom's THE TRIP TO SPAIN (108 mins., 2017, Not Rated), with the duo heading off to Spain for a deadpan road trip with comedy and culinary adventures mixing for an enjoyable, low-key cinematic concoction that's recommended for fans of the duo. Shout's Blu-Ray of the IFC Films production includes a 1080p transfer and 5.1 DTS MA sound, and will be available December 12th.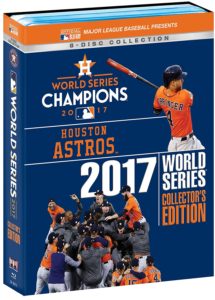 World Series Gems: Shout Factory is the home for home video celebrations of the Houston Astros' dramatic, 7-game series World Series victory over the L.A. Dodgers. Astros fans can relive the moment in a pair of Blu-Ray high-definition presentations: the 2017 WORLD SERIES COLLECTOR'S EDITION is a deluxe, 8-disc box-set that includes all seven games from the World Series, uncut, with four different audio options: the original Fox broadcast, separate Astros and Dodgers radio feeds, and Spanish language broadcast. There's also a Sleevestats insert with game trivia and official stats, plus DTS MA stereo audio and 1080i video. For those wanting a more affordable option, there's also the single-disc WORLD SERIES CHAMPIONS 2017 (90 mins.)Blu-Ray, which presents a feature-length look at the Astros' remarkable season and run to the World Series. The disc also includes a number of regular season highlights, clinching moments, post-season highlights and the World Series parade, all in 1080i video. A DVD and Digital download are also included in this Shout/Major League Baseball release.
---
Film Movement Film Club
Looking for a gift for the independent/foreign film fan in your life? Film Movement has their own "Film Club" which offers streaming of the label's vast catalog and, in a premium package option, a monthly DVD sent to subscribers – prior to its release to the general public. Titles in the package include Naji Abu Nowar's THEEB, Maiwenn's MY KING, and Boo Junfeng's APPRENTICE, while upcoming releases include Andrei Konchalovsky's PARADISE and plenty more festival favorites. The service runs at $99.95 for streaming and $174.95 for streaming plus DVD, but also includes a 30% off option with the promo code NOV30.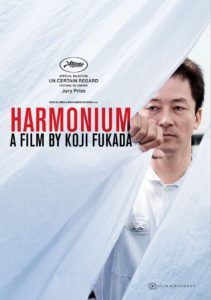 Film Movement New Releases: Koji Fukada's new film, HARMONIUM (120 mins. 2017), tells the story of a regular family man (Kanji Furutachi) who comes to regret the decision to help a friend (Tadanobu Asano) from his past. Soon he's ingratiated himself into his family with irreparable damage in this tense drama new to DVD from Film Movement. The label's DVD includes 5.1/2.0 Japanese audio with English subtitles, a 16:9 transfer and Fukada's short "Birds"…New on Blu-Ray is the Mexican western TIME TO DIE (89 mins.), notable for being the first original screenplay by Gabriel Garcia Marquez, who scripted with Carlos Fuentes this tale of a man (Jorge Martinez de Hoyos) who has to deal with the sons of a gunslinger he killed in self-defense after he's released from prison. A young (21) Arturo Ripstein helmed this south of the border western, brilliantly restored here by Film Movement in a superb Blu-Ray with a video introduction from "Repo Man" director – and western enthusiast – Alex Cox. The disc also includes a commentary from Ripstein and co-star Enrique Rocha, a 1080p (1.33) B&W transfer in Spanish with English subs and mono audio…Finally, new on DVD is THE WHITE KING (89 mins., 2017), a disturbing British film about a 12-year-old growing up in a dictatorship who leads a crusade after his father is imprisoned. Alex Helfrecht and Jorg Tittel's film is new on DVD with cast/crew interviews, a featurette, 16:9 transfer and 5.1 sound.
Also new from Film Movement this month on DVD are Petra Epperlein's KARL MARX CITY (89 mins., 2017); Maurizio Catellan's BE RIGHT BACK (95 mins., 2017); Althea Arnaquq-Baril's ANGRY INUK (82 mins., 2017); the documentary THE WAR SHOW (105 mins., 2017); and GUN RUNNERS (89 mins., 2017), a fascinating Canadian look at Kenyan marathon runners.
---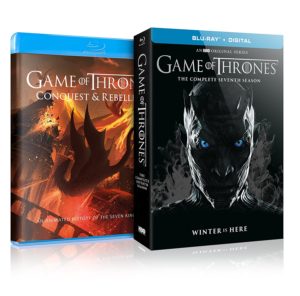 New & Noteworthy This Week
GAME OF THRONES – The Complete Seventh Season Blu-Ray (437 mins., 2017; HBO): Just in time for the holidays comes the perfect present for the George R.R. Martin fan on your shopping list. Season 7 of the HBO series finds Daenerys Targaryen and her army setting off for Westeros, while Jon Snow has consolidated power in the North as Whitefall returns to Stark control. Down in King's Landing, Cersei Lannister has seized the Iron Throne but without any surviving heirs. Meanwhile, an army of White Walkers threatens all of the various rivalries and in-fighting in this bloody and violent seventh season of "Game of Thrones," which debuts on Blu-Ray December 12th from HBO. The package includes the exclusive 45-minute "Conquest & Rebellion" bonus disc (an animated backstory to the series, narrated by the cast) plus In-Episode Guides, "History & Lore" segments, the two-part documentary "From Imagination to Reality: Inside the Art Department," "Fire & Steel: Creating The Invasion of Westeros," and 11 audio commentaries. Soaring Dolby Atmos audio adds a potent layer to the soundtrack and the 1080p (1.78) transfers are flawlessly delivered.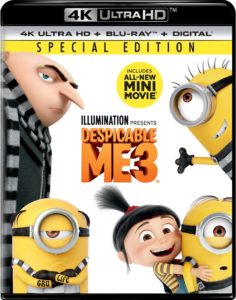 DESPICABLE ME 3 4K UHD Combo Pack (**½, 90 mins., 2017, PG: Universal): After two hugely successful films and a "Minions" spin-off, Chris Meledandri and Illumination Entertainment are back with the third "Despicable Me." This is a pretty routine yet still mildly enjoyable outing that finds the reformed evil genius Gru finding his allegiances shifting after he meets Dru, the twin brother he never knew, leading to skirmishes with each other and bad-guy Balthazar Bratt (voiced by South Park's Trey Parker), a former '80s child star turned comic book villain.
Despite candy-coated animation, the energy of the prior "Despicable Me" adventures sags here, the movie mixing the usual Minion-level gags with a plot that's never that appealing. Still, younger kids (like our three-year-old) are likely to enjoy it – just don't be surprised if they don't ask to watch it again.
4K Rundown: Universal delivers an expectedly stellar UHD presentation with their 4K release of "Despicable Me 3." The Blu-Ray is just fine but HDR enhancements bring out the clarity and color of the digital animation in an outstanding UHD transfer that also features Dolby Vision capability. The swirling Dolby Atmos sound offers a kick of its own with a Digital HD copy, mini-movie "The Secret Life of Kyle," "Minion Moments," character profiles and a deleted scene also on-tap.
HOME AGAIN Blu-Ray Combo Pack (97 mins., 2017, PG-13; Universal): Hallie Meyers-Shyer, daughter of filmmakers Nancy Meyers and Charles Shyer, makes her directorial debut with a touchy-feely rom-com in sync with the work of her parents. Reese Witherspoon plays a divorced mom raising her kids in L.A. after relocating from the east coast when she meets up with a trio of younger aspiring fillmmakers, one of whom wants more than just a friendship. Amiably played but contrived, "Home Again" played to diminishing returns at the autumn box-office, suggesting the audience for this kind of vehicle has moved onto other things. Universal's Blu-Ray is out December 12th featuring a commentary from Meyers-Shyer and her mom, who produced, plus a 1080p (1.85) transfer, 5.1 DTS MA sound and a Digital HD copy.
FARGO – Year 3 DVD (520 mins., 2017; Fox): One of those things you can't quite put your finger on, Noah Hawley's third installment of his FX series — "inspired" by the Coen Brothers' '90s classic — never gets into first gear. Ewan McGregor toplines this season in a dual role as a Midwestern big fish in a little pond whose younger brother is envious of his brother's success; influenced by his girlfriend (Mary Elizabeth Winstead), he ends up in another web of mayhem with tragic, mostly unintended consequences. Recycling familiar elements from the first two seasons, this rendition of "Fargo" is well-acted but slow-going and populated with mostly unappealing characters. I found it to be a cold fish compared to its predecessors, though some fans may feel differently. Fox's DVD is out this week including 16:9 transfers, 5.1 sound, and a number of behind-the-scenes featurettes. Also new from Fox on DVD is Season 18 of THE SIMPSONS (481 mins., 2016-17), offering the latest run of episodes from the long-running series in a 4-disc box-set. Included are all 22 episodes in 16:9 transfers and 5.1 sound with deleted scenes, animatics, commentaries on every episode and bonus featurettes.
---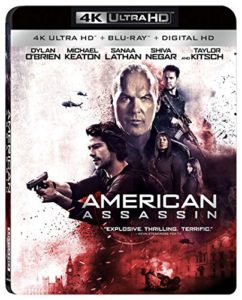 Lionsgate New Releases
AMERICAN ASSASSIN 4K UHD Combo Pack (112 mins., 2017, R; Lionsgate): Vince Flynn's popular books were disappointingly translated to the screen in this underwhelming CBS Films production. Dylan O'Brien seems out of his league here, essaying Flynn's hero Mitch Rapp, a CIA black-ops recruit tutored by vet Michael Keaton. No sooner is Rapp trained than he's sent out on a mission to piece together a series of terrorist attacks, and work with a Turkish agent (Shiva Negar) to stop a rogue operative (Taylor Kitsch) who might be behind it all.
"American Assassin" was produced on a high budget with a number of heavy hitters involved in its creation – Edward Zwick and Marshall Herskovitz are two of the film's four credited screenwriters – yet the finished product bears little evidence of what made Flynn's books so successful. O'Brien just doesn't have the gravitas to pull the central role off, and while the supporting cast – which also includes David Suchet, Sanaa Lathan and action vet Scott Adkins – is certainly capable, there's little separating the finished product from a mediocre episode of "Homeland."
Lionsgate's 4K UHD presentation of "American Assassin" is certainly attractive – highly detailed and making good use of HDR, much like the label's release of "The Hitman's Bodyguard" last month. Dolby Atmos audio offers the expected booms, bangs and a generic score by Steven Price, with Blu-Ray extras focusing on a number of standard-issue behind-the-scenes featurettes. A Digital HD copy rounds out the release.
On Blu-Ray: Robert Pattinson gives a strong performance in the strange GOOD TIME (101 mins., 2017, R), Josh and Benny Safdie's film about a mentally challenged man (Pattinson) who tries to get his brother (Benny Safdie himself) out of jail, and has to maneuver through a dangerous underworld to do so. Visually impressive though oft-putting somewhat in its delivery, "Good Time" makes for a strong 1080p (2.39) AVC encoded Blu-Ray transfer with 5.1 DTS MA audio. Lionsgate's copious extras also include commentary, a music video, Making Of featurette, and Digital HD copy…Coming December 5th from Lionsgate is THE CRUCIFIXITION (91 mins., 2017, R), a European-lensed supernatural tale of an American reporter (Sophie Cookson) who tries to uncover how a nun died, possibly during an exorcism. This routine thriller boasts a higher pedigree than usual given the involvement of "Conjuring" writers Chad and Carey Hayes, but Xavier Gens' film does little but recycle standard clichés as it exits precisely at the 90 minute mark. A featurette is included in Lionsgate's Blu-Ray offering an attractive 1080p (2.35) transfer, 5.1 DTS MA audio and a Digital HD copy.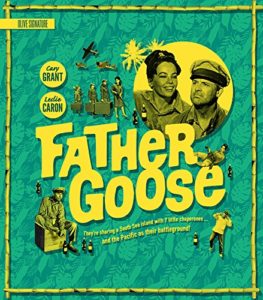 On DVD From Lionsgate: Michael Jai White and UFC Champ Quinton "Rampage" Jackson butt heads in COPS AND ROBBERS (89 mins., 2017, R), a direct-to-demand thriller about a hostage negotiator (White) trying to end a tense situation with a hold-up bank robber (Jackson). Victoria Pratt and Tom Berenger co-star in Scott Windhauser's film, out December 12th from Lionsgate featuring a 16:9 (2.40) transfer and 5.1 Dolby Digital sound…Also on December 12th is ONCE UPON A TIME AT CHRISTMAS (97 mins., 2017, R), Paul Tanter's low-budget horror outing that finds a serial killer couple embodying Santa and Mrs. Claus, just in time to cause holiday horror for an unsuspecting upstate New York town.
FATHER GOOSE Blu-Ray (118 mins., 1964; Olive Films): Penultimate screen appearance for the great Cary Grant finds him essaying a beach bum working as an Allied lookout during WWII. "Gigi" herself, Leslie Caron, plays opposite Grant as a school teacher whose seven students wash up with her in the South Seas (though the film was shot in Jamaica). Action and romance work well in this agreeable Grant vehicle that's been restored by Olive as part of their new Signature series. A fresh 4K scan of the original camera negative results in a much more satisfying, detailed and yet cleaner transfer than Olive's prior Blu-Ray, making for a recommended upgrade for fans of the film. Extras include commentary from historian David Del Valle, an interview with Grant biographer Marc Eliot, a talk with Ted Nelson on his father, Ralph, who helmed he film; Universal newsreel footage, and an essay from Village Voice critic Bilge Ebiri.
Also available from Olive in their Signature Series this month is a new Blu-Ray edition of Elaine May's A NEW LEAF (102 mins., 1970, G), the acclaimed black comedy/drama starring May — who adapted a Jack Ritchie short story — as an heiress playing opposite Walter Matthau as a man who has to marry into money, and has no plans of staying in the relationship once he does so. James Coco and Jack Weston co-starred in May's offbeat film, which was cut down from a 3-hour (!) version that's been lost to the ravages of time. What May originally produced is, however, discussed in a new conversation with assistant editor Angelo Corrao, one of several fine extras in Olive's Blu-Ray along with a talk with director Amy Heckerling, a commentary by historian Maya Montanez Smukler, and the text of Ritchie's original story. The 4K restoration from the original camera negative results in another pleasing upgrade on Olive's original Blu-Ray (1.85, mono audio) transfer.
---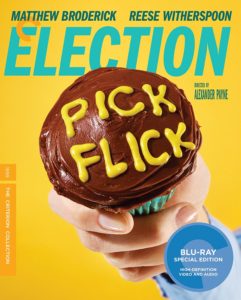 From Criterion
ELECTION (***½, 103 mins., 1999, R; Criterion): Don't be put off by the MTV Films banner that headlines the advertising of "Election," since Alexander Payne's 1999 satire remains one of the funniest and most insightful high school comedies — a keen and savvy film about the consequences that result from tampering with the natural order of life.
In "Election," that means the downward spiral experienced by Nebraska high school teacher Matthew Broderick when he decides to derail the chirpy and cheerful Tracy Flick's candidacy for School President by hiring a noble but knuckle-headed football player to run against her. The eager Flick, splendidly portrayed by Reese Witherspoon with a manic energy that veers the character away from complete and unbelievable dementia, wants to prove herself to the world; Broderick, meanwhile, secretly hates her for having the courage to overachieve (a theme that runs throughout the movie).
That sets in motion a series of events that are sometimes subtle and often quietly humorous, as director/co-screenwriter Payne comments on the immorality and dubious intentions of the various characters while never judging them outright or bathing "Election" in a completely pessimistic or bitingly sarcastic tone. The movie feels real because the filmmaking enables the performances to bring out a variety of colorful shades in the characters; subsequently, there are no evil or completely hateful people in the film, since the audience can identify with a predicament or feeling that each one of the principal characters feels at a particular point in the picture.
"Election" isn't as static as, say, Wes Anderson's "Rushmore," and has the smarts that its high school cinematic brethren of its era completely lacked. The kind of movie that never settles into a predictable formula, "Election" is smart and insightful throughout and highly recommended.
Criterion's Blu-Ray celebrates the film with a new 4K remastered transfer and 5.1 DTS MA sound, approved by Payne. Carried over from the prior Paramount DVD is a 1999 commentary with Payne, while new extras include an interview with Witherspoon, Payne's 1990 UCLA thesis film "The Passion of Martin," a 2016 documentary "TruInside Election," a local Omaha TV news report on the production, and the trailer. Curiously, the movie's alternate ending — quite different than that of the finished film – still has never been given an official release.
---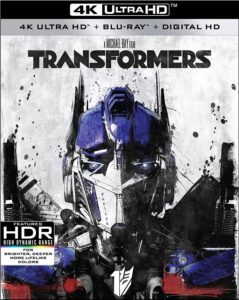 Paramount 4K UHD Premieres
The first and best of director Michael Bay's gargantuan, live-action adaptations of Hasbro's '80s toy-line, TRANSFORMERS (***, 2007, 142 mins., PG-13), hits 4K UHD this week along with the movie's first three sequels.
Produced by Steven Spielberg and directed (in a somewhat less chaotic fashion than usual) by Bay, the original "Transformers" is a whizz-bang sci-fi epic that brings the Hasbro characters into present-day "real life." The Roberto Orci-Alex Kurtman script follows the struggle between "good" extraterrestrial robot beings the Autobots and their evil counterparts, the Decepticons, as they bring their galactic battle to Earth. To be precise, both factions are seeking the whereabouts of the vile Deception leader Megatron, who was discovered in ice nearly a century ago by the great-grandfather of American teenager Sam Witwicky (Shia LaBeouf).
Sam proves to be our Everyman as he meets all the Transformers, including their leader Optimus Prime (voiced by Peter Cullen, reprising his work from the beloved '80s cartoon version), and tries to help the Autobots' cause while matching wits with federal agents (including a cartoony John Turturro) and a tough army captain (Josh Duhamel) following the action from the Middle East.
Impressive special effects from ILM are the main reason to watch "Transformers," with the robot design and animation being positively jaw-dropping – now more so than ever in Paramount's 4K UHD platter. In addition to the overall "believability" factor (as convincing as giant robots could ever be), the animators managed to maintain the original Transformers look from the toys and '80s TV series in a way that won't disappoint long-time fans.
Bay, predictably, keeps the action moving along, but unlike some of his past works, also does a decent job establishing the characters and keeping the humor at a "family friendly" level. This isn't a movie to be taken seriously, but it's good fun for no-brain summer thrills, stylishly made and, appropriately, "assembled."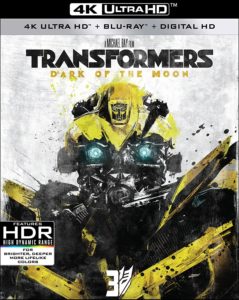 As you might expect, Paramount's HVEC encoded 4K UHD transfer is as outstanding, as "Transformers" is exactly the kind of film you'd anticipate would reap the benefits of Ultra High Definition: marvelously detailed and almost flawless, it ranks with the best transfers in its class, just as its Blu-Ray did. The Dolby Atmos audio packs a mighty wallop, with detailed sound effects, healthy bass and plenty of explosions, and Dolby Vision capability is also on-tap. For extras, check the Archives for my review of the original Blu-Ray (the original BD and Digital HD copy are also included).
The especially overstuffed, excessive, less-said-the-better TRANSFORMERS: REVENGE OF THE FALLEN (*½, 149 mins., 2009, PG-13) was followed by the superior TRANSFORMERS: DARK SIDE OF THE MOON (**½, 154 mins., 2011, PG-13), the third TF installment which benefits from an interesting set-up, some spectacular special effects and a script that cleans up some – though not all – of its predecessor's excess.
Here the Autobots find themselves heading to the moon where, decades earlier, a ship fleeing Cybertron and carrying a mysterious cargo crashed on the moon's dark side (a fun opening includes a cameo for none other than Buzz Aldrin). Without divulging all the secrets in Ehren Kruger's script, it turns out that a conspiracy involving the Decepticons is afoot, with the end game being the resurrection of Cybertron itself on Earth. To nobody's surprise, Sam Witwicky soon finds himself back trying to save the world along with new girlfriend Rosie Huntington-Whiteley and familiar faces from past films in the series (Josh Duhamel, Tyrese Gibson, and John Turturro among them).
If you're a "Transformers" fan, there's much to like in this installment, which is a definite step-up from "Revenge of the Fallen," marked by pulse-pounding action set-pieces and some gorgeously rendered special effects courtesy of ILM. The human component remains something of a misfire – I've never found Shia LaBeouf that interesting in this series nor his obnoxious parents (Kevin Dunn and Julie White), who also reappear here. At least Huntington-Whiteley is pretty enough to be a serviceable fill-in for Megan Fox and it's fun to see Coen Brothers alumni like Turturro, Frances McDormand and John Malkovich cashing the check in loud, dumb escapist fare like this.
With a worldwide gross of over $1.1 billion, "Dark of the Moon" pleased its core audience, even if I've never understood the thinking behind some of the profanity in the franchise (was Malkvovich's f-bomb and several references to "a-holes" really necessary in a film essentially made with kids in mind?).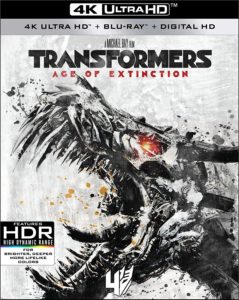 Despite "Moon"'s success, Bay and Dreamworks opted to switch out LaBeouf for Mark Wahlberg in TRANSFORMERS: AGE OF EXTINCTION (**, 164 mins., 2014, PG-13; Paramount). After the Transformers are banished from our world after causing major damage to Chicago (among other venues), inventor Wahlberg (really?) comes across an exiled Optimus Prime, who's called back into action to save the world again. This time the threat comes from our government, led by a shady business tycoon (a mugging Stanley Tucci) who's created his own brand of Transformers – one of which bears a passing resemblance to Megatron…
There's not a whole lot to write about with "Age of Extinction." It's loud, impossibly overlong, and technically dazzling – much like the prior films in the series. Though Wahlberg is perfectly acceptable as a fill-in for LaBeouf, who's nowhere to be found here, the remaining cast is mostly as bland as its predecessors (of course, nobody is going to see a "Transformers" film caring about the human cast to begin with). The plot isn't engaging, and it's all too much (as is, of course, the case with most of Michael Bay's films), but I assume kids and fans of the franchise will be captivated with the bombastic battle scenes and ILM's FX– beautifully rendered here in another reference-quality 4K UHD transfer from Paramount – just the same.
In fact, the three sequels look just as potent as Paramount's recent Transformers entry in terms of gorgeous use of HDR and impeccable detail. All four discs offer Dolby Vision and Dolby Atmos capability, Digital HD copies, and their Blu-Ray counterparts, which again house the original extras. For TF fans with 4K TVs, the quartet comes highly recommended.
---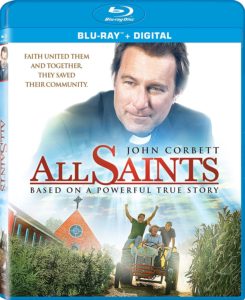 Quick Takes
ALL SAINTS Blu-Ray/DVD (109 mins., 2017, PG; Sony): Feel-good drama, suitable for family audiences, stars John Corbett in the true story of Michael Spurlock, a salesman-turned-pastor assigned to close down a country church named All Saints. What he finds, instead, is a small congregation of Burmese refugees, who together with Spurlock, attempt to pay off the church's mortgage while turning the surrounding land into a working farm. Carla Buono co-stars in Steve Gomer's "faith-based" picture, which tells a worthy story that's perfect for the holiday season. Sony's Blu-Ray, out December 12th, includes format-exclusive deleted scenes and "The Pastors of All Saints," plus additional featurettes, a 1080p (2.39) AVC encoded transfer, 5.1 DTS MA sound and a Digital HD copy.
ON WINGS OF EAGLES DVD (96 mins., 2017, PG-13; Sony): The life of Eric Liddell following the events of "Chariots of Fire" is illustrated in Stephen Shin's well-meaning but unsatisfying "On Wings of Eagles." Joseph Fiennes here plays Liddell, who returned to China – where he had been raised by missionary parents – in the 1930s, prior to the Japanese invading during WWII. After sending his family to Canada, Liddell decided to stay to teach the Chinese and ended up in an interment camp – elements portrayed in a film that's derided by a choppy script and some questionable direction. Sony's DVD, out this week, includes a 16:9 (2.40) soundtrack and 5.1 soundtrack.
CROWN HEIGHTS DVD (100 mins., 2017, R; Amazon/Broadgreen): Amazon Studios original movie is a powerful drama from writer-director Matt Ruskin. Adapting Anya Bourg's radio episode from "This American Life" and the true story behind it, "Crown Heights" profiles the wrongful conviction of an 18-year-old from Brooklyn sentenced to life in prison for the death of a teenager. A compelling film well-acted by both Lakeith Stanfield (as Colin Warner, who was unjustly accused of the crime) and Nnamdi Asomugha as Carl KC King, who became a lawyer and eventually won his freedom. Broadgreen's now-available DVD offers commentary and a featurette, a 16:9 (2.39) transfer and 5.1 Dolby Digital sound.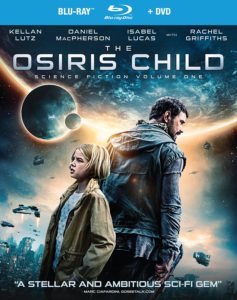 TALES OF THE TEENAGE MUTANT NINJA TURTLES: THE FINAL CHAPTERS DVD (268 mins., 2017; Paramount): Final trio of adventures from the Nickelodeon series include "Monsters Vs. Mutants," where the TMNT's battle classic movie monsters; "The Samurai," where rabbit samurai Miyamoto Usagi plays a prominent role; and "Mutant Apocalypse," which finds Raphael and Donatello adventuring through a mutant wasteland searching for their long-lost brothers. Wild animated adventure comprises this two-disc Nickelodeon/Paramount release, coming to DVD December 12th with 16:9 transfers and 5.1 Dolby Digital soundtracks.
THE OSIRIS CHILD: Science Fiction Volume One Blu-Ray/DVD (99 mins., 2017: RLJ): Agreeable enough sci-fi hodge-podge stars Daniel MacPherson as a lieutenant on a colonized planet who teams up with an escaped prisoner (Kellan Lutz) to rescue his daughter (Teagan Croft) before getting off the planet. Rachel Griffiths, Temeura Morrison and Isabel Lucas co-star in Shane Abbess' formulaic but watchable low-budget effort, out this week on Blu-Ray/DVD from RLJ. The 1080p transfer and 5.1 DTS MA sound are fine, and extras include deleted scenes, five featurettes, photo galleries and additional goodies.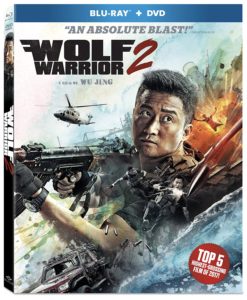 BETTER WATCH OUT Blu-Ray/DVD (89 mins., 2017, R; Well Go USA): Unpleasant little attempt at mixing yuletide family drama and psychological horror ends up a bust. Craig Peckover's film stars Olivia DeJonge as a babysitter who tries to defend her young charges from what appears to be a home invasion during the Christmas season – yet all is, unfortunately, not what it appears to be in a movie that turns out to be just a disappointing variation on "Funny Games," complete with a groan-inducing ending. Well Go's Blu-Ray offers a 1080p transfer and 5.1 DTS MA sound plus a DVD copy. Skip it, or you'll end up with a lump of coal in your holiday stocking.
WOLF WARRIOR 2 Blu-Ray (124 mins., 2017, Well Go USA): Sequel to the Chinese box-office hit of 2015 finds the title character – a famed Special Forces op – forced to take up arms once again after a sadistic band of mercenaries, led by Frank Grillo, picks on a group of civilians. Wu Jing's action-packed outing is stylishly presented on Blu-Ray by Well Go, which brings the film to home video domestically in a BD/DVD combo pack on December 12th. The 1080p transfer and DTS X soundtrack are both top-notch with behind-the-scenes featurettes and both Mandarin and English audio available.
NEXT TIME: The latest reviews! Until then, don't forget to drop in on the official Aisle Seat Message Boards and direct any emails to our email address. Cheers everyone!