Message Board (open 24 hours!)
Twitter - @andredursin (for everything else!)
Of all the countries outside the U.S. invested in the Blu-Ray format, Germany has been the biggest goldmine for movie buffs over the years, with labels like Turbine Media, Koch and others releasing a steady stream of U.S. catalog titles that continue to this day. In fact, another terrific import arrives this month from Turbine: a 4K restoration of John Landis' debut film, SCHLOCK (79 mins., PG), which offers not only a terrific transfer but ample extras that should make it a banana-munching must-have for Landis aficionados.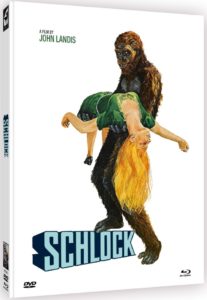 Landis' 1972 comedy is a nutty spoof of monsters-on-the-loose B-pictures, focusing on the exploits of an ape named Schlockthropus (essayed by Landis in a suit designed by Rick Baker), who "terrorizes" southern California and falls in love with a high school girl (Eliza Garrett, Landis' high school classmate who later married Eric Roberts) whose sight has only recently been restored.
Admittedly, Landis' lampoon is a real hit-or-miss affair, often feeling like an extended home movie, but livened up occasionally by some bright, brainless gags, the best of which skewers "2001" with Schlock breaking into a convenience store to steal bananas – which he properly disposes by tossing them at a hippie sitting at a nearby picnic table! You can sense the genesis of the filmmaker's comedic talents at work here, especially in those moments, even if – and regardless of its thrifty running time – you may be reaching for the remote to get you through the slow spots.
"Schlock"'s Blu-Ray debut comes in a marvelous Turbine Mediabook release that's English friendly, offering both Blu-Ray and DVD (NTSC formatted, with a 4:3 "retro version") platters. The 2000 copy limited edition is highlighted, first and foremost, by a spectacular 4K (1.85) restored transfer that's just about perfect. The source elements are in good condition considering the film's low-budget roots, and detail is crisp and perfectly rendered throughout the film, with lots of natural grain visible. English and German audio, meanwhile, are both presented in 2.0 DTS MA mono tracks.
Extras include a new, 41-minute interview with Landis that covers his background leading into and including "Schlock," plus a full run of US and German trailers (the alternately-titled "Banana Monster" 1982 re-issue included), Landis' "Trailers From Hell" for the film, a hidden interview with cinematographer Bob Collins, and a German commentary for those who speak German!
The scene where Schlock eats an ice cream cake with a pair of toddlers and a dog is a gem, as is the before-mentioned "2001" parody. For Landis fans, those scenes alone are worth a look. Hats off to Turbine Medien for producing a marvelous Blu-Ray/DVD package, which is now available to order here.
---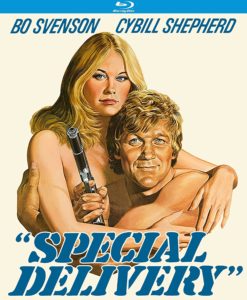 Kino Lorber May Releases
One of the great pleasures when indulging in Kino Lorber's monthly Studio Classics releases is discovering catalog titles that are occasionally so obscure that they haven't been seen since the era of VHS. SPECIAL DELIVERY (99 mins., 1976, PG) qualifies on that front, and it's a movie that seemingly offers something for every '70s movie buff.
Bo Svenson plays a bank robber leading a heist with several of his Vietnam vet buddies when things, predictably, go wrong. With one man falling to his death and two others arrested, Svenson goes on the lam and stashes his loot in a mailbox…on a busy street corner…in front of several interested parties. These folks are interested, specifically, not in turning him in, but rather getting their hands on the cash for themselves.
Over the course of one fateful day, Svenson meets a divorcee (Cybill Shepherd) looking to assert her independence, a cop on the beat (Tom Atkins), a foul-mouthed kid (Kim Richards), a low-level junkie (Michael Gwynne) working for a mob enforcer (Vic Tayback) and his boss (Robert Ito), and a no-good gang that counts Gerrit Graham and Jeff Goldblum among its members! There are also appearances by future soap opera queen Deidre Hall and Sorrel Booke, plus a score by Lalo Schifrin.
"Special Delivery"'s tone is a little bit all over the place – the opening heist sequence is lengthy and suspenseful, while what follows more closely resembles a laid-back rom-com between Svenson and Shepherd, before ending in a mundane car chase climax typical of its time. I'm not sure director Paul Wendkos had a really good handle on the picture's various elements – its tone veers from light comedy one moment to Shepherd nearly being raped in an alleyway by Goldblum's motorcycle-riding thug the next – but it's certainly an appealing film overall, and Don Gazzaniga's script is nicely constructed, ending with an amusing twist.
A movie I hadn't heard of, much less seen, the Bing Crosby produced "Special Delivery" has been treated to a new 4K scan of the original 35mm negative thanks to Kino Lorber. The 1080p (1.85) Blu-Ray image is naturally presented with fine detail as a result, with DTS MA mono sound, a trailer and a commentary from Lee Gambin also included.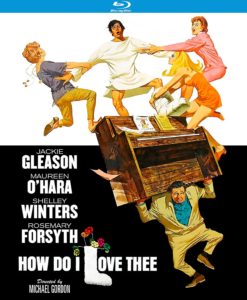 Another '70s film that hasn't been circulated much over the decades, HOW DO I LOVE THEE (109 mins., 1970, GP) was an ill-fated Jackie Gleason comedy, adapted from a novel by Peter De Vries, that stars the legendary comedian as an ailing father hospitalized in France. As his son (the completely bland Rick Lenz) heads overseas, he recalls his not-always easy upbringing with the domineering Gleason and his long-suffering mom (Maureen O'Hara), along with questions surrounding a donation Gleason gave to Lenz's college and a possible affair the old man may have had with an artist (Shelley Winters).
This ABC Pictures production isn't particularly funny and is further hampered by a cringe-worthy score by Randy Sparks that sounds like it was trying to mimic the syrupy tunes of Donovan and other folk singers from the era. Either way, it's a mismatch with the material, which ends up a labored farce a la other "generation gap" comedies of its era, every bit as disappointing to watch as the experience O'Hara endured while making it (as outlined in her memoir). Kino's Blu-Ray includes a completely acceptable 1080p (1.78) transfer from elements that show their age (speckles, dirt, etc.) plus clear DTS MA mono audio. No extras are included.
Another ABC Pictures production. MASTERMIND (86 mins., 1976, G), was to be released that same year – yet the film was shelved and didn't turn up until a token, small theatrical run some six years later.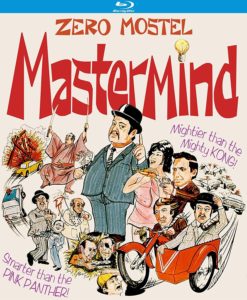 A heavily dated film starring Zero Mostel as a Japanese detective that spoofs Charlie Chan at the same time it offers even more broadly played scenes of Mostel's Hoku Ichihara dreaming of being a Samurai, "Mastermind"'s off-screen story is much more interesting than the film itself. William Peter Blatty originally wrote the screenplay in an effort, seemingly, to launch his own, Asian version of Inspector Clouseau, yet found his script being heavily rewritten prior to filming. Blatty, understandably, had his name removed (the credit "Terence Clyne" is used instead), leaving "Mastermind" to only secure wide distribution once Anchor Bay released a DVD nearly two decades ago.
Not especially clever or cinematic in its presentation (thanks to Alex March's clunky direction), Mostel fans still might enjoy the silly "Mastermind," which, due to its Kyoto locations, is at least more entertaining than another misfired Chan spoof – with Peter Ustinov as the great detective – that followed a decade later. Kino Lorber's Blu-Ray again features a decent archival 1080p (1.78) AVC encoded transfer from the ABC vaults, licensed from Disney, with no extras and DTS MA mono sound (composer Fred Karlin's name is regrettably misspelled on the back cover).
Not at all to be confused with David Fincher's film of the same name, SEVEN (101 mins., 1979, R) is a sun-drenched, Hawaiian-set action adventure that marked the start of prolific B-helmer Andy Sidaris' run of T&A-dominated flicks that would become Cinemax favorites for years to come. In Sidaris' original story, William Smith plays a government agent hired to assemble a crack team of disparate types in order to find out why Hawaiian mob bosses have come together to carry out a spate of executions.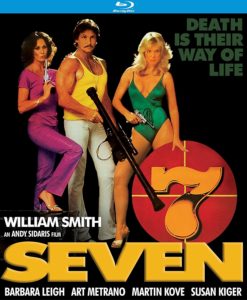 Sidaris' films are intermittently fun but are an admittedly acquired taste. If you grew up in the '80s and watched a few minutes of Sidaris' outings (most notably "Hard Ticket to Hawaii"), you know the formula, and "Seven" lays down the blueprint for much of the director's subsequent work – albeit in a bloated running time that overstays its welcome. With its plodding pace, "Seven" is best recommended for hardcore Sidaris fans, and Kino Lorber's Blu-Ray should delight them with its commentary by historians Nathaniel Thompson, Howard Berger and "King Cohen" author Steve Mitchell, plus an interview with Sidaris' widow, Arlene. The trailer is included along with a 1080p (1.85) transfer that does display the source material's occasionally banged-up/soft origins.
Finally, Kino Lorber's May slate of Studio Classics also brings us the Blu-Ray debut of ROOMMATES (108 mins., 1995, PG), an enjoyable if contrived comedic drama starring D.B. Sweeney as a Pittsburgh guy who – after being evicted from his apartment – moves in with his cantankerous old grandfather (Peter Falk). Laughs and tears mix in this Peter Yates-directed affair, which gets by nearly entirely on the goodwill of Falk and Sweeney. Less successful is the Max Apple-Stephen Metcalfe script, which moves into some melodramatic terrain involving Sweeney's girlfriend (Julianne Moore) in a second half that amps up the handkerchief content, and comes across as treacly when it does so.
Kino Lorber's Disney-licensed catalog transfer (1.85) is about the norm for their Hollywood/Touchstone releases, and the sound is thankfully in its original stereo (2.0 DTS MA) mix, supporting Elmer Bernstein's fine if unmemorable score. The trailer and an engaging commentary from Sweeney comprise the disc's extra features.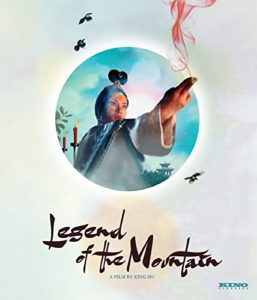 Kino Lorber also has two new impressive foreign releases available on Blu-Ray this month, each well worth recommending.
LEGEND OF THE MOUNTAIN (191 mins., 1979) may not be for everyone — or even fans of traditional Chinese cinema — but it's nevertheless a gorgeously designed 1979 film from director King Hu. The story of a scholar tasked with translating a Buddhist script that could control spirits of the afterlife, "Legend of the Mountain" is a very leisurely paced, yet strikingly designed, widescreen opus that's filled with beautiful cinematography. The story may be best understood by local audiences but cinema fans can appreciate Hu's cinematic textures from any culture, especially here in Kino's 4K-mastered, high-definition (2.35) Blu-Ray restoration. Mono Mandarin audio with English subtitles comprises the audio portion, with extras including an interview with critic Tony Rayns, a video essay from writer Travis Crawford, the trailer, photo gallery, and booklet notes by novelist Grady Hendrix.
Also new this month is Andrei Tarkovsky's unusual swan song THE SACRIFICE (146 mins.), the Russian director's 1986 picture set on an isolated Baltic island, where a Swedish family gathers to celebrate their patriarch's (Erland Josephson) birthday. There, the group's celebratory mood turns upon news of a possible nuclear attack that threatens the entire world. Sven Nykvist's cinematography is brilliantly reproduced in Kino's 4K-restored transfer (1.66), which debuts on Blu-Ray May 15th. Extras in the BD/DVD combo release include commentary from Layla Alexander-Garrett — Tarkovsky's translator on the set — and interview with co-editor Michal Leszczylowski.
---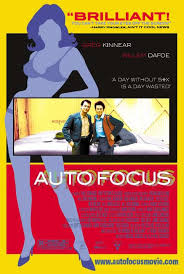 Twilight Time New Releases
The life and death of "Hogan's Heroes" star Bob Crane is chronicled in AUTO FOCUS (106 mins., 2002, R), a fascinating though flawed work from writer Michael Gerbosi and director Paul Schrader that kicks off this month's Twilight Time new releases.
Greg Kinnear essays Crane as a devout family man who attends weekly church services and comes home regularly to wife Rita Wilson and their three children after working at a local L.A. radio station. Everything is just peachy in Crane's spotless '60s world, except for the occasional discovery of a smut magazine in the garage by his mystified wife. Soon, the comic-DJ receives a script for a new sitcom from Bing Crosby Productions, and his career blossoms as the controversial "Heroes" takes off.
Unfortunately, with success come temptations, in the form of busty young women seeking his autograph, to his friendship with seedy tech expert John Carpenter (Willem Dafoe), who has the latest in video equipment including a very early video camera and "VTR," the reel-to-reel precursor to VHS. Not only that, but Carpenter loves swinging on the town and taping his subsequent sexual exploits — something that turns out to be the downfall of Crane's personal life, as he indulges in a series of orgies as his career and marriage(s) take a downward spiral.
This tragic tale of personal destruction and sin lurking in a seemingly ordinary family man is not a new subject matter for director Schrader, who tackled similar terrain in his 1979 film "Hardcore." "Auto Focus" is a creepy and at times compelling bio-pic of Crane, with an interesting visual design (courtesy of expert cinematographer Fred Murphy) that veers from warm, primary colors at its start to washed-out, grainy hues representing Crane's personal and professional descent. As the picture progresses, its pop soundtrack takes a turn towards David Lynch territory — no surprise with Angelo Badalamenti providing original score.
The central problem I had with "Auto Focus" is Kinnear's performance as Crane. His affected mannerisms and accent never come off, and while the movie tries to illustrate the pop-culture success he garnered (however fleeting it may have been), Kinnear never adequately conveys how he got there — he's not especially funny in the "Hogan's Heroes" recreations, looking stiff and uncomfortable, and his success on the radio is also bewildering if you judge it solely on Kinnear's performance. The picture needed someone to channel into Crane's comedic talent and contrast it with the dark side of his personal life, but somehow Kinnear never manages to find any kind of balance, playing what feels more like a Mr. Rogers stereotype than a real person.
Twilight Time brings "Auto Focus" to Blu-Ray in a Sony-licensed 1080p (1.85) AVC encoded transfer with 5.1 and 2.0 DTS MA sound. In addition to an isolated score track and trailers, the disc reprises the supplements from Sony's DVD, including a documentary on Crane's murder and the subsequent trial of Carpenter, which the film does not elaborate upon. A Making Of documentary is also included, as are a handful of deleted scenes culled from the workprint. More interesting are three full-length audio commentary tracks, one from director Paul Schrader, another from producers Scott Alexander, Larry Karaszewski and writer Michael Gerbosi, and a third with Willem Dafoe and Greg Kinnear, which is the most relaxed and engaging of the lot. The 1080p transfer is very good, and the 5.1 DTS MA sound is appropriately employed at various places.
"Auto Focus" is a movie that Hollywood insiders and "Hogan's Heroes" addicts will undoubtedly want to seek out, and comes recommended for those viewers despite my reservations about its central performance.
Twilight Time's other April releases may not be overly familiar to viewers, though each offers something interesting for buffs.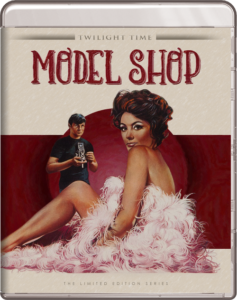 Jacques Demy came to the United States and turned out the minor MODEL SHOP (97 mins., 1969, PG) for Columbia Pictures. Utilizing Anouk Aimee once again as "Lola" – the title character from Demy's acclaimed 1960 film – "Model Shop" man tells the mostly formless story of Gary Lockwood's George, an unemployed L.A. architect who instantly forms an attraction to Lola while driving around town. With both characters at a crossroads, the duo form a fast bond that doesn't last, yet still enriches them both as they go off to face thei respective challenges ahead.
Demy didn't plan on making a film in the U.S. but said he fell in love with Los Angeles so much that he produced this low-key picture. "Model Shop" failed commercially and generally received poor reviews, yet it's still a worthwhile view for Demy aficionados due to its connective tissue with the director's previous pictures. The 1.85 AVC encoded transfer and 1.0 DS MA mono sound are both fine in TT's Blu-Ray with an isolated score track (of "Spirit"'s soundtrack), TV spots and the trailer rounding out the release.
Twilight Time closes out the month with a pair of widescreen Fox dramas from the late '50s.
Martin Ritt's NO DOWN PAYMENT (101 mins., 1957) sports an impressive cast – Joanne Woodward, Sheree North, Tony Randall, and Jeffrey Hunter – in a portrait of troubled suburban Californians, facing problems ranging from racism to alcoholism and infidelity. Ben Maddow penned this melodramatic affair crisply shot in scope with 5.1 and 2.0 DTS MA sound offerings and Leigh Harline's original score as an extra feature. Finally, Carol Lynley and Brandon de Wilde play teenagers who are faced with an unplanned pregnancy in Philip Dunne's BLUE DENIM (89 mins., 1959), another Fox Cinemascope production adapted by director Dunne and Edith Sommer from a stage play by James Leo Herilhy (later the author of "Midnight Cowboy"). Unsurprisingly dated though still well-acted, "Blue Denim" also offers a sensitive Bernard Herrmann score, presented here isolated along with the trailer in Twilight Time's Blu-Ray. The Fox licensed 1080p (2.35) B&W transfer is excellent and the film worth watching – as is "No Down Payment" – for its interesting, if heavy-handed, depiction of social issues in the mid 1950s.
---
4K Rundown
SAVING PRIVATE RYAN 4K UHD (***, 169 mins., 1998, R; Paramount): Steven Spielberg's "Saving Private Ryan" — which graphically, vividly, and horrifyingly plunges the viewer into combat right from the start and only intermittently lets up for substantive dialogue exchanges — is not quite the masterpiece some have claimed. Certainly as a depiction of war, the movie is as realistic as you'll ever see, though many viewers may ultimately be put off by the film's often detached emotional range and generally limited character development. However, on the level that the film is principally intended — a full-fledged reenactment of D-Day and the horrors implicit in all forms of combat — "Private Ryan" certainly achieves that ambition.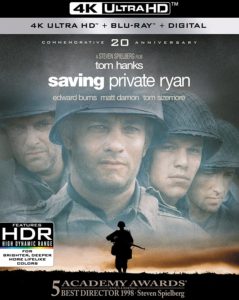 In the straightforward, almost simplistic plot written by Robert Rodat, Tom Hanks gives a commanding performance as an Army Captain assigned to seek out a missing Private (Matt Damon) whose brothers have all been killed elsewhere in combat. Hanks's platoon includes, among others, a meek interpreter who hasn't witnessed first-hand the nature of the fight (Jeremy Davies), a wise-cracking Private (Edward Burns), and a tough-nosed Sargeant (Tom Sizemore), all of whom question self-sacrifice for the greater good of one individual. However, Hanks is pretty much the whole acting show here, portraying one of the few characters whose persona is fully delineated in the film.
The film's advertising would have you believe that this is an emotional, even sentimental, story of sacrifice and heroism, and while it has those elements on the surface, "Saving Private Ryan" is more concerned with the physical nature of combat, of death and destruction, than it is in the story of how Hanks's platoon finds Private Ryan. Viewers turning out to see a feel-good movie with Tom Hanks and Matt Damon will certainly be surprised by the bold violence and striking pseudo-documentary footage that Spielberg and cinematographer Janusz Kaminski have captured throughout the film. In fact, had the movie been made by any other director, "Ryan" would have justifiably received a NC-17 rating — the shots of dismemberment, decapitation, and even intestine-oozing victims are shocking and certainly will repel any squeamish viewer, yet the violence is necessary to convey the film's reality. The cause is never questioned but the price suffered is unquestionably, and shockingly, recounted.
Unsurprisingly, given the raw nature of the material, Spielberg's virtuoso filmmaking is evident throughout. Handheld camera and high-speed film are brilliantly used to place the viewer in the middle of combat–explosions, shells, and the ominous sound of approaching tanks whirl and whiz by the camera, which takes us into the fire like we're one of the characters. The filmmaker's pacing is so brisk that when Private Ryan turns up about an hour and forty-five minutes into the movie, it feels more like just a half-hour has passed. The opening D-Day sequence ranks right up there with any other memorable set-piece from Spielberg's canon, and the story's fast-moving momentum is sustained both by the gritty look of the picture and Michael Kahn's rapid-fire editing.
Given that, there were still a few things that I found disappointing in the film. The Hollywood-ized bookending sequences, showing one of the characters as an old man visiting the cemetery at Normandy, are cornball and certainly play at odds with the rest of the picture. It is surprising that Spielberg exactly repeated the device of the "Schindler's" finale, yet the way these scenes are shot, they come across as especially manipulative, like the director was trying too hard to push our buttons. It's unnecessary for the movie to end on such a pedestrian note, especially since what has come before feels so realistic, so painful–the movie is haunting enough to have such a standard, weak finale thrown on top of it (in fact, these scenes tend to adhere to the sentimentality of the film's trailers, which would have been appropriate only if the movie itself was made along similar lines). To think of the more restrained ways in which the film could have ended only magnifies the cliches inherent in those sappy scenes, which feel as if they've come from an entirely different movie.
4K Rundown: That aside, "Private Ryan" has its moments of unforgettable power, and Paramount's 4K UHD is a powerhouse presentation of the film – though there are times I wasn't sure if it was simply because of the addition of HDR and Dolby Atmos audio, or because of a remastered transfer. Either way, the shadows and lighting are the biggest beneficiaries of the UHD presentation over the earlier Blu-Ray, with a reference-quality Dolby Atmos track sounding just as robust as the brilliantly engineered prior mix. All the extras have been carried over via the 2-disc Blu-Ray contained within, and a Digital copy rounds out the package.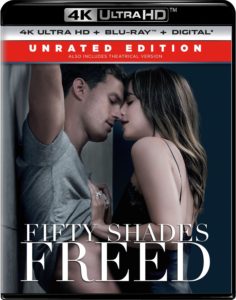 FIFTY SHADES FREED 4K UHD Combo Pack (105/110 mins., 2018, R/Unrated; Universal): E.L. James' bestselling series comes to an end with Christian Grey and Anastasia Steele's adventures taking them past their wedding, where a security break-in at Grey's corporation results in a number of secrets being stolen by Ana's former boss. Family intrigue, salacious sex and a heartwarming (as close as the material allows) ending are on tap in this finale to the series, which is at least nicely shot by John Schwartzman and helmed by James Foley. For fans only (obviously), but still not as awful as your low expectations might suggest.
4K Rundown: Universal's combo pack includes a strong HDR enhanced HVEC transfer (2.35) with DTS X immersive audio, the latter supporting Danny Elfman's score. While not that active in the overhead details, the mix is satisfying and HDR heightens the movie's textured cinematography. The unrated version includes an otherwise unbilled Kim Basinger cameo while the Blu-Ray (also included) boasts a deleted scene, interviews, music videos, and a Digital HD copy.
PETER RABBIT 4K UHD Combo (95 mins., 2018, PG; Sony): Devoted Beatrix Potter fans will want to stay away from this admittedly not-as-awful-as-it-appeared live-action kid-flick that reconfigures its original characters as sassy modern-day talking animals with attitude. In Will Gluck's film, Peter (voiced by late night host James Corden) finds himself battling for the affection of his new neighbor (Rose Byrne) with his nemesis: the bumbling nephew (Domhnall Gleeson) of Mr. McGregor (Sam Neill), who suffers a heart attack in the film's early stages. Some bathroom humor is interspersed throughout "Peter Rabbit"'s 95 minutes but the picture is, on balance, bouncy and good-natured at heart, making it a surprisingly OK view for kids.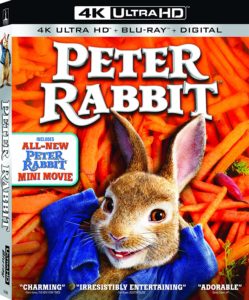 4K Rundown: Sony serves up another UHD winner with "Peter Rabbit," which offers top detail, bright images that make good use of HDR and constantly active Dolby Atmos sound. The Blu-Ray (2.39) is also top notch but 4K owners shouldn't have any issue with the UHD, which plays to the film's upbeat visual design and offers an enhanced presentation, especially in terms of its reproduction of the film's cinematography, over the Blu-Ray. A Peter Rabbit "mini movie" is the main extra with one featurette and a Dance-Along also included. The BD and a Digital HD copy completes the package.
MAZE RUNNER: THE DEATH CURE 4K UHD Combo Pack (**, 144 mins., 2018, PG-13; Fox):Third and final adaptation of James Dashner's young-adult sci-fi novels brings back Dylan O'Brien and friends as Thomas leads the Gladers on one last – albeit deadly – mission: breaking into the Last City, and in particular, a WCKD-designed labyrinth that may well hold the answers to our heroes' questions (and it should better, given this is the last 2½ hours of the story!). At this point you're either on-board with the series or not – and with a bloated running time, Wes Ball's film overstays its welcome for anyone except rabid fans. Fox's attractive 4K UHD release includes HDR and Dolby Atmos audio, both of which are up to snuff in terms of their impressive contrast and lighting levels. Extras include commentary from Ball, screenwriter T.S. Nowlin and producer Joe Hartwick, Jr., deleted/extended scenes, plenty of behind-the-scenes featurettes, a Blu-Ray and Digital HD copy.
---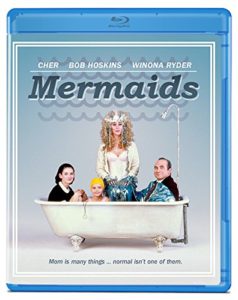 Label Rundown
Olive New Releases: MERMAIDS (**½, 110 mins., 1990, PG-13) was a troubled Orion Pictures 1990 holiday release. This adaption of Patty Dann's novel was originally helmed by Lasse Hallstrom until the director was axed and replaced with Frank Oz. Oz started shooting but was then replaced with Richard Benjamin, while Emily Lloyd, originally cast as the conservative daughter of a wayward single mom (Cher) in early '60s coastal Massachusetts, was removed and replaced by Winona Ryder.
The end result was an atmospheric but disjointed picture, scripted by June Roberts, that uses its setting as a predictable study of a "colorful" family – seen through Ryder's prism – struggling to put it all together. Bob Hoskins plays a local man smitten with Cher with Christina Ricci as the family's youngest daughter in a movie shot on Cape Cod and Rhode Island, and is nicely performed despite the screenplay's lack of focus. Olive's Blu-Ray offers what looks like an older MGM catalog transfer with some speckles and occasionally obvious compression issues. The DTS MA 2.0 stereo sound, featuring Jack Nitzsche's original score, is fine, though the film seemed tailor-made for Elmer Bernstein's sensibilities.
Also new this week from Olive is a Blu-Ray edition of one of John Boorman's best films, the autobiographical HOPE AND GLORY (***½, 113 mins., 1987, PG-13), which recounts a British family's trials and tribulations on the homefront during WWII. Sarah Miles and David Hyman are the parents with Ian Bannen as the grandfather whose rural country home provides them with an escape – especially for their young children. Funny, moving, superbly shot by Philippe Rousselot and strongly evocative of time and place, "Hope and Glory" looks terrific in high-definition. The 1080p (1.66) image seems identical to Sony's UK Blu-Ray with pinpoint detail and texture, with the trailer as the disc's sole extra. Strongly recommended.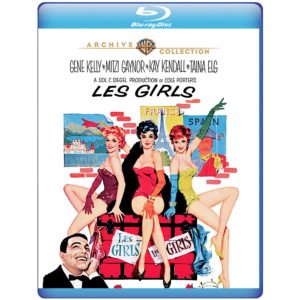 Warner Archive New Releases: George Cukor helmed the 1957 MGM musical LES GIRLS (114 mins.), an attractive, star-studded production now on Blu-Ray for the first time from Warner Archive.
Kay Kendall stars as a dancer whose memoir about her work in a cabaret act run by Gene Kelly's Barry Nichols results in her being sued for libel – by one of her fellow dancers (Taina Elg). Cole Porter wrote the music for this colorful Cinemascope presentation, which marked the last musical Kelly produced at MGM and helped to signal the end of the studio's reign at the box-office, as production costs resulted in the film losing money (despite performing fairly well commercially). For MGM musical lovers, Warner's Archive Blu-Ray offers the kind of gorgeous 1080p (2.55) AVC encoded transfer you love to see in high-def with a melodious 5.1 DTS MA stereo soundtrack. Extras include the Elg-hosted "Cole Porter in Hollywood," the vintage cartoon "Flea Circus" and the theatrical trailer.
Two early (very early) talkies are new to DVD this month from the Archive as well. In fact, LIGHTS OF NEW YORK (57 mins., 1928) was the first of them all – Warner Bros.' follow-up to "The Jazz Singer," with the studio utilizing their Vitaphone sound-on-disc process to produce the first all-talkie motion picture. This crime saga involving a pair of small-town friends who are coerced into buying a Manhattan barbershop – only to find out it's a speakeasy – promptly became a box-office smash that further put the nail in the coffin for silent films.THE SHIP FROM SHANGHAI (67 mins., 1930), meanwhile, finds a group of upper-crust types from both England and the U.S. fighting for their lives after a typhoon sends them adrift, with a psychotic steward (Louis Wolheim) diabolically plotting his revenge for the "one-percenters" he can't stand. This early MGM talkie is, like "Lights of New York," presented in B&W (1.33) from archival elements in the Turner vaults.
Three new releases from the Samuel Goldwyn library also make their DVD debuts this month from the Archive. A pair of vintage Ronald Colman efforts are included in the mix: THE DEVIL TO PAY (72 mins., 1930) pairs up Colman with both Loretta Young and Myrna Loy in a light romantic farce that plays to the star's strengths, even in this early talkie; while CONDEMNED (86 mins., 1929) solidified Colman's transition from silents to talkies in this tale of a Devil's Island convict who falls for the prison warden's wife (Ann Harding) in a melodrama that became an instant hit at the box-office. Last but not least, Joel McCrea and Miriam Hopkins frolic through the screwball comedy WOMAN CHASES MAN (69 mins., 1937), a 1937 Samuel Goldwyn production that, like "The Devil to Pay" and "Condemned," is presented in a B&W 1.33 transfer from the best surviving elements.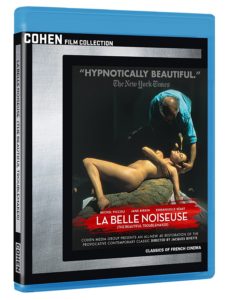 Cohen Film Collection New Releases: The 1991 Grand Prix winner at Cannes, Jacques Rivette's LA BELLE NOISEUSE (238 mins.) makes its Blu-Ray debut this month from the Cohen Film Collection. Rivette, a master of the French New Wave, wrote (with Pascal Bonitzer and Christina Laurent) this portrait of a reclusive artist (Michel Piccoli) living in the French countryside with his wife (Jane Birkin) when a younger artist (David Bursztein) and his girlfriend (Emmanuel Beart) arrive, reigniting Piccoli's passion in the process. A commentary from historian Richard Suchenski, interview with Rivette, and conversation with Bonitzer and Laurent comprise Cohen's supplements along with a 1080p transfer (derived from a new 4K restoration) and mono sound…Now available from Cohen is THE INSULT (113 mins.,), a Best Foreign Language Oscar nominee set in present-day Beirut, where an insult leads to an escalating confrontation between a Lebanese Christian and a Palestinian refugee. Religious and cultural tolerance (or lack thereof) is the main focus of Ziad Doueiri's film, which Cohen has released on Blu-Ray with a 1080p transfer and 5.1 DTS MA sound in Arabic with English subtitles. Conversations with Doueiri and Richard Pena are included on the supplemental side.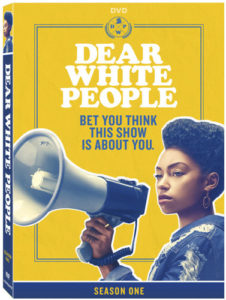 New From Lionsgate: Now available this week from Lionsgate, VALENTINA'S WEDDING (107 mins., 2018, R) is a Spanish-language story of Valentina, a Latina woman living in New York with her boyfriend when circumstances send her back to Mexico – where she has to pretend to be married to her ex-boyfriend in order to protect her father's political campaign. Lionsgate's DVD includes a 16:9 (2.40) transfer plus 5.1 Spanish audio (a dubbed 2.0 English track is also available) with optional English subtitles…The indie film DEAR WHITE PEOPLE (264 mins., 2017) has been turned into a Netflix original series. Picking up where the 2014 picture left off, the series once again follows a group of students of color at an Ivy League institution where they navigate assorted cultural and socio-economic issues. Creator Justin Simien provides two episode commentaries while a pair of featurettes are also included in Lionsgate's multi-disc DVD, presented in 16:9 with 5.1 sound…Lifetime has raised their game (in relative terms) with their original movies, recruiting more visible stars like Catherine Zeta-Jones who stars in COCAINE GODMOTHER: THE GRISELDA BLANCO STORY (100 mins., 2018). This Guillermo Navarro-helmed tele-film follows the life of Blanco, who dabbled in the Miami cocaine trade and became a female "Scarface" in the process. Lionsgate's DVD is out May 15th featuring a 16:9 (1.78) transfer and 5.1 sound.
New on Blu-Ray from Lionsgate: Influential '80s filmmaker Roland Joffe continues to occasionally turn out new work. The helmer of "The Mission" and "The Killing Fields" directed and co-wrote THE FORGIVEN (120 mins., 2018, R), based on the true story of how Archibishop Desmond Tutu (Forest Whitaker) had to deal with a former South African assassin (Eric Bana) in order to aid an investigation. Lionsgate's Blu-Ray offers a 1080p (1.85) AVC encoded transfer, 5.1 DTS MA audio and a Digital HD copy…Karl Urban suits up as a former cop investigating a drug bust that went awry in BENT (96 mins., 2016, R). This thriller from "Crash" co-writer Bobby Moresco gives Urban a plum leading role as Danny Gallagher, whose attempts at finding justice lead him to the car-bomb murder of a government official's wife – as well as the discovery of her secret lover (Sofia Vergara). Andy Garcia and Grace Byers co-star in "Bent," which Lionsgate brings to Blu-Ray May 15th featuring a behind-the-scenes featurette, cast/crew interviews, a 1080p (2.40) transfer, 5.1 DTS MA sound, and a Digital HD copy…Also out May 15th from Lionsgate is THE MANOR (87 mins., 2018, R), a thriller starring "Dexter" vet Christina Robinson as a young woman who checks out of an asylum on her 18th birthday – and into an odd rural resort where she meets strange relatives and assorted loonies, not all of whom may be real. Lionsgate's DVD of this independent outing includes a 16:9 (1.78) transfer and 5.1 Dolby Digital sound.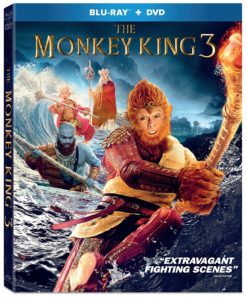 Well Go New Releases: Available May 15th, THE MONKEY KING 3 (114 mins., 2018) is the third entry in the lavish Chinese fantasy series. This time around, Aaron Kwok is back as the Monkey King, leading his people to the West while running afoul of a Queen reigning over an all-female kingdom. An escape plan brings about an encounter with a River God that may doom them all in this colorful, and well-produced, adventure that should satisfy genre buffs. Well Go's Blu-Ray includes a vivid 1080p transfer and a nicely designed DTS X sound mix, in either Mandarin or Cantonese, with English subtitles. The DVD is also included…Coming May 8th from Well Go isPARADOX (100 mins., 2017), a thriller from the director of "Ip Man," Wilson Yip. Louis Koo plays a Hong Kong cop who goes to Thailand in order to track down his missing daughter. There, despite the efforts of a local cop (a "special appearance" by action star Tony Jaa), Koo is quickly wrapped up in corruption. "Paradox" is presented again in a Well Go combo pack with a Blu-Ray 1080p transfer, 5.1 DTS MA sound, a Making Of, the trailer, and both English (dubbed) and Mandarin DTS MA audio (with optional English subtitles).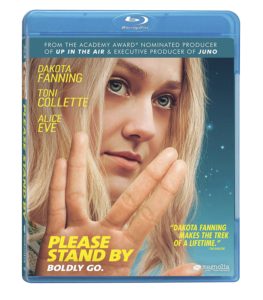 Magnolia New Releases: Dakota Fanning gives a terrific performance in PLEASE STAND BY (93 mins., 2018), the story of a young woman with autism who seeks to leave her group home and strike out in the world – all in order to experience life and submit her 500-page Star Trek script. Toni Collette co-stars in Ben Lewin's film – an adaptation of Michael Golamco's play, scripted by the author – which is funny and realistic in its depiction of its lead character. Magnolia's Blu-Ray includes a 1080p (2.40) transfer and 5.1 DTS MA sound…Diane Kruger essays a woman who loses her family in a terrorist attack in IN THE FADE (107 mins., 2018). From there, Faith Akin's film follows Kruger's character as she goes through the trial of a neo-nazi couple accused of carrying out the attack – only to want real, genuine justice that the legal system can't always provide. Magnolia's Blu-Ray of "In The Fade" includes a 1080p transfer, 5.1 DTS MA sound, featurettes on the production, interviews with Kruger and Akin and other extras in a robust supplemental section.
Mill Creek New Releases: '80S OVERDRIVE: 6-MOVIE COLLECTION is a new Mill Creek box-set comprising the previously-available releases of THE LEGEND OF BILLIE JEAN, LITTLE NIKITA, and the label's Sun, Sand & Sweat multi-film collection, which includes HARDBODIES, PERFECT, SPRING BREAK and PRIVATE RESORT. Packaging is identical to those discs so if you've already bought them, there's no reason to pick up this package, which is otherwise worth a look for catalog fans (check out The Aisle Seat Archives for full, individual reviews of those releases)…Also available from Mill Creek is the Sherlock Holmes '60s Columbia thriller A STUDY IN TERROR (96 mins., 1965) starring John Neville as Conan Doyle's detective, on the hunt for Jack the Ripper. This no-frills Mill Creek Blu includes a Sony-licensed 1080p (1.78) transfer that's not bad (if hampered by less than pristine source elements) and uncompressed PCM mono sound, the latter sporting an early John Scott score.
---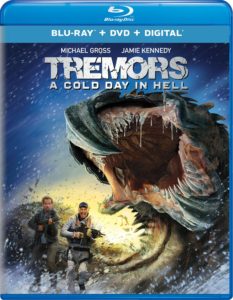 New Release Wrap
TREMORS: A COLD DAY IN HELL Blu-Ray Combo Pack (98 mins., 2018, PG-13; Universal):Tremors #6 for those counting at home, "A Cold Day In Hell" once again brings back Burt Gummer (Michael Gross) and his son Travis (Jamie Kennedy), this time with the duo heading up to Canada for various Graboid adventures – and uncovering a government conspiracy involving the subterranean creatures' weaponization. Along the way, Burt is injected with venom that gives him 48 hours to live – and also sidelines Gross for too much of this effort's often tedious 98 minutes. Universal's Blu-Ray should still entertain fans of the long-running series, with three featurettes, a 1080p (1.78) transfer, 5.1 DTS MA sound, a DVD and Digital copy also on tap.
BATMAN NINJA Blu-Ray Combo Pack (85 mins., 2018, PG-13; Warner): Disappointing DC Comics effort sends Batman off to Feudal Japan, where the Joker has taken control after Gorilla Grodd's time-placement machine causes havoc for all. Anime styled design and a wacky story make "Batman Ninja" more ambitious than most of the small-screen Dark Knight animated adventures of late, but Jumpei Mizusaki's effort is ridiculously over-the-top, unimpressive in its animation and often dull instead of entertaining. Likely to engage anime fans more than Batman addicts, Warner brings "Batman Ninja" to Blu-Ray in a BD/DVD/Digital combo pack also sporting three new featurettes (East/West Batman, Batman: Made in Japan, NY Comic Con segment), a 1080p (1.78) AVC encoded transfer and 5.1 DTS MA sound.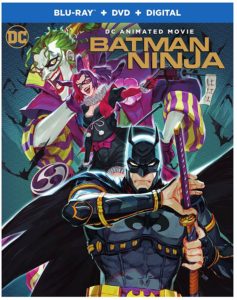 FILM STARS DON'T DIE IN LIVERPOOL DVD (106 mins., 2017, R; Sony): Paul McGuigan's film stars Annette Bening as actress Gloria Grahame, who while dying, returns to Liverpool and the place where she met her younger lover, Peter Turner (Jamie Bell), in order to close out her days with him and his family. McGuigan's picture – a rare non-Bond production from Eon Productions – is sensitively acted by both leads and flashes back and forth from Grahame and Turner's first moments together to her final days. Out on DVD, Sony's DVD includes a robust assortment of extras, including commentary from producer Barbara Broccoli, McGuigan, and Turner himself; a featurette with Bening on Grahame; Elvis Costello's "You Shouldn't Look At Me That Way" music video; a separate Costello performance and conversation; Q&A with Bening, Bell, McGuigan and Turner; and a Making Of for Costello's video. A 16:9 (2.39) transfer and 5.1 sound adorn Sony's now-available release.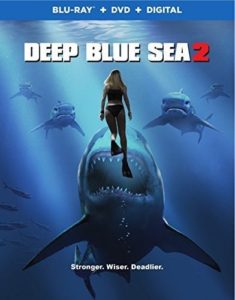 DEEP BLUE SEA 2 Blu-Ray Combo Pack (94 mins., 2018, R; Warner): I'm not sure what lead to the creation of this anemic direct-to-video sequel – really a remake of Renny Harlin's guilty-pleasure shark favorite, here with a no-name cast once again doing battle with genetically-enhanced sharks. Lame special effects and a small budget mark this Darin Scott-helmed affair which Warner released on Blu-Ray a couple of weeks ago. The combo park includes two featurettes, a gag reel, deleted scenes, a 1080p (1.78) transfer, 5.1 DTS MA sound, a DVD and Digital HD copy. Wait for the inevitable Syfy Channel airing (if that).
JACKIE GLEASON IN COLOR 3-Disc Collector's Set DVD (496 mins., Time Life): A dozen previously unreleased episodes from Jackie Gleason's 1966-70, Miami-shot TV series make their way to DVD for the first time from Time Life. These full-color episodes have been splendidly remastered and include seven "Honeymoners" sketches which haven't been seen since they originally aired, along with guest stars Jack Benny, George Burns, Milton Berle, Mickey Rooney, Groucho Marx, Phil Silvers and many others. Available May 15th.
LEGO DC SUPERHERO GIRLS: SUPER-VILLAIN HIGH DVD (78 mins., 2018; Warner): Uber High's popularity is on the rise thanks to their promise of "less homework, more fun," but Wonder Woman, Supergirl and Batgirl believe their mantra is a hollow slogan designed for more nefarious purposes. Catwoman, Cheetah and Poison Ivy find themselves on the other side of the debate in this enjoyable Lego entry, new to DVD on May 15th from Warner. The disc includes six bonus featurettes, a 16:9 transfer and 5.1 Dolby Digital sound.
NEXT TIME: IT'S ALIVE on Blu-Ray as Shout does Warner Bros catalog goodness! Until then, don't forget to drop in on the official Aisle Seat Message Boards and direct any emails to our email address. Cheers everyone!