Beautifully shot by the great Caleb Deschanel ("The Black Stallion," "The Right Stuff") and spectacularly scored by John Williams (in what ranks as one of the maestro's most satisfying "later works"), "The Patriot" is an old-fashioned, enormously satisfying film that was written off by some at the time of its release as being an Americanized "Braveheart," right down to the presence of star Mel Gibson.
Yet "The Patriot" is far more than that, anchored by Gibson's terrific performance (no, he doesn't go around shouting "freedom!") as a family man reluctantly thrust into the conflict between American colonists and the British army, overseen by the stuffy but far from cartoonish General Cornwallis (the terrific Tom Wilkinson), whose one particular general — the truly dastardly Jason Isaacs — does enough damage to Gibson's clan to lure the former solider back into the military fray.
With equal parts intensity and sympathy, Gibson reminds us how effective and wide-ranging his performances can be, and grounds "The Patriot" with a personal touch amongst the epic backdrop. In that category, director Emmerich succeeds in telling a historical drama with just enough actual people and events that will lure curious viewers to seek out more information on the subject matter ("read more about it", as they used to say on CBS Saturday morning TV).
The real heroes of the movie, in addition to Gibson, are Deschanel, whose vivid photography paints a picture in nearly every scene, and Williams, who contributes a winning, rousing score perfectly complimenting the emotion and expansiveness of the drama. It's sweeping Americana, uplifting "Liberty Fanfare," and "Born on the Fourth of July" all at once, with a sumptuous love motif and stirring main theme. Since the film's original release, Williams' almost criminally-unheralded score for "The Patriot" seems to only improve with time, and at least for me, is more thematically rich and varied than much of his work since.
While could argue that Robert Rodat's screenplay never quite dives into the intricate reasons as to why anyone other than Mel was fighting this war (and some of Isaacs' villainy is over-the-top and not in keeping with the historical record), at almost three hours in length, it's unlikely that the movie's pacing wouldn't have been slowed down further by drawing-room histrionics.
With sterling support turned in by Heath Ledger (as Gibson's eldest son), Chris Cooper (as an American war general) and Tcheky Karyo as a French soldier, "The Patriot" provides rousing entertainment with a marvelous visual gloss, ranking as one of the more satisfying Independence Day "blockbusters" of any kind.
4K Rundown: "The Patriot" is one gorgeously shot film and the Blu-Ray was superb in its presentation. The 4K UHD from Sony does the entire movie one better with its use of High Dynamic Range — Deschanel's richly textured cinematography seems to have been tailor-made for the format, as UHD makes good use of the movie's outdoor cinematography and dispenses with the Blu-Ray's haziness (perhaps a result of a long running time and lower compression). For most of its duration this transfer is crystal clear, razor sharp and colorful, with Dolby Atmos audio providing an even wider soundstage for the film's potent audio mix.
On the supplemental end, the 4K offers commentary and deleted scenes/featurettes, while the included Blu-Ray boasts the Unrated cut of the film (with about 10 minutes of extra footage), two additional Making Of featurettes ("The Art of War" and "The True Patriots," totaling nearly 20 minutes) and a Digital HD copy. Highly recommended!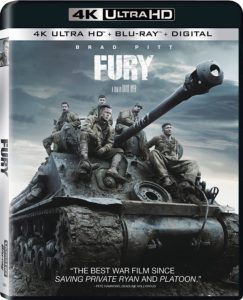 Another new Sony 4K catalog release, FURY (**½, 134 mins., 2014, R), debuts in 4K UHD this month as well and offers a sizable enhancement over a problem-plagued Blu-Ray that was apparently mastered at incorrect gamma levels, resulting in a darker image for an already gritty, dank looking film. Sony's new 4K of this WWII thriller with Brad Pitt – a realistic depiction of brutal tank combat – looks just superb, backed by Dolby Atmos audio which is masterfully delivered when called upon. Extras are split between the two discs, with the 4K featuring some content that had been exclusive to certain retailers (the "Tanks of Fear" documentary, trailers, a number of featurettes), while the Blu-Ray includes over 50 minutes of deleted scenes, the "Director's Combat Journal," additional Making Of content and a Digital Movies Anywhere code.
Not to be outdone, two other 4K catalog titles are also out from Fox and Warner, respectively, and should prove to be of interest for action fans:
DIE HARD 4K UHD Combo Pack (***½, 1988, R; Fox): John McTiernan's original "Die Hard" receives an enhanced (though not jaw-dropping) 4K UHD transfer that generally does justice to Jan DeBont's stylish cinematography. Unlike its prior Blu-Ray (which at the time, admittedly, looked far better than its preceding DVDs), this 4K HDR enhanced transfer capably reproduces the film's original theatrical presentation — even if the movie still looks its age at times — while the Dolby Atmos audio is exceptional. Extras include the majority of special features from assorted editions Fox released years back on the included Blu-Ray platter (same disc that was previously released), plus a Movies Anywhere Digital HD code.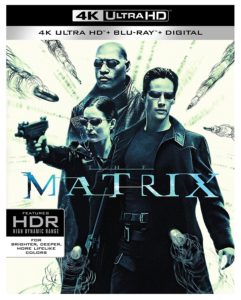 THE MATRIX 4K UHD Combo Pack (***, 138 mins., 1999, R; Warner): After taking in Warner's splendid new 4K UHD presentation of "The Matrix," I found that my original 1999 review of the film still holds up in terms of how I feel about the picture: "a dizzying array of special effects complement a better-than-average script in this solid cyber-sci-fi/futuristic actioner, written and directed by the Wachowski Brothers (they of the overrated lesbian thriller "Bound").
Keanu Reeves plays a computer hacker who –for reasons that may have been left on the cutting room floor — seeks out a mysterious man called Morpheus (Laurence "The Fish" Fishburne) in a world that appears normal on the surface, except for the amazing gymnastics pulled off by Morpheus' female pal Carrie-Ann Moss and a group of special agents who talk like Australians trying to sound like Americans (the movie was shot Down Under), who tangle in the film's opening set piece.
In a movie of many surprises, it turns out that the "real world" in front of Reeves is a sham put on by a race of machines in a future where humans are used as energy for the mechanical beasts that have–by the mid point of the 22nd century–taken over the world. Kept in life-sustaining pods where their minds are jacked into a faux reality dubbed "The Matrix," Fish tells Keanu that the enslaved humans can be liberated if it turns out that Keanu really is "The One"–the savior prophesized to save mankind from the machines who dominate it. After learning kung fu, jiu jitsu, and every other form of martial arts (and special effects trickery) known to man, Keanu re-enters The Matrix in an attempt to beat the system with an arsenal of cool moves and weapons.
At 135 minutes, viewers who are turned off by elaborate effects and a complicated (though mostly intelligible) plot will get more than their fill of "The Matrix," but for sci-fi fans this is a pleasing, entertaining trip into yet another dreary, post apocalyptic future. Reeves doesn't get to stretch his acting muscles a whole lot (for some folks, that will be a good thing), while Fishburne is excellent as Morpheus and Moss's tough-girl hacker is also well rendered, even if the love story between her and Reeves turns out to be half-baked.
Then again, that may have been a result of some cutting, since even at its current length "The Matrix" is chock full of plot twists and turns, not to mention plenty of effects, action sequences, and elaborately staged fights. The Wachowski Brothers pace the film extremely well and while certain "rules" about the Matrix aren't spelled out quite as clearly as they could have been (you keep thinking for a while, why can't they just "beam back" like a transporter on the Enterprise?), "Matrix" offers some food for thought along with its techno-future babble, and all of it is deftly packaged in a product that ought to satisfy sci-fi fans of all persuasions."
Warner's 4K UHD includes the expected gains from HDR, Dolby Vision and Dolby Atmos – adding to the film's potent visuals and making the experience of revisiting the original a truly enjoyable experience (even more so when you distance yourself from the disappointing sequels that followed). Commentaries from previous releases (four of them, in fact, including composer Don Davis' track with score selections) are included in the 4K UHD with other extras reprieved in the Blu-Ray bonus features plus a Digital HD copy.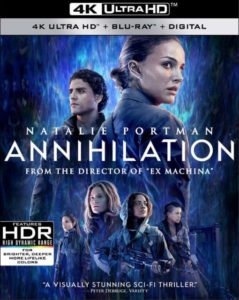 ANNIHILATION 4K Ultra HD Combo Pack (**, 115 mins., 2018, R; Paramount): Natalie Portman goes looking for what happened to her formerly MIA soldier-husband (Oscar Isaac), who vanished in a top secret area housed by an extraterrestrial organism, in the latest sci-fi thriller from Alex Garland ("Ex Machina"), making its debut on 4K UHD this week as a Best Buy exclusive.
A horrifying and at times extremely disturbing "apocalyptic" picture, "Annihilation" is well-made but suffers from the same issue I had with Garland's other film — namely, why I should care about any of its mopey protagonists in a humorless setting that's patently depressing to experience from a viewer's standpoint. Portman leads a team of fellow females — all emotionally ravaged in some way — into "The Shimmer," but Garland is really more interested in its lead character's compulsion (if not downright self-destruction) than anything else.
There are some images in this film that are hard to shake off (including one sequence involving a mutated bear-like creature), but there's also nobody to root for, with downbeat flashbacks to Portman and Isaac's relationship intercutting the sometimes gory creature-mutants the characters experience. It's like watching "Ordinary People" mixed with "The Thing," and even though certain critics have hailed this as a kind of "intellectual sci-fi masterwork," the plot isn't any smarter than a '50s B-movie, ending with a weird climax and a predictable downbeat "twist" that Paramount (understandably) wanted to reshoot.
I also have to admit, on a personal level, these kind of films are becoming less and less interesting to me. This is a movie about depression and loss in addition to the end of the world — it used to be enough to "escape" in a genre film with characters you might care about facing insurmountable odds, even if the circumstances are dire (like "The Thing"). "Annihilation" is a grim, hopeless, pretentious, heavy film, one that you don't find escapism from, but rather come out feeling worse than you did when it started. It's well made and acted, and has some impressive imagery — but so what?
The 4K UHD presentation of "Annihilation" is generally very impressive, though the soft digital photography of the film doesn't always translate to added detail over the regular Blu-Ray edition (standout HDR usage is also intermittent). The Dolby Atmos audio is robustly delivered along with the standard Blu-Ray, a Digital HD copy, and a series of behind-the-scenes featurettes included on the BD's supplemental section.
RED SPARROW 4K UHD (**, 140 mins., 2018, R; Fox): Handsomely produced but agonizingly slow-moving, downbeat adaptation of Jason Matthews' book series failed to provide a starring franchise for actress Jennifer Lawrence. Playing an injured Russian ballerina brought into the world of espionage by her uncle, Lawrence gives a credible performance in a convoluted story that finds her Dominika navigating between the interests of both the Soviets as well as a CIA agent (Joel Edgerton) she naturally has an affair with. Reteaming with her "Hunger Games" director Francis Lawrence, Lawrence seemed to pick a plum project but the dreary and violent "Red Sparrow" becomes a real slog to sit through, feeling like a hollow corpse even with a strong cast (Matthias Schoenaerts, Charlotte Rampling and Jeremy Irons among them) supporting its star. Fox's outstanding 4K UHD presentation does boast Dolby Atmos audio and a superlative HDR enhanced transfer that shows off the picture's Grade A production elements. A number of extras are included on the Blu-Ray, including Lawrence's commentary, deleted scenes, production featurettes and a Digital HD copy.
GAME NIGHT Blu-Ray Combo Pack (**, 100 mins., 2018, R; Warner): After failing to resurrect the "Vacation" franchise and relaunching "Spider-Man" to mediocre results, John Francis Daley and Jonathan Goldstein turn their hands to directorial work with "Game Night," a limp comedy that wastes a talented cast in a film that ultimately goes nowhere. Jason Bateman plays an overly aggressive board game/trivia enthusiast whose "Game Night" events with wife Rachel McAdams are beloved by their friends – at least until wayward brother Kyle Chandler shows up with the promise of holding his own party…one that includes an eventual kidnapping that's not part of the game. "Game Night" starts reasonably well but eventually settles straight into a formula, repetitive pattern. This wouldn't be a major problem if the picture delivered consistent laughs – but it doesn't, as writer Mark Perez's script leaves Bateman, McAdams and a strong supporting cast (Jesse Plemons, Michael C. Hall and an unbilled Geoffrey Wright among them) floundering with weak material. Warner's Blu-Ray combo pack includes a Making Of featurette, gag reel, 1080p (2.41) AVC encoded transfer, 5.1 DTS MA audio and a Digital HD copy.
---
New Releases from MVD, Arrow Video & VCI
I have vague memories of a local TV station airing Bruce Lee exploitation films – dubbed "Brucespoiltation" – on Saturday afternoons when I was a kid. In fact, this entire sub-genre of martial arts knockoffs has mostly been forgotten to time – something that makes VCI's Blu-Ray/DVD combo release of BRUCE'S DEADLY FINGERS (87 mins., 1976) a recommended package for buffs. Regarded as one of the better knockoffs by genre enthusiasts, this is a cheap, low-budget and silly B-movie filled, as you'd expect, with plenty of combat sequences. Star Bruce Le (yes) has the moves and this Hong Kong import is goofy enough for a look, especially considering VCI's 2K restoration from the original 35mm negative, which looks strong (2.35) and is backed by ample extras. These include deleted scenes (German dialogue with English subs), a commentary from genre authority Michael Worth, a still gallery, and high-def kung fu trailer reel.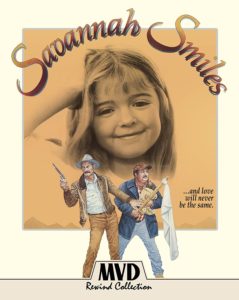 A cable TV staple during the 1980s, SAVANNAH SMILES (105 mins., 1982, PG) is an independently-produced feature shot in Utah by writer-producer Mark Miller, who also stars as Alvie, an affable escaped convict. Along with his rotund cohort "Boots" (Donovan Scott), the duo head out on the road, only to run into a precocious young girl named Savannah (Bridgette Andersen), the daughter of an aspiring politician father and frustrated mom, who feels neglected by her parents' lack of attention. The trio eventually bond, and enrich each other's precarious positions, in this good-natured family film, one that has a "homegrown" feel and is backed by appearances from familiar character actors (John Fiedler, Fran Ryan, Pat Morita, Peter Graves).
MVD's latest entry in their superb Rewind Collection offers a new 2K restoration of a 35mm print housed by the Library of Congress, though the source materials look a bit battered and worn throughout. Extras include all-new interviews and a Making Of featuring Mark Miller, Donovan Scott and composer Ken Sutherland. There's also a touching tribute to Andersen, the movie's young star who subsequently appeared in a number of '80s TV series and became a one-time guest on the Tonight Show. Her all-too-familiar story of drug abuse and premature passing at the age of 21 is recounted by her mother, Teresa, in a segment that makes watching the film a tragic reminder of how too many child performers became "lost" in Hollywood.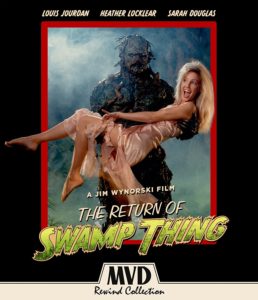 Also new in MVD's Rewind Collection is WENT TO CONEY ISLAND ON A MISSION FROM GOD…BACK BY FIVE (94 mins., 1998, R), Jon Cryer and Richard Schenkman's 1998 independent film about a trio of New York City friends (Jon Cryer, Rick Stear, Rafael Baez) who struggle to overcome their respectively miserable existences. Atmospherically filmed on-location in Coney Island's off-season, this little-known drama co-stars Ione Skye and Frank Whaley, with MVD's Rewind Blu-Ray offering a new frame-by-frame digital restoration from original 35mm film elements; PCM 5.1 and 2.0 audio; a new audio introduction from Schenkman and Cryer, plus previously released supplements (commentary from the duo, a featurette, the trailer, and Schenkman's short "The Producer")…Now available in the MVD Rewind Collection is Jim Wynorski's 1989 sequel THE RETURN OF SWAMP THING (88 mins., PG-13), a follow-up to Wes Craven's comparatively more serious – and disappointing – 1982 DC Comics adaptation. Dick Durock is back reprising Swamp Thing and so, surprisingly, is Louis Jourdan as mad scientist Anton Arcane, still trying to meddle in genetic manipulation and here including his stepdaughter (Heather Locklear) in his nefarious plans. Sarah Douglas co-stars in a sillier but also more entertaining film than Craven's stoic predecessor, enhanced by humor and a freewheeling tone that I enjoyed more this time around. MVD's Blu-Ray/DVD combo pack includes a new 2K transfer (1.85), 2.0 and 5.1 uncompressed PCM audio, and extras including a brand new commentary from Wynorski, composer Chuck Cirino and editor Leslie Rosenthal (a 2003 Wynorski DVD commentary is also on-hand); new interviews with Wynorski, Rosenthal, Cirino, and Lightyear Entertainment executive Arnie Holland; the trailer (in HD), plus promo TV clips, trailers, Greenpeace PSA's, and a photo gallery accompanied by Cirino's soundtrack.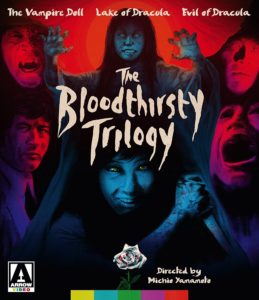 Arrow New Releases: While most casual viewers equate Toho's imports with the Giant Monster genre, a trio of early '70s curios from the Japanese studio were more influenced by Hammer Films.
Collected in a new double-disc Blu-Ray anthology, THE BLOODTHIRSTY TRILOGY houses director Michio Yamamoto's vampire chillers: "The Vampire Doll" (aka "Legacy of Dracula"), "Lake of Dracula" and "Evil of Dracula." Though the Count doesn't appear in any of these pictures, the influence of Hammer can clearly be felt in these Western-friendly tales of supernatural horror, leisurely paced and with an accent on atmosphere; this is especially true in "Vampire Doll," the best of the lot.
Yamamoto filmed all three in glorious widescreen as well, and Arrow's Toho-licensed Blu-Rays, transferred from original film elements, boast outstandingly detailed 1080p (2.35) AVC encoded presentations with PCM mono sound. Natural grain and healthy colors add immeasurably to the visual appeal of the three films, with uncompressed mono sound and extras comprised of an interview with horror critic Kim Newman and trailers.
Available May 22nd from Arrow is a new 2K restoration of DEATH SMILES ON A MURDERER (89 mins., 1973, Not Rated), director Aristide Massaccesi's (aka Joe D'Amato) 1973 mix of Gothic horror and Italian giallo. Set in Austria in the early 1900s, "Candy"'s Ewa Aulin plays a woman abused by her brother and left to die, in childbirth, by her lover. Reanimated from the dead by her sibling, Greta goes on a supernatural rampage of revenge in this offbeat effort scored by Berto Pisano and sporting a typically nutty Klaus Kinski supporting turn as a deranged doctor. Arrow's Blu-Ray includes that new 1080p (1.85) transfer from the original camera negative, a fresh commentary by Video Watchdog's Tim Lucas, uncompressed PCM mono sound, a new interview with Ewa Aluin, an archival D'Amato interview, a video essay from critic Kat Ellinger and a trailer/still gallery.
Finally, Arrow Academy welcomes two new releases to Blu-Ray this month. Abdellatif Kechiche's BLACK VENUS (162 mins., 2009) might not be widely known to American viewers – it's a lengthy tale of the life of Saartjie Baartman (Yahima Torres), the "Hottentot Venus" who was taken from her South African home at age 21, where she was subsequently exploited in freak shows worldwide because of her large buttocks. Arrow's Blu-Ray includes 5.1 and 2.0 DTS MA soundtracks with English subtitles; a new appreciation on the film by critic Neil Young; a 1080p (1.85) transfer; and the original trailer…Available May 29th is the powerful, if disturbing, SMASH PALACE (108 mins., 1981, R), Roger Donaldson's tale of a former race car driver (Bruno Lawrence) who can't let go of his seven-year-old daughter after his marriage to his French wife (Anna Jemison) falls apart. Viscerally potent and emotionally charged, this New Zealand-funded production earned strong reviews domestically when it was released in 1982, further helping to launch Donaldson onto the international stage. Arrow's Blu-Ray includes commentary by Donaldson, a 51-minute Making Of, the trailer, a 1080p (1.85) transfer and uncompressed PCM mono sound.
---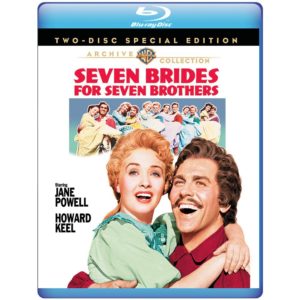 Warner Archive New Releases
Sure to be one of the premier releases this year for musical lovers, Warner Archive at last debuts the eagerly awaited Blu-Ray edition of MGM's all-time classic SEVEN BRIDES FOR SEVEN BROTHERS (102 mins., 1954) on June 5th. This Stanley Donen production remains one of the screen musical giants: a robust, stirring Cinemascope affair choreographed by Michael Kidd, offering a delectable Gene DePaul-Johnny Mercer score and the engaging sparring of Jane Powell and Howard Keel, leading a terrific ensemble.
Warner's long-overdue Blu-Ray is a double-disc release featuring extras from the prior DVD edition (commentary from Donen, Donen trailers, the "Sobbin' Women" documentary featuring updated Jane Powell/Jacques d'Amboise interviews, NY Premiere and MGM 30th Anniversary newsreels, the vintage short "MGM Jubilee Overture"). Even more significantly, the disc — like Warner's DVD package — houses two different presentations of the film: the familiar 2.55 Cinemascope print (presented with 5.1 DTS MA stereo sound) is included on Disc 1, with an alternate widescreen version (1.77 aspect ratio) on Disc 2. Much like the film version of "Okahoma!," "Seven Brides" was shot twice, once in scope and again in a non-anamorphic framing to accommodate most theaters of the day. This seldom-screened 1.77 presentation will prove fascinating for fans to compare with, though its inferior mono soundtrack will likely lead most viewers to stick with the widescreen print as their version of choice.
The King Brothers' theatrical output ranges from the Brit-monster favorite "Gorgo" to GUN CRAZY (87 mins., 1949), a fast-moving and highly watchable late '40s thriller about a gun fancier (John Dall) who hits the road with a sideshow sharpshooter (Peggy Cummins), raising all kinds of hell along the way. This WB release is still punchy and exciting thanks to Joseph H. Lewis' crisp direction and its direct, pre-"Bonnie and Clyde" scenario, which was contemporary then and remains relevant for its portrait of young, doomed lovers acting on impulses they don't comprehend.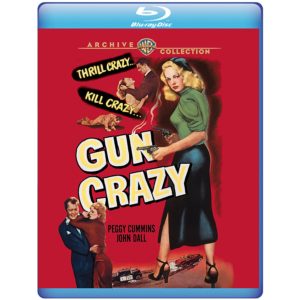 Making its debut on Bu-Ray, "Gun Crazy" boasts another bravura 1080p (1.37) B&W catalog transfer from Warner: the contrasts and overall look of the film scream "film noir" and the elements are all in relatively healthy condition. In addition to a DTS MA dual-channel mono soundtrack, a commentary from "DVD Savant" Glenn Erickson and the docu "Film Noir: Bringing Darkness To Light" grace Warner's recommended Blu-Ray presentation.
Also available from the Archive this month are a pair of 1930s titles with Joel McCrea that are each new to DVD. In THE LOST SQUADRON (79 mins., 1932), Richard Dix and McCrea star in RKO's all-star celebration of American WWI fliers who take on a tyrannical German filmmaker (Erich Von Stroheim himself) after his reckless behavior leads to the death of one of their own. Aerial enthusiasts should take to the film's stunt flying footage with Robert Armstrong and Dorothy Jordan co-starring. Meanwhile, McCrea is paired with Brenda Marshall in ESPIONAGE AGENT (83 mins., 1939), a Warner Bros. propaganda piece with McCrea as a US diplomat who becomes a counterspy in the early days of WWII. Romance, action and a bit of pre-war preaching make for an entertaining vehicle that, like "The Lost Squadron," is presented in its original 1.33 B&W transfer with mono sound.
Finally, three new Archive DVDs hail from the early '30s, each offering something different for genre fans. THE GREAT MEADOW (79 mins., 1931) is an MGM "All Talking Picture" following a young man (John Mack Brown) who heads West after being stirred up by Daniel Boone. Lots of tragedy and melodrama follow in this dark pre-Code take on frontier life. KANSAS CITY PRINCESS (64 mins., 1934) is a Warner Bros. programmer featuring Joan Blondell and Glenda Farrell as gold diggin' manicurists on the run from a mobster ("King Kong"'s Carl Dedham, Robert Armstrong) in a crisply paced comic affair. Finally, soon after Robert Young tells his boss to CALM YOURSELF (70 mins., 1935) after he kisses his daughter, Young opts to start up his own agency specializing in doing tasks others may find unpleasant. Madge Evans co-stars in this 1935 MGM production, with all three Warner Archive DVDs including 4:3 B&W transfers and mono soundtracks.
---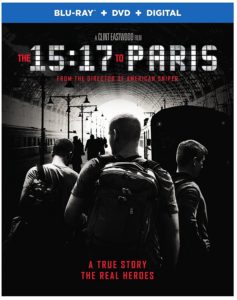 Also New & Noteworthy
THE 15:17 TO PARIS Blu-Ray Combo Pack (94 mins., 2018, PG-13; Warner): Clint Eastwood recently had much success taking a harrowing real-life event in "Sully" and making a short but sweet cinematic account of its title character's heroism. The veteran producer-director attempted to do it again with "The 15:17 To Paris" this past year, following three young American men– childhood friends with varying military backgrounds – who thwarted a terrorist attack on a train bound for Paris in 2015. The difference lies in Dorothy Blyskal's contrived script, and Eastwood's utilization of the three actual participants instead of actors, which results in a stilted, awkward film that only becomes interesting in its eventual re-enactment of the event itself. It's a disappointing outing that won't be remembered highly in Eastwood's vast filmography, with Warner's Blu-Ray combo pack – out this week – featuring two featurettes, a 1080p (2.41) AVC encoded transfer, DVD, Digital HD copy, and Dolby Atmos audio.
More satisfying is 12 STRONG (130 mins., 2018, R), another true-life account, this one of the first U.S. Special Forces team – deployed into Afghanistan in the days after 9/11 – in order to corral local forces into combating the Taliban and Al Qaeda – and eventually on horseback at that. This is a slick Jerry Bruckheimer production with Chris Hemsworth and Michael Shannon leading an ensemble cast – well worth checking out with Ted Tally and Peter Craig's script adapting Doug Stanton's non-fiction book. Warner's Blu-Ray looks and sounds good (2.4, 5.1 DTS MA) and boasts two featurettes and a Digital HD copy.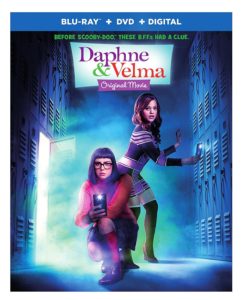 DAPHNE & VELMA Blu-Ray Combo Pack (75 mins., 2018, G; Warner): Live-action fun for kids as Daphne (Sarah Jeffery) enrolls at Ridge Valley High and is promptly plunged into a mystery involving the disappearance of the school's top students. Along to investigate is, of course, Velma (Sarah Gilman), her online friend whom she meets in person for the first time. This agreeable effort is refreshingly family-friendly though the story line is pretty slight (as expected); nice performances from the two leads does help. Warner's Blu-Ray combo pack is out this week sporting three featurettes taking viewers behind the scenes, a 1080p (1.78) AVC encoded transfer, 5.1 DTS MA sound, a DVD and Digital HD copy.
JACKASS: Complete Movie and TV Collection (R/Unrated; Paramount): MTV's popular series returns to DVD in this terrific box set release from Paramount, incorporating the complete "Jackass" TV series and film franchise with an additional five hours of material (from the prior "Classic TV Collection" DVD release) along with the "Bad Grandpa" feature and "Bad Grandpa .5" unrated re-edit. Fans of Steve-O, Johnny Knoxville, Bam Margera and the rest of the "Jackass" gang ought to eat up the entertainment, which includes such memorable television moments as "Urban Kayaking," "The Squid Suit," and the classic "Human Slingshot." A little of this goes a long way, but Paramount's box set enables you to engage in as much (or as little) "Jackass" as you can take in one sitting, and there's plenty here to go around.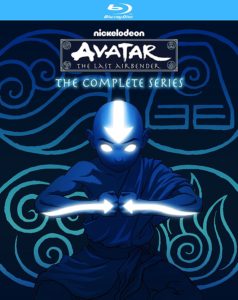 SOUTH PARK – Complete Twenty First Season Blu-Ray (223 mins., 2017; Paramount): While Trey Parker and Matt Stone's long-running animated series has had its share of ups and downs over its many years, lately "South Park" has been showing serious signs of fatigue, failing to drum up consistent laughs even with a reduced slate of episodes. That particularly holds true in Season 21, even with the Trump administration serving to propel nearly all the comedy on every late night TV show in existence. That, along with social media satire and Cartman's antics with his grade school girlfriend comprise most of the material in the series' 2017 campaign – but it's a disappointingly uneven group of episodes that will frustrate even long-time fans of the show. Paramount's Blu-Ray is out June 5th, featuring mini-commentaries by Parker and Stone on all episodes, #socialcommentaries, 1080p transfers and 5.1 Dolby TrueHD soundtracks.
AVATAR – THE LAST AIRBENDER Complete Series Blu-Ray (1464 mins., 2005-08; Nickelodeon/Paramount): "Avatar" was Nickelodeon's 2005-08 animated series, which became a big hit with kids and animation aficionados alike; this tremendous Collector's Edition release offers the complete "Book 1: Water," "Book 2: Earth" and "Book 3: Fire" portions of Michael Dante DiMartino and Bryan Konietzko's series in a grand, definitive Blu-Ray set (we'll just forget that M. Night Shyamalan-directed big-screen, live-action version ever happened). Available in HD here for the first time (with DTS MA sound as well), this box-set also offers a behind-the-scenes documentary, crew interviews, uncut animatics, commentaries and plenty more. Fans should be thrilled with the Complete Series package, available June 5th after having been a Best Buy exclusive.
A FANTASTIC WOMAN Blu-Ray (104 mins., 2017, R; Sony): Sebastian Lelio's new film follows the trials of a transgender woman named Marina who's life is torn apart after her boyfriend, Orlando, dies suddenly after falling in their Santiago apartment. She faces rejection and, worse, suspicion from his family and the authorities who struggle to understand her – and his death – in this acclaimed Chilean drama new to home video this week. Sony Classics released "A Fantastic Woman" on the festival circuit earlier this year and brings Lelio's film to Blu-Ray. The 1080p (1.85) AVC encoded transfer and 5.1 DTS MA soundtrack (Spanish with English subtitles) are both superb, with two featurettes included on the supplemental end.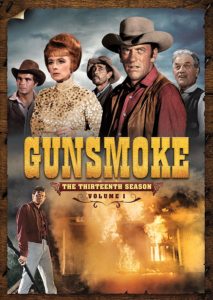 GUNSMOKE – The Thirteenth Season DVD Volume 1 (12 hours, 1967) and Volume 2 (8 hours, 1968; CBS): CBS saddles up for more of the long-running TV western "Gunsmoke" with the debut of the 13thseason on DVD this week. Split into two separate volumes, the 1967-68 season finds Matt Dillon (James Arness) taking on a vigilante uprising, rival cattle barons and outlaws threatening the territory. Doc Adams, Miss Kitty and Doc Adams are all here too, in full-color episodes from the series' later years. CBS' DVDs include all 25 episodes (15 on Volume 1, 10 on Season 2) in four/three disc sets with 4:3 transfers and mono sound, plus episodic previews on all shows. A must for fans.
I'M DYING UP HERE – Season 1 DVD (10 hours, 2017; CBS): Jim Carrey produced this Showtime series, an adaptation of William Knoedelseder's book about young, aspiring stand-up comedians trying to make an impression at Goldie's, a Hollywood comedy club. Melissa Leo, Ari Graynor, Clark Duke, and Michael Angarano star in the 10-episode first season of "I'm Dying Up Here," on DVD May 29th from CBS. The three-disc set includes 16:9 transfers and 5.1 Dolby Digital soundtracks.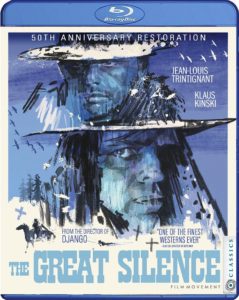 RWBY – Volume 5 (244 mins., 2018; Cinedigm): Fifth volume of the popular anime series finds Ruby, Weiss, Blake and Yang off on their own journeys en route to Haven Academy. Ancient relics and mystical maidens pop up along the way in the latest anthology of episodes from the series, with Cinedigm's two-disc Blu-Ray including character shorts, "5 Years of RWBY," 1080p transfers, DTS MA soundtracks and a free manga booklet included within.
Film Movement New Releases: A violent and downbeat Spaghetti western with a striking Ennio Morricone score, THE GREAT SILENCE (105 mins., 1968) has long been regarded by some critics as one of the genre's more integral works – even though the picture has received scant distribution in North America. Jean-Louis Trintignant stars as a mute gunslinger whose vocal chords were severed when he was a child by a vicious outlaw (Klaus Kinski) whose bounty hunters reign over a snowy Utah landscape and its helpless residents. Alternate endings (decidedly more upbeat than director Sergio Sorbucci's original) are included along with a new 2K digital restoration in Film Movement's Blu-Ray, out June 5th along with a tribute from Alex Cox, the 1968 documentary "Western, Italian Style," a new essay from critic Simon Abrams, and the trailer…Elena Anaya and Owen McDonnell play a couple, having difficulties in the bedroom, who decide to fool around with other partners in SWUNG (88 mins., 2015), a drama from director Colin Kennedy and writer Ewan Morrison, co-starring Elizabeth McGovern. Film Movement's now-available DVD offers a 16:9 (2.40) transfer and 5.1/2.0 stereo sound.
Lionsgate New Releases: Saturday Night Live alum Jon Lovitz provides the voice of PAWS P.I. (86 mins., 2018, PG), a canine detective named Jackson who has to break into a mansion with his pal Peter in order to recover a missing will. A British parrot named Peabody provides aerial assistance in this kid-friendly pic making its DVD debut May 29th from Lionsgate. The disc of this Grindstone Entertainment presentation boasts 5.1 Dolby Digital sound and a 16:9 (2:1) transfer.
NEXT TIME: JURASSIC PARK in 4K! Until then, don't forget to drop in on the official Aisle Seat Message Boards and direct any emails to our email address. Cheers everyone!