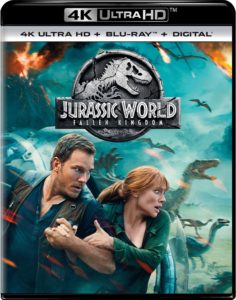 As it is, the oddball concept (scripted by "World"'s director, Colin Trevorrow, with Derek Connolly) works well enough for a one-off – another "brainless rollercoaster ride" that's at least more interesting than "Jurassic World" and far more capably directed by Bayona, with a few effective set-pieces. The dinosaurs – the remnants of which are whisked away from a soon-to-be-extinct Isla Nublar, only to be sold off at auction by another greedy businessman (Rafe Spall) running what's left of John Hammond's estate — are more integral to the plot of this film, and they certainly look good. You wish the same could be said for the humans, who basically have nothing to do: Chris Pratt and Bryce Dallas Howard return but make even less of an impression as they run around from one near-disaster to the next. Meanwhile, Toby Jones (a Brit playing an American) and James Cromwell (an American playing a Brit) do battle for "Worst Accent of the Year" in a pair of especially weak supporting roles (Jones is also dressed up as Trump in a straight lampoon — right down to his hair flapping in the wind. Subtle this film isn't – in any regard).
By now there's no expectation a film in this series is ever going to make you care about its characters — but "Fallen Kingdom" does succeed in making you care about its creatures, and if you're just looking for dino-action that's well-executed for what it is, the film manages to satisfy on a less bombastic scale than its predecessor.
Universal's 4K UHD of "Fallen Kingdom" is a superior package for its potent HDR imagery, augmented with Dolby Vision and a rollicking DTS X soundtrack. Sequences in the mansion offer an expectedly strong usage of HDR, the reds and occasional flashes of color standing out from Bayona's calculated "gothic" look. Extras aren't all that extensive here – the usual on-set featurettes and interviews comprise the bulk of the Blu-Ray supplements – but the a/v presentation is marvelous, with the BD and Digital HD copy rounding out the release.
---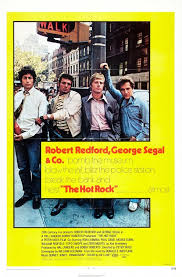 Twilight Time New Releases
The '70s not only produced a landmark amount of great films, but also a number of terrific pictures that captured New York City in all its grittiness. Two NYC-set tales mark Twilight Time's latest Blu-Ray releases: the Robert Redford heist flick THE HOT ROCK (100 mins., 1972, PG) along with John Cassavetes' 1980 effort GLORIA (121 mins., PG), the latter affording a terrific role for Cassevetes' wife (and on-screen leading lady) Gena Rowlands in the director's arguably most commercial endeavor.
Growing up, my Dad was always reading novels, and counted Donald Westlake's books among his favorites. Translating Westlake's prose to the screen, however, proved to be difficult, even with the author occasionally trying his hand at writing the screenplays. The results were as varied as 1973's flavorful "Cops and Robbers" and the disastrous 1990 Christopher Lambert vehicle "Why Me?" (meanwhile, one of Westlake's best cinematic efforts was the script for "The Stepfather," the 1987 thriller with Terry O'Quinn).
THE HOT ROCK was arguably the highest-profile adaptation of Westlake's books, attracting star Robert Redford – anchoring an ensemble cast that also included George Segal, Ron Leibman and Zero Mostel – along with A-list screenwriter William Goldman and director Peter Yates. The resulting film, though, is more interesting for its location shooting – including a helicopter ride near the then under-construction World Trade Center towers – than its dramatic content.
Westlake's story was adapted from one of his "Dortmunder" novels, following Redford as the author's master thief who – along with cohorts Segal, Leibman and Paul Sand – tracks the elusive "Sahara Stone" in a series of botched thefts that take the group in and around the NYC of the early '70s. The movie is both watchable and yet seldom compelling, with Goldman toning down some of Westlake's comic components and Yates, whose career was always hit-or-miss, seeming out of his element – there's an overly cool, detached feel to the film, which plays at odds with the more playful elements of its source material.
Watching the film today, it's a curious exercise that likely would've benefitted from a different directorial approach, though Redford fans and those with a fondness for the NYC depicted in the era would still do well to check out Twilight Time's Blu-Ray. This 1080p (2.35) transfer must have been struck from a 4K source as the presentation is spectacularly detailed and presented, along the lines of TT's equally fine, recent Fox titles. The original mono soundtrack is included along with a strange stereo 2.0 remix, which tries to implement directional effects (including dialogue) but comes off as more distracting than anything else. Quincy Jones' "atmospheric" but mostly unmemorable score is isolated on a secondary channel with the trailer and a new commentary with TT's Nick Redman, Julie Kirgo and Lem Dobbs offering ample insight into the production.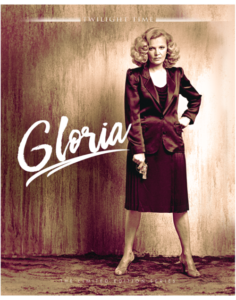 John Cassavetes' filmography includes many moody, character-driven works, and his output as a director seldom included studio films like GLORIA. Ironically, Cassavetes never intended to direct the film, either, but rather sold his script to Columbia Pictures – opting to make it only when Gena Rowlands expressed an interest in playing the title role. The resulting film – a heartfelt story of a former mobster's girlfriend (Rowlands) grudgingly becoming a protector to a young boy (John Adames) whose family is offed by the mob – showed that Cassavetes could have had equal success in studio fare, if he ever wanted to travel down that road.
Though "Gloria" didn't perform all that well at the box-office – even with Columbia's backing – it's a strong film that includes superb turns from both Rowlands and an unaffected performance from young John (Juan) Adames, whose lack of acting experience served him well in a grounded and believable portrayal of the emotionally ravaged boy. Together with its location shooting and a nuanced Bill Conti score, "Gloria" hits right at the heartstrings without cloying sentimentality – making for a distinctive Cassavetes project.
Twilight Time's Sony-licensed Blu-Ray looks great (another fine 1.85 transfer from the Columbia vaults) and offers a clear DTS MA mono soundtrack, isolated score mix, and trailers.
Brandon Lee's regrettably short-lived film career only counted a few feature projects. His next-to-last outing was top-lining Fox's action vehicle RAPID FIRE (95 mins., 1992, R) as a West Coast college student who witnesses a mob slaying. Soon, Lee is sent to Chicago to testify against the nefarious, drug-running mobster (Nick Mancuso) who's responsible – only to find out the only man he can trust is a renegade FBI agent (Powers Boothe) who relies on Lee's martial arts skills to get the duo out of several tight jams.
"Rapid Fire" is pretty routine, especially given its era. Dwight H. Little ("Murder at 1600," "Halloween 4") helms the project in his typical workmanlike manner, with frequent collaborator Alan McElroy's script adhering to the usual Norris/Seagal/etc. genre framework of its contemporaries. What gives it a charge is Lee's natural charisma and Boothe's trademark gravely performance – the duo engagingly spar while a few choice action sequences liven up the standard-issue story. The underrated Kate Hodge, meanwhile, is also good here as a fellow agent, working under Boothe, who eventually falls for Lee.
Twilight Time's Fox-licensed Blu-Ray once again includes a top notch 1080p (1.85) transfer, 2.0 DTS MA stereo sound, a couple of featurettes, the trailer, isolated score and a special treat for film music fans: a commentary with composer Christopher Young and Nick Redman, which is every bit as valuable for its overview of Young's career and compositional process as the film itself – Lee's sadly penultimate feature.
Finally, Twilight Time uncovers a relatively obscure late '60s Columbia release this month: THE VIRGIN SOLDIERS (95 mins., 1969, R). This Carl Foreman production stars Hywel Bennett, Nigel Davenport, and Nigel Patrick in an adaptation of Leslie Thomas' novel by writer John Hopkins – a serio-comic rendering of British soldiers trying to hold down the fort in Singapore during the Malayan Emergency. The casting of top-billed Lynn Redgrave, meanwhile, was meant to parlay off the success of her breakthrough role in "Georgy Girl," with the actress essaying the daughter of the squad's R.S.M. Director John Dexter's feature is fairly dated in its editorial techniques though the film is otherwise quite watchable, especially for those with an interest in the source material.
TT's 1080p (1.85) transfer is fine though the Sony-licensed source elements display more of their age, perhaps understandably given the film's lack of screening over the years. An isolated score mix and the trailer put the cap on this month's limited-edition Blu-Rays, as always available from both Screen Archives and Twilight Time's own site.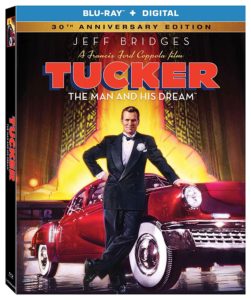 Also New & Noteworthy
TUCKER: THE MAN AND HIS DREAM Blu-Ray (***½, 110 mins., 1988, PG; Lionsgate): Francis Ford Coppola and George Lucas teamed up to produce this 1988 critically-acclaimed financial underachiever, starring Jeff Bridges as real-life car manufacturer Preston Tucker, whose run-ins with the auto industry made for a "little-guy-fights-big-industry" tale perfectly suited for Coppola, who viewed the project as bearing more than a little resemblance to his own struggles running Zoetrope Studios. As a movie, "Tucker" is mainly an exploration only on the surface of the actual Tucker history, directed by Coppola in a flamboyant style intentionally designed to resemble a commercial from the period. Bridges is fine and the supporting cast is likewise superb, including turns from Joan Allen, Martin Landau, and Dean Stockwell. Arnold Schulman and David Seidler's script doesn't delve much below the surface of its protagonist, but the filmmaking style is fun and the movie is energetic from start to finish.
Making a surprise Blu-Ray release from Lionsgate, "Tucker"'s 1080p (2.39) AVC encode is a nice upgrade from prior video releases, which offered slightly cramped 2:1 transfers preferred by cinematographer Vittorio Storaro. The 5.1 Dolby TrueHD audio is also exceptional, jazzing up Joe Jackson's terrific, toe-tapping score. On most every other count, the Lionsgate disc is a reprise of the 2000 Paramount DVD, which Zoetrope themselves produced. Reprised extras include commentary by Coppola that's sporadic but fairly informative, a featurette containing interviews with Coppola and Lucas, an entire 1948 Tucker promo film, which also features commentary from the director, and a single deleted scene.
An overlooked production that critics loved but audiences dismissed, the "Tucker" Blu-Ray looks and sounds almost as good as one of the many vintage cars contained in Coppola's loving tribute to Preston Tucker.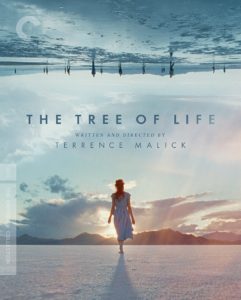 THE TREE OF LIFE Criterion Collection Blu-Ray (**½, 139 mins, 2011, PG-13; Criterion): Terrence Malick's 2011 film "The Tree Of Life" is yet another visual tone poem from the director – an ode to birth, life, death, tragedy, triumph, falling from grace, redemption and back again.
As with Malick's "The New World" and "The Thin Red Line," the movie's threadbare plot – involving a domineering father figure (Brad Pitt) and his son (who grows up to be Sean Penn in brief bookending sequences) – is basically just an outline for Malick to provide a series of gorgeously shot sequences and ruminations on human existence. Never has everyday life looked so breathtaking as it does in "The Tree of Life," with Malick and cinematographer Emmanuel Lubezki's camera weaving in and out of bedrooms, school yards, suburban neighborhoods and treetops like an omnipresent narrator dropping in on a typical American childhood many will be able to relate to.
Throughout, Malick intercuts scenes of the universe, even throwing in dinosaurs at one point early on, in an attempt to connect the "ordinary life" of Pitt's family with the cosmic questions all of us face.
"The Tree of Life" is just so beautiful to look at that it's hard for me to give a strong opinion on it one way or the other. If you've embraced Malick's past films, you're likely to be dazzled by the movie's visuals and moody atmosphere. Others are likely to feel that if you've seen one Malick film, you've now seen them all, which is understandable since "The Tree of Life" basically reprises the same narrative elements of the director's past works – just in a different setting, with different (yet still emotionally distant) characters. It's still an impressively designed film, especially at a time when so many of today's films lack the cinematic craftsmanship Malick displays here, yet also overlong and meandering, making one wish that Malick would just get on with it, especially in its final half-hour.
Criterion's new Blu-Ray edition, available September 11th, includes an extended version of the film, adding some 50 minutes onto an already prolonged running time (from what I sampled, I would not recommend it over the theatrical cut). The 4K restored 1080p (1.85) transfer is stunning, as is the excellently engineered DTS MA audio. A 2011 Making Of runs about a half-hour and includes comments from Lubezki, production designer Jack Fisk and Malick admirers like Christopher Nolan and David Fincher; new extras, meanwhile, include interviews with Jessica Chastain and VFX supervisor Dan Glass, a video essay from critic Matt Zoller Seitz, and new interviews with critics Alex Ross and "Benjamin B" about the film's cinematography featuring comments from Lubezki, Fisk and others.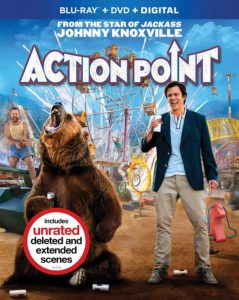 ACTION POINT Blu-Ray (84 mins., 2018, R; Paramount): Johnny Knoxville's latest (badly titled) cinematic endeavor tanked at the box-office, but should yield a few laughs for the "Jackass" vet's fans just the same. In this slender feature (padded out to 84 minutes), Knoxville stars as the proprietor of an amusement park where the rides are more like pranks – resulting in some predictable, if intermittently amusing, physical humor that director Tim Kirkby has basically reprised from Knoxville's previous theatrical outings. The problem is that the underlying story isn't engaging, making this strictly for the star's fans. Paramount's Blu-Ray is now available featuring deleted/extended scenes, a digital copy, DVD, a 1080p transfer and 7.1 DTS MA sound.
OCEAN'S 8 4K Ultra HD Blu-Ray Combo Pack (110 mins., 2018, PG-13; Warner): Leaner but mostly lukewarm sequel/female spin-off of Steven Soderbergh and George Clooney's "Ocean" series features Sandra Bullock reprising her role of Debbie Ocean, sister of master thief Danny and a cunning criminal in her own right. Hoping to pull off a big score after getting out of prison, she brings in old pal Cate Blanchett and a series of specialists (Minday Kaling, Sarah Paulson, Rihanna, Helena Bonham Carter and "Awkwafina") in order to steal diamonds belonging to one of world's wealthiest actresses (Anne Hathaway). Gary Ross stepped in for Soderbergh but his script, written with Olivia Milch, mostly just rehashes the laid-back tone of its predecessors, hoping the novelty of an all-female cast alone will bring freshness to well-traveled terrain. The gambit works only to a degree, as the picture doesn't give all of its cast much to do beyond look good and convey a few occasionally funny lines (Hathaway, though, is a standout). Warner's super 4K UHD release boasts a nice looking HDR/Dolby Vision enhanced transfer and Dolby Atmos audio, plus the Blu-Ray, a Digital HD copy, deleted scenes and three featurettes.
TAG Blu-Ray (100 mins., 2018, R; Warner): It's always distressing to see a group of talented comedians and stars trying to make a go out of weak material. Yet, here we are again with "Tag," one more raunchy R-rated comedy that wastes a good cast in a reportedly true story that follows five friends who have been playing a game of tag since 1st grade. Taking it to extremes (of course) in adulthood, the group (Ed Helms, Jake Johnson, Hannibal Buress, Jon Hamm and Jeremy Renner) clowns their way through a labored succession of gags in Jeff Tomsic's by-the-numbers film, which failed to really ignite at the box-office. Warner's now-available Blu-Ray combo pack boasts a look at the real guys still playing tag after 30 years, plus deleted scenes, a gag reel, a 1080p (2.41) AVC encoded transfer and 5.1 DTS MA sound, plus a DVD and Digital HD copy.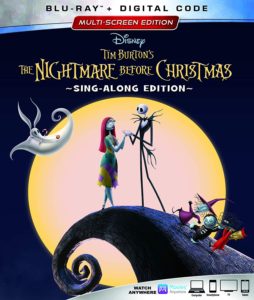 THE NIGHTMARE BEFORE CHRISTMAS Sing-Along Edition Blu-Ray (***, 76 mins., 1993, PG; Disney):Tim Burton's seasonal favorite is back on Blu-Ray in a new "Sing-Along Edition" with a Digital HD copy.
Burton's visually arresting, beautifully articulated tale of Jack Skellington, the "Halloween King" who discovers Christmas and attempts to take over the yuletide-joy-spreading biz from Santa Claus has been a viewer favorite for years. With its enchanting settings, unique and memorable characters, multi-holiday atmosphere and Danny Elfman's songs carrying Caroline Thompson's screenplay along, "Nightmare" has become something of a perennial favorite, even though the picture was only a moderate hit upon its 1993 theatrical release. It's not a flawless film — no matter how many times I've seen it, the last third always seems to drag and there's probably one song too many — but it is, certainly, a unique and memorable one.
Disney's new Blu-Ray includes a sing-along version with full lyrics or the full-length theatrical edition. Extras are reprised from the prior release, including commentary, the vintage Making Of, deleted scenes, Burton's "Vincent" and "Frankenweenie" films and other goodies. The 1080p (1.66) transfer and 7.1 DTS MA sound are both superb.
Also new from Disney is the (25th) Anniversary Edition of HOCUS POCUS (**½ , 96 mins., 1993, PG), the live-action fantasy starring Bette Midler leading a coven of witches (alongside Sarah Jessica Parker and Kathy Najimy) who, after being resurrected from 17th century Salem, plot to reclaim their youth. Omri Katz and Thora Birch are the youngsters charged with stopping them in this amiable lark from producer David Kirschner, who co-wrote with Mick Garris. Kenny Ortega ("Dirty Dancing") helms with mostly a light touch and John Debney's score is terrific as well. Disney's Blu-Ray includes a trivia track with a bevy of new special features: deleted scenes, cast/crew commentary, the original 1993 production featurette, a Digital HD copy, 1080p (1.85) transfer, and 5.1 DTS MA sound.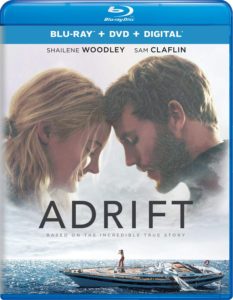 ADRIFT Blu-Ray Combo Pack (100 mins., 2018, PG-13; Universal): Shailene Woodley gives another excellent performance as real-life Tami Oldham, a young woman sailing the world with her older boyfriend (Sam Claflin) when the duo end up directly contending with Hurricane Raymond while transporting a yacht from Tahiti to San Diego in 1983. A great movie could have been made from Oldham's story, but Baltasar Kormakur's mostly serviceable film isn't that, mainly because much of the film emotionally relies on the duo's romance, which comes off as lukewarm at best. What "Adrift" is, at least, is a reasonably well-acted character piece with fine Robert Richardson cinematography and Woodley anchoring Oldham's harrowing ordeal. Universal's Blu-Ray includes a 1080p (2.39) transfer, 7.1 DTS MA sound, an Itunes-only digital copy, commentary with Kormakur and Woodley, deleted scenes and several featurettes.
WON'T YOU BE MY NEIGHBOR? Blu-Ray (95 mins., 2018, PG-13; Universal): A solid performer at the box-office this summer, Morgan Neville's likeable if unsurprising documentary profiles the life and times of Fred Rogers and his classic, groundbreaking PBS series "Mr. Rogers' Neighborhood." These days, young kids like my son have embraced "Daniel Tiger's Neighborhood," but the animated series' roots remain firmly embedded in Rogers' original, decades-spanning series, which offered a safe haven for kids – along with pertinent messages about growing up and relating to others – from the bombast of Saturday Morning TV. Those familiar with Rogers' life from copious books or prior documentaries aren't likely to find any revelations here, but Neville's program is appealingly presented and emotional just the same — even with an unnecessary detour into political pandering at the end. Universal's no-frills Blu-Ray includes a 1080p (1.85) transfer and 5.1 DTS MA sound.
---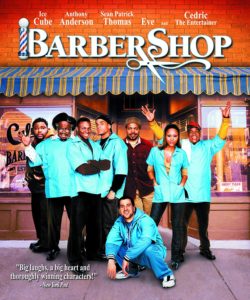 Label Round-Up
MVD New Releases: A number of new titles in MVD's Marquee Collection lead off the label's latest releases.
BARBERSHOP (102 minutes, 2002, PG-13): Ensemble comedy about a Chicago barbershop turned into a surprise box-office hit in the fall of '02, despite having been the center of a drummed-up "controversy" (since largely forgotten) over some comedic dialogue involving Rodney King, Jesse Jackson, and Rosa Parks. Ice Cube leads a wacky assortment of types (including Sean Patrick Thomas, singer Eve, and comedian Cedric the Entertainer) whose shop forms the gathering place for the residents of an inner-city neighborhood. However, after Ice decides to sell out, the entire future of the shop is thrown in doubt, leading our protagonist to fully understand the nature of family and friendship. Tim Story directed the Mark Brown-Don D.Scott-Marshall Todd screenplay, which is ripe with laughs and amiable characters. The over-hyped controversy, instigated by none other than the Rev. Jackson, ultimately helped the movie gain viewers than hurt it (as is often the case).
This is a predictable and yet entertaining character piece that launched a mini-franchise – most of which MVD has also collected on Blu-Ray this month. The original "Barbershop" offers a 1080p (1.85) transfer, 5.1 DTS MA sound, and all the extras from MGM's old DVD edition, including seven deleted scenes, bloopers, a 40-minute multi-part documentary, commentary, trailers and additional featurettes.
MVD also has the two immediate sequels that followed "Barbershop" lined up for release this week: BARBERSHOP 2 (106 mins., 2004, PG-13)wasn't quite as effective as it offered the bulk of its original cast (sans Anthony Anderson) returning, but with new writers and a different director behind the scenes. Queen Latifah's appearance served as a springboard into BEAUTY SHOP (105 mins., 2005, PG-13), produced right afterwards as a female spin-off of the franchise. Despite a strong supporting cast – Alicia Silverstone, Andie MacDowell, Alfre Woodard, Mena Suvari, Kevin Bacon and Djimon Hounsou among them – this follow-up didn't fare as well as its predecessors, leading to the series being put on ice until 2016's belated "Barbershop: The Next Cut."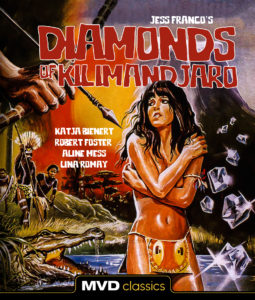 As with their "Barbershop" Blu-Ray, MVD has reprised all the extras from the sequels' respective DVD editions. These include a full array of supplements on "Barbershop 2" (commentary, cast video commentary, eight deleted scenes, outtakes, music videos, etc.) while "Beauty Shop" includes a gag reel, selected scenes commentary and a featurette. Both transfers (1.85 on Barbershop 2, 2.35 on Beauty Shop) are superb and 5.1 DTS MA sound rounds out the releases.
On the "MVD Classics" side, fans of the eclectic Spanish filmmaker Jess Franco should be thrilled with a pair of Blu-Ray releases, newly available to the format. GOLDEN TEMPLE AMAZONS (86 mins., 1986) is a wild and woolly Franco production, albeit directed by Jalain Payet (billed as "James Gartner"), that stars Analia Ivars as a Jungle heroine – the daughter of a slain explorer – who goes off to avenge their deaths. Katja Bienert, meanwhile, starred in the 1983 Franco-helmed DIAMONDS OF KILIMANJARO (83 mins.), also new to MVD's Classics line – this one offering another riff on the same "female Tarzan" premise, albeit Bienert's lead role is part of a cannibalistic tribe – resulting in an understandably different vibe! Both films offer 1080p transfers and slipcovers.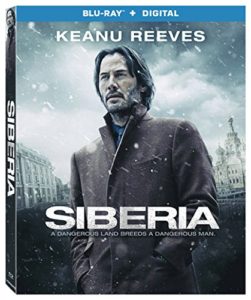 Lionsgate New Releases: There are times when horror movies simply shock for the sake of being shocking – writer-director Ari Aster's HEREDITARY (127 mins., 2018, R), which performed well at the box-office this past summer for distributor A24, is one of those instances. An attempt at a "high class" supernatural thriller, "Hereditary" does offer stylish cinematography, several truly disturbing moments, and a committed performance from Toni Collette as a mother who essentially stands idly by as her family is ripped apart for reasons unclear until the film's horrifying, incoherent conclusion. Unfortunately, too much of Aster's story remains unclear even at that point and is likely to leave viewers either confused or downright irritated by a film that, to me, felt pointless — more an exercise in the director yanking the audience's chains around than a satisfying piece of drama. Your mileage, of course, may vary, and there's no doubt Lionsgate's 4K UHD presentation is superb, boasting deleted scenes, a featurette, Digital HD copy, the standard Blu-Ray disc, and a photo gallery, plus a dynamic HDR/Dolby Vision transfer and 5.1 DTS MA sound…Coming to Blu-Ray September 18th from Lionsgate, SIBERIA (105 mins., 2018, R) is a drab Saban Films production starring a disinterested Keanu Reeves as an American diamond dealer who's caught in Russia when a sale goes wrong between his buyer and local agents. Matthew Ross' film, co-starring Ana Ularu and Molly Ringwald, is tediously rendered and could easily be viewed on fast-forward until everyone wakes up for a brief action climax. Lionsgate's Blu-Ray looks nice (1080p AVC encode, 5.1 DTS MA sound) and offers a Digital HD copy and single featurette.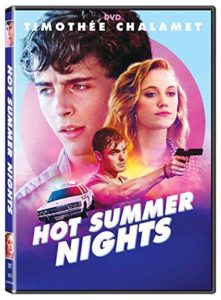 Coming to DVD from Lionsgate on September 18th are a trio of new releases. Red-hot young actor Timothee Chalamet toplines Elijah Bynum's HOT SUMMER NIGHTS (107 mins., 2017, R), a character-driven thriller set on Cape Cod of all places. Here, Chalamet plays a teen who gets in way, way too deep once he starts dealing drugs and pursues the sister (Maika Monroe) of the local bad boy (Alex Roe). Hurricane Bob also plays a role in this agreeably atmospheric but regrettably predictable indie which does not end satisfyingly either. Lionsgate's DVD includes commentary with Bynum and co-star Emory Cohen, a Making Of, 16:9 (2.40) transfer and 5.1 sound…Investigation Discovery (the "ID" channel) produced AN AMERICAN MURDER MYSTERY (10 hours, 2016-18), an original series that profiled six well-publicized murder cases (Casey Anthony, Scott Peterson, JonBenet Ramsey, Jodi Arias, Chandra Levy and Natalie Wood) with copious new interviews and archival footage. There aren't any big revelations here but the series should placate "true crime TV" fans nevertheless. Lionsgate's DVD is a three-disc set with 16:9 transfers and 2.0 sound…Finally, Season 2 of CBS' MacGYVER (17 hours, 2017-18) revival gadgets its way to DVD also on September 18th. Lucas Till's Mac here continues to pursue his nemesis, Murdoc (David Dastmalchian), while trying to solve his father's disappearance and helping save the world with the help of the Phoenix clan and pal Jack (George Eads). Lionsgate's DVD includes three featurettes, a gag reel, deleted scenes, a 16:9 transfer and 5.1 Dolby Digital sound.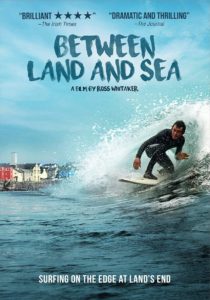 Film Movement New Releases: BETWEEN LAND AND SEA (94 mins., 2018) is a surfing documentary from director Ross Whitaker that offers something a little different for sports enthusiasts – a look at surfing the massive waves of Ireland's west coast. Terrific surfing footage is balanced with an amiable look at the County Clare natives who hit these big waves, plus a cameo from Hawaiian legend Shane Dorian. Film Movement's DVD includes a 16:9 transfer and 2.0 stereo sound…Margy Kinmoth's REVOLUTION: NEW ART FOR A NEW WORLD (85 mins., 2018) profiles some 100 years of Russian avant-garde art, relaying the stories of artists like Chagall, Kandisky and Malevich. Over 20 minutes of bonus footage is included in Film Movement's DVD along with a 16:9 transfer and both 5.1 and 2.0 stereo sound.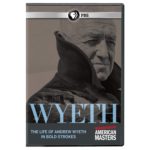 PBS New Releases: American Masters profiles one of America's most popular artists with WYETH (82 mins., 2018). A feature-length documentary of the artist whose work broke exhibition attendance records – despite often being attacked by critics – director Glenn Holsten's documentary includes interviews with family members and presents a wealth of Wyeth's work, culled from archival and private materials. PBS' DVD includes a 16:9 transfer and stereo sound…Due September 18th from PBS is the latest entry in the new "Anne of Green Gables" series, ANNE OF GREEN GABLES: FIRE & DEW (90 mins., 2018). Ella Ballentine returns as Anne, here heading off for Queen's College while Marilla (Sara Botsford) and Matthew (Martin Sheen) struggle with her absence on the farm. This 90-minute continuation of L.M Montgomery's classic books offers a 16:9 transfer and 5.1 Dolby Digital sound…BASQUIAT: RAGE TO RICHES (75 mins.) offers an American Masters documentary of 20th century artist Jean-Michel Basquiat. A fast-living, influential artist who came onto the scene in the early '80s in New York City, Basquiat died of a heroin overdose but not before carving his legacy in the art world – in fact, one of his "Scull" paintings sold at auction last year for over $100 million. This BBC/American Masters production boasts an overview of Basquiat's life and times plus a 16:9 transfer and 5.1 Dolby Digital sound…Finally, available September 25th is the BBC production THE AMAZING HUMAN BODY (165 mins., 2018), a look at the miraculously engineered systems that keep our bodies going, presented with cutting-edge visual effects. This lengthy documentary, presented in three parts, comes to DVD including a stereo soundtrack and a 16:9 transfer.
ROCK & ROLL HALL OF FAME IN CONCERT: Encore Blu-Ray (481 mins., 2018; Time Life): "Encore" double-disc edition of highlights from the 2010-13 Rock & Roll Hall of Fame induction ceremonies include performances from a wide variety of rockers, including Heart, Donovan, John Mellencamp, Red Hot Chili Peppers, Pearl Jam, Alice in Chains, Rush and others. Full-length induction speeches from Don Henley (inducting Randy Newman) and Neil Young (inducting Tom Waits) are included in this invaluable Blu-Ray from Time-Life for music fans, with 1080p transfers and 5.1 audio. (Available September 21st)
---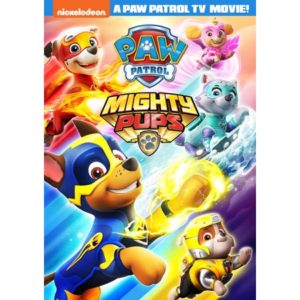 Family Finds
Nickelodeon New Releases: A Walmart exclusive, PAW PATROL: MIGHTY PUPS (44 mins., 2018) is a brand-new TV movie adventure starring the canine heroes from Nick's hugely popular series. Graced with super-powers, the Paw Patrol gang sets out to stop Mayor Humdinger from taking over Adventure Bay in this 45-minute feature, sure to please the little ones (my son approved!). Nickelodeon's DVD includes a Paw Patrol Mighty Pups Badge Card Collector and Vudu-compatible Digital Copy…Paw Patrol fans can also get their Halloween antics going with the new anthology PAW PATROL: HALLOWEEN HEROES (96 mins., 2013-15), a compilation of seven episodes from the series, all with a season-appropriate setting. 16:9 transfers and 5.1 sound are included in both DVDs…Finally, the wacky SPONGEBOB SQUAREPANTS: THE LEGEND OF BOO-KINI BOTTOM (23 mins.) is a stop-motion Halloween special with Bob and the gang meeting up with the Flying Dutchman. Behind-the-scenes featurettes grace Nickelodeon's DVD, out this week along with the Paw Patrol discs.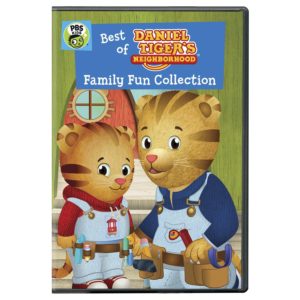 BEST OF DANIEL TIGER'S NEIGHBORHOOD: FAMILY FUN COLLECTION DVD (105 mins., PBS):Anthology of eight episodes from the wonderful PBS animated series includes kid-favorite episodes Daniel Is Big Enough To Help Dad; Daniel Is Special; Tiger Family Trip; Margaret's First Chime Time; Daniel's Nature Walk; Daniel Doesn't Want To Stop Playing; Daniel's Winter Adventure; and A Stormy Day.
SCOOBY-DOO! AND THE GOURMET GHOST DVD (77 mins., 2018; Warner): Scooby-Doo and the Mystery Machine gang hit the Rocky Harbor Culinary Resort to meet Fred's uncle – famous chef Bobby Flay (who knew?). However, the Resort isn't all it's cracked up to be, leading the Mystery Inc. team to tackle a group of mysteries – including the return of the Red Ghost – while getting an additional assist from Flay's friend Giada De Laurentiis. Three bonus cartoons are also included in Warner's DVD of "The Gourmet Ghost," available this week with a 16:9 transfer and 5.1 sound.
---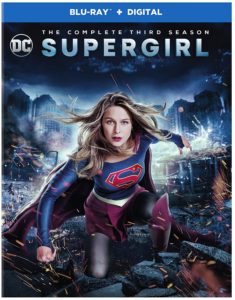 TV on Disc & Other Quick Takes
THE BIG BANG THEORY – Complete Season 11 Blu-Ray (486 mins, 2017-18; Warner): Season 11 of the smash CBS sitcom turns out to be its penultimate one, in lieu of the show's recent announcement that it's finally coming to an end next May. Fans will still have a goodbye season and a full slate of reruns to last them a lifetime, seemingly, as one can't see "The Big Bang Theory" going off the airwaves at all. This eleventh season finds Leonard and Penny married while Sheldon is also living the domestic life with Amy – having signed a "relationship agreement" but with marriage in sight. All 24 episodes of "The Big Bang Theory"'s 2017-18 campaign are included here on Blu-Ray with four all-new featurettes, a gag reel, 1080p (1.78) transfers, 5.1 DTS MA sound and Digital HD copies.
SUPERGIRL – Season 3 Blu-Ray (1100 mins., 2017-18; Warner): Sadly a bit "woke" in its temperament, the third season of "Supergirl" opens with Kara trying to determine if she should dump her human alter-ego and permanently adventure around as the Girl of Steel. Meanwhile, Supergirl and pals Hank Henshaw (Martian Manhunter) and sister Alex join up with the Legion of Super Heroes to squash the villainous efforts of Morgan Edge, Reign and the Worldkillers. An epic four-episode crossover includes appearances from Arrow, Legends of Tomorrow and The Flash – and those respective episodes have also been included here in Warner's Season 3 Blu-Ray. Along with 1080p transfers and 5.1 DTS MA sound, the set includes a digital copy, deleted scenes, a gag reel and three new featurettes.
THE LOOMING TOWER Blu-Ray (493 mins., 2018; Warner): Lawrence Wright's nonfiction book harrowingly details the relationship between the FBI and CIA in the months and years leading up to 9/11, and how their "failure to communicate" – and attempt to one-up each other – contributed to the terrorist attack. This Legendary Television production has a terrific cast, including Jeff Daniels and Alec Baldwin, and is by-the-book in terms of its dramatic rendering – so much that many reviews criticized it for eliminating Wright's portrait of the Muslim world, which comprised apparently a large percentage of his book. Still worthwhile on its own terms, Warner brings this Hulu mini-series to Blu-Ray on the 18th, featuring commentaries and four featurettes, 1080p transfers, 5.1 DTS MA soundtracks and a Digital HD copy.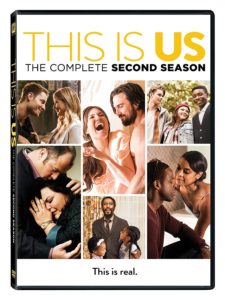 THIS IS US – Season 2 DVD (776 mins., 2017-18; Fox): The emotional NBC series managed to avoid the dreaded "Sophomore Slump" in its second season. Again cross-cutting between the Pearson family with its grown-children in the present, to parents Jack and Rebecca in the 1980s, this heart-tugging show remains a wonderfully acted ensemble series that mostly manages to avoid cloying melodrama (just bring along lots of tissues). Fox's Season 2 DVD includes 16:9 transfers, 5.1 Dolby Digital soundtracks and "Aftershow" segments on all episodes.
SILICON VALLEY – Complete Season 5 DVD (231 mins., 2018; HBO): Despite the loss of breakout star J.T. Miller, "Silicon Valley" had one of its best years yet – a sparkling and consistently funny fifth season that showcases Richard and the gang's efforts to build Pied Piper into something big and sustainable. Obstacles never cease to get in the way, but the ensemble's camaraderie and friendship gets them through in a series that's managed to be one of the most consistently funny on TV – and remains that way here, even with the departure of one of its key cast members. HBO's DVD-only release includes a digital copy, 16:9 transfers and 5.1 soundtracks.
SCORPION – The Final Season DVD (15 hours, 2017-18; CBS): The curtain goes up for the final time in "Scorpion"'s final season, with Elyes Gabel leading the young (given most CBS series) cast of misfit geniuses and Robert Patrick the Homeland Security agent trying to keep them in line. Although billed here as "Scorpion"'s final season, it's really just "Season 4," since the show ends on a cliffhanger that will end up being unresolved. A gag reel, deleted scenes and featurettes comprise CBS' six-disc set, boasting 16:9 transfers and 5.1 soundtracks…Also new this week from CBS is Season 4 of MADAM SECRETARY (16 hours, 2017-18) starring Tea Leoni as intrepid Secretary of State Elizabeth McCord. Here, McCord is accused of murdering a foreign diplomat, sends her daughter off to college and tries to stop a smallpox outbreak – meanwhile, her CIA agent husband (Tim Daly) brings a former Russian military op to work at the agency. Topical and soap opera plots mix in this new season of "Madam Secretary," which streets this week. CBS' six-disc set includes deleted/extended scenes, 16:9 transfers, 5.1 sound and bonus episodes from "The Good Fight" and "Bull."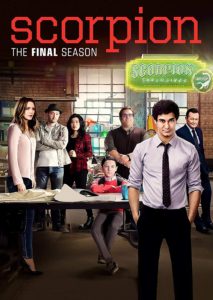 THE BIG TAKE DVD (78 mins., 2018, Not Rated; Sony): James McCaffrey, Dan Hedaya and Robert Forster star in writer-director Justin Daly's acerbic take on Hollywood, following an aspiring filmmaker who gets wrapped up in a reclusive star's efforts to suppress a video he doesn't want going public. Sony's DVD, now available, includes a 16:9 (2.40) transfer and 5.1 Dolby Digital soundtrack.
THE SEAGULL DVD (98 mins., 2018, PG-13; Sony): Annette Bening anchors a superb ensemble in Michael Mayer's "The Seagull, an adaptation of Chekhov's play from Tony-winning playwright Stephen Karam. Saoirse Ronan, Elisabeth Moss, Mare Winningham, Jon Tenney, Corey Stoll and Brian Dennehy back up Bening's fine performance in a picture produced by actor Tom Hulce. Sony's DVD includes a Tribeca cast Q&A, an additional Q&A with Bening and Mayer, a 16:9 (2.39) transfer and 5.1 sound.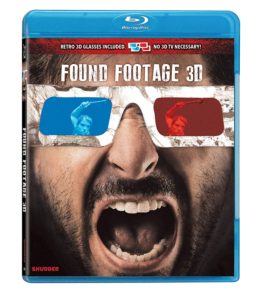 FOUND FOOTAGE 3D Blu-Ray (100 mins., 2018, R; Shudder/Magnolia): Retro 3D lives again! This low-budget indie horror effort from director Steven DeGennaro follows an aspiring cameraman, working on a genre effort in the woods, who finds out an actual supernatural presence is lurking about, thanks to his own replayed footage. DeGennaro has fun with the premise in this surprisingly watchable exercise, presented by Shudder here in both a standard 2-D version plus a 3-D version with blue/red glasses bundled inside (this one isn't a "real" 3D transfer, in other words). Shudder's Blu-Ray includes two commentaries, outtakes, deleted/extended scenes, a 1080p transfer and 5.1 DTS MA sound.
MPI New Releases: Before "Gray Gardens" introduced the Beale mother-daughters to the world, director Peter Beard showcased the lives of the duo on their Long Island estate along with luminaries like Andy Warhol, Mick Jagger and Truman Capote. All of them can be seen in German documentarian Goran Hugo Olsson's compilation of Beard's long-lost footage, assembled in THAT SUMMER (80 mins., 2017), a feature new to DVD this month from MPI. The disc, available this week, includes a 16:9 transfer and 5.1 Dolby Digital sound.
NEXT TIME: Kino Lorber's September slate including CABIN BOY, OSCAR, BAT 21 and more! Until then, don't forget to drop in on the official Aisle Seat Message Boards and direct any emails to our email address. Cheers everyone!