Message Board (open 24 hours!)
Twitter - @andredursin (for everything else!)
No series in the history of the cinematic horror genre has endured as long as the Universal Monster classics of the 1930s and '40s – a time marked by the Great Depression, the rise of Hitler's Germany and America's eventual involvement in WWII. At the outset, the Universal films were hugely successful with audiences seeking an escape, but by the time the U.S. became embroiled in the conflict, the popularity of the studio's trademark monsters became less inviting to viewers, who turned their attention to war-time enemies as the cinematic nemesis of choice. Before that happened, however, Universal established a litany of Monster Classics that would inspire long-running franchises and become favorites of viewers for generations to come.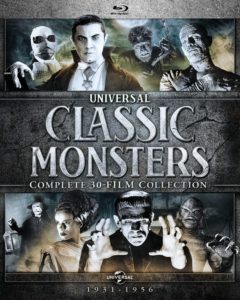 Universal's eagerly anticipated UNIVERSAL CLASSIC MONSTERS: THE ESSENTIAL COLLECTION arrives on Blu-Ray this month and pays a mostly glorious high-definition tribute to 30 of the studio's genre benchmarks and their assorted sequels – all presented in mostly superb 1080p AVC encoded transfers marked by a surprising amount of detail, and collected here in full for the first time. The box is comprised of each character's respective "Complete Legacy Collection" Blu-Ray franchise release, boasting a single-disc for each Monster's introductory film, then one or more discs featuring their assorted sequels/spin-offs.
Looking at Tod Browning's 1931 DRACULA is virtually like gazing upon the Bela Lugosi classic for the first time. The movie is best remembered for its opening Transylvanian set-piece that introduces viewers to Lugosi's unforgettable count, and while the London sequences tend to be static and dull by comparison, the increased detail seen here in the Blu-Ray's HD presentation even makes the talky, latter sections of the picture more interesting. In fact, without any overt use of DNR, this ranks as one of the studio's most satisfying catalog transfers to date. The DTS MA mono sound is nearly crackle-free, and Philip Glass' Kronos Quartet score (which makes the stilted drawing room sequences a bit livelier at least) is also available in Dolby Digital stereo.
Supplements include two commentary tracks reprised from prior DVD editions: an authoritative discussion by historian David J. Skal, and a more recent talk with Steve Haberman (screenwriter of the awful Mel Brooks spoof "Dracula: Dead and Loving It"), both offer enlightening analysis and artistic commentary on the film; "The Road to Dracula" (35 mins.), hosted by Carla Laemmle, returns here from its original DVD appearance, as does the still gallery "Dracula Archives" (8 mins.), while "Lugosi: The Dark Prince" (36 mins.), a carry-over from the 75th Anniversary DVD, sports interviews with historians and directors including Joe Dante paying tribute to Lugosi's career. Trailers are included for the whole Universal "Dracula" series (Dracula, Dracula's Daughter, Son of Dracula and House of Dracula), and an eight-minute restoration featurette (HD) includes a look at the studio's efforts to restore both the English and Spanish language versions as a part of their centennial efforts, noting that a portion of the Spanish "Dracula" had to be taken from an international print as the studio's negative was badly damaged during the third reel.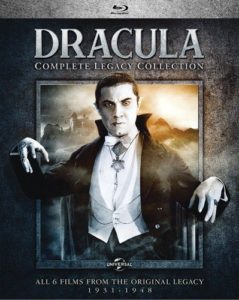 Speaking of the Spanish "Dracula," it too has been lovingly restored here in a 1080p AVC encode that's perhaps not quite as crisp as the Lugosi version, even if the elements seem to be, on balance, in healthier condition. An optional introduction with star Lupita Tovar is included as well.
The sequels for "Dracula" include the moody 1936 "Dracula's Daughter" – with Edward Van Sloan reprising Van Helsing opposite Gloria Holden in the title role – and 1943's not-bad "Son of Dracula," with Lon Chaney Jr. as the not-very-mysterious "Count Alucard." The wild and woolly B-conclusions to the franchise – 1944's "House of Frankenstein" and "House of Dracula," produced a year following – are also on-hand here along with the seminal comedy classic "Abbott & Costello Meet Frankenstein" (1948).
James Whale's FRANKENSTEIN introduced viewers to Boris Karloff in his legendary role as the Frankenstein monster, and while the film remains a striking work for its 1931 release date, it pales in comparison to THE BRIDE OF FRANKENSTEIN, the 1935 sequel graced with a spectacular Franz Waxman score that shows, in the space of four short years, how quickly movie-making had progressed as a medium. Whale's playful, inventive direction, the performances of Karloff, Colin Clive and Elsa Lanchester, and that Waxman score – one of the all-time greats – are unforgettable aspects of a film many regard as the finest in the pantheon of Universal Monsters.
Included here on separate BD platters, "Frankenstein" includes a number of supplements carried over from prior releases: "The Frankenstein Files" is an engaging 45-minute account of picture's production and legacy; "Karloff: The Gentle Monster" (36 mins.) is a carryover from the 75th Anniversary release; "Frankenstein Archives" is another 10-minute assortment of stills; "Boo!" is a fun 1932 Universal "Brevity"; commentaries are provided by Rudy Behlmer and Sir Christopher Frayling; and a full trailer gallery boasts the original coming attractions for the series.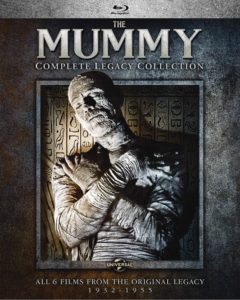 Also present on the "Frankenstein" disc is Kevin Bronlow's fine 1998 TCM documentary, "Universal Horror." This examination of the beginnings of Universal's monster franchises is narrated by Kenneth Branagh and offers ample vintage footage, interviews and an entertaining look into the genre's origins.
Visually, both movies look more detailed than I've ever seen before, with crisp 1080p presentations that blow past prior DVD releases – even if there does seem to be, perhaps, just a bit more filtering on "Bride of Frankenstein" than "Frankenstein" or especially "Dracula." Regardless, the image still looks exceptionally good, and extra features for "Bride" include the original DVD documentary, "She's Alive! Creating 'Bride of Frankenstein,'" plus a stills archive, commentary with historian Scott MacQueen, and trailers.
"Frankenstein"'s other sequels are collected here on several additional platters: 1939's "Son of Frankenstein" may not have lived up to James Whale's standards, but if you watched "Young Frankenstein," you'll recognize numerous elements that Mel Brooks parodied had originated with this installment, notable for being Boris Karloff's final appearance as the Monster. Lon Chaney, Jr. tentatively played the Monster in the inferior, B-grade "The Ghost of Frankenstein" (1942), while Universal brought their Monsters together for the first time in "Frankenstein Meets the Wolf Man" (1943). This classy hodgepodge set the stage for the later "House" monster rallies, the concluding entries in Universal's classic monster run.
In 1932, "Dracula" cinematographer Karl Freund helmed the first appearance of what would ultimately become – thanks to both a handful of sequels and a contemporary series of modern fantasy films – the most durable of Universal's monsters, THE MUMMY. Boris Karloff here carved out his second iconic studio role as Imohotep, who lusts after Zita Johann in an entertaining – if somewhat creaky – film with unforgettable imagery (though ironically, Karloff only appears in the patented Mummy make-up for a couple of minutes).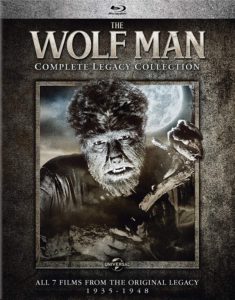 A bit uneven in its overall visual appearance, there's some occasional filtering on-hand in "The Mummy"'s 1080p Blu-Ray transfer compared to the other films in this set. It's certainly an appreciable improvement on DVD, however – crisp detail is in evidence during most of the transfer, but some sequences look sharper than others. Extra features include "Mummy Dearest" (30 mins.), a documentary from the original DVD release; "He Who Made Monsters" (24 mins.), a Jack Pierce retrospective; "Unraveling the Legacy of The Mummy" (8 mins.), a brief featurette from the 75th Anniversary DVD; "The Mummy Archives" still gallery; commentaries by Paul M. Jensen and a more recent track with Rick Baker, Scott Essman, Steve Haberman, Bob Burns and Brent Armstrong; and trailers for all the "Mummy" films.
Those subsequent "Mummy" sequels were produced much later on, and intriguingly boasted a serialized story line that makes revisiting them – and their brief, hour-long running times – an enjoyable proposition for Universal Monster fans. "The Mummy's Hand" (1940), "The Mummy's Tomb" (1942), "The Mummy's Ghost" (1944) and "The Mummy's Curse" (1944) make for an entertaining quartet of B-pictures, while "Abbott and Costello Meet the Mummy" (1955) was one of A&C's later efforts. It's not nearly up to the level of "A&C Meet Frankenstein," but it has a few sporadic laughs just the same.
Inbetween "Frankenstein" pictures, James Whale helmed a magnificent adaptation of H.G. Wells' THE INVISIBLE MAN, a 1933 classic that, in certain ways, holds up better than any of Universal's earliest genre outings for sheer dramatic impact. Claude Rains gives a memorable performance as a scientist who slowly goes mad after an experiment renders him invisible – a portrayal that relies heavily on his voice since Rains is only on-screen for a few minutes. John P. Fulton's visual effects, especially for their era, are superb, and Gloria Stuart believably renders Rains' sympathetic girlfriend.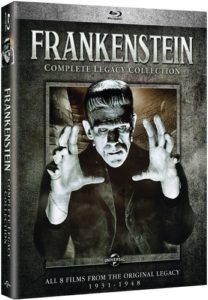 Arguably the healthiest looking of the original, early '30s Universal Monsters classics, "The Invisible Man" appears in top form in its 1080p AVC encoded HD transfer here – there's still a bit of filtering present in some sequences (like "The Mummy," some scenes seem to be affected more than others), but on balance the transfer is exceptionally good for any film of its vintage. Special features include the original DVD doc, "The Invisible Man Revealed" (35 mins.) plus production photographs, trailers for the Invisible Man series, and commentary by Rudy Behlmer.
Unlike the other Universal Monsters, "The Invisible Man" didn't enjoy a particularly cohesive run at the studio in terms of sequels. 1940's "The Invisible Man Returns" stars Vincent Price as a man sentenced to death for a murder he didn't commit, and utilizes the original Invisible serum as a means of getting justice (Price is actually on-screen for less than a handful of minutes). The comedic "The Invisible Woman" followed later that same year, while "Invisible Agent" (1942) offers the original Invisible Man's grandson becoming the title character in a piece of WWII-era propaganda. John Carradine capped the proper series in 1944's "The Invisible Man's Revenge," while "Abbott and Costello Meet the Invisible Man" (1951) is at least worth a view for A&C fans.
Scripted by Curt Siodmak, Universal's 1941 classic THE WOLF MAN starred Lon Chaney as Larry Talbot, who becomes cursed with the fate of a werewolf after wandering in the forests of Wales and is bitten by one of the creatures. Claude Rains plays Talbot's father, and the supporting cast includes Maria Ouspenskaya and Bela Lugosi as the Gypsies who predict Talbot's fate, along with Evelyn Ankers as the love interest and additional supporting turns from Ralph Bellamy and Patric Knowles. The settings, atmosphere, and direction (by George Waggner) are all top-notch and the movie compares favorably with the finest Universal chillers of the period.
"The Wolf Man"'s 1080p AVC encoded HD transfer is solid, generally in-line with the other transfers in the box-set, with deep blacks and added detail over its standard-def releases. Extras are bountiful here, highlighted by David J.Skal's "Monster by Moonlight" documentary. A DVD carryover hosted by John Landis, this is an engaging look into the Wolfman's creation and phenomenon as the last great character to originate from Universal's "Golden Age" horror cycle. Eschewing the testimony of countless historians (as were utilized in Skal's other documentaries) in favor of interviews with make-up artist Rick Baker (who discusses Jack Pierce's lasting legacy) and screenwriter Siodmak, the program is entertaining and enlightening, even though it uses a generous selection of film clips from the Wolfman's subsequent cinematic appearances to round out the program. Of special interest to film music fans will be the discussion of "The Wolf Man"'s musical score by Frank Skinner, Hans Salter, and Charles Previn, which is given a few minutes of analysis in the documentary by John Morgan and conductor William Stromberg. Morgan notes how most film scores today consist of musical wallpaper while Stromberg discusses one particular cue that had been cut down in editing, where Talbot watches a Gypsy burial. The "Archives" section also contains an abundance of still-frame photographs and publicity shots, underscored by the original music without dialogue.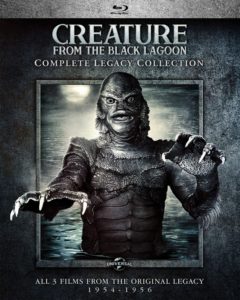 Universal authority Tom Weaver's insightful commentary also returns as well as a "Wolf Man Archives" of still photos and artwork. Also on-hand are the eight-minute "The Wolf Man: From Ancient Curse to Modern Myth" (10 mins.) and the 2009 effort "Pure in Heart" (37 mins.), a loving tribute to Lon Chaney, Jr., with historian Gregory Mank, Rick Baker, Joe Dante, Kim Newman and others paying respect to the original Larry Talbot. Trailers for Werewolf of London, The Wolf Man, Frankenstein Meets the Wolf Man, House of Frankenstein, House of Dracula and She-Wolf of London round out the disc, which also includes the same Jack Pierce documentary contained on "The Mummy"'s Blu-Ray.
Most of "The Wolfman"'s sequels ("Frankenstein Meets the Wolfman," the "House" pictures) have already been covered – and are rehashed here in its Legacy Collection's discs – with the exception of two unconnected Universal thrillers. 1935's "Werewolf of London" preceded Larry Talbot's adventures and stars Henry Hull as the title character. It's a bit creaky and dated, but is still worthwhile viewing for Monster buffs and at least enabled make-up great Jack Pierce to bring the first movie werewolf to the screen. 1946's "She-Wolf of London" caps the box, but brings little to the table than a bait-and-switch crime thriller that sounds more appetizing than it really is.
The sole Technicolor offering in the Universal Monsters filmography is PHANTOM OF THE OPERA, the studio's lavish, operatic 1943 take on Gaston Leroux's novel with an accent on the love story courtesy of director Arthur Lubin. Claude Rains is the Phantom to Susanna Foster and Nelson Eddy's romantic leads; it's a sturdy, if unspectacular, film that here receives a respectable 1080p AVC encoded transfer. The image looks a bit hazy at times and some of the source elements aren't as vibrant as other Technicolor films of the era, but it's still an upgrade over the DVD. Extras include the lengthy 51-minute DVD documentary "Phantom Unmasked," plus Scott MacQueen's commentary and the trailer.
Finally, the Universal Monsters era came to a close with the release of 1954's CREATURE FROM THE BLACK LAGOON, the sci-fi fave included here not only in its 2-D version but a sparkling 3-D home video release as well. For 3-D enthusiasts, being able to see the film in pure three-dimensional form – and not an anaglyph 3-D version like we used to see on TV back in the '80s – is a revelation. Both occasional pop-out effects and depth-of-field photography add immeasurably to visuals that are often flat and uninspired otherwise. In fact, seen in its native 3-D format, effects and shots which otherwise look awkwardly (or routinely) framed make visual sense, and the overall experience enhances Jack Arnold's '50s monster mash as a result.
Extras on the "Creature" platter include "Back to the Black Lagoon" (40 mins.), a DVD retrospective, plus Tom Weaver's fascinating commentary, trailers for the Gill Man series, and production photographs. The 2-D version is also included, and probably because of the film having been shot in 3-D, it's a bit blurry and less detailed in its 1080p AVC encoded transfer compared to all the other films on-hand in the box-set.
"Creature"'s two sequels have been retained here on a single, separate platter with commentaries to boot: "Revenge of the Creature" (1955) and "The Creature Walks Among Us" (1956) are both fun, if inferior, follow-ups, with the former presented in both 2D and 3D presentations. Fans should note, however, there are some assorted issues with the 3D transfer, and Universal has since announced a replacement program (email USHEConsumerRelations@visionmediamgmt.com) for the disc.
A small accompanying booklet offering trivia and glossy photographs rounds out the release, which will undoubtedly rank as essential Halloween viewing for all Universal Monster fans!
---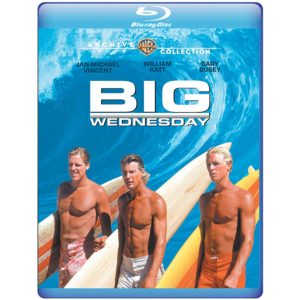 Warner Archive New Releases
In "Skywalking," Dale Pollock's biography of George Lucas, a joke is made of the fact that Lucas swapped "points" with friend and fellow filmmaker John Milius prior to "Star Wars" being released. In exchange for a point on "Star Wars," Milius gave Lucas a point on his big surfing epic,BIG WEDNESDAY (***½, 119 mins., 1978, PG). As Lucas pointed out, it wasn't a fair exchange, especially after Milius' 1978 film bombed at the box-office!
Rarely screened on television, my first viewing of "Big Wednesday "was on laserdisc in the early '90s. Due to the film's reputation and relative obscurity, I wasn't expecting much, but much to my surprise, I loved Milius' larger-than-life tale of three surfer friends (Gary Busey, Jan-Michael Vincent, and William Katt) who grow up between the turbulent years of 1962-1974. Along the way, the trio grow apart, attempt to dodge Vietnam, try to find love (some more successfully than others), but still share a common love for the wind and waves that the ocean provides.
The movie is chock full of Milius trademarks — lots of offbeat humor, excessive yet hysterical sequences (specifically a raucous party sequence early on), and pseudo-mythic narration — all of it set to one of Basil Poledouris' most outstanding scores. The performances of all three leads are appealing and the film handles its "passage-of-time" formula better than you might expect, splitting the film into four separate acts set during the 12-year period.
The personal aspect of the story is balanced with outstanding surfing cinematography by Greg MacGillivray, culminating in a sensational climax that's worth the price of the disc alone. Bruce Surtees' Panavision cinematography, meanwhile, captures all of the action, perfectly reflecting Milius' sprawling vision in widescreen.
Making its Blu-Ray debut at last, Warner's Blu-Ray of "Big Wednesday" is a huge upgrade on the 2002 DVD release. The scope cinematography is crisp, colorful and perfectly delivered, while the early 2.0 Dolby Stereo soundtrack packs a pretty good wallop, especially given its age. For special features, the original trailer (no wonder the movie bombed!), retrospective doc "Capturing the Swell" and the DVD commentary track from Milius are included. While Milius typically has a lot to say in general, he's surprisingly restrained here and long gaps of silence follow throughout the film. In fact, at the end of the movie, he admits he didn't have much to offer because the film is so personal, he couldn't find the words to comment on it. Clearly, though, he's proud of the picture despite its initially poor reception, and Warner's high-def remastering of "Big Wednesday" should go a long way to gain the film some new viewers. Highly recommended!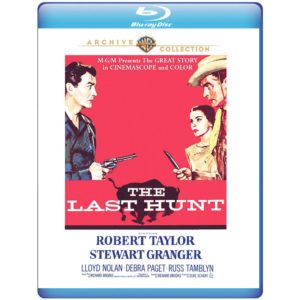 Robert Taylor and Stewart Granger starred in Richard Brooks' THE LAST HUNT (103 mins., 1956),a potent MGM Cinemascope western that Brooks adapted from Milton Lott's novel. Ahead of its time for its portrait of a hateful hunter (Taylor) who joins the more sympathetic Granger on a government-approved buffalo hunt designed to keep the population under control, "The Last Hunt" also puts Taylor's racism on full display when he kills a group of Indians whom he accuses of stealing his horses. Debra Paget is the Indian woman who survives his attack, but the relationship between the two leads grows increasingly toxic, leading to a potent finale.
Vividly shot, mostly all on location in North Dakota, "The Last Hunt" makes for a spectacular 1080p (2.35) transfer from Warner Archive. The Archive's presentation is superb and the 2.0 DTS MA audio captures the early stereophonic sound and Daniele Amfitheatrof's score in a crisp, clear mix. Extras include the trailer and excerpts from the MGM Parade TV series.
Also New From Warner Archive: Norman Mailer's THE NAKED AND THE DEAD (131 mins., 1958)came to the screen as an RKO release in 1958 – a character-driven saga of a U.S. platoon in the Pacific and, in particular, the contentious relationship between officers Cliff Robertson and Raymond Massey, while Aldo Ray is a sadistic sergeant. Their fellow platoon members include Richard Jaeckel, Greg Roman, L.Q. Jones, Robert Gist, James Best, Henry Amargo, Jerry Paris and Jey Bishop, with Lili St. Cyr and Barbara Nichols as the female interests in Raoul Walsh's WWII picture, which received mostly mixed reviews. The Archive's 1080p (2.35) color transfer is another winner with 2.0 DTS MA mono sound doing decent justice to Bernard Herrmann's score…New on DVD, THE GIRL DOWNSTAIRS (77 mins., 1938) is an MGM remake of Austria's "Catherine the Last." The studio even brought leading lady Franciska Gaal over to star in this American remake of a playboy (Franchot Tone), barred from his intended's mansion, who impersonates a chauffeur in order to get closer to her. Of course, he falls for the maid (Gaal) instead in this enjoyable Norman Taurog-helmed vehicle. Warner Archive's DVD offers a B&W transfer and mono sound.
---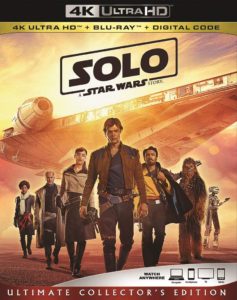 4K Rundown
SOLO 4K UHD (**, 135 mins., 2018, PG-13; Disney): Wholly unnecessary attempt by Disney to placate its stockholders with another "Star Wars story" (err, cash grab), "Solo" tries to be "fun" and freewheeling as opposed to the ponderously stuffy "Rogue One." Despite good intentions, the results are perfunctory, bland and so unappetizing from a visual standpoint that one struggles to envision that its original directors – animators Phil Lord and Christopher Miller – wouldn't have brought more energy to the table than Ron Howard, who helms the Jonathan-Lawrence Kasdan script with all the appropriate anonymity of most Disney live-action product.
It doesn't help that "Solo" gives you no reason, at all, why it ever had to exist in the first place. An endlessly grinning Aldren Ehrenreich doesn't recreate any part of Harrison Ford's legendary performance as George Lucas' resident galactic rogue, here seen in his "Origins" as an impressionable young man who runs from the Empire and into a gang of thieves overseen by Woody Harrelson. Soon, Han is in over his head, meeting Chewbecca for the first time, trying to woo back lost love Emelia Clarke, and weaving his way through stock situations meant to evoke the earlier, and better, "real" Star Wars films.
At one point during "Solo" my wife leaned over and asked why we were still watching it. In fact, I had checked out long before that point – this is a pedestrian film that just sits there, listlessly, as it unspools a series of by-the-numbers action scenes (whether it's Han Solo or Black Panther or Superman, these set-pieces all look and sound the same) meant to evoke the franchise Disney paid billions of dollars for, but does so in name only – not spirit. Like the Abrams/Johnson films and "Rogue One," it sounds kind of like Star Wars (with its faux-Williams scoring by John Powell, augmented with horrific choral strains and enhanced percussion), it sorta looks like it…but it really isn't "Star Wars," more a mega-corporation's middle-of-the-road, bland take on a galaxy far, far away.
Unsurprisingly a film most audiences stayed far, far away from, "Solo" makes the leap to 4K UHD this week but it's such an unappealing looking film that no amount of HDR and Dolby Vision can save it. Howard and cinematographer Bradford Young shot the film in both low light and drab surroundings – so much that the movie looks like you're watching it through a filter. The muted color scheme is uninteresting as well, making for a tepid visual presentation that's entirely due to the source material. On the audio side, the Dolby Atmos sound is mixed with a definite lean on effects, while extras include a handful of deleted scenes, interviews and featurettes, the Blu-Ray and Digital HD copy.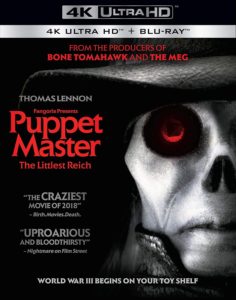 PUPPET MASTER: THE LITTLEST REICH 4K UHD (90 mins., 2018; RLJE): Charles Band's B-horror franchise returns with a disappointing thud in "The Littlest Reich." While boasting practical effects, this weak updating of the formula finds Thomas Lennon starring here as an unsuspecting man who takes his dead brother's Nazi-era puppets to sell at a convention, where they promptly get out and cause all kinds of mayhem. This Cinestate production, produced with Fangoria magazine and Full Moon, is awfully nasty compared to its predecessors, boasting a high kill count and lots of bad taste. RLJ's 4K UHD presentation includes a 5.1 DTS MA soundtrack and lacks HDR, though the transfer itself is solid. Extras include several featurettes and the Blu-Ray copy.
THE PUNISHER 4K UHD (**½, 123 mins., 2004, R; Lionsgate): Jonathan Hensleigh's downright wacky adaptation of the Marvel Comic makes for an odd movie on many levels: this violent action-fest nearly defies description by crossing the standard one-man-wrecking-crew genre with pulpy melodrama and ribald humor via colorful supporting players. Made on a modest budget for this kind of film (under $35 million, some of which undoubtedly went to co-star John Travolta's salary), "The Punisher" stars Tom Jane as a retiring FBI agent whose family is savagely killed by a mobster (Travolta) out for revenge. Holing up in a dilapidated apartment building with waitress Rebecca Romijn- Stamos and another pair of outcasts, Jane brands himself "The Punisher" and goes about taking down Travolta's Tampa, Florida criminal enterprise by any means necessary.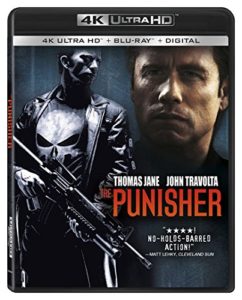 Though the subject matter is pretty heavy for a comic book film, "The Punisher" refuses to go the route of treating its source material too seriously. It would have been easy for Hensleigh and co-writer Michael France to play up the dark, psychological aspects of the character, but make no mistake, this is a comic movie all the way that works best if you don't take it too seriously. Hensleigh manages to capture the essence of a fast-moving Marvel comic by utilizing a quick pace, Conrad W. Hall's moody cinematography, and game performances by a fine cast. Jane makes for a brooding yet appealing tortured hero, while Travolta does his usual villainous shenanigans and Will Patton and Laura Herring ably back him up on the bad-guy front. Romijn-Stamos nicely underplays her role, and there's a chemistry between her and Jane that's predictably (and unfortunately) not fulfilled by the time the picture ends.
Speaking of that, there are plenty of killings in "The Punisher," though not a whole lot of elaborate action scenes. Instead, there are some amusing, intimate sequences between Travolta and his posse (especially Patton), Jane and his crazy neighbors, and a well- choreographed fight between The Punisher and a Russian hit man (was it asking too much to cast one-time "Punisher" Dolph Lundgren in the role?). The movie leaps from a few disturbing instances of graphic violence to what appears to be overly campy melodrama and back again, making for an uneven yet decidedly offbeat movie that keeps you watching, provided you swallow its required suspensions of disbelief. (Hell, even Roy Scheider turns up as Jane's father!). Also effective is Carlo Silotto's score. Like the film, it's different and not exactly what you'd anticipate coming from a modern comic-book movie, but somehow it works.
With their new UHD combo pack, Lionsgate serves up a stylish 4K transfer that easily usurps the label's MPEG-2, lowly Blu-Ray from early in that format's run. The HDR/Dolby Vision augmented transfer is typical of most Lionsgate UHD catalog releases, offering an obvious contrast "push" and stronger colors. There are times DNR has been applied but this still an easy disc to recommend in terms of an upgrade over the prior Blu-Ray. Extras include a commentary from director Hensleigh and a better-than-average "Making Of" featurette entitled "War Journal: On the Set," which runs a half-hour and offers comments from the director about Carlo Silotto's hiring (there's also some recording session footage on-hand). Two brief deleted scenes are included with optional commentary, though oddly, an entire subplot that was jettisoned is only briefly touched upon in the before-mentioned "Making Of" featurette (these segments were restored for a later Director's Cut, which has never made the leap to high-definition, much less 4K). Another featurette on the movie's stunts and comic book origins is also included, along with a music video. The Dolby Atmos sound is packed with effects and Silotto's solid score.
"The Punisher" may be a bit much for some viewers, but taken in the right spirit, it's a deftly-made, "low tech" action-revenge fantasy that should satisfy the character's faithful fans.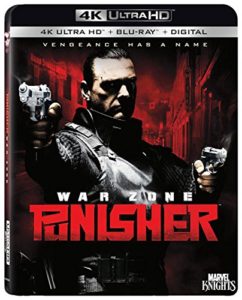 The movie's modest box-office lead to a belated follow-up, PUNISHER: WAR ZONE (**, 103 mins., 2008, R; Lionsgate), a sequel which feels like the Cannon Group and Golan-Globus could've been its producers.
By 2008, Marvel Comics' big-screen arm had firmly established itself through the combined performances of the first "Iron Man" and "The Incredible Hulk," even though this sequel proved to be a dud for Lionsgate. It's perhaps unsurprising given how outlandish the finished product of "War Zone" turned out: this blood-soaked, gore-filled, low-brow actioner to its equally odd (yet comparatively restrained) predecessor feels more like the 1989 Dolph Lundgren "Punisher" than the Tom Jane-John Travolta version.
Here, "Rome"'s Ray Stephenson steps into the role of Frank Castle, still brooding over the loss of his family and seeking vengeance on metropolitan mobsters — including tough-guy Dominic West ("The Wire"), who's disfigured by our anti-hero in the opening frames and re-appears as "Jigsaw," the poor man's version of The Joker.
Make no mistake, "War Zone"isn't a good movie, but it's so nutty that it's almost appealing in its crass, over-the-top tone. The film is so absurdly violent that you'd never guess a female director — in this case German kickboxing champion Lexi Alexander — was behind the camera, especially once Castle dismembers an entire table of mafiosos in the opening frames. This sets the tone for an absolutely bonkers succession of bullets and bodies, most of which are effectively executed (at least visually) by Alexander, who obviously left the actors alone to tackle the ridiculous Nick Santora-Art Marcum-Matt Holloway script. That latter sentiment shows throughout: West (since effective in Showtime's series "The Affair") is so horrendously goofy here that it's obvious he knew he was in a piece of trash, while Doug Hutchinson, Dash Mihok and Wayne Knight deliver equally…well, colorful performances. On the plus side (or is it?), Stevenson is restrained and the always lovely Julie Benz adds another role to her growing assortment of B-movie female leads. It's almost incomprehensibly violent, but you have to admit that it's never boring at the same time.
"War Zone" also makes its 4K UHD debut this week from Lionsgate. The 4K transfer with HDR and Dolby Vision is even more impressive than "The Punisher," with slick visuals adapting perfectly to UHD, along with Dolby Atmos sound – a sensational track that fills your surround environment with effects and Michael Wandmacher's appropriately bombastic score. Extras include commentary from Alexander and cinematographer Steve Gainer, plus the trailer and several Making Of featurettes. The original Blu-Rays and Digital HD copies round out each combo pack.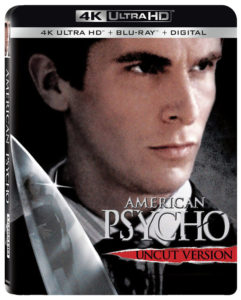 Also new this week from Lionsgate on 4K UHD is AMERICAN PSYCHO (102 mins., 2000, Unrated), the interestingly cast – if not always satisfying – adaptation of Bret Easton Ellis' novel. Providing Christian Bale with a plum role, Mary Harron's film gets a big jolt from a great supporting cast (Willem Dafoe, Jared Leto, Josh Lucas, Reese Witherspoon and many others) and hits 4K UHD in another decent Lionsgate catalog presentation. Dolby Atmos, Dolby Vision and HDR make for a superb technical package while extras include deleted scenes, two commentaries, and the 4K-exclusive featurette "American Psycho: From Book to Screen." A Blu-Ray and Digital HD copy round out the package…Genial laughs are on-hand in UNCLE DREW (103 mins., 2018, PG-13), the story of an affable of a street baller (Lil Rel Howery) who recruits a magical old crew of hoop pros to enter a tournament. Based on a series of Pepsi web shorts (it's even "produced in association with Pepsi Productions"), "Uncle Drew" gets its mileage out of both past and present NBA stars who don old-age make-up, including Kyrie Irving, Shaq, Chris Webber, Reggie Miller and Nate Robinson, plus Lisa Leslie for good measure. It's predictable and lasts a little too long, but "Uncle Drew" makes for an enjoyable view for basketball fans. Lionsgate's 4K UHD includes seven deleted scenes, "enhanced audio commentary" with director Charles Stone III, featurettes, a Digital HD copy, Dolby Vision/HDR, Dolby Atmos and the Blu-Ray.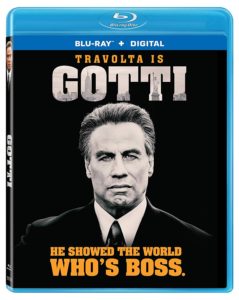 Also New From Lionsgate: The recipient of awful reviews and scant box-office returns, the inept GOTTI (104 mins., 2018, R) features John Travolta as the infamous boss of the Gambino crime family in a broadly-directed portrait of Gotti's life and times that's often awkward (at best) or unintentionally comic (at worst). Actor Leo Rossi and Lem Dobbs, the veteran scribe who frequently contributes to Twilight Time commentaries, penned this independently produced pic, which may have read better than the cartoony delivery provided by the cast and director Kevin Connolly. Lionsgate's Blu-Ray includes a 1080p (2.39) transfer, 5.1 and 2.0 Dolby Digital audio and a Digital HD copy…A small town rallies together against aliens in Luke Sparke's mediocre sci-fi thriller OCCUPATION (120 mins., 2018, R), an Australian effort that recycles countless better sci-fi films in an overlong hodgepodge noteworthy only for an appearance by "Mad Max" alumnus Bruce Spence. Lionsgate's Blu-Ray, unlike "Gotti," at least includes a 5.1 DTS MA lossless soundtrack along with a 1080p (2.39) transfer and Digital Copy.
Available September 25th, THE ROW (86 mins., 2018, R) finds besties Lala Kent and Mia Frampton opting to pledge at a college sorority where things like murder and mutilation are on the menu alongside typical hazing rituals. It's up to Kent – along with her cop dad (B-movie hero Randy Couture) – to piece together the serial killer's motives in a decently executed, formulaic thriller from Grindstone Entertainment and Emmett Furla. Matty Beckerman helmed "The Row," which hits BD with commentary, a Making Of, Digital HD copy, 1080p (1.85) transfer and 5.1 DTS MA sound…History's popular ANCIENT ALIENS enters its 11th season with a Volume 1 DVD (5 hours, 2018) release on September 25th. The episodes The UFO Conspiracy; Da Vinci's Forbidden Codes; The Alien Protocols; Earth's Black Holes; The Desert Codes; and Area 52 are included in Lionsgate's double-disc package, along with 2.0 Dolby Stereo tracks and 16:9 (1.78) transfers.
---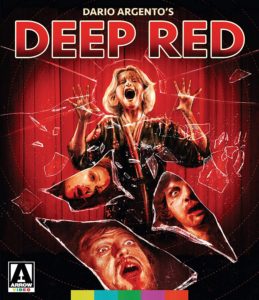 Arrow New Releases
DEEP RED Blu-Ray (127 mins., 1975, Not Rated; Arrow): Arrow Video makes good for fans of Dario Argento and "Spaghetti Splatter" with a fully remastered edition of the director's 1975 "giallo" thriller, which has made the rounds in previous releases from both Anchor Bay (DVD) and Blue Underground (Blu-Ray).
Though I'm not the biggest fan of Argento or Euro-horror, "Deep Red" offers plenty of interesting visual flourishes for curious horror aficionados, and certainly ranks as a "must-have" for Argento-philes. "Profondo Russo," which follows David Hemmings as an English jazz musician who joins up with a female journalist (Daria Nicolodi) to track down the killer of a renowned psychic, is regarded as one of Argento's most celebrated works, and it looks stunning in Arrow's new Blu-Ray. Offering a fresh restoration from a 4K scan, direct from the original negative, this is an upgrade over Blue Underground's earlier format release, even if it doesn't include the shorter English-language cut. Audio is on-hand in either Italian mono or 5.1 DTS MA, while an English 1.0 DTS MA track features some Italian dialogue for scenes either not included in the English-language cut or material that's been lost to the ravages of time.
New extras include a visual essay by Michael Mackenzie on the film; an introduction from Goblin's Claudio Simonetti; interviews with Argento, Daria Nicolodi, Simonetti and Argento collaborator Luigi Cozzi, plus the Italian trailer.
Arrow's other releases this month hail from an expectedly eclectic spread of genres.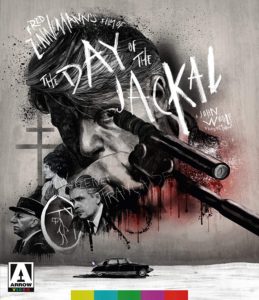 BLOODY SPEAR AT MOUNT FUJI (94 mins., 1955) brings the work of Japanese filmmaker Tomu Uchida into the spotlight. This interesting character-driven piece follows a samurai and two servants as they travel the road to Mount Fuji – as well as the various storylines they generate from meeting a variety of people including a cop, a young child, and a woman involved in human trafficking – during the Edo period. The action suggested by the title only comes at the end in Uchida's black-and-white picture, presented here on Blu-Ray by Arrow featuring a new commentary from historian Jasper Sharp; interviews with Uchida's son, Yasuka, along with Toei Studios publicist Kazunori Kishida, and a segment with French critic Frabrice Arduini discussing Uchida's career. Arrow's 1080p (1.33) transfer and mono sound, with newly translated English subs, are both superb.
Far superior to the weak '90s remake with Richard Gere and Bruce Willis, Frederick Forsyth's bestseller THE DAY OF THE JACKAL (145 mins., PG) was previously brought to the screen in Fred Zinnemann's celebrated 1973 version. A no-nonsense, straight-ahead adaptation of Forsyth's book, the film procedurally follows the efforts by terrorist organization OAS to bring in an assassin to take out French President Charles de Gaulle during the early '60s, as well as the French police's efforts to stop him. Jean Tournier's cinematography and Georges Delerue's score add to Zinnemann's approach, which accentuates realism and utilizes a wealth of character actors (Michael Lonsdale, Derek Jacobi, Cyril Cusack, and Edward Fox as the Jackal) to bring the story to life. Making its overdue U.S. Blu-Ray debut, Arrow's disc boasts a high bit-rate presentation of Universal's HD master (1.85) with DTS MA mono sound. A lengthy interview with Zinnemann historian Neil Sinyard is the main extra of note here, with two rare archival on-set clips and BD-ROM content featuring Kenneth Ross' screenplay also on-hand.
Finally, Peter Fonda's THE HIRED HAND (90 mins., 1971, R) marked the actor's directorial debut. A Universal picture that followed Fonda's work on "Easy Rider," "The Hired Hand" was a major change of pace for Fonda, starring here as a man who left his family to peruse the West with his friend (Warren Oates). Tired of the vagabond existence, he attempts to reconnect with wife Verna Bloom – who will only take him back as a hired hand (naturally) — and their daughter in Alan Sharp's original screenplay. Bruce Langhorne's lovely score and Vilmos Zsigmond's cinematography mark this moody, introspective western, preserved here from a 1080p (1.85) transfer from original film elements. A 2003 documentary featuring interviews with Fonda, Zsigmond, Langhorne, Bloom and others is included here along with deleted scenes, a 1978 documentary on Scottish screenwriters including Sharp, an interview with Martin Scorsese, Oates and Fonda in an audio recording from the NFT London (circa 1971), plus trailers, TV and radio spots.
VCI's TELEVISION'S LOST CLASSICS is a new, two-volume compilation of archival programs from television's Golden Age. Jeff Joseph and SabuCat restored these programs from the finest archival elements available in real HD, affording viewers the opportunity to see shows that mostly haven't been seen since their original broadcasts. Volume 1 includes a pair of John Cassavetes programs, originally aired live during the mid '50s: "Crime in the Streets," co-starring Robert Preston and directed by Sidney Lumet; and "No Right to Kill," an episode from the "Climax!" series that also contains original commercials.
---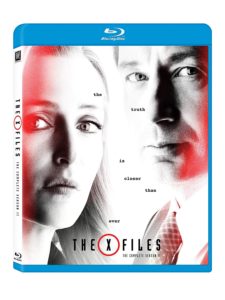 TV on Disc
THE X-FILES – Season 11 Blu-Ray (437 mins., 2018; Fox): The big reunion of "The X-Files" with creator Chris Carter and original stars David Duchovny and Gillian Anderson didn't exactly light the world on fire. After a poorly received Season 10, decent ratings brought the series back for one more hurrah, and fans generally thought Season 11 with its 10 episodes was, if nothing else, more satisfying. Fox's Blu-Ray of its eleventh (and apparently final?) season is now available sporting 1080p transfers and 5.1 DTS MA sound, a gag reel, commentary on selected episodes and numerous featurettes.
DC's LEGENDS OF TOMORROW – The Complete Third Season Blu-Ray (889 mins., 2017-18; Warner): The weird and wacky CW series returns for its third season, finding the Legends having to fix a timeline they fractured. It's up to Sara Lance, Ray Palmer, Nate Heywood, Jax, Vixen and hacker Zari Tomaz as they board the Waverider and attempt to get the universe back on track via visits to the past and the future. Four crossover episodes with "Supergirl," "The Flash" and "Arrow" are all on-hand in Warner's Blu-Ray, plus four brand new featurettes, unaired scenes, a gag reel, 1080p (1.78) transfers, 5.1 DTS MA sound and a Digital HD copy.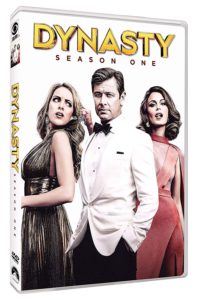 MURDOCH MYSTERIES: HOME FOR THE HOLIDAYS Blu-Ray (88 mins., 2017; Acorn/RLJE): Feature-length Christmas special throws a holiday whodunit at detective William Murdoch (Yannick Bisson). While on vacation in Victoria, B.C. with his wife, Dr. Julia Ogden (Helene Joy), Murdoch has to investigate a murder at an archeological site. Megan Follows, the original "Anne of Green Gables," guest stars in "Home For the Holidays," now on Blu-Ray from Acorn. The disc includes a 1080p transfer, 5.1 DTS MA sound and very brief Making Of featurettes.
CBS New Releases: Season 3 of Showtime's BILLIONS (12 hours, 2018) finds Chuck and Bobby still trying to one-up each other, while trying to deal with new cutthroat enemies and Wendy Rhoades – Chuck's wife, Axe's "performance coach" – being out for them all. Fans of the series will take to "Billions"' third season, now on DVD from CBS featuring the featurettes "Billions Decoded" and "Axe's Penthouse Tour," along with 16:9 transfers and 5.1 soundtracks…The CW revived the '80s prime-time soap DYNASTY (16 hours, 2017-18) in the form of a typical contemporary affair, one which struggled to match any of its predecessor's entertainment value, much less ratings. Grant Snow stars as Blake Carrington (the John Forsyth role), who mixes family with business to often hysterically melodramatic results. All 22 episodes from "Dynasty"'s first season are included here with 16:9 transfers, 5.1 sound, deleted scenes and a gag reel.
---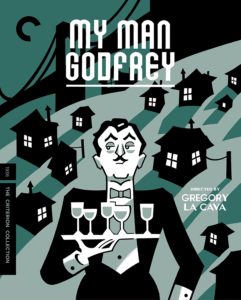 Quick Takes
MY MAN GODREY Blu-Ray (93 mins., 1936; Criterion): William Powell and Carole Lombard star in this vintage Golden Age screwball comedy, on Blu-Ray for the first time this month courtesy of Criterion. Gregory La Cava's affair sports Lombard as a socialite who stumbles upon a supposed drifter (Powell) while on a scavenger hunt. Soon, Powell's Godfrey is making new friends as her butler while she falls for him in a farce performed with pinpoint precision by the cast. Criterion's Blu-Ray is based off a new 4K digital restoration (1.33) with uncompressed mono sound, outtakes, new programs featuring critics Gary Giddins and Nick Pinkerton, plus newsreels on Great Depression "class divides," the trailer, and the 1938 Lux Radio Theatre adaptation.
HOUSEWIFE DVD (82 mins. 2018; RLJE): Feeble horror effort stars Elementine Podiatz as a woman plagued by nightmares who decides to meet with a cult leader (always a good idea!) in order to retrieve the vivid and painful memories of her past – and her ultimate destiny. Turkish director Can Evernol's English language debut – which comes to DVD from RLJ on October 2nd with a 16:9 (2.40) transfer and 5.1 Dolby Digital sound — just doesn't work, ending up a mess of ideas and unpleasant images.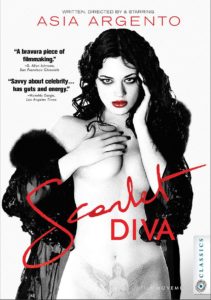 SLEEP NO MORE DVD (91 mins., 2017, Not Rated; RLJE): A quartet of grad students decide to prove the that once you go 200 hours without sleep, you'll never need it again…that is, unless you like having nightmares and psychotic hallucinations that put all of them in danger. Philip Guzman helmed Jason Murphy's script for this ensemble low-budget thriller, on DVD October 2nd from RLJE with a 16:9 (2.35) transfer and 5.1 sound.
SCARLET DIVA (91 mins., 2000, Unrated; Film Movement): The timing is right for Film Movement's release of "Scarlet Diva," Asia Argento's 2000 directorial debut about an actress who suffers from an abusive industry even after attaining success worldwide. Argento stars in, wrote and directed this timely film that, even 18 years after its release, holds a certain fascination in the #metoo era, and naturally with Argento generating all kinds of headlines (though recently for the wrong reasons). Film Movement's Blu-Ray includes a 2002 and new commentary by Argento herself, interviews, a Making Of, a 1080p (1.85) transfer and 2.0 stereo sound.
NEXT TIME: Kino Lorber's September slate including CABIN BOY, OSCAR, BAT 21 and more! Until then, don't forget to drop in on the official Aisle Seat Message Boards and direct any emails to our email address. Cheers everyone!