Message Board (open 24 hours!)
Twitter - @andredursin (for everything else!)
Burt Lancaster co-directed THE MIDNIGHT MAN (***, 119 mins., 1974, R), a Universal murder-mystery adapted from the book "The Midnight Lady and the Mourning Man" by David Anthony. The film's plot was reconfigured to suit Lancaster's talents with the veteran star playing an ex-cop from Chicago, out on parole after shooting his wife's lover, who settles into a job working security at a southern college…only to find himself quickly embroiled in a co-ed's murder and an eventual (and quite convoluted) conspiracy plot. While this production was much criticized for being little more than an extended, R-rated episode of "Columbo" at the time of its release – these days, you have to ask yourself, what's wrong with that?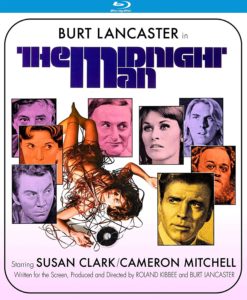 Long-time Lancaster associate Roland Kibbee co-wrote/directed the film with Burt (who did most of the directing with Kibbee penning the script), shooting "The Midnight Man" on-location in South Carolina. Admittedly, the film doesn't do an especially good job capturing, say, the Clemson campus it was reportedly filmed at, but the benefits of a location-based shoot still gives the film a good amount of atmosphere. The list of suspects predictably casts a wide net as well, with Lancaster's Jim Slade dealing with a parole officer (Susan Clark), his injured friend (Cameron Michell), the combative local sheriff (Harris Yulin), a local hillbilly (Ed Lauter), hippie students (including Burt's own son, Bill) and leering professors – all of whom could've had a hand in the death of a young student (a pre-"Dukes of Hazzard" Catherine Bach). Add in that she's the daughter of a prominent senator (Morgan Woodward) and you have the recipe for a full-on web of mystery, one which Lancaster and Kibbee get ultimately a little toowrapped up with.
There doesn't seem to be a really good reason why "The Midnight Man" needed to be so complicated, yet I can't deny that there's an undeniable mid '70s charm associated with this film. It has R-rated components (Burt kills a whole bunch of people, including a dog with a pitchfork!) yet still carries the non-anamorphic, "flat" look of Universal TV productions from its era. It parades out a group of familiar faces in its cast like a small-screen affair, but still offers a contemporary (and quite good) Dave Grusin score, capped by the strong original song "Come On Back Where You Belong" performed by '70s icon Yvonne Elliman. The ending is satisfying as well, and even if its assorted aesthetic elements at times feel disparate in nature, "The Midnight Man" is an entertaining and quite compelling little picture worth spending time with on Blu-Ray.
I may be mistaken but it appears that Kino Lorber's "Midnight Man" Blu-Ray is the first release of the film in North America on home video altogether – I'm not sure there was even a VHS of this picture, which did receive play on TV back in the '80s. Either way, this seems to be a newish Universal master (1.85) with nice detail and clear mono sound. The trailer and an engaging commentary with Nathaniel Thompson and Howard Berger divulges Burt's tough time making the film, as well as his relationship with Clark, which was apparently much more hospitable on their prior outing, "Valdez Is Coming."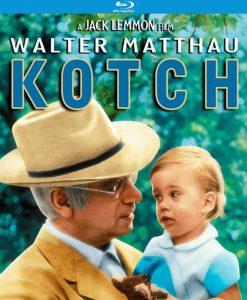 A movie I had read a lot about over the years — but never actually saw — CHARLY (***, 103 mins., 1968, PG) won star Cliff Robertson an Oscar for his performance of a mentally challenged Boston janitor who undergoes a scientific experiment that frees his mind and gives him a genius IQ…for a time.
Daniel Keyes' novel "Flowers For Algernon" was previously adapted as a television drama in the early '60s, also with Robertson in the challenging lead role. This 1968 big-screen adaptation was produced by Robertson himself, scripted by Stirling Silliphant and directed by Ralph Nelson ("Lillies of the Field"), who does a superb job utilizing a wide scope frame to give the drama a big-screen look and feel. This is certainly a well-performed yet sad and depressing film, curiously ending on a chilly, ambiguous note that would become commonplace in many pictures of the early to mid 70s.
Like a lot of Cinerama-released films from the Selmur/ABC library, there were many years when it was hard to find a copy of "Charly." This new Kino Lorber Blu-Ray presents a 2K master (2.35) that has no visible DNR but does appear a bit soft and blurry at times, an indication of limitations within the source material. Nevertheless, it's a perfectly decent presentation in the film's anamorphic aspect ratio, which is essential to appreciating the visuals (there are times Nelson places actors on different sides of the frame, maximizing the format). The mono sound, featuring an unusual (for its time) Ravi Shankar score, is clear and another, quite listenable commentary with Nathaniel Thompson and Howard Berger comprises the supplemental side.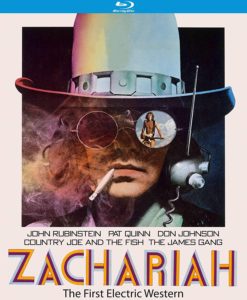 Another drama of the period that met with critical kudos was Jack Lemmon's directorial debut, KOTCH (**½, 116 mins., 1971, PG), which makes its Blu-Ray debut this month also from Kino Lorber in a new 4K scan.
This equally dated piece stars Walter Matthau as an elderly grandfather, unwanted by his own son and daughter-in-law, who takes up with free-spirited teenage mother-to-be Deborah Winters and heads off to New Mexico. There, he finds that his existence is still worthwhile, as he attempts to guide her onto the right path in life.
"Kotch" is by no means a bad film, but Marvin Hamlisch's soundtrack is overwrought (opening up with a saccharine choral ballad penned with Johnny Mercer), and the claustrophobic production makes you feel as if you're watching a TV movie. Still, Matthau's performance is worth catching for his fans, and Kino Lorber's Blu-Ray (1.85) preserves Lemmon's film in a new master from the original camera negative. A promotional trailer with Matthau together with Lemmon is on-hand along with a new commentary with historians Lee Gambin and Emma Westwood.
ZACHARIAH Blu-Ray (**, 93 mins., 1971, PG; Kino Lorber). WHAT IT IS: One of the cinema's one and only "acid westerns," "Zachariah" places John Rubinstein and Don Johnson in the old west where they saddle up with a group of outlaws. George Englund produced and directed this ABC Pictures production – a movie with flip humor and "mod" elements that nevertheless aren't enough to make the concept work. The score needed more songs, the script – by Joe Massot and members of the Firesign Theatre – even more absurdist humor, along with a director who could've taken more chances with the material. KINO LORBER TECH SPECS: An attractive HD master of a 4K scan of the original camera negative (1.85, 2.0 DTS MA mono) comprises a good looking Kino Lorber Blu-Ray. An insightful commentary from Howard Berger and Nathaniel Thompson, a new interview with Rubinstein, and the trailer comprise the extras. AISLE SEAT BOTTOM LINE: I remember growing up with a high school friend whose Dad extolled the virtues of "Zachariah." Now that I've finally seen the film, I can only think this is one of those movies you need to have lived through its era in order to enjoy. For fans, Kino Lorber's Blu-Ray offers a really nice transfer and extras, and comes recommended for those who feel the picture is a cult favorite.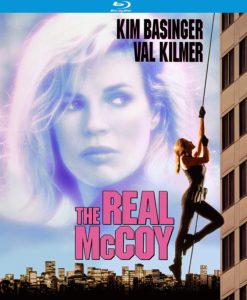 YOUNGBLOOD Blu-Ray (***, 110 mins., 1986, R; Kino Lorber): WHAT IT IS: "Brat Pack on the Ice" with Rob Lowe as an aspiring hockey player who heads to Canada to play for the Hamilton Mustangs – a struggling crew more renowned for fisticuffs than scoring goals. Patrick Swayze is the veteran star who tutors young Youngblood in the ways of minor league hockey in this Guber-Peters production written and directed by Peter Markle, co-starring Cynthia Gibb and offering to hockey fans one of their few big-screen cinematic offerings. KINO LORBER TECH SPECS: A decent 1080p (1.85) and DTS MA stereo soundtrack grace this MGM catalog master. A new commentary from Markle and the trailer are also included. AISLE SEAT BOTTOM LINE: An '80s guilty pleasure, "Youngblood" offers Lowe and Swayze in their early glory, solid hockey action and Gibb for eye candy. Maybe not quite a hat trick, but solid studio entertainment from its era.
THE REAL McCOY Blu-Ray (**, 105 mins., 1993, PG-13; Kino Lorber). WHAT IT IS: Russell Mulcahy's oddball career trajectory reached its American apex in the early '90s when he shot "The Real McCoy" and "The Shadow" back-to-back for Universal and producers Martin Bregman and Willi Baer. The former is a fairly tepid caper film fashioned as a vehicle for Kim Basinger, here playing an expert thief who finds out – after spending time in prison – that she's stuck having to pay back a crime boss (Terence Stamp) who forces her to pull off an $18 million bank heist. Val Kilmer co-stars in this by-the-numbers picture that gets by because of Basinger's appeal but doesn't offer much beyond it, with the movie also saddled with tedious sequences revolving around the heroine's estranged son. KINO LORBER TECH SPECS: Mulcahy provides a new commentary though the Universal-licensed transfer (1.85) looks very much like an older scan with noise reduction and artificial sharpening both applied. The 5.1 DTS MA soundtrack is nicely mixed though Brad Fiedel's score doesn't do much for the film (a 2.0 track is also included). AISLE SEAT BOTTOM LINE: "The Real McCoy" opened in September of '93 and performed poorly at the box-office. Basinger does a good job but this is a bland, minor film minus even Mulcahy's usual stylistic flourishes.
---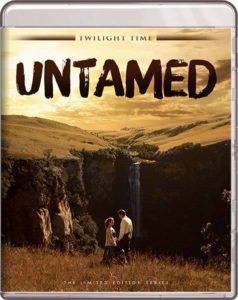 Twilight Time New Releases
UNTAMED Blu-Ray (***, 111 mins., 1955). WHAT IT IS: Billed as the South African "Gone With The Wind," "Untamed" is a lavish Fox Cinemascope epic starring Susan Hayward and Tyrone Power in the story of a disparate couple who meet in Ireland and carry their relationship to South Africa. Henry King helmed this attractively lensed widescreen love story – one which was reportedly quite condensed from a Helga Moray novel and keeps Power off-screen for much of its duration. Still recommended for Golden Age enthusiasts because of its cinematography, some nifty action scenes (including a harrowing sequence where a runaway wagon falls over a cliff), and a grand Franz Waxman score. TWILIGHT TIME TECH SPECS: TT's Blu-Ray (2.55) contains a typically superb Fox licensed transfer with 5.1 and 2.0 DTS MA stereo soundtracks, an isolated score track and the trailer. AISLE SEAT BOTTOM LINE: A romantic adventure with colorful surroundings, "Untamed" should appeal strongly to fans of its era, and hearing Waxman's score is worth the price of admission alone.
YANKS Blu-Ray (**, 139 mins., 1978, R). WHAT IT IS: Slow-moving WWII drama from writers Colin Welland and Walter Bernstein examines the sometimes tenuous relationship between American soldiers and the residents of a small British village during the war. In particular, John Schlesinger's film profiles the blossoming relationships between a married woman (Vanessa Redgrave) and the troop's commandant (William Devane); an engaged girl (Lisa Eichhorn) and a young soldier (Richard Gere); and a "city kid" (Chick Vennera) and a bus conductor (Wendy Morgan). Leisurely paced and rather chilly, "Yanks" is nicely shot by Dick Bush and scored by Richard Rodney Bennett but plods along without much momentum. TWILIGHT TIME TECH SPECS: A commentary from Vennera and TT's Julie Kirgo and the late Nick Redman (we miss you, Nick) comprise the extras with an isolated score track featuring some effects. Released overseas by UA and in the US by Universal, Twilight Time's BD offers a solid 1080p (1.85) AVC encoded transfer and mono sound. AISLE SEAT BOTTOM LINE: I have tried many times over the years to get into "Yanks," but this stoic period piece seems to bring out the worst in Schlesinger in terms of its languid pacing and often restrained emotions. Not a personal favorite but still recommended for fans and aficionados of Gere in particular.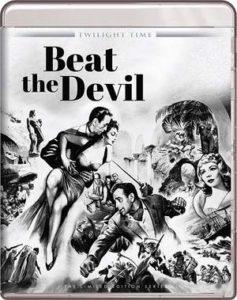 THE RETURN OF FRANK JAMES Blu-Ray (**½, 93 mins., 1940). WHAT IT IS: One of Fritz Lang's early American efforts, "The Return of Frank James" boasts Henry Fonda reprising his role from 1939's "Jesse James." Here, Frank sets out to avenge his brother's death at the hands of the Ford brothers (John Carradine, Charles Tannen). Fairly perfunctory western fare enhanced by Lang's direction, plus David Buttolph's score and a strong supporting cast (Gene Tierney in her film debut, plus Jackie Cooper, Henry Hull and others). TWILIGHT TIME TECH SPECS: TT's no-frills Blu-Ray includes a Fox licensed 1080p (1.33) full color transfer with 2.0 and 1.0 DTS MA soundtracks. AISLE SEAT BOTTOM LINE: Genre enthusiasts should appreciate this workmanlike sequel, nicely preserved in HD by Twilight Time.
BEAT THE DEVIL Blu-Ray (***, 94 mins., 1953). WHAT IT IS: One of the earliest "cult movies," director John Huston and his co-writer Truman Capote opted to "wing" this spoof of caper films with a fantastic cast – Humphrey Bogart, Jennifer Jones, Gina Lollobrigida, Robert Morley and Peter Lorre among them – playing right into the film's goofy tone. An infamous box-office bust upon its initial release, "Beat The Devil" has mostly been screened for years in tepid public domain transfers, but was recently restored back to its original, full-length pre-release version (sans unnecessary narration and with the restoration of some footage). That restoration is presented here, licensed from Sony, in Twilight Time's strongly recommended, long-overdue Blu-Ray. TWILIGHT TIME TECH SPECS: Twilight Time's Blu includes a strongly detailed 1.33 B&W transfer, mono sound, commentary from TT's Lem Dobbs, Julie Kirgo and Nick Redman, along with the trailer. AISLE SEAT BOTTOM LINE: "Beat The Devil" will fare most effectively with movie buffs, who will best appreciate the varied and laid-back performances – and likely not mind the scattershot, at-times incomprehensible script.
---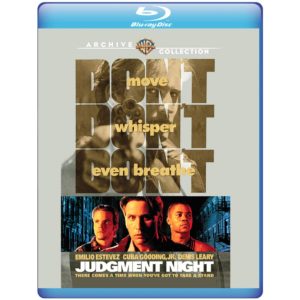 Warner Archive New Releases
The great screenwriter Ernest Lehman adapted Irving Wallace's bestselling novel THE PRIZE (**, 135 mins.) for MGM in 1963, repurposing some elements from his Hitchcock work – "North By Northwest" especially – for this tale of intrigue and dastardly goings-on at the Nobel Prize ceremony in Stockholm. Paul Newman stars as an American author receiving the Literature prize who eventually uncovers a plot involving the kidnapping and swapping out of a German scientist who defected to the U.S. (Edward G. Robinson), only to have the authorities fail to believe him due to both his drinking and womanizing ways.
Elke Sommer, Diane Baker, and Kevin McCarthy co-star in "The Prize," which offers an early – and quite punchy – Jerry Goldsmith score and nice Panavision cinematography. It also dates from a very different time, as director Mark Robson fails to bring any Hitchcockian visual flourishes to a static and slow-going "thriller" that's often too light on its feet, preferring comedic touches to suspenseful moments that, once they do arrive, feel like afterthoughts. I didn't really care for Newman's affected accent and posturing here either, making "The Prize" best recommended for Golden Age fans who may be more willing to overlook its lethargic direction and lack of urgency.
Warner Archive's Blu-Ray, at least, has no such issues, thanks to a healthy, nicely detailed 1080p (2.41) AVC encoded transfer and clear DTS MA mono sound. The trailer is the lone extra.
Also new on Blu-Ray this month from Warner Archive is JUDGMENT NIGHT (**½, 109 mins., 1993, R).Stephen Hopkins ("Predator 2," "24") helmed this cautionary tale of a group of friends (Emilio Estevez, Cuba Gooding Jr., Stephen Dorff and Jeremy Piven) from the Chicago suburbs who take a wrong turn en route to a boxing match and witness a gangland slaying. Soon assorted thugs and their gang leader (Denis Leary) are on their trail in an unsurprising, if expertly-executed formula exercise, shot in Super 35 by Peter Levy and scored by Alan Silvestri, with a script by Lewis Colick, who hit paydirt with a number of scripts during the '90s — "Unlawful Entry" among them.
A Largo production that was initially released through Universal, "Judgment Night" debuts on Blu-Ray in the U.S. with a new Warner Archive scan (2.41, 5.1 DTS MA). The image offers no evidence of noise reduction while the audio is vibrant and finely engineered. No extras are included.
Golden Age Adventure on Blu-Ray: Though not quite as highly regarded as "Tarzan's Great Adventure," Jock Mahoney's two widescreen outings in the loincloth proved to be enjoyable Saturday matinee-styled adventures for kids of the '60s.
Ex-stuntman Mahoney replaced Gordon Scott after appearing, opposite him, as the villain in the interim "Tarzan the Magnificent." His first effort as Tarzan, TARZAN GOES TO INDIA (87 mins., 1962), is a sturdy, picaresque adventure directed by "Great Adventure"'s John Guillermin, offering Cinemascope lensing (Tarzan's first widescreen foray), plenty of jungle adventure and an appealing story with Tarzan trying to save elephants threatened by a newly constructed dam. Mahoney's follow-up, TARZAN'S THREE CHALLENGES (100 mins., 1963), is just as exciting, sending Tarzan to Thailand for more action and adventure. Regrettably, Mahoney became ill during production, causing the star to visibly lose weight during filming and putting a premature end to Mahoney's memorable if brief tenure as the Lord of the Jungle. Both films debut this month on Blu-Ray from Warner Archive featuring colorful, nicely detailed 1080p (2.35) AVC encoded transfers and dual-channel mono sound.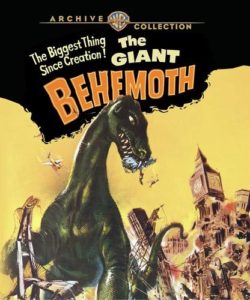 Golden Age monster fans can get their fill with THE GIANT BEHEMOTH (80 mins., 1958), director Eugene Lourie's inferior follow-up to "The Beast From 20,000 Fathoms" with a nuclear-enhanced dinosaur rising up from the depths of the ocean to rampage through London. Frequent Hammer star Andre Morrell appears in a B-grade monster opus best remembered (and savored today) for Willis O'Brien's late-era stop-motion effects, some of which still look effective in a movie that's otherwise inconsistent in both its technical and storytelling qualities. Warner's Archive Blu-Ray offers a 1080p (1.85) B&W transfer, mono sound, the trailer, and commentary from Oscar-winning modern effects artists Dennis Muren and Phil Tippett who don't take the picture seriously.
New on DVD from Warner Archive: Victor McLaglen and Chester Morris topline PACIFIC LINER (76 mins.), a 1939 RKO programmer set on a vessel bound from Shanghai to San Francisco, where the ship's chief engineer (McLaglen) challenges a doctor (Morris) for the affections of a nurse (Wendy Barrie). That's before a cholera outbreak starts to ravage the ship in an effective B-movie costarring Alan Hale and Barry Fitzgerald and featuring an early Robert Russell Bennett score. The Archive's DVD (1.33, B&W, mono) is now available.
---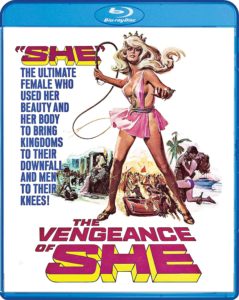 Shout! New Releases
THE VENGEANCE OF SHE Blu-Ray (101 mins., 1967; Shout! Factory): A much-needed 2K restoration greets Hammer fans with Shout's Blu-Ray premiere of "The Vengeance of She." This 1967 kinda-sorta follow-up to the Ursula Andress favorite is actually, in some ways, more entertaining than its predecessor, with sexy Olinka Berova the object of a reincarnation plot concocted by King Killikrates (a returning John Richardson). Edward Judd co-stars with Noel Willman and Colin Blakely in a Hammer release that's usually underrated and quite decent in terms of its production values and leisurely plot. Mario Nascimbene's score is nice as well.
Shout's Blu-Ray includes a new 2K scan (1.66) of original film elements, instantly making it the most satisfying of the label's recent Hammer retrospectives from a technical angle. Theatrically released by 20thCentury Fox, "Vengeance of She" is colorful genre hokum also enhanced by Shout's extras, including new interviews with various crew personnel, a fresh commentary by "Monster Party" podcast hosts, and assorted goodies from previous releases (including the World of Hammer episode "Lands Before Time").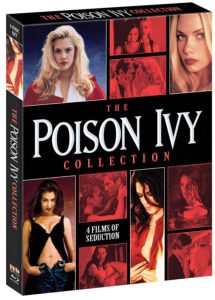 THE POISON IVY COLLECTION Blu-Ray (Shout! Factory): Drew Barrymore sought to develop her "bad girl" image by taking the lead in 1992's "Poison Ivy," a modestly-budgeted thriller about a mentally unstable young flirt (Barrymore) who worms her way into the lives of a quiet teen (Sara Gilbert) and her parents (Tom Skerritt, Cheryl Ladd).
Katt Shea's guilty-pleasure movie – which offers an early turn from Leonardo DiCaprio – received a small theatrical run but made most of its noise on home video, where it quickly became a favorite amongst teen viewers, who were more easily able to circumvent the film's R-rating. One of a number of low-rent "Fatal Attraction" ripoffs, the picture lead to a slew of direct-to-video sequels, including 1996's "Poison Ivy 2: Lilly," where student Alyssa Milano is moved by reading Barrymore's letters and tries to become a temptress; "Poison Ivy: The New Seduction" (1997) with Jaime Pressly; and the 2008 Lifetime movie, "Poison Ivy: The Secret Society," which was produced by Canada's CineTel Films.
These follow-ups play to diminishing returns, but fans of the original "Ivy" should still be pleased with Shout! Factory's four-disc Blu-Ray box-set, which offers 1080p (1.85) AVC encoded transfers for the films, each presented in their R-rated and Unrated versions as well (the differences of which usually amount to about a minute of added sexual content). Fans should note the "uncut" material is derived from standard-definition sources but still looks reasonably healthy here. DTS MA stereo sound, a commentary from Shea, and trailers round out the box-set, which Shout! debuts on disc this week.
THE RETURN OF THE VAMPIRE Blu-Ray (70 mins., 1943; Shout! Factory): Among Bela Lugosi's many follow-ups to "Dracula" was this 1943 Columbia programmer, one that isn't great but still ranks head and shoulders above a lot of dreck the Golden Age horror icon starred in elsewhere. The plot manages to mix in a werewolf craving redemption and a vampire – very clearly Dracula minus the name – who resurfaces during WWII, looking for the offspring of the scientists who took him down decades before. Atmospheric in tone if minor in its dramatic content, Shout's Blu-Ray includes three new commentaries (with historians Troy Howarth, Gary Don Rhodes and Lee Gambin, respectively), a silent 8mm presentation, the trailer and a still gallery. The 1080p (1.33) B&W transfer, licensed from Sony, looks perfectly spiffy for its era.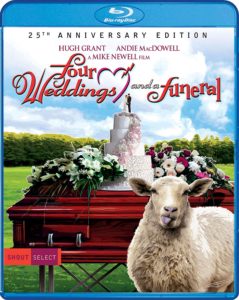 FOUR WEDDINGS AND A FUNERAL Blu-Ray (***, 118 mins., 1994, R; Shout! Factory): Mike Newell and Richard Curtis' romantic-comedy was a sleeper hit at the box-office in '94. Though a bit dated, these days it gets by due to the chemistry between stars Hugh Grant and Andie MacDowell, with Rowan Atkinson providing laughs as a hapless preacher. Sporting a new 4K scan from the original camera negative (1.85), this Shout! Blu-Ray offers an enhanced transfer over MGM's earlier disc, with a new interview from cinematographer Michael Coulter comprising the exclusive special features. A myriad of other extras (commentary, deleted scenes, a featurette, documentary) from the previous MGM releases round out a recommended Blu-Ray for "Four Weddings" fans.
MAQUIA: WHEN THE PROMISED FLOWER BLOOMS Blu-Ray/DVD (115 mins., 2018; Shout! Factory):Unabashedly romantic and ultimately quite sad Japanese import is set in a fantasy world where the kindly Lorphs live a peaceful existence throughout the centuries. Invisible to humans, their lives are changed when the Mezarte kingdom invades, looking for the secret to their longevity and sending heroine Maquia on a journey where she befriends and raises a young orphan. Mari Okada's film is emotionally charged and should warrant a look for animation buffs, especially in Shout's Blu-Ray/DVD combo pack, out this week featuring an attractive 1080p (1.78) transfer, featurette, trailers, DVD copy, and 5.1 DTS MA sound in either Japanese or English with optional subtitles.
---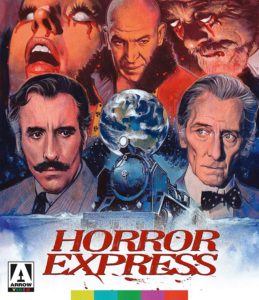 Arrow New Releases
Growing up in the '80s I was always fascinated by VHS bargain releases that populated our local Apex department store chain in Rhode Island. I think they were called "Star Classics" and often housed terribly chopped up, pan-and-scan transfers of movies that were either in the public domain or close to it (i.e. a Roger Corman production, or an international production whose copyright holders wouldn't care about such tapes being thrown into distribution). Titles like "Little Shop of Horrors," "Nosferatu," "Godzilla Vs. Megalon" and "Horror Express" were just a few of the common ones you'd see, and which I'd usually get as a stocking stuffer for VCR playback every Christmas or so.
It's taken quite a while but one of those VHS-clamshell mainstays, HORROR EXPRESS (91 mns., 1972, R), seems to have finally gotten the proper respect it's long deserved. Arrow's new Blu-Ray is minted from a 2K restoration (1.66) from original film elements, resulting in a clearer, more colorful and properly detailed transfer than even Severin's prior Blu-Ray – in fact, given that my only exposure to this Christopher Lee/Peter Cushing Trans-Siberian Express thriller (with an alien caveman running amok) was on a terrible VHS release, this Blu is truly like seeing the film for the first time. And what a delirious, satisfying little horror exercise – directed by Eugenio "Gene" Martin with a mostly Spanish crew – this is, as Cushing and Lee mix familiar genre elements with a turn towards sci-fi that either presages Carpenter's "The Thing" or reworks Howard Hawks' version, depending on how you look at it. Telly Savalas co-stars with a haunting John Cacavas score putting a nice finishing touch on a long-time viewer favorite that here receives a proper HD presentation at long last.
Arrow's Blu-Ray also includes a new commentary with historians Stephen Jones and Kim Newman; interviews with Steve Haberman and Ted Newsom on the film, an archival interview with Martin, a segment on producer Bernard Gordon, plus Severin's Blu-Ray extras (an interview with John Cacavas, an introduction from Fangoria's Chris Alexander), the trailer, and an uncompressed mono soundtrack.
Also new from Arrow is a Special Edition of Takashi Miike's AUDITION (115 mins., 1999), the controversial Japanese import that launched Miike onto international fame. Whether or not this J-horror exercise if your cup of tea, Arrow's Blu-Ray is worthwhile for its new 2K restoration (1.85) of original vault elements, 5.1 DTS MA sound, commentary with Miike and screenwriter Daisuke Tengan; a new commentary with Miike biographer Tom Mes; Miike's introduction; a new talk with Miike, older interviews with the cast, an appreciation by Japanese cinema expert Tony Rayns, trailers and more.
---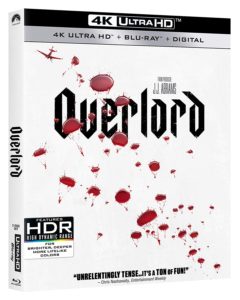 Also New & Noteworthy
OVERLORD 4K UHD Combo Pack (**, 109 mins., 2018, R; Paramount): While the trailers for this J.J. Abrams production promised the excitement of Nazi Zombies, kudos go out to the Paramount promotions department for covering that Julius Avery's film is actually shockingly light on action and long on exposition involving several American soldiers trying to survive behind enemy lines and knock out a German radio tower prior to the invasion of Normandy.
"Overlord" opens with a slam bang sequence wherein the film's leads (Jovan Adepo and Wyatt Russell) are shot down by Nazi forces, then quickly gets bogged down in boring, clichéd sequences of U.S. paratroopers and French villagers trying to evade the Germans before the gore finally kicks in. Regrettably, the movie doesn't even become interesting when that happens, either, as some bloody Nazi experiments result in a few dismembered corpses running around – but nothing resembling the full-on zombie-pocalypse promised by the movie's trailers. Billy Ray and Mark L. Smith's script is also entirely predictable (if you guessed that the film's minority and female leads make it out alive, you'd be right!), resulting in yet another example of a 2018 film offering a clear disconnect between critics (who generally liked it) and audiences (who mostly, judging from its paltry $20 million gross, could've cared less).
Paramount's 4K UHD, available February 19th, serves up a superb use of High Dynamic Range (especially in the film's opening, which is graced by excellent ILM effects) and Dolby Atmos audio – this is a superlative technical presentation in terms of both its transfer and soundtrack. Extras include a number of featurettes, the standard Blu-Ray and Digital HD copy.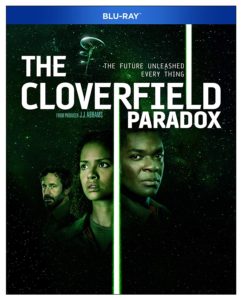 THE CLOVERFIELD PARADOX Blu-Ray Combo Pack (**, 101 mins., 2018, PG-13; Paramount): The stealthy nature of "The Cloverfield Paradox"'s very existence – "what is it?" "it's on Netflix right now!" – was far more interesting than the finished product itself.
Producer J.J. Abrams allegedly took a script that had nothing to do with the "Cloverfield" brand and performed some rewrites/reshoots to turn it – very tentatively as well – into a loose spinoff of the sci-fi series. Alas, "The Cloverfield Paradox" is more along the lines of miserable "crews trapped in space" flops like "Supernova" and the putrid "Life" than it is a giant monster opus, with a crew of scientists stuck circling the globe during an international crisis when they end up in a strange alternate reality.
Some weird time-flux goings-on mark a fairly hum-drum movie that only here and there shows flashes from its "Cloverfield" predecessors, all too obviously worked into the picture during post-production. Though intended for theatrical play, Paramount wisely sold the film to Netflix, which premiered it during the Super Bowl last year, and now brings the picture to Blu-Ray for the first time. The 1080p (2.35) AVC encoded transfer is strong and the Dolby Atmos sound is marvelously active, with two featurettes also included.
NOBODY'S FOOL Blu-Ray Combo Pack (110 mins., 2018, R; Paramount): Tyler Perry heads to a new studio for this original story about the fractured relationship between polar-opposite sisters Tiffany Haddish – the wild child – and demure Tika Sumpter…only to find out the latter's picture-perfect life isn't what it's cracked up to be. Whoopi Goldberg appears in this typically overlong, if intermittently funny, Perry picture, new on Blu-Ray this week from Paramount. A 1080p transfer, 5.1 DTS MA sound, introduction from Perry and Haddish, gag reel, deleted/extended scenes, featurettes, DVD and Digital Copy comprise the combo pack.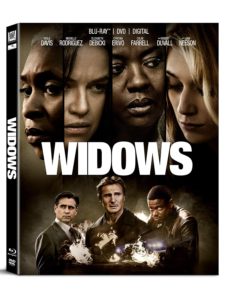 WIDOWS 4K UHD Combo Pack (129 mins., 2018, R; Fox): This collaboration between "12 Years a Slave" director Steve McQueen and bestselling author Gillian Flynn – the duo adapting an early '80s British TV series – failed to generate box-office sparks despite its subject matter and cast. Viola Davis leads a quartet of women – Michelle Rodriguez, Elizabeth Debicki and Cynthia Erivo the others – into a revenge scheme after their respective husbands are offed during a botched robbery; Liam Neeson, Robert Duvall and Colin Farrell also populate just a few of the many characters who appear in this overly cluttered, if sleekly made, thriller that's never as exciting as it should have been. Fox's UHD combo pack boasts solid HDR usage (2.39), 7.1 DTS MA audio, a three-part documentary, still gallery, Blu-Ray and Digital HD copy.
THE OLD MAN AND THE GUN Blu-Ray Combo Pack (93 mins., 2018, PG-13; Fox): Easy-going, if forgettable, alleged swan song for Robert Redford on-screen provides the veteran star with the plum role of Forrest Tucker – an elderly, lifelong career criminal who escapes from prison and carries out a series of heists. His relationship with a woman (Sissy Spacek) he helps, the daughter (Elisabeth Moss) he never knew and the detective (Casey Affleck) pursuing him comprise writer-director David Lowery's adaptation of David Grann's novel, which is nicely acted by all. Fox's Blu-Ray (2.39, 5.1 DTS MA) is now available with a DVD, Digital copy, and extensive extras (deleted scenes, featurettes, Lowery's commentary etc).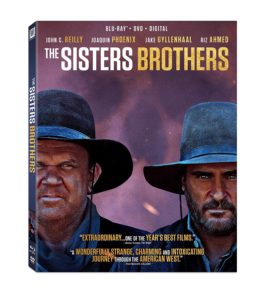 THE SISTERS BROTHERS Blu-Ray (121 mins., 2018, R; Fox): Off-beat, revisionist westerns are all fine and good, but there does come a time when all the weirdness needs to have a point – even when it's "The Sisters Brothers." Jacques Audiard's adaptation of Patrick DeWitt's novel about a pair of brothers (John C. Reilly and Joaquin Phoenix), mostly hapless assassins, who are hired to rub out a gold prospector offers some effective sequences and serio-comic interludes – but meanders around with various story elements that never go anywhere. Jake Gyllenhaal, Riz Ahmed and Rutger Hauer co-star in a good-looking picture that feels like it needed more of a Coen Brothers touch to fully score. Fox's attractive Blu-Ray offers featurettes, stills gallery, a Making of, a fine 1080p (2.39) transfer and 5.1 DTS MA sound.
PEPPERMINT SODA Blu-Ray (101 mins., 1977, PG; Cohen Film Collection): Diana Krys' well-regarded coming-of-age French drama gets a new 40th Anniversary Blu-Ray from Cohen, complete with a remastered 4K transfer (1.78). This autobiographical tale of two Jewish teens from separated parents who experience universal trials and tribulations associated with growing up remains relevant today – although set in Paris during the turbulent early '60s, "Peppermint Soda" is an unaffected, funny and moving little picture worth seeing. Cohen's Blu-Ray, available February 12th, includes an interview with Kyrs, composer Yves Simon and actress Eleonore Klarwein, plus a scrapbook, re-release trailer and restoration comparison. The French mono sound with English subs is just fine.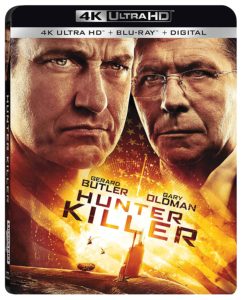 Lionsgate New Releases: A passion project for star/producer Gerard Butler, HUNTER KILLER (121 mins., 2018, R) might suffice if you're looking for a new submarine thriller – something you don't see much of nowadays, which at least enhances its novelty value. Sadly, a weak script by George Wallace and Don Keith requires too much of a suspension of disbelief to really score.
Butler here stars as an American submarine captain looking for a missing sub when he stumbles upon a secretive Soviet plot to disrupt the world, requiring Butler and company to help save the Russian president. Gary Oldman, Common, Toby Stephens and Linda Cardellini co-star in this overheated action-adventure ripe with "sub movie cliches" and some silly dialogue – it's hard to believe anyone in the actual military would behave the way the characters in "Hunter Killer" do. Lionsgate's 4K UHD (2.39) looks spectacular, at least, with HDR and Dolby Vision support that really shines with its reds and blacks. The Dolby Atmos audio is also effectively mixed, with a two-part documentary, commentary with director Donovan Marsh, a BD and Digital HD copy also included in Lionsgate's combo pack.
Director Julian Schnabel attempted to follow-up his art house hit "The Diving Bell and the Butterfly" with AT ETERNITY'S GATE (111 mins., 2018, PG-13), the story of Vincent Van Gogh's letters — not so much a biography but a collection of sequences that try to paint another cinematic portrait of Van Gogh's often disputed existence. Willem Dafoe tries hard as the tortured artist but this is a disjointed and often frustrating film that wastes a terrific cast, with Rupert Friend, Mads Mikkelsen, Mathieu Amalric, Emmanuelle Seigner and Oscar Isaac playing opposite Dafoe. Lionsgate's Blu-Ray (2.40, 5.1 DTS MA) offers several featurettes, a digital copy, and commentary with Schnabel and co-writer Luise Kugelberg…if it's February, it must be time for a new Nicolas Cage direct-to-video effort. This one, BETWEEN WORLDS (90 mins., 2018, R) is one of the wackier ones – a daffy supernatural tale about a truck driver (you know who) haunted by the death of his wife and little girl, only to have his late wife's spirit inhabit the formerly comatose body of a psychic woman's (Franka Potente) daughter. Plenty of sex, oddball humor and a weird Lynchian vibe – hammered home by Angelo Badalamenti's score – permeate this unsuccessful picture filled with what-the-bleep moments that don't amount to much (if anything) outside of watching Cage go nuts. Lionsgate's Blu-Ray (1.85, 5.1 DTS MA) combo pack is out February 26th along with a DVD and Digital copy.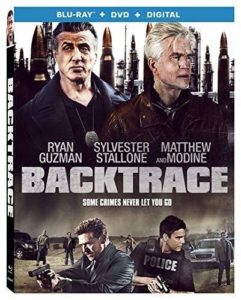 New on DVD from Lionsgate this week is NORM OF THE NORTH: KEYS TO THE KINGDOM (91 mins., 2018, Not Rated), the latest installment in the kids animated series. Here, Norm heads for New York City where he's supposed to receive the keys to the city – but instead is branded a villain for a crime he didn't commit. At the same time, a bottled-water company attempts to encroach on Norm's Arctic kingdom in this 90-minute entry, on DVD (1.85, 5.1 Dolby Digital) from Lionsgate.
Sylvester Stallone and Matthew Modine add their credits to BACKTRACE (88 mins., 2018, R), a Grindstone/Emmett Furla direct-to-vid production starring Ryan Guzman as a prisoner who tries to press a fellow inmate (Modine) with amnesia into recalling what he did with the stolen loot from a botched heist that also caused his brain injury. Stallone plays a detective and Christopher McDonald the FBI agent working the case, but both performances are strictly secondary in nature (despite Sly's second billing) in this watchable, forgettable exercise from director Brian A. Miller. Lionsgate's Blu-Ray (1.85, 5.1 DTS MA) combo pack is available February 19th and also includes a DVD and Digital HD copy.
---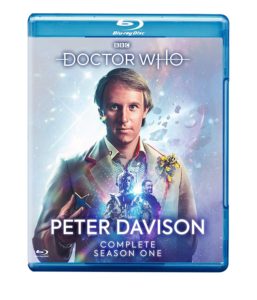 TV on Disc
Doctor Who From the BBC: The adventures of Doctor Who both past and present are finely represented on Blu-Ray from BBC Home Video this month.
Peter Davison followed the legendary Tom Baker as the Doctor in 1982, with BBC remastering his first 26 episodes from the series with DOCTOR WHO: PETER DAVISON COMPLETE SEASON ONE (624 mins., 1982-84). These 4:3 1080i transfers continue BBC's strong remastering of the classic series, even with materials that run the gamut from film to video tape, along with newly remixed 5.1 DTS MA soundtracks.
The 26 episodes include the story lines Castrovalva, Four to Doomsday, Kinda, The Visitation, Black Orchid, Earthshock, and Time-Flight, along with fantastic supplementary materials scattered across the eight-disc set. The latter include an hour-long interview with Davison, "Behind the Sofa" interviews, complete Making Of documentaries on three of the episode cycles, an extended version of "Black Orchid Part 1" plus studio footage, optional updated FX for "Castrovalva," and PDF production material from the BBC archives.
Jodie Whittaker's much-publicized debut as the first female Doctor generated plenty of headlines with DOCTOR WHO: THE COMPLETE ELEVENTH SERIES (510 mins., 2018), yet reaction from most fans was as negative as critical reaction was positive. I haven't much cared for the show's recent years regardless of who was playing the title role, which leaves this season as something you'll either loathe or appreciate if the series' heightened silliness is up your alley. BBC's Blu-Ray of Whittaker's first season includes commentary, cast video diaries and a whole run of supporting featurettes. The 1080p transfers and 5.1 soundtracks are all up to par.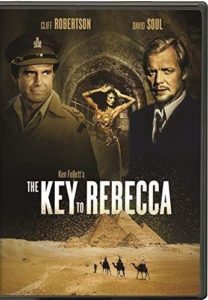 CBS New Releases: Returning to DVD this month is the Fourteenth Season of GUNSMOKE (aprx. 12 and 8 hours, 1968-69), presented in two different volumes containing the show's 1968 and 1969 portions of that season. Among the story lines are a 103-year-old horse thief, an ex-lawman on the wrong side of justice, and the usual hide cutters and bounty hunters out to save their own skin. Doc Adams, Miss Kitty and Deputy Haggan saddle up with Marshal Matt Dillon for colorful Wild West entertainment, with CBS' two DVD sets (Volume 1 a four-disc release; Volume 2 is presented on three discs) containing healthy 4:3 transfers, mono sound and episodic promos on all episodes…the Taft Entertainment mini-series THE KEY TO REBECCA (196 mins., 1985) adapted Ken Follett's WWII-set bestseller with Cliff Robertson, David Soul and Season Hubley. This single-disc DVD contains the complete mini-series – with added sex and violence that must have been trimmed for U.S. broadcast I'd imagine – but the 4:3 transfer looks to have been derived from an old, blurry video master. At least J.A.C. Redford's fine score is robustly conveyed in the mono soundtrack…I personally found the well-reviewed Netflix series AMERICAN VANDAL (aprx. 5 hours, 2017) overpraised, but your mileage of this faux-reality comedy involving an investigation into a high-school troublemaker and his alleged spraypanting may vary. Coming on DVD after being released late in 2017, CBS' DVD includes extended character interviews, 16:9 transfers and 5.1 sound.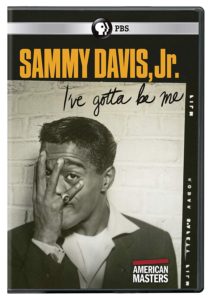 From PBS: A terrific new feature-length American Masters profile, SAMMY DAVIS, JR.: I'VE GOTTA BE ME (100 mins., 2019) profiles the trail-blazing Rat Pack member – from his work on stage and screen, to night club performances, and battles with racism and prejudice, not to mention his conversion to Judaism. Billy Crystal, Norman Lear, Jerry Lewis, Whoopi Goldberg and Kim Novak are among those who pay tribute to Davis' career with photographs from Davis' family collection and great performances informing this new PBS doc. On DVD (16:9, 5.1) with additional featurettes…the marvelous Nature program DOGS IN THE LAND OF LIONS (52 mins., 2018) showcases an African wild dog family in the Zimbabwe wilderness, as expertly shot over two years by cinematographer Kim Wolhuter. Fascinating footage that looks great on PBS' now available DVD (16:9, 5.1 Dolby Digital).
800 WORDS – Season 3, Part 2 (364 mins., 2017; Acorn/RLJ): Acclaimed Australian series stars Erik Thomson as a newspaper man who transports his family to New Zealand, where they face various challenges, trials and tribulations. Truthfully I had never heard of this family-friendly – but not overly saccharine – show, which airs on Acorn TV domestically and returns to DVD this month from Acorn featuring the concluding portion of its third season (Part 1 was released earlier). All eight concluding episodes from "800 Words"' third season are here included in a double-disc set from RLJ along with 16:9 transfers and 2.0 stereo soundtracks.
RICK AND MORTY: The Complete Seasons 1-3 DVD (Warner): The popular cult series from Cartoon Network's Adult Swim finds Rick Sanchez (voiced by Justin Roiland) living with his daughter's family and continuing to cause all kinds of trouble across the universe. This off-the-wall show returns to DVD in an anthology coupling its first three seasons in widescreen 16:9 transfers and with 2.0 stereo sound. Extra features include Animatics; deleted animatic sketches; a featurette; and episode commentaries from the series' creators. The package also includes an exclusive poster. Not for every taste, but fans should eat it up.
---
Quick Takes
Film Movement New Releases: The Dutch import NUDE AREA (78 mins., 2018) tells the story of the blossoming relationship between a Dutch teenager and a Middle Eastern girl from different parts of Amsterdam. Though short in its duration, director Urszula Antoniak manages to craft an intense dramatic experience – sans dialogue – in "Nude Area," out February 12th from Film Movement on DVD (2.35 widescreen, 2.0 stereo)…The performance artist Narcissister is the subject of her down documentary, NARCISSISSTER: ORGAN PLAYER (91 mins. 2019), which profiles both her own stage shows as well as her upbringing with a Jewish mother and black father. Deleted/extended scenes are included in Film Movement's DVD (1.8, 5.1/2.0), also available on February 12th…James Crump's documentary ANTONIO LOPEZ 1970: SEX FASHION & DISCO (95 mins., 2019)serves as a document of 70s haute couture and, specifically, the dominant fashion illustrator of its time – a Puerto Rican native raised in the Bronx who discovered Grace Jones, Jessica Lange and Jerry Hall among other superstars of the field. Archival footage, Bill Cunningham interview segments, a short from director Marie-Elsa Segualdo and 16:9 (2.40) transfer/5.1 sound comprise Film Movement's February 12th DVD release…Finally, new on Blu-Ray from Film Movement is Isaac Julien's FRANZ FANON: BLACK SKIN, WHITE MASK (72 mins., 1995), a British docudrama starring Colin Salmon as the premminent theorist of the 20th century's "anti-colonial movements." Film Movement's Blu-Ray also includes Mark Nash's "Between Two Worlds" and a booklet with essays by Julien and Nash; a new 2K (1.66) digital restoration; and stereo sound.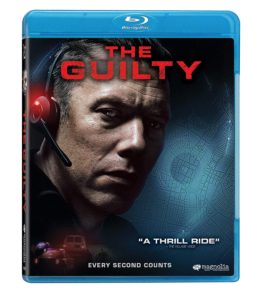 THE GUILTY Blu-Ray (88 mins., 2018, R; Magnolia): Claustrophobic Danish thriller about an officer who's demoted to desk work, where he's promptly thrown into an emergency call from an abducted woman. The lead actor, Jakob Cedergren, does a superb job as he tries to investigate and help from the confines of his police station in this slow-burn from director Gustav Muller. Magnolia's Blu-Ray includes a 1080p (2.39) AVC encoded transfer and either Danish or English 5.1 DTS MA sound…also new from Magnolia on DVD is SHOPLIFTERS (120 mins., 2018, R), a Japanese film concerning a group of castoffs who maintain their existence by performing petty crimes and mostly harmless grifting. Their existence eventually spills out into the open in this moving character drama by writer-director Kore-Eda Hirokazu. Magnolia's DVD, now available, includes a 16:9 (1.85) transfer and 5.1 Japanese audio with English subtitles.
New From Well Go: Predictable if competent supernatural hokum is on-tap in HAUNTED HOSPITAL [HEILSTATTEN] (90 mins., 2017), a German chiller featuring a group of millennials who decide to stay in a condemned asylum as part of an internet challenge. Of course, all their ghost-hunting equipment confirms the existence of actual horrors in Michael David Pate's regional German hit (which Fox picked up for local distribution), hitting Blu-Ray this month from Well Go. An English dubbed track is included here along with a German DTS audio mix and 1080p transfer and DVD copy.
NEXT TIME: More of the latest reviews! Until then, don't forget to drop in on the official Aisle Seat Message Boards and direct any emails to our email address. Cheers everyone!