Big, colorful and refreshingly unpretentious, AQUAMAN (***, 143 mins., 2018, PG-13; Warner) finally sets the DC Universe on an upbeat, escapist course that's far removed from the dread-inducing (and at times dreadful) Zach Snyder productions that characterized the post-Christopher Nolan era of the brand's cinematic endeavors. Gone are the mopey Batman and guilt-ridden Superman, and in their place is Jason Momoa's hard-drinking, charismatic Arthur Curry — the half-breed son of the Queen of Atlantis (Nicole Kidman) who finally battles for his rightful Atlantean throne just in time to prevent his half-brother Orm (Patrick Wilson) from igniting a war with the "surface people." In order to accomplish this, Orm has to unite the disparate undersea kingdoms of Atlantis — some of which include talking crustaceans and a horsefish-riding Dolph Lundgren — all the while Arthur and the lovely Mera (the quite-fetching Amber Heard) hope to stop him by looking for a magical trident that only the next true heir of Atlantis can possess. Oh, and there's Aquaman's main archrival, Black Manta, on-tap too, running around the world trying to exact revenge for his father's death!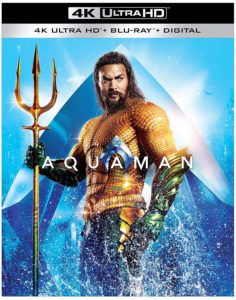 "Aquaman," scripted by David Leslie Johnson-McGoldrick and Will Beall, is absolutely stuffed to the gills (sorry) with colorful Don Burgess cinematography, outlandish creatures and action — but unlike too many of these genre exercises, this one refuses to take itself seriously and works in a completely disarming way that none of the contemporary DC films have been able to (that includes the decent if comparatively heavier-handed "Wonder Woman"). Credit all of that to director James Wan, playing in a grander sandbox here than was afforded to him on his previous pictures, who goes all in on the outrageousness and fantasy elements of its storyline, fashioning the material in a way that makes you irritated Warner Bros. didn't hire him to retool Superman a few years ago. This picture is occasionally charming and funny, plus visually engaging from start to finish, even if certain elements feel overly familiar, there's lack of chemistry between its leads, and it all (as usual) goes on much too long.
Regardless, "Aquaman" manages to be more family-friendly, romantic and just downright fun compared to the overly violent DC missteps of recent years (here's looking at you, "Man of Steel" and "Batman V Superman") — while also coming across as more flavorful and individualistic than most Marvel products produced over that same time. With a terrific cast (Willem Dafoe is superb as Arthur's Atlantean tutor Vulko) and even a surprisingly melodic Rupert Gregson-Williams score that has its moments (seemingly using Giorgio Moroder and Daft Punk's "Tron Legacy" soundtrack as a guide), "Aquaman" doesn't just stay afloat but swimmingly pleases in its genre, in a way few of its peers have in a long while.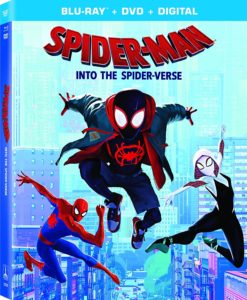 Warner's 4K UHD combo pack would seem to be ideally suited for the format – and it is, offering the kind of vibrant color and contrast that makes for a magnificent demo-reel for HDR and Dolby Vision. The Dolby Atmos sound is expertly engineered as well with immersive effects, though the included 1080p Blu-Ray (like the 4K, mostly 2.35, with Imax sequences framed at their intended aspect ratio) is nearly its equal in terms of its overall presentation. Extras are mostly of the standard-issue featurette variety, the numerous behind-the-scenes segments conveying a fluffy overview of the production.
"Aquaman" hit it big at the box-office last winter, as did SPIDER-MAN: INTO THE SPIDER-VERSE (***, 117 mins., 2018, PG; Sony), an ambitious and highly satisfying animated feature spearheaded by producer/writers Phil Lord and Christopher Miller. Fired from Disney's "Solo," the duo here were afforded the creative control that eluded them on that failed project, producing a wild ride that taps into different elements of the Spider-Man comic – from the adventures of interracial teen Miles Morales to Spider-Ham and females who don different guises of the famed suit. The message is clear ("anyone can be Spider-Man!") and obvious, but less so is the film's compellingly rendered, unique visual design, which should keep adults fascinated as much as kids. Despite going on maybe a good 10-15 minutes too long, "Spider-Verse" deservedly copped the Oscar for Best Animated film, and makes for a splendid Sony Blu-Ray. A tribute to Stan Lee, filmmaker commentary, lyric videos and an exclusive "Alternate Universe" mode are included (with alternate, unused scenes and plotlines) with 5.1 DTS MA sound, a stellar 1080p (2.39) AVC encoded transfer and Digital HD copy also on-hand.
---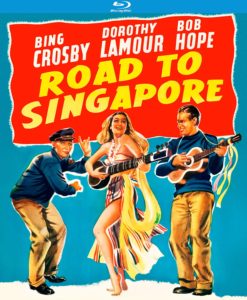 New From Kino Lorber
Entertaining audiences before, during and after WWII, Bing Crosby and Bob Hope's ROAD pictures have been collected on home video many times in the past. For Blu-Ray enthusiasts, however, none of the first four films – produced by Paramount but owned for decades by Universal – ever made the leap to high-definition until now, thanks to Kino Lorber. Issued as part of their beloved Studio Classics line, the first four comic adventures of Hope, Crosby and Dorothy Lamour are new to Blu-Ray this month in their own separate platters, finally completing the availability of the series in HD.
The series kicked off with the decent, if a bit middling, ROAD TO SINGAPORE (**½, 85 mins., 1940), with Crosby hoping to avoid marriage by setting off for the isle of Kaigoon with pal Hope at his side. He meets and falls for a dancer (Lamour) with a domineering fiancée (Anthony Quinn) in this first concoction that laid the groundwork for a flurry of increasingly silly – and more satisfying – sequels. With American troops heading for Africa, Crosby and Hope did the same in ROAD TO ZANZIBAR (**½, 91 mins., 1941) before the ROAD TO MOROCCO (***, 82 mins., 1942) offered an even daffier confection complimented by the series' best songs from Jimmy Van Heusen and Johnny Burke, including Crosby's standard "Moonlight Becomes You." After taking a hiatus for the rest of the War, ROAD TO UTOPIA (***, 90 mins., 1945) followed three years later with our duo essaying Vaudeville comics who head to Alaska hoping for gold, and instead mine laughs and more pleasant Van Heusen-Burke songs – plus pithy commentary from Robert Benchley in pre-"Mystery Science Theater" mode.
As John Landis states in one of his "Trailers From Hell" commentaries, there's silly racist/misogynistic elements bandied about, especially in the first two pictures – that is, if you're looking to take the material seriously. Clearly, though, nothing in these pictures is meant to be, as the light mood and engaging interplay between the group always keeps the action light and moving straight along.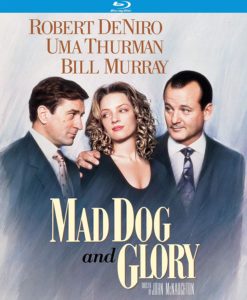 Kino Lorber already released the Hope/Crosby-controlled, Paramount-released sequels that followed "Utopia" – "Road to Rio" and "Road to Bali" – on Blu-Ray in 2017 (the final entry, 1962's belated "Road to Hong Kong," was a UA release that Olive previously brought to the format). These individual Blu-Rays are licensed from Universal and carry over extras from their older DVDs (featurettes, trailers) while adding commentaries on "Morocco" (historian Jack Theakston) and "Utopia" (Greg Ford and Will Friedwald). The 1080p (1.37) B&W transfers are AVC encoded and offer fine grain with no overt digital noise reduction on-hand. This results in a crisp and detailed image, though there are nicks, scratches and lines that pop up occasionally in the source elements from time to time. All four come highly recommended for classic comedy buffs.
When I was growing up, a January or February release date typically meant a death sentence for a major studio motion picture. Often times, films shuffled off to the dead of winter did so because their studios felt they weren't worthy for a Christmas release date – or simply didn't know what to do with them. That was clearly the case with MAD DOG AND GLORY (**½ , 97 mins., 1993, R; Kino Lorber), a film with a distinguished pedigree – produced by Martin Scorsese, written by Richard Price, and starring Robert DeNiro and Bill Murray, each in a "change of pace" role at that time in their respective careers.
Despite all of that, the film – shot in 1991 – bounced throughout the 1992 movie-going calendar, undergoing reshoots until Universal dusted it off the shelves, finally releasing it in January of 1993 to minimal commercial interest and mixed reviews. Watching the picture today, it's very easy to see why. This is a strange film that seems to be aiming for a lightness that just doesn't come off – whether that's because of Elmer Bernstein's heavy dramatic score or a comedic touch director John McNaughton (recruited from his "Henry: Portrait of a Serial Killer" success) was unable to bring to the project.
Price's original screenplay stars DeNiro as Wayne "Mad Dog" Dobie, a meek Chicago detective who saves the life of a local mobster (Murray) during a convenience store holdup. The mobster/would-be standup comic, Frank Milo, in turn repays Mad Dog with the "gift" of his bartender, Glory (Uma Thurman), who promptly falls in love with the timid cop who usually calls upon his colleague (David Caruso) to fight his physical battles for him.
"Mad Dog and Glory" can't quite make up its mind in terms of what it wants to be, and much of its problems stem from the performances. Why was Murray cast as the heavy, despite him employing his usual comedic "ticks"? DeNiro is likewise cast against type as a timid guy who's so buttoned down that he dances around a crime scene to Louis Prima after bedding Glory, whom Milo says he "owns." (Speaking of that, the film's central premise – already icky in 1993 – would likely be classified as downright offensive given today's sensibilities).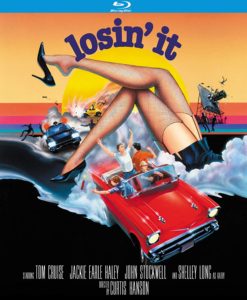 It's a casting gambit that doesn't come off: no matter how hard the film tries, it's impossible to believe DeNiro – with his bottled up energy – as an insecure wallflower at the same time it's difficult to grasp the concept of Murray as a villainous goon who's likewise an unfunny stand-up comedian. Thurman is fine in the difficult role of Glory but the best scenes in the film belong to David Caruso, who's terrific as DeNiro's friend in two key scenes – one where he spars with Murray's henchman (the ever-dependable character actor Mike Starr), and another where he verbally undresses the boyfriend who's assaulting DeNiro's next-door neighbor (Kathy Baker, in a prominently billed role that must have mostly hit the cutting room floor).
Between Robby Muller's cinematography and a few individual scenes, "Mad Dog and Glory" is always watchable but this uneven character study was understandably pegged as a disappointment for its esteemed cast and crew. Too light and inconsequential for the "Goodfellas" crowd and yet not sexy or funny enough to placate rom-com fans, the film is ultimately a weird misfire that seemingly required a different kind of cinematic approach from the get-go.
Debuting on Blu-Ray this month, "Mad Dog and Glory" does feature a strong 1080p (1.85) AVC encoded transfer with 2.0 DTS MA stereo sound. This is a superior Universal catalog presentation with extras including a new commentary from McNaughton and co-producer Steven A. Jones, the trailer, and short EPK materials (a brief featurette and cast/crew interviews).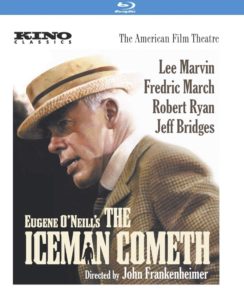 LOSIN' IT Blu-Ray (**, 100 mins., 1983, R; Kino Lorber): Even as a fan of '80s teen comedies – and with a lot of talent in front of and behind the camera – there's scant reason to recommend "Losin' It." A mostly hackneyed tale of four high school friends (Tom Cruise, Jackie Earle Haley, John Stockwell and John P. Navin, Jr.) who head south to Tijuana for fun, games and assorted hijinks – albeit barely enough to scrape an R rating together – this innocuous road trip adventure was directed by Curtis Hanson ("L.A. Confidential") and shot by Gil Taylor ("Star Wars"). If you didn't read the credits, though, you wouldn't be able to detect the formidable talents behind the camera, as "Losin' It" offers unappealing characters, few laughs and too much plot for its bloated running time. The saving grace is Shelley Long, whose unhappily married spouse provides the film with some needed heart. Kino Lorber's Blu-Ray includes a new 2K transfer (1.85) from elements that seem a tad "hot" in terms of contrast but generally look healthy; the mono sound houses many familiar period tunes (the film is set in the '50s but, much like "Happy Days," barely establishes a connection to its era beyond the soundtrack and clothing) and a very sparse original score by Ken Wannberg, aka John Williams' long-time music editor.
THE ICEMAN COMETH Blu-Ray (239 mins., 1973, PG; Kino Lorber): Ely Landau produced a number of modest stage-to-screen adaptations throughout the '70s, most notably this explosive – if lengthy – 1973 filming of Eugene O'Neill's play. As directed by John Frankenheimer and shot by Ralph Woolsey, "The Iceman Cometh" offers searing performances from Lee Marvin, Fredric March, Robert Ryan, Jeff Bridges and Bradford Dillman in a rare opportunity to see predominantly screen stars act out – with minimal cinematic "enhancement" – a complete and unexpurgated stage experience. Released to theaters at the time at 178 minutes, Kino Lorber's two-disc Blu-Ray, available later this month, includes both that three-hour version as well as the full, 239-minute "Director's Cut", both in much-needed 2K restorations (1.85) that easily surpass all prior home video releases. An interview with Landau and a promotional film for the American Film Theatre featuring Landau comprise the extras in a film that's not an easy watch, yet ranks as a memorable experience for those willing to watch it.
---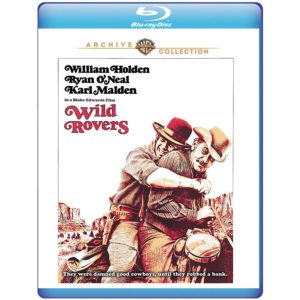 Warner Archive New Releases
The Warner Archive kicks off March with a Blu-Ray edition of Blake Edwards' 1971 western WILD ROVERS (***, 137 mins., GP).
Coming off the commercial failure of his Julie Andrews-Rock Hudson period musical-romance "Darling Lili," Edwards decided to make a western that was a clear change of pace from his past projects. His original screenplay follows aging cowhand William Holden and his friend, the younger and less experienced Ryan O'Neal, as they try and build a better life for themselves beyond working on Karl Malden's family ranch. Their decision to rob a local bank comes out of boredom for their day-to-day existence as much as necessity.
Philip Lathrop's gorgeous scope cinematography and Edwards' patented use of Panavision are on full display throughout "Wild Rovers," which boasts a fine if mostly underutilized supporting cast (Joe Don Baker and Tom Skerritt as Malden's sons, Victor French as the town sheriff) and a stirring, marvelous – and also economical – score by Jerry Goldsmith.
It's a film with many positive elements, yet time has not entirely been kind to the picture. MGM initially deemed the film overlong and too depressing, and ordered substantial cuts to Edwards' original version (the director's issues with the studio were later the thrust of his 1981 satire "S.O.B."). Turner restored Edwards' 137 minute version back in the '80s for laserdisc, yet a DVD never surfaced until Warner's 2011 Archive release. That restoration — which presents the original cut of the film complete with Goldsmith's Overture, Entr'acte and Exit music – has now been brought to Blu-Ray in a terrific 1080p (2.40) AVC encoded transfer with 2.0 DTS MA stereo sound.
While I certainly don't condone MGM's drastic measures in taking "Wild Rovers" to the cutting room floor, one can detect their issues with Edwards' original version. The movie is uneven and overlong, held afloat by the visuals, scoring and the fine performances of the two leads. Ultimately, despite its occasionally grand and lyrical passages – with Edwards' script populated with mostly likeable and sympathetic characters, as well as a glorious horsebreaking sequence – the film turns into one of those narcissistic "'70s movies" in its second half, punctuated by a predictable downer ending. As Roger Ebert wrote in his original review at the time, "too many recent movies have been depending on the death of their heroes to pull them through. It used to be daring to kill your hero. Now it's an act of artistic originality to let him live."
Subsequently, "Wild Rovers" is ultimately an odd and not altogether satisfying blend of an old-time western with Peckinpah-like sensibilities, yet has enough positive attributes to counterbalance at least some of the sour aftertaste the picture eventually leaves behind.
The Warner Archive disc offers an appreciable upgrade from its earlier DVD though some sections of the film, presumably the previously-excised portions, are a bit more banged up than others. The 2.0 stereo sound is surprisingly robust at times, offering a few directional effects and a satisfying enough sound stage for Goldsmith's score. The original trailer is also included, along with an archival 12-minute behind-the-scenes featurette, "The Moviemakers."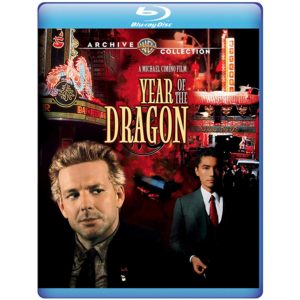 YEAR OF THE DRAGON Blu-Ray (***, 135 mins., 1985, R; Warner Archive): A movie that sums up the erratic career of auteur Michael Cimino, "Year of the Dragon" is a mostly compelling thriller with irascible New York City detective Mickey Rourke attempting to take down the rising mafia presence in Chinatown. That means infiltrating the Chinese mob and – surprise – it's an inside job with favored son John Lone doing whatever it takes to keep himself at the top of the food chain – even knocking off his own relatives in his quest for unchecked power.
A Dino DeLaurentiis production mostly shot on his North Carolina soundstages (so convincing they allegedly fooled even Stanley Kubrick), "Year of the Dragon" is at-times very, very good, with dynamic bursts of action and gorgeous anamorphic cinematography carrying the viewer through an expansive story, adapted by Oliver Stone and Cimino from Robert Daley's novel. At others it's heavy-handed and clumsy, filled with several moments of "ACTING!" and two terrible female leads vying for the dishonor of the film's worst performance (my vote ultimately goes to Ariane [Koizumi] as an intrepid TV reporter who's so ineffective that Janet Maslin of the New York Times mused that she was upstaged in her nude scene by the Brooklyn Bridge). Yet, on the whole, it's a vividly shot, operatic – if not occasionally hysterical – epic that always manages to entertain while bringing out both the best, and the worst, in its director.
Warner Archive's Blu-Ray offers fine grain, dynamic colors and a fresh remastering of this DeLaurentiis picture, released by MGM/UA to mediocre box-office in August 1985. Extras include Cimino's DVD commentary (note the redubbing of the film's final line, done at the demand of the studio) and the trailer. The 5.1 DTS MA soundtrack is outstanding with directional effects and a strong stereophonic presence, though the dialogue – mostly recorded on-location – is a bit thinly captured at times.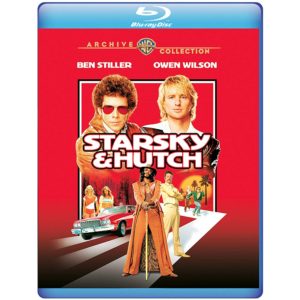 STARSKY AND HUTCH Blu-Ray (**½ , 100 mins., 2004, PG-13; Warner Archive):Amiable if over-extended 2004 comedy vehicle stars Ben Stiller and Owen Wilson in a period-set revival of the '70s TV cop drama. Todd Phillips, then inbetween "Road Trip" and "The Hangover," directed and co-wrote this big-screen affair, with Stiller and Wilson cultivating their comedic chemistry opposite Vince Vaughn as a drug lord and Snoop Dogg as "Huggy Bear." A fair amount of laughs are generated here, but it sputters out of gas long before it hits the 100-minute mark. Warner's Archive Blu-Ray (2.41, 5.1 DTS MA ) includes a gag reel, deleted scenes, featurettes and commentary from Phillips.
Also New From Warner Archive: Freshly out on Blu-Ray is the pilot episode of MAN FROM ATLANTIS (96 mins., 1977), which served as the impetus for several subsequent TV-movies and a short-lived series. Patrick Duffy is the title hero, who washes ashore into the hands of a Navy doctor (Belinda Montgomery), just in time to fight off a mad scientist (Victor Buono). This is goofy network TV fun from its era, undoubtedly dropping here on Blu-Ray from the Archive (4:3, mono) to coincide with this month's release of "Aquaman" on home video. Offering just the first pilot, fans should still be delighted with the disc's healthy, attractive 1080p transfer…On the DVD side, Greta Garbo shines in the MGM release A WOMAN OF AFFAIRS (91 mins., 1928), a melodrama about a British society girl who tragically settles for less than the man of her dreams; she eventually jet-sets around the globe in search of a happiness that eludes her in a silent film co-starring John Gilbert, Lewis Stone and Douglas Fairbanks, Jr…Also debuting on DVD from the Archive is William Wellman's THE STAR WITNESS (68 mins., 1931), a pre-Code talkie starring Walter Huston as the grandfather of a family that witnessed a mob slaying. He refuses to back down as a prospective witness to the crime, even after the rest of his family is threatened, in a Warner Bros. drama also featuring Frances Starr and Grant Michell. Both "A Woman of Affairs" and "The Star Witness" make their DVD debuts featuring B&W (1.33) transfers from the Warner vaults.
---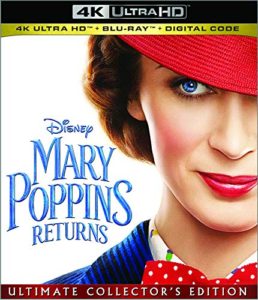 New & Noteworthy
MARY POPPINS RETURNS 4K UHD (**½, 130 mins., 2018, PG; Disney): The concept of remakes being disguised as stealth sequels is nothing new, but Disney has nailed the formula down to a tee. After "Star Wars: The Force Awakens" hit box-office gold, reworking the narrative template of George Lucas' 1977 classic, the Mouse House attempted to mine the same formula with "Mary Poppins Returns."
Yes, it's a sequel of sorts. Yes, it's Emily Blunt instead of Julie Andrews, Lin-Manuel Miranda as opposed to Dick Van Dyke (who cameos here), and Marc Shaiman and Scott Wittman's songs following the classic efforts of the Sherman Brothers. Yet director Rob Marshall's movie is basically a remake, serving up pretty much the same story — magical Nanny comes to the rescue of a widowed dad [Ben Whishaw, playing one of the now-grown kids from the original] and his kids – with songs deposited in nearly the same spacing as its 1964 predecessor. Younger viewers won't mind (or even be aware of) this fact, but it's a superficial sequel that's mostly a rehash – and pretty much not as good, seeing as the inferior songs are forgettable, and the running time feels just as extended here as it did in the original.
Still likeable enough to warrant a lookover for fans and family audiences, "Mary Poppins Returns" didn't hit it nearly as big in theaters as Disney expected, and is hoping for a second chance on home video. Their 4K UHD combo pack serves up a lovely amount of HDR and a rich Dolby Atmos soundtrack (the Blu-Ray's 7.1 DTS MA offering is also robust), plus a deleted song, bloopers, deleted scenes, a "Sing-Along Edition" option, Blu-Ray and Digital HD copy.
Lionsgate New Releases: God bless Michael Caine, still nabbing top-billing on the likes of a mundane heist picture like KING OF THIEVES (108 mins., 2018, R), a disappointing Saban/Studio Canal co-production that failed to net a theatrical distributor in the U.S. Caine plays a 77-year-old ex-thief who, bored with things (no, this isn't "Going In Style 2"), joins up with a group of other thieves (Jim Broadbent, Tom Courtenay, Ray Winstone) to pull off a bank heist. They manage to make it out, but then crumble once they're interrogated by investigators in James Marsh's film, based on real events and out on Blu-Ray March 29th from Lionsgate. A single featurette, 1080p (2.40) transfer, 5.1 DTS MA sound and a Digital HD copy comprise Lionsgate's combo pack.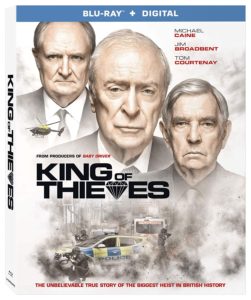 New to 4K UHD from Lionsgate on the catalog front is LORD OF WAR (121 mins., 2005, R),Andrew Niccol's 2005 treatise about an arms dealer that's filled with terrific performances from Nicolas Cage in the lead role, Jared Leto, Ethan Hawke, Ian Holm and Bridget Moynahan among them. Sleekly shot in scope, Lionsgate's 2.40 HVEC transfer, with Dolby Vision/HDR support, offers a by-now expected upgrade in terms of color and boosted contrast over Lionsgate's earlier Blu-Ray. Extras on the included BD run the gamut from deleted scenes to featurettes and Niccol's commentary, while Dolby Atmos audio on the UHD side and a Digital HD copy round out the release.
Hayden Christensen plays a PTSD-afflicted vet who heeds the advice of a street prophet (Harvey Keitel) that an apocalypse is coming in Rodrigo Vila's muddled thriller THE LAST MAN (104 mins., 2019, R). Previously known as "Numb at the Edge of the End," this 2017-shot independent production, set in a future beset with every one of society's ills one can imagine, co-stars Liz Solari and Marco Leonardi and makes its debut from Lionsgate this month sporting a 1080p (2.40) transfer, 5.1 DTS MA sound and a Digital HD copy…Also new this month from Lionsgate on DVD is PAWPARAZZI (98 mins., 2018, G),a kids film about a pampered pooch named Latte (voiced by Kristy Swanson) who's in for a culture shock when her actress owner heads to the sticks to make her new movie. There, her owner's diamond necklace is stolen, leading to a frantic attempt to recover the jewels and find the thief. Jay Mohr and Sarah Fletcher star in this Grindstone production, out next week with a featurette, 16:9 (1.78) transfer and 5.1 sound.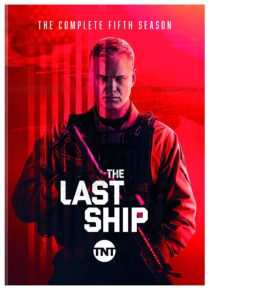 THE LAST SHIP – The Complete Fifth [Final] Season DVD (440 mins., 2018; Warner): Captain Tom Chandler (Eric Dane) has retired, leaving the former crew of the Nathan James mostly scattered about the landscape. However, after several of his men and women are blamed for an attack on the Panamanian president, the Nathan James is pressed into one more mission, trying to avert a war with Latin America, in the fifth and final season of the TNT drama. Warner's DVD is out this week featuring two featurettes, 16:9 (1.78) transfers and 5.1 soundtracks.
Magnolia March Releases: Seeking to capitalize on the success of "Get Out," Sebastian Silva's TYREL (87 mins., 2017, Not Rated) was already in the can when Jordan Peele's thriller became a box-office smash. "Tyrel" stars Jason Mitchell as the sole black man on a trip to the mountains that turns deadly; Michael Cera, meanwhile, co-stars in this oddball film that doesn't quite work. Magnolia's Blu-Ray includes a Silva interview, the trailer, 1080p transfer, and 5.1 DTS MA sound…Alexis Bloom's documentary DIVIDE AND CONQUER: THE STORY OF ROGER AILES (107 mins., 2018) provides a no-holds barred look at the Fox News Channel CEO who turned the network into a powerhouse while being consumed by his own paranoia – as well as multiple sexual harassment suits that became public prior to his death in 2017. Magnolia's DVD includes a 16:9 transfer and 5.1 sound…New on Blu-Ray from Magnolia is John Andreas Andersen's follow-up to his Norwegian hit "The Wave," THE QUAKE (108 mins., 2018, PG-13), a sequel that brings back star Kristoffer Joner and family for another round of natural disaster mayhem. This time, it's the ground in Oslo that causes a catastrophic event in a surprisingly effective affair superior to the recent outings of Emmerich and company which Andersen again emulates on a smaller scale. Magnolia's Blu-Ray (2.39, Dolby Atmos Norwegian or 5.1 TrueHD English dub) includes a slew of featurettes and comes recommended for genre fans.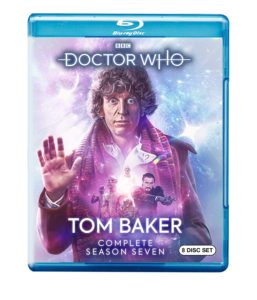 DOCTOR WHO: TOM BAKER – Complete Season 7 Blu-Ray (672 mins., BBC): One of the earliest viewing memories I can recall is sitting by a small black-and-white TV in our summer vacation home during the late '70s and being consistently freaked out by the opening of "Doctor Who" every Saturday. The combination of the theme music with Tom Baker's massive head coming into the frame scared the heck out of me – and still to a degree gives me the creeps even today!
It's certainly an iconic opening to an iteration of the series that many American viewers likely recall, seeing as the Tom Baker years accompanied the "Star Wars" phenomenon on U.S. broadcast TV. For Who fans or just casual viewers who might recall the program from their childhood, BBC released the first season of Baker's Dr. Who tenure on Blu-Ray last year, and now brings the actor's final season (his seventh) to high-def this month.
Once again, BBC's 1080i (4:3) transfers surpass their respective DVD editions thanks to the heightened clarity of the format. The 28-episode season includes the story cycles Leisure Hive, Meglos, Full Circle, State of Decay, Warriors' Gate (with optional 5.1 surround), The Keeper of Traken and Logopolis (with optional, updated effects) plus the newly restored complete pilot of K-9 and Company. New documentaries, eight "Behind the Sofa" segments, a new Making Of documentary, rare-behind-the-scenes footage, archival festival footage of Baker, new commentaries, photo galleries, PDF material and more grace a must-have for Dr. Who fans.
Also new from BBC is LAST OF THE SUMMER WINE – Vintage 2009 (300 mins., 2009), the 31st (!) season of England's longest-running comedy. This time out, comedy star Russ Abbot coins the cast with Brian Murphy and Burt Kwouk also on-hand. BBC's DVD is now available featuring 16:9 transfers and stereo sound.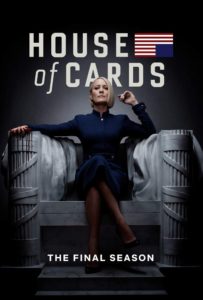 HOUSE OF CARDS – The Final Season Blu-Ray (441 mins., 2018; Sony): It's the end of the line for one of Netflix's first series smashes, now reduced to something of an afterthought after the Kevin Spacey #metoo ouster. With Frank Underwood gone, it's entirely Claire Underwood's show, with Robin Wright filling in as the now-first female President – yet there's undoubtedly a void left behind here, with many fans heavily criticizing the decision to keep the show going without its star. Sony's Blu-Ray includes 1080p (2:1) transfers and 5.1 DTS MA soundtracks.
ACCIDENT Blu-Ray (92 mins., 2018; Well Go USA): Dan Tondowski's indie effort is a fairly harrowing, effective little thriller that sends a quartet of young characters into a nightmare after they wreck a "borrowed" car. Ending up at the bottom of a ravine, the crash is just one of several problems they face after the car's owner shows up, looking for his car and its contents. Well Go's Blu-Ray of "Accident" includes a 1080p transfer and 5.1 DTS MA sound.
New From Mill Creek: Also new on Blu-Ray this month from Mill Creek (in addition to titles I covered in our last column) is a new "Western Double Feature" pairing the 1966 Italian import FORT YUMA GOLD (100 mins., 1966), scored by Ennio Morricone and Gianni Ferrio, with DAMNED HOT DAY OF FIRE (aka GATLING GUN, 101 mins., 1968), starring Robert Woods, John Ireland and featuring a Piero Piccioni score. 1080p (2.35) transfers and Mill Creek digital copies grace the affordable, single-disc release with PCM audio…On DVD, Mill Creek has just released an authorized ROY ROGERS: HAPPY TRAILS COLLECTION, a 20-film set compiled by Roy "Dusty" Rogers Jr. and Jeffrey Kramer that was previously issued on a now-out-of-print DVD from a different label. This anthology includes several of the crooning cowboy's biggest hits, including "Sons of the Pioneers," "The Golden Stallion" and "Twilight in the Sierras," with Dale Evans' first outing with Roy, "Cowboy and the Senorita," on-hand as well. A tour of the now-defunct Roy Rogers Museum is also included plus digital copies…Another Mill Creek bargain re-issue, ANCIENT SECRETS OF THE BIBLE: THE COMPLETE SERIES (18 hours) offers the entire 39-episode series that examines assorted Biblical stories and prophecies utilizing scientific and historical evidence.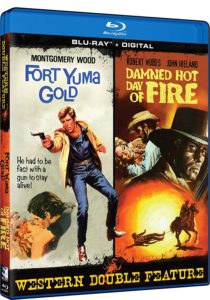 BECOMING ASTRID DVD (123 mins., 2018; Music Box): Extremely entertaining look at the life of Astrid Lindgren – a young Swedish woman who becomes pregnant after getting involved with her married newspaper editor. After giving up her son to a foster mother, Lindgren retreats to Denmark, only to return to care for him – and become the internationally acclaimed author of "Pippi Longstocking." This biopic is well-made and acted by Alba August as Lindgren, with Music Box's DVD out this month featuring an interview with August and director Pernille Fischer Christensen, the Berlin premiere press conference, photo gallery, 16:9 (2.35) transfer and 5.1 Swedish audio with English subs.
Film Movement March DVD Releases: New on DVD from Film Movement is the Italian import RITUAL: A PSYCHOMAGIC STORY (95 mins., Not Rated), the story of a woman who heads to a small Italian village to "fix" her fractured relationship with her lover. Alejandro Jodorowsky, the founder of "psychomagic," makes an appearance and Giulia Brazzale and Luca Immesi's film is now on DVD (2.35, 2.0 Italian with English subs) from Film Movement…Paloma Aguilera Valdebenito's OUT OF LOVE (100 mins., 2018) hails from the Netherlands and chronicles the passionate, but increasingly dysfunctional, relationship between a restauranteur (Danil Vorobyev) and a customer (Naomi Velissariou) he meets on the job. Film Movement's DVD boasts a 16:9 (1.85) transfer and an English language 2.0 track.
Cinedigm New Releases: Available this week is BIG KILL (127 mins., 2018, R), a western featuring a handful of characters who hit a "boom town" that's busted. Christoph Sanders, Pason Paric, Lou Diamond Phillips, Michael Pare and Danny Trejo star in Scott Martin's lengthy genre exercise, available on DVD with a 16:9 transfer and 5.1 sound.
NEXT TIME: STREET FIGHTER and SISTER STREET FIGHTER Duke it out on Blu-Ray! Until then, don't forget to drop in on the official Aisle Seat Message Boards and direct any emails to our email address. Cheers everyone!