Message Board (open 24 hours!)
Twitter - @andredursin (for everything else!)
If you've been a regular Aisle Seat reader over the years, you know that one of my sources of cinematic kryptonite is the over-the-top horror/sci-fi extravaganza. Gems like "Lifeforce," "Dreamcatcher" and John Frankenheimer's "Prophecy" have gotten a fair shake in these quarters, even if my reasons for enjoying all of them have little to do with how the pictures were intended to be appreciated. In just a few weeks Scream Factory brings us another of these guilty pleasures — William Girdler's massively entertaining, bizarre horror epic THE MANITOU (103 mins., 1977, PG), which answers the question "what might've happened if Blake Edwards directed a horror movie in the style of 'The Exorcist' the year after 'Star Wars' was released?"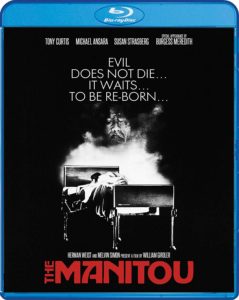 Tony Curtis – always your first choice for a genre film – stars as a down-on-his-luck psychic who (shades of "The Producers" here) enjoys bilking old women out of their social security by reading tarot cards. Things take a turn towards the surreal, however, when old flame Susan Strasberg comes to his apartment with news of a growth on her neck…a growth that turns out to be a fetus! And if that weren't enough, it's not just any fetus, but the body of an Indian medicine man, trying to be reborn into the-then swinging '70s!
Utterly strange, packed with laughs, and yet so sincerely written (by Girdler, Jon Cedar, and Thomas Pope, adapting a novel by Graham Masterson), "The Manitou" has developed a small cult following over the years, despite never being widely circulated on video. Shout Factory's Blu-Ray follows Anchor Bay's 2007 DVD with a heroic preservation of this Avco Embassy curio, allowing viewers to enjoy every inch of its wide Panavision frame in HD for the first time, and what a doozy they'll be able to see.
Curtis' performance seems like it's coming straight out of an Edwards comedy, with the actor apparently improvising some of his material, while the movie's non-horror moments are brightly-lit and carried by a lyrical Lalo Schifrin score — making it all the more jarring when "The Manitou" falls back upon its pulpy origins. Meanwhile, Michael Ansara (shades of Will Sampson's later role in "Poltergeist II") plays a modern-day Native American who agrees to help Curtis, so long as chewing tobacco is provided! Together, the duo team up to defeat the evil once it's "reborn," leading to a hysterical climax with Strasberg — now conveniently topless, by the way — using some unbelievably bad special effects to take down the head Chief in an ending that simply has to be seen to be believed.
Co-starring Stella Stevens, Ann Sothern, and Burgess Meredith (in a sequence that's actually intentionally funny), "The Manitou" is a grade-A howler all the way. Outlandish in its premise and just so straight-faced in its execution, the movie works as a classic bad movie because everyone involved seems to have approached it with good intentions. Despite being totally miscast, Curtis is likeable enough, the movie's make-up effects are decent albeit not Dick Smith-quality, and Schifrin's terrific score is quite possibly one of his finest. Eschewing the usual genre conventions for a full-blown orchestral approach, with a lyrical love theme and backing Indian motifs, Schifrin's soundtrack demands a viewing by itself (and is certainly worth a CD release!).
It's certainly a one-of-a-kind cinematic experience, with Shout! Factory's Blu-Ray working from a 4K scan (2.35) of the interpositive – apparently the only surviving element left since the negative has been lost. This results in a pleasingly filmic transfer with the source materials displaying intermittent anomalies here and there. The movie had an early Dolby Stereo soundtrack produced for 70mm showings, and that, too, has been preserved here from that surviving element. Unfortunately, it fares much worse than the video, with constant tape "wow" curtailing the impact of Lalo Schifrin's score and some occasionally muddy dialogue making for a tough listen. The far healthier mono soundtrack has also been included here, thankfully, and I am a bit surprised Shout didn't default playback to this track due to the damaged condition of the stereo mix.
New extras include fresh interviews with producer David Sheldon and novelist Graham Masterson, whose "Pinnacle Book" formed the basis for the film. A commentary from historian Troy Howarth is also on tap plus the expected run of trailers and TV spots. Wild, wacky and unquestionably recommended, especially if you have some friends to come along for the ride!
A few weeks back I mistakenly referred to "The Satanic Rites of Dracula" as the swan song for Hammer's long-running Dracula series. It was – at least for Christopher Lee's Count– but there was just a little gas left in the tank to fuel one last gasp at mixing up the old formula.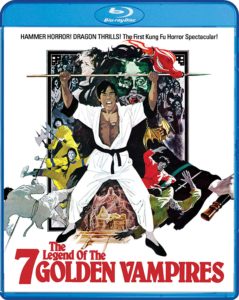 LEGEND OF THE SEVEN GOLDEN VAMPIRES (89 mins., 1974) interjected Hong Kong kung-fu action into the Hammer horror mix, and despite the seeming incompatibility of styles with the Shaw Brothers (who co-produced), the result is a highly entertaining film that's more closely aligned with the original Hammer thrillers than those modern-day Dracula efforts with Lee (especially "Satanic Rites").
Though Lee is gone (replaced in a couple of early scenes by the cartoonish John Forbes-Robertson), Peter Cushing returns as Van Helsing, this time teaching a course in Chungking in the early 1900s when one of his students (David Chiang) claims that his village was taken over by a clan of "Golden Vampires" and is still haunted to this day by their dastardly deeds. Turns out Dracula is behind it all, albeit in the guise of one of the satanic leaders who sought his resurrection in Transylvania some 100 years before.
Confused? Don't be. Roy Baker's direction is efficient and the movie offers plenty of kung-fu action, as well as more in the way of the old Hammer standbys — like Van Helsing's climactic confrontation with Dracula, and James Bernard's bombastic themes supporting the action — than its immediate predecessor. A few unintentional laughs crop up at times (mainly involving Forbes-Robertson's hideous carnival make-up as the stand-in Count, and a group of background zombie-warriors who like to dance more than fight!), but these only add to the overall fun of the movie.
Like "Satanic Rites," "Golden Vampires" was released by Warner Bros. everywhere but the U.S., where it ultimately appeared some time after the fact, and in a severely cut version to boot. Shout! Factory's Blu-Ray offers, unquestionably, the finest (and I also believe first) high-definition presentation of the film on Blu-Ray, having performed a new 2K scan (2.35) from original film elements that easily bests its ancient, non-anamorphic Anchor Bay DVD release. Colors and grain are strong, and the source elements are in pretty solid shape all told. Though there's little reason to recommend it, the bastardized U.S. theatrical cut – "The 7 Brothers Meet Dracula" – is also included in a better-than-expected 1080p transfer of the severely shortened, much re-edited 74-minute cut designed for drive-in audiences. For extras, a trailer and still gallery are included plus a new interview with Hong Kong movie expert Rick Baker, a fresh commentary with author Bruce Hallenbeck, and an extract of a longer interview with David Chiang, subtitled in English. Recommended!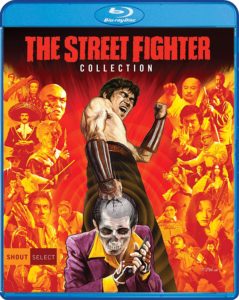 Fans of '70s Japanese cult cinema have good reason to be excited this month as both Shout! Factory and Arrow Video bring the complete STREET FIGHTER franchise to Blu-Ray in the U.S. for the first time.
Shout's THE STREET FIGHTER COLLECTION literally kicks things off, preserving all three of star Sonny Chiba's adventures as Terry Tsurgi, the "half breed" Chinese/Japanese mercenary who maneuvers between various factions of the Tokyo underworld – taking names while both being pursued by, and tracking down, yakuza bosses, informants and other assorted scum. Tightly choreographed fight sequences are intertwined with some sleazy exploitation elements in movies that launched Chiba – already a Japanese TV star – into international stardom for a time. They're wild, woolly, uneven but mostly watchable, marked by uncomplicated plots that put the accent on action.
These Toei releases, all shot in widescreen (2.35), became favorites in American grindhouses in the '70s when New Line Cinema released them to theaters, dubbed and with minimal cuts (at least for the first two installments). Shout Factory's box-set contains the trilogy – The Street Fighter (91 mins., 1974), Return of the Street Fighter (83 mins., 1974) and The Street Fighter's Last Revenge (80 mins., 1974) – in good looking AVC encoded transfers, all new 2K scans of original film elements that offer a pleasing, "natural" appearance. There are nicks and scratches that pop up in the source elements, but that only adds to the vintage look of the films, which otherwise offer fine grain and nicely saturated color.
Although all released in 1974 in Japan, New Line unrolled the sequels in 1975 and 1979, respectively. The latter was also re-edited, removing a few minutes of footage and juggling some scenes around. For this Blu-Ray set, Shout has included the uncut versions of the first two pictures (with a few instances of added violence cut for an R rating in the U.S.) plus the U.S. and Japanese edits of "Last Revenge." Some material in the latter was derived from a standard-definition source but between that and the multiple language options (subtitled Japanese or New Line's original English dubs), there's no question this is the most definitive presentation of the Chiba films yet on home video. New extras include interviews with Chiba (subtitled) and New Line's Jack Sholder who worked on the American releases, plus trailers and a still gallery.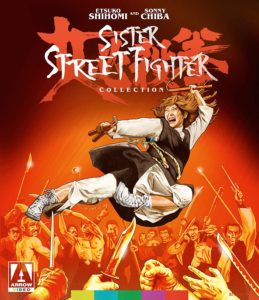 The success of "Street Fighter" lead to an immediate spin-off, SISTER STREET FIGHTER, which has received its own Blu-Ray release from Arrow Video. Chiba chips in an appearance in support of star Etsuko Shihomi, a teen who plays a similarly half-Chinese/half-Japanese young warrior taking on drug runners while searching for her lost brother. 1974's "Sister Street Fighter" (86 mins.) was followed by "Sister Street Fighter: Hanging By a Thread" (85 mins., 1974) and "Return of the Sister Street Fighter" (77 mins., 1975), with a final, in-name-only sequel "Sister Street Fighter: Fifth Level Fist" (77 mins., 1976) bringing Shihomi back for one last picture, albeit in a new role with no direct connection with its predecessor.
It goes without saying if you enjoyed the zaniness of the "Street Fighter" films this companion series – a bit less sleazy on the whole – comes mildly recommended as well, especially with Arrow's box-set containing the franchise in 1080p (2.35) AVC encoded transfers directly licensed from Toei. The original "Sister Street Fighter" offers both Japanese audio and its English dub (plus its R-rated U.S. version) with the remaining features including Japanese audio and English subtitles. New video interviews with Chiba, director Kazuhiko Yamaguchi and screenwriter Masahiro Kakefuda are on-tap along with isolated score highlights, the German trailer and opening to the first film, plus a poster and still gallery.
THE PRISONER Blu-Ray (95 mins., 1956; Arrow Video): Rivetingly performed drama stirred up controversy on all sides of the theological spectrum at the time of its release — though truthfully, "The Prisoner" comes across as fairly tame nowadays. Peter Glenville's film captures the tension between an unfairly accused Cardinal in an Eastern European country where his interrogator is a former friend (Jack Hawkins) from an anti-Nazi resistance. Called at various points pro-Soviet, anti-Communist and pro-Catholic (depending, clearly, on one's point of view), "The Prisoner" doesn't get a lot of play these days but is certainly worth viewing for its central performances. Arrow's Sony-licensed (1.85) transfer includes a video appreciation from Neil Sinyard and selected-scene commentary from critic Philip Kemp, plus PCM mono audio.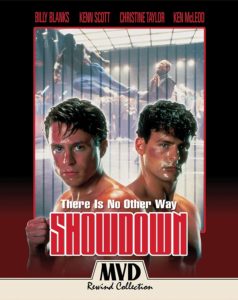 Arrow has released another superb box-set, BLOOD HUNGER: THE FILMS OF JOSE LARRAZ, this month. The Spanish-born filmmaker has been a favorite of cult movie fans although several of his pictures have been notoriously hard to find. Venturing where no label has gone before, Arrow's lavishly packaged retrospective includes three of Larraz's top works: "Whirlpool" (1970), "Vampyres" (1974) and "The Coming of Sin" (1978), all in brand new, 2K restored transfers from original film elements. On-hand here are many wonderful extras in a 2500-copy limited set including: the US cut of "Whirlpool" with Tim Lucas commentary and featurettes with critic Kim Newman, actor Larry Dann and a featurette comparing the film to an alternate cut of the picture; two commentaries on "Vampyres" from Kat Ellinger and cast/crew members; and both Spanish and English language versions of "The Coming of Sin" along with another Ellinger commentary. Archival interviews with Larraz, trailers, image galleries, short films and an 80-page book comprise a must-have for cult movie fans.
New from MVD this month is a Rewind Collection Blu-Ray of SHOWDOWN (98 mins., 1994, R), an engaging martial arts vehicle tailor-made for Billy Blanks. Here, Blanks plays an ex-cop turned school janitor who plays Mr. Miyagi to a student (Kenn Scott) who, on the first day at his new high school, runs afoul of a villain who's also the champ of an underground fighting ring. "Best of the Best" director Robert Radler's R-rated, lower-budget reworking of "The Karate Kid" is totally predictable but fun in a dated manner, with the occasional fights livening up the by-the-numbers script. The 1080p (1.85) transfer is in fairly good shape with 5.1 and 2.0 stereo sound. Extras include a full 98-minute Making Of featuring Blanks, Radler and other cast/crew members, separate featurettes with Radler and Blanks, a poster, the trailer and other excellent goodies that have become synonymous with MVD's Rewind moniker.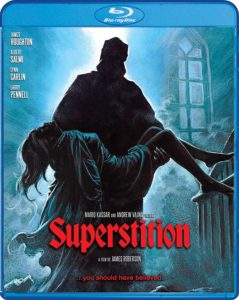 Also New From Shout Factory: An early effort from Carolco producers Mario Kassar and Andrew Vajna, SUPERSTITION (85 mins., 1982, Not Rated) was a favorite amongst horror fans back in the VHS era. This is a nasty (at least in terms of its assorted character's fates) little tale of a priest (James Houghton) who teams up with a police detective (Albert Salmi) to help a drunken minister and his family after they move into an old house haunted by a witch. "Superstition" offers a (very) high body count and no glimmer of hope at all – if that interests you, this low-budget affair is fairly well-executed on the minor level by director James Roberson. Scream Factory's Blu-Ray, out April 16th, includes a 2K scan (1.85) from original film elements, new interviews with Houghton and Roberson, the trailer and a TV spot…Scream Factory continues their recent Hammer renaissance with the first U.S. Blu-Ray release of THE WITCHES (90 mins., 1965). Joan Fontaine stars in this very solid, Nigel Kneale-scripted adaptation of Peter Curtis' novel as a school teacher who heads to the English countryside. There, her prior connection to witch doctors, voodoo and seemingly inexplicable supernatural occurrences crops up, resulting in a crisp, taut Hammer outing co-starring Alec McCowen, Kay Walsh and Duncan Lamont. Shout's Blu-Ray includes a new commentary between historians/filmmakers Constantine Nasr and Ted Newsom, the "Hammer Glamour" featurette, trailers, a still gallery, perfectly decent 1.85 transfer (this appears to be the same master previously released on Blu-Ray outside the U.S.) and DTS MA mono sound….Anime fans should be pleased with Shout's Blu-Ray combo pack release of A SILENT VOICE: THE MOVIE (130 mins.), an adaptation of a popular manga from director Naoko Yamada. This is a serious and sad tale of a high school bully who switches schools after harassing a deaf classmate – years later, he's tried to make amends by teaching sign language, but finds old wounds are hard to repair. Music videos, original Japanese promo videos and trailers, a 1080p (1.85) transfer and both Japanese and English DTS MA 5.1 soundtracks grace Shout's now-available Blu-Ray/DVD combo pack.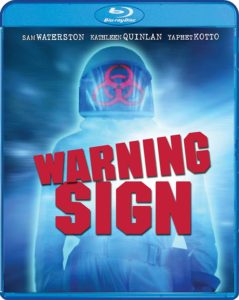 WARNING SIGN Blu-Ray (99 mins., 1985, R; Shout! Factory): After the screenwriting tandem of Hal Barwood and Matthew Robbins spruced up Steven Spielberg's "Close Encounters of the Third Kind," the duo parlayed their (uncredited) success into a number of feature films – the Mark Hamill drama "Corvette Summer," the Disney/Paramount co-production "Dragonslayer," and this Fox box-office disappointment that was dumped out, unceremoniously, in the dog days of August '85.
Barwood's one and only feature film directorial credit, "Warning Sign" does boast a superb cast and a compelling premise, wherein an infection at a Utah biotech lab (secretly working on germ warfare) immediately closes down the facility. Barwood and Robbins' script bounces around from the point of view of the scientists inside, to the security guard (Kathleen Quinlan) trying to hold down the fort and her husband – the town sheriff (Sam Waterston) – who has to contend with the government spook (Yaphet Kotto) sent to handle the situation. Eventually, Waterston convinces one of the lab's former employees (Jeffrey De Munn) to come back and contain the virus – at the same time the victims become homicidal maniacs!
"Warning Sign" is a weird film that tries to be equal parts sci-fi/horror, domestic drama and '80s Cold War thriller all in one. Because of the film's unfocused nature, though, it's not very good at any one of those things, seemingly requiring a rewrite or two and suffering from overly broad direction (the leaden synth score by Craig Safan doesn't help either). Waterston, Quinlan, DeMunn and Kotto are all fun to watch, and the film reeks of quality in its production – counting ace production designer Henry Bumstead and cinematographer Dean Cundey among its crew – but it's telling that Barwood never directed another film after this.
"Warning Sign" has only made a few appearances on home video, its last coming in an Anchor Bay DVD sporting Barwood's commentary. That track has been carried over to Shout's Blu-Ray, which also offers new interviews with Barwood and an even longer conversation with producer Jim Bloom. The Fox-licensed 1080p (1.85) AVC encoded transfer is decent though not spectacular, bearing the hallmarks of an older scan. The stereo sound is fine, but to see how much more effective the picture could have been with an orchestral score, check out the Percy Rodriguez-narrated trailer that's tracked with Jerry Goldsmith's "Alien" music and seems like it's selling an entirely different (and better) film.
---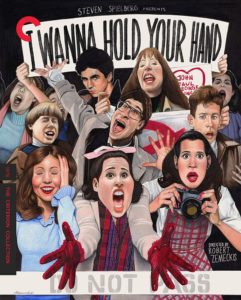 Criterion New Releases
Steven Spielberg's first production foray was supporting director Robert Zemeckis' first feature – the delightful I WANNA HOLD YOUR HAND (99 mins., 1978, PG), a Universal release that never found its audience upon its initial theatrical run but did generate much more substantial enthusiasm from appreciative viewers over the years since.
It's also a film that – while following a group of high schoolers around, hoping to catch the Beatles perform on "The Ed Sullivan Show," marking their U.S. appearance on February 9th, 1964 — isn't as awash in nostalgia as you might expect. Zemeckis and Bob Gale's script is much more character-driven than it is tied down to its era, utilizing a terrific ensemble cast – Nancy Allen, Bobby DiCicco, Marc McClure, Wendie Jo Sperber, Theresa Saldana, Susan Kendall Newman (Paul's daughter) and Eddie Deezen – to spin a zany comedic spell, brimming with youthful enthusiasm on the part of its performers and Zemeckis himself. This has the same sort of charm as "Back to the Future," with Zemeckis racing from one set of characters to the next, all of them trying to make it to the Ed Sullivan Theater in time for the big broadcast.
Criterion's Blu-Ray is sourced from a new 4K digital restoration (1.85), the transfer approved by Zemeckis and Gale. The image offers lovely detail and warm colors, atypical of most Universal titles and bearing the hallmarks of a Criterion-supervised exclusive presentation. The 5.1 DTS MA stereo sound is finely engineered, with new extras spearheaded by a 45-minute conversation between Zemeckis, Gale, and Spielberg. This is a wonderful interview discussing their first meeting in the early/mid '70s when Zemeckis was at USC, through Spielberg's mentorship of the duo and support of their first motion picture. There's also a salute to Universal's Lew Wasserman and Sid Sheinberg, who propped Zemeckis up when the film failed to draw viewers – much of the problems stemming from the studio's poor promotion. A recent interview with Marc McClure and Nancy Allen, two of Zemeckis' USC shorts (most notably "A Field of Honor," tracked with Elmer Bernstein's "The Great Race" score), the trailer, radio spots, and the 2005 DVD commentary with Zemeckis and Gale wrap up a highly recommended new Criterion release.
Music is also a key component, naturally, of Ingmar Bergman's THE MAGIC FLUTE (138 mins., 1975). This made-for-Swedish television adaptation of Mozart's magical musical masterpiece manages to capture the intimacy of a small theatrical production while still offering a cinematic experience with its expressive characters directly staring into the camera, mixed with the reaction shots of theater-goers (including Bergman's young daughter). It's a playful film that has long been a favorite of opera and Bergman devotees, even with Mozart's lyrics translated to Swedish for this "holiday special" that's enjoyed a long life beyond its local broadcast. Bergman's film has been here restored in a 2K (1.33) transfer with uncompressed PCM stereo sound – though not overly robust, this is a sprightly soundtrack with extras including a new interview with critic Peter Cowie and two archival pieces (one an interview with Bergman, another a behind-the-scenes documentary) produced around the time of the film's broadcast.
---
Also New & Noteworthy
BUMBLEBEE 4K UHD Combo Pack (***, 113 mins., 2018, PG-13; Paramount): A kinder, less bombastic, more heartfelt "Transformers" experience awaits viewers in this smaller-scale film adaptation of the Hasbro action figures – a cinematic mea culpa of sorts from Paramount and producers Steven Spielberg and Michael Bay.
Eschewing the phony machismo and brainless characters from Bay's five previous blockbusters (which played to diminishing returns at the box-office), "Bumblebee" presses the reset button as the diminutive (compared to his Autobot pals) scout heads to Earth to lay the foundation for Optimus Prime and company's escape from the Decepitcons. While a couple of them (Shatter and Dropkick) are hot on his heels, Bumblebee is able to team up with a resourceful teenager (Hailee Steinfeld) to elude both them and the military – embodied by a really, really over-the-top John Cena – at least for a time.
While still familiar and broadly played, "Bumblebee" is good fun, offering an uncluttered story with appealing characters. Writer Christina Hodson and director Travis Knight have clearly channeled into the Spielberg mindset, with Bumblebee's journey echoing "E.T." and the movie using an '80s setting mostly as an excuse to trot out lots of great (and predictably used) songs. Still, after the overlong bloat of Bay's prior Transformers films, "Bumblebee" is a definite step in the right direction in terms of its content and overall effectiveness – crafted more sensibility for family audiences, as it should be, and much more enjoyable for dialing it back across nearly every element of its production.
Paramount's 4K UHD of "Bumblebee" looks spectacular. The 1.85 transfer utilizes HDR and Dolby Vision to great effect, and Dario Marianelli's score gets a nice boost from the Dolby Atmos audio mix. Over an hour of featurettes include an animated motion comic, "Bumblebee's Next Adventure," plus 14 deleted/extended scenes, outtakes, the Blu-Ray and a Digital HD copy.
PET SEMATARY 4K UHD Anniversary (102 mins., 1989, R; Paramount): While prior Stephen King movies like "The Shining" and "Carrie" did well financially, numerous other cinematic adaptations of the author fizzled out at the box-office, making the inexplicably huge intake of 1989's "Pet Sematary" harder to explain.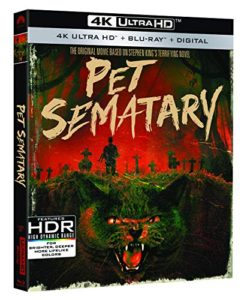 This cheap-looking and icky thriller does have Fred Gwynne as a native Maine-r who offers such sage advice as "sometimes dead is better." Indeed, director Mary Lambert might have been wise to keep the franchise dead even though this spring '89 release ranks as one of the highest-grossing of all King features, leading to not only the new remake but a bizarre 1992 sequel with Lambert directing stars Eddie Furlong and Anthony Edwards (amazing as it may seem, the less-pretentious follow-up is actually better than the original…faint praise as that is). Aside from Elliott Goldenthal's score (which boasts a few strains of Lalo Schifrin's "Amityville Horror" in the main theme), there's little technically interesting about the movie, and the stiff lead performances of small-screen stars Dale Midkiff and Denise Crosby do little to sustain viewer interest, much less sympathy.
Paramount's 4K UHD, issued to coincide with the release of the remake, is a satisfying catalog affair, boasting Dolby Vision/HDR and a stronger contrast level than the earlier Blu-Ray. The latter's 5.1 DTS MA remix has also been ported over, with fresh extras (on the UHD) including "Fear and Remembrance," which features members of the new cast looking back on the 1989 film; a new interview with Lambert; and three new behind-the-scenes image galleries. Lambert's earlier commentary is also on-hand on the 4K UHD, while the included Blu-Ray offers the prior retrospective featurettes and a Digital HD copy wraps up the release.
YELLOWSTONE Season 1 Blu-Ray (465 mins., 2018; Paramount): Paramount Network's original series hails from "Hell or High Water"/"Sicario" scribe Taylor Sheridan and spins the story of a rancher family led by patriarch John Dutton (Kevin Costner). Soapy, simultaneously triumphant and tragic, and consistently well-acted, "Yellowstone" is a cut above for its genre, with Paramount's Season 1 Blu-Ray (1.78, 5.1 DTS MA) including a number of featurettes (Season 2 debuts on Paramount Network this summer).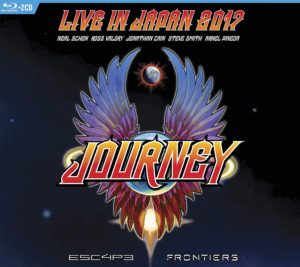 JOURNEY – LIVE IN JAPAN 2017 Blu-Ray/2 CD Set (130 mins., 2019; Eagle Rock): Fans of Journey and '80s rock should love this terrific, no-frills concert chronicle of the blockbuster band's 2017 performance at Tokyo's Budokan arena. Original members Neal Schlon, Ross Valory, Jonathan Cain and Steve Smith are joined by Arnel Pineda (a superb substitute for Steve Perry) on vocals for this excellent set that combines all the tracks – eight singles in total – from Journey's iconic "Escape" and "Frontiers" albums. Even casual listeners are going to be familiar with many of the hit songs – Don't Stop Believin', Who's Crying Now, Open Arms, Faithfully, Separate Ways – performed in the two-hour plus concert, captured in 1080i HD and presented here in a marvelous Eagle Rock combo package.
A pair of encores (La Raza Del Sol and Lovin, Touchin', Squeezin') are on-hand in Eagle Rock's presentation, which also stacks the songs on a pair of included CDs. On the visual side, the 1080i transfer is perfectly fine, with viewers afforded the option of either a DTS MA soundtrack or LPCM stereo – the latter sounding wider in scope and more natural to my ears. Recommended!
SECOND ACT Blu-Ray Combo Pack (**½, 103 mins., 2018, PG-13; Universal): Old-fashioned rom-com functions as an appealing enough vehicle for star Jennifer Lopez – nearly 50 in real life but believably playing a 40-year-old blue collar department store clerk whose friend (Leah Remini) concocts a fabricated resume that sends her, Tess McGill-style, up the corporate ladder. No surprises are on-tap in Peter Segal's film, but this is a moderately enjoyable slice of holiday escapism engagingly performed by J Lo with Milo Ventimiglia as the male lead and Vanessa Hudgens and Treat Williams leading a more than capable supporting cast. Universal's Blu-Ray includes Making Of featurettes, 1080p (2.40) transfers, 5.1 DTS MA soundtracks and digital copies.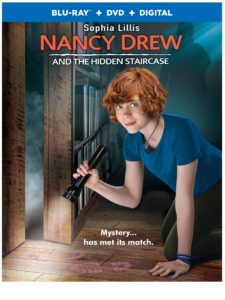 NANCY DREW AND THE HIDDEN STAIRCASE Blu-Ray (89 mins., 2019, PG; Warner): After a miserable attempt to launch "Nancy Drew" on-screen a few years back in the guise of Emma Roberts, this more sensible modern-day retelling of the teen detective hits the small screen from Warner Home Video. Produced by Ellen DeGeneres, "Nancy Drew and the Hidden Staircase" offers a perfect vehicle for "It"'s breakout young star, Sophia Ellis, here playing the legendary youth sleuth who figures out the supposedly ghostly goings-on at the Twin Elms mansion. Nina Fiore and John Herrera's screenplay utilizes tried-and-true elements of the book series and intersperses some contemporary components like bullying for Nancy to address; it's all satisfyingly rendered by the cast under the direction of former exploitation director Katt Shea ("Stripped to Kill," "Poison Ivy"). Launching this month in a Blu-Ray/DVD combo pack from Warner, "Nancy Drew" contains a gag reel and two featurettes, a 1080p (1.78) transfer and 5.1 DTS MA sound. Recommended, especially for tweens and teens.
THE MAN WHO KILLED HITLER AND THEN THE BIGFOOT Blu-Ray (97 mins., 2018, Not Rated; RLJ Entertainment): With a title like that, Robert D. Krzykowski's film has a lot to live up to, but even with tempered expectations, this 2018 indie doesn't entirely work. The performance of Sam Elliott is commendable, at least, with the veteran star playing the older version of a US government op who, as a young man (Aidan Turner), took down Hitler. Now, decades later, he's called upon to take out a Sasquatch potentially posing a threat to mankind via a virus. Joe Kraemer scored this oddball outing that counts John Sayles and Douglas Trumbull amongst its executive producers (!), but is played so solemnly that it ultimately doesn't generate as much fun as it should've. Still worth seeing for Elliott's performance, RLJ brings the film to Blu-Ray April 2nd featuring a Making Of, deleted scenes, Elsie Hooper short film, concept art, a 1080p (2.40) AVC encoded transfer and 5.1 DTS MA sound.
---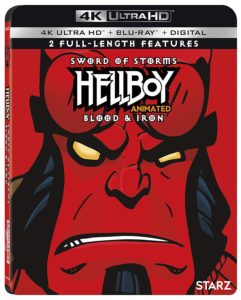 Lionsgate New Releases
MAN ON A LEDGE 4K UHD Combo Pack (**, 102 mins., 2012, PG-13; Lionsgate): One of those "concept" movies where the trailers gave away far too much, the lackluster "Man on a Ledge" stars Sam Worthington as an ex-cop who creates a diversion (danging off a New York City building) in order for his team to steal a $40 million diamond from corrupt businessman Ed Harris. By this point nobody is trying to keep the plot a surprise (it's all explained on the Blu-Ray's back cover!) which leaves this limp thriller as a moderate time-killer and little more. Summit's 4K UHD trumps its earlier Blu-Ray with Dolby Vision and Dolby Atmos capability, though in general looks just a hair superior than its 1080p predecessor. That BD has been reprised here, again including a featurette and a commentary – only on the trailer! – with co-star Elizabeth Banks.
HELLBOY Animated: SWORD OF STORMS and BLOOD & IRON 4K UHD Combo Pack (152 mins., 2006-07; Lionsgate): 4K UHD Combo pack includes the two animated Hellboy adventures that followed the release of the 2004 feature film. "Sword of Storms" was a so-so animated Starz-broadcast adventure that continued the "Hellboy" comic book and film franchise started by Guillermo Del Toro, who serves here as executive producer alongside creator Mike Mignola. Solid animation and the voices of Ron Perlman, Selma Blair and Doug Jones help, but the story by Matt Wayne and Tad Stones is routine and the action rather tedious as a result. Still, hard-core "Hellboy" fans may find this to be a decent enough fill-in. "Blood & Iron" followed the next year before Del Toro's live-action "Hellboy II" hit theaters in 2008. Dolby Vision and HDR support Lionsgate's 4K UHD combo pack, which includes all the extra features – commentaries, interviews, featurettes – from its earlier Blu-Ray along with Dolby Atmos audio, a Digital HD copy, and the original Blu-Ray presentation.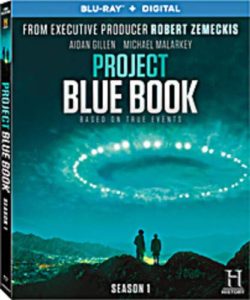 PROJECT BLUE BOOK Season 1 Blu-Ray (7 hours, 2019; Lionsgate): Robert Zemeckis is one of the producers of this History Channel series – a period-set look at the adventures of Dr. J. Allen Hynek, one of the earliest UFO researchers who travels the country, following up on publicly reported sightings and other eerie phenomena. Together with a skeptical Air Force…ok, you know the drill: this is less any kind of fact-based drama than it is an okay reworking of "The X-Files" in "Mad Men" attire. Solid production values and Aidan Gillen's central performance make it worthwhile, but despite the compelling subject matter, viewers are likely going to feel that they've seen it – and its assorted "conspiracies" – all before. Already renewed for a second season, "Project Blue Book" makes its debut on Blu-Ray April 9th from Lionsgate. All 10 first-season episodes are included (2:1 1080p, 2.0 Dolby Digital audio) plus digital copies…Also new on Blu-Ray from Lionsgate is BERLIN, I LOVE YOU (120 mins., 2019, R), another collection of random vignettes from the producers of "Paris, Je T'aime" with a number of big stars (Keira Knightley, Helen Mirren, Diego Luna, Mickey Rourke, Luke Wilson and others) mostly floundering in an offbeat and awkward anthology. Lionsgate's Blu-Ray, out April 9th, includes a Digital HD copy, 1080p (1.85) transfer and 5.1 DTS MA sound.
Film Movement New Releases: NAZI JUNKIES (112 mins., 2018) is Christian Huleu's two-episode documentary, inspired by Norman Ohler's bestseller, that chronicles the dependency of drugs on the part of Nazis and the German populace during WWII, including Hitler's personal usage and German soldiers' reliance on speed. Film Movement's DVD includes a 16:9 transfer and stereo sound…Coming April 9th is Milad Alami's THE CHARMER (102 mins., 2019), the story of an Iranian immigrant (Ardian Esmalli) hoping to find a bride so he can become a Danish citizen. His relationship with a Danish-Iranian woman (Soho Rezanejad) changes his perspective in a compelling Danish import, on DVD (1.85, 5.1/2.0 Danish with English subs) with Pearl Gluck's short "Summer" included as a bonus feature…Finally, Film Movement also brings CAM GIRL (90 mins., 2014) to DVD on April 9th as well. This Italian drama profiles a young woman (Antonia Liskova) who starts up a sexy, though not pornographic, webcam site that hits it big — until it backfires on her and participating friends. Film Movement's DVD includes a 16:9 (1.85) transfer and 2.0 Italian stereo with English subtitles.
NEXT TIME: Twilight Time's latest, including THE BIG FIX. Until then, don't forget to drop in on the official Aisle Seat Message Boards and direct any emails to our email address. Cheers everyone!