Released at Christmas '84, Francis Ford Coppola's THE COTTON CLUB (138 mins., R; Lionsgate) was the subject of much controversy: the big-budget mix of character drama and mob thriller, bolstered by song & dance numbers and ample period detail, made more news off the set than on the screen. Feuds between Coppola and producer Robert Evans, budget issues, squabbles over the film's editing and, finally, mixed critical notices sank the picture even before it hit theaters. When it did, the movie sputtered and quickly exited the multiplex, relegated to just a few home video releases – and very little discussion – since.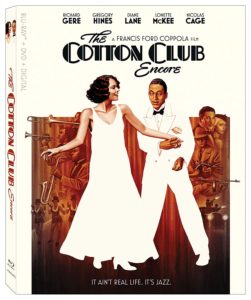 Coppola clearly hopes to change the film's perception with the release of THE COTTON CLUB "ENCORE" – a new cut of the film that also marks its high-definition debut. This version, running roughly 11 minutes longer than the theatrical edit but with both new footage inserted (reportedly upwards of a half-hour) and some theatrical-version material deleted (over 10 minutes), still retains the main weaknesses of Coppola's original cut, though it's at least a more watchable, streamlined effort.
Coppola's script, written with William Kennedy and Mario Puzo, intercuts two main stories: one involving a cornet player/aspiring actor (Richard Gere) and his involvement with warring gangsters Dutch Schultz (James Remar) and Owney Madden (Bob Hoskins); and another featuring a Black hoofer (Gregory Hines) trying to make it at the Cotton Club, the exclusive Harlem establishment where talents like Cab Calloway got their start. In between them are a myriad of peripheral players, from Gere's brother (Nicolas Cage), who gravitates towards a life of crime, to Hines' sibling (real-life brother Maurice Hines) and a half-black songstress (Lonette McKee) who hopes to break free of the black-only clubs she's performed in and one day find success in the "white entertainment" world of Broadway. Diane Lane, meanwhile, plays Gere's love interest – a young woman who eventually becomes Dutch's moll.
The main issue with "The Cotton Club" was always the lack of cohesion between its different narrative threads. Coppola peppers the movie with some wonderful moments along the way (particularly one scene between Hoskins and Fred Gwynne, playing his recently-kidnapped second-in-command), but there are times it seems Gere and his involvement with the mob is in a different movie altogether than Hines and his character's stage aspirations. Sequences are broken up with a bit of song here, a dance there, but the often mumbled dialogue, uneven performances (Remar most especially) and serious lack of structure are issues the movie can never overcome.
Coppola's "Encore" recut helps, to a degree: while the movie's pacing is still awkward, this new version tries to smooth over the transitional issues. More songs and dance routines are incorporated – mostly notably a lovely rendition of "Stormy Weather" by McKee – while a bit of fat has been removed (i.e. Diane Venora popping up as Gloria Swanson). It results in a movie where it's now easier to see what Coppola was aiming for, even if the end result still doesn't quite succeed.
The "Encore" version was first presented at assorted festivals in 2017, albeit with some material incorporated from video tape sources. For this long-gestating home video release, Coppola was able to find film elements for the newly added sequences, even if there is a major discrepancy in the quality and color of these elements compared to the rest of the picture.
Lionsgate has brought the "Encore" cut to both Blu-Ray and 4K streaming (on Itunes, Vudu and other outlets), and the transfer is generally excellent – marked by lots of natural grain, albeit something the Blu-Ray tends to replicate better than the 4K streaming version. Again, it's easy to spot the added sequences, which lack the richness and texture as the rest of the footage, but they've been seamlessly integrated otherwise. It's notable that some new musical material was required for this cut, with Laura Karpman credited with the arrangement of "Stormy Weather."
Extras are limited to a brief Coppola introduction and a Tribeca Q&A from last year with Coppola joined by Maurice Hines. The Dolby TrueHD audio is superb and both a DVD and Digital HD copy are housed inside the Blu-Ray combo pack.
---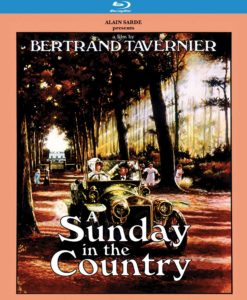 Kino Lorber New Releases
A SUNDAY IN THE COUNTRY Blu-Ray (94 mins., 1984; Kino Lorber): Of the many wonderful French imports that became art-house hits back in the '80s, Bertrand Tavernier's leisurely – yet also poignant and quietly profound – 1984 award-winner "A Sunday in the Country" remains one of the most deservedly celebrated.
Tavernier's film captures its protagonist – an elderly widower (Louis Ducreux) – in the twilight of his life. Spending weekends with his son and his family, who arrive on a train from Paris into the quaint French countryside surrounding him, Ducreux's Monseiur Ladmiral is a painter whose works didn't venture into the realm of impressionism – enabling him to have led a "comfortable" professional existence, yet leaving behind something of a creative void. Ladmiral's contrasting relationships with his banker son (Michel Aumont) and more carefree daughter (Sabine Azema) are reflective of this push/pull – and as the film progresses, Tavernier remarkably is able to raise sentiments of loss and regret, acceptance and compassion, and even an ultimate feeling of uplift, that one can still be inspired regardless of age.
It's all the more impressive because there's not a lot of overt tension or "drama" in this adaptation of Pierre Bost's novel. "A Sunday in the Country" captures the mood of pre-WWI France in a beautiful, free-flowing manner – the relationships of the family are believably rendered to a degree that you feel like you've just been dropped into the middle of their conversations. Tensions and pings of conflict crop up here and there, but much like real life, there are few grandstanding moments – just the everyday run of emotions we usually experience, captured in a cinematic manner that feels honest at every turn.
A commentary from Tavernier is the sole supplement of note in Kino Classics' Blu-Ray. The Studio Canal-licensed presentation (1.66, 2.0 DTS MA French mono) looks like an older master but it's certainly superior to how I recall viewing the movie years ago in an MGM/UA home video release. The trailer rounds out the disc.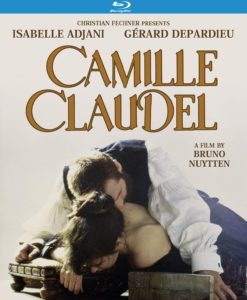 CAMILLE CLAUDEL Blu-Ray (173 mins., 1988; Kino Lorber): Exquisitely crafted – if lengthy and depressing – French drama earned critical raves upon its U.S. release in 1989 and even a Best Actress Oscar nomination for star Isabelle Adjani.
She's certainly the main draw in in Bruno Nuytten's biographical drama about a woman whose passion for sculpture was matched with her feelings towards legendary artist Auguste Rodin (Gerard Depardieu). He already had a mistress when Adjani's Camille Claudel, one of his students, began an affair with him – with her hopes of a more lasting relationship ending up nearly as doomed as many of her artistic creations.
The world of late 19th century France is recreated in authentic detail thanks to Pierre Lhomme's cinematography in "Camille Claudel." The performances of Adjani and Depardieu are both commendable, and it's capped by a lush Gabriel Yared score – still, one needs to be invested in the subject matter to make the film's running time (and its downbeat story) worthwhile.
Kino Lorber's Blu-Ray (2.35, 2.0 DTS MA stereo) includes the trailer and a commentary from historian Samm Deighan, with the transfer offering strong detail and nice stereophonic separation.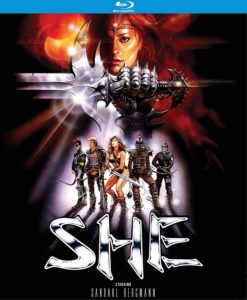 SHE Blu-Ray (106 mins., 1985, R; Kino Lorber): Utterly bonkers futuristic fantasy has scant to do with H. Riger Haggard's novel and more to do with the likes of "Conan" and "Zardoz" as goddess She (Sandahl Bergman) presides over a barren post-apocalyptic world. There, she gets involved with a couple of regular guys (David Gross, Harrison Muller) searching for the former's missing sister.
Avi Nesher wrote and directed "She" with apparently carte blanche to do whatever he wanted – the result, as the director muses in a new interview here, is a self-indulgent slice of silliness that's fun for a little while but positively overstays its welcome at a bloated 106 minutes. Shot in Europe on a meager budget, "She" never takes itself too seriously, offering clunky action sequences and a myriad of genre tropes with bad make-up effects to spare. Bergman looks good but even "Red Sonja" was a lot more watchable than "She," which was shot in 1983 but didn't reportedly circulate until a Cinemax airing in 1985.
Kino Lorber's Blu-Ray looks terrific thanks to an attractive MGM (1.85) catalog master. The 2.0 DTS MA stereo sound houses a bonkers rock soundtrack credited to a myriad of sources, including Rick Wakeman and Motorhead. Nesher's interview is quite engaging, with the director pleading guilty to partying too much during the Rome shoot!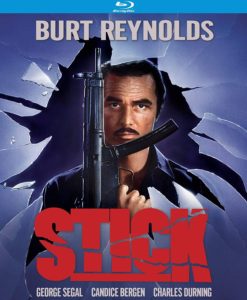 STICK Blu-Ray (109 mins., 1985, R; Kino Lorber): Burt Reynolds directed and starred in this Elmore Leonard adaptation as an ex-con, just out of prison, whose cell mate is murdered during a payoff – leading to him infiltrating the social circle of one of the thugs (Charles Durning) involved in his killing. That includes a goofy Florida millionaire (a bombastic George Segal) and his financial advisor (Candice Bergen), while stunt man Dar Robinson plays an albino hitman hot on "Stick"'s trail (and performs one memorable stunt).
Repeating his duties on "Sharkey's Machine," Reynolds gives a sympathetic performance in a movie that's wildly uneven due to Universal's insistence that the film be recut. After disliking Reynolds' reportedly grittier take on the material in test screenings, Universal executives demanded the second half of the picture be reworked – this included the addition of Stick's teen daughter among other new material. The result was a crushing disappointment for Reynolds, who said only the first half of the film was indicative of his original intentions.
While we will never know what "Stick" was supposed to be, what ended up on-screen is at least a good deal more entertaining than most of Burt's vehicles from this period. The Miami locations and appealing cast make it thoroughly watchable, even if the stitches from reshoots can be plainly seen – the movie seems to go "soft" and never recovers, though Reynolds' performance retains the audience's support through it all.
Kino Lorber's Blu-Ray (1.85) looks perfectly acceptable for a Universal catalog master with extras including a commentary by critic Nick Pinkerton that addresses the film's problems, plus the trailer and an image gallery. The 2.0 DTS MA stereo sound is nicely conveyed with an effective, Faltermeyer-esque score provided by Barry DeVorzon and Joseph Conlan (who were booted from the final two episodes of "V: The Final Battle") that was supposedly the third score written for the film!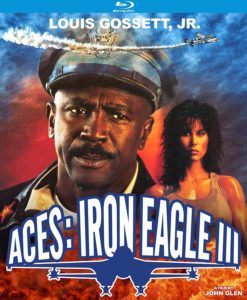 ACES: IRON EAGLE III Blu-Ray (98 mins., 1992, R; Kino Lorber): Third entry in the odd "Top Gun"-esque (even if it predated the Tom Cruise smash) series of military adventures starring Lou Gossett, Jr. as Charles "Chappy" Sinclair, who here has to take down a Peruvian drug dealer ("Raiders" vet Paul Freeman) with the help of his slain friend's daughter (bodybuilder Rachel McLish) and several barnstorming pilot buddies (Horst Buchholz, Sonny Chiba and Christopher Cazenove).
Sidney J. Furie directed the other three "Iron Eagle" flicks but was replaced here with James Bond vet John Glen and several members of the 007 franchise (including cinematographer Alec Mills). That proves to be a good thing, as this ridiculous but very watchable early '90s exercise is the best of the series, sporting adequate action sequences and Gossett comfortably leading the way in a role he would essay one more time – with Furie back behind the lens – in an anemic 1995 made-for-video finale.
Released by Seven Arts (a New Line/Carolco joint) to negligible box-office, "Aces: Iron Eagle III" makes its Blu-Ray debut in the form of a satisfying 1080p (1.85) AVC encode with 2.0 DTS MA stereo sound, an image gallery and the original trailer.
DOG DAY Blu-Ray (98 mins., 1983, Not Rated; Kino Lorber): A true curio for Lee Marvin fans, "Dog Day" is a French film from director Yves Boisset that received apparently scant distribution in North America. This thriller stars Marvin as a bank robber who ends up having to head out on the lam, running into a farmhouse in the Beauce region where he tries to stay one step ahead of both the police and his former associates who want him dead – while having to balance the assorted interests of the farmers who hatch devious plans for his survival. David Bennett ("Legend"), Tina Louise, Victor Lanoux and Miou-Miou lead the odd cast in an odd movie that defies categorization – it's somewhat like watching Marvin's earlier (and terrific) "Prime Cut" by way of a moody French drama. The disc offers a nifty 1080p (2.35) AVC encoded transfer with DTS MA audio in either English or French, with commentary from historians Howard S. Berger and Steve Mitchell providing some interesting trivia on this rarely-screened picture that Kino has dug up in a fine Blu-Ray package.
LONG DAY'S JOURNEY INTO NIGHT 3D Blu-Ray (140 mins., 2018; Kino Lorber): The biggest Chinese "art-house" hit of all-time, Bi Gann's vividly photographed "Long Day's Journey Into Night" chronicles the journey of a man (Huang Jue) trying to track down a woman from his past (Tang Wei). This takes him on a varied odyssey across the province of Guizhou and run-ins with eclectic characters – all before culminating in an hour-long 3D "movie within a movie" where Jue is propelled into a labyrinthine, noir-esque landscape.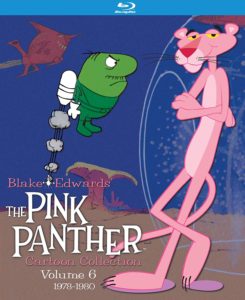 Even without the benefit of 3D (our last 3D-equipped plasma kicked the bucket a few months ago), one can appreciate the intensity of the visuals in Kino Lorber's Blu-Ray package (1.85, 7.1 and 5.1 DTS MA). This is a two-disc set that preserves the movie's 3D cinematography on one platter with a flat 2D presentation on another. Extras include an interview with Gan, a conversation with Jue, a Making Of featurette, trailers and liner notes.
THE PINK PANTHER CARTOON COLLECTION Volume 6 Blu-Ray (116 mins., 1978-80; Kino Lorber): The sixth and final release in Kino Lorber's survey of Pink Panther cartoons from the Depatie-Freleng group features material mostly produced for the NBC Saturday morning "All-New Pink Panther Show," segments of which played in theaters overseas. Among the shorts completing Kino's wonderful Blu-Ray compilations are Pinkologist; The Pink Press; Pink in the Drink; Pink Bananas; Pinktails For Two; Pink Z-Z-Z; Star Pink; Pink Breakfast; Pink Quackers; Toro Pink; String Along in Pink; Pink in the Woods; Pink Pull; Spark Plug Pink; Doctor Pink; Pink Suds and the quite entertaining Supermarket Pink. The 1.33 AVC encoded transfers and DTS MA mono soundtracks are all terrific, with extras including commentaries on selected shorts by author Mark Arnold, historian Jerry Beck, Greg Ford, writer William Hohauser, and Constantine Nasr. There's also a featurette from Greg Ford and William Hohauser, "Pink Links," along with the segment "Remembering Fritz" and a "Pink Panther Flakes" commercial.
---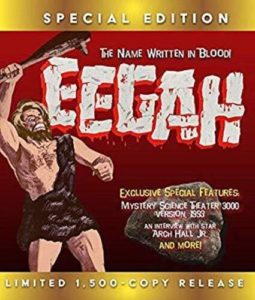 Catalog Corner
The work of stalwart independent labels continues to pay huge dividends for movie buffs and Blu-Ray owners. Case in point is The Film Detective's loving, limited-edition release of EEGAH! (90 mins., 1962; The Film Detective), better known as the "movie where Richard Kiel plays a caveman" – or the central fodder for one of the more memorable early episodes from "Mystery Science Theater 3000."
"Eegah!" is a crazed, micro-budget early '60s drive-in vehicle from Arch Hall, Sr., who cast his son as a guitar-strumming, dune-bug riding hero – the boyfriend to sexy Marilyn Manning, who becomes the infatuation of a caveman (Kiel) who really just wants the company. She, along with her father (Hall, Sr. himself), spend an awful lot of "cave time" with Kiel's Eegah before the movie comes alive in its final 20 minutes with the caveman clashing with then-modern, early '60s civilization at its most suburban.
Restored here in a gorgeous 4K mastering (1.66) with DTS MA mono audio, "Eegah" has never looked or sounded better, needless to say. The Film Detective's superb presentation, direct from the original 35mm camera negative, enhances a goofy little movie that's going to be best appreciated by devotees of its era's drive-in fare and smaller budgeted pictures. Extra features include the 1993 MST3K version of the film with a new interview with the show's creator, Joel Hodgson, plus another new interview with Arch Hall, Jr., who reflects on his father's work and the film itself. The 1500 copy limited edition is available at Amazon and other retailers, and comes with booklet notes by Don Stradley.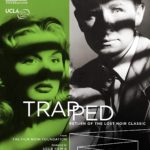 Flicker Alley is back this month with their final new release of 2019: an impressive Blu-Ray/DVD combo pack of TRAPPED (78 mins., 1949), a hard-boiled film noir starring Lloyd Bridges as a counterfeiter doing time in Atlanta when the feds decide to let him out – in order for him to help them track down fake bills being passed around town. Instead, Bridges double-crosses everyone and tries to high tail it to the border with his gangster girlfriend (Barbara Payton) in tow. Richard Fleischer helmed this highly regarded B-movie that was thought to have been lost to the ravages of time – fortunately a pristine print was donated to the Harvard Film Archive, leading UCLA and the Film Noir Foundation to undertake an extensive restoration. The fruits of their efforts can be seen in this Flicker Alley release, sporting a crisp 1080p B&W rendering with extras including a documentary on the production with noir authority Eddie Muller among others; a remembrance of the film with Fleischer's son, Mark; a 24-page souvenir booklet; and commentary from historians Alan K. Rode and Julie Kirgo.
---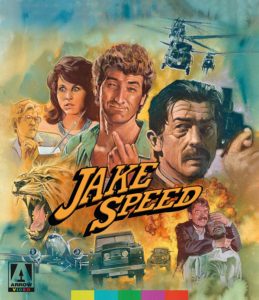 Arrow New Releases
JAKE SPEED Blu-Ray (105 mins., 1986, PG; Arrow): Arrow continues to mine the good, the bad, and the mediocre from the New World Pictures vaults. This month's offering from the New World library features the tedious, Indiana Jones/James Bond rip-off "Jake Speed," with non-actor Wayne Crawford starring as the title hero of paperback adventures set out to rescue the sister of Karin Kopins. John Hurt must have seriously needed some cash based on his appearance in this cheapie, which was shot on location in Africa and Paris, with Mark Snow scoring one of his first major features. Producers Crawford and Andrew Lane, meanwhile, had scored minor hits with the likes of "Valley Girl" and "Night of the Comet," but their taking over the directorial and acting reigns on this picture results in a flaccid adventure that never comes alive.
Arrow's Blu-Ray looks superbly detailed (1.85) but the original Ultra Stereo soundtrack isn't present, with lossless PCM mono audio lamentably included instead. Extras include a new interview with Lane, who notes that Bruce Willis submitted his glossy for potential casting (whoops!), while producer William Fay is also profiled in a separate conversation.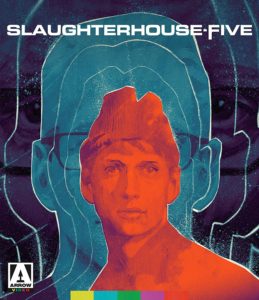 SLAUGHTERHOUSE-FIVE Blu-Ray (103 mins., 1972, R; Arrow): Kurt Vonnegut's bestseller became an equally eclectic 1972 film under the direction of George Roy Hill. Stephen Geller adapted Vonnegut's book, relaying the incredibly odd adventures of one Billy Pilgrim (Michael Sacks), from his service in WWII to his marriage and children, and eventual capture by aliens who want him to take up permanent residence in an outerspace zoo of sorts. The recently-departed Ron Leibman and Valerie Perrine also star in this fascinating, offbeat early '70s Universal picture with classical works provided on the soundtrack by pianist Glenn Gould. Arrow's Blu-Ray hails from a good looking new 4K transfer (1.85) produced by Arrow exclusively from the original negative. The PCM mono audio is crisply rendered with extras including commentary from critic Troy Howarth; video interviews with critic Kim Newman, co-star Perry King, Rocky Lang (son of producer Jennings Lang), Robert Crawford, Jr., and Daniel Schweiger, commenting on the picture's eclectic soundtrack.
THE LIMITS OF CONTROL Blu-Ray (116 mins., 2009, R; Arrow): Director Jim Jarmusch's movies are an acquired taste, but even by his standards, "The Limits of Control" is a fairly unknown movie. This 2009 offering from Jarmusch stars Isaach de Bankole as a stranger in a strange land (Spain) who's instructed to make contact with a series of disparate individuals in the country. Tilda Swinton, Bill Murray, Paz de la Huerta, Gael Garcia Bernal and John Hurt also appear in this Jarmusch effort, best recommended for the filmmaker's devotees. Arrow's Blu-Ray (1.85, 5.1/2.0 DTS MA/PCM) is out this week featuring a new interview with critic Geoff Andrew; a video essay from writer Amy Simmons; an archival Making Of; a featurette; and the trailer.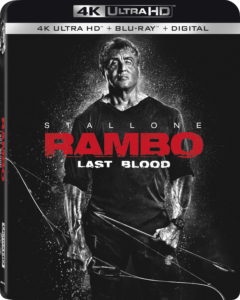 Also New & Noteworthy
RAMBO: LAST BLOOD 4K UHD (89 mins., 2019, R; Lionsgate): The fifth and perhaps final adventure of John Rambo finds the Vietnam vet having settled on the family ranch in Arizona, living out his retirement while managing his internal demons…at least until the college-bound daughter of a family friend decides to go to Mexico. Hoping to reconcile with her destitute father, Gabrielle (Yvette Monreal) instead becomes the victim of a date-rape drug and is subsequently bound for a life in sex trafficking – all in one night! And that, of course, doesn't sit well with Sylvester Stallone's hero, especially once he stops taking his meds.
Stallone and Matt Cirulnick's script for "Last Blood" actually starts off well, believably establishing the relationship between Rambo and Gabrielle, and Sly's grizzled delivery comes off as a convincing extension of the same character he essayed in Ted Kotcheff's original 1982 "First Blood." Yet once the second half of the film kicks into gear, "Last Blood" loses its momentum and never recovers. The pacing turns completely awkward – second-billed lead Paz Vega's character has no pay off whatsoever – while the picture commits a major narrative blunder that takes whatever emotional investment one might have in the story and chucks it out the window.
Stallone's 2008 "Rambo" was a potent piece of action filmmaking that was understandably separated in tone and tenor from the '80s blockbusters that preceded it – yet still felt connected thematically with Rambo finding a "cause to fight for." This lower-budgeted new entry, directed by Mel Gibson protégé Adrian Grunberg, offers even less of the same cinematic DNA, especially since Rambo suffers a major defeat in his quest, turning the pre-ordained bloody climax into less a piece of rousing violent triumph (like its predecessors) and more a rote rerun of "Death Wish." Rambo runs around the underground tunnels beneath his ranch and takes out one generic Mexican cartel smuggler after another, but none of it offers any suspense or release since Rambo's not fighting for anything other than serving the audience with a succession of ridiculously gory kills.
Grunberg's direction, meanwhile, lacks the raw visceral intensity Stallone brought to the last "Rambo" outing, with his strongest cinematic trick reserved for passing-off Portugal and Bulgaria as Arizona and Mexico! Ultimately, though, Stallone's prior entry should've been Rambo's swan song – the iconic action hero was deserving of more than the limp cinematic rubble he's finally reduced to here.
Lionsgate's 4K UHD includes a fine HDR10/Dolby Vision-capable transfer (2.39) plus Dolby Atmos audio and a few Making Of materials. The DVD and a Digital HD copy are also included, though there are no deleted scenes – an interesting omission since a longer (though reportedly not better) version played in numerous overseas markets.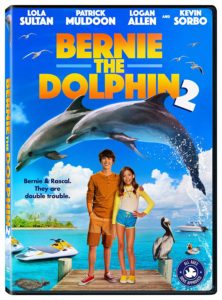 Also New From Lionsgate: A pair of other sequels are also new to Lionsgate's roster this month. The horror follow-up THE GALLOWS ACT II (100 mins., 2019, R) brings back the evil spirit "The Hangman" as an aspiring young actress (Ema Horvath) becomes trapped in a cursed stage play after logging into a suspicious website and reciting a section from it online. Soon she finds herself attaining stardom – and attracting the same supernatural curse as the previous film – in this follow-up from writer-directors Chris Lofing and Travis Cliff. Lionsgate's combo pack includes a solid 1080p (2.40) AVC encoded transfer, 5.1 DTS MA sound, a Digital HD copy, DVD, deleted scenes, Making Of, and commentary with the directors…BERNIE THE DOLPHIN 2 (99 mins., 2019, G) finds the titular dolphin back, hanging out with young friends Kevin and Holly, when villainous Kevin Sorbo gets out of jail and springs a plan to capture him. Fellow dolphin Rascal, Mango the parrot and Patrick Muldoon pop up in Kirk Harris' sun-drenched, amiable sequel to its direct-to-video predecessor, with Lionsgate's DVD (2.35, 5.1 Dolby Digital) including a behind-the-scenes featurette.
Renee Zellweger's performance is the main draw in JUDY (119 mins., 2019, PG-13), a compelling if depressing biopic of Judy Garland that's set in London as she's performing at The Talk of the Town. Rupert Gould's film, scripted by Tom Edge from Peter Quilter's novel "End of the Rainbow," shows a frazzled Garland coming to the end, struggling with addiction, anxiety, management, personal demons – and yet still able to carry on and perform through it all. Zellweger may have been a bit of an odd choice but she's believable, at least within the parameters of her depiction of the legendary star, making "Judy" worth seeing – though it's hard to classify as entertainment. Lionsgate's Blu-Ray (2.39, 5.1 DTS MA) includes a Making Of, image gallery, trailer, DVD and Digital HD copy…Nat Wolff and Alexander Skarsgard headline THE KILL TEAM (87 mins., 2019, R), an A24 release starring Wolff as an American soldier disheartened by the actions of some of his fellow squadmates in Afghanistan. Skarsgard is the sadistic sergeant who stands in the way of justice in Dan Krauss' film, new to Blu-Ray featuring a 1080p (2.39) transfer, 5.1 DTS MA sound, deleted scenes, a Making Of and commentary with the director.
AD ASTRA 4K Ultra HD Combo Pack (123 mins., 2019, PG-13; Fox): Incredibly slow-going "outer space/inner space" drama houses a convincing performance from Brad Pitt but otherwise is distressingly Earth-bound when it comes to its unappealing story.
Pitt plays an emotionally detached astronaut pressed into duty in order to find his long-lost father (Tommy Lee Jones), who went looking for extraterrestrial life decades before, and whose mission may be connected to "Cosmic Rays" that are now threatening the galaxy. Pitt's Roy McBride's journey includes a trip to the moon and other assorted run-ins with a variety of folks, including one of his father's former colleagues (Donald Sutherland, making for a quasi-follow-up to his appearance with Jones in Clint Eastwood's "Space Cowboys")…but director James Gray seems more interested in McBride's internal quest to become more emotionally invested in his life, as well as his estranged wife (a barely in-focus Liv Tyler).
"Ad Astra" offers detailed special effects and a moody Max Richter score (albeit with "Additional Music" contributions from the ubiquitous Lorne Balfe), but this is more along the lines of the ill-fated remake of "Solaris" than "2001." Gray's sluggish pacing and Pitt's monologues are so dull that no amount of outer-space realism can compensate, with Gray offering the occasional "action sequence" seemingly as an obligation to his predictable messaging that the real journey into the human experience is inside us all – something we've seen in countless other movies offering a variation on this same theme.
Fox's 4K UHD includes HDR and Dolby Atmos sound – it's a robust technical package with extras including deleted scenes, Gray's commentary, featurettes, a Blu-Ray and Digital HD copy.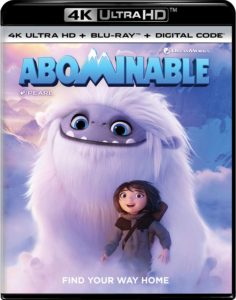 ABOMINABLE 4K Ultra HD/Blu-Ray (97 mins., 2019, PG; Universal): Delightful animated feature from Dreamworks and Pearl Studio follows a trio of friends – Yi, Jin and Peng – who discover a young Yeti on a rooftop. Together, they set off on an adventure across China to reunite the creature they've dubbed "Everest" with his family. A nice message, poignant emotion and lots of fun permeate this superior kids film, one that's far better than the similarly-themed, recent 'toon feature "Smallfoot," even though it didn't generate quite as much coin following in its wake. A solid choice for gift-giving, Universal's 4K UHD of "Abominable" sports a beautiful HVEC encoded, HDR-enhanced transfer with Dolby Atmos audio and plenty of extras: two original shorts, deleted scenes, featurettes, a Blu-Ray and Digital HD copy. Warmly recommended!
DOWNTON ABBEY Blu-Ray/DVD (121 mins., 2019, PG; Universal): Fans of the international phenomenon that is "Downton Abbey" flocked to this feature-film extension of the program, which became a sensation on both sides of the pond. Julian Fellowes created the series and wrote the movie, with the Crawley family and their staff preparing for a visit from the King and Queen of England. The original cast returned for this entertaining confection, which debuts on Blu-Ray and DVD (2.39, 7.1 DTS MA) just in time for the holidays from Universal. Their BD/DVD combo pack offers a Digital HD copy and tons of extras: deleted scenes, featurettes, and commentary from director Michael Engler among others.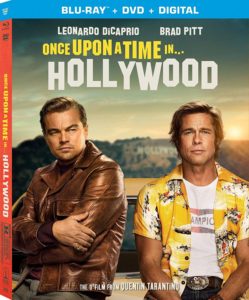 ONCE UPON A TIME IN HOLLYWOOD Blu-Ray/DVD (161 mins., 2019, R; Sony): Quentin Tarantino's fantasy-land portrait of Hollywood in the 1960s offers Leonardo DiCaprio and Brad Pitt leading a cast that captures the flavor of the era and culminates in a weird ending involving Sharon Tate (an under-utilized Margot Robbie) and the Mansons that could've come out of an old Marvel "What If…?" comic. The sense of time and place, along with Robert Richardson's cinematography, is top-notch but "Hollywood" suffers from much of Tarantino's flabbier recent work, with self-indulgent pacing and writing that thinks it's more engaging and clever than it actually is. Nevertheless, worth a look – for Tarantino fans most especially – in Sony's Blu-Ray/DVD, which includes seven additional scenes, featurettes, a 1080p (2.39) transfer, 5.1 DTS MA audio and a Digital HD copy.
OVERCOMER Blu-Ray Combo Pack (119 mins., 2019, PG; Sony): The Kendrick Brothers return for another solid "inspirational" drama, this one involving a small-town basketball coach (Alex Kendrick, who also directed) who becomes his school's cross-country instructor after a factory shuts down, causing him to lose his players. His sole pupil is a young black athlete whom he helps become a champ in this feel-good, family-friendly "faith based" picture that's earnest and sincerely delivered. Sony's Blu-Ray (2.39, 5.1 DTS MA) is out this week featuring loads of extras (Making of, deleted scenes, commentary, featurettes), BD-specific supplemental featurettes, a DVD and Digital HD copy.
---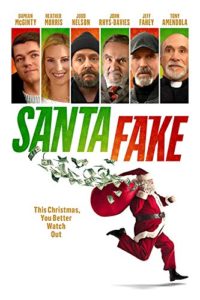 Quick Takes
New From RLJE Films: Ample genre favorites pop up in Patrick Lussier's TRICK (101 mins., 2019), an engaging enough new riff on the slasher genre with a mask-wearing madman seeking revenge every Halloween after seemingly been shot dead years before. Omar Epps and Ellen Adair are the detectives on the scene with Kristina Reyes the heroine who eventually tangles with "Trick" in this watchable thriller featuring appearances from Jamie Kennedy and Tom Atkins among others. RLJE's Blu-Ray should've been out for Halloween but debuts this week instead sporting a 1080p (2.39) transfer, 5.1 DTS MA sound and a Making Of featurette…Ethan Hawke delivers a strong performance in Logan Marshall-Green's slender ADOPT A HIGHWAY (81 mins., 2019, Not Rated) as an ex-con, out after two decades behind bars, who finds a baby left in a dumpster. Hawke is fine here – sensitive and sympathetic – yet "Adopt a Highway" is puzzlingly short of development, barely hitting the 80 minute mark. RLJE's Blu-Ray (1.78) includes a 5.1 DTS MA soundtrack…When a crime boss (Dolph Lundgren) kidnaps the son of one of his operatives (Natalie Burn) who double-crossed him, he unleashes a mother's wrath in ACCELERATION (86 mins., 2019, Not Rated), a predictable action outing co-starring Sean Patrick Flanery, Chuck Liddell, Quinton "Rampage" Jackson, Sally Kirkland and Danny Trejo. RLJE's Blu-Ray includes 5.1 DTS MA sound, a 1080p transfer and hits stores this week.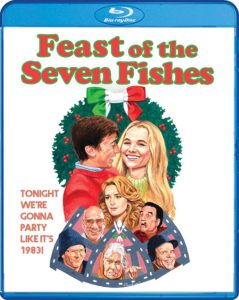 Film Movement New Releases: New on DVD this month from Film Movement, TWIN FLOWER (96 mins., 2019) follows a teenager (Anastasiya Bogach) who's been traumatized by an event that's left her literally speechless and pursued by a human trafficker. She's rescued by an Ivory Coast teenage orphan (Kallil Kone), and together the duo cross through Sardinia in a moving character drama with remarkable, authentic performances from the two leads. Film Movement's DVD includes Carlota Pereda's short "Cerdita," a 16:9 (2.39) transfer and 5.1 sound (Italian/French with English subtitles)…the documentary HOLLY NEAR: SINGING FOR OUR LIVES (63 mins., 2019) chronicles the work of singer, songwriter and social activist Holly Near, featuring interviews with Gloria Steinem, Jane Fonda, Ronnie Gilbert, Tom Hayden and others. Film Movement's DVD includes over 30 minutes of additional interviews and live performances.
FEAST OF THE SEVEN FISHES Blu-Ray (99 mins., 2019. Not Rated; Shout! Factory): Cute rom-com is set in an Italian family circa the early '80s, wherein a young member of the Oliverio family (Skyler Gisondo) hopes to capture the heart of an Ivy League girl (Madison Iseman), even with his ex – and her ex – both threatening to conspire against their prospective relationship. It's all set against the backdrop of the annual "Feast of the Seven Fishes," a holiday tradition amongst Italian families from the old country. Robert Tinnell wrote and directed this adaptation of his own graphic novel, which is a little bit meandering at 99 minutes but contains enough authentic period flavor and heart to make for a recommended view. Shout's Blu-Ray of this good-hearted feature scores with a 1080p (1.85) transfer, commentary from Tinnell, a behind-the-scenes featurette, the trailer, 2.0 DTS MA stereo sound, and Tinnell's award-winning short "The Game."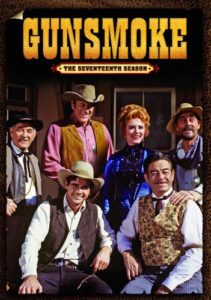 SANTA FAKE DVD (87 mins., 2019, Not Rated): Damian McGinty stars in "Santa Fake" as an illegal alien from Northern Ireland who heads to NYC where he meets a crime boss (John Rhys-Davies). After taking a pair of briefcases, he ends up taking them to the wrong destination – Santa Fe – where he becomes a shopping mall Santa in order to stay one step ahead of the thugs pursuing him. J.M. Burns' film is upbeat enough and includes some breezy songs with Judd Nelson and Jeff Fahey making supporting appearances. The DVD for "Santa Fake" is now in stores featuring a 16:9 transfer and 5.1 Dolby Digital audio.
WHERE'S MY ROY COHN Blu-Ray (97 mins., 2019; Sony): Documentary on the life and times of the controversial political figure from director Matt Tyrnauer not only recounts his oft-discussed career but also (unsurprisingly) his connections with the current POTUS. Sony's Blu-Ray is now available sporting a 1080p transfer, DTS MA sound, a commentary with Tyrnauer and producer Marie Brenner, plus a Q&A with Tyranuer discussing Cohn's lasting impact on American politics and place in today's socio-political climate.
From CBS: Seems like all of Hollywood is obsessed with Fox News – as evidenced by both the new feature film "Bombshell" and THE LOUDEST VOICE (6 hours, 2019), a Showtime series starring Russell Crowe as Fox's recently-departed, controversial founder Roger Ailes. Seth MacFarlane, Sienna Miller, Naomi Watts and Annabelle Wallis co-star in this Showtime production, on DVD this week in a three-disc DVD set from CBS sporting 16:9 transfers and a featurette.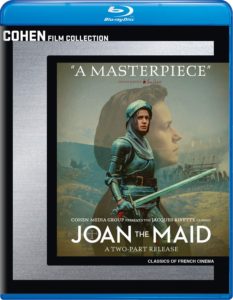 Fans of classic TV westerns have much to celebrate this Christmas. The "Official Tenth Season" of BONANZA (1968-69) is out for the first time on DVD sporting original, unedited music (or so the packaging claims), restored transfers and a slew of extras. Available in two separate volumes, CBS' package includes the original network preview for "The Fence," photo galleries, excerpts from "The Jack Benny Birthday Special" (1969) with Dan Blocker, an intro from Mitch Vogel on the episode "The Real People of Muddy Creek," plus a commentary from Andrew J. Klyde on "Mark of Guilt"…Finally, the long-running, classic TV western GUNSMOKE (1211 mins., 1971-72) continues its run on DVD in a Season 17 set from CBS. This single-volume, six-disc set houses all 24 episodes in full color from the later years of the franchise's run on CBS, making it a must for fans.
THE RETURNED – Complete Second Season Blu-Ray (480 mins., 2019; Music Box): Music Box brings the second season of the hit French series to Blu-Ray this month, jumping back into the story months after the valley was flooded, leaving behind only those searching for their loved ones. Meanwhile, a new wave of the "Returned" appear, each with their own agenda and secrets that connect with the town's history. This offbeat, acclaimed series continues to be well-received on both sides of the pond, with Music Box's Blu-Ray including 1080p transfers and DTS MA stereo soundtracks in French with English subtitles.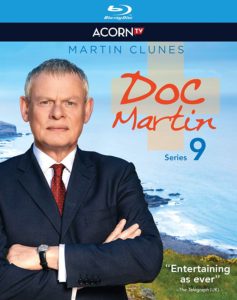 JOAN THE MAID Blu-Ray (336 mins., 1994; Cohen): Sandrine Bonnaire stars in this mammoth, two-part 1994 epic about the life and times of Joan of Arc – first as a teenage girl who leads the French against the British, with its second half focusing on the last two years of Joan's life. Bonnaire earned a Cesar nomination for her performance in this lengthy but compelling production, here preserved in an attractive Blu-Ray restoration with 5.1/2.0 DTS MA stereo audio (French with English subtitles).
DOC MARTIN SERIES 9 Blu-Ray (384 mins., 2019; Acorn/RLJ): Things aren't quite as placid in the 9th series of the hit British drama "Doc Martin" starring Martin Clunes. This time, Clunes' Dr. Martin Ellingham faces scrutiny over his blood phobia – leading to his office being examined, and the good doctor forced to take refresher courses…something lightweight that could lead to serious consequences if not taken care of. Life in the coastal town of Portwenn, meanwhile, continues on with the lives and loves of its quirky inhabitants likewise informing much of this season of "Doc Martin," now on Blu-Ray from Acorn. Behind-the-scenes featurettes, with a look at the show's shooting in Cornwall, are on-tap in Acorn's three-disc set with 1080p (1.85) transfers and 5.1 DTS MA soundtracks.
FREAKS Blu-Ray/DVD (105 mins., 2019, R; Well Go USA): Low-budget super-hero/sci-fi/puzzle from writer-directors Adam Stein and Zach Lipovsky aims for a Shyamalan/"Westworld" type hodgepodge involving a father (Emile Hirsch) and his seven-year-old daughter (Lexy Kolker), whom he tries to protect by telling her they need to act "normal" in order to survive in a vaguely defined futuristic world. Bruce Dern plays an Ice Cream Man who tries to open up the world to the possibly-superpowered girl in a film that tries hard to keep you invested, but as more of "Freaks"' endgame is revealed, the picture becomes progressively less interesting. A nice try at least. Well Go's Blu-Ray/DVD combo pack is out this week featuring a 1080p transfer, 5.1 DTS MA sound, a behind-the-scenes featurette, trailers, and commentary.
NEXT TIME: THE IRISHMAN! STAR WARS! Until then, don't forget to drop in on the official Aisle Seat Message Boards and direct any emails to our email address. Cheers everyone and Merry Christmas!