Brought back to salvage the concluding chapter in Disney's so-called "Skywalker" series, director J.J. Abrams does something interesting with STAR WARS: THE RISE OF SKYWALKER (142 mins., PG-13): he and co-writer Chris Terrio basically act as if its tepid, divisive Rian Johnson-helmed predecessor, "The Last Jedi," never existed. Did that visit to the intergalactic casino ever happen? Where are the "Jedi Kids"? Are characters played by Laura Dern and Benicio Del Toro even canon now?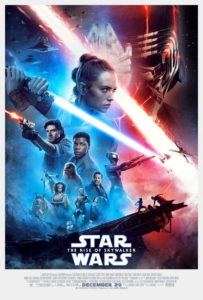 "Episode IX" plays like a direct sequel to Abrams' "The Force Awakens," or at the least, a second installment he didn't get to make – tonally, visually, it "fits" with that film, while avoiding basically anything to do with "The Last Jedi" outside of where its characters are positioned at the outset. It even seems to go out of its way to avoid referencing anything that even happened in "Last Jedi," while bringing back Abrams' penchant for recycling material amongst a bevy of bland, forgettable action.
The plot – which evaporates so quickly that you'll soon forget what the characters are even doing – finds Emperor Palpatine (Ian McDiarmid) back and among the living (don't ask how this happens; a reprisal of dialogue from "Revnege of the Sith" is all you'll get). In one of the movie's few interesting elements, it turns out the First Order is just a front for the revival of the Empire (surprise!), yet it would've been more effective had this material been incorporated to some degree in the previous picture. Out to stop him is Rey (Daisy Ridley), who's basically become a full-fledged Jedi still wondering about her parents' identity, as well as Kylo Ren (Adam Driver), now the First Order's ranking leader but dubious about the newly-revived Emperor's power grab.
"Skywalker" is unquestionably a more respectable, entertaining film than "The Last Jedi," with its most satisfying attributes coming through the character arcs of Kylo and Rey. Driver proves to be the most compelling presence in these three films, with his conflicted nature and unpredictable performance bringing a much-needed shot of energy to all the scenes he's in. While Ridley's performance has basically become a flatline – she generates the same emotional response in scene after scene, seldom providing an indication of her heroine's growth – her scenes with Driver still retain their interest.
Regrettably, their sequences are sabotaged by mostly banal action, boring supporting characters, and a maddening number of things that never pay off. Abrams struggles to find a function for either John Boyega's Finn or Oscar Isaac's Poe – so much that Finn's repeated line "I've got to tell Rey something!" inexplicably has no resolution at all. Meanwhile, a kiss between two leads that does occur near the end generated widespread laughter and groans from the audience I was sitting with. Other characters come and go, mostly without any consequence (Keri Russell has a worthlessly underdeveloped role in particular), while Billy Dee Williams saunters in for a few minutes, looking as if he was trying to find the salad bar while dressed up in Lando Calrissian garb.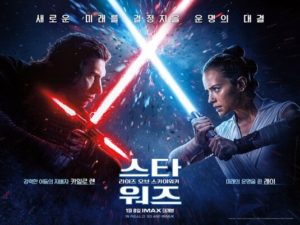 To his credit, Abrams does provide some interesting visual flourishes – a light-saber duel on the downed remnants of the second Death Star is played out against a turbulent sea with humungous waves – and a mercifully short reprisal of original trilogy star appearances, Lando notwithstanding.
What it all amounts to, though, is a disconnected trilogy that doesn't function as a cohesive whole, the product of focus groups, studio executive notes and Disney's corporate filmmaking mentality – there's no doubt the studio's investment in release dates, as opposed to screenplays, was clearly felt here. While Abrams is no Lucas, one gets the sense had he been employed to shepherd the story through the second film (instead of hiring/firing Colin Trevorrow and then bringing in Rian Johnson, who should've been axed), this trilogy may have had a fighting chance to at least function more coherently than it ultimately does.
When "The Force Awakens" hit theaters in 2015, many fans felt the rush of nostalgia and flocked to the film – yet with 5 movies having been cranked out in four years, it's safe to say that thrill is now gone (sadly that sentiment can be felt with John Williams' music as well, which disappointingly falls flat here). Regardless of what you think about George Lucas, there was a point to both of his Star Wars trilogies, and a cogent message that these Disney films mimics but doesn't entirely comprehend. His creative impulse remains part of a cinematic realm far, far away from 2019. (**½, 142 mins., PG-13)
---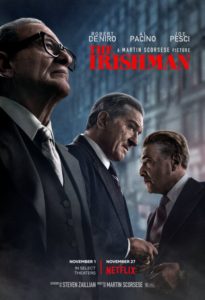 Also New
For all the special effects advancements that are implemented in Martin Scorsese's THE IRISHMAN, there's one area that needs finessing: the obvious fact that lead actors Robert DeNiro, Al Pacino and Joe Pesci are all closing in on 80. While they may not always look like it, they still sound and move like elderly gentlemen, an element that makes you feel like you're watching "Oldfellas," and proves to be a distraction in terms of this eagerly awaited mob drama's authenticity.
This Netflix production – still playing theatrically in some major cities – has been widely embraced by critics but greeted with more mixed reaction from audiences, some of whom have dismissed the film as tedious. It is true that the picture works better broken into segments than in one long sit, where the movie's nature as a confined, three-character drama would be amplified.
Though sprawling in terms of its time frame, "The Irishman" isn't "Goodfellas" – Steven Zaillian's script, adapted from Charles Brandt's book, is anchored to its lead character, Frank Sheeran (DeNiro), whose rise from a union organizer into a bodyguard for Jimmy Hoffa (Pacino) is portrayed strictly through the prism of its three leads. Pesci plays the cool, steely Pennsylvania crime boss Russell Buffalino, who helps Frank's ascension up the ranks as a mob assassin, but finds the fiery, legendary union boss Hoffa to be a growing irritation over time – a problem Sheeran himself ends up having to deal with.
For all of its hefty running time, "The Irishman" doesn't offer peripheral components beyond this central triangle – it's always compelling, but leaves you wanting more. There's no portrait of "life in the mob" like "Goodfellas," no humorous interludes or use of real-world locations, engaging the viewer in its characters and surroundings. Nor is there the potential for supporting performances to make an impression – what does it say that the entire function of Anna Paquin, playing Sheeran's eventually estranged daughter, culminates in a single line of dialogue? That Sheeran had no domestic homelife (apparently) may be the point, but this is an issue for Scorsese's film, whose picture doesn't offer any dramatic interest beyond Sheeran's relationship with Hoffa and the latter's impact in the political world of the 1960s – something that may well be lost on younger viewers unaware of this history.
The digital effects "de aging" runs hot and cold here, but again, the one thing it can't do is make the movements of the three leads more convincing. When Sheeran goes into beat up a local shopkeeper, or flings a pair of guns into the river, you're all too aware of DeNiro's age. Though seen in flashbacks as a 40-something, this isn't the spry DeNiro of "Goodfellas," and the raspy deliveries of both Pacino and Pesci (whose controlled performance is the strongest of the trio) likewise take you out of the story. Scorsese's direction, meanwhile, is likewise less viscerally compelling than his previous visits to this genre – the glossy digital cinematography and almost "drawing room" interplay between the characters feel more stage-bound, less "alive" than either "Goodfellas" or "Casino."
That's not to say I wasn't caught up in watching "The Irishman," or ever found the story – based on Brandt's book "I Heard You Paint Houses" (which flashes on-screen as an alternate title) – dull. This is a well-crafted drama that has a high bar to live up to – and while "The Irishman" doesn't reach that lofty mark, it's still worth savoring as another chance to see a host of cinema legends getting together again, for one last genre hurrah. (***, 209 mins., R)
NEXT TIME: 2020 gets underway with the latest releases! Until then, don't forget to drop in on the official Aisle Seat Message Boards and direct any emails to our email address. Cheers everyone!