Is it possible to make a "provocative movie" that's really not very provocative? That's the case with JOKER (**, 122 mins., 2019, R; Warner), Warner Bros.' "audacious" attempt at telling a gritty, "realistic" origin story for Batman's arch-nemesis. Set in the 1980s and giving off an intentional "King of Comedy"/"Taxi Driver" vibe – right down to an opening reprise of Saul Bass' "W" Warner studio shield – "Joker" gives Joaquin Phoenix the showy role of troubled Arthur Fleck, a mentally disturbed man who works as a low-rent clown and has aspirations of becoming a stand-up comic. Unfortunately, he's not funny at all – and is quite crazy – and his downward mental spiral is matched by Gotham City's increasingly dangerous descent into urban decay.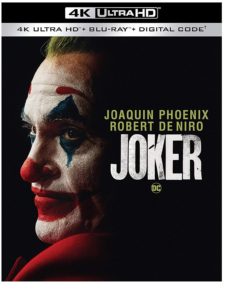 Todd Phillips – he of the "Hangover" comedies – clearly set out to make an anti-Marvel film, and while the film is aesthetically interesting, it's also repetitively structured with underlying themes that are only skin deep. Much of "Joker" is comprised of Phoenix acting nutty – laughing too hard at things that aren't funny, scaring other Gotham residents, dreaming of success he'll never have – while Phillips fails to deliver much else to support the performance. Quick fragments of comic book lore pop up here and there in an obligatory manner (young Bruce Wayne sliding down a pole), Robert DeNiro shows up as a Carson-esque late night TV host (a direct nod to his earlier collaborations with Scorsese), and the violent outbursts are grizzly — yet also entirely expected.
The net effect, of course, is predictable in a relentlessly one-note movie that gives the viewer nothing else to grasp onto. Arthur eventually finds killing to be a mechanism that gives him power – but this transition is only brought forward at the very end, with his initial slaughter of obnoxious yuppies on the subway followed by scenes wherein Arthur acts as if nothing happened while a barely-developed "anarchist movement" rises in the backdrop.
"Joker" seems to have more on its mind than the usual comic book fare, and its attempts at making an "adult," R-rated production – especially at a time when Disney's franchises threaten to consume everything else at the cinema – are laudable. It's just not a very good film, despite its convincing visual portrait of a run-down metropolis awash in crime and assorted filth, anchored by Phoenix's self-indulgent turn which feels at times as if Phillips was content to just let the actor improvise and keep the cameras rolling. Whether or not you find Phoenix's performance compelling, the film is a wholly unsatisfying, nearly pointless dramatic experience.
Warner's gorgeous 4K UHD (1.85) provides a detailed, rich visual presentation that offers clear gains with HDR and Dolby Vision over the standard Blu-Ray. The Dolby Atmos audio is effectively rendered as well, even if the droning score by Hildur Guonadottir is as repetitive as the film's tone. The Blu-Ray and a Digital HD copy are also on-hand along with barely a half-hour of Making Of featurettes.