Message Board (open 24 hours!)
Twitter - @andredursin (for everything else!)
Kino Lorber's terrific, varied slate of January releases offers high Technicolor adventure from the 1940s, a moody British character piece, a '70s revisionist western, Michael Ritchie's follow-up to "The Bad News Bears" and, for B-movie buffs, a truckin' adventure from the AIP vaults. These "Studio Classics" Blu-Rays come alongside the exciting news that Kino Lorber has made a new deal with Universal for a reported 200 releases coming this year and beyond, with a few 4K UHD titles hopefully a part of that equation.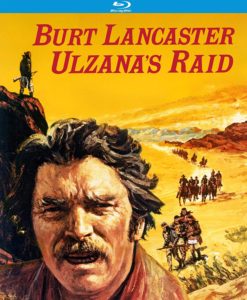 ULZANA'S RAID Blu-Ray (103 mins., 1972, R; Kino Lorber): Robert Aldrich's 1972 collaboration with Burt Lancaster is a strange, exciting and at-times befuddling western: a Vietnam allegory with Lancaster as a grizzled scout leading green cavalry lieutenant Bruce Davison and his company into the rugged terrain of southern Arizona. There, a renegade Apache (Joaquin Martinez) has been brutally slaying homesteaders en route to stealing as many horses as possible.
"Ulzana's Raid" is briskly paced by Aldrich – it's one of his shorter films – and offers notable performances from Lancaster, Bruce Davison, and especially Richard Jaeckel as a veteran commander working with his younger counterpart to stop Ulzana on Apache turf. Aldrich and writer Alan Sharp's comparisons with Vietnam are obvious, and yet the Apaches are ruthlessly portrayed with jaw-dropping bursts of violence: it's jarring to watch a teen sit idly by while his mother is shot dead by their would-be cowboy protector, who instead of submitting to Ulzana and his men, blows his own brains out. A scene shortly thereafter shows the Apaches tossing the man's heart around as if they were playing a game – and all of this is made even odder by Frank DeVol's sprightly underscoring, which sounds as if it could've been written for any number of old-fashioned sagebrush sagas from the 1950s!
This is not a particularly cohesive picture – some scenes have been obviously shortened and, indeed, Lancaster produced his own cut for overseas markets that reportedly accentuated his character. Yet, if you can overcome the at-times shocking tonal shifts and moments of outrageous violence, "Ulzana's Raid" proves to be a worthwhile western that's not overly preachy – it makes its point, but not at the expense of being entertaining.
Kino Lorber's Blu-Ray (1.85, 2.0 DTS MA mono) preserves Aldrich's U.S. theatrical cut of "Ulzana's Raid" in an acceptable, if obviously older, Universal master. Commentary from critic Nick Pinkerton and an interview with Davison are among the supplemental highlights, with a Trailers From Hell segment featuring admirer John Landis on-hand along with the trailer by itself.
SEMI-TOUGH Blu-Ray (108 mins., 1977, R: Kino Lorber): Fresh off his success with the beauty pageant satire "Smile" and the classic little league comedy "The Bad News Bears" (both, inexplicably, still absent from the Blu-Ray format), director Michael Ritchie turned his attention to the world of professional football with "Semi-Tough."
An adaptation of Dan Jenkins' book scripted by Walter Bernstein, "Semi-Tough" follows the misadventures of players Burt Reynolds and Kris Kristofferson, whose Miami team is comprised of a predictable motley crew, from bawdy Brian Dennehy to introspective kicker Ron Silver. The team still manages a fair amount of success considering their penchant for excess – drinking, carousing, and hanging out with a number of women, including the daughter (Jill Clayburgh) of the team's owner (Robert Preston), whom both Kristofferson and Reynolds share a seemingly platonic relationship with (note: that's not going to last for long).
"Semi-Tough" was understandably not nearly as well-received as Ritchie's previous two films, and it's best viewed as a time capsule of its era instead of a portrait of pro football which, as it turns out, is just a side distraction for its lead characters and their relationships. There's actually less action on the field than there is a lengthy trip to an EST-like seminar presided over by guru Bert Convy – who's quite funny by himself, but this tangent in the film's second half only adds to the movie's unfocused narrative. What ultimately holds the uneven film together is the sheer chemistry of Reynolds – more likeable than usual here – and Clayburgh, along with the nostalgic scenes of roadside stops in places like the Ramada Inn, which should bring back memories for anyone who grew up during, or lived through, the era.
Kino Lorber's "Semi-Tough" Blu-Ray offers an ok catalog transfer from the MGM vaults (1.85, DTS MA mono) that offers decent detail. An image gallery and the trailer are also on-hand.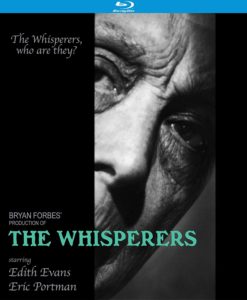 THE WHISPERERS Blu-Ray (106 mins., 1967; Kino Lorber): Moody and starkly shot Bryan Forbes production is set in a dilapidated England where buildings and entire neighborhoods seem to be in the process of being torn down – something that matches the fragile mental state of its elderly protagonist, Mrs. Ross. As played by Edith Evans in a deservedly Oscar nominated performance, Mrs. Ross lives alone in an apartment, hearing voices and managing a fragile existence – at least until she's preyed upon by a woman she meets at the local assistance board and is subsequently reunited with her estranged, no-good husband (Eric Portman)…yet in this instance, is that actually a good thing?
Forbes wrote and directed this adaptation of Robert Nicolson's book, beautifully filmed in black-and-white by Gerry Turpin and sporting an effective dramatic score by John Barry. "The Whisperers" is a film that unfolds extremely slowly and keeps you off-kilter throughout, and Forbes' most effective gambit is bringing the viewer to a point where you realize, at the conclusion, that Evans' character is actually better off in her solitary existence. It's not a great film – the material with Portman feels as if it's come out of another story, and Mrs. Ross seems more mentally "capable" in some scenes than in others – yet it's worth a look for its central performance and overriding atmosphere.
Kino Lorber's attractive Blu-Ray hails from a sterling new 2K master (1.66) with high detail and perfect contrast levels. A commentary from Kat Ellinger and trailers round out this debut HD release of the film.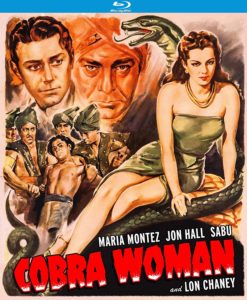 COBRA WOMAN Blu-Ray (71 mins., 1943; Kino Lorber): Lovely Technicolor hues permeate this 1943 Saturday matinee favorite – a Universal adventure from director Robert Siodmak that's short in running time but long in campy genre thrills. Jon Hall and Maria Montez – in one of their many on-screen collaborations – play South Seas lovers about to be married when she's kidnapped by a snake cult (whose members include a mute Lon Chaney Jr.) and whisked back to the remote, mysterious island she was born on. There, she finds out her twin sister is the leader of the Cobra People, and wants to eliminate her sibling's possible rite to the throne. With action, romance, Sabu and a fast-moving narrative (scripted by Gene Lewis and Richard Brooks), "Cobra Woman" has long been a favorite of Universal genre buffs, who should be delighted with Kino Lorber's Blu-Ray. The high bit-rate transfer (1.37, DTS MA mono) backs a good-looking master with commentary from historian Phillipa Berry and the trailer on the supplemental side.
HIGH-BALLIN' Blu-Ray (99 mins., 1978, PG; Kino Lorber): Surprisingly dark (given its poster art and premise) Canadian attempt to cash-in on the late '70s "Smokey and the Bandit"/"Breaker, Braker" craze pairs Peter Fonda with Jerry Reed as they go up against hijackers wrecking the road for Ontario truckers. Helen Shaver co-stars in a Canuck import that has a few well-executed action sequences from director Peter Carter, but "High-Ballin'" is a bit too slow and overly solemn, with the Paul Edwards screenplay lacking a sense of fun. This American-International release makes its Blu-Ray debut from Kino Lorber in the form of a completely serviceable MGM licensed master (1.85) with DTS MA mono audio. Extras include the Trailers From Hell segment featuring filmmaker David DeCoteau, two radio spots and the trailer.
JUST VISITING Blu-Ray (89 mins., 2001, PG-13): Second, and far superior, Blu-Ray of the 2001 U.S. sequel/remake of "Les Visiteurs" features Jean Reno and Christian Clavier reprising their roles from the '90s French hit in a movie also directed by Jean-Marie Gaubert. John Hughes co-scripted this breezy but forgettable follow-up that doesn't hit the comedic heights of its source material but reprises its central gags in an efficient manner – functioning more effectively if you haven't seen the original (which most Americans hadn't, seeing as "The Visitors" didn't find much of an audience outside Europe). Christina Applegate, meanwhile, adds a spirited comedic assist to the film, which Hughes produced (uncredited) in one of his sadly final screen credits. Mill Creek previously released "Just Visiting" on Blu-Ray in 2015; this new and improved Kino Lorber effort benefits from genuine 5.1 and 2.0 DTS MA stereo soundtracks plus the trailer, a vintage featurette and new commentary by writer Bryan Reesman.
---
Also New & Noteworthy
Despite returning director James Cameron to the series for the first time since his 1991 juggernaut "Terminator 2: Judgment Day," TERMINATOR: DARK FATE (**, 128 mins., 2019, R; Paramount) sputtered and collapsed at the box-office last fall. The latest – and very likely last – attempt at rebooting a franchise that produced four prior sequels with little connective tissue between them, "Dark Fate" aspires to be the first "legitimate" sequel to T2, bringing back Linda Hamilton as Sarah Connor and reuniting her with Arnold Schwarzenegger for the first time in nearly 30 years.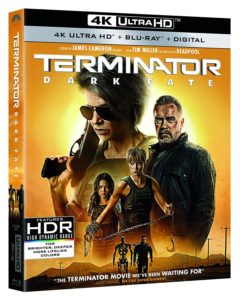 Yet, while this reportedly troubled production offers more of a female-centric bent in this "woke," post #metoo era product, it's remarkable that the return of Cameron – who produced and receives a story credit – resulted in just the most rote remaking yet of his 1984 original classic.
"Dark Fate" pretends that none of the other, non-Cameron Terminator sequels occurred and picks up the action with the death of John Connor in the most audience-unfriendly about-face since Newt's death at the start of "Alien3." A grizzled Sarah Connor (Hamilton) has spent the last few decades offing a flurry of terminators who have fallen out of the futuristic portal – signaled by a mysterious source (you'll never guess who it is) – until something truly different happens (well, not really): a new model of Terminator (Diego Luna) descends upon Mexico in order to off the next leader of the human resistance. This time it's not Sarah's deceased son but a Mexican girl (Natalia Reyes) who's the target, with the Kyle Reese function likewise gender-switched to a tough, futuristic, cyber-augmented female soldier (Mackenzie Davis). The trio bicker but eventually come together to try and stave off the next robot apocalypse from – shades of "The First Order" –"Legion," the new name for Skynet.
Director Tim Story ("Deadpool") and Cameron reportedly were at odds throughout the production of "Dark Fate," which boasts a ridiculous amount of credited screenwriters – six – given how creatively challenged the film turns out to be. The gambit here is that the producers felt that, if they pretended "Terminator 3," "Salvation" and "Genisys" didn't happen, audiences would react to "Dark Fate" as if it were a new, fresh product, complete with a heavy push towards the Latino market.
That decision, though, only alienated the remaining fans the series had, since "Dark Fate" plays out in such a pedestrian, by-the-numbers manner that it makes "Salvation" look like a breath of fresh air by comparison. Hamilton's gruff (and often stilted) performance may be "new," but the formula isn't, and the Terminator itself doesn't do anything we haven't seen before many times out. Switch out some dialogue with a predictable "female empowerment" angle and all we have – despite the Cameron brand name – is a transparent remake of the 1984 film, minus surprises and excitement save for Arnold's late return as an apologetic Terminator who's been spending the last few decades as a surrogate dad. Schwarzenegger's performance is the best thing in this movie, yet he comes in far too late to make much of a difference to a sequel that deservedly tanked at the box-office – coming in under the prior reboot effort (the agreeable "Genisys") and almost certainly ending future franchise revistations…at least for the foreseeable future.
Paramount's dynamic 4K UHD presentation of "Dark Fate" is out January 28th and includes Dolby Atmos, HDR and Dolby Vision capabilities – it's a strong a/v package with deleted/extended scenes, featurettes (totaling over an hour), and a Digital HD copy all included as well.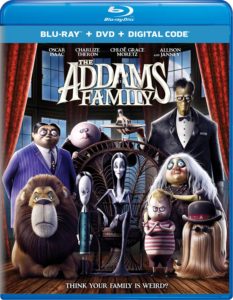 PLAYING WITH FIRE Blu-Ray Combo Pack (95 mins., 2019, PG; Paramount): Agreeable family comedy stars John Cena, Keegan-Michael Key and John Leguizamo as firefighters who save a trio of precocious kids from a wildfire. While they try and track down their parents, the trio are forced to babysit them until a relative shows up. Andy Frickman's film boasts no surprises at all, but for a PG-rated comedy you can watch with little ones, "Playing With Fire" isn't awful as Cena, Key and Leguizamo generate some laughs and Judy Greer is also fun as a conservationist. Paramount's Blu-Ray (1080p, 5.1 DTS MA) combo pack includes deleted scenes, bloopers, outtakes, a DVD and Digital HD copy.
THE ADDAMS FAMILY Blu-Ray Combo Pack (88 mins., 2019, PG; Universal): Long-percolating animated rendition of Charles Addams' characters turns out to be a fairly pleasant diversion for family audiences – something of a cross between the '90s live-action movies and a lighter kids adaptation, with plenty of energy. The central characters are rendered more along the lines of Addams' original drawings than other versions, and the gags don't stop in Conrad Vernon and Greg Tiernan's picture – even if the message is transparent (conformity is bad!) and the story centers a bit too much on a suburban reality-show host (voiced by Allison Janney) who lives nearby. Still worthwhile though for kids and fans, Universal's Blu-Ray combo pack is out (1.85. 7.1 DTS MA) this week featuring deleted/extended scenes, featurettes, a DVD and Digital Itunes copy (which plays back in 4K UHD upon redemption).
MOTHERLESS BROOKLYN Blu-Ray (144 mins., 2019, R; Warner): Edward Norton stars in, wrote and directed this adaptation of Jonathan Lethem's novel about a Tourette's-suffering private eye (Norton) who tries to solve the slaying of his boss and mentor (Bruce Willis). Set in the 1950s, that plot description sounds straightforward yet "Motherless Brooklyn" is a convoluted and slow-going disappointment packed with supporting players of note but anchored by Norton's affected, not always convincing performance — which comes off, at times, as a virtual rehash of his role in "Primal Fear." Behind the lens, Norton's bloated pacing results in an unwieldly running time with Norton and a scenery-chewing Alec Baldwin ultimately trading barbs in a good guy/bad guy confrontation to negligible effect. These days you want to support an adult, theatrically-released drama like "Motherless Brooklyn" but the film does no favors for itself. Warner's Blu-Ray (1.85, 5.1 DTS MA) is available this week with a Making Of, deleted scenes, commentary with Norton and a Digital HD copy included.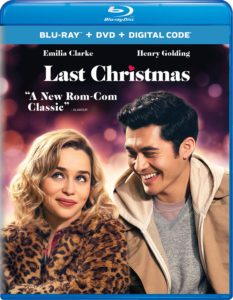 LAST CHRISTMAS Blu-Ray Combo Pack (102 mins., 2019, PG-13; Universal): It's a rough road for theatrical movies these days that aren't franchise regurgitations. Even the sole romantic comedy released this past holiday season – "Last Christmas" – sputtered, though in this instance, it's not just diminishing returns for anything without a number or a TM next to its title that's to blame.
Fresh off "Game of Thrones," Emilia Clarke plays a single girl who meets – but has trouble staying connected to – a mysterious stranger (Henry Golding) who shows her kindness, warmth and numerous spots around London…yet there's more (or maybe less) to this new man than initially meets the eye.
Clarke tries hard but "Last Christmas" is kind of an overly sweetened yuletide fruit cake – Paul Feig's direction is more in-tune with the comedic shadings of Emma Thompson and Bryony Kimmings' script, making the story's shifts into melodrama less convincing. And then there's the ending, which aspires for tearjerker status, but falls flat as a treacly denouement as contrived as most of this holiday box-office underperformer.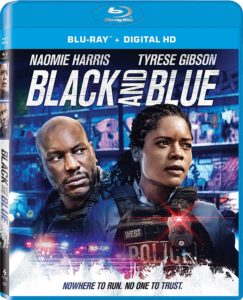 Universal's fast-tracked Blu-Ray of "Last Christmas" is out February 4th. The disc includes 7.1 DTS MA sound, a fine 1080p (2:1) transfer, a DVD, Digital code, and ample extras including an alternate opening and ending, deleted scenes, a blooper reel, numerous featurettes and a commentary with Feig and Thompson.
BLACK AND BLUE Blu-Ray (108 mins., 2019, R; Sony): Naomie Harris gets a chance in this low-grossing Screen Gems release to carry a film on her own, playing a rookie New Orleans cop whose bodycam captures the execution of a drug dealer at the hands of her fellow police superiors (including action vet Frank Grillo). Tyrese Gibson co-stars as a shop owner who's reluctant to help Harris after she's gunned down – but survives – due to friction between the police and the black community. In spite of its social elements, Deon Taylor's movie is fairly predictable but the performances are decent across the board, making "Black and Blue" worth a rental. Sony's now-available Blu-Ray (2.39, 5.1 DTS MA) includes two featurettes, deleted scenes and a Digital HD copy.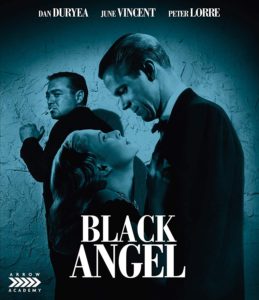 Label Wrap
Arrow New Releases: BLACK ANGEL (81 mins., 1946) is a film noir favorite from prolific Universal helmer Roy William Neil. This adaptation of Cornell Woolrich's novel whittles the possible suspects in the murder of a beautiful singer (Constance Dowling) down to her boozy ex-husband (Dan Duryea); a nightclub owner (Peter Lorre); and the philandering husband (John Phillips) she was having an affair with. Arrow's Blu-Ray debut of "Black Angel" in the format includes an exclusive restoration (1.33 B&W) from original film elements with extras including a new commentary from historian Alan K. Robe, a video appreciation from Neil Sinyard, still gallery, and the trailer…Spanish filmmaker Jose Ramon Larraz's EDGE OF THE AXE (91 mins., 1987) also makes its format debut from Arrow this month. In rural Paddock County, an insane, ax-wielding psycho stalks its residents with only a college-age computer nerd out to stop him. Larraz set "Edge of the Axe" in California but shot it in Madrid, making for an off-kilter genre effort with a wild twist ending and lots of amateurish killings. For fans only. Arrow's Blu-Ray includes a new 2K restoration (1.85) from the original camera negative; an audio commentary with actor Barton Faulks; another commentary from The Hysteria Continues; interviews with Faulks, co-star Page Moseley, and makeup artist Colin Arthur.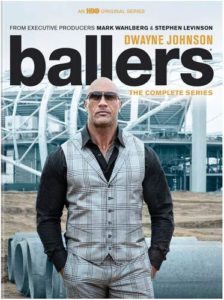 BALLERS Complete Series DVD (358/358/300/255/225 mins., 2015-19; Warner): Though not quite the smash hit it was expected to be, this HBO comedy starring Dwayne Johnson as a football star-turned-financial manager – and his group of friends who have less success off the field than on it – still managed to run five seasons, generating a decent fan following in the process. John David Washington, Troy Garity, Omar Miller and Rob Corddry co-starred in this lightweight series which HBO releases next week in a Complete Series set featuring all five seasons. 16:9 transfers and 5.1 soundtracks are on-hand along with the assorted extras from "Ballers"' previous DVD releases, making for a solid package that some may lament is not available on Blu-Ray.
Also new from HBO and Warner this week is TRUE JUSTICE: BRYAN STEVENSON'S FIGHT FOR EQUALITY (101 mins., 2019), a look at Alabama public interest attorney Bryan Stevenson and his work to institute criminal justice reforms, making the system fairer while challenging all of us to confront racial injustices within it. Warner's DVD (16:9, 5.1) of this HBO Documentary Films production – helmed by Peter, George and Teddy Kunhardt – is now available.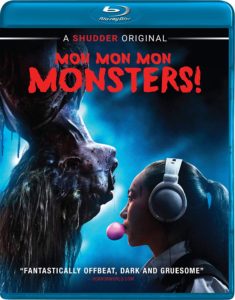 Lionsgate Wrap: The zombie thriller DEAD EARTH (81 mins., 2018, R) is set in a post-apocalyptic world where a pair of young women try to stay alive at an abandoned resort. Though the undead pose their own, obvious set of problems, things get even worse when the duo run out of supplies and have to head out into the wilderness where they find other survivors – who are just as bad, if not worse, than the undead. Lionsgatee's DVD of this European production (2.39, 5.1) is available next week.
Bruce Willis plays a veteran cop trying to find out what happened to his partner and an informant, and joins forces with a witness (Nicky Whelan) to their killings, who's being pursued on an abandoned hospital floor in the thriller TRAUMA CENTER (87 mins., 2019, R). Steve Guttenberg makes an appearance in this sleepy thriller — no relation to the short-lived 1983 ABC TV series — where Whelan seems to care but Willis once again phones in his second-billed appearance, seeming to gaze off into the distance while Matt Eskandari's movie generates little excitement. Lionsgate's Blu-Ray (2.39, 5.1 DTS MA) is out February 4th featuring a digital copy.
MON MON MON MONSTERS Blu-Ray (112 mins., 2017; RLJE Films): Grizzly little Taiwanese import finds a couple of monsters ravaging a school – yet that's nothing compared to the torment its lead character suffers at the hands of bullies, they of the living variety. The messaging is heavy-handed in this gory, and surprisingly depressing, 2017 release which Shudder brought to North America last year. RLJE's Blu-Ray (2.35, 2.0 DTS MA in English or Mandarin) is available February 4th.
THE SIREN DVD (79 mins., 2019, Not Rated; Dark Sky/MPI): Not especially horrifying, low-budget indie from writer-director-editor-cinematographer Perry Blackshear follows a man who rents a remote cabin where the legend of a siren who haunts the woods and waters nearby abounds. Meanwhile, a gay man who lost his significant other seeks revenge in a little movie with a lot of mood but just not enough story to keep it afloat. MPI's DVD (2.40, 2.0 stereo) includes two commentaries, an interview with Blackshear and the trailer.
---
New TV on DVD From Warner
A trio of new Warner DVD releases offers a pair of recent TV series as well as the continuation of one of the more popular 90s sitcoms.
HANGING WITH MR. COOPER (490 mins., 1994-95) starred Mary Curry as Mark Cooper, the substitute teacher who here gets a calling to become his school's new basketball coach – only to lose out after he avoids too many calls from the principal (sitcom vet Nell Carter). Mr. Cooper learns to accept being an assistant while helping his cousin (Saundra Quarterman) and her daughter (future genre star Raven-Symone). Holly Robinson Peete co-stars in this amiable ABC series that was a staple among family audiences in the decade. Warner's DVD includes stereo audio and 1.33 transfers.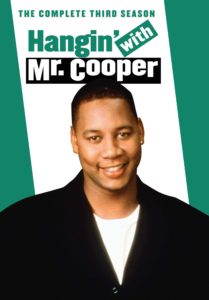 Revivals of canceled series with an ethnic shift – or a push towards political commentary – seem to be all the rage: from Netflix's just-canceled reworking of "Once Day at a Time" to the remake of "Party of Five," more "diverse" casting and/or politics-laden storytelling seems to be the cover for retreading old concepts. ROSWELL, NEW MEXICO (551 mins., 2019) tries to do the same – remaking the WB teen series as a semi-sequel in terms of its premise, with Liz (Jeanine Mason) returning to her hometown where friends Max (Nathan Persons), Isobel (Lily Cowles) and Michael (Michael Vlamis) are still around…and still aliens! The whole issue of border patrols, illegals, "the wall" and other "hot button" topics are none too subtly rammed into this otherwise flaccid revamp of "Roswell," which also loses all of its predecessor's teen innocence and charm in the process. Warner's DVD of this CW series includes its first-season with 16:9 (1.78) transfers and 5.1 Dolby Digital sound.
Penn Badgley gives a positively creepy performance in YOU (451 mins., 2018), the story of a seemingly mild-mannered psycho (Badgley) who works as a bookstore manager and becomes obsessed with a writer (Elizabeth Lail) to such a degree that even genre fans may be surprised by how far Greg Berlanti and Sera Gamble's series goes. The duo adapted Caroline Kepnes' novel for this first Lifetime season, which may have ultimately been a bit too grizzly for the network, seeing as a second season just began airing on Netflix instead. Season 1 has now debuted on DVD from Warner (16:9, 5.1) for those who don't have Netflix and/or missed its inaugural slate of episodes.
NEXT TIME: MY BLOODY VALENTINE Resurfaces, just in time for Valentine's Day! Until then, don't forget to drop in on the official Aisle Seat Message Boards and direct any emails to our email address.