The novels of Jules Verne had been adapted into a myriad of memorable cinematic adventures during the 1950s and '60s, from the Ray Harryhausen-laced thrills of "Mysterious Island" to the Oscar-winning "Around the World in 80 Days" and Disney's classic "20,000 Leagues Under the Sea." At the end of the cycle, the latter's star, Kirk Douglas, looked to Verne's final novel, THE LIGHT AT THE EDGE OF THE WORLD (128 mins., 1971, PG; Kino Lorber), for inspiration, but nothing could prepare viewers – especially the family audience the film was seemingly marketed towards – for the brutal violence this underappreciated – yet purely adult – adventure contains.
A few minutes into "The Light at the Edge of the World," you might believe that you're watching a typical Verne film: grizzled, introspective Douglas, an American looking for a new life, finds himself tending to a lighthouse, apparently around Cape Horn, in the 1860s. He works alongside a gruff veteran (Fernando Rey) and his younger compatriot (Massimo Ranieri), who tags along with a pet monkey named Mario.
When a group of pirates presided over by a treacherous captain (Yul Brynner) plow into port, one could be easily mistaken for thinking a cheery adventure is about to follow – yet you'd be very, very wrong. The pirates execute both of Douglas' associates and it isn't long before they slice up the monkey and set up shop to lure in a passing vessel, only to execute its passengers and plunder its cargo. While a pair of survivors – including Samantha Eggar – get wrapped up in the pirates' dealings, Douglas' protagonist battles his past – and the fact he's completely outnumbered – in a film scripted by Tom Rowe and Rachel Billington from Verne's book, and directed by Billington's husband, Kevin.
"The Light at the Edge of the World" is unevenly paced and a little bit awkward, in addition to being positively bonkers – how this film ever managed a "GP" rating at the time of its release is inexplicable. In fact, the movie would be hard pressed to avoid an R by today's standards – there's torture, rape, animal cruelty, sadism and, indeed, lots of action at the same time. The Spanish locations are breathtakingly shot in scope by Billington and cinematographer Henri Decae, and some of the stunt sequences look as if they were dangerous to shoot (and, according to a Billington interview on the disc, were indeed treacherous at times, between the locations and changing weather conditions the crew had to film around).
Despite the fact that this movie isn't suitable for kids or anyone who may be sensitive to the picture's rampant adult elements, "The Light at the Edge of the World" establishes – and maintains – an involving narrative line that makes it uniquely compelling. Douglas refrains from hamming it up in an appropriately "haunted" performance that's effective as his hero is mostly helpless for the film's duration – he's just trying to survive, not triumph, and the sadistic Brynner is convincingly chilling as the pirate captain. Their tango plays out on an epic scale that's exciting and unlike nearly anything else you'd see from that genre during the era — part "Most Dangerous Game," part unsanitized pirate adventure, and fully captivating to watch.
Douglas produced, alongside Alexander and Ilya Salkind, this 1971 film which National General released to negligible box-office returns – no surprise since the movie's brutality made it ill-suited to the Saturday matinee crowd and no amount of trimming (which impacted some early release prints) could change the film's solemn tone. The movie has been buried in terms of its meager home video distribution ever since, netting a few scattershot international DVD releases but nothing that would fully do justice to the widescreen lensing of the film's spectacular environments.
Kino Lorber's much-needed Blu-Ray rectifies the situation with a clear, crisp 1080p (2.35) transfer. This Studio Canal-licensed master only suffers from the age of its elements here and there, and generally offers strong detail. The DTS MA mono sound features its share of "wow" and the film's sound mix did no favors for Piero Piccioni's superb score, which features a sweeping orchestral theme that's utterly gorgeous, along with somewhat less effective "menacing organ" music that carries a Morricone-like flavor. Sadly, Piccioni's score was heavily re-edited and seldom sounds as if it's reacting to the action on-screen, heavily diminishing its overall effectiveness as a result (it makes for a much more coherent listen on Quartet's expanded CD, complete with Piccioni performing the main theme on organ).
In addition to a trailer and TV spot, Kino Lorber has lined up a welcome commentary with Nathaniel Thompson and Howard S. Berger, augmented by recent audio interviews with Kevin Billington and Ilya Salkind. Billington recalls the professionalism of both Douglas and Brynner, along with the numerous challenges of shooting in Spain, while Salkind details how the production came together (he also notes Piccioni's score was changed from its original placement, particularly when Brynner's ship first arrives).
"The Light at the Edge of the World" may have been a tough sell at any time, but certainly never had a chance coming right on the heels of the family-friendly Verne films that preceded it. With a little more time – and perhaps a toning down of its most gratuitous passages – the picture could've found a receptive audience, one that might at last develop here through the release of Kino Lorber's highly recommended Blu-Ray, especially in light of its legendary star's recent passing at the age of 103.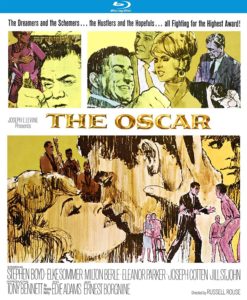 Oh brother, where do we start? THE OSCAR Blu-Ray (120 mins., 1966; Kino Lorber), the legendary cult item with a notorious reputation, has been nearly impossible to track down over the years, with just a single VHS release back in the '80s (and the occasional one-shot screening) being the only way for the public to see it. All that changes this week thanks to Kino Lorber's fresh Blu-Ray edition of "The Oscar" – and it's safe to say this outrageously bad trash classic undoubtedly will hold more entertainment than this year's Academy Awards ever will.
In a career-killing performance, Stephen Boyd plays the relentless and relentlessly unlikeable Frankie Fane – who steps on everyone and everything on his way up the ladder to Hollywood success. That includes his right-hand man (Tony Bennett, who wisely ducked out of an acting career after this turkey), his on-again off-again love (Elke Sommer), frustrated agent (Milton Berle, delivering the one professional performance in the piece), and studio honchos (Joseph Cotten and Eleanor Parker).
There's unbelievable over-acting from Boyd – whose performance starts at a "10" on the intensity scale and never backs down – a terrible score by Percy Faith (which generates a few laughs by itself), a hilariously melodramatic script, plastic cinematography and sets that, combined, might create the illusion that you're watching a piece of camp – yet "The Oscar" is so solemn and played so straight that all you can do is laugh as Boyd's anti-hero puts down anyone around him. Adding to the fun are the many cameos, from Bob Hope and Frank Sinatra to Peter Lawford, Edith Head and Hedda Hopper – all of whom must have had to joke for years about their appearances in this Joseph E. Levine turkey, adapted from Richard Sale's book by Harlan Ellison, Russell Rouse and Clarence Greene, and directed by Rouse, who somehow was able to make another movie (with Boyd, no less!) after it.
Kino doesn't just bring "The Oscar" to Blu-Ray, but they've done so in a gorgeous 4K mastering (1.66) with DTS MA mono sound. Two commentaries augment the entertainment: one featuring Patton Oswalt, Josh Olson and Erik Nelson, another with Howard S. Berger, Steve Mitchell and Nathaniel Thompson. One is a lot more critical of the film and its abundant goofy charms, the other a little bit more tolerant of its excesses – either provides a good listen on a wonderful release that proves "The Oscar" is fully deserving its place in the pantheon of Bad Movies.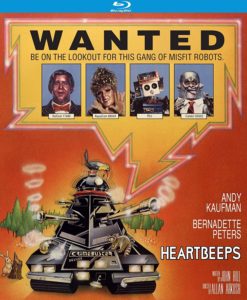 HEARTBEEPS Blu-Ray (78 mins., 1981, PG; Kino Lorber): Universal's big comedy for Christmas '81 was this notorious flop about a pair of service robots (Bernadette Peters and, in his lone starring vehicle, Andy Kaufman) who break out of their factory and head out on the road. Alongside a robot that cracks Borscht Belt one-liners (supplied by Henny Youngman himself) and a cute little automaton dubbed Phil, the group tries to stay one-step ahead of the factory workers (Randy Quad, Kenneth McMillan) pursuing them, plus a bulky droid named the "Crimebuster" whose own mind is haywire.
A genial comedy-adventure that's pleasant enough yet just isn't funny, "Heartbeeps" was a box-office disaster for Universal and immediately doomed any future film prospects for Kaufman. The film is attractively lensed (in scope by Charles Rosher, Jr.) and offers some effective matte work by the great Albert Whitlock plus interesting Stan Winston make-up designs for the leads. Alas, the slender story is fragmented and never generates a comfortable rhythm, while the scattershot humor is likely to be appreciated only by the elementary school set (if that).
Some of the problems could be attributed to the picture's worked-over post-production process. Director Allan Arkush was dismissed from the Michael Phillips production after disastrous test screenings, with Universal's Verna Fields recutting the movie down to an abrupt 78 minutes. Scenes from different parts of the film were shuffled around, subplots in John Hill's screenplay were jettisoned, and even the "voice" of Phil – which was supposed to be guitar licks supplied by the Grateful Dead's Jerry Garcia – was re-edited with generic robot beeps (Garcia is still listed in the end credits for a contribution that's never on-screen).
The main selling point to the film is John Williams' wonderful score – written right ahead of "E.T.," this is "Grade A" Williams, a unique entry into his compositional output for its use of synths and orchestra, which create an appropriately "futuristic" feel. The score also houses a truly gorgeous love theme and other infectious melodies – plus a rousing scherzo for the Crimebuster – that immediately hooked me when I was a kid, watching it on VHS, and served as a "gateway" into my lifelong love of film music.
Williams apparently worked with Fields in scoring the movie – in a new commentary recorded for Kino Lorber's Blu-Ray, Arkush notes that he attended the spotting session but had been taken off the movie by that point and never had a meeting with Williams on the score. The commentary with Arkush and filmmaker moderator Daniel Kremer is intermittently insightful yet a bit frustrating as too much of it is motivated by a recitation of the IMDB credits of the movie's assorted participants and less actual anecdotes about the production. Here and there a revealing aside is mentioned, yet whenever Kremer talks about Williams' score, Arkush immediately moves off it.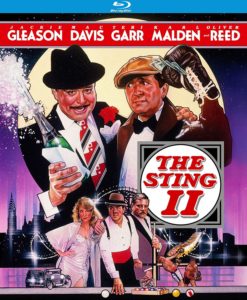 Still a worthwhile listen, Kino Lorber's Blu-Ray (2.35, 2.0 DTS MA mono) otherwise includes a pretty nice looking Universal catalog master with a good amount of detail, and an absolutely horrific theatrical trailer that shows "Heartbeeps" was doomed before it ever got to theaters.
THE STING II Blu-Ray (102 mins., 1983, PG; Kino Lorber): A typical list of the "Most Unnecessary Sequels Ever Made" will generally include this 1983 follow-up to the 1973 Oscar winner. Writer David S. Ward, who nabbed an Oscar for his original "Sting" script, also wrote this follow-up, which apparently was in preproduction for years while Universal and producer Jennings Lang attempted to find suitable replacements for stars Robert Redford and Paul Newman.
Their eventual solution? An aging Jackie Gleason, fresh off his '80s quasi-comeback in the creaky Richard Pryor hit "The Toy," and Mac Davis. Yes, Mac Davis. He of the hit single "Baby Don't Get Hooked On Me" and a mid '70s network variety show.
Davis' performance is undoubtedly one of the main problems with "The Sting II," which director Jeremy Paul Kagan initially said wasn't a sequel but a "continuation," even though the movie opens with bad guy Lonnegan (Oliver Reed taking over for Robert Shaw) saying he wants revenge on the grifters who hoodwinked him away years before. Yet that weirdness (which also extends to the leads having different first names) is secondary to Davis' odd, stiff presence, which generates a hole at the center of this comedy that the movie can never overcome.
With Gleason and Davis replacing Newman and Redford, "The Sting II" also spends an eternity setting up its story, with the boys and their compatriots getting involved with fixing a boxing match, rubbing up against another gangster (Karl Malden) and a female con artist (Teri Garr). The movie's exposition seems to drag on forever, with Kagan unable to bring a sparkle to either the pacing or the film's drab, lifeless appearance. By all accounts this was not an inexpensive movie, yet you'd never know it from the flat cinematography and TV movie-like blocking. Lalo Schifrin, meanwhile, tries hard but finds itself in the tough spot of replicating the original's hit Marvin Hamlisch-adapted soundtrack of Joplin favorites.
There are some spirited supporting performances from the likes of stage vet Ron Rifkin and a few enjoyable moments – and the decision to give Gleason more of an "elder statesman" role is at least a bit effective – but "The Sting II" received a bad hand straight off with Davis' casting and was destined for failure.
The picture remains a strange cinematic curiosity item that's finally seen the light of day on Blu-Ray from Kino Lorber. The serviceable 1080p (1.85) AVC encoded transfer and DTS MA mono sound are typical of most Universal catalog masters, with the trailer and a new commentary from Kagan provided. Unlike Allan Arkush's "Heartbeeps" commentary, Kagan's talk is a bit defensive of the film (he only refers to Redford and Newman as "the other guys") but is rich with great production stories and memories of working on the film – including a brawl that broke out when a bleary-eyed Reed (who Kagan says was in-line during the week – not so much on the weekend) put his hands into co-star Jose Perez's paella.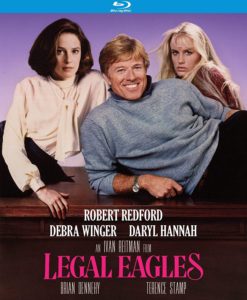 LEGAL EAGLES Blu-Ray (116 mins., 1986, PG; Kino Lorber): Initially conceived as a "Ghostbusters" follow-up for Bill Murray and director Ivan Reitman, "Legal Eagles" became a "package" for assorted CAA talents in the mid '80s, including Reitman, its then-hot shot writers ("Top Gun" scribes Jim Cash and Jack Epps, Jr.) and star Robert Redford. The only trouble? What was originally conceived as a buddy comedy became, as script doctor Tom Mankiewicz later noted in his terrific autobiography, a romantic comedy where its star, Redford, didn't want to actually execute any of the jokes.
That duty fell upon his co-star, Debra Winger, who apparently didn't get along with Redford, making for a problematic Summer '86 Universal movie – one of the highest-budgeted of its time – that's watchable today purely on the basis of its cast's on-screen appeal.
Unsurprisingly given its background, what ended up on-screen in "Legal Eagles" is a bit of a disconnected mix of comedy, rom-com and legal drama, with performance artist Daryl Hannah on trial for trying to steal one of her father's paintings. Winger is the lawyer representing Hannah with Redford the hotshot attorney whose aspirations of becoming NYC's next DA are sunk when Hannah is later charged with murdering one of her father's former colleagues (Terence Stamp).
Co-starring Brian Dennehy and Steven Hill (presaging his "Law & Order" casting), "Legal Eagles" has the appropriate widescreen, big budget, megastar gloss going for it – yet it doesn't coalesce into anything deserving of all the fuss. Redford is laid back but not working in a genre he ever had much success with, while Winger is sassy and agreeable – and probably would've been fine opposite another, more comically oriented lead. Elmer Bernstein's score adds a touch of class and it ends with the hit Rod Stewart ballad "Love Touch" – but viewers are forgiven for not remembering much about "Legal Eagles," which Mankiewicz bemused was a movie that was made for all the wrong reasons (marketing considerations amongst Universal, CAA, and its major players first and foremost) as opposed to a story that needed to be told.
Kino Lorber debuts "Legal Eagles" on Blu-Ray (2.35, 2.0 DTS MA stereo) on February 11th. The disc offers a decent Universal catalog master that's a little bit on the noisy side but still looks fairly good. Extras include the trailer and a vintage promotional featurette.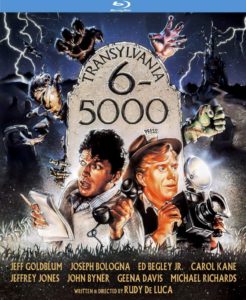 TRANSYLVANIA 6-5000 Blu-Ray (94 mins., 1985, PG; Kino Lorber): "Transylvania 6-5000" is one of those movies that you want to like. The premise seems to house the potential for memorable comedy hyjinks: a couple of tabloid reporters (Jeff Goldblum and Ed Begley, Jr.) head to Transylvania hoping to find Frankenstein, and run into a not-so-mad doctor (Joseph Bologna), a mayor (Jeffrey Jones) doubling as the owner of a new hotel, and, eventually, an oversexed vampiress (Geena Davis).
Rudy DeLuca's 1985 farce gives you all that plus the comic talents of Carol Kane, John Byner, Norman Fell, Teresa Ganzel and a pre-"Seinfeld" Michael Richards…in fact, all that "Transylvania 6-5000" needs is, well, jokes. This New World Pictures release, shot in Yugoslavia, was a product of the Dow Chemical Company, which found itself having to fund a film shot inside the country in order to get funds they accrued there out of it. The result is a heavily improvised and, sadly, mostly painful viewing experience that wastes the considerable cast involved in its production, with the movie often substituting screaming for punchlines.
Kino Lorber's Blu-Ray (1.85, DTS MA 2.0 mono) includes a really nice new 4K transfer and a reprisal of the DVD's old commentary with DeLuca and creative-consultant Steve Haberman. According to the writer-director, DeLuca initially wanted Tom Hanks and Peter Scolari for the movie's central duo, but New World wasn't aware of who Hanks was. They also weren't aware of how feeble the movie's script was before venturing into filming, either.
---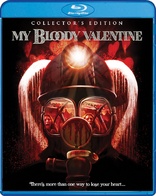 Scream Factory's Frightful February
MY BLOODY VALENTINE Blu-Ray (90 mins., 1981, R and Unrated; Scream Factory): Decent Canadian slasher about a killer miner with a mean, nasty axe was remade as a fairly entertaining 3-D feature in 2009, yet the original remains a staple of the genre: a little slow-moving but effectively delivered for its time, and still an essential view for slasher fans.
To coincide with the remake's debut over a decade ago, Lionsgate licensed the original 1981 "My Bloody Valentine" from Paramount and issued it on Blu-Ray. That disc offered both the original R-rated cut as well as a myriad of gore cuts that the film's fans clamored to see for years. The previously excised footage was then culled from a rough secondary source and available to view either separately or as part of the picture itself – yet the difference in the quality of the reinstated footage was all too obvious.
Scream Factory has jumped on-board and far surpassed that out-of-print disc with a definitive, masterful new two-disc Collector's Edition that debuts February 11th. A new 4K scan of the original camera negative (1.85) results in a transfer that's superior to the prior Lionsgate disc at every turn, but most especially in the uncut footage – which has since been sourced from superior materials, resulting in a seamless transition between the two versions! The original DTS MA mono audio is also just fine (Lionsgate's 5.1 remix has been left off this release).
The two-disc set (the R-rated cut is on disc one, the unrated version on a second platter) houses a wealth of mostly all-new supplements. These include exclusive interviews with director George Mihalka, actors Paul Kelman, Lori Hallier, Neil Affleck, Helene Udy and Rob Stein, and makeup artist Tom Berman. There's also a new featurette on the differences between the two cuts and a fresh commentary by Mihalka on the uncut version. A number of trailer/radio spots, a still gallery, and material from the 35th Anniversary reunion panel from a Florida convention – complete with Thomas Kovacs performing "The Ballad Of Harry Warren" – round out a must for the movie's fans.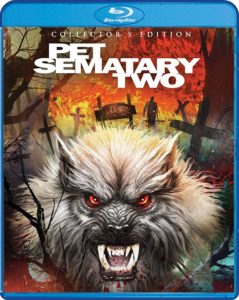 PET SEMATARY II Blu-Ray (100 mins., 1992, R; Shout! Factory): This 1992 sequel to Paramount's hit adaptation of Stephen King's novel brought back director Mary Lambert but failed to match its predecessor's box-office receipts. In Richard Outten's original script, a widowed veterinarian (Anthony Edwards) moves to the haunted Maine woods along with his teenage son (Edward Furlong) and it doesn't take long for them to figure out "dead is better." This decently executed rehash is actually a bit livelier than the original movie – something most critics of the day took notice of – yet the King formula had been played out by the early '90s, relegating this sequel to a much smaller audience. Scream Factory debuts a Blu-Ray Special Edition of "Pet Sematary II" on February 25th sporting a new 4K scan (1.85, 5.1 DTS MA) from the original camera negative, new interviews with Lambert and Furlong, plus co-stars Clancy Brown and Jason McGuire, makeup artist Steve Johnson, and composer Mark Governor. Lambert also contributes a new commentary in this single-disc Scream Collector's Edition.
IFC Releases New From Shout! Factory: Director Lars Von Trier is always an acquired taste, which applies again to his latest affair, THE HOUSE THAT JACK BUILT (151/152 mins., 2018, R/Unrated), the story of a psychotic, failed architect (Matt Dillon) recounting the separate murders that comprise his work as a serial killer. Von Trier's film is presented in both uncut and R-rated versions (the difference running just a minute) in Shout's double-disc Blu-Ray presentation (2.40 1080p, 5.1/2.0 DTS MA) with the trailer and a Von Trier interview also included…"Babadook" director Jennifer Kent's follow-up feature, THE NIGHTINGALE (136 mins., 2018, R), is also new this month from IFC and Shout! Factory. This is a wholly different – and actually far more brutal – drama, set during Australia's colonization in 1825, with Aisling Franciosi playing a young Irish convict who serves her sentence but won't be released by her master (Sam Clafin). After her husband retaliates and dies in the process, she pursues the British lieutenant into the Aussie wilderness with the help of an Aboriginal tracker (Baykali Ganambarr). Cast and crew interviews, the trailer, a 1080p (1.37) transfer and 5.1/2.0 DTS MA audio comprise Shout's Blu-Ray, now available…Jocelyn DeBoer and Dawn Luebbe's GREENER GRASS (96 mins., 2019, Not Rated) is one strange, somewhat pretentious indie experience with the duo writing, directing, and starring as a couple of soccer moms in a twisted environment that's obviously meant to inspire some kind of Lynchian/Waters comparisons. Beck Bennett from SNL co-stars with Shout's Blu-Ray/DVD combo pack (2.35, 5.1 DTS MA) also including deleted scenes, trailers, and the original "Greener Grass" short that inspired the film.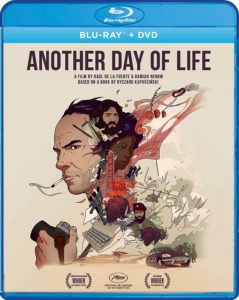 Animation From Shout! Factory: WHITE SNAKE (99 mins., 2019, Not Rated) is a Hong Kong animated production that debuts this month on Blu-Ray from Gkids and Shout! This co-production between Light Chaser Animation and Warner Bros.' overseas unit is set as a prequel to a Chinese folk story following a snake catcher who stumbles upon a young woman with no recollection of her identity. Ample action highlights "White Snake," which comes to home video in a Blu-Ray/DVD (2.39, 5.1 DTS MA) combo pack featuring an English dub, a subtitled Mandarin track, a music video, storyboards, trailers, Q&A and interview with director Ji Zhao…DONTEN (180 mins.) offers all three films in the Japanese series on domestic Blu-Ray for the first time. With Tenka, Soramaru and Chutaro having destroyed the giant snake that threatened humanity, the trio then uncover a plot to revive the serpent in a story that spans three separate chapters: One Year After The Battle, The Tragedy of Fuuma Ninja Tribe, and Conspiracy Of the Military. Shout's three-disc set includes 1.78 1080p transfers with Japanese and English audio, three-mini posters, and teasers and trailers on the supplemental end…ANOTHER DAY OF LIFE (86 mins., 2017, Not Rated) was an official Cannes selection – an ambitious, adult animated film set in 1975 Angola, where bestselling journalist "Ricardo" Kapuscinski travels through the war-torn, civil war-stricken region trying to find the rebel forces' leader. 5.1 DTS MA audio, a 1080p (2.39) transfer, two featurettes and a trailer are included in Shout and Gkids' Blu-Ray/DVD combo pack.
RABID Blu-Ray (107 mins., 2019, Not Rated; Shout! Factory): David Cronenberg's "Rabid" gets a makeover in the form of a horrific reimagination by directors Jen and Sylvia Soska, who scripted alongside John Serge. "Smallville" vet Laura Vandervoort plays a demure fashion designer who's involved in a collision that leaves her severely disfigured; a subsequent, cutting edge procedure not only restores her looks but makes her even more beautiful in the process…but at a price that involves spreading a deadly virus. Shout's Blu-Ray is now available (1.85, 5.1/2.0 DTS MA) sporting a commentary with the Soska sisters, an interview with Vandervoort, a behind-the-scenes featurette and the trailer.
---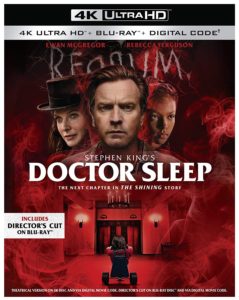 Also New & Noteworthy
DOCTOR SLEEP 4K Ultra HD/Blu-Ray (152/180 mins., 2019, R; Warner): While franchise revivals are all the rage these days, not all of them have generated box-office success. Warner's "Doctor Sleep" was one of the higher-profile commercial casualties of 2019, despite it being a "Shining" follow-up based on Stephen King's book and having been helmed by writer/director Mike Flanagan, who found success with his acclaimed updating of "The Haunting of Hill House" for Netflix.
Here, little Danny Torrance has grown into a troubled old soul (Ewan McGregor) haunted by visions of the Overlook and still possessing his "Shining" physic talents. Into this sphere comes a young New Hampshire girl (Kyliegh Curran) whose own "Shining" attracts the unwanted attention of a supernatural priestess/cult leader (Rebecca Ferguson) whose members feast, literally, on the psychic ability of little kids.
I found the murder and prolonged torture of a young boy in the movie to be positively one of the most tasteless and unnecessary sequences in any movie I've ever watched, so on the basis of that scene alone, it's easy to understand why "Doctor Sleep" failed to find an audience. Yet even beyond that senseless, gratuitous moment, "Doctor Sleep" has a number of issues.
Director Flanagan has problems adapting the same languid pacing that marked "Hill House" and making it work in a feature film – too deliberate in its movement, "Doctor Sleep" may actually lull some into a slumber. McGregor is certainly good here and the premise seems to offer a fair degree of excitement, but Flanagan seems trapped between making a theatrical movie and a bulkier product – like a limited series – and never finds a comfortable groove in terms of telling the story.
What's more, the heavy "Shining" call backs – perhaps studio-mandated fan service – at the climax end up deviating from King's own novel in negative ways. "Doctor Sleep" takes a while to establish its own identity, only to bring back a reprisal of Kubrickian tropes in such a way that it detracts from its own story. Add in a more downbeat ending compared to the book and it doesn't take a genius to see why the movie did not connect with most viewers.
Flanagan's difficulty in finding the right running time can be seen in Warner's 4K UHD/Blu-Ray release of the film. At the 150-minute theatrical running time, the movie doesn't seem long enough. At the 182 minutes of the extended version debuting here, the film seems more comfortable – there are some worthwhile added scenes for various characters – yet still doesn't seem developed fully. And a number of scenes that flesh out supporting characters in Ferguson's crew simply prolong the picture even more because there's no later pay off to them.
Warner's 4K UHD includes the theatrical cut in 4K UHD and the extended on Blu-Ray (the 4K of the extended cut can be seen via the included digital copy), with Dolby Atmos audio, HDR10+ and Dolby Vision. It's a good looking transfer with three featurettes included on the supplemental side.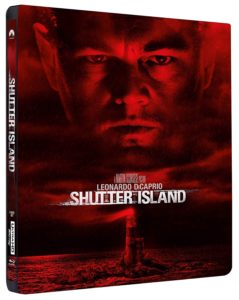 SHUTTER ISLAND 4K Ultra HD Limited Edition Steelbook (138 mins., 2010, R; Paramount): Not one of my favorite Martin Scorsese efforts, "Shutter Island" nevertheless became a box-office smash thanks to Leonardo DiCaprio's reteaming with his "Aviator" director – a twisty tale, based on Dennis Lehane's book, about a U.S. marshal investigating a missing patient in a storm-ridden Massachusetts island housing an insane asylum. Or IS he!?!
Laeta Kalogridis scripted Lehane's bestseller with a packed cast including Mark Ruffalo, Ben Kingsley, Michelle Williams, Emily Mortimer, Patricia Clarkson and Max von Sydow backing up DiCaprio. Yet "Shutter Island" is a "YMMV" sort of "puzzle movie" that, if you can crack its code early on, doesn't offer a whole lot beyond its atmosphere and overriding mood, with often hysterical performances and an unrelentingly grim tone to match.
Paramount brings "Shutter Island" to 4K UHD on February 11th. This is a superlative presentation with both HDR and Dolby Vision capability, heightening the always-effective work of ace cinematographer Robert Richardson, while the disc reprises the same 5.1 DTS MA audio track from its original Blu-Ray release (also housed here). Two featurettes are also included in that disc, wrapped up alongside its 4K platter in a 10th Anniversary, Limited Edition Steelbook package from Paramount.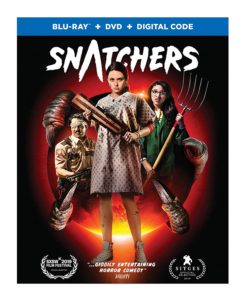 SNATCHERS Blu-Ray Combo Pack (97 mins., 2019, R; Warner): Indie horror comedy scored with festival viewers a year ago and now gets a chance to find a larger audience on home video. Stephen Cedars and Benji Kleiman's film follows a group of high schoolers who have to contend with a pair of extraterrestrial mutant critters being born from the womb of an unwitting pal (Mary Nepi) who contracted a bug from an infected idiot boyfriend. "Snatchers" was apparently reworked from a web serial but it offers pleasing practical effects and a few jolts that should satisfy its core audience. Warner's Blu-Ray/DVD combo pack includes commentary, a Making Of featurette, bloopers, a Digital HD copy, 1080p transfer and 5.1 DTS MA sound.
MOB TOWN DVD (89 mins., 2019, R; Paramount): Saban Films production stars David Arquette as a cop who risked his life to shed light on a 1957 "mob summit" wherein some 50 mafia leaders traveled to a town in upstate New York in order to pay trbute the new "capo dei capi" (Robert Davi). Jennifer Esposito and Jamie-Lynn Sigler co-star in this production which carries an intriguing premise yet doesn't develop its story enough to really score. Paramount's DVD (16:9, 5.1) is now available with a digital copy also included.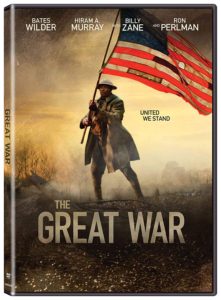 SERENDIPITY Blu-Ray (75 mins., 2019; Cohen): When French artist Prune Nourry was diagnosed with breast cancer at age 31, she began documenting her diagnosis and therapy, making for a unique documentary that's revealing and enlightening, as well as moving and poignant. Cohen's Blu-Ray of the "Serendipity" doc, directed by Nourry and written/produced by Alastair Siddons, is newly available (1.85, 5.1 Dolby Digital) featuring commentary with Nourry.
Lionsgate New Releases: Bates Wilder plays one of the "Buffalo Soldiers" who manages to escape from behind enemy lines during the waning days of WWI in THE GREAT WAR (109 mins., 2019, R). From there, he joins with a group of white troops and together, they prevail over racial differences as they join up to find their lost squad mates in this Saban Films production co-starring Billy Zane and Ron Perlman. Lionsgate's DVD (2.39, 5.1 Dolby Digital) is out February 11th as is a Blu-Ray edition with a Digital HD copy…"This Is Us"' Sterling K. Brown plays a domineering father to a high school wrestler (Kelvin Harrison, Jr.) under tremendous pressure, as well as his younger sister (Taylor Russell), in Trey Edward Shults' overlong and melodramatic WAVES (135 mins., 2019, R). The picture is told in respective sections termed "Before" and "After," with Shults' characters going through the wringer of dramatic predicaments and the actors trying their all to maintain viewer sympathy through a bulky running time. Lionsgate's Blu-Ray (1.85, 5.1 DTS MA) includes a commentary from the director and Harrison, Jr., plus a featurette, Q&A with the cast, and deleted scenes.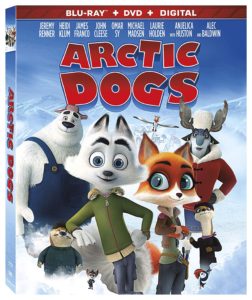 Kids might warm to the silly hyjinks of the animated family comedy ARCTIC DOGS (92 mins., 2019, PG), which stars an arctic fox named Swifty (voiced by Jeremy Renner) who has to stop a maniacal plot by Otto von Walrus (John Cleese) to melt the Arctic. Swifty teams up with a group of friends, including a polar bear voiced by Alec Baldwin and an albatross voiced by James Franco, in a slightly better-than-average kids flick with a superior voice cast (Anjelica Huston and Heidi Klum are also involved). A colorful 1080p (2.39) AVC encoded transfer is housed on Lionsgate's Blu-Ray alongside a 5.1 DTS MA sound, a DVD and Digital HD copy.
Film Movement New Releases: The Czech import WINTER FLIES (81 mins., 2019) charts the relationship between a pair of 14-year-olds who steal an Audi and head out into the Czech Republic's desolate outlands. When the authorities catch up to them, they're stunned by one of their personal stories in a unique take on adolescence from director Olmo Umerzu. Film Movement's DVD includes a 16:9 transfer, 5.1 Czech audio and the Lithuanian short film "Jackie."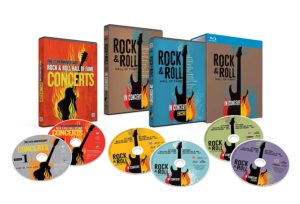 TV on Disc
ROCK & ROLL HALL OF FAME: IN CONCERT The Blu-Ray Collection (1475 mins., Time Life): Over 160 performances from the Rock and Roll Hall of Fame have been collected in this six-disc Blu-Ray box from Time Life – a high-def edition of the previous DVD box that featured the same content.
The deluxe package, out this week, includes both performances and induction speeches from a wide swath of performers including Simon & Garfunkel, Stevie Wonder, Aretha Franklin, U2, Metallica, Ozzy Osbourne, Rush, Cat Stevens, Chicago, Cheap Trick, Joan Jett and the Blackhearts, Yes, Alice Cooper, Randy Newman, Peter Gabriel, Pearl Jam, Journey and many others. Culled from the 2010-2017 ceremonies, this special set also includes the 25th Anniversary Rock & Roll Hall of Fame Concerts, presented in their entirety from 2009. Time Life's box-set houses the individual boxes "In Concert," "In Concert Encore" and "Concerts" and presents them on Blu-Ray this week for the first time. Highly recommended for music lovers.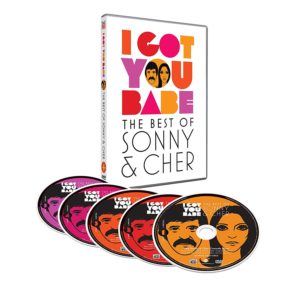 I GOT YOU BABE: THE BEST OF SONNY & CHER DVD (503 mins., Time Life): Terrific five-disc DVD compilation includes 10 never-before-released episodes from the popular "Sonny & Cher Comedy Hour," sporting appearances by the likes of Dick Clark, Jerry Lewis, Jim Nabors, Joe Namath, The Righteous Brothers, Dinah Shore and many others.
The package also includes the pilot for the series, an appearance on "The Barbara McNair Show," Jerry Blavat's 1970 interview with the couple featuring an impromptu performance of "I Got You Babe," plus brand-new interviews with Frankie Avalon, producers Allan Blye and Chris Bearde, plus Cher herself.
Mill Creek New Releases: I give my wife credit: she was a fan of THE MINDY PROJECT (44 hours, 2012-17) when it first launched in 2012, and repeatedly told me the series improved immeasurably since its uneven debut season. Initially a Fox series, the series premiered unimpressively before showing immediate evidence of a turnaround in Season 2, receiving widespread acclaim with pitch-perfect writing, wacky performances and amusing supporting turns from guest stars Chloe Sevigny, Bill Hader and James Franco. From there, the series migrated to Hulu after its third season, concluding its run in 2017.
Mill Creek brings the complete "Mindy Project" to Blu-Ray (1.78, 5.1 DTS MA) for the first time in a quality anthology. Deleted scenes and gag reels are included in the Universal-licensed package with decently compressed a/v transfers making for a recommended release for fans.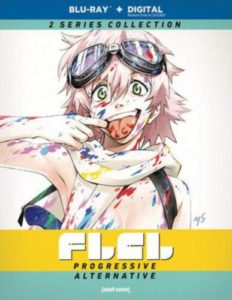 FLCL – Progessive/Alternative Blu-Ray (264 mins., Warner): Two-series Blu-Ray release kicks off with "FLCL: Progressive," the sequel to the 2001 Japanese anime "FLCL."
This fan-awaited follow-up brings together members of the original team with a new generation of animators. "Progessive" chronicles the adventures of a 14-year-old girl named Hidomi, her pal Ide, and two beings determined to bring out their potential. All the while, a force named the ATOMSK, a vintage car and a Vespa Scooter all play a major role in the insanity. The subsequent series, "Alternative," focuses on a group of high schoolers who run into a strange mecha that causes one of them to try and figure out how to save the world with a latent power trapped inside her head.
Warner's two-disc set includes all 12 episodes from the series (1.89, 5.1 Dolby Digital English) with a number of special features including Making Of featurettes and interviews with the Englush voice cast. A Digital HD copy is also included.
NEXT TIME: Warner Archive new releases and the long-awaited HOT DOG: THE MOVIE! Until then, don't forget to drop in on the official Aisle Seat Message Boards and direct any emails to our email address.