Message Board (open 24 hours!)
Twitter - @andredursin (for everything else!)
The sequel to the highest-grossing 'toon feature of all-time – FROZEN II 4K Ultra HD/Blu-Ray (103 mins., 2019, PG; Disney) – quickly became the, well, highest-grossing 'toon feature of all-time. Despite some clunky and disposable songs, "Frozen II" is a visual feast and a commendable effort in that the picture doesn't at all recycle the plot of its predecessor. Here, Arendelle royalty Princess Elsa and Anna head out into the Enchanted Forest on a journey that continues Elsa's spiritual awakening while answering a mysterious "call" that leads them into uncovering truths about their parents. There, they counter both Arendelle soldiers and native people – plus plenty of magic – as they attempt to save their kingdom and right previous "ancestral wrongs."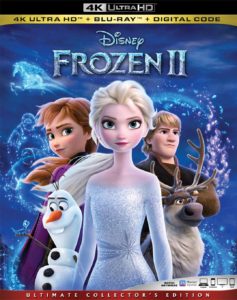 While a little bit preachy and obvious in its ecological point of view, "Frozen II" looks absolutely, positively breathtaking. This is one jaw-droppingly designed visual experience from start to end, with flowing, detailed, believable water imagery being the film's most impressive attribute. Horses improbably gallop along stormy ocean waves, colorful, autumnal scenes punctuate the landscape, and individual shots look like paintings come to life.
It's a vibrant feast for the eyes, and while the story is a little bit downbeat and a couple of the songs could've easily been jettisoned (there's no "Let It Go" in this soundtrack), "Frozen II" nevertheless manages to function on a certain level sure to engage kids while adults will likely marvel at the spectacular images it consistently conjures.
Disney's "Frozen II" 4K UHD presentation is immense – the HVEC encoded transfer (2.39) is utterly spectacular and backed with sensational colors. The Dolby Atmos audio is finely layered with extras including deleted scenes, songs, outtakes, music videos, a Blu-Ray (with 7.1 DTS MA sound) and Digital HD copy rounding out the release.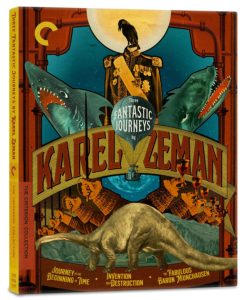 THREE FANTASTIC JOURNEYS BY KAREL ZEMAN Blu-Ray (Criterion): A trio of vintage fantasies – seldom screened in the U.S. – comprise Criterion's marvelous Blu-Ray anthology of films by Czech director Karel Zeman.
Utilizing live-action, animation and other practical effects, Zeman brought to the screen a number of acclaimed works: "Journey to the Beginning of Time" (84 mins., 1955), "Invention For Destruction" (81 mins., 1958) and "The Fabulous Baron Munchausen (83 mins., 1962), all included here, are a testament to Zeman's vivid imagination, which produced indelible imagery and innovation decades before the rise of CGI. The movies are short but hugely entertaining for kids and adults alike, the initial two features presented in B&W but "Munchausen" offering (tinted) color cinematography and a fascinating companion with Terry Gilliam's fun but comparatively bloated 1988 adaptation of the same material.
Criterion's Blu-Ray box includes 4K digital restorations (1.37) of all three pictures and uncompressed Czech PCM audio with English subtitles. The U.S. release version of "Journey to the Beginning of Time" is also included as is an English dubbed track on "Invention For Destruction" plus a bevy of supplements. These include new interviews with animation filmmaker John Stevenson and special effects master Phil Tippet; four early shorts by Zeman, produced between 1945-50; a 2015 documentary, "Film Adventurer: Karel Zeman," sporting the participation of Tim Burton and Terry Gilliam among others; plus short documentaries produced by the Karel Zeman Museum, restoration demonstrations, trailers, and collectible pop-up packaging.
KNIVES OUT 4K UHD/Blu-Ray (130 mins., 2019, PG-13; Lionsgate): Box-office hit for writer/director Rian Johnson redeemed a bit of his tarnished cinematic reputation after the fiasco of "The Last Jedi."
Though overpraised in some quarters – the movie's politics are transparent and the ending is predictable as a result – "Knives Out" is still a reasonably effective, and entertaining, murder-mystery with detective Benoit Blanc (Daniel Craig) called into investigate the death of bestselling crime novelist Harlan Thrombey (Christopher Plummer). Thrombey's entire, dysfunctional family are suspects in the crime – especially once the true details of the writer's death are revealed – with the supporting cast including Chris Evans, Jamie Lee Curtis, Michael Shannon, Don Johnson, and Toni Collette among others. The movie is funny in places, suspenseful at others, and managed to become a rare breakout box-office success at a time when large-scale studio fare is comprised of rehashed IP's.
Lionsgate's slick-looking 4K UHD (1.85) is out this week featuring Dolby Vision/HDR support, Dolby Atmos audio, a Blu-Ray, Digital HD copy and plenty of extras. These include a commentary from Johnson, his DP Steve Yedlin and actor Noah Segan; deleted scenes with Johnson's optional commentary; a multi-part documentary, "Making a Murder"; an "in-theater commentary" from Johnson; Q&A with the director and cast; additional interview with Johnson; marketing gallery and viral ads. A Blu-Ray and Digital HD copy are also included in Lionsgate's combo pack.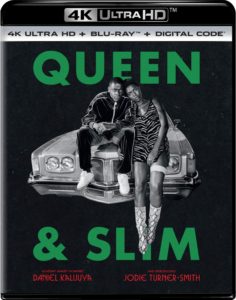 QUEEN AND SLIM 4K UHD/Blu-Ray (132 mins., 2019, R; Universal): Intentionally provocative crime drama from director Melina Matsoukas and writer/producer Lena Waithe follows a criminal defense attorney (Jodie Turner-Smith) who meets her Tinder date (Daniel Kaluuya) before he drives erratically home – drawing the attention of the police. A series of unfortunate events turns the two into social media stars and outlaws before they meet a tragic end in this well-acted yet contrived picture which attempts to say a lot about race in today's charged social climate. Somehow, though, "Queen and Slim" ends up going exactly where you'd expect, offering few fresh insights in the process. Universal's 4K UHD combo pack of "Queen and Slim" includes HDR and Dolby Vision capability, a strong HVEC encoded (2.39) transfer, Dolby Atmos audio, commentary with the director and writer, several featurettes (presented in 4K on the UHD), a Blu-Ray and Digital HD copy as well.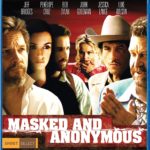 MASKED AND ANONYMOUS Blu-Ray (112 mins., 2003, R; Shout! Factory): Utterly bizarre, nearly-indescribable mess stars none other than Bob Dylan as a songwriter whose manager (John Goodman) springs him out of a south-of-the-border jail just in time to perform in a TV concert. From there, Jeff Bridges, Penelope Cruz, Angela Bassett, Ed Harris, Val Kilmer, Christian Slater, Jessica Lange, and Luke Wilson pop up in roles so strange that the mind boggles as to why so many familiar faces decided to participate in this barely-seen indie film.
The plot seems to be an excuse for Dylan and his band to perform live in concert, but even as a musical piece "Masked and Anonymous" strikes out. A surreal mismash of political satire, comedy and thriller, "Masked and Anonymous" has made it to Blu-Ray this March in the form of a Shout Select release sporting a 1080p (1.85) transfer and 5.1 DTS MA sound. A new interview with director Larry Charles is included plus extras from the original Sony DVD (Charles' commentary, deleted scenes, Making Of and trailer).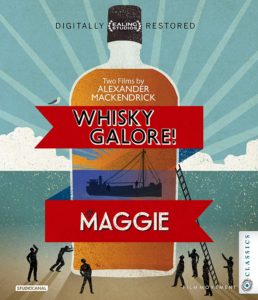 Film Movement New Releases: Another satisfying, welcome new entry in Film Movement's series of Blu-Rays spotlighting Britain's Ealing Studios is on-tap this month. WHISKY GALORE! (1948) is one of the pinnacle features from Ealing – the classic comedy about a small Scottish island which nearly implodes after their whisky supply runs dry during WWII. Compton Mackenzie scripted from his novel with Alexander Mackendrick helming (though Charles Crichton was said to have shot additional material). The result was a film that met with widespread acclaim and box-office success both in the UK and in the US, where the film was released as "Tight Little Island." The movie is paired here with Mackendrick's 1954 feature about a puffer boat captain (Paul Douglas), THE MAGGIE, making its U.S. home video debut. Both films are coupled in a superb Film Movement Blu-Ray sporting new digital restorations (1.37) with extras including a commentary by John Ellis, a "Whisky Galore" documentary and featurette, and 16 pages of booklet notes by critic Ronald Bergen.
New on DVD from Film Movement, the Gautemalan import TEMBLORES [Tremors] (107 mins., 2018) explores the shocking evolution of an evangelical Christian man (Juan Pablo Olyslager) who leaves his wife and family for another man. Jayro Bustamante's film is on disc March 10th from Film Movement featuring a 16:9 (2.39) transfer and 5.1/2.0 Spanish audio, with Sarah Smith's short "Black Hat" also included.
FRANKIE Blu-Ray (100 mins., 2019, PG-13; Sony): Isabelle Huppert stars as a family matriarch who assembles three generations of her clan for a getaway vacation in Portugal's Sintra resort town. There, inhibitions are dropped as the interactions of the family unearth long-buried secrets and relationships between them. Directed by Ira Sachs, "Frankie" is now available on Blu-Ray from Sony featuring a 1080p (1.66) transfer, 5.1 DTS MA English audio, a Q&A with Sachs and Huppert, and the theatrical trailer.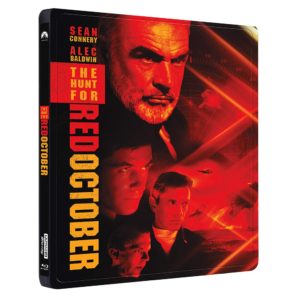 Deluxe Special Edition Reissues
THE HUNT FOR RED OCTOBER 4K UHD Steelbook (135 mins., 1990, PG; Paramount): The first and finest of the assorted Tom Clancy adaptations remains – unquestionably – John McTiernan's 1990 blockbuster "The Hunt For Red October." Sean Connery stars as Russian submarine captain Marko Ramius, an aging soldier wanting to defect to American waters with Alec Baldwin as Jack Ryan, the analyst who understands Ramius' motives and works to prevent a nuclear catastrophe from occurring once his superiors (as well as Ramius' Russian counterparts) conclude that the "Red October" has actually been sent to attack the U.S.
An amazing supporting cast (Tim Curry, Peter Firth, Scott Glenn, James Earl Jones, Jeffrey Jones, Sam Neill, Joss Ackland, Stellan Skarsgard, and Richard Jordan) ably supports Connery (in one of his finest roles) and Baldwin, who fills the shoes of Clancy's hero more appropriately than his successors (the too-old Harrison Ford and overly bland Ben Affleck/Chris Pine) in the subsequent Ryan adventures.
Graced with scope cinematography from Jan DeBont and a stirring Basil Poledouris score, "The Hunt For Red October" is taut and enormously entertaining studio filmmaking, and Paramount's HDR/Dolby Vision-capable 4K UHD presentation – now in a nicely packaged Steelbook edition – is a pleasing upgrade on the studio's earlier Blu-Ray transfers.
Since much of the film was shot in tight, dark confines, the cinematography has always proven difficult to adapt to the home video medium — making this higher contrast HDR transfer superior in terms of translating DeBont and McTiernan's visuals. The 4K resolution uptick is also occasionally notable, with superior compression making the entire presentation more detailed. On the audio side, the Dolby TrueHD 5.1 audio is a reprisal of the Blu-Ray mix and remains a marvel. Beautifully mastered with spectacular sound effects and a broad stage for Poledouris' music, the soundtrack is magnificent and still rates as the disc's strongest asset. Meanwhile, extras retained on the Blu-Ray side include a commentary from McTiernan (also on the 4K disc), the theatrical trailer in HD, cast interviews and the "Beneath the Surface" retrospective featurette.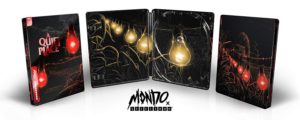 A QUIET PLACE 4K UHD Steelbook (95 mins., 2018, PG-13; Paramount): It seems as if cinemas are filled with two kinds of studio films these days: bloated franchises based on pre-fab brands, and modestly budgeted horror outings like "Get Out" where directors seemingly have more freedom to tell their stories. 2018 brought another unexpected commercial success, John Krasinski's "A Quiet Place," and this one is even better than Jordan Peele's intriguing if overrated film, dabbling in some familiar genre elements but doing so in such a unique and effective manner that it's one of the most exciting film-going experiences I've had in years.
Krasinski's well-drawn screenplay, written with Bryan Woods and Scott Beck, follows a farm family struggling to survive in a future overrun with alien creatures that kill anything they can hear. These fast-moving, seemingly indestructible beings are blind but act upon hearing so much as a footstep – making things difficult for Krasinski's Lee Abbott and his wife Evelyn, whose children include a pair of young sons and their deaf older sister (Millicent Simmons). Trying to stay silent is hard for anyone – but doing so with kids while simultaneously trying to survive makes for a tension-filled affair where a wrong move means nearly instant death.
Though it's not a profound film with much on its mind other than providing tension for its 90 minutes, "A Quiet Place" is still one of the best movies of recent years. Driven by a tightly constructed, well-written script that gives every character a purpose, Krasinski — working on-screen with real-life wife Blunt – confidently moves cinematically through a realistic world refreshingly free of snarky dialogue (there's hardly any) and with every scene conveying something important, either from a character or narrative standpoint, that connects at the end.
It's really more suspense than horror, with the director playing to a hilt several dynamite set-pieces that are likely to linger long in the memory, without the need of excessive gore and violence. That element is certainly praiseworthy on its own (and undoubtedly one reason the film has been such a hit), but equally commendable is how Krasinski draws the viewer in not with a lengthy prologue about the aliens and how they got here, but rather how perilous every day is for the family. This is a movie that stays in its lane and doesn't feel the need to plant constant "franchise seeds" in the hopes of establishing a "new cinematic universe," but rather is driven to entertain and keep the viewer on the edge of their seats with character-driven tension.
While it's easy to overrate a movie like this in today's lackluster cinematic climate, "A Quiet Place" nevertheless is bravura filmmaking on its own scale – and that's nothing to stay quiet about.
Paramount's new Mondo Steelbook edition of "A Quiet Place" streets on March 10th. As you'd expect, the HDR presentation (with Dolby Vision and Atmos) is dynamic, adding to the film's accomplished cinematography and sound design in equal measure. HDR is usage isn't overwhelming but the colors and crispness are both striking in a consistently strong transfer. A Blu-Ray and Digital HD copy are also included but supplements are light: just a trio of featurettes taking viewers behind the scenes are included, with the filmmakers wisely opting to let their picture mostly speak for itself.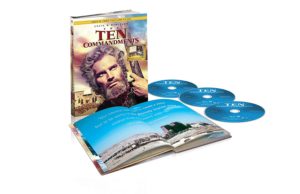 THE TEN COMMANDMENTS Blu-Ray Digibook (220 mins., 1956; 136 mins., 1923; Paramount): With Easter fast approaching, the time is perfect for a new edition of Cecil B. DeMille's epic, here presented in a Digibook with a collectible photo gallery and the inclusion of the 1923 silent version, also directed by DeMille.
The 1956 blockbuster is presented in the same 1080p AVC encoded transfer as the prior 2011 Blu-Ray, with robust DTS Master Audio sound. Unlike most of the studio's earliest Blu-Ray catalog transfers, this HD presentation is superb, freed from excessive DNR and offering appreciable detail and enhancement over the prior DVD. Elmer Bernstein's score also sounds magnificent in the DTS MA mix presented here.
With most of the extras confined to the 2-disc release, Paramount's BD doesn't offer much in the way of supplements, though it does retain the DVD's outstanding, informative commentary track from author Katherine Orbison. Orbinson wrote "Written In Stone," an account of the making of the 1956 production, and gives a trivia-filled, insightful discussion on "The Ten Commandments" for all of its 220 minutes! Barely pausing to take a break, Orbison unearths all kinds of nuggets about casting, the logistics involved in filming, DeMille's mindset during production, and pays tribute to both the movie and the Golden Age of Hollywood in general.
Meanwhile, the 1923 film is included here in a 1080p B&W transfer featuring hand-tinted footage of the Exodus and Red Sea sequences and a photo gallery, plus a 2.0 Dolby Digital soundtrack.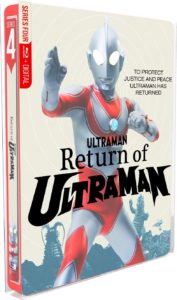 RETURN OF ULTRAMAN (Season 4) Blu-Ray Steelbook (22 hours, 1971-72; Mill Creek): Mill Creek continues its terrific survey of the Japanese cyber-super hero with the Blu-Ray edition of "Return of Ultraman." This compilation offers the fourth series in the "Ultraman" franchise, with the newest Ultraman hero from Nebula M78 merging with Hideki Go, a young race car driver. Ultraman Jack, like his predecessors, subsequently takes to the skies to defeat another succession of monsters and creatures alongside the Monster Attack Team (MAT) as they defend the Earth. Presented in a lovely Steelbook package, this multi-disc set includes Tsuburaya-licensed 1080p (1.33) color transfers and Japanese DTS MA soundtracks with English subtitles and a "Moviespree" digital library code for streaming redemption via Mill Creek's site/app.
Mill Creek also has the prequel and sequel follow-ups to the "Ultraman Orb" series, ULTRAMAN ORB: THE ORIGIN SAGA (aprx. 6 hours), slated for release on Blu-Ray this month. This combo pack includes the 12-episode series "Ultraman Orb: The Origin Saga," along with the sequel film "Ultraman Fight Orb." Mill Creek's BD includes 1080p (1.78) transfers and 2.0 DTS MA Japanese stereo audio plus another Moviespree digital copy.
---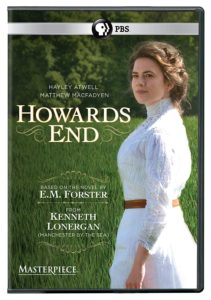 PBS New Releases
New on DVD from PBS this month, HOWARDS END (228 mins., 2017) is the 2017 adaptation of the E.M. Forster classic starring Hayley Atwell, Matthew McFadyen, Tracey Ullman and Julia Ormond in Kenneth Lonergan's acclaimed take on the beloved story. Hettie Macdonald helmed this BBC/Starz co-production which aired in 2017-18 on those networks before being broadcast recently on Masterpiece. The production makes its U.S. home video debut this month from PBS; the single-disc release includes a 16:9 transfer and 5.1 Dolby Digital sound.
Also new from the Masterpiece stable this February is SANDITION (6 hours, 2019), an adaptation of Jane Austen's unfinished novel, created and co-written by Andrew Davies. Rose Williams, Theo James, and Kris Marshall co-star in this take on Austen's last book, which was turned into a mini-series by ITV and PBS. PBS' two-disc DVD includes 16:9 transfers, 5.1 sound, an interview with Davies and two featurettes.
New documentaries are also part of PBS' DVD line-up this month. The American Experience documentary on McCARTHY (110 mins, 2020) profiles the infamous Wisconsin senator who worked alongside Roy Cohn in crusading against what he deemed to be "enemies of the state." This feature-length documentary by Sharon Grimberg attempts to take a fresh look at this oft-told history, with PBS' DVD including a 16:9 transfer and 5.1 sound…Finally, DECODING DA VINCI (60 mins., 2019) is a Nova examination of Da Vinci's masterworks, including a blow-by-blow peek into the "Mona Lisa" with scientists and art experts at the Louvre finding the cross-section between Da Vinci's art and science and how it worked hand in hand in producing his painting. PBS' DVD again features a 16:9 transfer and 2.0 stereo sound.
---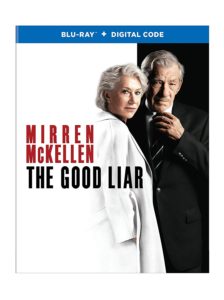 Quick Takes
THE GOOD LIAR Blu-Ray (109 mins., 2019, R; Warner): Adaptation of Nicholas Searle's novel from director Bill Condon boasts an unusual pair of characters for a big studio film in 2020: an elderly widower (Helen Mirren) who's worth millions, and the career con man (Ian McKellan) who sets out to swindle her, only to have various complications arise. Condon is a capable filmmaker but he didn't script "The Good Liar" (Jeffrey Hatcher handled those chores), and the result never comes to life, despite the best efforts of the two leads. Warner's Blu-Ray includes a 1080p transfer, 5.1 DTS MA sound, a Digital HD copy, deleted scenes and a single featurette.
DARK WATERS Blu-Ray Combo Pack (137 mins., 2019, PG-13; Universal): The real-life story of Cincinnati lawyer Rob Bilott, who waged a decades-long fight against chemical giant DuPont, is told in this finely-acted dramatization by director Todd Haynes. Mario Correa and Matthew Michael Carnahan scripted this passion project for star/producer Mark Ruffalo, who plays the quiet but determined lawyer working on behalf of families whose respective members were poisoned after swimming in a West Virginia lake where DuPont was dumping chemicals. Anne Hathaway co-stars as Bilott's wife with Tim Robbins and Victor Garber in support with Haynes' film being leisurely paced yet increasingly gripping as its story unfolds. Universal's Blu-Ray (2.39) offers a 5.1 DTS MA soundtrack and three featurettes, a Digital HD copy and DVD.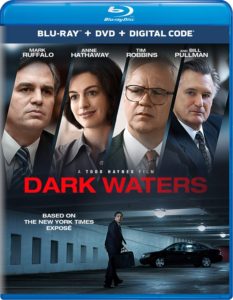 GIVE ME LIBERTY Blu-Ray (111 mins., 2020; Music Box Films): Chris Galust plays a Milwaukee medical transport driver trying to get his Russian grandfather and friends to a funeral while having to tend to his route. Along the way his schedule bottles up to the point where a young woman (Lauren "Lolo" Spencer) with ALS becomes involved in his ride in Kirill Mikhanovsky's well-received independent comedy, now on Blu-Ray from Music Box. The disc includes a 1080p transfer, 5.1 DTS MA sound, Lolo Spencer's interview, 16mm Russian Choir performances, a Q&A with the cast and crew from the movie's NY premiere, and poster/image galleries.
Also new from Music Box this month is BY THE GRACE OF GOD (137 mins., 2020), Francois Ozon's searing French drama about a trio of sexual abuse survivors who work together to bring justice to the wrongs perpetrated on them by Father Bernard Preynat – whose own actions formed the 2019 conviction of Lyon's Cardinal Philippe Barbarin, who concealed Preynat's conduct for decades. A Q&A with Ozon and a member of Lyon's Catholic diocese is included along with deleted scenes and featurettes, a 16:9 DVD transfer and 5.1 French audio.
From Lionsgate: Lifetime has been busy rendering a handful of features drawn from bestselling author V.C. Andrews' "Casteel Family" books. Those five tele-films comprise Lionsgate's V.C. ANDREWS' CASTEEL FAMILY 5-Movie Series DVD, which starts with "Heaven" and moves along to "Dark Angel," "Fallen Hearts," "Gates of Paradise" and concludes with "Web of Dreams," each entry running 89 minutes and sporting a running story line with the same characters and cast members appearing throughout the series. Lionsgate's DVD anthology is out this week featuring 16:9 (1.78) transfers and 2.0 stereo soundtracks for the Canadian-shot TV movies.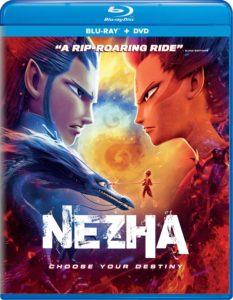 Well Go USA New Releases: The animated production NE ZHA (111 mins., 2019) chronicles the adventures of the title character, a boy born from a heavenly pearl. Bestowed with super powers, Ne Zha grows up as a feared outcast and is destined to bring destruction – leading to him having to choose between good and evil in a colorful, broadly played Hong Kong feature. Now on Blu-Ray from Well Go, "Nezha" includes both English audio and the original Mandarin track in a potent Dolby Atmos mix…Also new from Well Go is THE CLIMBERS (123 mins., 2019), the true story of a group of Chinese climbers who attempt to make a trek to the top of Mount Everest from the North Ridge, the mountain's most rugged and challenging side. Their efforts are chronicled in a character-driven dramatization with an appearance by Jackie Chan. Well Go's Blu-Ray is now available sporting a 1080p transfer with DTS MA Mandarin audio and English subtitles.
CMA AWARDS LIVE: GREATEST MOMENTS 2008-15 Blu-Ray (Time Life): Compilation of performances from the Country Music Awards spotlights artists from the 2008-15 era, making it a high-def companion to Time Life's three-disc DVD of "Greatest Moments" that spanned from the '60s forward. Here, artists like Miranda Lambert, Reba McEntire, Kenny Chesny, Sara Evans, Keith Urban and countless others are spotlighted in over two hours of content, housed on a single Blu-Ray platter.
NEXT TIME: VICTORY kicks its way onto Blu-Ray plus more Warner Archive and the latest releases! Until then, don't forget to drop in on the official Aisle Seat Message Boards and direct any emails to our email address.