Message Board (open 24 hours!)
Twitter - @andredursin (for everything else!)
Seeing as the influx of new releases has slowed to a crawl – manufacturing and distribution systems are locked down like everything else – we're going to primarily pivot here at the Aisle Seat towards older films I've recently revisited either on disc or streaming platforms. New releases that are, in fact, still being released will follow these "Video Vault" reviews for the time being. Enjoy!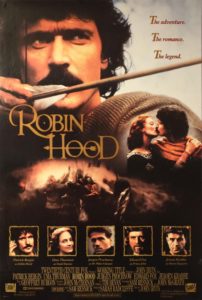 An under-rated and quite excellent adaptation of the Robin Hood legend, 20th Century Fox's ROBIN HOOD (***, 103 mins., 1991, PG) was once considered a rival project to Kevin Costner's "Robin Hood: Prince of Thieves," complete with John McTiernan attached as director. However, once the Costner film was rushed into production by Morgan Creek, Fox opted to scale back its version, brought in British helmer John Irvin ("Ghost Story"), and premiered the still not-inexpensive $15 million movie in the U.S. on television instead (the film still played theatrically overseas).
What's curious is that, despite its "road company" ensemble cast of European actors and smaller budget, in many ways Irvin's film is more entertaining than the larger-scale "Prince of Thieves." The script by Sam Resnick (a pseudonym for American writer Mark Allen Smith) and British playwright John McGrath sets the drama during the battle between the Normans and Saxons, lending a strong historical angle to the familiar story. What's more, the cast is excellent, from Patrick Bergin's charismatic Robin – here a Saxon noble named Robert Hode – to solid turns by Jurgen Prochnow (marvelously snide as the Norman villain), Jeroen Krabbe (Robin's old friend turned adversary) and Edward Fox, not to mention Uma Thurman's feisty Maid Marian. Geoffrey Burgon's score is effective and atmospheric – graced with an especially nice end title – and while cinematic "action" might be lacking, the second half of the movie does get into the derring-do of yesteryear with sufficient aplomb.
After watching misfired efforts to bring Robin back to the screen from the likes of Ridley Scott over the years since, this version has not only aged well, but strikes the right balance between gritty "realism" and old-fashioned Hollywood swashbuckling that other adaptations have failed to achieve. It's a little-seen and seldom-discussed picture (one which Fox has always claimed was in development long before "Prince of Thieves"), yet this well-reviewed little version is a lot of fun with a satisfying story and capable performances across the board.
That especially holds true thanks to a dazzling 2018 German Blu-Ray release of the film. Sporting what clearly looks like a fresh 4K remastering, the Fox-licensed 1080p (1.85) AVC encoded transfer is basically a revelation in regards to Jason Lehel's lensing – the damp British winter settings, which came off as completely dreary on broadcast TV, have added nuance and texture here, with detail blowing away prior standard-definition renderings. This "Robin Hood" finally looks like a movie now, and the nicely layered Dolby Stereo track has been encoded in a 2-channel DTS MA mix, ideal for matrixed-surround playback. Extras include a group of still galleries in a Region B locked release (one would imagine this would've been right up Twilight Time's alley but alas…).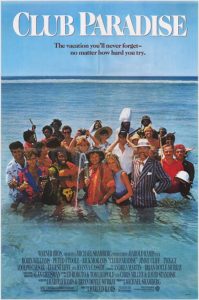 CLUB PARADISE (**, 1986): An agreeably flawed time-waster for these virus-ridden shut-in times, "Club Paradise" marked Harold Ramis' third directorial feature after box-office triumphs "Caddyshack" and "National Lampoon's Vacation." Of course, there's an obvious reason viewers may not remember (or even be aware of) this ensemble comedy, which offers sunny locales, a fun cast but a slender amount of narrative material.
In a role intended for Bill Murray (written by his brother, Brian Doyle-Murray, with Ramis), Robin Williams uncomfortably slides into his role of a Chicago fireman who — after landing an insurance settlement from his on-the-job injury — heads down to a tropical island where he opts to help local club owner/singer/political activist Jimmy Cliff turn his ramshackle facility into a tourist-laden, Club Med-like destination.
No sooner does Williams — with Cliff and new girlfriend Twiggy — start taking pictures of their would-be hotspot do the vacationers come flying in from the U.S. These include a stable of SCTV (Rick Moranis, Andrea Martin, Eugene Levy, Joe Flaherty) and SNL (Mary Gross, Robin Duke) vets, all of whom quickly find out they've been sold a bill of goods. Meanwhile, the prospects of a military coup loom large, with the seeds planted by the isle's Prime Minister (Adolph Caesar), much to the consternation of its drunken governor (a desperate looking Peter O'Toole, in a role John Cleese was reportedly supposed to play).
There's also a NY Times travel critic (Joanna Cassidy) who romances O'Toole and a couple of gorgeous models Moranis and Levy chase after — one of them essayed by future Bond girl Carey Lowell. However, like most subplots in this slender 95-minute film, they're mostly quickly forgotten as Ramis moves the focus from Williams — in what's essentially a thankless, veritable straight-man role — to its comedic supporting players for the duration. This results in some mild laughs here and there — mostly from Martin as a frustrated wife trying to spice up her marriage to buttoned-down "Newhart" vet Steven Kampmann — in a very choppy picture that was apparently cut down from something much longer (though not necessarily better).
"Club Paradise" was one of two similarly-themed 1986 comedies — the long-forgotten Michael Caine vehicle "Water" was the other — dealing with Caribbean hyjinks. The cast is a fascinating cross-section of TV players with Williams struggling to find a comfortable rhythm in a feature that embodies the type of uneven fare he appeared in prior to "Good Morning Vietnam." There's also Caesar, coming off his Oscar nomination on "A Soldier's Story," in his final performance (he died before the film was released), and a bouncy soundtrack of Cliff tunes punctuated with a score credited to the odd pairing of David Mansfield and Van Dyke Parks (tellingly, the end credits list no information whatsoever about the score).
The cumulative effect feels like the kind of good-natured, mildly amusing '80s comedy that a studio would toss out in the middle of January or February, and what's curious is that Warner Bros. intended for "Club Paradise" to be that type of film — yet pulled it from a winter-time debut at the last minute. When Variety reviewed the film shortly after Christmas 1985, the film reportedly ran (according to their review) 104 minutes, yet was apparently cut down by the time the studio released it six months later — in July 1986 — to tepid box-office. The movie shows clear signs of editorial tinkering as it's oddly structured, its weakest portions coming in Williams' early sequences that set-up the premise before the comedy finally kicks in.
It probably says something that its leading man is its weakest component, yet there's enough energy in "Club Paradise" to make it palatable, like a watered-down cocktail that's just functional enough to get by. (94 mins., 1986, PG-13; Streaming in HD)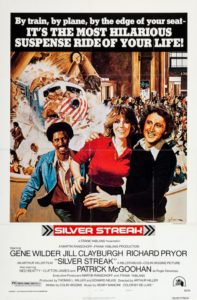 SILVER STREAK (***, 1976): Breezy and quite entertaining 20th Century Fox concoction from '76 offers Gene Wilder in one of his most engaging vehicles as an everyman who, while traveling to Chicago on the Silver Streak, gets wrapped up in a Hitchcockian plot involving a professor, an imposter, art forgery, the man's unknowing secretary (Jill Clayburgh), a conniving villain (Patrick McGoohan) and his henchmen (Ray Walston and Richard Kiel). Wilder gets tossed off the train a few times — and most entertainingly gets hooked up with petty thief Richard Pryor more than halfway through, resulting in an infusion of comic energy that would fuel several subsequent teamings between them.
Arthur Hiller's direction keeps things light and Henry Mancini's score is one of his best — it features the requisite pretty love theme we'd expect from the composer, but also a terrific chase cue and some nice dramatic writing as well. The film manages to be just thrilling enough to function as a mystery and Wilder keeps it grounded with a light touch — even though the ending could've been further juiced up to serve as a disaster genre exercise if the producers wanted (especially considering the era). Thankfully it doesn't go there, and just provides a satisfyingly brisk climax to a very agreeable two hours all told. (118 mins., PG; Streaming in HD or out of print Blu-Ray)
HEAVEN'S GATE (**, 149 min. Theatrical Re-Cut, 1980): Michael Cimino's recut, 149-minute version of "Heaven's Gate" was never released on home video in North America and only reappeared in public after MGM HD started broadcasting it a decade ago. Otherwise, its sole high-definition release came via a German Mediabook Blu-Ray which I imported in 2018 (which also houses the current, Criterion-released "director's cut" which runs for an unmanageable 216 minutes).
What's interesting is that, while there's an instant dismissal of this version, few people have ever seen the 149 min. cut, which Cimino himself produced after the initial release version was laughed out of theaters. No, there really isn't less story — the movie still doesn't have enough! — and the film isn't compromised by the running time losing an hour.
Instead, the film is more watchable at this length, and one can still admire the beautiful images conjured up by Cimino and Vilmos Zsigmond — while trying to tune out the ineffective, slight story that never takes off (I also found Sam Waterston's "Snidely Whiplash" villainy, complete with his "evil moustache," totally ineffective). Meanwhile, a host of unnecessary elements are effectively discarded (John Hurt's opening speech at Harvard — a sequence that still plays with little purpose) and the ending more effectively delivered at the same time.
"Heaven's Gate" certainly isn't a classic — it seems to have been beloved by European critics for its "anti U.S. government" stance, regardless of how flaccid the character drama is — but as a technical achievement, this bloated, infamous auteurist vision remains compelling. And as miscast as she is as a Wyoming brothel madam, French actress Isabelle Huppert is quite fetching, clothes on or off! (Out-of-Print German Mediabook release only)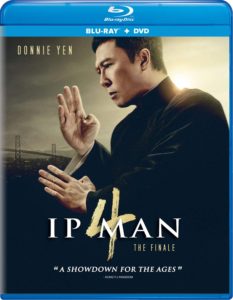 New on Blu-Ray
IP MAN 4: The Finale Blu-Ray (106 mins., 2019, Not Rated; Well Go USA): Donnie Yen is back for one last go-around as the Wing Chun master. After the death of his wife, Yen's Ip Man travels to San Francisco to help quell tensions between local kung fu masters – one of whom's son is none other than the future legend Bruce Lee. Fans of the series will want to check out Well Go's Blu-Ray (1.85, Dolby Atmos audio) when it chops its way onto disc April 21st.
DODSWORTH Blu-Ray (101 mins., 1936; Warner Archive): Sinclair Lewis' bestselling book became a celebrated story about a hard-working small-town millionaire (Walter Huston) who heads to Europe with his wife (Ruth Chatteron), only to see her swept away by a romantic, broke baron. Fortunately, a meeting with a sympathetic widow (Mary Astor) changes Dodsworth's fortunes in this William Wyler-directed '30s favorite, a hit for producer Samuel Goldwyn. Warner Archive's Blu-Ray (1.37, DTS MA mono) is highlighted by an impressive 2019 restoration from the Film Foundation, AMPAS and the Samuel Goldwyn Family Trust, here replicated in a detailed and lovely Archive release.
GOLDIE DVD (88 mins., 2019; Film Movement): Sam De Jong's acclaimed film stars Slick Woods in a noteworthy performance as a wannabe hip-hop dancer trying to balance her career aspirations with raising her younger sisters after their troubled mom is arrested. Film Movement bows this well-reviewed 2019 effort on DVD April 14th (1.85, 5.1) with Dionne Edwards' short "We Love Moses" included as a bonus.
BRAVESTORM DVD (81 mins., 2019; GVN): Mankind is extinct…not by 2020, but 2050, in this sci-fi tale of human survivors who fly back into the past in order to create a giant robot – the Red Baron – that can defend the future of the Earth against alien invaders. This Japanese feature is new on DVD from GVN featuring a 1.78 transfer and 5.1/2.0 English or Japanese audio.
NEXT TIME: New releases? If not, more old releases! Until then, don't forget to drop in on the official Aisle Seat Message Boards and direct any emails to our email address.