Message Board (open 24 hours!)
Twitter - @andredursin (for everything else!)
Sure to be one of the year's top catalog releases on Blu-Ray, Kit Parker Films and MVD's four-disc LAUREL & HARDY: THE DEFINITIVE RESTORATIONS serves up long-awaited new transfers – from original 35mm sources, no less – of the legendary comic duo's finest shorts and features.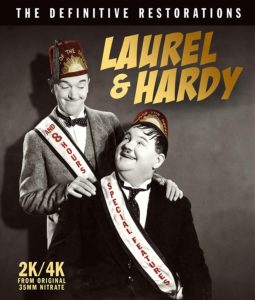 It's a superb package that's highlighted by the long-gestating restoration of "The Battle of the Century," a half-hour Laurel & Hardy favorite that hasn't been seen in its full, roughly half-hour form since its original exhibition. Restoration experts were able to locate most of the missing footage (save for a few moments represented here by stills) and present it here alongside other classic silent and early talkie efforts from the duo. These include "Berth Marks," "Brats," "Hog Wild," "Come Clean," "One Good Turn," "Me and My Pal," "Helpmates," "The Music Box," "The Chimp," "County Hospital," "Scram!," "Their First Mistake," "The Midnight Patrol," "Busy Bodies," "Towed in a Hole," "Twice Two," "That's That" and "The Tree in a Test Tube." Also included are two of Laurel & Hardy's superior comedy features, "Sons of the Desert" (1933) and "Way Out West" (1937).
Every transfer has been struck in either 2K or 4K-sourced digital restorations provided by Jeff Joseph, the UCLA Film & Television Archive, and the Library of Congress. The transfers themselves have either been untouched and offer fine grain or look healthy, albeit with a bit of noise reduction applied. I'll leave it to the Laurel & Hardy fans to assess these individually but generally speaking, given the age and condition of the sources utilized, these are superb presentations with commentaries from L&H experts Randy Skretvedt and Richard Bann, copious interviews, alternate sound tracks, musical scores, trailers, over 2500 stills and additional materials making for a truly "definitive" package of some of the team's finest outings. Highly recommended!
---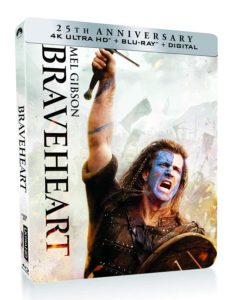 New Releases
Premiering in a Steelbook edition this month is BRAVEHEART (177 mins., 1995, R; Paramount), Mel Gibson's stirring 1995 Oscar winner that first made an impressive leap to 4K UHD in 2018.
This HDR-enhanced, Dolby Vision-capable transfer is a marked improvement over any prior home video release of the film. Greens are warmer, candles stand out in Longshanks' castle, details are overall much more evident and the battle sequences prove more thunderous now with Dolby Atmos steering some of the audio overhead. It's a beautiful presentation of a movie that mixes history and myth in a dynamic, sweeping manner – and yet its greatest asset is that it never loses the human component of William Wallace's crusade, and particularly his personal losses, while framing the larger fight for Scotland's independence. It's a brilliant piece of filmmaking enhanced by James Horner's atmospheric score – also as adept at capturing the film's soulfulness as well as its powerful action sequences – and performances from Gibson and his supporting cast (Patrick McGoohan as King Edward I, Sophie Marceau, Catherine McCormack, and especially Angus Macfadyen as Robert the Bruce).
John Toll's cinematography has long been one of the film's chief assets, and the 4K UHD should give viewers a new appreciation for his and Gibson's artistry. I recall first seeing this film in a small multiplex theater – in mono! – that did not do the picture justice at all. Neither did assorted THX approved laserdiscs and DVDs, with the picture often appearing muddy and lacking detail. Paramount's Blu-Ray far surpassed those releases, yet there's no question the brighter contrast of 4K, higher bit-rate and precision detail benefit the picture all the more in Paramount's UHD. It's that impressive a transfer and one of the best UHD catalog releases to date.
Paramount has carried over the prior Blu-Ray double-disc release in this Steelbook with its ample supplements, including Mel Gibson's commentary and other Making Of segments. "Albu gu Brath! The Making of Braveheart'" is the set's highlight, a 50-minute documentary sporting a Gibson interview and overview of the production, mixing archival footage with comments from the filmmaker, who rightly praises James Horner's score in its closing moments. "A Writer's Journey" profiles scribe Randall Wallace's efforts in a 20-minute featurette; "Tales of William Wallace" is a half-hour examination of the real Wallace; a handful of vintage interviews are also on-hand with numerous cast and crew members, while a photo montage and two trailers round out the package...Also new from Paramount is BODY CAM (96 mins., 2020, R), a thriller starring Mary J. Blige as a veteran cop who discovers an unusual figure in the body cam footage of a fellow officer who was recently murdered. Nat Wolff and Anika Noni Rose co-star in this mix of police procedural and "Paranormal Activity," premiering on DVD July 14th from Paramount. The disc includes a 16:9 transfer, 5.1 sound and a Digital copy.
---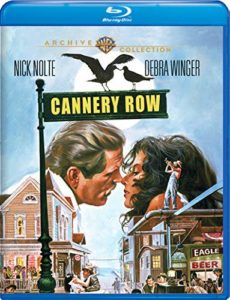 Warner Archive New Releases
One of the more puzzling Warner Archive releases of late, CANNERY ROW (121 mins., 1982, PG) was a box-office blunder that pretty much sealed the fate of Oscar-winning "Sting" writer David S. Ward as a major director ("Major League" notwithstanding). Left to his own devices here, Ward swung and missed with this adaptation of two John Steinbeck books, a WWII-era chronicle of numerous "colorful" types – a former pitcher (Nick Nolte) turned marine biologist, a down-on-her-luck woman (Debra Winger) who takes a job as a floozy, and plenty of rascals and friendly bums – that congregate along the docks of their small, rundown Monterey, Ca. town.
Ward clearly meant for this picture to be "fun" and atmospheric, and certainly the film's physical production matches his ambition: Sven Nykvist's cinematography and Richard MacDonald's sets ably set the scene, but the picture, alas, never connects. The Nolte-Winger portions are cute, but Ward pulls away from them too often with his script distracted by the grating "comical" antics of the assorted rascals (M. Emmet Walsh and Frank McRae among them) that are never as funny or fanciful as the material believes them to be. John Huston's narration, meanwhile, attempts to bring all the elements together, but in the end, the only person seemingly happy with "Cannery Row" was Raquel Welch, who originally held Winger's role and successfully sued MGM for wrongful termination, winning a major lawsuit years after the fact.
You don't often see "Cannery Row" written in a list of unheralded films from the early '80s, but Warner Archive has brought it to Blu-Ray just the same. The 1080p (1.85) transfer and mono sound are fine, with the sole extra being a theatrical trailer.
Much more entertaining is ROMANCE ON THE HIGH SEAS (99 mins., 1948), a zesty Warner concoction from the late '40s that launched Doris Day's big-screen career. Day is partnered here with Janis Paige and Don DeFore as a married couple, each suspicious of the other, who partake in a cruise to Rio, with Jack Carson the P.I. hired to spy on the former and Day as the woman who "takes her place." Mistaken identities, tuneful songs by Jule Styne and Sammy Cahn, Busby Berkeley musical numbers and Michael Curtiz's direction all combine to make for a most enjoyable production. Warner Archive's Blu-Ray boasts a crisp and satisfying 1080p (1.37) transfer, DTS MA mono sound, a classic cartoon and musical short, and the trailer.
---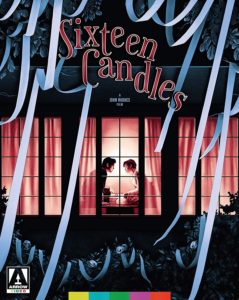 Arrow Wrap
SIXTEEN CANDLES Blu-Ray (92 mins., 1984, PG; Arrow): John Hughes' inaugural directorial outing – and the first of three '80s favorites to star Molly Ringwald – holds up well as a coming-of-age teen story told through Hughes' distinctive, occasionally irreverent prism. Though not as focused as "Pretty in Pink" or "The Breakfast Club," "Sixteen Candles" is still an entertaining and occasionally quite funny film and Arrow's Blu-Ray Special Edition is a huge upgrade over Universal's previous BD: the 1080p 4K scan of the original negative (1.85) is leaps and bounds more detailed, with both the movie's theatrical cut and an extended (by two minutes) release also on-hand. Mono and DTS MA 5.1 audio comprise the audio options, while a full run of supplements include interviews with casting director Jackie Birch, actors Gedde Watanabe, John Kapelos and Deborah Pollack, camera operator (and future John Carpenter collaborator) Gary Kibbe, filmmaker Alan Rifkin (who shadowed Hughes on-set), and composer Ira Newborn. There's also a video essay from Soraya Roberts, archival documentary materials, trailers, a BD-ROM PDF of the shooting script, and predictably "woke" liner notes addressing the "offensive" content contained in the film.
ELVIRA, MISTRESS OF THE DARK Blu-Ray (96 mins., 1988, PG-13; Arrow): The buxom horror hostess first hit the big-screen in this 1988 New World Pictures comedy, a co-production with NBC, with Elvira traveling to the repressive Massachusetts town of Fallwell (get it?) in order to claim her inheritance. Assorted run-ins with the townspeople pepper this passable vehicle for Cassandra Peterson, which offers a few scattered laughs but many times comes off as strained, even with SNL vet James Signorelli helming the material. Arrow's Blu-Ray (1.85) offers another superb 4K scan from original film elements with 2.0 PCM stereo audio; an introduction by Signorelli; a 2017 commentary with the director and an additional webcaster commentary; a 2018 edit of the documentary "Too Macabre: The Making of Elvira"; storyboards, image galleries, trailers and more.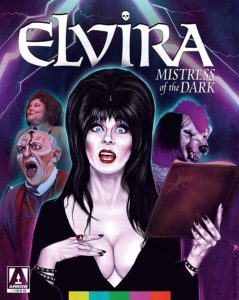 THE WIND Blu-Ray (92 mins., 1986, Not Rated; Arrow): Independent horror auteur Nico Mastorakis spins an entertaining enough 1986 thriller more atmospheric than shlocky, with Meg Foster starring as an author who heads on a Greek working vacation – only to be stalked by handyman Wings Hauser. Robert Morley enhances the leisurely-paced, yet watchable, shenanigans with an early Hans Zimmer score (in association with Stanley Myers) providing some additional class. Arrow's Blu-Ray includes an exclusive restoration (1.85) with 2.0/5.1 audio, a new interview with Mastorakis, trailers from the director, and the complete soundtrack of the film for good measure.
MVD New Releases: Brian Cox gives a superb performance in THE ETRUSCAN SMILE (107 mins., 2020), an adaptation of Jose Luis Sampredo's book about a Scotsman who heads to San Francisco in order to seek medical treatment. Rosanna Arquette, Treat Williams, and Thora Birch co-star with many familiar faces (Peter Coyote, Tim Matheson, etc.) in support. MVD's Blu-Ray is now available…Recently released by MVD is WHAT SHE SAID: THE ART OF PAULINE KAEL (98 mins.), a documentary by Rob Garver on the irrepressible film critic. Sarah Jessica Parker brings Kael's words and reviews to life, while Quentin Tarantino, Camille Paglia, Molly Haskell and Paul Schrader pay tribute. MVD's DVD includes additional interviews with Tarantino and Schrader and deleted scenes, including an unaired interview between Kael and Alfred Hitchcock.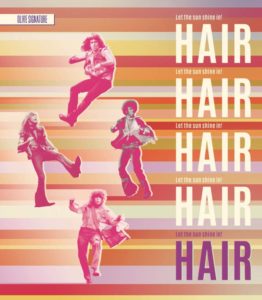 Also New & Noteworthy
HAIR Blu-Ray (121 mins., 1979, PG; Olive Films): Belated filming of the hit Broadway musical failed to take full flight at the box-office in 1979 with many critics and audiences having found the material dated. It certainly has its moments (along with a couple of classic songs by Galt MacDermot, Gerome Ragni and James Rado standing out), but since the show itself didn't age well, it's unsurprising that the film hasn't either, despite the best efforts of director Milos Forman, cinematographer Miroslav Ondricek and a game cast (including John Savage, Treat Williams and Beverly D'Angelo). Some deviations from the stage show's book didn't help either, especially as far as the film's contrived ending goes.
Olive's new "Signature" edition Blu-Ray of "Hair" offers fresh, substantial extras that differentiates it from MGM's 2011 format release. While the 1080p AVC encoded transfer on the "Hair" Blu-Ray is mostly quite good and the 5.1 DTS MA audio often rollicking (both seem on-par with the previous MGM Blu-Ray), Olive's BD offers new commentary by Treat Williams and AD Michael Hausman; new interviews with Beverly D'Angelo, Annie Golden, Ellen Foley, and John Savage; conversations with choreographer Twyla Tharp, production designer Stuart Wurtzel, and a tribute to Milos Forman from director James Mangold.
KISS OF THE VAMPIRE Blu-Ray (88 mins., 1963; Shout! Factory): When Christopher Lee and Peter Cushing took a brief hiatus from their Hammer vamp appearances, Hammer decided to fill the gap with this solid – if a little bit overpraised – tale of honeymooners who run afoul of an entire vampiric family looking to initiate them into the fold. John Elder scripted and Don Sharp helmed "Kiss of the Vampire," which offers well-developed characters though plods along a little bit at times. Shout's features-packed Special Edition include a new 4K scan (both 1.66 and 1.85) of the interpositive; a fresh, insightful commentary with Steve Haberman and Constantine Nasr; featurettes on Bernard Robinson and composer James Bernard; an older commentary with cast members, deleted scenes, the trailer, and the TV version of the film, which offered scenes specifically shot for it (and also includes its own commentary by Troy Howarth and Nathaniel Thompson).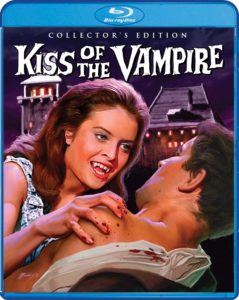 LEGION OF SUPERHEROES The Complete Series Blu-Ray (579 mins.; Warner): B-tier, young DC heroes Bouncing Boy, Brainiac 5, Saturn Girl, and Lightning Lad band together to go back in time and convince a young Clark Kent to embrace his future and become the hero he needs to be – all in order to defeat the Fatal Five, a band of bad guys causing trouble in the universe. This two-season animated series is new on Blu-Ray July 14th from Warner sporting 1080p (1.78) transfers, 5.1 DTS MA sound, commentary on the series finale, and the featurette "We Are Legion."
EVIL Season One DVD (9 hours, 2019-20; CBS): Katja Herbers and Mike Colter star in this decent CBS prime-time crime drama that finds the former as a skeptical psychologist who partners with a Catholic priest-in-training as they investigate the Catholic Church's files of occult phenomena. This being a CBS series, the horror is dailed back but "Evil" still ranks as an agreeable variation on the usual network primetime time-killers. Season 1 of the series is now on DVD from CBS sporting two featurettes, deleted/extended scenes, 16:9 transfers and 5.1 soundtracks.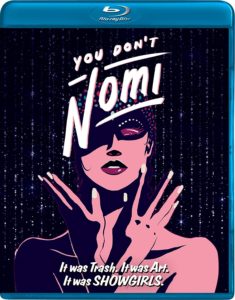 Coming From RLJE Films: YOU DON'T NOMI Blu-Ray (92 mins., 2019; RLJE Films): Looking for the "Showgirls" retrospective documentary you didn't know existed? Jeffrey McHale's "You Don't Nomi" examines the unlikely cult fandom related to Paul Verhoeven's infamous 1995 box-office snoozer (a movie I remember watching in a theater full of mostly senior citizens!) with assorted devotees and admirers, along with archival interview footage of the movie's cast and crew. RLJE's Blu-Ray boasts a 1080p (1.78) transfer and 5.1 DTS MA sound.
Well Go USA New Releases: Donnie Yen plays a former top cop turned into a pudgy records clerk. Hoping to turn things around, he teams up with a restauranteur in order to solve a murder in ENTER THE FAT DRAGON (97 mins., 2020), a funny Hong Kong martial arts comedy with crisp fight choreography. Well Go USA's Blu-Ray offers a 1080p transfer, Cantonese DTS MA audio and English subtitles.
New From Screen Media: Annette Bening plays a woman trying to cope after her husband (Bill Nighy) of nearly 30 years decides to leave her in William Nicholson's film HOPE GAP (100 mins., 2018; Screen Media). Nicholson also wrote this character drama with Bening tending to her own emotional needs, as well as the fallout Nighy's decision has on their grown son (Josh O'Connor). Screen Media's DVD is out July 7 featuring a 16:9 transfer and both 2.0/5.1 Dolby Digital sound…also new from Screen Media on Blu-Ray this month is BLOOD AND MONEY (89 mins., 2019),a new thriller starring Tom Berenger as a veteran hunter who comes across a dead woman and a duffle bag full of cash in northern Maine. When the criminals come looking for the loot – stemming from a casino robbery gone wrong – he takes them on in a (literally and figuratively) frigid genre exercise co-starring Kristen Hager and Paul Ben-Victor. Screen Media's Blu-Ray includes 5.1/2.0 sound and a 1080p transfer.
HANDS OF GOD DVD (78 mins., 2020; Film Movement): Alfonso Cauron executive-produced this documentary about three members of the Iraqi National Boxing Team, and their journey from the bottom through competing in the Rio Olympics. Riccardo Romani's doc is now available on DVD from Film Movement sporting a 16:9 transfer and both 2.0/5.1 subtitled audio.
NEXT TIME: Kino Lorber's July releases! Until then, don't forget to drop in on the official Aisle Seat Message Boards and direct any emails to our email address.