Message Board (open 24 hours!)
Twitter - @andredursin (for everything else!)
Most gaps in Clint Eastwood's filmography have been addressed on Blu-Ray by now, though Eastwood's third directorial outing, BREEZY (106 mins., 1973, R; Kino Lorber), has been exclusive to international markets for several years. Kino Lorber finally rectifies this omission with the first U.S. release of the movie in high-definition, and while regarded as a minor film in which Eastwood doesn't appear (sans a background cameo), "Breezy" is a worthwhile, affecting and highly appealing movie that's less a "product of its time" than its premise would suggest on the surface.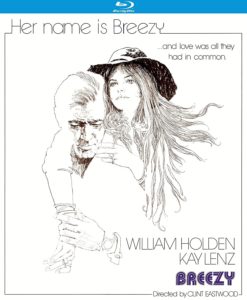 Thinking he was "too young" for the part, Eastwood eschewed playing the lead role in the film, giving it instead to William Holden, who looks far more advanced in his years than Eastwood himself would've (Holden was only 12 years older than Eastwood but looks several decades older). That said, Holden is quite wonderful here as a divorced real estate agent, comfortable in his existence, who strikes up an unlikely affection – and blossoming relationship – with a hippy (Kay Lenz) many decades his junior. Whether or not Holden's Frank Harmon can overcome his own inherent ageism and pressure from both his circle of friends – including "Star Trek" vet Roger C. Carmel – as well as his on-again/off-again female companion (Marj Dusay) and embittered ex-wife (Joan Hotchkins) is where the conflict in Jo Heims' original script lies.
If you read that plot description, took a look at the movie's 1973 release date and thought "Breezy" would be a heavily dated film, you'd surprisingly be wrong. This isn't a Blake Edwards type of period piece but rather a layered and believable drama Eastwood instills with his no-nonsense direction that plays to the era but fashions the drama in a sensitive and relatable manner separate from time and place. The movie isn't filled with "Generation Gap" jokes or long discussions about the respective social eras Frank and Breezy originate from – instead, there's a refreshing humanistic tone to Eastwood and Heims' portrayal of the couple, with Holden's performance coming across as a fully realized depiction of a not-completely hardened man who's eventually willing to take a chance.
"Breezy" is thoroughly likeable, naturally shot by Frank Stanley and melodically – if economically – scored by Michel Legrand, with the lovely "Breezy's Theme" accompanied by Shelby Flint singing Alan and Marilyn Bergman's lyrics (there's an LP long overdue for CD treatment). Kino Lorber's Blu-Ray looks to be derived from the same quality Universal master the studio released outside the U.S. in 2014, with a 1080p (1.85) transfer, DTS MA mono sound, the trailer and a new commentary from Howard S. Berger and C. Courtney Joyner.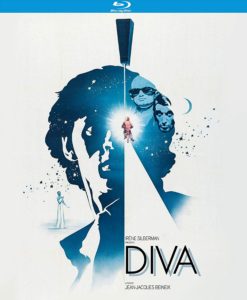 DIVA Blu-Ray (117 mins., 1981, R; Kino Lorber): One of the biggest Art House hits of the early '80s at last comes to Blu-Ray in a gorgeous HD transfer from Kino Lorber.
Director Jean-Jacques Beineix laid the foundation for many a French crime film to follow with "Diva," as this stylish yet never bombastic picture set the stage for the works of Luc Besson among others in the years to come. Taken on its own terms, though, "Diva" still functions well as a compelling story of a moped-driving mail carrier (Frederc Andrei) who has an obsession with an American soprano (Wilhelmenia Wiggins Fernandez) performing in Paris. Reclusive to the point where she's spurned commercial recording contracts, Andrei's Jules tapes her performances – drawing the interest of bootleggers – while he's also being pursued by both the police and other forces, trying to get a different tape he unknowingly has in his possession: a confession from a slain prostitute who reveals the identity of a big-time Parisian sex trafficker.
"Diva" offers an exciting chase with Jules on his moped trying to evade the cops through the Paris metro, but otherwise moves at an assured but leisurely pace. The movie is entertaining and not just a one-trick pony – it never lets style overwhelm its characters (not in the way, say, some of Besson's comparatively louder pictures do) even though there's a lot of appeal in Philippe Rousselot's nicely textured cinematography.
"Diva" has been brought to Blu-Ray in a satisfying, natural looking 1080p (1.66) AVC encode licensed by Studio Canal. The French mono sound is clear and many extras include a commentary from critic Simon Abrams; scene specific commentary from Beineix; interviews with actors Frderic Andrei, Dominique Pinon (a later staple of Jeunet's works), Anny Romand, and Richard Bohringer; composer Vladimir Cosma; casting director Dominique Besnehard; Rousselot and set designer Hilton McConnico; and two featurettes with Beineix.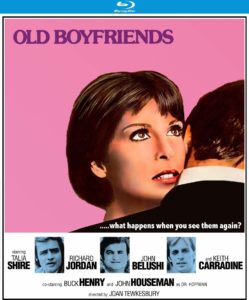 OLD BOYFRIENDS Blu-Ray (103 mins., 1979, R; Kino Lorber): Strange is just one word to describe this late '70s commercial disappointment from director Joan Tewkesbury – a vehicle for "Rocky"'s Talia Shire with a script by Paul and Leonard Schrader that follows a woman's determined crusade through her past relationships. These include her college lover (Richard Jordan), the brother (Keith Carradine) of one former flame, and her former high school boyfriend (John Belushi), who performs not just one or two but three songs on-screen.
It might sound like a sentimental dramaedy – from its title down to its premise – but "Old Boyfriends" is anything but that. Shire's motivations aren't laid out at the start and then-husband David Shire's score starts off sounding like it's underscoring a Hitchcock movie. Perhaps the point of "Old Boyfriends" is that the viewer isn't initially aware what the film is or trying to be – though once it turns out Shire's protagonist isn't out to rape and murder her former suitors, the movie's attempts to throw the viewer off ends up being a detriment to viewers becoming emotionally involved in her plight.
What we end up with is a flawed but compelling film that was probably a little ahead of its time, though it does improve as it progresses and audiences are eventually able to perhaps not sympathize with but at least better understand Shire's character. David Shire's scoring is interesting as well, opening frantically and only turning melodic – and quite beautiful – once the movie's narrative cards are eventually laid on the table. Once the movie's love theme is finally revealed, late in the picture, with Shire's sensitive solo violin punctuating Shire and Carradine's coupling, it's truly stunning – and one of the most beautiful compositions of the composer's career.
"Old Boyfriends" also includes quick cameos from the likes of Buck Henry and John Houseman, and offers attractive cinematography from William A. Fraker. Available August 18th, Kino Lorber's Blu-Ray (1.85) is sourced from a 4K master, though the framing looks a bit tight on the top portion of the screen, with some headroom being slightly lobbed off. Extras include a commentary from Tewkesbury and moderator Douglas Hosdale and another commentary from critic Peter Tonguette.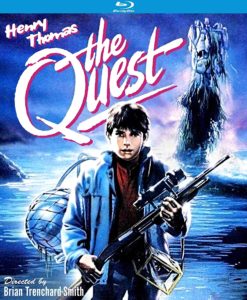 THE QUEST Blu-Ray (93 mins., 1986, PG; Kino Lorber): Known as "Frog Dreaming" in its native Australia, this is a very strange kids-adventure from prolific Aussie director Brian Trenchard-Smith. Its trump card is Henry Thomas' casting, in one of his final post-"E.T." lead roles, as an American kid staying with his Australian guardian (Tony Barry) and getting into all kinds of trouble in their rural town. This includes a run-in with what looks to be a spirit named the "Donkegin" that allegedly resides in a local lake – leading to Thomas trying to find the elusive "Donkegin" and unmask its true identity.
Brian May's score is pleasant and the Outback locales are nicely photographed, but this is a seriously bizarre film, scripted by Everett DeRoche – another prolific member of the Australian film community in the '80s – in a manner that's too odd for kids (and likely inaccessible for American youngsters) and not engaging enough for adults. Retitled "The Quest" for the U.S., this independently shot film never found a major distributor domestically but has retained a small cult following, especially back home. Kino Lorber's Blu-Ray is derived from a good looking 4K restoration (1.85) with 2.0 DTS MA stereo audio. Copious extras brought on-board from Umbrella's Down Under release include a commentary from Trenchard-Smith and friends; a half-hour interview between Thomas and the director, shot at Thomas' Oregon home; additional interviews with cast members and a location shooting featurette; the U.S. opening credits and original Australian trailer.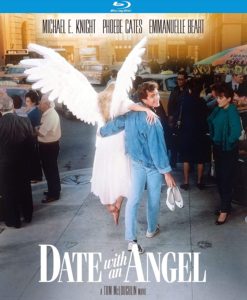 DATE WITH AN ANGEL Blu-Ray (105 mins., 1987, PG; Kino Lorber): Horror director Tom McLoughlin ("Friday the 13th Part VI," Stephen King's "Sometimes They Come Back") stepped outside his comfort zone for this late DeLaurentiis Entertainment Group release – a forgettable "Splash" rip-off with mere mortal Michael E. Knight engaged to snobby rich girl Phoebe Cates but falling for an angel (Emanuelle Beart, fresh off "Manon of the Spring") who crashes into his swimming pool. Alex Thomson shot "Date With An Angel" in scope and the film boasts Richard Edlund FX, but this is pretty pedestrian fare most of the way, with the plastic leads unable to inject much life into it. McLoughlin's commentary, an archival Making Of, and the trailer are on-hand with the Studio Canal-licensed transfer (2.35, 2.0 DTS MA stereo) being in tip-top shape.
CRY FREEDOM Blu-Ray (157 mins., 1987, PG; Kino Lorber): Richard Attenborough's well-intentioned and finely-acted film isn't talked about much these days, but is still worth a look in spite of the fact that its story about the murder of South African activist Steve Biko (Denzel Washington) is framed through the lens of a liberal local newspaper editor (Kevin Kline). Though leisurely paced and self-consciously "important," both Washington and Kline are superb here, with George Fenton and Jonas Gwangwa's score deservedly copping an Oscar nomination (as Washington also did). The trailer, a good looking transfer (2.35, 2.0 DTS MA) and commentary from historian Eddy Von Mueller comprise the extras.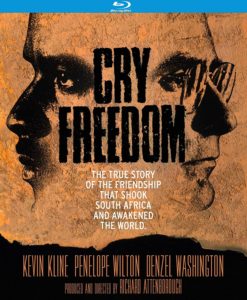 Also New From Kino Lorber this month are a trio of Universal catalog collections featuring new-to-Blu-Ray titles. TONY CURTIS COLLECTION offers the star in three lead vehicles: the early Blake Edwards comedy "The Perfect Furlough" (1958) with Curits opposite Janet Leigh, plus "The Great Impostor" (1960, co-starring Karl Malden and Edmond O'Brien) and "40 Pounds of Trouble" (1962) with Suzanne Pleshette. Western fans should love the AUDIE MURPHY COLLECTION, which includes the genre icon in "The Duel at Silver Creek" (1952), "Ride a Crooked Trail" (1958) and "No Name on the Bullet" (1959). Finally, CAROLE LOMBARD COLLECTION includes a trio of vintage pre-Code dramas: "Fast and Loose" (1930) with Miriam Hopkins, "Man of the World" (1931) co-starring William Powell, and "No Man of Her Own" (1932) with Lombard opposite Clark Gable.
More Universal Favorites: Douglas Sirk devotees should be excited by Kino Lorber's August 25th debut of THERE'S ALWAYS TOMORROW (84 mins., 1956), a production typical of the auteur and producer Ross Hunter. Fred MacMurray plays a man, unfulfilled by his family, who finds a spark when he reconnects with a divorced former flame (Barbara Stanwyck). Russell Metty's stark B&W cinematography helps sell this teary-eyed melodrama, presented here in a Universal 1080p catalog master (1.85) with a new commentary from historian Samm Deigon and the trailer. Another Sirk feature, ALL I DESIRE (80 mins., 1953), is also new to Blu-Ray, also featuring Stanwyck and debuting here on Blu-Ray sporting a fresh commentary by Imogen Sara Smith.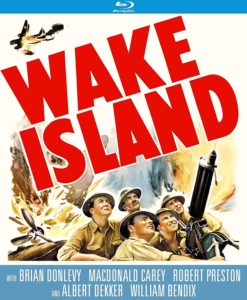 Richard Widmark and Donna Reed star in John Sturges' BACKLASH (84 mins., 1956), a short programmer with Widmark looking for vengeance after his father's death and getting wrapped up with a widow (Reed) who's being hunted by a gunslinger (William Campbell). Kino Lorber's Blu-Ray includes a 2:1 1080p transfer and a commentary from historian Samm Deighan…Jeff Chandler toplines Budd Boetticher's WWII adventure RED BALL EXPRESS (83 mins., 1952), set within Patton's Third Army, struggling to survive and in need of supplies after the invasion of Paris. A 1080p (1.37 B&W) transfer comprises Kino Lorber's Blu-Ray with a commentary from Steve Mitchell and Steven Jay Rubin on-hand…Richard Burton puts in a perfunctory performance in the likewise perfunctory WWII film RAID ON ROMMEL (99 mins., 1971, PG), a later effort from director Henry Hathaway that lacks the punch of his better films. Recycling footage – and some story elements – from Universal's earlier "Tubruk," this one should still appeal to genre devotees, with Kino Lorber's BD including a 1080p (2.35) transfer, commentary from Steve Mitchell and Steven Jay Rubin, the trailer, and an interview with co-star Clinton Greyn.
Fredric March and Cary Grant toplined the WWI drama THE EAGLE AND THE HAWK (73 mins., 1933), Universal's rendering of John Monk Sanders' staunchly anti-war novel about pilots with contrasting ethical codes. Carole Lombard co-stars, with Kino Lorber's Blu-Ray (1.37 B&W) also offering a new commentary from Lee Gambin and the trailer…Brian Donlevy, Macdonald Carey and Robert Preston comprise the cast of John Farrow's Universal WWII outing WAKE ISLAND (88 mins., 1942), regarded as one of the first "realistic" films about the war from Hollywood. A commentary from Steve Mitchell and Steven Jay Rubin is included in Kino Lorber's Blu-Ray (1.37 B&W) along with the trailer.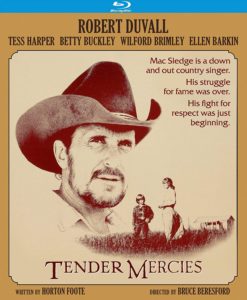 I hadn't seen TENDER MERCIES (92 mins., 1983, PG) as an adult until Kino Lorber's U.S. Blu-Ray premiere – and it's somewhat surprising this slender drama about a washed-up country star (Robert Duvall) who regains his footing alongside a widow (Tess Harper) and her son earned as many critical kudos at the time of its original release as it did. Granted, Duvall is fine, and director Bruce Beresford here launched his U.S. career with low-key pacing accentuating the human angle of Horton Foote's original screenplay – yet the film is so thinly drawn, barely running 90 minutes and offering few deviations off the formula, that it's surprising in hindsight the movie managed a handful of Oscar nominations, winning for both Duvall and Foote's script. Kino Lorber's Studio Canal-licensed Blu-Ray (1.85, 2.0 DTS MA) includes a new commentary from critic Simon Abrams, the trailer, and archival Making Of doc sporting interviews with Duvall, Beresford, Harper, Foote and others.
In HOLLYWOODLAND (127 mins., 2006, R), private eye Adrien Brody is tapped to investigate the death of TV "Superman" George Reeves in this intriguing though somewhat unsatisfying mystery yarn. Brody is appropriately intense as detective Louis Simo and director Allen Coulter's film does a good job capturing the shocking aspects of Reeves' death and how it impacted the culture of the late '50s, but Paul Bernbaum's script is hampered by a framework that switches between the investigation and flashbacks to Reeves' final days. Ben Affleck is fine in the latter sequences as the one-time Man of Steel, but the movie's momentum tends to stall out whenever we leave Brody's point of view. Kino Lorber's Blu-Ray (1.85) includes a new commentary by author Bryan Reesman plus archival DVD featurettes, deleted scenes, and director Allen Coulter's commentary.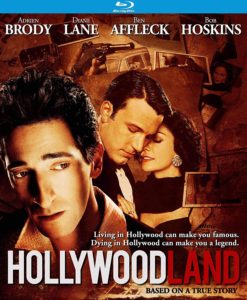 From the archives of Something Weird Video and their "Forbidden Fruit" series come a pair of riotous B&W exploitation pictures – SHE SHOULD'A SAID NO (71 mins., 1949), starring Lila Leeds as a former "party girl" recruited by a cop to take down a drug-pusher, and THE DEVIL'S SLEEP (76 mins., 1949), an unintentionally riotous affair starring John Mitchum and Lita Grey Chaplin, Charlie's former teen bride. Fans of B-grade camp from the era should enjoy Kino's Blu-Ray, which includes 1080p (1.33) transfers and a new commentary on "She Should'a Said No" from historian Alexandra Heller-Nicholas.
The life and times of skating diva and box-office star Sonja Henie is retold in SONJA THE WHITE SWAN (113 mins., 2019), a Norwegian biopic from director Anne Sewitsky featuring Ine Marie Wilmann in the title role. Kino Lorber's Blu-Ray (2.35) includes 5.1 and 2.0 audio in Norwegian/English with English subtitles…Atom Egoyan's GUEST OF HONOUR (112 mins., 2019) features David Thewlis and Laysla De Oliveira, who plays a high school teacher who attempts to reconcile her various issues with her father (Thewlis). Egoyan's film has been brought to BD in a 1080p (1.85) transfer from Kino sporting 5.1/2.0 audio…Sasie Sealy's LUCKY GRANDMA (87 mins., 2019) is set in Chinatown where an 80-year-old, newly widowed woman (Tsai Chin) enjoys her newfound freedom by getting wrapped up with local gangsters. Behind-the-scenes featurettes and the trailer are included in Kino Lorber's Blu-Ray.
The art documentary BEYOND THE VISIBLE: HILMA AF KLINT (97 mins., 2019) profiles the abstract artist in a documentary by Nalina Dyrschka. Kino Lorber's BD (1.78, 5.1/2.0 DTS MA) includes additional interviews, deleted scenes and a painting gallery…finally, the documentary CAPITAL IN THE 21ST CENTURY (102 mins., 2019) is based on the book by economist Thomas Piketty and is new on Blu-Ray from Kino Lorber (2.35, 5.1 DTS MA). An interview with director James Pemberton is among the extras along with a deleted scene, the trailer, interview with producer Matthew Metcalfe, and a New Republic roundtable on the film, moderated by its editor, Chris Lehmann.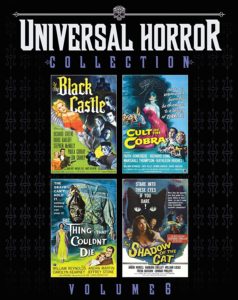 Scream Factory New Releases
New this month from Shout! Factory is the 6th edition in Scream's UNIVERSAL HORROR COLLECTION. This is an interesting four-disc Blu-Ray anthology that caps Scream's retrospectives of vintage Universal chillers, advancing to the 1950s with four favorites: "The Black Castle" (82 mins., 1952), the cult-classic "Cult of the Cobra" (82 mins., 1955), "The Thing That Couldn't Die" (69 mins., 1958) and "The Shadow of the Cat" (1961, 79 mins.). Widescreen transfers (1.37/1.85/1.66) are on-hand, all of them sourced from brand-new 2K scans from fine-grain film elements, with extras including commentaries by the likes of Tom Weaver, Bruce Hallenbeck, C. Courtney Joyner, David Schecter and Steve Kronenberg; trailers and still galleries; a fresh featurette, "Universal Horror Strikes Back!," which profiles the studio's post-Monster horror rallies; and a new interview with actress Barbara Shelley, who stars in "The Shadow of the Cat." This is a nice switch from the earlier B&W Universal sets, paying tribute to some of the later Universal thrillers in another terrific release for genre buffs.
TALES FROM THE DARKSIDE: THE MOVIE Blu-Ray (93 mins., 1990, R; Shout! Factory): Deluxe Scream Factory package of the 1990 big-screen adaptation of the syndicated horror series offers a trio of tales: "Lot 248," scripted by Michael McDowell from an Arthur Conan Doyle story; "Cat From Hell," which George Romero wrote from a Stephen King tale; and "Lover's Vow," Michael McDowell's original tale of a gargoyle love affair (gone wrong, of course). John Harrison directed with a linking story featuring Deborah Harry wrapping it all together. Scream's Blu-Ray (1.85, 5.1 DTS MA) includes new interviews with Harrison and numerous members of the creative team, with an accent on the make-up work; a fresh commentary from co-producer David Kappes; an archival commentary from Harrison and Romero; and a full run of trailers, behind the scenes galleries and TV spots.
Also New From Shout!: Due out September 8th is THE TRUE HISTORY OF THE KELLY GANG (125 mins., 2019, R), an Australian western chronicling the life and times of young Ned Kelly (George MacKay from "1917") who rises up against oppressive English rule thanks in part to a bushranger (a grizzly Russell Crowe) who informs the lad of his ancestral roots. Justin Kurzel's well-shot picture co-stars Nicholas Hoult, Charlie Hunnam and Essie Davis, and debuts on U.S. Blu-Ray from Shout next month. The disc offers a 1080p transfer (1.85) with 5.1 and 2.0 DTS MA sound.
---
Catalog Corner
THE SIN OF NORA MORAN Blu-Ray (65 mins., 1933, The Film Detective): The latest Blu-Ray limited edition from The Film Detective restores this unusual pre-Code affair starring Zita Johann in the title role: a woman sentenced to death for a crime she didn't commit. As she recalls her life in a series of flashbacks, Nora tries to reconcile her love with a married man and hope to get a reprieve from the Governor. Fascinating early '30s stuff with The Film Detective's Blu-Ray boasting a crisp restoration from the UCLA Film & Television Archive print along with a full documentary, "The Mysterious Life of Zita Johann," directed by Ballyhoo Pictures' Daniel Griffith along with Samuel M. Sherman's booklet notes.
Warner Archive New Releases: Though not the most respected of the many teamings between legendary stars Spencer Tracy and Katherine Hepburn, WITHOUT LOVE (110 mins., 1945) and PAT AND MIKE (95 mins., 1952), each should be of interest for fans of the duo. The former stars the on-screen coup;le as mismatched D.C. roomies in an adaptation of Philip Barry's play; the latter has Tracy and Hepburn generating sparks in a sports-oriented character comedy from director George Cukor. Both films sport detailed B&W transfers (1.37 AVC encodes) with DTS MA mono sound and several vintage extras (cartoon, "Crime Does Not Pay" short) on "Without Love."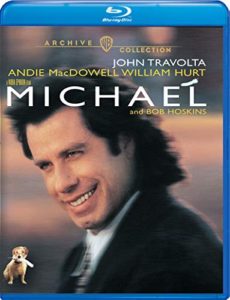 John Travolta's '90s renaissance tried to put the slender, uneven MICHAEL (106 mins., 1996, PG) over the top – to mixed results. This Christmas '96 Turner production sports a charismatic Travolta playing Michael – yes, the angel himself, who travels to Earth and becomes the subject of skeptical tabloid reporters William Hurt, Andie MacDowell and Robert Pastorelli. Travolta smiles, mugs and dances in a Nora Ephron film chock full of songs but a charm that's sometimes strained. The comedic elements, meanwhile, never quite gel in a script credited to Ephron, sister Delia, Pete Dexter and Jim Quinlan. Warner Archive's Blu-Ray (1.85, 5.1 DTS MA) looks nice and offers a pleasant Randy Newman score…Whoopi Goldberg delivers a strong dramatic performance in CLARA'S HEART (108 mins., 1988, PG-13), an otherwise treacly drama from director Robert Mulligan, who sputtered a bit in the '80s with misfires like this and "Kiss Me Goodbye." Here, Goldberg plays a housekeeper who tries to mend both her heart as well as that of a boy (Neil Patrick Harris) reeling after his parents' divorce and younger sister's death. Nicely shot by Freddie Francis and scored by Dave Grusin, "Clara's Heart" didn't find much favor with audiences or critics of the day, but comes to Blu-Ray undaunted this month from Warner Archive sporting a fine 1080p (1.85) transfer and 5.1 DTS MA sound.
THE COMFORT OF STRANGERS Blu-Ray (104 mins., 1990,. R; Criterion): Ian McEwan's acclaimed novel was adapted by playwright Harold Pinter for this acclaimed 1990 film, helmed by director Paul Schrader. Christopher Walken and Helen Mirren star as con artists who prey upon British couple Rupert Everett and Natasha Richardson while in Venice; it's sumptuously shot by Dante Spinotti and scored by Angelo Badalamenti – elements each enhanced by Criterion's Blu-Ray. The new 4K transfer (1.66) was supervised by Spinotti with new interviews with the DP, Schrader, Walken and editor Bill Pankow; 1981 and 2001 interviews with McEwan and Richardson, respectively; and PCM mono sound.
---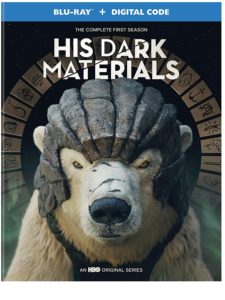 TV on Disc
HIS DARK MATERIALS Blu-Ray (460 mins., 2020; Warner): Another attempt at adapting Philip Pullman's fantasy novels results in this HBO series wherein Lyra (Dafne Keen) tries to patch together her past while investigating a plot revolving around missing, stolen children. Ruth Wilson, James McAvoy, and Lin-Manuel Miranda appear in this lavishly produced mini-series, new on Blu-Ray (1.85, 5.1 DTS MA) with a Digital HD code and numerous supplements, including featurettes and additional goodies.
BLUE BLOODS: THE TENTH SEASON DVD (13 hours, 2019-20; CBS): Jamie and Eddie set off as newlyweds at the start of this tenth season of the highly-rated CBS Friday night drama, trying to balance work and their professional lives. Meanwhile, Erin Reagan (Bridget Moynahan) attempts to mix family, work and politics while dad Frank (Tom Selleck) deals with all sorts of turmoil at 1 Police Plaza. Deleted scenes, a featurette, 200th Episode Celebration, 16:9 transfers and 5.1 sound are on-tap in CBS' four-disc DVD box…Also New From CBS: Season 3 of SEAL TEAM (14 hours, 2019-20) finds David Boreanaz's Jason Hayes leading his team into Serbia on a top-secret mission. Fans of CBS' series (16:9, 5.1) will enjoy this five-disc set of its third season with a number of featurettes included…"Gunsmoke" fans should check out CBS' latest DVD release from the legendary western series, GUNSMOKE: MOVIE COLLECTION, sporting the first three CBS network telefilms featuring James Arness reprising his role of Marshal Matt Dillon: "Return to Dodge" (1987), "The Last Apache" (1990) and "To the Last Man" (1992). Two of these feature R ratings (!) and all three are contained here in 4:3 transfers with stereo soundtracks.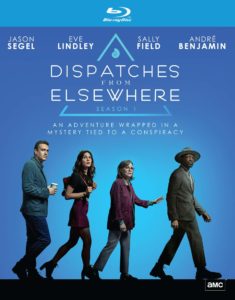 DISPATCHES FROM ELSEWHERE Season 1 Blu-Ray (7 houts, 2020; AMC/RLJE): Jason Segel starred and co-produced this offbeat AMC character drama about a group of Philadelphia residents searching for meaning within themselves as well as a puzzle that draws them all in – these include Segel, Sally Field, Andre Benjamin, and trans model Eve Lindley. Richard E. Grant also appears in the limited series, which just completed its run and comes to Blu-Ray featuring a number of behind the scenes featurettes, 16:9 transfers and 5.1 soundtracks.
New on DVD from RLJE this month is Season 1 of PLAYING FOR KEEPS (356 mins., 2018), an Australian drama about the wives, girlfriends and other females associated with the country's professional soccer players. This is a soapy soap opera of the glitzy variety, well produced and presented here in a 2-disc set from RLJE and its Sundance Now label. 16:9 transfers and stereo sound comprise the technical presentation…Julia Ormond and Ben Barnes star in GOLD DIGGER (341 mins., 2019), an ITV dramatic series about a divorced woman's relationship with a younger man and how it spurs suspicion from her children. Acorn/RLJE's DVD (16:9, 5.1) presents the series on two discs with a 20-minute behind-the-scenes featurette.
ORANGE IS THE NEW BLACK: The Final Season DVD (14 hours, 2019; Lionsgate): The long-running AMC dramatic series comes to an end after Piper is granted an early release, then struggles to reestablish herself with life on the outside and fit with the demands of being a parolee. Fates of the other Litchfield characters are also revealed in this finale to "Orange is the New Black," new on DVD this month from Lionsgate. The multi-disc DVD includes three featurettes, 16:9 transfers and 5.1 sound.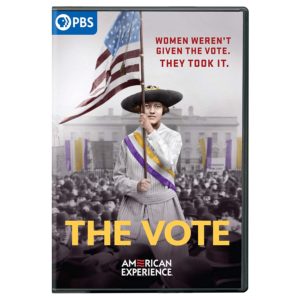 PBS New Releases: The American Experience profiles THE VOTE (229 mins., 2020) in a superb, timely and lengthy look at the campaign to give women the right to vote. Michelle Ferrari wrote and directed with Kate Burton narrating this look at the movement that battled for decades to challenge democracy and citizenship rights in the U.S. PBS' two-disc DVD set offers a 16:9 transfer and stereo sound…The life and times of Mae West receives an American Masters documentary, MAE WEST: DIRTY BLONDE (85 mins., 2020), showcasing her eight-decades long show business career across multiple entertainment forms. Bette Midler co-produced this feature-length doc, presented on DVD by PBS with several featurettes, 16:9 transfers and 5.1 audio. Like "The Vote," the DVD is now available…Season 7 of ENDEAVOUR (245 mins., 2019) opens on New Years Eve 1969 with a body and Endeavour and company facing new mysteries set against a changing social climate. Over 15 minutes of bonus featurettes are on tap in PBS' two-disc DVD along with uncut 16:9 UK version transfers and 5.1 sound.
Mill Creek New Releases: The Syfy Channel series EUREKA enjoyed a five-season run and hits Blu-Ray in complete form for the first time thanks to Mill Creek. This multi-disc package includes all 77 episodes from the engaging series about a small rural town that might look normal, but is filled with scientists rehomed there to conduct secret experiments. Comedy, sci-fi and fantasy mix in a show that was canceled after its fifth season, though at least Syfy had the good sense to order a final episode to put a bow on for fans. Like Mill Creek's fine "12 Monkeys" box, this includes commentaries, deleted scenes and other extras from prior DVD editions plus spiffy 1080p transfers and 5.1 sound…Also new from Mill Creek is NEO ULTRA Q: Complete Series (5 hours), a 12-episode series following three friends who investigate a series of inexplicable monster appearances and paranormal events. On Blu-Ray for the first time domestically, Mill Creek's BD boasts 1080p transfers, 2.0 DTS MA Japanese audio and a Moviespree digital copy.
---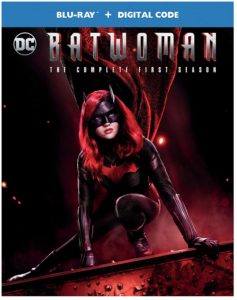 Quick Takes
DEATHSTROKE: KNIGHTS & DRAGONS Blu-Ray Combo Pack (87 mins., 2020, R; Warner): The fringe DC (anti)-hero gets a full-fledged animated adventure to varying degrees of effectiveness. Michael Chiklis voices the assassin here, struggling to save his son and fractured family after he's abducted by the vile terror group H.I.V.E. J.M. DeMatteis' script mixes origin material with melodramatic domestic drama that sags the whole production, at least until a lively, violent ending arrives to satisfy hard-core comic book devotees. Warner's attractive 1080p transfer and 5.1 DTS MA sound grace the BD presentation with a single featurette, DVD and Digital Copy also included.
Also new from Warner is the Complete Season 1 of BATWOMAN (844 mins., 2019-20), which branches the DC Universe out to its gay super-heroine, not to mention peripheral elements like TV talk show host Rachel Maddow's recurring voice popping up here and there. Socio-political elements aside, this is an uneven series with Ruby Rose somewhat uneasily filling the dramatic chops of Kate Kane – so much that the packaging doesn't note her involvement, likely a wise move since Rose quit the series after its first season concluded. This Season 1 package of "Batwoman" hits stores August 18th featuring deleted scenes, a Best of 2019 Comic Con panel reel, 1080p transfers, 5.1 DTS MA audio and a Digital Code. The initial Limited Edition release also includes a bonus disc sporting all 5 DC Crossover episodes.
DC fans may also want to check out The Complete Sixth Season of THE FLASH (804 mins., 2019-20; Warner), which continues to rush ahead with 19 new episodes from The CW's #1, most-watched series. This time around, Team Flash has to contend with two new villains: Bloodwork and Mirror Master — while Barry and wife Iris West-Allen deal with the loss of their daughter Nora. Killer Frost (Danielle Panebaker) also pops up along with the usual suspects through these Season 6 episodes, on Blu-Ray August 25th from Warner. The multi-disc set includes attractive 1080p transfers, 5.1 DTS MA audio, deleted scenes, a gag reel, "noir" version of episode "Kiss Kiss Breach breach" with commentary by producer Eric Wallace, a San Diego Comic Con 2019 panel, plus a Digital HD copy and bonus disc also sporting all the episodes from last season's DC Crossover on The CW.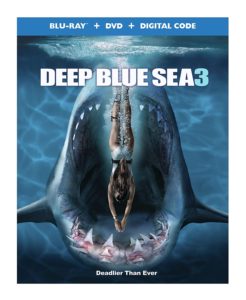 DEEP BLUE SEA 3 Blu-Ray Combo Pack (100 mins., 2020, R; Warner): Surprisingly agreeable direct-to-video continuation of the franchise follows the shenanigans of those genetically-engineered sharks, whose offspring prove to be just as deadly as their ancestors. This one continues the storyline from "Deep Blue Sea 2," but for those who can't remember or care (hand raised), it's easy to jump into John Pogue's nicely-shot, sun-drenched Cape Town production, starring Tania Raymonde ("Lost"'s Alex) as a scientist whose humble "Little Happy" Island is quickly overrun by the buggers. There are no dimly-lit nighttime sequences, just some adequate CGI work and appealing visuals at play here — if only Dirk Blackman's woke script wasn't so stodgy and serious, throwing in climate change and a heaping dose of female empowerment to curtail the fun (guess which sex makes it through to the end?). If you can get past that, there are enough B-movie thrills here to make this worth a rental. Warner's Blu-Ray (2.39, 5.1 DTS MA) boasts two featurettes, a DVD and Digital HD copy.
THE KING OF STATEN ISLAND Blu-Ray Combo Pack (137 mins., 2020, R; Universal): One of what will be many planned 2020 theatrical releases that premiered on the small screen instead, "The King of Staten Island" is director Judd Apatow's attempt to launch SNL performer Pete Davidson's movie career. Trying to do for Davidson what "Trainwreck" accomplished for Amy Schumer, "Staten Island" is a typical Apatow piece that mixes comedy, drama and a bit of semi-autobiographical-ish material involving Davidson as an aimless New Yorker whose father died in 9/11. After spending his time carousing with his pals and living with his Mom (Marisa Tomei), Davidson tries to piece it together and overcome personal tragedy in a heartfelt yet extremely uneven film that overstays its welcome with an unmanageable two-plus hour running time. Universal's Blu-Ray (2.39, Dolby Atmos) offers a host of featurettes, Digital HD copy and DVD.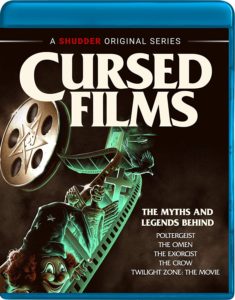 CURSED FILMS Blu-Ray (141 mins., 2020; RLJE): "Shudder" channel original series looks at the mostly-phony behind-the-scenes "spooky goings-on" on the sets of genre favorites "The Exorcist," "Poltergeist," "The Omen," "The Crow" and "Twilight Zone: The Movie." Not much here hardcore movie buffs don't already know, with the usual suspects paraded out to recite the same stories with more embellishment than before. RLJE's Blu-Ray includes commentary on all five episodes, 1080p transfers and 5.1 DTS MA audio…Coming September 1st from RLJE is a Shudder original movie, Z (83 mins., 2019, Not Rated). Brandon Christensen's thriller is about yet another little moppet with a disturbing new "imaginary friend" that turns out to be much more real, and deadlier, than any sane person could expect. RLJE's Blu-Ray includes a 1080p (1.78) transfer, 5.1 DTS MA sound and streets in a couple of weeks.
Well Go New Releases: For those who haven't seen a movie about a freaky kid who worms his way into the life of a couple (usually a grieving one), it's possible the Russian import WILD BOY (90 mins., 2019, Not Rated) might hold some surprises. Otherwise, this tale of a feral boy who resembles the couple's dead son is pretty much standard fare. Well Go's DVD streets early next month with a 16:9 transfer and 5.1 sound in either Russian or an English dub.
New From IFC/MPI: The Pierce Brothers wrote and directed THE WRETCHED (96 mins., 2020, Not Rated), yet another horror movie involving spirits preying upon young kids – though this one literally kills them off in an increasingly seedy film that's not fun or appealing, despite the packaging trying to equate this as a "modern" update of "The Goonies"! MPI's Blu-Ray includes a 1080p transfer and 5.1 DTS MA sound…Beanie Feldstein stars as a quirky teenager who tries to break free of her surroundings — goofy parents, overcrowded flat — via her active imagination and a music critic alter-ego, "Dolly Wilde," whom she adopts. Emma Thompson, Paddy Considine, and Chris O'Dowd co-star in Caitlin Moran's film HOW TO BUILD A GIRL (104 mins., 2020, R), new to Blu-Ray this month from MPI. The IFC release includes featurettes, interviews, and the trailer…Finally, Steve Coogan and Rob Brydon return in THE TRIP TO GREECE (103 mins., 2020, PG-13), the concluding "Final Course" in director Michael Winterbottom's quasi-travelogues. MPI's Blu-Ray (1.85, 5.1 DTS MA) includes a lovely transfer, though this is more about the often bickering leads than the scenery.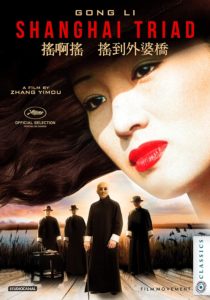 EXIT PLAN DVD (84 mins., 2019; Screen Media): Nikolaj Coster-Waldau is an insurance claims investigator whose latest assignment takes him to a secretive facility specializing in assistive suicide. This thriller is new to DVD from Screen Media featuring a 16:9 transfer and 5.1 sound.
THE OUTPOST Blu-Ray (128 mins., 2020, R; Screen Media): Top-notch, well-executed dramatization of the valiant fight put up by a small group of American soldiers at "Combat Outpost Keating," deep inside Afghanistan, in what became one of the bloodiest battles of the Afghan War. Rod Lurie helmed this visualization of Jake Tapper's account of the skirmish, with Scott Eastwood, Caleb Landry Jones and Orlando Bloom leading a fine ensemble cast. This is potent stuff, well worth seeing on Blu-Ray (1.85) where Screen Media has provided a capable presentation with 5.1 audio. Extras include Lurie's commentary, a featurette and rehearsal footage.
G-LOC DVD (93 mins., 2020, PG-13; Lionsgate): When Bran Marshall is forced to flee to Rhean, a hostile planet towards us Earthlings, he connects with a warrior named Ohsha whom he initially battles — but then forms an unlikely alliance with — after their ship is damaged, threatening the populace below. Stephen Moyer, Casper Van Dien and John Rhys Davies star in Tom Paton's film, debuting on DVD (2.39) from Lionsgate this month.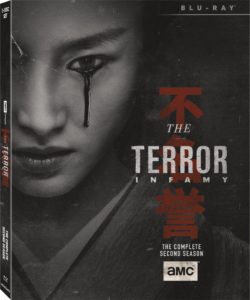 Also New on DVD from Lionsgate August 25th are two new offerings from History and the A&E label. WASHINGTON (258 mins., 2020) is co-produced by historian Doris Kearns Goodwin, mixing dramatized re-enactments (with "Young Sherlock Holmes"' Nicholas Rowe as our first President) with historian commentary. Colin Powell and Bill Clinton are among those who appear in this History production just out on DVD (16:9, 2.0). The life and times of "The Gambler" crooner KENNY ROGERS (86 mins., 2020), meanwhile, are relayed in this Biography installment, featuring interviews with friends Dolly Parton, Lionel Richie and others, along with footage from Rogers' 2017 farewell concert (16:9, 2.0)…ONE NIGHT IN BANGKOK (105 mins., 2020, R) offers martial arts vet Mark Dacascos as a hitman blasting his way through Bangkok with Kane Kosugi chipping in some supporting chops in this effort from director Wych Kaosayananada (director of the Antonio Banderas bomb "Ballistic: Eicks Vs. Sever"). Lionsgate's DVD is out August 25 with a 16:9 transfer and 5.1 sound.
On Blu-Ray from Lionsgate, I AM VENGEANCE: RETALIATION (82 mins., 2020, R) brings back Stu Bennett as ex-special forces op John Gold, here tasked with transporting a former colleague who betrayed him, in the hopes of expunging his record. Things don't go as planned in Ross Boyask's slender action sequel, on Blu-Ray from Lionsgate featuring a 1080p (2.39) transfer, 5.1 Dolby TrueHD audio, commentary with Boyask and Bennett, deleted scenes, a featurette, and a Digital HD copy…The Ridley Scott co-produced AMC horror series THE TERROR shifts gears for its second season, dubbed INFAMY (7 hours, 2019), with a fresh setting involving Japanese-Americans housed on Southern California's Terminal Island during WWII. The performances are superb and the atmosphere believably rendered, but there's a heavy hand at play here mixing the real horrors of internment with supernatural shenanigans that lead to the season receiving mixed reviews. Lionsgate's Blu-Ray (1.78, 5.1 Dolby TrueHD) is available this week.
EMPEROR DVD (100 mins., 2020, PG-13; Universal): Dayo Okeniyi plays Shields "Emperor" Green, a direct descendant of African kings who fought against slavery, risking his life to join the daring raid on Harper's Ferry. His story is told in this Briarcliff Entertainment presentation from director/co-writer Mark Amin, co-starring Ben Robson, James Cromwell, Gat Graham, Mykelti Williamson and Bruce Dern. Universal's DVD is out this week (2.39, 5.1).
SHANGHAI TRIAD Blu-Ray (108 mins., 1995, R; Film Movement): Zhang Yimou's acclaimed 1995 film debuts on Blu-Ray for the first time this month from Film Movement. Gong Li stars as a nightclub singer/mobster's dame who tutors a teen (Wang Ziaoziao) in the ways of '30s Shanghai underworld business. This National Board of Review Best Foreign Film award winner has been digitally restored by Studio Canal (1.85) and lands on Blu-Ray with an essay from author Grady Hendrix and booklet notes by historian John Berra. The transfer is fine and Mandarin stereo audio (2.0) is on-tap with English subtitles…On DVD from Film Movement is A WHITE, WHITE DAY (109 mins., 2020), an Icelandic film about a police chief who tries to piece together the possible affair his late wife had with a local man. Film Movement's DVD includes a 16:9 (2.39) transfer and Icelandic/Danish/Swedish audio with English subtitles and director Hlynur Palmason's earlier short "Seven Boats" as a bonus.
Last but not least this week is Corinth Films' Blu-Ray/DVD presentation of the BBC documentary EINSTEIN'S UNIVERSE (118 mins., 1979), an acclaimed, Peter Ustinov-narrated look at Einstein's life and relativity theories. This BD/DVD combo pack brings the two-hour production from writer Nigel Calder to U.S. home video.
NEXT TIME: Labor Day edition! Until then, don't forget to drop in on the official Aisle Seat Message Boards and direct any emails to our email address.