Message Board (open 24 hours!)
Twitter - @andredursin (for everything else!)
As a kid back in the '80s my main exposure to director Richard Fleischer came through the likes of "Conan the Destroyer," "Red Sonja" and the Glad trash bag infomercial, "Million Dollar Mystery." For that reason, it's understandable I grew up not being overly excited by seeing Fleischer's name attached to a movie, but over the last decade or two, I've been exposed to the director's larger, earlier body of work, which counts a number of fascinating and very entertaining works across a wide variety of genres. Two of those pictures are new to Blu-Ray this month from Kino Lorber, premiering in high-definition for the first time, and are each worthy of discovery.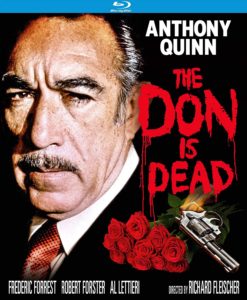 Case in point is THE DON IS DEAD (115 mins., 1973, R), a post-"Godfather" mafia saga released at a point when interest in all things mob-related were at a cultural high. Predictably, Fleischer's filming of a book by Marvin H. Albert (scripted by the author) offers a lot less poetry – both the narrative and visual kind – than Francis Ford Coppola's Oscar winner, yet there's still sufficient action to be found in this tale of rival mob bosses jockeying for position after the death of one of their patriarchs.
Anthony Quinn essays the veteran Don Angelo, who offers to take the young, inexperienced son (Robert Forster) of the deceased Don under his wing — not knowing that the girl (Angel Tompkins) he's just become acquainted with is also Forster's aspiring-singer girlfriend. That sets off a turf war between Quinn and his minions and Forster's goons, anchored by a pair of brothers (Al Lettieri, Frederic Forrest) caught up in allegiances between them all.
This Hal Wallis production tapped Marvin H. Albert to adapt his book for what turns out to be a plainly delivered, matter-of-fact early '70s thriller that, with its non-anamorphic framing, could nearly be mistaken for an R-rated TV movie. The performances from Quinn to the young Forrest and Forster on down are all capable, but there's a definite lack of emotion in this movie – Fleischer delivers the story's "meat and potatoes," but it's easy to see how a more "cinematic" approach could've heightened the character-driven tension and power of the material. (How about a Scorsese-helmed remake?)
That's not to say "The Don Is Dead" isn't effective on its own terms – the "just the facts" storytelling results in a fast-moving narrative that's never dull, and the bursts of action and accompanying slaughter in the concluding third are all proficiently staged by Fleischer. Jerry Goldsmith, meanwhile, delivers a capable if unmemorable dramatic underscore – very much in keeping with the virtues of the film itself.
Kino Lorber's Blu-Ray includes a high bit-rate 1080p (1.85) Universal catalog master that looks to be on the more contemporary side, boasting fine detail and warm colors. The mono sound is healthy and a commentary from critic Sergio Mims rounds out the package.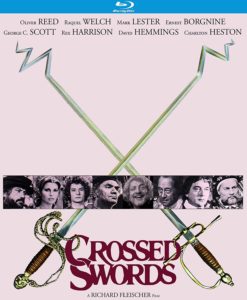 After directing one of Charles Bronson's better outings, "Mr. Majestyk," the western "The Spikes Gang," controversial slave drama "Mandingo" and seldom-screened Sarah Bernhardt biopic "The Incredible Sarah," Fleischer was tapped by producer Alexander Salkind to helm CROSSED SWORDS (108 mins., 1977, PG).
This is a lavish adaptation of "The Prince and the Paper" that marks a reunion of several key participants in Salkind's "Three Musketeers" pictures, including cast members Oliver Reed, Raquel Welch, and Charlton Heston, plus screenwriter George Macdonald Fraser. Though not a classic, "Crossed Swords" still makes for solid family entertainment, with "Oliver" star Mark Lester a little too old but nevertheless effective playing dual roles in an engaging adaptation of Mark Twain's story. As you would expect with a Salkind effort, the production is top-notch, with evocative sets and costumes, superb cinematography by Jack Cardiff, and a rousing (if occasionally obnoxious) score by Maurice Jarre adding immeasurably to the fun.
"Crossed Swords" played a bit too leisurely in its original 121-minute European release version, leading Warner Bros., its U.S. distributor, to cut some 13 minutes for its domestic release in March 1978. It's this shorter version that comprises the 4K remastered transfer (2.35) in Kino Lorber's Blu-Ray, sourced from a print with Saul Bass' Warner Communications logo intact and full stereo sound. It's a great looking new transfer, with the 121-minute European version — which was previously released on DVD by both Anchor Bay and Lionsgate — included as an extra, albeit in standard-definition and mono.
Extras include a recent interview with Mark Lester, fondly recalling the shoot and working with an array of major stars (George C. Scott, Ernest Borgnine, and Rex Harrison are also counted among the all-star cast), the trailer, and a new commentary with frequent KL contributors Howard S. Berger, Steve Mitchell and Nathaniel Thompson.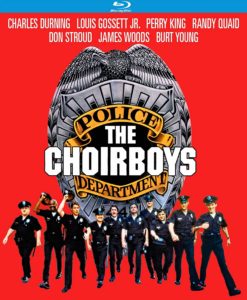 Political Correctness is nowhere to be found in the controversial 1977 screen adaptation of bestselling crime novelist Joseph Wambaugh's THE CHOIRBOYS (120 mins., R), a movie that was divisive at the time of its release and comes across as something out of another galaxy in 2021 – especially given the prevalence of "Cancel Culture" in today's pop culture/social media dominated dumping grounds.
There's admittedly a whole lot one could "cancel" in "The Choirboys," so much that it's probably best that we don't detail all the sins of director Robert Aldrich's acid-black take on L.A. police officers carousing after hours and causing a ruckus during their on-duty tours. In fact, the tone is so broad that the movie could be mistaken for a Zucker-Abrahams-Zucker spoof, with an all-star cast mostly playing up the comedic shenanigans of mid '70s police work. Charles Durning and Louis Gossett, Jr. anchor the movie with a big-time roster of then and future stars including James Woods, Burt Young, Perry King, Randy Quaid, Stephen Macht, Don Stroud, and Robert Webber also on-hand. Meanwhile, Aldrich's filmmaking uneasily leaves reality behind in favor of broad stereotypes and cheap targets, punctuated by an equally heavy-handed Frank DeVol score using "I've Been Working on the Railroad" as its thematic center.
It's a head scratcher, to be sure, and Wambaugh himself was reportedly horrified by Lorimar's big-screen adaptation of his book – so much that he sued and recouped a cool $1 million for the film's cinematic trangressions.
Kudos, though, to Kino Lorber for resurrecting this little-seen film (I have no idea how it ever played on television given its R-rated content) with a superb commentary by Howard S. Berger and Nathaniel Thompson that dives into the movie's assorted issues and provides much-needed context to viewers who, let's face it, haven't seen anything like this in modern entertainment. A new interview with Don Stroud details the problems the movie faced with shooting entirely on the backlot (something that plays into the sheer artificiality of the entire project), while a decent Universal catalog master (1.85), mono sound, radio spots and the trailer round out a disc that's certainly compelling for the curious.
Assorted Mel Brooks alumni ventured into their own, solo comedic vehicles in the late '70s – some more successfully than others. While Gene Wilder produced a couple of hits during his mixed tenure as a star/director, his fellow "Young Frankenstein" cast mate Marty Feldman was greeted with lesser commercial receipts by a pair of vehicles he wrote, starred and directed in over at Universal – the only two films he would make as part of a much-hyped five-picture contract he had with the studio. Despite their respective flaws, each are quite enjoyable and appealing in their own way, and are worthy of rediscovery on Blu-Ray.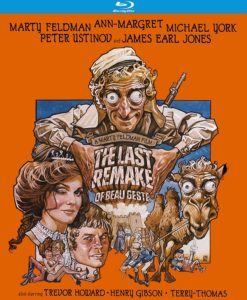 THE LAST REMAKE OF BEAU GESTE (85 mins., 1977, PG) yields more laughs in a decidedly scattershot but at-times funny parody of '30s foreign legion films like "Beau Geste" as well as "The Four Feathers" (which was initially what Feldman wanted to send-up). Feldman and Michael York play the identical twin brothers (!) who end up in the desert where shenanigans ensue, all the while an all-star cast supporting Feldman – here making his feature directorial debut – include Ann-Margret (as the boys' stepmother), Peter Ustinov, Trevor Howard, James Earl Jones, Roy Kinnear, Henry Gibson, and Terry-Thomas among many others (Ed McMahon included!).
"The Last Remake of Beau Geste" is paced rapid-fire like a typical "parody movie" of the late '70s and '80s, yet as Feldman friend Alan Spencer notes in his commentary, the original intention of Feldman – who wrote the film with Chris Allen – was more of a free-form Monty Python piece. Universal reportedly recut the movie against Feldman's wishes, and had John Morris – who scored the film initially – rescore the picture nearly wall-to-wall with music (thankfully, his score is a delight – one of the perpetually underrated Morris' best – so it's not much of an issue). The end result robs the movie of its connective narrative tissue and rarely stops long enough to let gags sink in – which is a shame, because some of the material is pretty funny. Even the unfunny moments are at least likeable in nature, all bearing Feldman's personality – it's a relentlessly good-natured comedy, even if it's been overly cut up in terms of pacing.
Kino Lorber's Blu-Ray debuts this seldom-screened Universal release via a standard studio catalog transfer (1.85) that's decent though obviously not sourced from a newer scan. Spencer's commentary – like his talk on "The Nude Bomb" – is a gem, offering many personal anecdotes about Feldman off-camera and on, as well as his many struggles making the film, including its nightmarish location shooting in Ireland and Spain, where weather was a major problem. Spencer has also seen Feldman's original cut and notes the many alterations Universal made, while a laryngitis-plagued Michael York reaffirms Spencer's point of view in a new audio interview. A "Trailers From Hell" segment with Spencer, the trailer, and a secondary commentary with Bryan Reesman close out the disc.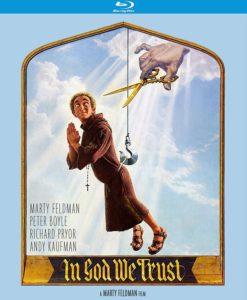 "Beau Geste" apparently did well enough to let Feldman have more of a free hand with his second (and final) Universal feature, IN GOD WE TRUST (97 mins., 1980, PG), which in this instance, may not have been that wise of a decision.
A modern-day comedy about a monk (Feldman) who heads to L.A. in order to raise $5,000 to save his monastery, "In God We Trust" follows Feldman as he meets a prostitute (Louise Lasser) with a heart of gold (of course), a con artist (Peter Boyle) and a televangelist (Andy Kaufman) who thinks Feldman can provide a profitable lifeline to God himself (Richard Pryor in a "special appearance").
Feldman and Chris Allen's script certainly starts off well, and Universal let Feldman have a little more room for his film to breathe, since the 97-minute running time enables the characters to develop in a much less schizophrenic manner than "Beau Geste." The unfortunate problem is that the characters – Lasser and Boyle especially – aren't that interesting, and as the story moves further away from Feldman and his more straightforward comedy – and more towards topical humor with Kaufman's broad performance – "In God We Trust" loses its early momentum and never really recovers.
Another Universal release that has received scant play on home video and TV over the years, Kino Lorber's welcome Blu-Ray of this flawed though not unlikeable film – one that's still very worthwhile for Feldman fans – includes another older studio catalog master (1.85) with DTS MA mono audio. John Morris again contributes a lovely score – it's a shame nobody ever released this and "Beau Geste" together – with another terrific commentary by Alan Spencer diving into the movie's background and eventual commercial failure. Another commentary with Bryan Reesman and trailers round out a superior Kino Lorber package.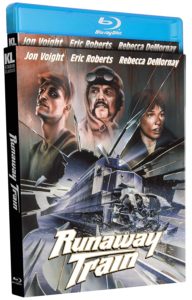 It's hard to find a more divisive film from the 1980s than RUNAWAY TRAIN (111 mins., 1985, R), the Cannon Group's closet shot at Oscar glory that can be best described as a "quasi-existential" action film from Russian director Andrei Konchalovsky. A movie that generated Oscar nominations for both of its stars, Jon Voight and Eric Roberts, it's also a film that made appearances on both "Best of the Year" and "Worst of the Year" critic lists in 1985, with critics falling on either side of a movie that polarized viewers with its "method" performances and outlandish story.
Tagged as a 4-star action classic along the lines of "The Seven Samurai" and "Stagecoach" by Roger Ebert, Konchalovsky's film finds two escaped convicts (Voight and Roberts) trying to escape their Alaskan prison via train – only to find the car they're on is on a course to nowhere after the engineer suffers a fatal heart attack. With only themselves and one female worker (Rebecca DeMornay) on the train left to stop it, the duo quarrel, bicker, fight, argue and swear at one another on their way to a seemingly dead end.
It's safe to say that "Runaway Train" is a film that viewers are either going to accept as a dramatic work, or find to be completely off-putting. Given that there isn't much middle ground involved with this film, I confess that I've always found it to an utterly overwrought viewing experience.
Konchalovsky apparently left the actors to do whatever they wanted, which is perfectly understandable given how wretched both Voight and Roberts are here — with heavy accents and comically over-the-top mannerisms, this movie plays like a duel between two "method" actors trying to give the worst performance. The film cuts between scenes of the train with a "control center" where Kenneth McMillan, Kyle T. Heffner and others likewise give hysterical performances — the sequence in which warden John P. Ryan appears, trying to convince Heffner that one of his escaped men is on the train, and then follows him into the bathroom where he tries to drown him in a toilet (!) is nearly unmatched for its comedy value. Or the scene where Ryan attempts to send one of his men from a helicopter ladder onto the train, only to see him crash through the front window, off onto the track where (presumably) his head is crushed in, is similarly, unintentionally hilarious.
For a movie said to be "inspired" by an Akira Kurosawa screenplay, it's also shocking how poor the dialogue is – I loved the exchange between Voight and DeMornay near the end, where he describes Roberts as an idiot, to which DeMornay replies, "you're mean!"
There are some well-executed stunt scenes, but the detour into pretentiousness at the end is just the icing on the cake, all of it punctuated by a lackluster Trevor Jones score that houses an '80s playbook of electric guitars and Faltemeyerian synths. It's just as "off" as the movie itself, and the trailer – tracked with Henry Mancini's score for Cannon's "Lifeforce" – gives you an indication what a better (orchestral) score might have done for the film.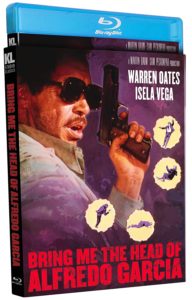 Despite my issues with the film, "Runaway Train" is a picture that does have its admirers – again, if you buy into its premise and its performances, you may just love it. In that event, Kino Lorber's Blu-Ray boasts a brand new 2K master (1.85) that's superior and warmer than MGM's previous HD catalog master which comprised Twilight Time's BD. Kino Lorber's disc reprises TT's then-exclusive commentary by Eric Roberts, who joins David Del Valle and C. Courtney Joyner for a candid, entertaining discussion of the film from the actor's point of view (it's worth noting Konchalovsky, who had problems working with Roberts, was critical of the star in interviews included in Arrow's now out of print UK Blu-Ray release). The trailer rounds out the disc with the 2.0 DTS MA stereo sound on-par with the previous edition.
Sam Peckinpah fans will be delighted that Kino Lorber has released a new Blu-Ray edition of his 1974 cult favorite BRING ME THE HEAD OF ALFREDO GARCIA (112 mins., R), a narcissistic tale of a beaten-down ex-army officer – now tending bar in Mexico City – who tries to collect a bounty on the head of Alfredo Garcia, a man who knocked up a crime boss' daughter and now is the most wanted man south of the border. Peckinpah's harsh picture offers strong performances from Warren Oates as the unfortunate Bennie and Isela Vega as his doomed lover, as well as a fine Jerry Fielding score.
"Alfredo Garcia" sold out through a pair of previous Twilight Time BD releases and Kino Lorber's Blu-Ray is supposed to include a newer, 2017 master from a 4K scan (1.85) of the original camera negative, though the initial batch of discs does not include this remaster (anyone who buys the disc can obtain a replacement when available here). Kino has also ported over a pair of commentaries that dive into where the movie fits in the context of Peckinpah's body of work (one track features writer-producer Gordon Dawson and Nick Redman; the other features Redman along with Paul Seydor, Garner Simmons and David Weddle), along with trailers and a "Trailers From Hell" segment with Josh Olson.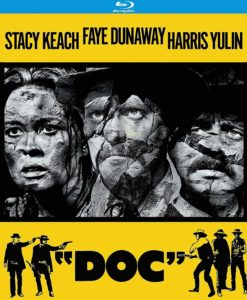 '70s Westerns: "A Frank Perry Film" proudly proclaims the first frame of the trailer for DOC (96 mins., 1971, PG), signaling an auteurist work that tries ever so hard to wipe memories of "My Darling Clementine," "Gunfight at the O.K. Corral" and other cinematic portrayals of the events at Tombstone out of audiences' minds. The result is gritty, grimy – and while well-acted – also incredibly dull.
Stacy Keach plays Doc Holliday in a movie that offers many scenes of Doc staring out into space. In fact, if it weren't for the deliberate pace and ponderous moments, this movie may have had a running time of barely an hour, as the rest of Pete Hamill's original script is mostly concerned with the psychological underpinnings of Doc and his relationship with prostitute Katie Elder (a strong, "earthy" performance from Faye Dunaway), while Harris Yulin's Earp is relegated comparatively to the sidelines. It culminates in a rote re-enactment of the O.K. Corral events, intentionally portrayed in shades of gray.
"Doc" makes its Blu-Ray debut with a passable MGM catalog master (1.85) featuring an unremarkable Jimmy Webb score and the trailer. The best component here is an insightful Alex Cox commentary, discussing where the film falls in relation to other genre works as well as the historical record.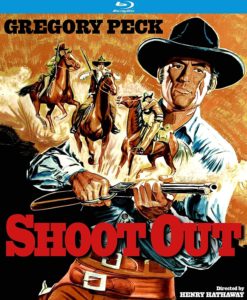 Gregory Peck struggled at times in the 1970s to add quality fare to his filmography. Case in point is SHOOT OUT (95 mins., 1971, PG), a watchable – and also yet highly unconvincing – western that shamelessly recycles "True Grit" from the same writer and director. Here, just-released prisoner Peck is no sooner looking for vengeance after a bank robbery gone bust than he's saddled with an early grade-school moppet (Dawn Lyn) who subsequently tags along on his adventures.
"Shoot Out" was director Henry Hathaway's penultimate film and it manages to be mildly diverting even while it looks and sounds ridiculous with its plastic, TV-like confines (too much of the movie looks like an episode of "Bonanza") and Peck spouting overly verbose dialogue crafted by Marguerite Roberts, who also penned the far superior John Wayne hit that preceded it.
Dave Grusin's standout score – long overdue for a soundtrack album – is the best thing in this 1971 Universal release, which makes its high-definition debut here from Kino featuring a 1080p (1.85) AVC encoded transfer that's been minted from a catalog master in good shape. The mono sound is clear and the disc is capped by the trailer and a commentary from Nick Pinkerton.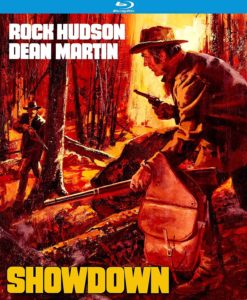 A western that marked the final directorial work of George Seaton, SHOWDOWN (99 mins., 1973, PG) is much along the same lines as "Shoot Out" – a late-era studio western, this one teaming Rock Hudson and Dean Martin as long-time friends, now on opposite sides of the law, with Hudson as a respected lawman and Martin the aging thief who's just robbed a train. I've never really understood the appeal of Susan Clark – who was under contract to Universal at the time – but she's the woman caught in the middle in a formulaic but attractively lensed widescreen outing that should offer enough casual entertainment to suit fans of the stars and the genre; overall, though, I liked it less than "Shoot Out," which does at least possess more energy and a better score. Speaking of that, David Shire's work here is far from his best, too much of it falling back on a contemporary early '70s sound (his grating, twangy main title is also downright baffling). Kino Lorber's 1080p (2.35) Universal catalog master, though not labeled as a new scan, is finely detailed and looks nice, and the disc also includes a mono soundtrack, the trailer, and a commentary from Howard S. Berger and Steve Mitchell.
ROSEBUD Blu-Ray (126 mins., 1975, PG): Looming large among the annals of forgotten '70s flops is Otto Preminger's misfired thriller "Rosebud," which offers a seemingly can't miss premise: reporter/CIA op Peter O'Toole is tasked with rescuing five young girls (Isabelle Huppert and Kim Cattrall among them) kidnapped aboard a millionaire's yacht by the Palestinian Liberation Army. Yet despite the potential for suspense, widescreen lensing and Richard Attenborough as a terrorist, "Rosebud" sits there lifelessly for its two hours, failing to deliver much in the way of excitement, all the way down to its rote musical score (what little there is of it) by Laurent Petitgirard. Even O'Toole looks like he'd rather be stationed by the pool as the movie aimlessly drifts through its plot with so little pizzazz you wonder if everyone was exhausted from off-camera day trips around its Corsican shooting locales. Dialogue, meanwhile, is often awkwardly delivered – the movie's last sequence alone probably offers some of the worst performances of O'Toole and Attenborough's respective careers.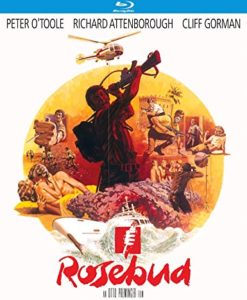 Still the kind of turkey interested viewers may want to check out for its obscurity alone, "Rosebud" debuts on Blu-Ray in a solid 2K master (2.35) from MGM with muffled audio that's entirely a product of its location work (ADR doesn't seem to have been a big interest for Preminger with this movie). The trailer – which shows you really all you need to see – and a commentary from filmmaker Daniel Kremer comprise the extras.
POSITIVE I.D. Blu-Ray (95 mins., 1987, R): Interesting, low-budget indie was picked up for release by Universal in the fall of 1987 where it didn't make a lot of noise. Pretty much an obscure item that last received a home video release over 20 years ago, writer-director Andy Anderson's "Positive I.D." is nevertheless a compelling little film about a housewife (Stephanie Rascoe) still traumatized from a rape that occurred a year before. While growing distant from her husband and young daughters, Rascoe turns to living a double life in a movie that isn't just an exploitation item or a female "Death Wish" per se – Anderson crafts a mature and straightforward story more dramatic than horrific (the assault itself is never fully shown or detailed), leading to a fascinating ending that you wish more time was devoted to. As it is – and despite the occasional awkwardness of the filmmaking and supporting performances – "Positive I.D." is worth a look, with Kino Lorber's Blu-Ray (1.66) including a grainy, unadulterated 1080p Universal catalog master with mono sound, the trailer, and a new commentary from Bryan Reesman.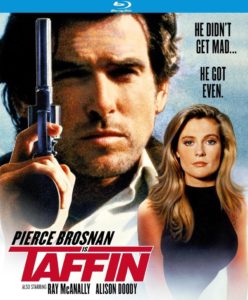 After losing out on playing James Bond for the first time, Pierce Brosnan decided to make the breezy, forgettable Irish action thriller TAFFIN (96 mins., 1988, R), with the then-"Remington Steele" bound star playing a local debt collector who tries to stop a corrupt businessman from building a toxic chemical plant. "Taffin" starts out as a fun vehicle for Brosnan before David Ambrose's script becomes bogged down in local politics and a drawn-out conspiracy that curtails the entertainment value. Still, the Irish locales, Brosnan's engaging performance, Alison Doody's presence as the female lead and a Stanley Myers-Hans Zimmer score make for a watchable time-killer. Kino Lorber's Blu-Ray is based off a very attractive MGM transfer (1.85) with DTS MA stereo sound.
Bob Hope Classics: Three films from what's regarded as Bob Hope's strongest cinematic period premiere in high definition this month from Kino Lorber. NOTHING BUT THE TRUTH (90 mins., 1941) pairs Hope with Paulette Goddard in an adaptation of the hit stage play about a man who has to go 24 hours without telling a lie in order to win a challenge thrown down by his boss. Kino Lorber's BD boasts a new 2K master (1.37) with commentary from critic Simon Abrams and the trailer.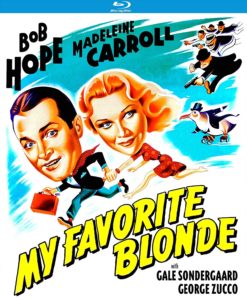 Though entertaining enough, the film isn't quite as much fun as the other two Hope offerings Kino Lorber has lined up this month. In CAUGHT IN THE DRAFT (82 mins., 1941), Hope is teamed with "Road" heroine Dorothy Lamour for a dated if still entertaining WWII comedy presented here in a new 4K master (1.37) with commentary from historian Michael Schlesinger and film archivist Stan Taffel and a host of extras ("Entertaining the Troops," "Hollywood Victory Caravan" and "Command Performances 1944 and '45" plus the trailer). The best of the lot, though, is the 1942 Paramount comedy MY FAVORITE BLONDE (78 mins.), a highly amusing espionage comedy with Hope and Madeleine Carroll traveling cross-country while avoiding German spies. Viewers are treated to a high quotient of laughs in this Hope classic – plus a Bing Crosby cameo – with Kino Lorber's BD again highlighted by the premiere of a new 2K master (1.37) with commentary by historian Samm Deighan and the trailer.
More Comedy Catalog on Blu-Ray: Lino Ventura and Jacques Brel generate comedic sparks in the 1973 French smash A PAIN THE ASS [L'Emmerdeur] (85 mins., 1973, PG), Francis Veber's adaptation of the play "Le Contrat" that later served as the basis for Billy Wilder's misfired remake "Buddy, Buddy" starring Jack Lemmon and Walter Matthau. The French original remains an enjoyable farce with Ventura essaying a hitman who, while trying to fulfill a contract, gets wrapped up with a suicidal man (Brel) trying to kill himself nearby. Kino Lorber's TFI-licensed 2K master (1.66) looks robustly detailed and includes English subtitles, the trailer, and a commentary from critic Nick Pinkerton.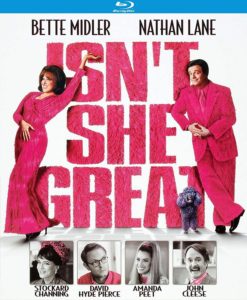 Relegated to the dumping grounds of January 2000, ISN'T SHE GREAT (95 mins., 2000, R) was a project that likely sounded great on paper: Bette Midler starring in a biopic of bestselling romance author Jacqueline Susann, with Nathan Lane as her husband, working from a Paul Rudnick script and comedy vet Andrew Bergman ("The Freshman, "The In-Laws") helming. Alas, even with the period setting, a superb cast (also including David Hyde Pierce and John Cleese) and the benefit of a Burt Bacharach score, "Isn't She Great" failed to take flight, coming off as a strained, unfunny picture with Midler being overly bombastic in the lead. A box-office dud, Kino Lorber's BD (1.85) premieres the film on Blu-Ray with the trailer and a commentary from historians Sally Christie and Emma Westwood.
Also New & Noteworthy: Ang Lee's LUST, CAUTION (157 mins., 2007, NC-17) offers a fascinating historical drama, as seen through the eyes of a Chinese drama student (Tang Wei) recruited to seduce and assassinate an intelligence agent (Tony Leung) working for the Japanese-controlled local government controlling Shanghai and Hong Kong during WWII. Searing sex scenes punctuate this richly-told film from Lee, adapting a story by Eileen Chang via a script by Wang Hui Ling and frequent Lee collaborator James Schamus. Kino Lorber's Blu-Ray includes a perfectly fine 1080p (1.85) Universal catalog master with DTS MA stereo sound, commentary by historian Eddy Von Mueller, the trailer, and a featurette.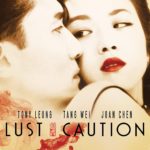 Also From Kino Lorber: Kino Lorber premieres the second season of hit Finnish TV series BORDERTOWN (618 mins., 2016) in high-definition this month. This is a gritty crime drama set in a town on the border between Russia and Finland – a locale that finds a number of murder cases being investigated by chief investigator Kari Sojonen. Kino Lorber's three-disc BD includes 1.78 transfers, 2.0 DTS MA stereo sound, and English subtitles..After being cast in "Barry Lyndon," Leon Vitali served in a variety of roles – mostly recently restoration expert – for Stanley Kubrick, becoming a custodian over his filmography during the last few decades. His journey is recounted in the marvelous documentary FILMWORKER (94 mins., 2017), which includes interviews with Ryan O'Neal, Matthew Modine, Danny Lloyd, R. Lee Ermey, Stellan Skarsgard and others – making for a must for Kubrick devotees. Kino Lorber's Blu-Ray (1.78) includes 5.1 and 2.0 DTS MA sound, the trailer, and a Q&A with Vitali and Zierra.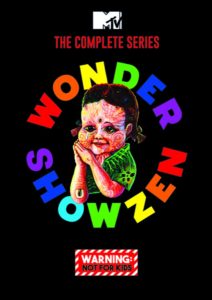 Also New & Noteworthy
WONDER SHOWZEN: The Complete Series DVD (2005-06, 241 mins., 16 episodes; Paramount): Anyone reading The Aisle Seat knows how little I watch MTV, so back in 2005, I had no idea about the insanity that is "Wonder Showzen." This short-lived but fondly-remembered Sesame Street parody is childish, crude, rude, and offensive at times…and also hilariously funny at others, especially if you grew up on any program produced by the Children's Television Workshop.
Structured like an episode from Sesame Street, "Wonder Showzen" offers adult-oriented meditations on life and ethical dilemmas, with foul-mouthed puppets and even children-on-the-street reports that are hilarious if not a bit mean-spirited. Still, when I saw a youngster blurt out "how you're never too young to experience a Vietnam flashback" (followed by stock footage from "Platoon" and "Casualties of War!"), I couldn't help but laugh uncontrollably, and similar moments abound throughout — enough so that you can overlook the gratuitous and predictably juvenile shots the series takes at many other targets.
Paramount's Complete Series DVD set – its first complete anthology – includes plenty of supplements, including outtakes, guest commentaries, and more. "Wonder Showzen" certainly isn't for every taste and definitely works best in small doses, but when it's funny it hits the mark in a hugely satisfying way.
---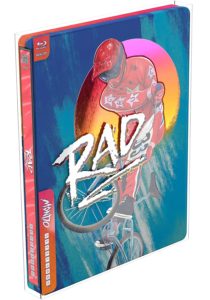 Mill Creek New Releases
A number of catalog titles are newly on-hand in Mill Creek's March Blu-Ray releases:
RAD Blu-Ray (93 mins., 1986, PG; Mill Creek): A Hal Needham-helmed teen drama from star/producer Talia Shire and her late husband, producer Jack Schwartzman, "Rad" has somehow developed a massive cult following over the years. Maybe it's the rockin' '80s soundtrack, the loud fashions, saturated colors or the setting of a BMX competition that draws young Bill Allen to compete against the best – whatever it may be, "Rad" is formulaic fun that attracted many an interested eye amongst Blu-Ray and 4K owners when Vinegar Syndrome's collectible 4K UHD/Blu-Ray became an instant sell-out a couple of years ago.
Mill Creek's new Mondo Steelbook brings "Rad" and its 4K restoration (1.85) from the original 35mm camera negative back in circulation, and the Blu-Ray disc looks superb with its 1080p transfer and 5.1 DTS MA sound. Extras brought back from the earlier, out-of-print release include a Q&A session with Bill Allen, Talia Shire, co-star (and two-time Olympic gold medalist) Bart Conner, archival cast/crew interviews, the original featurette, and "Break the Ice" music video. A Moviespree Digital Copy is also included.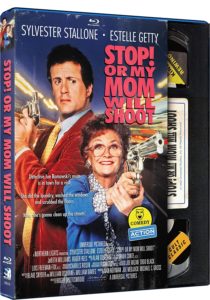 THE BABE (115 mins., 1992, PG): John Goodman is Babe Ruth in this disappointing Arthur Hiller biopic, which struck out both at the box-office and with baseball fans, who balked at the film's numerous historical inaccuracies. Hiller's good looking film offers Haskell Wexler cinematography and a (forgettable) Elmer Bernstein score, but never comes together. Co-starring Trini Alvarado and Bruce Boxleitner, "The Babe" arrives in a Retro VHS Blu-Ray (1.85) from Mill Creek with a serviceable transfer and 2.0 DTS MA sound.
STOP! OR MY MOM WILL SHOOT (87 mins., 1992, PG): Another Universal release from the same Spring season, Sylvester Stallone shares over-the-title billing with "Golden Girls" star Estelle Getty in a ridiculous action-comedy produced by Ivan Reitman, who didn't have the midas touch this time around. Neither did director Roger Spottiswoode, who somehow recovered and helmed a James Bond outing, "Tomorrow Never Dies," just a few years later. Making its U.S. Blu-Ray debut, "Stop!" offers a modest 1080p (1.85) Universal transfer with DTS MA stereo sound and another nifty Retro VHS slipcover. For Stallone die-hards only.
GORILLAS IN THE MIST Blu-Ray (130 mins., 1988, PG-13): Sigourney Weaver was able to parlay her Oscar nomination for "Aliens" into this not-entirely convincing biopic of anthropologist Dian Fossey, whose work with African gorillas turned into a lifelong passion (and obsession). Michael Apted helmed this high-profile Guber-Peters production – co-financed by Warner Bros. and Universal – which did cop Weaver another Oscar nomination and scores whenever apes (both real and created by Rick Baker) aren't involved. It's decidedly less effective and clearly defined when it comes to Fossey's character, not to mention her affair with a married photographer (Bryan Brown). This is another just-about passable Mill Creek "Retro VHS" catalog transfer (1.85) with 2.0 DTS MA stereo sound, sporting an uneven Maurice Jarre score more effective during its orchestral passages than its electronic ones.
MY GIRL/MY GIRL 2 Blu-Ray (1991-94, PG): The adventures of Anna Chlumsky's 11-year-old heroine Vada Sultenfuss informed not one but two weepy coming-of-age pictures, the box-office hit "My Girl" (which rode the wave of Macaulay Culkin's "Home Alone" success) as well as its inevitable, not-as-successful 1994 follow-up. Mill Creek's double-feature Blu-Ray couples the two films together in the format for the first time, with 5.1 (1) and 2.0 (2) DTS MA stereo sound and agreeably compressed 1080p (1.85) transfers.
---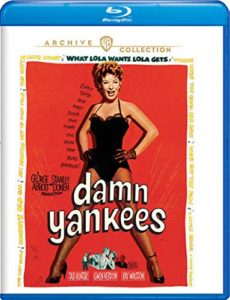 Warner Archive New Releases
A '50s musical favorite makes its Blu-Ray debut at long last from Warner Archive this month. The Broadway hit DAMN YANKEES (111 mins., 1958) was brought to the screen in 1958 by its co-creator George Abbott, who penned the script, and co-director Stanley Donen. Saddled with a lightweight lead in Tab Hunter, this is otherwise a mostly faithful rendition of the show, with Ray Walston reprising his role of "Applegate" and Gwen Verdon dancing up Bob Fosse's original choreography (reportedly sanitized just a bit from the stage version). The Richard Adler-Jerry Ross score mostly remained intact as well, and all of it is captured in a markedly crisp new 1080p (1.85) transfer with DTS MA mono sound.
The great opera sensation Mario Lanza belts his way through 27 (!) musical selections, from Puccini and Verdi to Doizetti inbetween, in THE GREAT CAURSO (109 mins., 1951), a glossy MGM biopic from director Richard Thorpe and producer Joe Pasternak that works best when Lanza does what he does best. When it retells the details of Dorothy Caruso's biography of her late husband, it's decidedly less accomplished. Ann Blyth co-stars with Warner Archive's Blu-Ray featuring the documentary "Mario Lanza: Singing to the Gods" in addition to the trailer, a colorful and detailed 1080p (1.37) transfer and clear DTS MA mono sound.
Robert Young, Robert Mitchum and Robert Ryan fuel the powerhouse cast in Edward Dmytryk's CROSSFIRE (85 mins., 1947), a taut RKO thriller that tackled anti-Semitism and copped a handful of Oscar nominations including Best Picture in the process. Warner's Blu-Ray includes a sharp 1080p (1.37) B&W transfer with a commentary from historians Alain Silver and James Ursini, featuring audio excerpts from a Dmytryk interview, plus the featurette "Crossfire: Hate is Like a Gun."
Two other, brand new Warner Archive offerings should be right up the alley for vintage genre fans.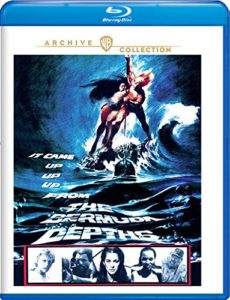 Val Lewton's ISLE OF THE DEAD (72 mins., 1945) is one of the moodiest of the famed RKO producer's horror output, with a plague circling a small Greek island and an ensemble cast anchored by Boris Karloff, playing an army colonel who gets more than he bargained for after arriving there to visit his wife's grave. This one features lots of atmosphere, as you'd expect, plus a "vorvolaka" — a vampire — that finally lifts the climactic moments, but Mark Robson's direction isn't quite up to the level of Lewton's other, esteemed collaborators from the period (namely Robert Wise and Jacques Tourneur), with much of "Isle of the Dead" coming off as tedious instead of tense. Still worthwhile for Lewton fans, certainly, "Isle of the Dead" includes a superb 1080p (1.37) B&W transfer with the trailer and a commentary from Steve Haberman.
Finally, THE BERMUDA DEPTHS (97 mins., 1978) was one of several live-action TV movies produced by Stopmotion pioneers Arthur Rankin, Jr. and Jules Bass during the late '70s and early '80s. Hoping to expand their horizons beyond primetime children's specials, Rankin-Bass produced four such genre fantasies, starting with this wild 1978 production about a giant sea turtle and a bathing beauty (Connie Sellecca) attached to a mysterious area of paranormal activity in and around the Bermuda Triangle. Tom Kotani directed William Overgard's romantic and at times truly bizarre script, which sports the intriguing cast of Leigh McCloskey, a post-"Rocky" Carl Weathers and Burl Ives as a scientist — it's naturally silly, but hauntingly executed, late '70s entertainment that premiered on ABC in the U.S. and played in theaters in Japan.
Warner Archive's Blu-Ray is a strong high-def upgrade over their older DVD edition, offering not just the benefit of superb, colorful 1080p enhancement (the movie was shot on location) of the movie's 1.33 broadcast TV version, but the 1.85 theatrical version that played in Japan as well (note this cut runs for exactly the same 97 minutes, with the top and bottom of the 1.33 frame cut off). The DTS MA mono sound does justice to Maury Laws' fine score, with a new commentary by historians Amanda Reyes and Lance Vaughan rounding out the single-disc release (here's hoping "The Last Dinosaur" and "The Ivory Ape," Rankin-Bass' next two features from the era, are next!).
---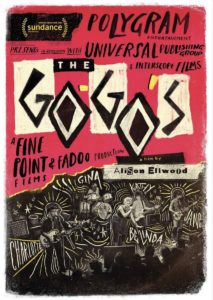 Quick Takes
THE GO-GO'S DVD/Blu-Ray (96 mins., 2021; Universal Music): For those of us who grew up in the '80s, Alison Eastwood's documentary about the rise, quasi-fall and enduring success of The Go-Go's is recounted in one of those compulsively watchable backstage musical biopics that's irresistibly entertaining. Sure, top hits from the group and candid interviews abound, but there's also a strong sense of accomplishment for this female band that makes it not just a nostalgia trip but a look behind the curtain at a substantial piece of pop music history. Universal Music's release of "The Go-Go's" includes both DVD and Blu-Ray discs, the latter featuring 2.0 PCM stereo sound and 5.1 DTS MA audio tracks. The visuals look spiffy, the sound for the many songs is robust – it's a solid A/V package for a doc that comes highly recommended for all pop music aficionados, not just '80s devotees.
PROMISING YOUNG WOMAN Blu-Ray (114 mins., 2020, R; Universal): Carey Mulligan's terrific performance anchors the at-times brutally effective "Promising Young Woman," a searing, hard-to-describe "black comic thriller" from writer-director Emerald Fennell about a woman who sets out to exact revenge for a horrifying crime perpetrated on her friend (Alison Brie) years before. The performances are all on target, but viewers who might be sold by the movie's advertising campaign may be surprised to find an ultimately depressing drama as opposed to a playful female "Death Wish." Universal's Blu-Ray (2.39, 5.1 DTS MA) includes commentary with Fennell, featurettes and a Digital HD code.
Lionsgate New Releases: Writer-director Alex McAulay's DON'T TELL A SOUL (96 mins., 2021, R) is more of a character-driven thriller than a horror movie, starring Jack Dylan Grazer (nephew of mega-producer Brian) and Fionn Whitehead as teen brothers who, after having committed a robbery for their ailing mother (Mena Suvari), end up having to deal with a security officer (Rainn Wilson) who becomes trapped in a well during his pursuit of them. Twists and turns make for a watchable little film new on Blu-Ray from Lionsgate (2.39) sporting Dolby Atmos audio, a featurette and Digital HD copy.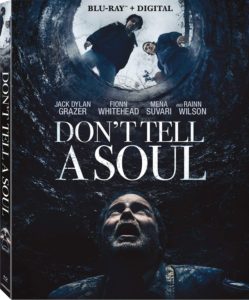 Richard Boddington's HERO DOG: THE JOURNEY HOME (90 mins., 2021, PG) is a family-friendly story about a stranded blind man who needs the help of a malamute to navigate the wilderness in order to get back to his family – and also find help for the ill captain of the boat he was traveling on. Steve Byers stars with Natasha Henstridge in this wilderness-set adventure, new on DVD from Lionsgate sporting a 16:9 (1.78) transfer, 5.1 Dolby Digital sound, cast interviews and a conversation with "Guest Director" Erin Pitt.
SHERLOCK HOLMES AND THE GREAT ESCAPE DVD (84 mins., 2019; Shout! Factory): Animated animals dominate this colorful adventure, positioning Sherlock Holmes as a "dog-tective" pursuing Mack, a Robin Hood-like outlaw who's escaped from prison for reasons more heart-rendering than criminal. After Mack's daughter is kidnapped, Holmes changes course in a diverting little feature new on DVD from Shout! Factory. The disc includes a 16:9 transfer and 5.1 Dolby Digital sound.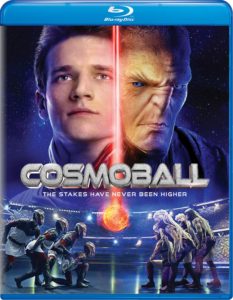 PSYCHO GOREMAN Blu-Ray (94 mins., 2020, Not Rated; RLJE): Crass "throwback" from director Steven Kostanski gets most of its mileage out of gags involving its young stars ordering around an alien invader they've resurrected to turn the tables on their friends and local authority figures. A little of "Psycho Goreman" goes a long way, and beyond the outrageousness, there's no heart or soul beating beneath it. RLJE's Blu-Ray (2.35) includes 5.1 DTS MA sound and over two hours of extras including commentary, cast/crew interviews, art galleries and more.
Well Go New Releases: The Russian import RUSSIAN RAID (104 mins., 2020, Not Rated) debuts this month from Well Go. Stuntman Ivan Kotik plays a former special ops agent, now a mercenary, who returns to his native Russia with an elite team looking to pull off a heist in a factory where his father was murdered years earlier. Well Go brings "Russian Raid" to Blu-Ray in a 1080p transfer with 5.1 Russian audio and English subtitles…Another Russian feature, COSMOBALL (119 mins., 2020), is a sci-fi fantasy set on a desolate Earth – after the moon is destroyed, no less – where participants play a dangerous game of "Cosmoball" in the skies above. Well Go's Blu-Ray, out March 23, includes a 1080p transfer and DTS MA Russian audio with English subtitles. The disc also houses a brand-new English dub track.
Film Movement New Releases: Available on Blu-Ray March 23rd after initially being a part of Film Movement's 2020 "Their Finest Hour" box-set are three British WWII favorites. Receiving a standalone release are Michael Anderson's well-regarded – if a bit stiff – feature THE DAM BUSTERS (125 mins., 1955), starring Richard Todd and Michael Redgrave; John Mills, Bernard Lee and Richard Attenborough in the 1958 version of DUNKIRK (135 mins., 1958) from director Leslie Norman; and Mills and Harry Andrews in J. Lee Thompson's African-set 1958 adventure ICE COLD IN ALEX (130 mins.). All titles were remastered by Studio Canal and are presented here in 1080p transfers (1.33 on "The Dam Busters," 1.66 on the latter two) with ample extras that have been carried over from a variety of releases (documentaries, interviews, restoration segments), making for a must-have for genre enthusiasts.
The life of photographer Douglas Kirkland is profiled in Luca Severi's documentary THAT CLICK (90 mins., 2021), which chronicles his work capturing stars in over 150 different movies from six different decades. Sharon Stone, Nicole Kidman, Michelle Williams, Andy Garcia and Baz Luhrmann are a few who provide their recollections of working with Kirkland in this Italian production, new on DVD from Film Movement featuring 16:9 widescreen and 5.1/2.0 stereo sound.
1942: UNKNOWN BATTLE DVD (113 mins., 2019, Not Rated; MPI): Russian production portrays the grueling battle between the Nazis and dilapidated Russian forces struggling to hold onto the village of Ovsyannikovo, under siege from the Germans and brutal winter conditions. One of the longest and deadliest battles of WWII is recounted in Igor Koplov's film, new on DVD from MPI (2.39) featuring both Russian audio with English subtitles as well as an English dub track.
NEXT TIME: Fun City Editions' latest, JEREMY, starring Robby Benson. Until then, don't forget to drop in on the official Aisle Seat Message Boards and direct any emails to our email address. Cheers everyone!