Message Board (open 24 hours!)
Twitter - @andredursin (for everything else!)
There are good movies, and there are bad movies. Then there are bad movies which end up as great Blu-Ray discs. A horror fan favorite despite being a box-office letdown, EVENT HORIZON (95 mins., 1997, R) joins Scream Factory's ranks this month in a jam-packed Collector's Edition, the film's first Blu-Ray appearance in nearly 15 years. That the movie itself remains an attractively lensed letdown on a number of levels doesn't detract from the superb extras and polished presentation Scream has given to a film that was more or less universally dismissed by critics and many audiences when first released in 1997.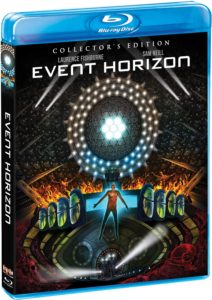 It's not as if the movie is unwatchable or doesn't have some positive aspects: Paul (W.S.) Anderson's film was a major British production, augmented by American studio money, and offers both impressive cinematography by Adrian Biddle and evocative production design by Joseph Bennett. The cast is also terrific: Laurence Fishburne, Sam Neill, Kathleen Quinlan, Joely Richardson, Jason Isaacs and Sean Pertwee manage to create one of the more impressive ensembles you'll see in any sci-fi/horror genre piece.
The problem with "Event Horizon" then and now remains the story: a ship, deep in space, attempts to uncover what happened to the vessel Event Horizon, which was presumed lost until it turned up in the far reaches of the galaxy, minus any signs of actual life. On the case are captain Fishburne, crew Quinlan, Richardson, Isaacs and Pertwee, and mysterious doctor Neill, who may know more than he's saying about the secretive mission.
Philip Eisner's original story had to do with an alien force inhabiting the deserted ship but Anderson and producer Jeremy Bolt opted to alter the premise to suit a "haunted house in space" plot. The monsters were excised but the visions of hell itself remained — along with a messy script that rips off "The Shining," "Dead Calm," "Hellraiser," "Alien," "Aliens," "2010″ and "Lifeforce," to name just a few. The movie's premise is similar to Michael Crichton's novel "Sphere" (which opened a short time after "Event Horizon" in its own, ill-fated film adaptation), which wouldn't have been so much of a problem had the movie not developed its own characters and dramatic situations uniquely.
Instead, despite its visuals, the picture becomes increasingly ridiculous as it goes along, ultimately succumbing to unintentional laughs and one of the worst fade-out endings of its era. Thinly-drawn characters make all the usual mistakes of running down dim corridors and succumbing to their own private demons, while horror fans will have to weigh the decent quotient of gore on-hand (and there was even more in Anderson's original cut) with ample doses of cringe-inducing dialogue (like Neill's "we don't need eyes where we're going!" and the cliched, "ethnic" comic relief supplied by Richard T. Jones, who asks female crew mates if they'd like "something hot and black inside" them).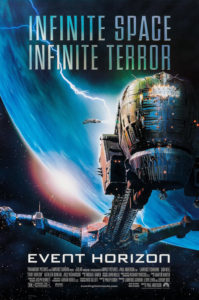 I suppose hard-core horror fans can overlook those shortcomings and find sufficient entertainment in "Event Horizon," but other viewers are likely to marvel at the movie's look while being puzzled by its basic, under-nourished screenplay. My friend Paul MacLean and I had a memorable experience watching the film on the big-screen back in '97, noting at times that the chair Fishburne sat in didn't seem quite big enough to support the tall actor — and then laughing hysterically when the same chair blows up and flies into the camera near the end! Add in the ridiculous "Funky S–t" end title techno track (featuring samples from Barry Devorzon's "SWAT" theme song!) and we pretty much lost it altogether walking out of the theater, while distraught movie-goers in back of us had a more hostile reaction to the picture's flaws.
Though still viewed today as a missed opportunity by and large, "Event Horizon" makes for a superb Blu-Ray edition, courtesy of a stellar new 4K remastered transfer from Scream and a boat load of new interviews, heroically compiled during the pandemic.
Anderson talked for years about restoring his grizzly "hell" footage and offering a longer cut of the movie, which he lamented didn't happen back in '97 due to a lack of post-production time. That being said, Anderson did willingly trim his two-plus hour version down for the eventual 97-minute theatrical release, noting the first cut was too long…only to realize later that the final cut wasn't long enough.
Unfortunately, Anderson couldn't locate all the elements needed to restore the movie, so what we have here is a high-def presentation of "Event Horizon"'s released version with a new 4K scan (2.35, with 2.0/5.1 DTS MA audio tracks) from the original camera negative and a host of new interviews, plus a number of vintage supplements including documentaries, deleted scenes and commentary from Anderson and Bolt (who admitted to not having seen the movie in a long while, which results in infrequent moments of silence).
Scream's Exclusive New Extras are comprised of numerous new interviews, conducted online due to COVID restrictions, running generally about 10 minutes or less each. These include Paul W.S. Anderson, who details how the studio's preoccupation with "Titanic" resulted in the filmmakers having more freedom than they anticipated, making an R-rated genre film on a then-unheard of budget – but also less time to properly cut the film since "Event Horizon" was moved up to plug a summer '97 release hole left when James Cameron couldn't complete his picture on-time.
Writer Philip Eisner; actors Jack Noseworthy, Peter Marinker and Kathleen Quinlan; production designer Joseph Bennett; set decorator Crispian Sallis; production manager Dusty Symonds; second unit director Robin Vidgeon; location manager Derek Harrington; and sound designer Campbell Askew are the other cast/crew interviewed remotely here, bringing new insights into the production and its enduring popularity among fans.
Reprieved from the Paramount release is a 100-minute documentary, "The Making of Event Horizon," comprised of interviews with Anderson, Bolt, Jason Isaacs and even the two fellows who comprise "Orbital" (who added techno elements to Michael Kamen's orchestra, resulting in a loud, pulsating score) talking about the movie. It's a bit dry and could have used some editing — some of the speakers repeat the same information a few times over the course of its duration — but it's nevertheless essential for "Event Horizon" fans. An additional documentary, "The Point of No Return," includes more technically-oriented featurettes, primarily devoted to the filming and effects.
Even more revealing are the tantalizing deleted sequences, including an alternate climax (albeit without dialogue but rather commentary from Anderson), other unfinished scenes (one of which was written by "Seven" and "Sleepy Hollow" scribe Andrew Kevin Walker), and an unused prologue in storyboard form. Some of the material had to be culled off surviving videotaped footage, though all of it points to an even more graphic and bloody movie than the still-violent final cut that was eventually released.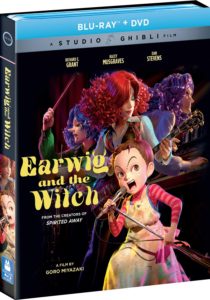 "Event Horizon" is a movie that looks good, sounds good, and is fairly well acted, but ultimately fails to provide a coherent and suspenseful story to match its creepy tone and atmosphere. Regardless of how you fall on the movie, though, Shout's "Event Horizon" Collector's Edition offers a new and enhanced 4K transfer and some insightful interviews, making it a recommended purchase for fans.
Also New From Shout! is the IFC Midnight offering RENT-A-PAL (108 mins., 2020), a downbeat character study of a lonely single man (Brian Landis Folkins), fatigued from taking care of his elderly mother, who finds a curious VHS tape named "Rent-a-Pal" that, along with its enigmatic host (Whil Wheaton), hooks him in – with tragic consequences. Jon Stevenson's film ultimately succumbs to a formulaic ending, but there are capable performances in this 2020 indie new on Blu-Ray from Scream (1080p 2.40, 5.1/2.0 DTS MA) with a Making of, two featurettes and a trailer…Goro Miyazaki's EARWIG AND THE WITCH (82 mins., 2020) is the latest product from Studio Ghibli: a CGI'd animated production about a British orphan, unaware of her mother's magical powers, who's forced to live with an oddball couple with powers of their own. This premiered on Japanese TV late last year and debuts here in a Studio Ghibli Collection release from Gkids and Shout! Factory. The Blu-Ray includes a 1080p (1.85) transfer with DTS 5.1 Japanese audio with English subtitles or an English dubbed track, plus interviews with the Japanese voice cast, trailers, a DVD copy, and feature-length storyboards on the Blu-Ray side.
---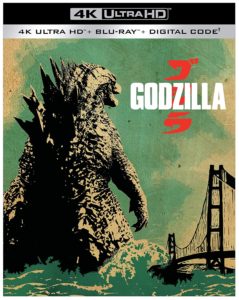 New on 4K UHD
The cinematic equivalent of a losing baseball team that comes up to bat and delivers a game-winning hit with two outs in the bottom of the ninth, director Gareth Edwards' GODZILLA (123 mins., 2014, PG-13; Warner) proves to be a rare beast indeed: a film that seemed to generate audible frustration among the fans I saw the movie with for nearly two-thirds of its running time. However, when director Gareth Edwards delivers the goods – at long last – during the movie's climax, those same naysayers cheered on the Big G and furiously applauded as the end credits rolled.
Getting to that point, alas, is where this expensive Legendary Films/Warner Bros. production gets tripped up a bit. It's not that the plot, concocted by David Callaham and screenwriter Max Borenstein, isn't uninteresting – more that the overly stoic performances, complete absence of humor, and Edwards' teasing of the very audience it wants to entertain prove increasingly irritating until the ship is ultimately righted in a satisfying finale.
Edwards' "Godzilla" posits a world where a giant monster is responsible for a Japanese nuclear reactor meltdown. Scientist Bryan Cranston (a ridiculously overwrought performance), whose wife was killed in the "accident," knows that the tragedy wasn't merely an earthquake, and sets out – along with his son, a military officer played by Aaron Taylor-Johnson – to prove it. When the duo get to the now-quarantined zone, they find that the radioactive levels the government claims are still there have vanished – and that a giant creature, being studied by a Japanese scientist (Ken Watanbe), is feeding in the center of the rubble. Ultimately, the winged monstrosity – dubbed a MUTO – starts a rampage of destruction from Japan to Hawaii and eventually San Francisco, with only a certain giant beast that's been dormant for many decades offering the slim possibility of defeating it…
Unlike Roland Emmerich's much-derided "Godzilla" (a film I did find mildly entertaining, even if it resembled "King Kong" more than any Toho production), the 2014 "Godzilla" is stone-cold serious. This is a world where mass destruction feels "real," though the human casualties are (wisely) mitigated just a little by having the action take place in locales that are either deserted or being evacuated. There's a constant sense of dread in the picture, and Edwards is wise to keep the film running from a human perspective – at least for a while – enabling viewers to witness the devastation, and the sheer size of the creatures, from the ground up.
The trouble is that none of the human characters are especially interesting. The script kills off one of the most interesting actors in the cast early on, something that lead one audience member to audibly mutter, "he's dead?!?" These same viewers would later begin to express their dismay with an even larger problem the film has – Edwards' teasing of Godzilla and giant-monster battles, which he doesn't deliver until the tail end of the movie. What's more, because the characters are uniformly dull, his cutaways from those big battle scenes – first when Godzilla shows up in Honolulu, then again when Godzilla first encounters the creatures on the West Coast – aren't just annoying, they become downright infuriating. Yes, we get the sense of scale between the humans and the monsters. Yes, we understand you are trying to be "realistic" – but at some point, you have to deliver the goods, and Edwards comes dangerously close to flushing the massive goodwill of the audience away for too much of the movie's duration.
Thankfully, fortunately, and with no time to spare, the 2014 "Godzilla" does give viewers what they paid to see – and when it arrives, the picture manages to satisfy in a way that'll give fans something to savor. In fact, I admit I was slightly choked up in the concluding moments – not because the film is in the least bit emotional, but more that the producers clearly understood the monster's appeal for a generation of kids who grew up on the old Toho movies. This isn't the Roland Emmerich Godzilla, nor is it the horrifying beast the movie's trailers promised – this is the "King of the Monsters," restored to full heroic glory with magnificent special effects and a rousing finish that bails out the picture's missteps. It's also far more effective than the miserable 2019 sequel, "Godzilla: King of the Monsters," which manages to make this film's flaws easier to overlook in hindsight.
Shot in a lot of dim, dark confines, "Godzilla" has been enhanced on home video by a new 4K UHD release from Warner – just in time for the debut of "Godzilla Vs Kong" next week. The image is most definitely brighter, enabling viewers to see more details in the image, than previous home video releases, which here is most definitely a good thing. The film's effective sound design, with Alexandre Desplat's mostly unmemorable score backing the action, is well-mixed and has also been enhanced here with a Dolby Atmos mix – but it's the transfer, an HDR10 presentation, that gets the most mileage out of the 4K treatment. Special features remain very light, relegated to a couple of making-of featurettes and "Dossier"-like segments intended to explore the film's mythology, while a BD and Digital HD copy round out the release.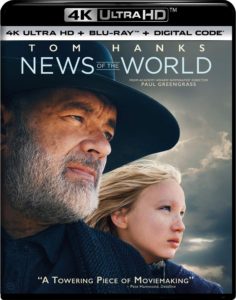 NEWS OF THE WORLD 4K UHD/Blu-Ray (118 mins., 2020, PG-13; Universal): Director Paul Greengrass saddles up for an Old West recycling of familiar material in "News of the World," a well-meaning film about a former Confederate captain (Tom Hanks), relegated to reading newspapers in small southwest towns, who stumbles upon – and subsequently becomes responsible for – a young white girl who was abducted by Indians after they killed her parents.
The key word in "News of the World" is predictable – this is an elegiac western heavy on mood, as if to compensate for its stale narrative. We know Hanks – dependable as always – is going to bond with the girl. We know they're going to run into trouble as he's left to transport her "home" – whereever that is. We're certain there will be someone sympathetic to their plight en route, but that tragedy is likely going to be involved with the wife Hanks left behind in San Antonio years before.
Despite all the top technical components in the movie – from Hanks' earnestness to Greengrass "behaving" with a minimum of "shaky cam," Dariusz Wolksi's scope lensing and James Newton Howard's supportive underscore – "News of the World" offers no surprises at all. The film is content to stick to a modern reading of "The Searchers" and other genre films along similar lines, and the pacing is so leisurely that the familiarity of the material becomes even more evident as the film progresses. It's still an entertaining picture that's hard to completely dislike if you're a western fan – it's just not a journey most viewers haven't taken before.
Universal's 4K UHD of "News of the World" is out this week, the movie featuring HDR10 capability and a well framed 2.35 transfer. The Dolby Atmos sound is well mixed and extras include a Greengrass commentary, multiple featurettes and deleted scenes, a Blu-Ray disc and Digital HD copy code.
THE UNDOING Blu-Ray (332 mins., 2020; Warner): HBO Limited Series offers Hugh Grant and Nicole Kidman in a David E. Kelley-scripted drama that follows a wealthy Manhattan couple and their private-school attending son who become involved in a murder-mystery where both parents are suspects. Well-acted and suspenseful, "The Undoing" performed well on HBO last year and debuts in a Warner Blu-Ray with a 1080p transfer, 5.1 DTS MA sound, featurettes and a Digital HD copy.
BREAKING NEWS IN YUBA COUNTY Blu-Ray (96 mins., 2020, R; Warner): MGM relaunches American International Pictures as an indie brand for this Allison Janney black comedy, wherein the award-winning actress plays a forgotten housewife who goes looking for her missing husband. She becomes a media darling while hiding certain truths in Tate Taylor's film, debuting on disc from Warner. The Blu-Ray offers a 1080p transfer and 5.1 DTS MA audio along with a DVD.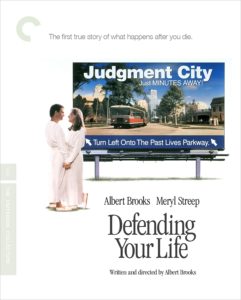 Also New & Noteworthy
SECRETS & LIES Blu-Ray (142 mins., 1996, R; Criterion): Mike Leigh's celebrated 1996 drama looks at the relationship between a Black optometrist (Marianne Jean-Baptiste), adopted as a child, who searches for her birth mother – and eventually finds her in the guise of a lonely, single factory worker (Brenda Blethyn) who's very white. The reaction of Blethyn to her long-lost daughter, and the way Blethyn's extended family handles the situation, makes for a compelling drama that Leigh – though credited with the screenplay – relied heavily on rehearsals and on-camera improvisations to forge a realistic edge, which yielded huge dividends: Blethyn copped the Best Actress at Cannes and "Secrets & Lies" earned critical raves worldwide upon its 1996 rollout. Criterion's Blu-Ray (1.85) includes a new 2K digital restoration, approved by Leigh and cinematographer Dick Pope, with a 2.0 DTS MA stereo soundtrack. Extras include an interview between Leigh and composer Gary Yershon; another new talk with Marianne Jean-Baptiste and critic Corrina Antrobus; a 1996 audio interview with Leigh; and the trailer.
Also new from Criterion this month is DEFENDING YOUR LIFE (111 mins., 1991, PG), comedian Albert Brooks' largest-scale work as a director, wherein Brooks plays a neurotic advertising executive who dies in a car accident while fumbling for his Barbra Streisand CD. He finds himself subsequently "on trial" in Judgment City, a stopover for the after life, where he pours over the details – seriocomedic in nature – of his life along with striking up a relationship with an outgoing woman (Meryl Streep) who's a seeming sure thing to pass her own judgment trial. Brooks' funny and charming film is graced technically by a strong team of collaborators here, including Allen Daviau's cinematography and a wonderful score by Michael Gore – along with a capable supporting cast (Tip Torn, Lee Grant, Buck Henry) that unquestionably makes for one of Brooks' strongest features. Criterion's Blu-Ray hails from a new 4K digital restoration (1.85) with 2.0 DTS MA stereo sound; a new interview with Brooks, conducted by filmmaker Robert Weide; a conversation with theologian and critic Donna Bowman; a new assembly of 1991 interviews including Brooks, Grant and Torn; and the trailer. Warmly recommended.
Lionsgate New Releases: DARK WEB: CICADA 3301 (105 mins., 2021, R) is based loosely on a series of actual real-life events. Here, a hacker gets more than he bargained for after he starts to participate it in an "online treasure hunt" dubbed Cicada 3301, only to eventually run afoul of NSA agents in this Grindstone production co-starring and directed by Alan Ritchson. Lionsgate's now-available Blu-Ray (2:1, 5.1 DTS MA) includes commentary with Ritchson, producer DJ Viola and co-producer Burns Burns; deleted scenes; a trailer gallery; and a Digital HD copy.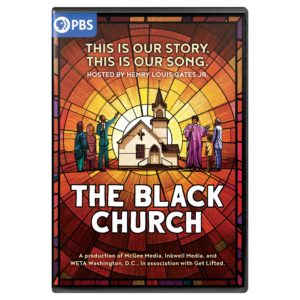 New From PBS: Henry Louis Gates, Jr. brings viewers a look at THE BLACK CHURCH (240 mins., 2021), a sprawling and worthwhile examination of the institution of the Church in African-American life. Gates presents both the history of the Black Church as well as its future, from social ideology to musical traditions, as well as look at where the church stands in today's world. Gates produced this four-hour PBS production available March 23rd (16:9, 2.0 Dolby Digital stereo). Also noteworthy is Gates' series FINDING YOUR ROOTS (10 hours, 2020), also back on DVD in its complete Season 3 package, offering profiles of the families of Sterling K. Brown, Jeff Goldblum, Sigourney Weaver, Melissa McCarthy, Norah O'Donnell, "RuPaul" and political figures like Nancy Pelosi. PBS' multi-disc DVD package features 16:9 transfers and 2.0 stereo soundtracks.
Another worthwhile product profiling African-American female stars, HOW IT FEELS TO BE FREE (115 mins., 2021), chronicles trailblazing performers like Diahann Carroll, Nina Simone, Cicely Tyson, Abbey Lincoln and Lena Horne. On-hand in this production from singer Alicia Keys are Lena Waithe, Halle Berry, Samuel L. Jackson and Keys herself, with 13 bonus interviews featured in the supplemental package of PBS' DVD (16:9, 5.1)…From PBS' American Experience comes the compelling documentary THE CODEBREAKER (60 mins., 2021), which looks at Elizebeth Smith Friedman, a cryptanalyst whose pioneering work in the field – along with her husband William Friedman – for the U.S. government during WWII helped turn the tide against a Nazi spy ring that was hard to penetrate – all the while living a normal "surface" life as a wife and mom. PBS' DVD (16:9, 2.0) is now available.
On the dramatic side, PBS brings viewers JEYKLL AND HYDE (aprx. 8 hours, 2015), a 2015 ITV reinvention of the Robert Louis Stevenson classic from writer Charlie Higson. Tom Bateman plays Jekyll and Hyde in a 1930s London with Donald Sumpter, Sinead Cusack and Richard E. Grant offering support. David Arnold and Michael Price scored this nearly-eight hour version, which debuts on DVD in the US from PBS (16:9, 5.1) sporting 25 minutes of behind-the-scenes featurettes.
NEXT TIME: Fun City Editions' latest, JEREMY, starring Robby Benson. Until then, don't forget to drop in on the official Aisle Seat Message Boards and direct any emails to our email address. Cheers everyone!