Message Board (open 24 hours!)
Twitter - @andredursin (for everything else!)
Making an immediate claim for the most impressive catalog title yet released in 4K, Paramount – just in time for Easter – has brought viewers a truly spectacular Dolby Vision presentation of Cecil B. DeMille's classic THE TEN COMMANDMENTS (231 mins., 1956, G). Though I was never overly fond of the film growing up, there's a reason why younger generations may have been kept from fully embracing it, as past home video releases and broadcast TV airings could never entirely deliver the movie's original theatrical color the way this Dolby Vision HDR presentation can.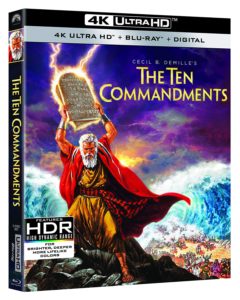 It's an eye-popping, fully saturated image that restores the grandeur of DeMille's sometimes campy, always entertaining big-screen epic, in a way that surpasses even Paramount's still-marvelous 1080p Blu-Ray of a decade ago. The wider color pallet and perfectly pitched contrast levels fully deliver the richness of the image, and the cinematography, costumes and production design are all raised in a transfer that fully delivers the brilliance of Paramount's restoration work.
The affordably-priced UHD houses the movie on a single platter with the two-disc Blu-Ray release also included. The 5.1 DTS MA audio is the same track as what viewers first heard in that release, with Elmer Bernstein's score robustly mixed with clear dialogue levels. This also means the set is light on extras, since the bulk of the supplements were confined to the more expensive Blu-Ray gift set of that time. It does, at least, retain the earlier DVD's outstanding, informative commentary track from author Katherine Orbison. Orbinson wrote "Written In Stone," an account of the making of the 1956 production, and gives a trivia-filled, insightful discussion on "The Ten Commandments" for all of its 220 minutes! Barely pausing to take a break, Orbison unearths all kinds of nuggets about casting, the logistics involved in filming, DeMille's mindset during production, and pays tribute to both the movie and the Golden Age of Hollywood in general.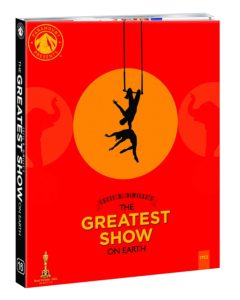 A movie that perfectly sums up that Golden Age from its performances to its pageantry, "The Ten Commandments" is a must-own for 4K UHD owners and aficionados of the film. Unquestionably recommended!
Also new from Paramount, and debuting on Blu-Ray for the first time, is THE GREATEST SHOW ON EARTH (152 mins., 1952), the first collaboration between star Charlton Heston and Cecil B. DeMille, whose film brought home a Best Picture Oscar that many observers long complained wasn't earned. The movie's dubious distinction of being one of the "worst" Best Picture recipients aside, there's still ample entertainment value in this box-office smash that finds Heston as a circus manager and an all-star cast – Betty Hutton, Cornel Wilde, Dorothy Lamour, Gloria Grahame, Jimmy Stewart and a slew of other stars in cameo roles – seasoning a movie that's entertaining if decidedly slow-going at times. Paramount's 4K transfer might've made for a brilliant UHD release but still looks impressive in its AVC encoded Blu-Ray (1.33) with mono sound, a sleek "Paramount Presents" slipcover and a new interview with Leonard Maltin.
---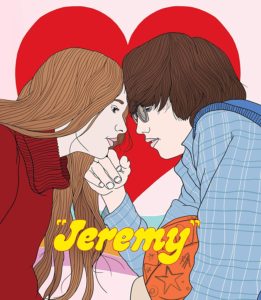 New From Fun City Editions
A little, independent American teenage drama made at a time when sensitive and realistic depictions of growing up were rare at the movies, JEREMY (90 mins., 1973, PG) caused a small sensation when it played at the Cannes Film Festival. There, writer-director Arthur Barron's film earned a warm reception, its cast meeting the likes of Francois Truffaut and the picture generating worldwide critical acclaim.
Years later, "Jeremy" would cultivate an audience via HBO airings in the early days of cable, but it subsequently became a film that was difficult to track down, and as the decades have passed, the movie's visibility and reputation have dimmed just a little. Fun City Editions' new Blu-Ray of "Jeremy" is likely to rectify that, bringing a new audience this intimate portrait of being a teenager in NYC during the early '70s and falling in love for the first time.
Barron's movie is straightforward and uncluttered: gawky Jeremy (Robby Benson) plays the cello and buys the daily racing form, not for betting but just for his general love of horses. His advertising father sternly wants him to study, his mother seems only interested in picking out new living room tiles. Into his life comes Susan, a new dance student (Glynnis O'Connor), whom he immediately strikes a chemistry with, leading to a whirlwind case of first-love that so often, much like adolescence itself, only lasts for so long.
Shot entirely on-location with handheld cameras – and capturing a New York City that was far from a safe place during its era – "Jeremy" is a time capsule movie that's still relatable for younger viewers. Beyond its cosmetic trappings, Jeremy's expansion of his feelings towards Susan is timeless, believably rendered and their mutual attraction to one another – as friends and more – is explored in an unadorned manner by Baron, a documentary filmmaker whose plain approach to this material results in a movie that's appealing and likeable, if small in scope.
As Larry Karaszewski saliently explains in his "Trailers From Hell" segment, "Jeremy" is a little movie "in a minor key" – it doesn't offer developed peripheral characters, it doesn't stray off its two leads, and doesn't really lead anywhere surprising. Yet, it has a strong sense of time and place, and captures the plight of its leads in a unique and refreshing manner that separates it from much of its era's contemporaries. For those reasons – and especially if you have any sort of nostalgic attachment to "Jeremy" – Fun City's Blu-Ray comes highly recommended, fitting comfortably alongside another individualistic (if quite different) "youth picture," "I Start Counting!," that I enthusiastically recommended late last year.
FCE's Blu-Ray hails from a new 2K restoration (1.66) from its 35mm color reversal negative; given the nature of its 16mm camera work, the image is expectedly on the grainy side but looks highly pleasing in its natural appearance throughout. Extra features include a delightful 20-minute segment incorporating new interviews with Benson and O'Connor, who worked together again and became a couple for a time in the years following the movie, plus a video appreciation by Chris O'Neill, a commentary with Kat Ellinger and the sadly recently-departed Mike McPadden, booklet notes from Bill Ackerman, the trailer, an image gallery, the Trailers From Hell with Karaszewski, and a short video introduction from O'Connor.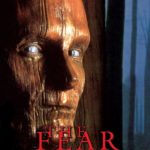 Also New From Vinegar Syndrome: A home video mainstay during the mid '90s, THE FEAR (102 mins., 1995) offers nostalgic horror shenanigans for genre fans when a group of college kids run afoul of a man-sized wood carving that comes to life. Awkwardly performed but not entirely disinteresting from a story perspective, "The Fear" has been newly scanned and restored in a 4K transfer (1.85) from its original camera negative. New extras include commentaries with director Vincent Robert and producer Greg H. Sims; a 50-minute documentary on the movie with cast/crew interviews; and reversible cover art with a slipcover…"Twin Peaks" alum Dana Ashbrook plays a scientist who pressures young neuroscientist Sathya Sridharan into an experiment that fractures his psyche into 10 different sections in MINOR PREMISE (95 mins., 2020, R). Ashbrook's niece, Paton, plays the female lead in Eric Schultz's interestingly plotted new thriller, on Blu-Ray March 30th from Vinegar Syndrome's Utopia imprint. The disc includes a 1080p (2.35) transfer, 5.1 DTS MA sound, commentary from Schultz, the original short, featurettes, trailers, reversible cover art and a slipcover.
---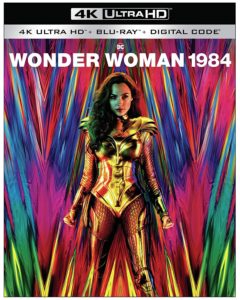 New From Warner Home Video
WONDER WOMAN 4K UHD/Blu-Ray (150 mins., 2020, PG-13; Warner): The controversy over Warner Bros.' decision to premiere their entire slate of 2021 theatrical features on the new HBO Max streaming service day-and-date with whatever theaters are actually open in the U.S. missed one central possibility – that even without a pandemic, duds like Christopher Nolan's "Tenet" and "Wonder Woman 1984" could've helped to ignite a "multiplex mass-extinction" event entirely on their own.
Director Patty Jenkins' long-delayed sequel is a wretched misfire – a self-indulgent comic book affair that strives to be "lightweight" without an ounce of wit. It also ranks as, unquestionably, one of the dullest, needlessly overlong films of its kind ever produced, somehow extending itself out to 2½ hours despite only offering a small roster of new characters that quickly wear out their welcome.
It doesn't start off badly, with a quick trip back to the island of Themyscira featuring young Diana competing in a tournament (one of only two Imax shot sequences in the entire picture), followed by Wonder Woman stopping a mall heist circa 1984 ("look, it's Waldenbooks!"). Regrettably, the fun – as well as any real integration of the movie's era – stops pretty much there, as soon as Gal Godot's heroine meets the movie's two supporting character/villains: one's a slick would-be business tycoon (Pedro Pascal) trying to get his hands on a wish-fulfillment relic, the other's one of Diana's nerdy cohorts, an archaeologist (Kristen Wiig) who wants to be just like Wonder Woman herself. Ultimately, these two cross the line from being powerless and pathetic to dangerous and deadly, improbably threatening mankind's extinction and requiring Diana to utilize a returning (kind of) Steve Trevor, who's embodied in another man's form but is still seen in the familiar guise of Chris Pine.
Many things go so wrong in "Wonder Woman 1984" that the comedown between this sequel and the far superior film that preceded it is shocking. Jenkins' movie spends so much time with the Wiig and Pascal characters that you wonder when Wonder Woman is going to reappear, which she only fleetingly does in the scope of a film that somehow – given its modest amount of characters – lumbers on for 151 minutes. The real issue is that neither character feels like an actual foe for Diana, both being sad, corruptible antagonists whose audience sympathy extends only so far – making us having to spend extended time with them a chore. Neither Pascal nor Wiig (who's not even remotely funny in the spots she's supposed to be) are appealing nor are they menacing, much less make viewers feel as if they're going to put up a challenge to Wonder Woman's vast array of increasing super powers. And the less said about Wiig's ending transformation into classic DC villainess "The Cheetah," the better (you may well have flashbacks to last year's "Cats" nightmare).
What's more, WW1984 is often boring – talky and dull, sluggishly paced and in need of some comedic material or additional supporting characters to spice things up. Pine seems uncomfortably restrained in the film, rekindling a little of his chemistry with Godot, but seeming like he's just a peripheral passenger to the action – what little there is here. That extends, regrettably, to Godot herself, who's still likeable as Diana, but whose journey isn't the focal point of a sequel that seems to have been misguided right from the conceptual stage.
The one bright spot – and the only one that's an improvement over the original – is Hans Zimmer's new score. Far more melodic, orchestral and upbeat than the score Rupert Gregson-Williams contributed to the first film, Zimmer rechannels the melodic thematic material he brought to various projects 30 years ago while offering only brief quotes of the "battle cry" motif (thankfully sans guitar) he previously wrote for the character. His new theme for Diana is rousing and energetic, and wouldn't sound out of place underscoring the Tokyo Olympics – the kind that would be far more exciting than the plodding wreck of "Wonder Woman 1984."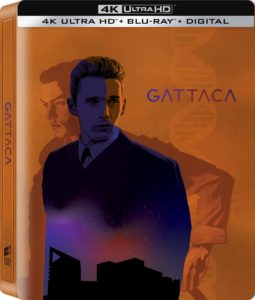 Warner's 4K UHD does offer a bountiful array of color and Dolby Vision/HDR10+ spectacle, plus Dolby Atmos audio that's impeccably engineered. Extras include a handful of featurettes mostly fluffy in nature plus a gag reel, the Blu-Ray and a Digital HD copy.
GATTACA 4K UHD/Blu-Ray Steelbook (106 mins., 1997, PG-13; Sony): Now, here's a change: a science-fiction movie with actual characters on-screen, and more than a few ideas in its head. Writer-director Andrew Niccol's 1997 film "Gattaca" remains a thoroughly compelling, still-relevant study of a "not too distant" future where DNA dictates the eventual outcomes of our lives.
As much an allegory for the direction our own society is headed in as it is a semi-futuristic sci-fi film, "Gattaca" stars Ethan Hawke as a young man "genetically challenged" to achieve greatness in his life, here symbolized by participating in a manned spaceflight into the heavens above. Hawke switches places with a crippled man with "superior" DNA, and begins to live his life with supposedly more gifted individuals in a technological workplace called Gattaca. The movie is leisurely paced, allowing for its characters to fully develop and their situations/relationships with one another to become fully engrossing. As for the setting, Niccol thankfully never goes overboard in his portrayal of an "Orwellian lite" future (we never know what exactly will happen to Hawke if he gets caught for impersonating a "valid" citizen), while a murder subplot is thrown in to try and throw us off from focusing on the main plot at hand.
Hawke is superb here in what's his one of his finest performances, leading a solid cast consisting of Uma Thurman, Loren Dean, Alan Arkin, and especially Jude Law, likewise delivering some of his best work as the physically handicapped "valid" inspired by Hawke's dream. The movie also greatly benefits from an atypically warm, humanistic score from Michael Nyman, who here abandons the surface-level artifice of his early, redundantly "arty" scores and provides a layer of emotion that only exists deep within the souls of some — though definitely not all — of the workers in Gattaca.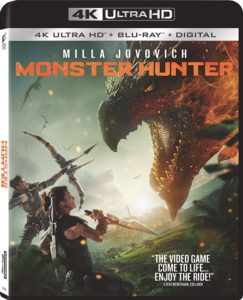 Sony's 4K UHD is dynamic, widening the color pallet and balance of brightness with its HDR10 presentation. The enhanced visual spectrum benefits the film's cinematography, while Dolby Atmos audio gives gentle overhead presence to the movie's sound design. Extras are likewise effective, including a Making Of featurette with retrospective interviews from Hawke, Thurman, and Law, a science featurette hosted by Gore Vidal (who also appears in the film), the original promo featurette, the trailer, and a handful of deleted scenes.
Also new from Sony is the moderately entertaining MONSTER HUNTER (103 mins., 2020, PG-13), an agreeable – as video game film adaptations go – take on the popular Capcom franchise from Paul W.S. Anderson. No stranger to this genre – he made most of the "Resident Evil" movies after all – Anderson tunes up a typical modern array of movie cliches and slick special effects here while pressing his wife, Milla Jovovich, back into action, starring as a soldier whose military unit falls into an alternate world where giant monsters lurk about. This is not high art, obviously, but "Monster Hunter" squeaks by considering its genre brethren, and Sony's 4K UHD – with both Dolby Vision and Dolby Atmos onboard – is sure to give your home theater set-up a proper workout. Extras include deleted scenes, featurettes, a Blu-Ray and Digital HD copy.
Severin New Releases
Severin kicks off their 4K UHD offerings with a pair of '90s films from Spanish director Alex De La Iglesia.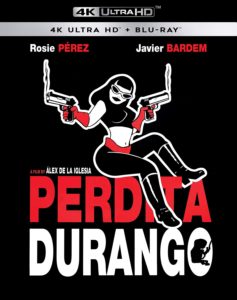 The filmmaker first established his name with THE DAY OF THE BEAST (103 mins., 1995, Not Rated), a gory, wild, black comic supernatural thriller about a priest (Alex Angulo) who teams up with both a low-rent TV psychic (Armando De Razza) and a record store worker (Santiago Segura) to stop the Antichrist from being born. Their efforts to save Madrid – and the world – makes for an irreverent feature that won 6 Goya awards and earned acclaim amongst horror fans. Those buffs will want to check out Severin's 4K UHD/Blu-Ray combo package, which sports an 80-minute documentary, "Heirs of the Beast," plus interviews with Alex De La Iglesia, actor Armando De Razza, actress Maria Grazia Cucinotta, cinematographer Flavio Martinez Abiano, trailers, and De La Iglesia's short "Mirindas Asesinas." The transfer, restored from the original negative, offers HDR and DTS MA audio is available in Spanish (in either 5.1 or 2.0) with English subtitles as well as an English dub track.
De La Iglesia followed up that bit of insanity with another eccentric outing for his English language debut: PERDITA DURANGO (126 mins., 1997), a strange thriller that adapted Barry Gifford's novel of the same name, which was a prequel to his hit "Wild at Heart," also featuring the title character. This may lack the nightmarish elegance of David Lynch behind the lens but De La Iglesia's movie still offers a pulpy collection of characters – with Rosie Perez in the lead and Javier Baredem, James Gandolfini and cult figures like Alex Cox and Screamin' Jay Hawkins in support – plus disturbing plot elements to match. Severin's 4K UHD/BD includes an impressive restoration with HDR plus DTS MA 5.1 audio in English or Spanish. Extras here include a new conversation with the director; a talk with Barry Gifford; an appraisal from historian Dr. Rebekah McKendry; a talk with composer Simon Boswell; another interview with Flavio Labiano and the trailer.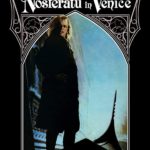 New on Blu-Ray from Severin, NOSFERATU IN VENICE (93 mins., 1988) began its life as a follow-up to the late '70s Werner Herzog film with Klaus Kinski reprising his role. Alas, the best intentions resulted in this messy modern mishmash, set in present-day Venice, chock full of luridness and none of Herzog's visual poetry. Christopher Plummer and Donald Pleasaence also slum here, with an assortment of directors having worked on the picture and composer Luigi Ceccarelli adapting some of Vangelis' album "The Mask" as part of his score. Severin's BD may still be of interest for the curious, with the disc offering a new 1080p transfer and mono Italian or English audio; a new doc, "Creation is Violent," on Kinski's final years, with outtakes; and the trailer…producer Harry Novak's A SCREAM IN THE STREETS (90 mins., 1972) is a sleazy, early '70s slice of exploitation fare about a transvestite psycho on the loose in L.A. Very lurid stuff for the drive-in set, with Severin's uncut 1080p transfer newly scanned in 2K from the original camera negative and extras including a pair of shorts produced from this film's outtakes and trailers.
---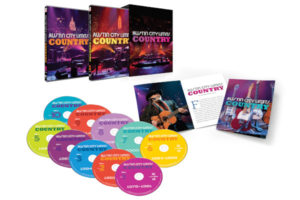 New From Time-Life
While scouring the TV guide over the years, chances are you've come across – at some point – the long running PBS series AUSTIN CITY LIMITS. How long has it been on the air? Try over 40 years, with this brand-new Time Life 10-disc DVD retrospective compiling highlights from the 1974-2018 run of the series with a special focus on the countless country stars who performed on the show's stage.
Fans will be treated to 164 live and uncut performances spotlighting Loretta Lynn, Willie Nelson, Mary Robbins, Buck Owens, Dolly Parton, Randy Travis, Alan Jackson and modern stars like Kenny Chesney, Miranda Lambert and Brad Paisley among others. A special emphasis is also placed on collaborations between performers like Sheryl Crow and Kris Kristofferson, plus Emmylou Harris and Willie Nelson. Numerous bonus interviews feature Alison Krauss & Union Station, Vince Gill, Brooks & Dunn, Keith Urban and more, while a collectible book and bonus DVD includes the 1974 pilot episode featuring a full length Willie Nelson concert. Highly recommended for country music fans, and now available direct from Time Life's website.
Are viewers ready for pandemic-oriented movies? Are filmmakers themselves? I'm not sure SONGBIRD (86 mins., 2021, PG-13; Universal) offers an especially convincing case that they are, as this Michael Bay production posits an America in Year 4 of lockdowns and government oppression, charting the relationship between an immune young man ("Riverdale"'s KJ Apa) and an infected girl (Sofia Carson) stifled by government control. Adam Mason's movie has some intriguing story elements but the overall product never comes together and feels extremely disconnected and "assembled," which the film itself was, having been shot during the pandemic. Universal's Blu-Ray (2.39, 5.1 DTS MA) of the STX release includes deleted scenes, a featurette, and a Digital HD copy.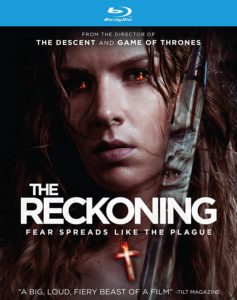 Also new from Universal is OUR FRIEND (126 mins., 2020, R), a true story about a man (Jason Segel) who comes to help out his best friends – a married couple played by Dakota Johnson and Casey Affleck – after Johnson's character is diagnosed with terminal cancer. Matthew Teague's autobiographical book was adapted by Brad Ingelsby with Gabriela Cowperthwaite helming a screen version that, despite the fine performances and the project being sourced from a real story, feels contrived in its cinematic rendering. Universal's DVD (1.85, 5.1) is available featuring a behind-the-scenes segment.
KINGSLAIVE: FINAL FANTASY XV 4K UHD/Blu-Ray (115 mins., 2016, PG-13; Sony): Futuristic fantasy-adventure is set in the kingdom of Lucis, where a sacred Crystal is protected by good King Regis (voiced by Sean Bean). Despite hiring an elite group of commandos dubbed the Kingsglaive to watch over the kingdom, the vile Niflheim empire wants the Crystal for their own use. When the King attempts to peaceably solve the situation – including marrying his son to a captive Princess (Lena Headey) held captive by the Niflheim – disaster ensues, and the Kingsglaive have to rally in order to save their world.
Takeshi Nozue's CGI animated feature offers gorgeous visuals (compare this to the comparatively stilted animation of the first "Final Fantasy" movie) and elaborately staged fight sequences, rendered so effectively you may just forget about the convoluted and outlandish story. Sony's 4K UHD (HDR10) surpasses even its flawless 1080p (2.39) AVC Blu-Ray transfer while reprising the same 5.1 DTS MA soundtrack with extras including featurettes on the music by John Graham, vocal recording sessions, and a Digital HD copy.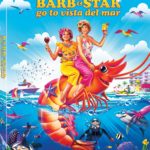 BARB & STAR GO VISTA DEL MAR Blu-Ray/DVD (106 mins., 2021, PG-13; Lionsgate): Kristen Wiig andd Annie Mumolo starred in and wrote this off-the-wall comedy of swinging Midwestern bachelorettes who head for fun in the sun and run into romance, a super-villain (also played by Wiig) and all kinds of shenanigans. Will Ferrell and Adam McKay were among the producers of "Barb & Star," which offers a wide range of hit-or-miss gags but the real problem is the prolonged running time which director Josh Greenbaum never gets under control. Still good for a few chuckles, Lionsgate's Blu-Ray (2.39, 5.1 DTS MA) includes two featurettes, bloopers, deleted scenes, a "Fashion Show," Digital HD copy, DVD, and commentary with Wiig, Mumolo and Greenbaum.
THE RECKONING Blu-Ray (111 mins., 2020, R; RLJE Films): Disappointing period drama from director Neil Marshall about a woman (Charlotte Kirk), imprisoned and branded as a witch, who attempts to get her infant daughter back from the resident witchfinder general (Sean Pertwee). Don't let the Shudder brand and horror fantasy sequences fool you – this one's not supernatural at all, and between Kirk's stylized hair and the lush cinematography, looks as convincing as a '60s Disney TV movie. RLJE's Blu-Ray (2.35, 5.1 DTS MA) is available April 6th and includes deleted scenes.
NEXT TIME: Kino Lorber April rundown including NORTH SHORE, THE WILD LIFE, SPACEBALLS in 4K and plenty more! Until then, don't forget to drop in on the official Aisle Seat Message Boards and direct any emails to our email address. Cheers everyone!