Making its debut in the 4K UHD format, Sergio Leone's classic spaghetti western THE GOOD, THE BAD AND THE UGLY (162 mins., 1966, R; Kino Lorber) has been remastered and tweaked once again in a bona-fide enhancement for western fans. Blu-Ray owners may also want to get in on the action here, as Kino Lorber's two-disc set – out this week – also premieres a remastered 1080p presentation using the UHD's newly revised color timing.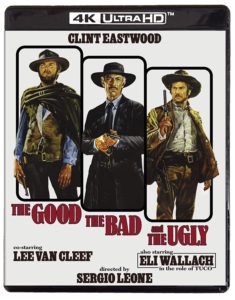 Needing little introduction for fans, "The Good, The Bad and the Ugly" completed star Clint Eastwood's association with Leone, the duo here signing off with a quintessential genre masterwork. MGM had previously brought the film to Blu-Ray twice: once in an acceptable albeit DNR'd 2009 Blu-Ray, then again in a 2014 release (available in the "Man With No Name Trilogy" set) that offered an impressive, if overly "golden," AVC-encoded transfer from an Italian restoration. However, that release was far from flawless, boasting less noise reduction but more of a yellow tint to the entire picture which drew the ire of quite a few fans.
Kino's 2017 Blu-Ray rectified the problem to a degree, notably toning down the yellow tint on both the 162-minute U.S. theatrical release (then making its Blu-Ray debut and first home video appearance in many years) as well as the 179-minute Italian restoration, which included several sequences redubbed in 2003 by Eastwood and co-star Eli Wallach. That release presented a "cooler" color scheme that some felt went too far in the other direction at the time.
On Kino's new UHD and Blu-Ray discs, however, colors have been tweaked even further, finding more of a middle ground between MGM's disc and Kino's 2017 Blu-Ray, and producing a satisfying balance between overly warm and overly blueish. At times the difference is striking when compared to Kino's 2017 format effort, something that makes this release also worthwhile for BD owners since the included second disc is a 1080p Theatrical Cut remaster – incorporating the UHD's new and improved color timing – that's exclusive to this release.
In the end, personal preference will dictate how a viewer reacts to this presentation, and how much it matches the original intent of Leone is anyone's guess at this point, given the myriad of releases of the picture around the world sourced from different edits and color timings. The UHD doesn't contain an HDR or Dolby Vision regrade, so the main advantage of the 4K disc is the color tweaks, a higher HVEC bit-rate and superior encoding than Kino's Blu-Ray, which is something those with larger 4K sets may notice when doing an A/B comparison – the grain seems more natural thanks to the bit-rate boost UHD provides. For those with smaller (try 55′ and under) sets, Kino's included Blu-Ray may suffice just as well, as the overall presentation is otherwise roughly similar and incorporates the revised color alterations. The soundtrack, with Ennio Morricone's masterful and oft-imitated score, includes the original mono as well as a 5.1 DTS MA track that here comes off as a roughly "centered" upmix of the monophonic presentation.
This package also does not contain the Extended Version but Kino has offered the deleted/extended scenes/alternate transitions separately, in similarly remastered 4K form, on the UHD disc. Other extras include Tim Lucas' 2017 commentary – still a great listen and filled with background detail – and while the set is missing the old Richard Schickel/Christopher Frayling MGM commentaries, Kino's included BD does boast a myriad of extras from past releases. These include MGM's various featurettes on the production of the film, featuring Schickel and with a special look at Morricone's score, a complete run of trailers and more – this time in properly encoded frame-rates (Kino's 2017 Blu-Ray had some odd encoding issues of these older, standard-definition segments).
Overall this may not ultimately be the "definitive" presentation of Leone's masterpiece – who knows what's forever looming down the trail – but it's still outstanding and a worthwhile enhancement for both 4K UHD and Blu-Ray owners alike.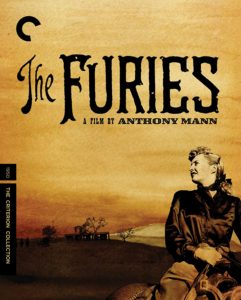 Director Anthony Mann's films are usually worth watching – and rewatching – even if, in the case of his moody western THE FURIES (109 mins., 1950; Criterion), a full examination of its subject matter and adult themes were constrained by the era in which the picture was made.
Regarded as one of the darkest genre exercises of its time, "The Furies" stars Barbara Stanwyck as the tough, self-sufficient daughter of bombastic New Mexico Territory ranch owner T.C. Jeffords (Walter Huston in his final film). Expecting to inherit "The Furies," Stanwyck stands tall even after she's spurned by local bad boy Wendell Corey – but her character finally gets to the end of her proverbial rope after T.C. brings home a prospective replacement (Judith Anderson) for her late mother that challenges her standing with the ranch – and her father.
"The Furies" was scripted by Charles Schnee from a then-recent book by Niven Busch, and it paints an interesting portrait of its central heroine, whose relationship with a Mexican squatter adds a fascinating, if not entirely explored, component to the film. One can imagine this – as well as other adult elements in the story – would've been made more explicit, and also dramatically developed, in a picture produced later on, but Mann is prohibited from indulging too much in the film's "mature" content.
As a result, "The Furies" is something of a mixed bag, coming off as a bit claustrophobic and uneven at times, yet buoyed by its atypical story line and Franz Waxman's strong soundtrack. Criterion's Blu-Ray edition looks passable with its 1080p (1.33) B&W transfer, though the source elements do not appear to be in pristine shape, and the transfer lacks the hallmarks of a recent remaster. Extras include a 2008 commentary with historian Jim Kitses; a new interview with critic Imogen Sara Smith; a 1967 British TV interview with Mann conducted shortly before he died; a 1931 interview with Huston; and a 2008 interview with Nina Mann, the director's daughter. A copy of Busch's book is also packaged in the set along with extensive booklet notes.
---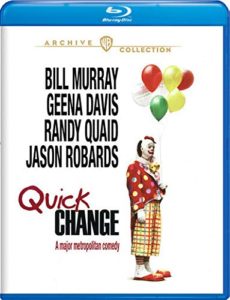 Warner Archive New Releases
Warner Archive's April Blu-Ray releases include a belated format debut for QUICK CHANGE (88 mins., R, 1990; Warner), the underrated Bill Murray caper comedy that became a casualty at the summer box-office in 1990, despite receiving mostly positive notices from critics.
"Quick Change" was adapted from a novel by Jay Cronley, whose books also formed the basis for two other memorable comedies of the era: the hilarious and likewise under-appreciated Chevy Chase comedy "Funny Farm" (1988) and the equally charming "Let It Ride" starring Richard Dreyfuss, which opened during the summer "dumping grounds" of late August '89.
Co-directors Murray and Howard Franklin (who also scripted) were responsible for this often uproarious adaptation starring Murray, Geena Davis and Randy Quaid as thieves who knock over an NYC bank, but have a difficult time getting out of the city once they've bagged the loot. Jason Robards is the cop on their trail (shades of Walter Matthau in "The Taking of Pelham 1-2-3," right down to the final scene), while Tony Shalhoub is a clueless cabbie and Philip Bosco a less-than-understanding bus driver, whom the trio meet in their attempts to elude the cops.
Big laughs, flavorful NY location filming, and engaging performances should have made "Quick Change" a huge hit, but alas, the movie got lost in the shuffle during its initial release, and was likely hampered by an R rating solely for profanity. Time, fortunately, has been kind to the picture, which holds up well and looks terrific in Warner Archive's Blu-Ray. The disc does not include any special features, but the remastered 1080p (1.85) AVC encoded transfer looks highly detailed and sharp, and the 2.0 DTS MA stereo sound is lively in musical bursts of Randy Edelman's score and Nat King Cole's "L-O-V-E," which underscores the opening credits. The original trailer, which didn't do an especially good job selling the movie (nor did the poster art), is included.
Also newly available this month from Warner Archive on Blu-Ray: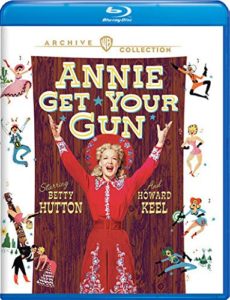 EACH DAWN I DIE (92 mins., 1939): The fiery performance of Jimmy Cagney is the best part of this 1939 Warner Bros. prison drama, wherein Cagney's tough city reporter learns the hard way – after being framed for manslaughter – that life inside the big house is even tougher than he expected. George Raft is terrific opposite Cagney in this William Keighley-helmed picture, which goes a little over the top at times with performances to match. Warner Archive's Blu-Ray here (1.37 B&W, mono) is filled with extras thanks to a "Warner Night at the Movies 1939" optional presentation with short subjects, news reels, and cartoons, plus additional retrospective featurettes, a 1939 studio blooper reel, radio show with Raft and Franchot Tone, and commentary from historian Haden Guest.
ANOTHER THIN MAN (102 mins., 1939): Third entry in the classic Golden Age detective-comedy series finds Nora tending to Nick Jr. while having to clear her husband Charles of murder after a Long Island industrialist dies while they're visiting him. William Powell and Myrna Loy's chemistry remains impeccable in this enjoyable "Thin Man" entry, debuting here on BD in a 1080p (1.37) transfer with a couple of bonus shorts (the cartoon "The Bookworm" and musical short "Love on Tap") and mono sound.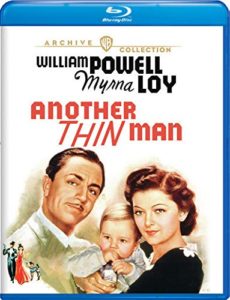 ANNIE GET YOUR GUN (107 mins., 1950): Fun if relatively uninspired MGM studio musical adapts the Irving Berlin Broadway hit. Betty Hutton and Howard Keel star as Annie Oakley and Frank Butler in a competent though visually uninspired – and stagy – adaptation from director George Sidney that relies heavily on Berlin's score and its assorted hits ("There's No Business Like Show Business") to get by. The transfer is spectacular in this newly restored presentation (1.37, mono) with extras including outtake musical numbers, audio-only stereo outtakes featuring Judy Garland, the trailer, and more.
Finally, Hanna-Barbera addicts will be pleased by the Blu-Ray premiere of JOSIE AND THE PUSSYCATS IN OUTER SPACE (352 mins., 1972-73), an attempt at keeping the Saturday morning series – a favorite of many a child from the '70s and '80s – going by way of a totally bonkers "reconceptualizating." Here, Josie and the gang are launched into outer space by accident, where they run into all kinds of aliens, both benevolent and evil in nature, but find the power of song still has a transformative effect – regardless of the galaxy you live in. Warner Archive has brought all 16 episodes from the "Outer Space" run of the series (that followed its "standard" episode run) to Blu-Ray in the form of an attractive two-disc set with AVC encoded 1080p (4:3) transfers and DTS MA mono soundtracks.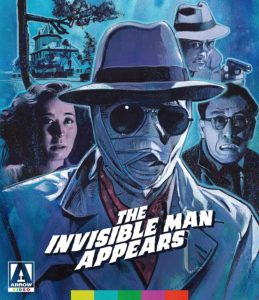 Arrow Video New Releases: American viewers, even horror fans, may not be aware that Japan produced a pair of "Invisible Man" fantasies in the years following the golden age of Universal Monsters. Both of these pictures, never officially released outside their native land until now, have been collected in a single-disc Arrow release offering THE INVISIBLE MAN APPEARS (82 mins., 1949) and an unconnected follow-up, THE INVISIBLE MAN VS. THE HUMAN FLY (96 mins., 1956). The former boasts early effects work from future "Godzilla" pioneer Eiji Tsuburaya; the latter is a wilder fantasy that could only be produced during the era that gave us Gojira himself. Arrow's Blu-Ray includes 1080p (1.37) B&W transfers, Japanese mono sound with English subtitles, image galleries, and a new interview with genre expert Kim Newman, putting both pictures into context.
Fans of that daffy, at times genre-bending Greek filmmaker Nico Mastorakis would do well to check out Arrow's presentation of his early work DEATH HAS BLUE EYES (77 mins., 1976), boasting lovely Greece photography and a madcap assortment of chases, sex scenes, and a Cold War-era story that makes precious little sense, even for one of Nico's films. That said, fans will know what they're getting here (likely), and Arrow's Blu-Ray includes a 1080p transfer in both 1.33 and 1.85 aspect ratios; mono audio; a new interview with star Maria Aliferi; tracks from the soundtrack; trailers and an image gallery.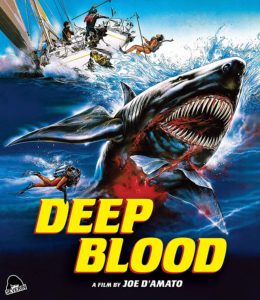 Finally, Jack Hill's SWITCHBLADE SISTERS (91 mins., 1975, Not Rated) has long ranked as one of the cult director's strongest works – a wild tale of a female inner-city gang, its leader, new recruit, and warring tribes of both the male and female persuasions. Hill's zesty drive-in fave has been remastered here (1.85 1080p, mono) with extras including a new commentary with critics Samm Deighan and Kat Ellinger; an archival documentary featuring Hill and the cast/crew; another archival doc that finds Hill revisiting the film's locations; a 2007 interview with the director and star Joanne Nail; a 1990s interview with the cast/crew; and extensive still galleries of promotional art, video covers and lobby cards.
New from Severin Films is the Blu-Ray debut of the waterlogged Italian shark opus DEEP BLOOD (91 mins., 1990, Not Rated), the last in a long line of "Jaws" ripoffs, this one shot in Florida. Director Joe D'Amato, whose work mostly resided in low-rent Italian sleaze, here conjures up a silly, brainless mix of bland Florida teens running afoul of a Great White that possibly carries some kind of Native American mystical spirit inside it. There are some scattered laughs through the amateurish performances but, much like Bruno Mattei's lame "Cruel Jaws" that followed it, much of "Deep Blood" is simply slow and dull – even with a special (and serious!) appearance from "Match Game" vets Charlie Brill (looking 20 years younger sans the mustache and glasses) and Mitzi McCall! Severin's Blu-Ray (1.33, 2.0 mono in either English or Italian) may still be of interest for the curious and is now available.
Label Wrap
NOMADLAND Blu-Ray (109 mins., 2020, R; 20th Century/Disney): Frances McDormand gives a typically reliable, "gritty" performance as a Nevada woman who's lost her husband and, more recently, her job. Undeterred by her circumstances, she strikes out on a journey across the country as a "nomad," meeting others living a similar existence and attempting to find her own place in the modern world.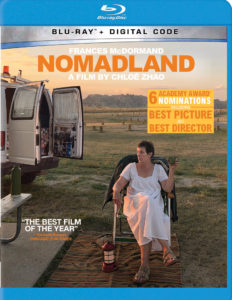 Writer-director Chloe Zhao adapted Jessica Bruder's book for this character-driven piece that's anchored by McDormand, here crafting another memorable role in a long line of award-worthy performances. That said, "Nomadland" is also sort of a one-note, downbeat piece that doesn't conjur as many expected emotions as you might anticipate, hitting a lot of predictable beats despite the believable performances and environment that Zhao captures here.
This "Searchlight" indie release is out on Blu-Ray from Disney April 27th sporting a 1080p (2.39) transfer, 5.1 DTS MA sound, deleted scenes, a Q&A with McDormand and Zhao, a featurette, and Digital HD copy.
SENIOR MOMENT DVD (92 mins., 2020, Not Rated; Screen Media): William Shatner plays a former NASA test pilot, hanging around in Palm Springs with his pal Christopher Lloyd, when his car is impounded. Forced to rely on public transportation, he meets a woman (Jean Smart) whom he shares an immediate connection with in this character dramedy from director Giorgio Serafini, one that relies on the chemistry between the actors – Shatner and Smart, who were paired together on a short-lived CBS comedy not that long ago, especially – to get by. It's a unremarkable yet pleasant way to kill off 90 minutes, and Screen Media's DVD is out May 7th featuring a 16:9 transfer and 2.0/5.1 sound.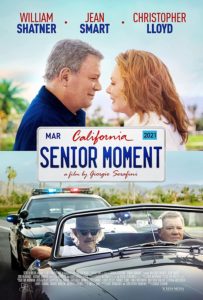 Lionsgate New Releases: The low-rent thriller THE PENTHOUSE (88 mins., 2021, R) follows a young couple who make the poor decision to get involved with a troubled couple after meddling with the bickering duo on a sailboat below their marina condo. Michael Pare and Nicholas Turturro have both seen better days as they topline this independent, low-budget thriller, now available on DVD (1.78, 5.1) from Lionsgate…Pororo, the Little Penguin, and his friends are back in PORORO: TREASURE ISLAND ADVENTURE (80 mins. 2021, G), a feature-length movie wherein Pororo uncovers a treasure map that leads them to a remote island and the marooned Captain Silver. When Captain Dark shows up, they have to contend with the monstrous Kraken and solve a group of puzzles to find the gold in a family friendly adventure, new on DVD this week from Lionsgate (1.85, 5.1)…Season 13 of ANCIENT ALIENS (11 hours, 20-21) features the most recent season of the long-running, hit History program. This time, Giorgio Tsoukalops and other "ancient astronaut" theorists continue their pursuit of the past and how it connects to our present (and, judging from the amount of recent UFO sightings, possibly future!). 13 episodes are included here in Lionsgate's three-disc DVD package (1.78, 2.0 stereo), which is now available at retailers everywhere.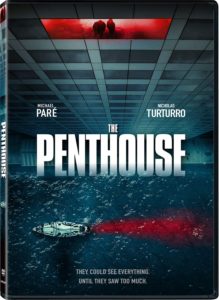 Film Movement New Releases: Noah Hutton's film LAPSIS (108 mins., 2020, Not Rated) is set in a New York where the quantum computing revolution is in full bloom, leading gig workers to lay miles of cable across rough terrain. This "near future" drama is grounded in the present and comes to DVD May 7th from Film Movement (2.39, 5.1/2.0) with a featurette and commentary with Hutton and the producers.
MPI New Releases: IFC and MPI bring foodies OTTOLENGHI AND THE CAKES OF VERSAILLES (75 mins., 2019, Not Rated), a festive documentary following internationally renowned chef Yotam Ottolenghi and his desire to bring the art and craftsmanship of Versailles to life in cake form at the Metropolitan Museum of Art. Fascinating stuff for food and history fans, with MPI's DVD (1.85, 2.0) available April 27th.
Mill Creek New Releases: On Blu-Ray, DAVE CHAPPELLE'S BLOCK PARTY (103 mins., 2006) boasts the comic touring America's heartland as well as his hometown where he meets an array of people, fans and admirers, while offering a good array of laughs and plenty of music. Michel Gondry's 2006 take on a "concert film" debuts in HD from Mill Creek sporting a 1080p (1.85) transfer and 5.1 sound.
NEXT TIME: More of the latest reviews! Until then, don't forget to drop in on the official Aisle Seat Message Boards and direct any emails to our email address. Cheers everyone!