Sometimes there's no apparent reason why it takes a prolonged amount of time for a certain movie to be released on Blu-Ray. In some instances it's because of a lack of a peripheral connection to a sequel or remake – but in the case of Dino DeLaurentiis' 1976 version of KING KONG (135 mins., PG; Shout! Factory), there have been no less than three films starring the Big Ape to reach the screen in the last 16 years for Paramount's home video division to take advantage of. It may forever remain a mystery why the film was MIA in the U.S. high-definition format for so long, but Scream Factory has at last rectified the situation with a two-disc Blu-Ray Collector's Edition offering a quality presentation of the movie, the first-ever full release of the three-hour network TV version, and a smattering of supplements produced under the constraints of a pandemic.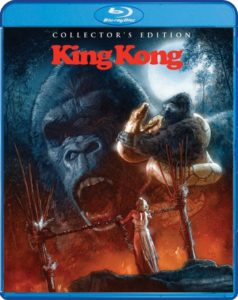 DeLaurentiis' "Kong" went into production quickly to beat a competing effort from Universal – "The Legend of King Kong," scripted by Bo Goldman and slated to have been helmed by Joseph Sargent – and became one of the Top 5 highest grossing films of 1976…despite the fact that, for all its touting of a Kong-sized robot created by future "E.T." designer Carlo Rambaldi, the Kong that mostly ended up on-screen was a suit inhabited by make-up artist extraordinaire Rick Baker. Critical reaction was mixed, yet the movie was still a popular success, its merchandise and memorable poster artwork remaining in the public eye for many years.
Lorenzo Semple, Jr.'s script is actually an interesting reworking of the 1933 RKO classic – "Kong '76" eliminates the Carl Denham character and movie crew in favor of a contemporary quasi-nemesis: the Petrox Oil Corporation, which sends its glib employee Fred Wilson (Charles Grodin) out to find what they hope is a major score on a mysterious South Pacific island shrouded in fog. Jack Prescott is still Jack Prescott in this version, but he's an unshaven Princeton anthropologist played by Jeff Bridges who stowaways on the Petrox Explorer. Even the actress heroine of Ann Darrow is reworked as "Dwan," a young, aspiring starlet essayed by Jessica Lange in her introductory on-screen role, but she's very much unsure of herself and trying to find her way in a business this movie seems to ultimately suggest will swallow her whole, far more aggressively than Kong ever would.
Although this is a movie rooted in the mid '70s, Semple's script carries a contemporary element in how the story is laid out that, ironically, makes it much more modern, and relatable, than Peter Jackson's slavish-to-a-fault, overblown 2005 remake. Bridges and Grodin's performances each come off well, and Lange's Dwan, criticized nearly as much as the film by some critics of its era, is interestingly conveyed: Dwan can't seem to shake off the possibility of stardom at any cost, making her not entirely likeable – but appropriately so within the context of this adaptation. In fact, Semple and director John Guillermin add an appropriate level of '70s cynicism into the material as a whole which some viewers and critics may not have cared for – it doesn't carry the "innocence" of the '33 film – yet it gives the film an edge that aids it on repeat viewing.
The Hawaiian shooting locales are capably captured by Richard H. Kline in widescreen and John Barry's marvelous score raises the entire adventure up a notch (or two). Granted, the movie's first half is more compelling than its second – once the characters leave the island and the film settles into a more conventional retelling of the original story, the movie begins to sag a little. The main reason is that the Baker-suit monkeyshines, with Kong causing a ruckus in the Big Apple, is the least entertaining component of the action: despite the memorable World Trade Center climax, the miniature work is unremarkable and less inventive than a Toho movie, while the tone settles into something akin to a typical '70s Disaster Movie as opposed to a giant-creature feature.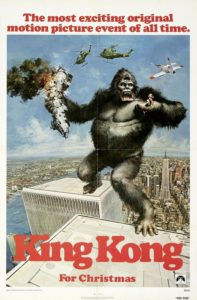 Still entertaining and fun to revisit, "Kong" '76 makes its way, way overdue North American Blu-Ray debut from Scream Factory this week. The transfer (2.35) and soundtrack options (5.1, 2.0 DTS MA) are both roughly on-par with a myriad of international Blu-Ray releases that European licensee Studio Canal issued over the years: the image is well framed, the colors are nicely saturated, but there is a seeming bit of fuzziness to go along with the uptick in detail you see in HD. This looks like the same master, or at least one similarly struck a few years back, but it's certainly acceptable and offers a nice boost in detail from the DVD most Americans have been saddled with for too long. The soundtrack, meanwhile, really shines in a bold 5.1 mix with nice bass and plenty of early Dolby Stereo ambiance.
The second disc of the set premieres the original, three-plus hour TV Version that was seen in NBC's original broadcasts of the film, which were initially spread out over two nights. I'm not sure how this full 2.35-framed presentation was assembled – a disclaimer mentions that this transfer identically matches the Paramount tape master of the TV version, right down to commercial fadeouts and division into two separate parts (with a repetition of the opening credits and Part 1 "recap"). There's a fair amount of interesting discarded material here – a couple of good scenes between Jack and Dwan, plus John Barry's alternate scoring of the arrival on Skull Island – but also some bloated repetition in Part 2. In fact, the network TV editors had to recycle footage of Kong in order to pad the running time, resulting here in a few scenes (since they've been opened up to 2.35 and not hidden in 1.33 TV cropping that tried to sell the scene as "new") where characters can be seen talking but not heard.
Nevertheless, the restoration of this cut adds immense value to Shout's package, which also contains roughly 45 minutes of pandemic-era conducted interviews which are hampered by understandable fluctuations in audio and visual quality.
Included here are brief thoughts from cast member Jack O'Halloran; Assistant Director David McGiffert and production manager Brian Frankish; sculptor Steve Varner; second unit director William Kronick; effects assistant Barry Nolan; and production assistants Jeffrey Chernov and Scott Thaler. Overall, these are mostly related to the movie's technical shoot and FX work – there's very little about the movie's development, casting, the fact that Universal was trying to hurry their own Kong movie at the same time – so they're a nice inclusion if fairly limited in the scope they cover. More compelling is an hour-long 2016 Aero Theater panel that features Rick Baker, Richard Kline, and even film music agent Richard Kraft, who discusses Barry's score. That's included here on the second disc alongside the TV cut, while a full run of trailers, TV spots, radio commercials and still galleries are also on tap.
Most revealing in the extras are two new commentaries: one provided by author Ray Morton, who gives a well-rounded essay on the picture and Kong's history, the other an audio interview with Rick Baker moderated by extras producer Justin Beahm. The Morton commentary covers a wide range of information but is really diminished by subpar audio quality – whenever Morton's voice trails off, it sounds like a heavily compressed MP3 or, what's worse, being underwater. The Baker conversation is highly worthwhile, though, as the Oscar-winning make-up artist details not just his work on this movie but his career in general. For buffs it comes highly recommended, just like the package itself.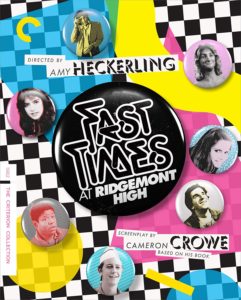 Remastered in a new 4K transfer on Blu-Ray, FAST TIMES AT RIDGEMONT HIGH (90 mins., R, 1982; Criterion) is a film that remains a favorite for many viewers. Amy Heckerling and Cameron Crowe's seminal high school comedy remains at the pinnacle of the 1980s teen movie craze, boasting memorable lines, a bouncy soundtrack, career-making performances – from Sean Penn, Jennifer Jason Leigh, Judge Reinhold and Phoebe Cates to brief turns from Nicolas Cage, Forest Whittaker and Anthony Edwards among others – and lots of big laughs.
"Fast Times" was previously issued on DVD a few times, notably a 1999 Special Edition with copious supplements (commentary, documentary) and DTS sound, and that edition was reprieved on one side of Universal's HD-DVD combo disc. Several years after that release, Universal issued a Blu-Ray that utilized the exact same transfer – and while it has a fair amount of noise (the film was also fairly low-budget and shows), it was the only disc of choice for many fans for many years.
Criterion's Blu-Ray offers a new 4K transfer (1.85) of the movie – complete with a three-second shot of Damone (Robert Romanus)'s private parts restored that had to be trimmed to avoid an X rating at the time of its theatrical release. This is generally a good looking transfer, yet the colors do appear with "less pop" compared to previous home video releases, with slight cropping also apparent on all sides – much like the controversial 4K remastering of Paramount's "To Catch a Thief" on their "Paramount Presents" Blu-Ray last year. The bluer-hued color tone is also a departure, and whether or not you take to this transfer – after years of more saturated hues – is going to be entirely up to the individual viewer. From a detail standpoint, there's a little more in evidence and less noise here on the whole, though the film's modest budget still shows through the elements. Overall, it's perfectly acceptable yet strikingly different – I'd be fascinated to see what the film looks like in full 4K with a proper HDR grading on UHD. The label has also ported over the remixed 5.1 stereo track (DTS MA) that debuted on DVD, along with Heckerling and Crowe's commentary for that release, as well as a retrospective documentary that likewise premiered on the 1999 DVD.
The disc also includes, quite significantly, a new 1080p transfer of Universal's 95-minute TV version (1.33). Like many of the studio's TV versions from the '80s, a host of deleted scenes were added back into the film in order to fill a 2-hour broadcast slot. Unlike some of the scenes typically restored to those broadcasts, though, these scenes are mostly excellent and worthwhile to the story, as they further flesh out relationships between the characters. Crowe has lamented in the past that these scenes weren't restored to the movie – Heckerling has felt differently – but at least they can be seen here in a presentation superior to any VHS recording you might have lying around from decades ago.
Criterion has also included an audio-only recording of a 1982 AFI seminar with Heckerling, which divulges quite a bit of background detail on the film, plus a recently-conducted "remote conversation" between Crowe, Heckerling, and moderator Olivia Wilde, who intersperses a little too much of her POV into the discussion for my liking.
Still, this "Fast Times" receives a passing grade – a worthy, if perhaps imperfect, HD presentation for Spicoli junkies everywhere.
---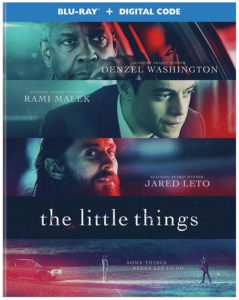 New From Warner Home Video
THE LITTLE THINGS Blu-Ray (128 mins., 2021, R; Warner): One of several "simultaneous theatrical/HBO Max" premieres from earlier this year is a bit of an odd one — a "throwback", 90s-set serial killer thriller that's, well, not very thrilling (outside of a few dead bodies there's scarcely any R-rated activity here at all) and ends up much more interested in making statements about the human condition.
In fact it may be that writer-director John Lee Hancock didn't really want to make a genre exercise, and used the formula — disgraced veteran cop Denzel Washington helps young L.A. hotshot Rami Malek track a killer — as a cover for a character drama that talks about obsession, accidents, and justice (well, sort of). Washington does a fine job, trying to add layers to the sort of character we've seen many times before, and Malek is fine in support, but Hancock's cast extends only out to one other actor — Jared Leto, playing a creep who might be a killer, but whose role in the story is so transparent that it's too obvious there's going to be "more" (or, in this instance, less) to his part than the film is letting on.
Fans of this kind of movie might be extremely disappointed by the lack of violence, action and, at times, even tension — Hancock isn't very adept here at squeezing much suspense out of this exercise, even with the stylish cinematography and '90s setting. Yet if you're someone like me who's had enough "Silence of the Lambs" to last a lifetime, the quiet introspection of the film — as undernourished as it may be — is a welcome relief to an extent.
Turns out "The Little Things" isn't "that" kind of movie, and the ending may leave you wondering how else Hancock could have better told this story in a way that wasn't as reliant on incorporating serial-killer cliches that his movie, ultimately, has little use for.
Warner's Blu-Ray is now available and includes two featurettes ("Four Shades of Blue" and "A Contrast in Styles"), a 1080p (2.39) transfer, 5.1 DTS MA sound, and a Digital HD copy.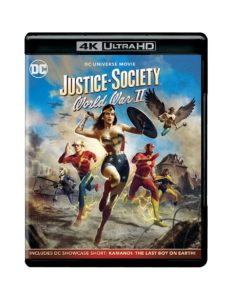 JUSTICE SOCIETY: WORLD WAR II 4K Ultra HD/Blu-Ray (84 mins., 2021, PG-13; Warner): Superior – and by that I mean clearly one of the best – DC Comics animated offering finds Barry "The Flash" Allen about to hit Metropolis when he's unwittingly thrown into the space/time continuum. Finding himself back in WWII, he meets Wonder Woman (voiced by Stana Katic) and an unfamiliar team of super-heroes doing battle in the past.
Time travel storylines are always a favorite of mine, and "Justice Society: World War II" manages to hit all the right notes in terms of its brisk pacing and alternate-universe time frame. The original story line from Jeremy Adams and Meghan Fitzmartin balances comic book action and humor in a more satisfying way than most of these DC productions I've seen, making for a recommended title for DC die-hards and casual viewers alike.
Warner's 4K UHD looks smashing with HDR10 and extras including a featurette, two bonus cartoons, and a sneak peek at the next DC film, "Batman: The Long Halloween Part 1." An included Digital HD copy, Blu-Ray and DC showcase short "Kamandi: The Last Boy On Earth!" makes for a splendid package all around.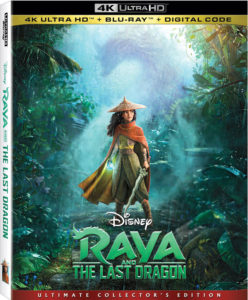 Solid performances abound in the Ryan Coogler-produced drama JUDAS AND THE BLACK MESSIAH (126 mins., 2020, R; Warner), the story of an FBI informant (LaKeith Stanfield) who faces a tough choice after he infiltrates the Black Panthers and their leader Fred Hampton (Daniel Kaluuya), at the behest of Hoover's FBI. Director Shaka King's film is textured with strong sequences in a screenplay written by King and Will Berson, and is finely acted by both leads. Warner's Blu-Ray is out this week featuring two featurettes, a 1080p transfer, 5.1 DTS MA sound and a Digital HD copy.
RAYA AND THE LAST DRAGON 4K Ultra HD/Blu-Ray Combo pack (107 mins., 2021, PG; Disney): Refreshing and quite wonderful Disney animated film deserved to become a major hit, yet ended up one of many box-office casualties due to theater shutdowns worldwide. This original story weaves a delightful Asian-flavored fantasy involving a young female warrior named Raya (voiced by Kelly Marie Tran) who tries to unite the fragmented tribes of her kingdom with the sassy but resourceful Sisu, the last remaining dragon (Awkwafina). Directors Don Hall and Carlos Lopez Estrada mix humor, action and character warmth into a very satisfying package here that does not grow tedious over the course of its 107-minute running time, but presents an appealing journey for both kids and adults alike — ending with a very strong emotional finish.
Disney's utterly gorgeous 4K Ultra HD combo pack of "Raya" is available on May 18th. The HDR10 transfer and Dolby Atmos sound are both exceptionally rendered in a flawless a/v transfer, the disc also including a smattering of supplements in its also-enclosed 1080p Blu-Ray: outtakes, deleted scenes, featurettes, easter eggs, and the theatrical short "Us Again." A Digital HD completes an essential pick-up for Disney fans and family viewers.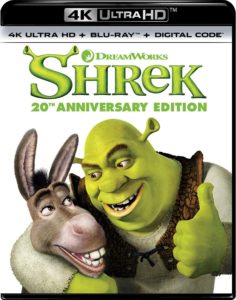 SHREK: 20th Anniversary Edition 4K UHD (90 mins., 2001, PG; Dreamworks/Universal): Great-looking, HDR10-enhanced 20th Anniversary Edition of the Dreamworks smash includes a gorgeous new transfer plus DTS: X audio – the first time this 2001 hit has been afforded full 4K treatment. It's a gorgeous new transfer and Universal has included all kinds of extras in the multi-disc set as well: "The Best of Shrek Shorts" are included in a bonus disc sporting over four hours of archival content, while the 4K also sports deleted scenes, music videos, commentary and many featurettes. There's also a Digital HD copy to boot.
Admittedly, I didn't take to this movie like a lot of others did, finding the CGI work nothing extraordinary and the flatulence jokes wearisome after a while (not to mention the strident shots at Disney). On the other hand, kids didn't care and adults found more than enough amusement in the movie's sight gags and off-the-wall humor, which admittedly hits the mark more often than not.
Also new from Universal on Blu-Ray is Kevin Macdonald's film THE MAURITANIAN (130 mins., 2020, R), the true story of Mohamedou Ould Slahi (Tahar Rahim) and his fight for freedom after being imprisoned for years in Guantanamo. The battle of his legal team, led by Jodie Foster as his attorney, forms the centerpiece of this drama, whose accuracy may be dubious depending on some reports, but it makes for a straightforward, compelling film with fine performances from both leads along with co-stars Zachary Levi, Shailene Woodley and Benedict Cumberbatch. Universal's Blu-Ray (2.39, 5.1 DTS MA) of the STX release is out this week sporting deleted scenes, an alternate opening, featurette, DVD and Digital HD copy.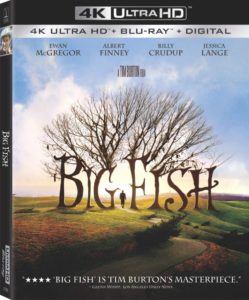 THE MARKSMAN (108 mins., 2021, PG-13; Universal) is yet another routine Liam Neeson action flick, this time with Neeson cast as an Arizona rancher trying to protect a woman and her son — just having crossed over the Mexican border — from a drug cartel. Ultimately tasked with transporting the boy to family members in Chicago (is he trying to get him killed?), Neeson does his usual thing while defying the authorities in a film that's competently directed (by former Clint Eastwood protege Robert Lorenz) and scored (by former "24" vet Sean Callery), but the story is utterly formula and predictable at each turn. A featurette is included in Universal's now-available Blu-Ray combo pack (2.39, 5.1 DTS MA), which also features a DVD and Digital HD copy.
Robin Wright made her directorial debut with LAND (89 mins., PG-13; Universal), a slight film about a woman who retreats to the mountains after a tragedy and needs to be nursed back to stability by a local hunter (Demian Bichir). This is an attractively shot film but seemingly superficial in its storytelling, unable to generate satisfying development of its leading players with a lean, sub-90 minute running time. Wright's film debuts on home video this week from Universal, the Blu-Ray featuring a 1080p (1.66) transfer with 5.1 DTS MA sound, two featurettes and a Digital HD copy.
Also hitting 4K UHD this month is Tim Burton's BIG FISH (125 mins., 2003, PG-13), which remains one of the director's most acclaimed films. John August adapted Daniel Wallace's book for this moving fantasy grounded in reality, with Ewan McGregor, Albert Finney, Billy Crudup and Jessica Lange leading the ensemble cast. Sony's HDR10 enhanced UHD (1.85) includes a (typical for the studio) finely textured transfer with Dolby Atmos audio, a Digital HD copy, and accompanying Blu-Ray carrying its original extras (commentary, featurettes, etc.).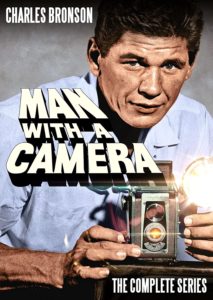 New from MPI is a most welcome slice of vintage TV: the late '50s ABC series MAN WITH A CAMERA (29 episodes), which helped establish Charles Bronson on the scene, with the future international action star playing Mike Kovac – a former WWII combat photographer now working in NYC alongside a police lieutenant (James Flavin) to expose criminals and save the girl – who comes in the form of Angie Dickinson, Yvonne Craig and others. Shot in Hollywood at Desilu Studios, this series has long been a cult favorite and the entire run of the show – some 29 total episodes – has been collected here by MPI in crisp B&W transfers supplied by the UCLA Film & Television Archive. Recommended for both Bronson buffs and TV Golden Age addicts alike.
SHITHOUSE Blu-Ray (101 mins., 2020, R; IFC/MPI): Cooper Raiff wrote, directed and stars in this independent offering as a college freshman who decides to branch out and join a fraternity with a legendary party rep. He connects with a girl (Dylan Gelula), only to have her not remember anything from their night together, in a well-reviewed indie comedy debuting May 18th on Blu-Ray (1.85, 5.1 DTS MA) from MPI and IFC. The disc includes deleted scenes, bloopers, the trailer, and "Madeline & Cooper" short.
---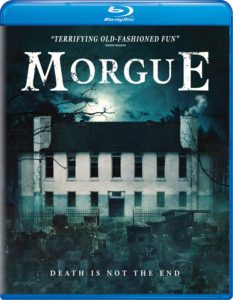 May Horrors!
Andi Matichak stars in SON (98 mins., 2020, Not Rated; RLJE), a thriller from Irish director Ivan Kavanagh about a distraught mother to an eight-year-old boy who's the subject of a failed kidnapping. Shortly thereafter the boy turns ill, leading the mother to question her sanity and whether or not her son is part of some kind of cult worship/assassination/etc. There's a real sense of paranoia in Kavanagh's film and the performances by Matichak and Emile Hirsch are strong, but the picture ultimately leads nowhere fresh or interesting. RLJE's Blu-Ray (2.39) is out May 18th and includes deleted scenes and a featurette.
No more surprising – though at least somewhat more entertaining – is the import MORGUE (81 mins., 2021, Not Rated; Well Go USA) from Paraguayan director Hugo Cardozo. This one follows the familiar plot of a new, night-time security guard who finds out there are dead things running about in his supposedly quiet new line of work. The thrills are overly predictable but at least the film keeps moving, with Well Go USA releasing "Morgue" on Blu-Ray May 11th sporting a 1080p transfer and DTS MA audio, in Spanish/Quarani with English subtitles...Coming May 25th from Well Go USA is DELIVER US FROM EVIL (109 mins., 2020), a Korean import about a former government op turned mercenary who's brought back into the fold in order to save a kidnapped girl. Things turn bloody once a gangster learns of his intentions in an overseas "Man on Fire"-type thriller, new on Blu-Ray on May 25th from Well Go. The disc includes two featurettes, trailers, a fine 1080p transfer and DTS MA Korean audio with English subtitles.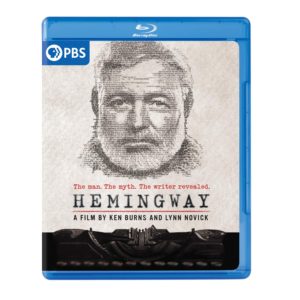 PBS New Releases: A big roster of new titles from PBS Home Video hits retailers this month, starting with a series that captivated my Mom's historical interest: ATLANTIC CROSSING (7 hours, 2021). This elegantly produced historical drama centers around Princess Martha (Sofia Helin) of Norway, who finds refuge in the White House during WWII thanks to the efforts of President Roosevelt (Kyle Maclachlan). Their friendship and her outspoken views on the Nazis who have come to occupy her native country makes for a superb series, presented here on three DVDs by PBS (16:9, 2.0 stereo)…Masterpiece fans may also want to check out the value-priced Masterpiece DVD Triple Feature that includes MRS. WILSON with Ruth Wilson; FLESH AND BLOOD with Imelda Staunton, Francesca Annis and Stephen Rea; and THE CHAPERONE starring Elizabeth McGovern and Haley Lu Richardson. This four-disc set features the complete contents of each previous DVD release — check the Aisle Seat Archives for my individual reviews of said titles.
A trio of new PBS Nature titles are available this month as well: BEYOND THE ELEMENTS (170 mins., 2020) is a three-part continuation of David Pogue's "Hunting the Elements" series, profiling additional investigations into the molecules and chemical reactions that led to the creation of human existence and the universe itself; BIG BEND: THE WILD FRONTIER OF TEXAS 55 mins., 2021) is a lovely travelogue doc, looking at the National Park along the Rio Grande River and detailing its vast ecosystem; and PUMAS: LEGENDS OF THE ICE MOUNTAINS (55 mins., 2021) includes gorgeous photography of Chile's Torres del Paine National Park, where a female Puma is followed as she educates her young cubs in how to survive amongst its vast mountain terrain. All three DVD titles include fine 16:9 transfers and 5.1 (2.0 on "Beyond the Elements") soundtracks.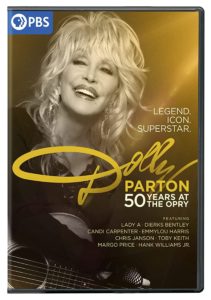 Ken Burns fans should certainly check out his latest documentary endeavor, HEMINGWAY (6 hours, 2021), produced and directed once again with Lynn Novick. This appropriately poetic examination of the author, his life and times utilizes extensive extracts from his texts along with biographical information to weave a personal portrait of the man and his art. PBS' Blu-Ray includes both 5.1 and 2.0 audio along with a detailed and satisfying 1080p transfer (1.85).
Finally, Dolly Parton's music is given a tribute concert in DOLLY PARTON: 50 YEARS AT THE OPRY (75 mins., 2019). This Nashville-taped performance offers Dolly belting out hits like "9 to 5," "I Will Always Love You," "Here You Come Again" and numerous others, with Hank Williams Jr., Dierks Bentley, Margo Price and Lady A among the contemporary artists performing alongside the music legend. PBS' DVD (16:9, 2.0 stereo) is now available.
THE ALIENIST: ANGEL OF DARKNESS DVD (391 mins., 2020; Warner): Follow-up series to the hit adaptation of Caleb Carr's book is again awash in ghastly period murders, with Sara Howard (Dakota Fanning) reuniting with Dr. Laszlo Kreizler (Daniel Bruhl) and John Moore (Luke Evans) in a case revolving around the kidnapped infant daughter of a Spanish consul. Strong production values and performances from the three leads will make this worthwhile for fans of the original, despite the macabre components of its plot. Warner's DVD (1.85, 5.1) is out May 18th sporting several featurettes....Coming May 25th from Warner is INFINITY TRAIN: BOOK TWO (114 mins.)., the Cartoon Network series following Mirror Tulip -- an "escaped reflection" from the mirror world -- and 14-year-old Arizona teen Jesse Cosay. 10 episodes from the series have been collected here in Warner's "Book Two" DVD release, featuring 16:9 transfers and 2.0 stereo sound.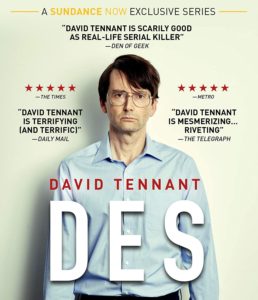 Sundance Now New Releases: David Tennant switches gears, big time, in DES (145 mins., 2020), a compelling ITV tele-film starring the ex-"Dr. Who" as Dennis Nilsen. The infamous "kindly killer," Nilsen was a quiet middle-aged man who, over the course of some 5 years, murdered a total of 15 men on the streets of Soho. Daniel Mays and Jason Watkins co-star in this Lewis Arnold-helmed production that Sundance Now and New Pictures has released here in a single-disc Blu-Ray (1080p, 2.0 DTS MA) that also includes a 10-minute featurette…Sven Nordn and Carrie-Ann Moss star in WISTING: Season 1 (436 mins., 2020), a Norwegian import wherein the title detective (Nordin) teams up with an American FBI agent (Moss) to track down an American serial killer in Norway. This flavorful series takes great advantage of its location filming and comes recommended in the Sundance Now/RLJE DVD, which includes the series' first 10 episodes spread across three discs (16:9) with stereo sound, in Norwegian/English with English subtitles.
The Acorn original FINDING JOY (147 mins., 2020) is back in its second season, new on DVD. Amy Huberman wrote and stars in this series as a Irish woman who, after becoming an internet sensation, here works overtime to cultivate subscribers in her new online video channel. All six episodes from the series' second season are included here along with a generous 36-minute featurette, 16:9 transfers and 5.1 Dolby Digital sound.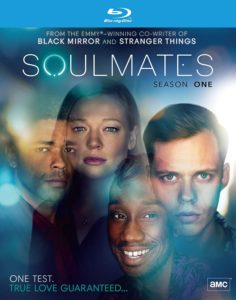 AMC Studios' SOULMATES (aprx. 5 hours, 2020) is set in the near future where a test can determine who your true love is. From there, Will Bridges – vet of "Black Mirror" and "Stranger Things" – spins a six-episode anthology series looking at the ramifications of this scientific breakthrough, with predictably mixed results. RLJE's Blu-Ray includes a 1080p (1.78) transfer with 5.1 DTS MA sound and a featurette.
Film Movement New Releases: Midi Z's NINA WU (103 mins., 2021) provides a showcase for actress Wu Ke-Xi playing the title role: an actress who gets a big break in a high-profile espionage thriller, but eventually starts to crack under the pressure of a movie requiring her to engage in nude and explicit sex scenes. Ke-xi also co-wrote this Hong Kong import, in Mandarin with English subtitles (2.35, 5.1/2.0) and available this month from Film Movement on DVD with behind-the-scenes featurettes…the Dutch import THE COLUMNIST (85 mins., 2020) is also new on DVD this month from Film Movement. Katja Herbers stars in this black comedy as a columnist who becomes obsessed with assorted social media posts, threats and commentary to the degree that she splits into a nighttime killer as a stress reliever, all the while keeping her day job. Film Movement's DVD (2.39, 5.1/2.0) is new this month, in Dutch with English subtitles.
Lionsgate New Releases: It was just a matter of time before the sport of kiteboarding became the focal point for a motion picture, and Andrew Stevens' SEND IT! (101 mins., 2021, R) is just the picture to do it. Kevin Quinn stars as an aspiring kiteboarder who attempts to navigate the rocky road to the sport's world championships, meeting party-hardy goers and the lovely Claudia Lee along the way. Stevens managed to get a cameo from Richard Branson in this agreeable, formulaic and good-looking sports comedy, co-starring Denise Richards, Patrick Fabian and Michael Jai White, which Lionsgate debuts on DVD (16:9, 5.1) this month.
Also new from Lionsgate is VANQUISH (96 mins., 2021, R), a thriller starring Ruby Rose (ex-"Batwoman" star) as a former Russian drug dealer forced to take out a number of vigilantes after her daughter is held hostage by a cop (a very fatigued Morgan Freeman). Director/co-writer George Gallo has done much better work elsewhere (see: "Midnight Run"), but this is (barely) passable as direct-to-vid fodder goes. Lionsgate's Blu-Ray (2:1, 5.1 DTS MA) is now available featuring a Digital HD copy and a commentary from Gallo...Anthony Hopkins provides a supporting role opposite Anson Mount and Abbie Cornish in THE VIRTUOSO (110 mins., 2021, R), a mostly routine -- but watchable -- story of an assassin (Mount) given a new assignment from his mysterious mentor (Hopkins). Among the possible targets he has to take out is a local backwoods sheriff (David Morse) while Cornish is the woman who may have more to do than meets the eye in Nick Stagliano's independent thriller, new on Blu-Ray this month from Lionsgate (2.39, 5.1 DTS MA). The now-available disc includes a commentary from the director and a Digital HD copy.
Finally, Shout! also has lined up a Blu-Ray/DVD combo pack of THE PRINCE'S VOYAGE (77 mins., 2019), a French animated fantasy from directors Jean-Francois Laguionie and Xavier Picard about an old monkey Prince who's found by the 12-year-old son of scientists who were banished from their community by their belief in the existence of other monkey civilizations. This well-reviewed film offers lovely animation (1.78) and comes to Blu-Ray and DVD in a combo pack featuring French audio and English subtitles, interviews and the trailer.
NEXT TIME: Fun City Editions Restores Michael Ritchie's Classic SMILE! Until then, don't forget to drop in on the official Aisle Seat Message Boards and direct any emails to our email address. Cheers everyone!