Cross-country comedy "road trip" movies seem to have a perennial appeal, at least when we talk about the likes of "National Lampoon's Vacation" or "It's a Mad, Mad, Mad, Mad World." Not every one of these films, of course, has enjoyed a lasting success – and in the case of John Schlesinger's 1981 attempt at making a real change of pace film, HONKY TONK FREEWAY (107 mins., PG), this expensive comedy became one of the biggest box-office wipeouts of all-time. Unavailable on domestic home video for nearly 20 years, Kino Lorber has resurrected this infamous, strange pastiche of broad comic stereotypes, shot through the prism of an Oscar-winning British director, in a superb Blu-Ray that makes for a compelling view for any curious movie buff.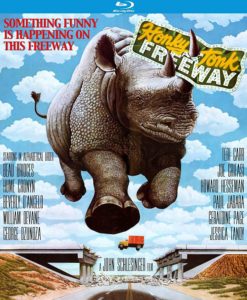 Edward Clinton's original screenplay, apparently, started off as a smaller-scale film about a group of disparate characters conjoining on Ticaw, Florida – a small town with big aspirations whose Mayor decides to take matters into his own hands after they're spurned for an exit off the new highway under construction. By the time the movie reached the screen in 1981, it was an expensive studio piece assembling a diverse cast and with a director, best known for his strident critiques of American culture (be it "Midnight Cowboy" or "Day of the Locust"), seemingly out of his element making a movie that sends up dozens of satirical targets – some more effectively than others.
It is, first and foremost, a look at America's "highway culture" of its era, with an ensemble of different types – a pair of bank robbers (George Dzundza, Joe Grifasi), a couple of nuns (Geraldine Page, Deborah Rush), a dentist and his wife (Howard Hesseman, Teri Garr), an elderly couple (Hume Cronyn, Jessica Tandy), an unhappily married would-be author (Beau Bridges) and a waitress (Beverly D'Angelo) among others – traveling down the interstate, each seeking something a little different in life. Fate ultimately leads them to Ticaw, where Mayor William Devane has had it with regional government, and opts to blow up the highway (an actual Florida highway then under construction) to lead all of these assorted people into his town.
The characters are broadly drawn – to say the least – in "Honky Tonk Freeway," which is somehow just as outlandish as another 1981 "road trip" movie – "Cannonball Run" – yet under Schlesinger's direction, not as slapstick in nature by comparison. This is not necessarily a great thing here, however, since the longer the comic commentary drags on – be it on American consumerism, material excess, what have you – it ends up leaving a feeling less "silly" than it is sour. There's no real effort to ground the material in any kind of reality – even Devane's character is over the top – and because there's no dramatic anchor – and far too many characters in general for a film running under two hours – there isn't anyone for the audience to root for.
That had to have been the principal reason why "Honky Tonk Freeway" failed to find an audience. In fact, the picture's dismal box-office basically signaled the end of EMI's attempts to make a huge dent in the American studio system (they would linger on until 1986 before Thorn EMI called it quits and sold off its film assets to Cannon). This was a high-budget bomb that allegedly suffered from all kinds of behind-the-scenes turbulence – writer Clinton says on his website that there was talk of replacing Schlesinger with Robert Altman, while U.S. distributor Universal apparently lost interest in promoting the movie after they found out EMI had sold off home video rights without their consultation.
The result was a film that quickly died at the box-office and became notoriously hard to find on home video thereafter, something that's here rectified by Kino Lorber's Blu-Ray. The 4K restoration from the original camera negative (1.85), is, undoubtedly, the best the film has ever appeared outside a theater, though the cinematography and overall appearance of the movie seems "flat," as a lot of late '70s/early '80s pictures do. The mono sound is fine, with the movie sporting a strange, song-heavy soundtrack listing George Martin and Elmer Bernstein on the principal music credit, with Steve Dorff receiving a later credit for Additional Music. Kino's disc also includes the trailer and a commentary with producer Don Boyd and frequent KL contributors Daniel Kremer and Nat Segaloff.
It's certainly a strange trip, but can any movie that ends with William Devane on top of a water skiing elephant be completely worthless?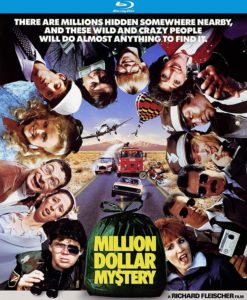 Also new from Kino Lorber this month is a similarly-themed film, this one more directly aping "Mad World": MILLION DOLLAR MYSTERY Blu-Ray (94 mins., 1987, PG), one of the final releases from the DeLaurentiis Entertainment Group that served as both a $1 million sweepstakes and a feature-length promo for Glad trash bags!
This "Mad, Mad, Mad World" variant is actually moderately entertaining in spite of its B-list cast (Rich Hall, Kevin Pollak, Eddie Deezen among them, with a cameo by Glad spokesman Tom Bosley), with Richard Fleischer's competent direction and the widescreen scope stylings of cinematographer Jack Cardiff making this silly, Arizona-lensed lark at least look good. Alas, the movie ends with mystery unsolved, though DEG's fate was no mystery since they needed to pay out the sweepstakes winner — at the same time failing to recoup that same sum at the box-office!
"Million Dollar Mystery" didn't look so hot when Anchor Bay released it on DVD back in 2007 – clearly superior elements were found since then, since Kino Lorber's Blu-Ray includes an attractive, nicely textured 1080p (2.35) transfer, preserving the wide JDC Scope framing. It also uses the movie's early working title ("Money Mania"), while the energetic Ultra Stereo soundtrack is housed in a 2.0 DTS MA mix featuring another, weird DEG "Music Design" credited score – this one to "Tyrell-Manin" (the former being later Grammy winning producer/vintage crooner Steve Tyrell). The trailer and a fresh commentary from Bryan Reesman are also on-hand.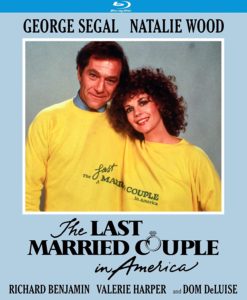 One of my favorite comedies from the late '70s/early '80s is "Serial," a hilarious satire of "The Me Generation" that found its comedic pitch through an outlandish send-up of stereotypes and cultural mores. A movie that similarly tried – but failed – to do the same was THE LAST MARRIED COUPLE IN AMERICA (103 mins., 1980, R), a vehicle for George Segal and Natalie Wood that offered an equal number of notable comedic presences as "Serial" did – here with Richard Benjamin, Valerie Harper, Dom DeLuise, Bob Dishy and Priscilla Barnes co-starring – yet its pedestrian script and direction are no more cultivated than an "all-star" TV movie, albeit one carrying an R rating.
Segal, typically laid back, and Wood – quite wonderful here in her penultimate film performance – play the title couple, who find themselves adrift in a sea of swingers, divorcees and similar folks going through a middle-aged crisis. The actors all establish a comfortable rhythm here, and it's fun to see a parade of familiar faces weaving in and out of the disco-era settings, yet the punchlines are weak and the entire premise of the movie is contrived – Wood and Segal have so much believable chemistry off the bat that you don't believe their issues are a construct of their relationship but rather the script, since we wouldn't have a film without them!
Gilbert Cates' film was not well-received upon its original release and has made scant appearances on home video. Kino Lorber's Blu-Ray (1.85, mono) hails from a perfectly serviceable Universal catalog master and includes the trailer and a new commentary by Lee Gambin. Charles Fox's underscoring utilizes a classical feel that was clearly influenced by the soundtrack of "Breaking Away," though does boast a glossy, Norman Gimbel co-composed ballad that was intended to give Maureen McGovern a Barry Manilow-esque hit.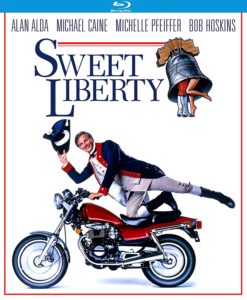 Superior comedy is on-hand in SWEET LIBERTY (106 mins., 1986, PG), one of Alan Alda's best directorial efforts – a genial tale of a small college town besieged by a Hollywood movie crew that's arrived to make a film set during the American Revolution. The picture is based on a non-fiction book by a local professor (Alda), whose frustration over the production's lack of interest in historical accuracy is contrasted with his growing crush on its leading lady (Michelle Pfeiffer).
Alda, who also wrote the film, mixes mirth and merriment with a little dramedy in terms of his character's relationship with a fellow professor (Lise Hilboldt), but Alda's sage send-up of Hollywood and its assorted types produces the most entertainment here. On that end, Alda generates terrific performances from Michael Caine as the movie's Lothario leading man; Bob Hoskins as a well-intentioned screenwriter still primarily focused on career preservation; and Saul Rubinek the glib director from the West Coast. Lillian Gish also generates some laughs as Alda's increasingly scatterbrained mother.
Making its domestic debut here not only in high-definition but widescreen as well (Universal's previous U.S. DVD was 4:3), "Sweet Liberty" receives a satisfying 1080p (1.85) transfer from the Universal vaults. Frank Tidy's Hamptons-based lensing is nicely composed and Bruce Broughton's memorable underscoring marked his first of several collaborations with Alda. The disc is capped by a trailer and a commentary with Daniel Kremer and Nat Segaloff.
TANK Blu-Ray (113 mins., 1984, PG): Extremely odd 1984 film uneasily meshes what might have been a '60s/'70s James Garner "family comedy" with the more PG-level sensibilities of an '80s youth picture. The result is something that doesn't quite satisfy on either level, with Garner's veteran military man having to literally take on a small town and its nutcase sheriff (G.D. Spradlin) after he jails his son (C. Thomas Howell). At one point in time, "Tank" may have been just an innocuous Saturday matinee time-killer for Garner, but here, the Dan Gordon script throws in prostitutes, rednecks, broad stereotypes and leering adult-level humor that seems out of place with director Marvin J. Chomsky's overall sensibilities. Kino Lorber's Blu-Ray (1.85, DTS MA mono) looks to be from an older yet still perfectly acceptable Universal master and boasts a new commentary from Bryan Reesman, several radio spots, and the trailer.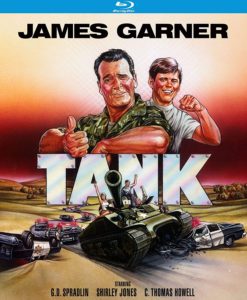 THE HOT SPOT Blu-Ray (131 mins., 1990, R): Regrettably disappointing noir stars Don Johnson as a drifter who gets wrapped up with two women (Virginia Madsen and an especially sultry Jennifer Connelly) in a dusty Texas town during the '50s. Dennis Hopper directed this Orion Pictures production that received scant distribution for, regrettably, good reason: with a bloated two-hour plus running time and meandering direction from Hopper, "The Hot Spot" lamentably isn't a whole lot of fun. Its primary appeal to film buffs (or, at least, some of us high schoolers back in the day) was seeing the nubile Connelly and Madsen together in a topless shot – beyond that, it's a grimy, depressing picture without much appeal and a serious lack of editorial rhythm. Most of this movie lumbers on like a formless "Director's Cut," with the potential tension ratcheted back as a result.
Kino Lorber's Blu-Ray is, at least, a marked improvement on the previous HD release of this title from Shout Factory. The new 2K transfer (1.85) is an appreciable enhancement over that release with less noise, better detail, and richer, more saturated colors. The sound is also kicked up a notch: the 5.1 DTS MA mix is a bit bassier than the 2.0 DTS MA stereo track, but both have more life than the previous release. Extras include two "remotely conducted" interviews with Virginia Madsen and co-star William Sadler, who briefly discuss working with Hopper on the film, along with the trailer and a new commentary from Bryan Reesman.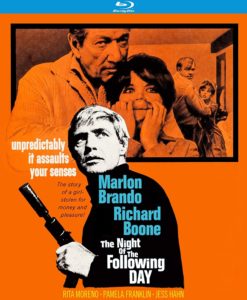 COOL AS ICE Blu-Ray (91 mins., 1991, PG): Vanilla Ice's one and only starring vehicle tries to fashion a big-screen drama for the rapper, playing a musician who tries and rock a small town out of its "old fashionedness." Kristin Minster is the female lead in this absurd, campy (I think?) Universal release co-starring Michael Gross and Candy Clark, which has developed a cult following of sorts over the years. It was also one of the earliest credits for Janusz Kaminski, who shortly thereafter became Steven Spielberg's DP of choice. Kino Lorber's Blu-Ray (1.85, 2.0 DTS MA stereo) looks fine and sports the trailer and a new commentary from Alexandra Heller-Nicholas and Josh Nelson. If you're part of the crowd that may find this B (as in Bad) effort amusing, the disc comes recommended.
THE NIGHT OF THE FOLLOWING DAY Blu-Ray (93 mins., 1969, R): Regarded by some cinephiles as the start of (or arguably the nadir itself in) a legit downward cycle for star Marlon Brando, this strange film about the kidnapped daughter (Pamela Franklin) of a millionaire and her relationship with "the Chauffeur" (Marlon Brando), his addict sister (Rita Moreno) and the thug (Richard Boone) behind the plan makes for a disappointingly obtuse, late '60s exercise in self-indulgent star cinema. Hubert Cornfield wrote and directed the picture but had difficulty working with Brando in a European-lensed movie that's heavy on mood but never satisfies – right down to a dismal, cliched "was it all a dream?" ending. Maybe worth a viewing for Brando fans just the same, Kino Lorber's Blu-Ray (1.85, DTS MA mono) is enriched by one of Tim Lucas' typically enlightening commentaries, discussing both the strengths and weaknesses of the picture. There's also an older commentary from Cornfield, the trailer, and a "Trailers From Hell" segment featuring Joe Dante.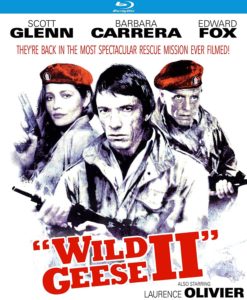 '80s Action: A belated follow-up to the '70s international action hit, WILD GEESE II (125 mins., 1985, R) wasn't nearly as much of a success as it offered a new, decidedly less attractive cast of Scott Glenn, Barbara Carrera and Edward Fox (David Niven's "Force 10 From Navarone" replacement, here filling in for Richard Burton, who died before filming began) as mercenaries hired to spring a Nazi commandant (Laurence Olivier) out of a Berlin prison by an American media outlet hoping to land an interview. Though based on a book by the same author who authored the original "Wild Geese," this doesn't really come off as a sequel, yet the last third of Bond vet Peter Hunt's movie is reasonably effective, and the Berlin setting from the early/mid '80s does provide the picture with some peripheral interest. Kino Lorber's Blu-Ray (1.85) of this '80s Thorn EMI home video staple (it was barely released to U.S. theaters) hails from an attractive new 2K master with extras including commentary by Steve Mitchell and Howard S. Berger; an online interview with Carrera; and the trailer.
Record executives Tony and Ben Scotti notched a number of hits at their Scotti Bros. label throughout the '70s and '80s – notably a number with the group Survivor. Among those was the "Rocky III" soundtrack smash EYE OF THE TIGER (92 mins., 1986, R) which a few years later became the title of a distressingly generic action flick starring Gary Busey. There doesn't seem to be much reason why Richard Sarafian's film – tellingly co-produced by the home video label IVE – had to be named after the song, except it was the era in which every other Touchstone Pictures release was titled after a hit Motown single, so perhaps it made sense to capitalize on the chart-topping success of the tune. Either way, the movie is a by-the-numbers "Death Wish" clone, with ex-con Busey trying to go straight after getting out of prison, only to run afoul of a motorcycle gang that kills his wife and sends his little daughter to the hospital. Yaphet Kotto co-stars and the last 10 minutes are reasonably fun, but the rest of Michael Montgomery's script is all too predictable and – worse – dull. Kino Lorber and Scorpion Releasing's Blu-Ray includes a new HD master from a 2K interpositive scan (1.85) with DTS MA 2.0 sound and the trailer.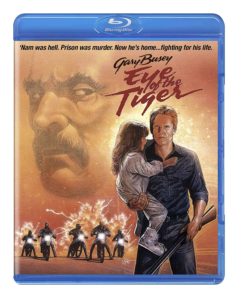 Scorpion Releasing and Kino Lorber also debut a pair of very, very different cult pictures on Blu-Ray this month.
Rankin-Bass' theatrical output included the fan-favorite "Mad Monster Party" along with another title for producer Joseph E. Levine that preceded it: THE DAYDREAMER (99 mins., 1966), a mix of live-action and animation that relays the adventures of a young Hans Christian ("Chris") Andersen (Paul O'Keefe). Self-contained vignettes bring Rankin-Bass' Animagic stop-motion work to the fore, with "The Little Mermaid" (Hayley Mills) and "The Emperor's New Clothes" anchoring a movie that's pleasant enough and certainly fun for Rankin-Bass fans – though the bloated running time and mostly formulaic script is likely to make this a test of a child's patience, unlike the best work of the prolific animation duo. This HD debut of the film looks fine in a 1.33 AVC encoded transfer with trailers and a new commentary from Rankin/Bass authority Rick Goldschmidt and Lee Gambin on the supplemental side.
Scorpion's release of the 1989 French black comic thriller BAXTER (84 mins., R) is something else altogether: a strange, surreal tale of a bull terrier hopping from owner to owner and eventually a troubled young boy with a passing interest in Hitler's youth. Throughout, the dog reveals his thoughts in a disturbing film that earned international praise upon its release in 1989, and arrives on Blu-Ray May 18th from Kino Lorber and Scorpion. The disc includes another Studio Canal-licensed transfer (1.66) with English subtitles and a commentary from filmmaker Mark Savage.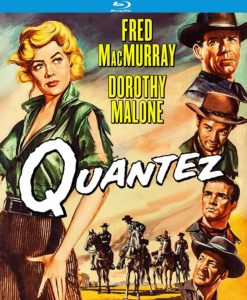 Western Round-Up: Brothers Robert Ryan and Rock Hudson find themselves at opposite ends of the law in the post-Civil War set Universal western HORIZONS WEST (81 mins., 1952), one of Budd Boetticher's many genre exercises shot in Technicolor for the studio. This one offers a standard plot that doesn't lead to the most excitement for genre buffs, yet the cast is certainly sturdy, with Julia Adams, Raymond Burr, James Arness and Dennis Weaver providing a capable backing to the conventional drama on-hand. Universal's Blu-Ray (1.37) is attractively conveyed with the trailer and a commentary from Toby Roan…More exciting is QUANTEZ (81 mins., 1957), an intriguing story of robbers who, while attempting to flee across the Mexican border, instead end up in the dusty, alienated frontier title town, where they have to battle Indians and one another. Fred McMurray and Dorothy Malone lead this Cinemascope-lensed western, which offers an interesting range of characters once the robbers' allegiances begin to crumble. The 2.35 Universal master offers nice detail and another commentary from historian Toby Roan is also on-tap.
THE REASON I JUMP Blu-Ray (82 mins., 2020, Not Rated): Naoki Higashida's book, written when he was 13, profiles five young, nonspeaking autistic people and attempts to bring readers – and now, thanks to Jerry Rothwell's film, viewers – an appreciation and understanding of the sensory universe they live in. Kino Lorber's Blu-Ray includes a 1080p (2.35) transfer, a superbly engineered Dolby Atmos soundtrack (plus 5.1 and 2.0 options), and a Q&A with the director.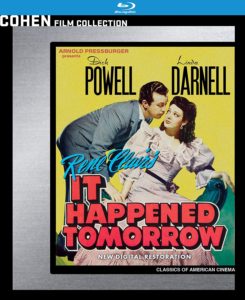 Cohen New Releases:Two new Cohen Film Collection titles offer full Blu-Ray restorations of B&W cult flicks, all newly remastered. Film Noir fans should be excited by the Double Feature pairing of CAST A DARK SHADOW (83 mins., 1955), Lewis Gilbert's tale of a woman (Kay Walsh), whose sister has recently died, trying stop a con man (Dirk Bogarde) from preying on other unsuspecting victims; with WANTED FOR MURDER (102 mins., 1946), which offers Dulcie Grey as a record store clerk who wonders whether gentlemanly Eric Portman is a killer. Both B&W British features have been restored here (in 1.66 and 1.33, respectively) in the Cohen Blu-Ray package…Newly available this month is the acclaimed Rene Clair comedy IT HAPPENED TOMORROW (85 mins., 1944), a delightful picture starring Dick Powell as a reporter who gains the ability to forsee tomorrow's headlines in advance – with the help of a mysterious old man. Linda Darnell co-stars, with this highly enjoyable B&W comedy preserved here in a new 4K scan (1.33) also featuring the trailer.
NEXT TIME: THE FINAL COUNTDOWN from Blue Underground and Fun City Editions Restores Michael Ritchie's Classic SMILE! Until then, don't forget to drop in on the official Aisle Seat Message Boards and direct any emails to our email address. Cheers everyone!