Message Board (open 24 hours!)
Twitter - @andredursin (for everything else!)
Blue Underground is off to a robust start in the 4K UHD format, and this month debuts a spectacular new Dolby Vision presentation of THE FINAL COUNTDOWN (102 mins., 1980, PG). Kirk Douglas produced and starred in the 1980 time travel adventure as the captain of the U.S.S. Nimitz, an aircraft carrier that finds itself inexplicably caught up in a vortex that sends it, and its crew, back to 1941…just hours before the Japanese attack on Pearl Harbor.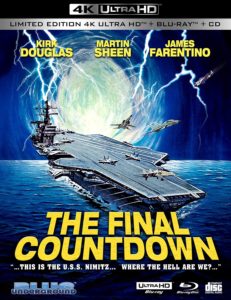 Though the workmanlike script credited to four different writers tends to fumble some of the dramatic opportunities the scenario affords, director Don Taylor's movie is efficient and entertaining enough. Martin Sheen co-stars as a Defense Department worker, James Farentino is one of the Nimitz's commanders, Charles Durning a senator in the FDR administration and Katharine Ross his assistant in a plot that finds the latter duo coming into contact with Douglas' crew while Kirk and co. determine if they can change the course of history by attacking the Japanese instead of standing idly by on December 7th, 1941.
Produced with full cooperation from the U.S. Navy, "The Final Countdown" is a low-key sci-fi tale marked by good performances and appropriate visual flourish from cinematographer Victor J. Kemper and Bond veteran Maurice Binder, who quite obviously contributed a good amount to the picture's visual effects. It might play out like a standard "Twilight Zone" episode, but thanks to the visuals and John Scott's rousing score – one of his best – it's a recommended view for sci-fi/fantasy fans.
Blue Underground's Blu-Ray of "The Final Countdown" was marvelous back in 2008, and this new 4K UHD package with Dolby Vision HDR is simply outstanding. Colors leap off the screen while the increased dynamic range is marvelously articulated with a high level of detail and HVEC encoding as robust as any you'll find on a physical disc. This Bryna Company production, which UA theatrically released, once appeared downright anemic in prior pan-and-scan transfers, which every U.S. video release was saddled with throughout the '80s and '90s, but this is another leap forward, past even Blue Underground's prior 1080p edition -- in fact I'd rank it as one of the finest catalog releases on 4K UHD altogether.
The sound options, meanwhile, include a new Dolby Atmos mix for those with overhead speaker capabilities. Everyone else, though, may want to stick with the terrific 5.1 DTS MA mix instead, which seems to have clearer, more precise surround activity (ditto for the original 2.0 DTS MA Dolby Stereo track, also included here). Extras are reprieved from the Blu-Ray – commentary with cinematographer Victor Kemper, an interview with associate producer Lloyd Kaufman, conversations with the Jolly Rogers F-14 Fighter Squadron, trailers and TV spots – with the addition of the most recent soundtrack CD and booklet notes reprinting an archival, promotional U.S. Navy article on the movie from 1979.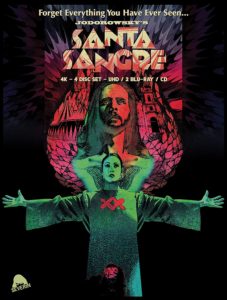 Severin Films, meanwhile, is back with another deluxe 4K UHD release, this time of Alejandro Jodorowsky's acclaimed SANTA SANGRE (122 mins., 1989), the (putting it mildly) surreal, bizarre, eclectic, horrifying and eventually redemeptive film from the director that earned critical kudos worldwide upon its original release in 1989. Best recommended for the director's devotees, the movie eschews conventional narrative for a dream-like/nightmarish succession of images that are captivatingly rendered here in a 4K UHD combo package that presents the most definitive release yet of the picture.
The four-disc set includes a presentation on both 4K UHD as well as Blu-Ray with commentary featuring Jodorowsky and journalist Alan Jones; a featurette with the director detailing the restoration; deleted scenes with optional commentary; and the trailer. The 4K UHD really shines here with a native presentation and a full run of audio options (5.1, 2.0 stereo in English; Spanish or Italian 2.0 mono sound) to boot.
In addition to a copy of the original soundtrack, the set includes a full disc of supplements. Included therein is the feature-length documentary "The World of Santa Sangre" and interviews with producer Claudio Argento, cinematographer Daniele Nannuzzi, executive producer Angelo Iacono, editor Mauro Bonanni, and screenwriter Roberto Leoni. There's also a 30th Anniversary celebration segment recorded in Mexico City; a documentary on the real-life killer who served as the inspiration for the film's story; a 2003 Jodorowsky interview; Jodorowsky in a Q&A; Adan Jodorowsky's short "Echek"; composer Simon Boswell's short "Blink Jodorowsky" plus a music video and interview between Boswell and the director.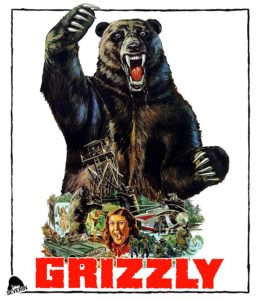 Severin has also released new Blu-Ray editions of director William Gridler's "Nature Run Amok", post-"Jaws" thrillers GRIZZLY (91 mins., 1976, PG) and DAY OF THE ANIMALS (98 mins., 1977, PG).
Both films were previously released years back on Scorpion Blu-Rays and these new releases feature what appear to be identical transfers (2.35, mono audio) from what I can discern compared to their most recent BD incarnations – well-framed scope presentations that seem a little soft and hazy here and there, something that may be a result of how they were originally shot.
Extras include some new (and archival) goodies that may make both releases worthwhile for fans. These include, on "Grizzly," a Stephen Thrower featurette and commentary from Nathaniel Thompson and Troy Howarth; an audio interview with Gridler's business associate and friend J. Patrick Kelly III; interviews with actor Tom Arcuagi, producer David Sheldon and actress Joan McCall; a vintage Making Of; archival featurette; radio spots and trailers. For "Day of the Animals," Severin has included another new Stephen Thrower interview plus a commentary from Lee Gambin, as well as an older commentary featuring star Lynda Day George and moderator Scott Spiegel; interviews with stars Andrew Stevens, Bobby Porter, George, and animal wrangler Monty Cox. There's also a vintage Making Of and a full run of trailers/TV and radio spots.
I find both of these Edward L. Montoro productions to be slow going and only intermittently entertaining for some unintended laughs – you can find better "Jaws" rehashes elsewhere – but '70s cult movie buffs should still find sufficient amusement here in Severin's new discs.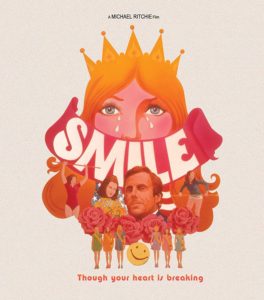 New From Fun City Editions
A title that surprisingly never joined the Criterion Collection or saw a previous release in high-definition, Michael Ritchie's beauty pageant satire SMILE (113 mins., 1975, PG) has taken a curiously prolonged amount of time to arrive in high-definition. Thankfully, Fun City Editions has treated the film with care in their much-anticipated Blu-Ray, making it one more terrific addition to their growing library of cult favorites.
The picture was heavily acclaimed at the time of its release, yet unlike the comparatively more strident '70s satires of Robert Altman, hasn't ever been in as much circulation on home video. In fact, this UA release was last seen in a 2004 MGM DVD and is unavailable even to stream – which is unfortunate, since Ritchie's look at a "Young American Miss" pageant in Southern California, its assorted participants (which include a young Melanie Griffith, Annette O'Toole, and Colleen Camp), judges and overseers (Bruce Dern, Barbara Feldon, Geoffrey Lewis and Michael Kidd among them) is not just funny in a way that presages "The Office" and other pseudo-documentaries, but the film carries an actual sympathy for its leading players that makes it endlessly repeatable.
Jerry Belson's script mostly avoids the crass stereotypes seen in later riffs on this material or a more obvious roster of odd Altman-esque characters – instead, he and Ritchie find a comfortable comedic grilling in the absurdity of mid '70s commercialism and small-town life, sometimes in a subtle manner with pitch-perfect performances (Nicholas Pryor is particularly terrific as Feldon's harried husband), and all of it's captured by the great cinematographer Conrad Hall in a naturalistic visual way. In the end, there's some sarcasm and silliness, of course, but the sensitivity of Ritchie's direction results in a movie that carries a credible portrayal of time and place, as well as a sympathetic understanding of its characters.
A terrific companion piece to Ritchie's "The Bad News Bears" which followed the following year (coincidentally just released on Blu-Ray as well), "Smile" has been called one of the more unheralded films of the 1970s even though it was repeatedly praised upon original release, then again by the likes of Siskel & Ebert, Leonard Maltin and other critics throughout the 1980s – particularly when the film was first issued on home video later on in the decade.
Fun City Editions' Blu-Ray includes a fresh, new 2K restoration (1.85) from the movie's 35mm interpositive. As with all of FCE's discs, the image offers high detail with extras including a welcome, half-hour interview with Bruce Dern recalling the shoot and lamenting how Hollywood no longer makes movies about "us" anymore; the trailer; image gallery; a new audio commentary with Pat and Jim Healy; and an appreciation from the late Mike McPadden.
---