The summer of '85 was a good time to be growing up and going to the movies. "Back to the Future" and "Cocoon" were two of the season's biggest genre hits, and are just a couple of the many films from that year that are still entertaining viewers decades later (not to mention "Lifeforce," of course!). Not every film released that summer was a hit, though, as the summer of '85 had its share of box-office disappointments – one of them was Joe Dante's EXPLORERS (106 mins., PG; Paramount), which was the genre auteur's highly awaited follow-up tpo his smash hit "Gremlins" from the preceding year.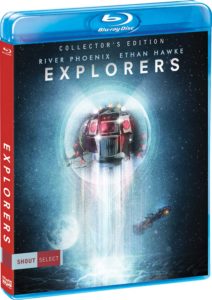 With lofty expectations, a relatively large budget, and the concept of a Spielberg-like youth space fantasy, "Explorers" had been pegged as one of the top prospects for the summer of '85. When the movie arrived in theaters in mid July, though, "Explorers" became a quick casualty of mixed reviews and indifferent box-office response, turning into one of the year's costlier flops. It's a shame as well, because for all of the movie's faults (and I'll get to those in a moment), this is an optimistic and entertaining film that begins extremely well and offers one of Jerry Goldsmith's most unabashedly lyrical and memorable scores from an especially prolific time for the composer.
Eric Luke's script follows three pre-teens — dreamer Ethan Hawke, scientist River Phoenix, and outsider Jason Presson — as they build a spaceship in their backyard. Their mission: to meet up with an extraterrestrial presence that's been sending thoughts to Hawke, who's also in love with his cute classmate (the late Amanda Peterson, who would later star in the '80s teen movie classic "Can't Buy Me Love").
The first half of "Explorers" is magical and moving, perfectly capturing the innocent period of each character's adolescence. The three leads are amiable and well-established in the script, with Dante bringing the same mix of youthful exuberance and fantasy that marked "Gremlins."
At about the hour mark, though, the movie completely falls apart. Once the kids actually launch into the outer reaches of our atmosphere, "Explorers" hits the ground with a thud, with loud, noisy, Earth-culture-loving extraterrestrials comprising a lengthy joke that's neither funny nor well-staged. What's worse, the said scenes feel like they'll never end — a criticism that was almost universally noted in most reviews at the time of its release. As many movies as I've seen, there are few films that start as well as "Explorers" and end as badly as this one. (On the plus side, if you've seen the movie more than once, it's easier to accept its deadly final act knowing the disappointment that's to come).
Dante tried re-cutting "Explorers" after its theatrical release — editing out two sequences (totaling about three minutes) and slightly re-working the last scene — but his attention ought to have been turned towards at least trimming the final third, in lieu of re-shooting it altogether. Alas, there just wasn't enough money and time – with a mandated Summer '85 release date – for fixes that truly might've helped.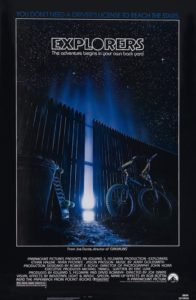 "Explorers" has taken the long road to a Blu-Ray release but has at last come home in a dynamite two-disc Shout! Factory special edition. Both the movie's Theatrical Cut and slightly shorter Home Video Version are presented here in older but acceptable 1080p (1.85) AVC encoded transfers. Note that the Theatrical Version isn't a "lost" edit, since viewers who experienced the film on TV or streaming will have seen this version as opposed to the Home Video cut (which was exclusive to Paramount's VHS/DVD editions). Goldsmith's score, meanwhile, truly sings in the 5.1 DTS MA stereo track available on both versions (a 2.0 stereo mix is also included). As I wrote earlier, this is one of the maestro's many wonderful scores from the early-mid '80s, with an enthusiastic spirit and memorable, exuberant main theme making for one of my all-time favorite Goldsmith works.
Shout's special features really shine here, highlighted by "A Science Fiction Fairy Tale," an hour-plus long documentary that's well-paced and compelling at every turn. Clearly, as the interviewees – from Dante to Paramount's David Kirkpatrick, writer Eric Luke and Ethan Hawke among others – attest, this wasn't a case where the audience "just didn't get it" — there's a real sense of "we screwed this up" on the part of the filmmakers and studio, at least where the film's third act is concerned.
Dante blames himself for how the film turned out – unsurprisingly so. He was technically a "director for hire" on the project but inherited a 3rd act that was already discarded when he came on-board, that needed reshaping from the get-go. That Dante couldn't do it because he ran out of time and had no chance to truly fix it – one feels a palpable sense of anguish from the director in this new doc, right down to him contemplating quitting the film and letting someone else complete it.
One also gets the sense that the Paramount executives were also short-sighted to go into production knowing the final act was a mess while David Kirkpatrick, who was running things at Paramount under Barry Diller, admits he was "intimidated" by Dante coming off his "Gremlins" success. The inference is that the studio should've been more mindful as to what was being shot, as Dante and make-up/FX designer Rob Bottin were apparently allowed to do as they pleased with the ending. When it didn't work, the film was left "unfinished" as Dante calls it, needing a major overhaul and reshooting it never had the opportunity to undertake since the release date was locked in (and a subsequent regime change at Paramount didn't help matters).
Naturally there's plenty of blame to go around, but the bottom line is that all seem to feel there should've been a way to get the movie's message across in a manner that didn't annoy and disappoint nearly everyone who watched it.
Ernest Cline ("Ready Player One" author) is also on-hand to discuss his fondness for the film and Jerry's score – which Dante says came the closest to "saving" the film out of every soundtrack he composed – while Hawke has many fond memories of working on the film and with River Phoenix (there's no sign of the "private" Jason Presson here, who apparently was reserved even while filming took place).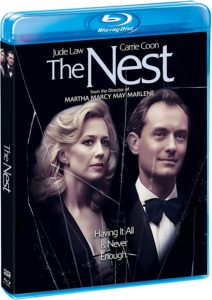 The disc also includes brief interviews with cinematographer John Hora and editor Tina Hirsch, plus the dismal theatrical trailer (which already summed up the movie's flaws) and, for the first time ever, over 30 minutes of deleted scenes. Found in a workprint version Dante still has on Beta tape, these will prove to be enormously interesting for fans, as they offer a number of character sequences – some involving Mary Kay Place as Hawke's mother – that could've helped to further flesh out the story (and are presented with or without Dante's commentary).
If the finale had lived up to its start, "Explorers" could have been a bona-fide '80s sensation, but even with its drawbacks, it's a well-intentioned and occasionally touching fantasy that's very much worth a return viewing trip in Shout's now-available Blu-Ray.
Also new this month from Shout is THE NEST (107 mins., 2020, R), the follow-up to "Martha Marcy May Marlene" from director Sean Durkin. This similarly unsettling character-driven piece stars Jude Law as an entrepreneur who convinces his American wife (Carrie Coon) to move to England along with their kids, while he rejoins the business firm he once worked for. Problems, of course, ensue in this atmospheric effort on Blu-Ray (1.85, 5.1/2.0 DTS MA) this week from Shout. The IFC Films presentation includes a featurette and the trailer.