There is something so profoundly creepy about watching WHAT'S SO BAD ABOUT FEELING GOOD? (94 mins., 1968) – so much that our current predicament of COVID-era masking policies and general public health measures had to have been one reason why this long-forgotten 1968 Universal comedy with George Peppard and Mary Tyler Moore was dusted off specially for Blu-Ray this month from Kino Lorber. In this George Seaton-directed farce, an epidemic hops off a boat, passed on by a toucan that rages through late '60s New York City, requiring the use of masks made readily available by a government that freely hands the cloth coverings out to one and all – except here, it's not COVID, but rather a virus that causes those who get "sick" to free themselves and become uninhibited and blissful.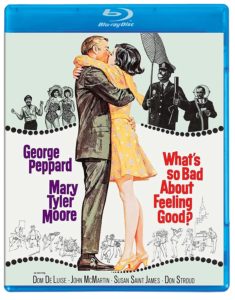 It's a situation the mayor's office can't handle, since sales tax begins to plummet – much to the chagrin of previously unhappy Big Apple beatniks Peppard and Moore, who lose their drab counter-culture personas and quickly embrace their newfound good spirits. In fact, they decide to intentionally spread the virus around, infecting masks so the rest of the NYC can be as joyfully happy as they are. Can the good vibes be stopped? Is there any reason – with the movie's sunny location shooting and sprightly DeVol soundtrack – why you'd want them to?
All of this, naturally, lends an enormous contemporary component to what was previously just a poorly-reviewed and commercially unsuccessful picture that's been seldom revisited since its original theatrical run. The "new wave" comedy hyjinks Seaton was looking for here don't result in a lot of genuine laughs, but the widescreen views of the city combined with a weird mix of old-school comedy and "mod" era tonal shifts makes it consistently interesting – be it in Seaton's occasionally goofy comedy, Dom DeLuise as a would-be late '60s Fauci, and Moore attempting to break free of her small-screen image by essaying a counter-culture type who fakes a pregnancy at one point.
I don't recall ever running into this movie over the years, but Kino Lorber's 2K master (2.35) looks great, filled with top detail and clarity. The obviously "To Kill a Mockingbird"-inspired theme for the toucan aside, DeVol's soundtrack wouldn't be out of place in a "Brady Bunch" episode, while a pair of trailers and commentary from the reliable duo of Nathaniel Thompson and Howard S. Berger attempt to make sense of the film given our current circumstances. It's certainly interesting!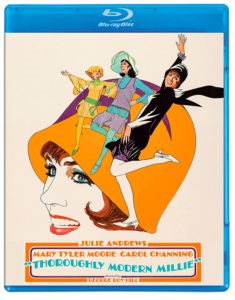 Moore took a major lead role the year prior, opposite Julie Andrews, in the expensive '20s period piece THOROUGHLY MODERN MILLIE (152 mins., 1967, G). The George Roy Hill comedy was an original cinematic concoction for Andrews, essaying a small town girl who heads out to the big city and meets the more naive Moore. There, they fall for suitors including James Fox and John Gavin, and get wrapped up in a human trafficking ring spearheaded by their ersatz-Chinese landlord (Beatrice Lillie).
A box-office hit that boasted Carol Channing in a key supporting role, songs from its era plus original contributions by Jimmy Van Heusen and Sammy Cahn, and production numbers staged by Joe Layton, "Millie" arrived at a pivotal time for the screen musical. Though Richard Morris's script is slapsticky and silly – as many '60s period comedies tended to be – there's less a reliance on the music here, as several songs are "thought" instead of "sung." The net effect is a clear attempt to bring a more modern/serious "edge" to the material, but the reality is the film could've used more splash, more splendor, and more music in general – components which the later Broadway adaptation brought to the table. It's fun in fits and starts, but is best recommended for Andrews devotees.
Kino Lorber's Blu-Ray offers a splendid new 4K restoration (1.85) of the movie's original Roadshow edition, preserving its original Overture and Intermission music. The 2.0 DTS MA stereo sound robustly captures the song arrangements of Andre Previn and original score from Elmer Bernstein, who copped his sole Oscar for his efforts on the picture. Extras include the trailer and a new commentary from Lee Gambin and Ian McAnally.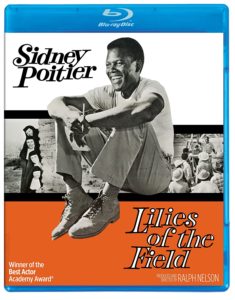 One of the most flavorful releases of the early '60s, LILIES OF THE FIELD (94 mins., 1963) is producer-director Ralph Nelson's atmospheric film that follows handyman Homer Smith (an Oscar winning performance from Sidney Poitier) after he breaks down in the Arizona desert, where he subsequently meets a group of European nuns trying to build a chapel and work the land to grow their own food. Smith then aids the immigrant nuns, whose hard work and determination has risen out of the harsh times of WWII, in a movie that's touching but also marked by a lack of standard Hollywood cliches.
Though dated in some respects, "Lilies of the Field" employed more of a realistic component in its cinematic approach to the material – scripted by James Poe from William E. Barrett's novel – than most of its contemporaries, an attribute that serves it well when viewed today. Meanwhile, Poitier's Best Actor Oscar win for "Lilies of the Field" was a first for an African-American and broke ground on a number of levels. He's warm and winning here in one of his career-defining highlights, in a movie that remains an inspirational and moving picture that's warmly recommended.
Out of print after being issued in a 2016 Twilight Time release, "Lilies of the Field" makes a welcome return to Blu-Ray here, the disc sporting what appears to be the same 1080p (1.66) transfer with mono sound – the latter highlighting a superb Jerry Goldsmith score. The trailer and a new commentary from Sergio Mims rounds out the disc.
Commentaries are a key reason to revisit COOGAN'S BLUFF (93 mins., 1968, R), the entertaining Clint Eastwood cop thriller that partnered him with director Don Siegel for the first time. The movie – with Eastwood's "fish out of water" Arizona cop hitting the Big Apple to extradite a murderer, only to have him escape – has been long been a viewer favorite and, as such, has always been in circulation on home video. Kino Lorber's Blu-Ray (1.85, DTS MA mono) looks a tad sharper than Universal's previous format release, but it's the extras that fans should find especially rewarding this time around.
These include two brand new commentaries: one from Alex Cox, who has already proven to be a reliable commentator across several Eastwood releases from Kino, and another from Alan Spencer, the "Sledge Hammer!" creator who's already recorded two of my favorite commentaries in recent years (for "The Nude Bomb" and Marty Feldman's "Last Remake of Beau Geste"). Spencer has a wealth of trivia and insights which make for a terrific listen, while Kino Lorber rounds out the release with a Don Stroud interview and a full run of promotional materials (trailers, image galleries, etc.)
Wilder Corner: Billy Wilder's THE FORTUNE COOKIE (126 mins., 1966) is a biting comedy that marked the first collaboration between stars Jack Lemmon and Walter Matthau. Even in their inaugural outing, the duo's chemistry is undeniable, with Lemmon playing a CBS cameraman hobbled while working a football game, and Matthau his scheming brother-in-law, who sees the potential in Lemmon's situation to perpetuate insurance fraud. He does try, hilariously, via a Wilder-I.A.L. Diamond script that lingers on a little longer than it should have. Featuring one of Wilder's most effective uses of the wide Panavision frame, "The Fortune Cookie" is a somewhat dated piece but is still worthwhile on Blu-Ray, where Kino Lorber's disc (2.35 B&W) brings the movie back in circulation after Twilight Time's sold-out release. The DTS MA mono soundtrack featuring Andre Previn's efforts is fine, and extras include a commentary from historian Joseph McBride, a "Trailers From Hell" segment and the actual trailer.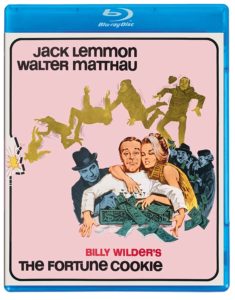 Two vintage films also bearing Wilder's involvement have premiered from Kino Lorber this month: comedy, romance, and high drama intertwine in the 1940 Paramount release ARISE, MY LOVE (110 mins., 1940), set in the early days of WWII wherein an intrepid reporter (Claudette Colbert) saves an American pilot (Ray Mlland) from Spanish fascists after she pretends to be his wife. Their subsequent relationship plays out with some commentary over America's then-isolationism in a script written by Wilder, Charles Brackett and Jacques Thery. Mitchell Leisen directed, with Kino Lorber's Blu-Ray (1.37 B&W) including the trailer, commentary from Kat Ellinger, and a DTS MA mono soundtrack sporting a score by Victor Young…A project that wouldn't seem to be up Wilder's ally was THE EMPEROR WALTZ (106 mins., 1948), a "schmaltzy" color musical starring Bing Crosby as an American record salesman trying to work his magic in a pre-WWI Austria. This Universal production offers all the trappings of a slick Hollywood musical, complete with Victor Young score and costumes by Edith Head, but there's a reason most have never heard of this mostly-forgotten genre exercise, which most Wilder critics rank as his weakest directorial outing. Author Joseph McBride puts the film into proper context in his commentary, while Kino Lorber's Blu-Ray (1.37) boasts a perfectly adequate 1080p Universal-licensed transfer.
Big Stars, Mixed Results: Dick Van Dyke generally sputtered with his big-screen vehicles during the '60s, though the Delbert Mann-helmed caper comedy FITZWILLY (102 mins., 1967) is genial enough. In a movie tailored to his talents, Van Dyke plays a butler/thief who decides to help out his struggling philanthropist boss (Edith Evans) by committing a series of crimes along with his fellow staff – much to the suspicion of Evans' new secretary played by Barbara "Get Smart" Feldon. It's very much of its time but the widescreen lensing and "Johnny" Williams score add a touch of class to this UA release, with Kino Lorber premiering the film on Blu-Ray with a solid 1080p (2.35) transfer, mono sound, the trailer, and a commentary from historians Michael Schlesinger and Stan Taffel.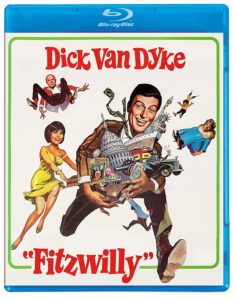 One of the more infamous '70s big-star, big-studio flops was MOMENT BY MOMENT (105 mins., 1978, R), John Travolta's follow-up vehicle to "Saturday Night Fever." This much-hyped and then heavily-derided film offers Lily Tomlin as a tightly-wound Southern California woman, estranged from her husband, who's surprised by the infatuation displayed to her by a young man (Travolta) who parked cars at her party months before. They initially "culture clash" before falling for one another – but Jane Wagner, who wrote and directed the film, fails to get a convincing performance here from her long-time partner Tomlin, who seems so stiff and mannered that it's impossible to believe their relationship. Wagner's own, contrived dialogue doesn't help either, as neither character is appealing – leaving Travolta to smile and show off his good looks at the apex of his big-screen appeal.
"Moment By Moment" hardly made an appearance on TV after its theatrical run, but Kino Lorber's Blu-Ray resurrects, and remasters, this relic of the late '70s in a lovely presentation. The movie's widescreen cinematography from Philip Lathrop captures the mood of the moment – including theaters showing "Jaws 2" – while the enjoyable 2.0 DTS MA mix houses an early Dolby Stereo soundtrack. Lee Holdridge's mellow score is one of the movie's chief assets, with a pleasant Yvonne Eilman end credits ballad and assorted songs thrown into the fray. Supplements here include radio spots, the trailer, and a rough-sounding commentary with Lee Gambin and Sergio Mims joined by author Maya Montanez-Smukler over what sounds like a bad computer speaker.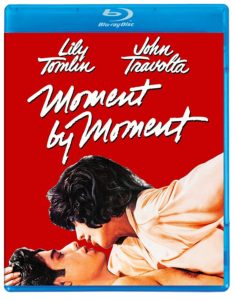 Director John Sturges made a number of classic films but his work in the western genre petered out, even working opposite the likes of Clint Eastwood (the forgettable "Joe Kidd") and with a then in-his-prime Charles Bronson in THE VALDEZ HORSES (97 mins., 1973, PG). Known in Europe as "Chino," this is a drab Dino DeLaurentiis production with Bronson playing a horse trainer who takes in a teenage runaway (Vincent Van Patten) before a romance with a local woman (Jill Ireland) fires up her rancher brother (Marcel Bozzulli) – especially once he finds out she's carrying on with a "half breed."
According to a book on Sturges, the director wasn't happy with the finished product and left the film, leading to an Italian director coming in to handle assorted reshoots. It's certainly not a particularly exciting film, but Bronson completists may want to take a look just the same – especially since Kino Lorber brought in Bronson authority Paul Talbot to handle the commentary. Also included is an interview with Van Patten; an 8mm film, "Unknown Island," supplied by Van Patten; trailers and TV spots; a 2K scan (1.85) from a 35mm print and Studio Canal's full-screen restoration (1.37) that includes the Italian "Chino" credits.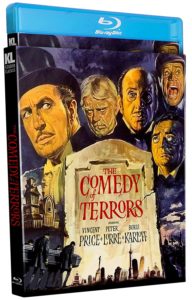 The Price is Right: On August 31st and September 7th, Kino Lorber wisely returns to circulation a number of American-International favorites with Vincent Price that were previously released on Blu-Ray by Shout and Twilight Time in the U.S. and a variety of other labels worldwide. These inaugural Kino Lorber Studio Classic BD releases include what appear to be the same MGM masters as what were previously released, with a mix of new and archival supplements. No matter the film, though, these slipcase-adorned Blu-Rays (with original theatrical artwork) are far more affordable than the prices fetched on the secondary market for their earlier counterparts, making them all highly recommended for genre buffs.
Three of AIP's celebrated early '60s horror outings are first on the roster: THE RAVEN (86 mins., 1963), the terrific, and surprisingly playful, entry in the studio's run of Edgar Allan Poe adaptations, here tailored to suit the ensemble of Vincent Price, Boris Karloff, and Peter Lorre; the eerie THE TOMB OF LIGEIA (82 mins., 1965), featuring a Poe adaptation from future "Chinatown" writer Robert Towne; and THE COMEDY OF TERRORS (83 mins., 1964), a film that's often listed as part of the Roger Corman/Poe AIP cycle, but is, in actuality, an original Richard Matheson black comedy directed by Jacques Tourneur (a veteran of the Val Lewton RKO era) that reunites the "Raven" trio of Price, Karloff, and Lorre alongside Basil Rathbone and "Rhubarb" The Cat.
All three pictures are attractively lensed in Panavision (2.35) and have been treated here to a trio of new commentaries: "The Comedy of Terrors" and "Tomb of Ligeia" feature Video Watchdog's Tim Lucas giving two of his essential, detailed talks on each movie's production, while fellow historian David Del Valle provides a similarly must-listen dissertation on "The Raven." Both discs include "Richard Matheson: Storyteller" content with trailers, while "The Raven" also includes an interview with Roger Corman and a Trailers From Hell segment featuring Mick Garris, and "Tomb of Ligeia" features archival commentaries by Roger Corman and actress Elizabeth Shepherd.
"Saturday Matinee"-styled AIP fare is on-hand in MASTER OF THE WORLD (102 mins., 1961), the Jules Verne adaptation from writer Richard Matheson starring Vincent Price as a crazed inventor who wants to stop warfare around the globe in his flying machine, the Albatross. Charles Bronson eventually takes him on in this dated 1965 fantasy that's a far cry from "20,000 Leagues Under the Sea," but is still fun for young audiences and viewers with a certain nostalgia for the material (Les Baxter's score comes off as a bit much regardless of the time frame, however). Kino Lorber's Blu-Ray (1.85, DTS MA mono) offers welcome, insightful commentaries by historian Tom Weaver and Price biographer Lucy Chase Williams, plus another track featuring co-star David Frankham, "Richard Matheson: Storyteller" and the trailer.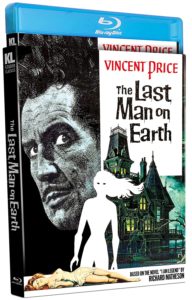 Price went to Italy to shoot the AIP post-apocalyptic thriller THE LAST MAN ON EARTH (86 mins., 1964), the first adaptation of Richard Matheson's celebrated novel "I Am Legend," later to be remade as bigger-budgeted vehicles for Charlton Heston ("The Omega Man") and Will Smith. This black-and-white lensed widescreen film is an interesting if not flawed rendering of its source, with Price as the scientist immune to a disease that's either wiped out much of the populace or turned the rest into vampiric creatures. Matheson co-wrote the script but used a pseudonym ("Logan Swanson") on the finished version, perhaps being disgruntled over the final result; either way, it's a fascinating film to compare with the more colorful renditions of the material that followed. Kino Lorber's Blu-Ray (2.35, DTS MA mono) offers a new commentary with Richard Harlan Smith, the alternate ending, TV spots and Trailers From Hell segment with Joe Dante, and (once again) "Richard Matheson: Storyteller."
One Price's best, THEATRE OF BLOOD (104 mins., 1973, R), is a memorable British chiller that provides the legendary star with one of his juiciest, most memorable horror roles – a fading thespian who, after surviving a suicide attempt, exacts revenge on the critics who slammed his performances, and who executes it by way of murders that are positively Shakespearean. A better than average – make that far above board – supporting cast includes Robert Morley, Jack Hawkins, Michael Hordern, Ian Henry, Coral Browne and Diana Rigg as Price's daughter.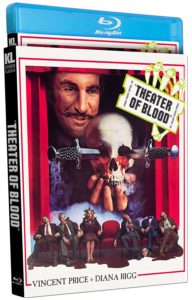 Douglas Hickox directed Anthony Greville-Bell's original script (from a Stanley Mann-John Kohn concept) in "Theatre of Blood," which is deliciously performed by Price, clearly relishing what was, especially for him, a superior project than some (most?) of the genre outings he was relegated to. The UK location shooting, scoring by Michael J. Lewis and mix of black comedy and outright horror – a good amount of it agreeably over-the-top – also successfully mix in one of Price's superior leading vehicles. Kino Lorber's Blu-Ray (1.85) includes a terrific new commentary from Alan Spencer (as well as a Trailers From Hell segment featuring the "Sledge Hammer!" creator) plus the Twilight Time commentary with David Del Valle and Nick Redman, radio spots and the trailer.
American-International tried to make a contemporary, country-tinged rip-off of "The Dirty Dozen" with THE DEVIL'S EIGHT (98 mins., 1969, PG-13). A drive-in type of vintage entertainment from producer-director Burt Topper, this programmer stars Christopher George as a federal agent who nabs six escapees from a chain gang in order to take on a moonshine ring presided over by bad guy Ralph Meeker. Fabian, Tom Nardini, Larry Bishop, Cliff Osmond, Ross Hagen and Leslie Parrish star in this mildly diverting mix of action and "down home" shenanigans, co-authored by Willard Huyuck and John Milius, who joked AIP had to "stop at eight" since they didn't have enough money to afford a "Devil's Dozen"! Kino Lorber and Scorpion's Blu-Ray (1.85) offers a new 2K scan (1.85) with a Larry Bishop interview on the supplemental side. Warning: Mike Curb's repetitive theme is likely to stick in your brain for weeks afterwards.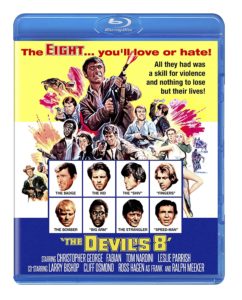 Golden Age Premieres: A one-of-a-kind fantasy, PETER IBBETSON (85 mins., 1935) pairs Gary Cooper and Ann Harding as former childhood friends whose chemistry is rekindled when Cooper's Peter Ibbetson meets her as an adult – after she's become a Duchess unhappily married to royalty. A top-quality production helmed by Henry Hathaway at Paramount, this film has often flown under the radar despite receiving a number of strong reviews at the time of its release. Kino Lorber's Blu-Ray (1.37 B&W) includes a Universal-licensed master and a commentary from historian David Del Valle…Cooper also stars in this very entertaining Ernst Lubitsch production DESIRE (95 mins., 1936), playing opposite Marlene Dietrich's jewel thief, who heads to Spain before she breaks down on the road. Cooper's unwitting tourist helps her out, only to end up with her "hot" goods in a zesty Paramount concoction here restored in a new 2K master (1.37) with extras including commentaries by David Del Valle and Samm Deighan, respectively.
The original "Blockbuster King," Cecil B. DeMille, notched one of his earliest successes with UNION PACIFIC (135 mins., 1939), the story of the construction of the first transcontinental railroad. Joel McCrea plays the man supervising the feat, having to fend off a variety of bad guys, Indians, wrecks and political intrigue – plus Barbara Stanwyck as the woman who has to choose between McCrea and Brian Donlevy's bad guy. Akim Tamiroff, Robert Preston and Anthony Quinn are among the famous faces who show up in "Union Pacific," here granted a perfectly respectable Blu-Ray (1.37 B&W) transfer with a commentary from Dr. Eloise Ross and Paul Nelson.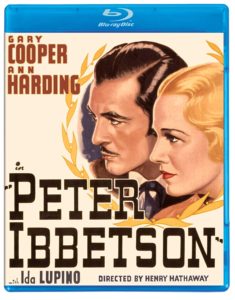 Richard Maibaum, who would pen most of the classic James Bond films, wrote and produced O.S.S. (108 mins., 1946), a satisfying WWII yarn starring Alan Ladd as part of an O.S.S. team tasked with taking out a railway tunnel in Nazi-occupied France. Maibaum's film also shows the gadgets used in preparing such missions – you nearly expect Q to show up here! – in an ultimately downbeat Irving Pichel-helmed Paramount picture co-tarring Geraldine Fitzgerald. Kino's Blu-Ray is sourced from a new 2K master (1.37) with the trailer and commentary from Samm Deighan.
How durable was the plot of BACK STREET (107 mins., 1961)? This melodrama about a woman who has a fling with an unhappily married man was previously shot by Universal in both 1932 (with Irene Dunne) and less than a decade later (Margaret Sullavan). This color remake from producer Ross Hunter puts Susan Hayward through the paces with John Gavin as the man she loves but seemingly cannot have; for those who like glossy soapers of the late '50s/early '60s this old-fashioned affair might be worth checking out. Kino Lorber's Blu-Ray (1.85) includes a good looking transfer with the trailer and a commentary from David Del Valle.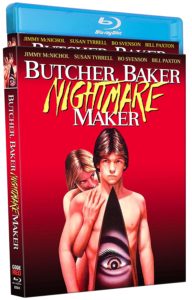 Code Red New Releases: One of the more offbeat films shoehorned into the slasher genre, BUTCHER, BAKER, NIGHTMARE MAKER (96 mins., 1981, R) is, in actuality, a minor albeit well-acted and moody little thriller from producer/co-writer Stephen Breimer and veteran TV director William Asher. Orphaned high schooler Jimmy McNichol finds himself being pegged for a murder committed by his deranged aunt (Susan Tyrrell), which the local, sadistic police chief (Bo Svenson) falsely believes was part of a gay triangle. Earning kudos for its positive portrayal of a gay supporting character (who helps save the day), "Butcher Baker…" is back on Blu-Ray in a retail release from Code Red and Kino Lorber. The disc includes a 2017 2K scan (1.78) from the original camera negative with two commentaries, on-camera interviews with McNichol, Tyrrell and others, and the trailer.
Mexican exploitation auteur Rene Cardona, Jr.'s film about the Jim Jones cult and Jonestown Massacre, GUYANA : CULT OF THE DAMNED (90 mins., 1979, R), stars Stuart Whitman as the charismatic, paranoid and perplexing Reverend "James Johnson," who leads his flock to South America and, ultimately, their gruesome deaths. Gene Barry appears as the Congressman whose investigation into Jones leads to his own demise, with John Ireland, Bradford Dillman, Joseph Cotten and Yvonne DiCarlo also popping up in this film that Cardona made independently – and released to near universal disdain, as critics carped about the picture's tastelessness. A solid drama could've been produced about this subject matter (I've never seen the TV mini-series with Powers Boothe in the Jones role), but Cardona's effort is B-grade, superficial and strictly intended for shock value as it fails to examine the many angles of Jones' persona and how so many people – including many families of all ethnic backgrounds – became tragically convinced to "drink the kool-aid."