Message Board (open 24 hours!)
Twitter - @andredursin (for everything else!)
Warner Archive's Blu-Ray release of Savage Steve Holland's nutty 1986 romp ONE CRAZY SUMMER (93 mins., 1986, PG; Warner Archive) marks a splendid way to cap the unofficial summer season: a guilty pleasure with high-spirited fun and plenty of laughs. A sequel of sorts to Holland's semi-classic teen comedy "Better Off Dead," "Summer" reunites stars John Cusack and Curtis Armstrong in a tale of a high school graduate who ventures to Nantucket for the summer.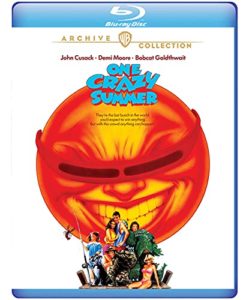 There the memorably named "Hoops McCann" meets pretty singer Demi Moore, runs afoul of an evil land developer and becomes acquainted with local yokels Bobcat Goldthwait and Tom Villard. There are gags ranging from a parody of "Jaws" to a surprisingly hysterical moment involving the boiling of lobsters and Bobcat donning a Godzilla costume – it's all in the name of '80s teen comedy fun, and on that level, few films deliver the way this one does, right down to the big sailboat climax.
Debuting in a gorgeous Warner Archive Blu-Ray (1.85) at last, "One Crazy Summer" offers lovely Nantucket shooting locales, naturally captured by DP Isidore Mankofsky. The mono sound is crisply delivered, featuring a score credited to Cory Lerios but with some rousing orchestral moments in its climax that may well be the work of credited "Additional Music" composer James D. Pasquale. For extras, Warner has carried over the enjoyable DVD commentary from Holland, Goldthwait and Armstrong plus the trailer.
More vintage "seasonal fare" can be appreciated with IN THE GOOD OLD SUMMERTIME (103 mins., 1949), one of the many renditions of "The Shop Around the Corner," this one tailored as a MGM musical for Judy Garland and Van Johnson as the two store clerks who don't realize they're intimate pen pals. Miklos Laszlo's play was also the later basis for the Tom Hanks-Meg Ryan rom-com "You've Got Mail," and here functions just right as a colorful studio entertainment with pleasant, if not especially memorable, songs backing the nostalgic fun. Warner Archive's Blu-Ray includes a lovely 1080p (1.37) restoration with DTS MA mono sound, an introduction by Garland biographer John Fricke, two vintage FitzPatrick "Traveltalks" shorts, and trailers.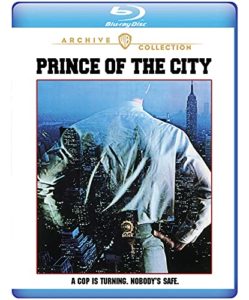 The fourth entry in the classic MGM "Thin Man" series, SHADOW OF THE THIN MAN (97 mins., 1941), also rolls out on Blu-Ray this month. This 1941 entry finds Nick (William Powell) and Nora (Myrna Loy) Charles heading to the race track for what would be their last mystery until a WWII hiatus kicked in; it's also the first of the series not to be based on a Dashiell Hammett story, with Irving Brecher and Harry Kurnitz penned an original outing in keeping with the tone and mood of its predecessors and Major W.S. Van Dyke II again taking full advantage of his stars' chemistry. A vintage short, classic cartoon and the trailer are on-hand in Warner Archive's crisp Blu-Ray (1.37) along with mono sound.
Former NYPD Deputy Commissioner Robert Daley later became a popular novelist with several of his books becoming big-screen features including Michael Cimino's "Year of the Dragon" and the underrated "Night Falls on Manhattan." The latter was directed by Sidney Lumet, who earlier brought to the screen – along with writer/producer Jay Presson Allen – Daley's non-fiction book PRINCE OF THE CITY (167 mins., 1981, R).
This sprawling but self-indulgent film takes bits and pieces from actual occurrences in the life of undercover narcotics cop Robert Leuci, here renamed "Ciello": a hot-headed NYC officer played by Treat Williams who becomes an informant in a federal corruption investigation – ultimately paying, along with his family and former colleagues, a steep price for his decision.
Daley's book was scripted by Allen and Lumet in a form that would've been better off as a TV mini-series – this is mostly an "interior" character drama less about action than it is the question of moral responsibility and ethics bouncing around inside Ciello, with lots of long-winded monologues and occasional hysterics from Williams leaving something of an uneven lead performance at the movie's center. Lumet assembled a strong supporting cast here including Jerry Orbach, Bob Balaban, Lindsay Crouse and Norman Parker, yet it's odd how unmoved one feels at the picture's conclusion, despite the movie having lingered on for nearly three hours.
Far from the potency of "Serpico" – a much better Lumet film along similar lines – "Prince of the City" struggled to find a commercial audience and met with mixed reviews upon its original 1981 release. Warner Archive's Blu-Ray of the Orion/Warner co-production boasts a 1080p (1.85) AVC encoded transfer that's solid though is hampered detail-wise by what appears to be softness that's part of the original cinematography. The mono sound is OK though, like a lot of Lumet's films, the score (this one by Paul Chiahara) isn't utilized in a particularly effective manner. A retrospective featurette and the trailer round out the disc.
---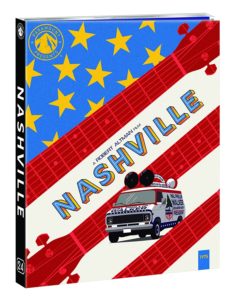 New From Paramount
One of the groundbreaking classics of the '70s, Robert Altman's NASHVILLE (160 mins., 1975, R) is back on Blu-Ray in a 4K-restored Paramount Presents package. Following an offbeat collage of 24 characters who descend upon a music festival in Music City, "Nashville" today plays as a travelogue, a time capsule, a social commentary on America's obsession with fame, a musical and a rich character study, and is equally successful in all of those facets.
After the project was jettisoned by United Artists, Altman sent writer Joan Tewkesbury to Nashville to gather ideas for her screenplay, and the resulting film's major narrative elements – from singer Bobby Jean's airport arrival to a highway accident – came from her experiences. Her script – enhanced and improvised by the cast – finds a collection of disparate characters gathering together during one hot weekend in the south: there are musicians (Ronee Blakley as Bobby Jean, a fragile singer in the Loretta Lynn mold; Karen Black as a rival songstress; a folk trio headed by Keith Carradine; and Henry Gibson's superstar Haven Hamilton); the wannabes (Barbara Harris as an aspiring singer; a waitress, played by Gwen Welles, trying to break in), the groupies and hangers-on (Shelley Duvall; Geraldine Chaplin as a British reporter); the politicians (Ned Beatty and Michael Murphy working for the unseen, but constantly heard, "Replacement Party" candidate Hal Philip Walker); and the locals (Lily Tomlin as Beatty's wife, Scott Glenn as a Vietnam vet, and Keenan Wynn as a man distraught over his ailing wife) whose lives intersect, one way or another, over the course of several days.
Nearly three hours in length, "Nashville" offers Altman's typical blend of overlapping conversations, eclectic protagonists and varied dramatic situations. Some of the material is funny, other moments heartbreaking and depressing (particularly when Wynn grieves for his late wife while Glenn can't help expressing his interest in Bobby Jean), and it's all alive, energetic and compelling in equal measure. The movie's most developed thematic material – about the public's growing interest in fame and celebrity – certainly plays as effectively today as it did back then, but the movie is less a critique than it is a celebration of the colorful characters – good, bad, and ambivalent – that comprise the American experience. Altman employs great use of the Panavision frame and the DTS MA 5.1 audio track adds a layered depth to the effective stereo sound mix, populated by original songs written by Richard Baskin and the actors. Even if a late "dramatic twist" feels a bit contrived, it's followed by a moving ending that shows how all of us – despite our differences – solder on, and the loss of one individual gives way for another's opportunity.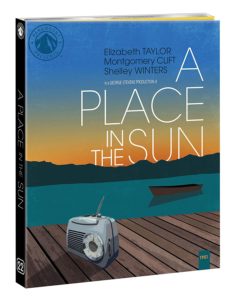 A movie that's right up there with Altman's finest works (if not arguably his best), "Nashville" was previously restored in a 2K transfer by Criterion, and now in a 4K-restored Blu-Ray package (2.35) that seems a little cooler in warmth and arguably "smoother" in detail over the now discontinued Criterion disc – but YMMV as they say. Extras include Altman's archival commentary, trailers, and "24 Tracks: Robert Altman's Nashville."
Among the two other Paramount Presents releases is a brand new remaster of the George Stevens classic A PLACE IN THE SUN (121 mins., 1951). Not a movie I'm familiar with in terms of its assorted home video releases, this is a fresh 4K remaster prepared for the Elizabeth Taylor-Montgomery Clift teaming's 70th Anniversary, with a 5.1 DTS MA remix and extras including a brief new interview with Leonard Maltin discussing the film; two archival segments on George Stevens; trailers; and a commentary by George Stevens, Jr. and Ivan Moffat.
Debuting on Blu-Ray in the U.S. for the first time is BUGSY MALONE (93 mins., 1976, PG; Paramount), Alan Parker's 1976 kids' musical that held more relevance back at the time of its release than it does today.
"Bugsy Malone" essentially takes a formulaic '40s gangster B-movie, substitutes marshmallow-shooting "Splurge Guns" for actual blood, and casts kids (British youngsters plus American leads Scott Baio and Jodie Foster) in every role. Meanwhile, Paul Williams' songs were dubbed over by Williams himself and other adults, and are, what's worse, mostly repetitious fizzles — save the finale "Give a Little Love," which was later used in a 2009 commercial by the movie's prominently displayed sponsor, Coca-Cola.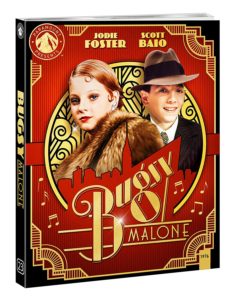 Though nostalgically shot (by Peter Biziou and Michael Seresin), the choreography and staging are very basic — hinting at either a low-budget and/or highlighting Parker's relative inexperience at the time — and the story is something that our 1st grader didn't really gravitate towards. He watched it and laughed a few times, but I doubt he'd care about seeing it again.
Frankly, I didn't much care for it either — unless you are a big fan of '40s gangster movies, there's not a lot of entertainment to be found since the film adheres to a formulaic genre plot, relying almost exclusively on the novelty of the casting of children in adult roles. Ultimately, the movie was a big hit in the UK but failed (perhaps understandably) to find a receptive audience elsewhere.
Nevertheless a film that has retained a small cult following, "Bugsy Malone" makes its long overdue U.S. Blu-Ray release in a remastered 1080p (1.85) transfer far superior to an old, early-format UK release from ITV. The intentionally hazy cinematography is much clearer than that comparatively muddy package, while both remixed 5.1 DTS MA and original mono soundtracks grace the audio side. New extras include welcome interviews with Paul Williams and producer David Puttnam plus a Digital HD copy and trailers.
Paramount has also lined up a conveniently packaged FRIDAY THE 13TH: 8 MOVIE COLLECTION Blu-Ray box-set which offers the original eight-movie "Friday" cycle, with the initial four movies newly remastered in 1080p for the first time (at least beyond the Shout! Factory box-set from last year). Plenty of commentaries and other goodies are also on-hand for each picture; for a breakdown on the series, check out my 2013 review of the previous Jason-centric retrospective here...Debuting on DVD from Paramount is THE MISFITS (94 mins., 2020, R), a rote action-thriller that marks a heck of a comedown for star Pierce Brosnan and director Renny Harlin, this one following Brosnan and his band of modern-day thieves trying to full off the "heist of a century." Tim Roth, Nick Cannon and Jamie Chung co-star in a bland effort populated with talent who are all, sadly, well past their prime. Paramount's DVD includes a Digital copy, 16:9 transfer and 5.1 sound.
---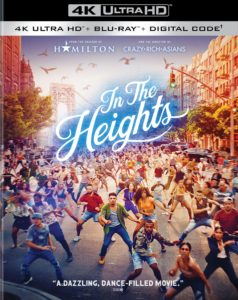 Also New & Noteworthy
New from Nickelodeon and Paramount is ARE YOU AFRAID OF THE DARK? CURSE OF THE SHADOWS (261 mins., 2021), a recent revival of the '90s Nickelodeon series that follows a new Midnight Society (with a fresh seaside location to match) that pivots to find its leader after they go missing, all the while uncovering the horrifying (?) truth behind their town's curse. Six full-length episodes comprise Nickelodeon's DVD which features 16:9 transfers and 5.1 Dolby Digital soundtracks.
IN THE HEIGHTS 4K UHD/Blu-Ray Combo Pack (143 mins., 2021, PG-13; Warner): Lin-Manuel Miranda's pre-"Hamilton" musical chronicles the life of a Washington Heights bodega owner, his relationship with his family and his neighbors within the area's heavily Dominican populace. Anthony Ramos plays the role that Miranda himself essayed on Broadway, while director Jon M. Chu brings the same colorful cinematography to this Miranda-produced film adaptation that marked his hit "Crazy Rich Asians." Unfortunately, the music isn't all that memorable as it captures a tapestry of characters with their own ambitions and dreams, making it most worthwhile for Miranda fans. Warner's attractive Dolby Vision HDR graces a dazzling visual pallet on UHD while the Dolby Atmos sound design thumps with strong bass and stereophonic clarity throughout. The combo pack also includes the Blu-Ray (also with Dolby Atmos), a Digital HD copy, sing-alongs, and documentary on the movie's production.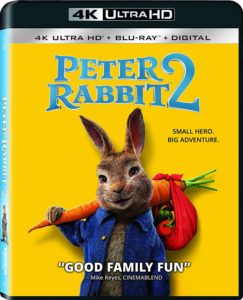 PETER RABBIT 2: THE RUNAWAY 4K UHD/Blu-Ray (93 mins., 2021, PG; Sony): Superior sequel to the 2018 box-office hit picks up with Bea and Farmer McGregor (Domhnall Gleeson) now married while Peter and the gang meet up with a publisher (David Oyelowo) whose plan for a series of books revolves around Peter being a particularly devilish rascal. Will Gluck's sequel, which abandoned its subtitle "The Runaway" domestically, offers a slightly more refined story line than the original and establishes a nice groove of mirth and fun that kids should enjoy while not driving their parents crazy at the same time. Sony's 4K UHD package (2.39) includes an attractive HDR10 transfer and Dolby Atmos audio with a Blu-Ray, Digital HD copy, and scattered do-it-yourself craft projects.
GREAT WHITE Blu-Ray (91 mins., 2020, Not Rated; RLJE): Australian-produced survival horror finds a group of tourists trying to stay alive after a seaplane wreck leaves them having to contend with a group of sharks lurking about. Martin Wilson's thriller offers modest thrills and okay performances from its cast, though too much of the picture is comprised of talk instead of tension, leaving this one ranking well behind "The Shallows" much less "Jaws." RLJE's Blu-Ray, out September 7th, includes a 1080p (2.39) transfer, DTS MA 5.1 audio, a Making of and photo gallery.
SUMMER OF 85 Blu-Ray (101 mins., 2000; Music Box Films): French filmmaker Francois Ozon spins a nostalgic story wherein a French teenager (Benjamin Voisin) comes of age, and experiences his own sexual awakening, after he rescues a slightly younger teen (Felix Lefebvre) when the latter's boat capsizes. Their relationship is derived from Aidan Chambers' LGBT young adult novel "Dance on My Grave" and makes for an easy-going, flavorful drama new on Blu-Ray from Music Box. The disc includes English subtitled 5.1 DTS MA French audio with a 1080p (1.85) transfer and extensive extras including a Q&A session, interviews with Ozon and the cast, rehearsal footage, featurettes, costume/light tests, deleted scenes, and Ozon's short film "A Summer Dress."
---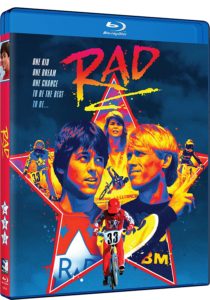 Mill Creek New Releases
One of the more collectible of all 4K UHD releases is Vinegar Syndrome's release of the 1986 cult favorite RAD (93 mins., 1986, PG) — the unforgettable story of a teen paperboy (Bill Allen) with championship BMX aspirations who gets his shot to take on the world's reigning champ (Olympic gold medalist gymnast Bart Conner). Standing in the way of his dreams is his Mom (Talia Shire, who also produced via the Taliafilm label), who just wants him to focus on his SAT's. '80s fashions, songs and attitudes permeate this Hal Needham-directed effort co-starring Lori Loughlin, Ray Walston and Jack Weston, which is agreeably formulaic and quite a lot of fun for teen movie fans and those who manage to get wrapped up in its spirit.
"Rad" was restored in 4K and became an instant collectible once Vinegar Syndrome's UHD sold out. While not offered here in UHD, "Rad" fans get a great — and, more significantly, affordable — chance to own the movie in a new, non-Steelbook Blu-Ray edition from Mill Creek. The 1080p (1.85) transfer and 5.1 soundtrack are both based off that presentation, while there are three new exclusive featurettes on Bill Allen, Hal Needham, and writer Sam Bernard, totaling over 30 minutes and fresh to this release. Other extras include a reunion Q&A session featuring Shire and Conner, plus archival EPK interviews and a vintage featurette and a music video — a highly recommended "bargain" priced package on all fronts!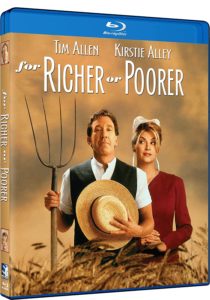 Also new from Mill Creek on Blu-Ray is FOR RICHER OR POORER (116 mins., 1997, PG-13), a protracted yet lightly entertaining comedy with squabbling married couple Tim Allen and Kirstie Alley having to rough it after hiding out from the IRS in Amish country. Director Bryan Spicer's Christmas '97 release offers breezy chemistry between its stars and a nice Randy Edelman score, preserved here in a 1080p (2.35) AVC encoded transfer with 5.1 DTS MA sound…Also licensed from Universal is a Blu-Ray Double Feature coupling the forgettable James Spader/Marisa Tomei/Keanu Reeves serial killer thriller THE WATCHER (96 mins., 2000, R) with Iain Softley's more supernatural suspenser THE SKELETON KEY (103 mins., 2005, PG-13) starring Kate Hudson. Both transfers are serviceably presented here in 1080p AVC encodes with 5.1 DTS MA soundtracks.
Finally, "Ultraman" fans will want to check out Mill Creek's release of GRIDMAN: THE HYPER AGENT (aprx. 8 hours, 1993), a bouncy Japanese TV show about three young kids who create their own video game hero, who pulls a "Tron" and merges with an "inter-dimensional police officer" that ends up battling an evil program with its own monsters — maintained by a human bad guy. Licensed from Tsuburaya Productions, "Gridman" boasts kid-friendly Japanese entertainment with colorful kaiju battles, though some fans are reportedly disappointed in this release's English subtitle translation, which offsets the otherwise strong presentation Mill Creek has produced here on Blu-Ray.
---
Quick Takes
FEAR THE WALKING DEAD – Season 6 Blu-Ray (aprx. 13 hours, 2020-21; Lionsgate): Sixth season of the first AMC "Walking Dead" spinoff series finds Lennie James' Morgan trying to keep tabs on his now-spread out group, who in settlements across the zombie-dilapidated landscape, each face their own respective challenges — most notably Virginia's (Colby Minfie) quest to track down her sister. Lionsgate's Blu-Ray (1.78, 5.1 Dolby TrueHD) release of "Fear of the Walking Dead: The Complete Sixth Season" boasts audio commentaries and a Digital HD copy across its multi-disc presentation. Recommended heartily for series fans…Also new from Lionsgate is JURASSIC HUNT (84 mins., 2021, R), a tepid B-movie variation on you-know-what starring Courtney Loggins as an adventurer who joins an all-male hunters in a park where, yes, the attractions can eat their guests. Modest is the best way to describe the scope and special effects of this often gory, tasteless picture, which thanks to its R-rating, means you don't even have to debate whether or not to show it to kids. Lionsgate's 16:9 (1.78) DVD transfer and 5.1 soundtrack are both fine...Premering on Blu-Ray from Lionsgate is THE GATEWAY (91 mins., 2021, R) starring Sea Whigham as a social worker whose efforts to protect his client (Olivia Munn) from her recently paroled husband results in a run-in with a drug dealer looking to score big on his missing stash. Michele Civetta's film, co-starring Bruce Dern and Frank Grillo, is new on Blu-Ray (2:1) this week offering a Digital HD copy.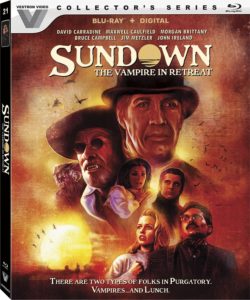 SUNDOWN – THE VAMPIRE IN RETREAT Blu-Ray (104 mins., 1990, R; Lionsgate): Highly amusing, offbeat vampire western — more of a comedy than a sheer horror film — finally gets its due as a "Vestron Collector's Series" Blu-Ray from Lionsgate.
Fresh off the success of the 1988 Vestron release "Waxwork," director Anthony Hickox hit the saddle for this goofy ensemble piece, shot in spectacular widescreen but doomed to a life of pan-and-scan cable TV showings for years after its production. Spurned of a theatrical release, "Sundown" has basically been a film enjoyed only by an extremely small cult following, making this new remastered Blu-Ray a prime opportunity for most viewers to see what all the fun is about.
In Hickox and John Burgess' script, Count Margulak (David Carradine) and his vampiric followers have retreated to the American southwest where they enjoy a succession of beverages comprised of synthetic blood. While their existence is relatively peaceful, an upstart vamp (Maxwell Caulfield) wishes to return to the old fang traditions, much to Carradine's chagrin. A battle ensues, along with plenty of comedy mainly served up by Bruce Campbell as a relative of Van Helsing, who falls for a cute young vampire female (Deborah Foreman from "Valley Girl" and Hickox's "Waxwork") along the way.
Jim Metzler ("Tex"), Morgan Brittany, M. Emmet Walsh, John Ireland and a succession of familiar faces make "Sundown" an early Halloween treat, capped by a sensational score by Richard Stone that's rousing and lyrical in an old-fashioned manner. Stone's music wouldn't have been out of place in a sprawling western from the '50s or '60s, making its inclusion here one of the film's chief assets.
"Sundown" is hard to describe because it's so off-the-wall: very little in the picture is taken seriously, yet the production values are excellent for what amounted to a barely-seen horror film, and there's very little gore or excessive violence on-hand (the movie would've surely received a PG-13 rating by today's standards). It's light but engaging and energetic at every turn, and well worth seeking out for genre enthusiasts.
Lionsgate released a DVD of the film back in 2008 but this is a far superior 1080p (2.35) presentation with 2.0 DTS MA stereo sound. Among the key new extras is an isolated score track and interviews featuring Randall Larson and producer Jefferson Richard. There are also fresh conversations with Anthony Hickox and makeup artist Tony Gardner; carried over from the 2008 release is an interview with Bruce Campbell, who notes how "out of the box" the movie is, and relays his memorable experiences producing the film, along with conversations with David Carradine and M. Emmet Walsh, respectively. All three have positive recollections about working on the film, even if nobody saw it (or even had the chance to) for years. An amusing commentary with Hickox, cinematographer Levie Isaacks and moderator Michael Felsher is also on-hand, reprieved from the DVD, along with a photo gallery and Digital HD copy. Highly recommended!
Also new from Lionsgate on DVD is BIOGRAPHY: WWE LEGENDS, two volumes that include A&E Biography specials on legendary WWE figures like "Stone Cold" Steve Austin, "Rowdy" Roddy Piper, "Macho Man" Randy Savage, "Booker T," Shawn Michaels, Ultimate Warrior, Mick Foley and Bret "Hitman" Hart. 16:9 transfers and 2.0 Dolby Digital soundtracks are on-hand when the DVDs street September 21st.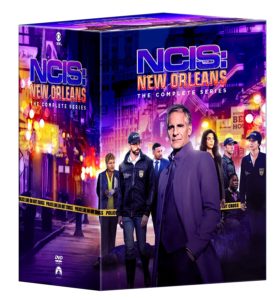 NCIS: LOS ANGELES Season 12 DVD (13 hours, 2020-21; CBS): COVID couldn't stop the NCIS team from shooting this 12th season of the long-running franchise entry. Story lines this year revolve around the prevention of a potentially catastrophic nuclear attack to serial killers and echoes of the past that haunt its stalwart heroes Callen (Chris O'Donnell) and Sam (LL Cool J). The pandemic did curtail the amount of episodes present here, but fans should still be happy with this 5-disc set preserving its 18 2020-21 shows with two featurettes, deleted scenes, a commentary from Daniela Rush (who also directed an episode), 16:9 transfers and 5.1/2.0 soundtracks.
Also new from CBS is NCIS NEW ORLEANS: THE FINAL SEASON (11 hours, 2020-21), which includes the last 16 episodes from the Scott Bakula-fronted series in a Season 7 DVD set (16:9, 5.1/2.0) that features three behind-the-scenes segments; and the 18th season of NCIS (11 hours, 2020-21) itself, with "the mothership" celebrating its 400th episode amongst other storylines. Additional extras include four featurettes and commentaries on selected episodes (even a video commentary), 16:9 transfers and 5.1/2.0 Dolby Digital sound. "New Orleans" fans will also want to check out NCIS: NEW ORLEANS The Complete Series, which houses the entire, 157-episode run of the series on 39 discs, along with all of its corresponding special features. 16:9 transfers and 5.1 soundtracks comprise the extras.
PRODIGAL SON: The Complete Second Season Blu-Ray (571 mins., 2021; Warner): After his father's off-the-rails actions at the end of Season 1, brilliant criminal psychologist Malcolm Bright finds himself having to protect his sister and mother from a family secret with potentially devastating consequences should it be revealed. Meanwhile, Bright also tackles a succession of new cases including debutante killings and a mystery at his alma mater, where his headmaster was horrifyingly slain. Catherine Zeta-Jones and Alan Cumming co-star in Season 2 of the Fox series "Prodigal Son," which is new on Blu-Ray this month from Warner sporting all 13 episodes in 1080p (2:1) transfers and 5.1 DTS MA soundtracks; two behind-the-scenes featurettes are also included.
MORTAL KOMBAT LEGENDS: BATTLE OF THE REALMS 4K UHD/Blu-Ray Combo Pack (80 mins., 2021, R; Warner): Lord Raiden decides to hold a final Mortal Kombat tournament with all of "Earthrealm" at stake once the Outworld barbarians cause turmoil for all. Liu Kang, Johnny Cage, Sonya Blade and the rest of Raiden's team are, naturally, pressed into action in this graphic new animated movie from the Mortal Kombat universe sporting the voice participation of Joel McHale and Jennifer Carpenter plus an R rating that makes it unsuitable for younger viewers. Warner's 4K UHD includes HDR10 and 5.1 DTS MA sound plus commentary, a gag reel, featurette, Blu-Ray and Digital HD copy.
STRAIGHT OUTTA NOWHERE: SCOOBY-DOO! MEETS COURAGE THE COWARDLY DOG DVD (78 mins., 2021, Not Rated; Warner): Animated hyjinks are on-tap when Scooby-Doo meets up with Courage the Cowardly Dog just in time to tackle a mystery involving a strange object that appears in Courage's hometown of Nowhere, Kansas. Soon they're on the trial of a giant cicada monster while the rest of the Mystery, Inc. gang lend their usual support. Warner's DVD of this new animated movie (perfect for kids) streets September 14th including a 16:9 transfer and 5.1 sound along with three bonus Scoob-toons.
NEXT TIME: September gets under way with new releases from Kino Lorber and more! Until then, don't forget to drop in on the official Aisle Seat Message Boards and direct any emails to our email address. Cheers everyone!