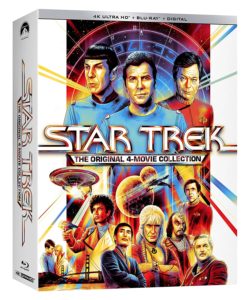 Over the years, Paramount has likely released more Star Trek episodes and their respective cinematic voyages on home video than any other property in their library (and who could blame them, based on the enduring popularity of the series). Back on laserdisc and DVD, every film was released at least twice, driving collectors to the point where some owned multiple copies of the same movie.
For Blu-Ray, Paramount packaged the theatrical films – as well as a Director's Edition of "Star Trek II" – in solid but DNR-smoothed transfers that would've been terrific had they not been overly processed. Surprisingly, the studio never remastered the movies again for 1080p, but has finally brought at least the first four Trek movies to both 4K UHD and remastered Blu-Ray this month in the form of a retrospective box-set, STAR TREK: THE ORIGINAL 4-MOVIE COLLECTION. The package includes UHD and new Blu-Rays with supplements identical to their previous BD editions, while on 4K, debuting Dolby Vision transfers with natural grain and tweaked colors that show off your display's High Dynamic Range capabilities.
Certainly the Dolby Vision HDR grading does plenty to restore the cinematic grandeur of Robert Wise's STAR TREK: THE MOTION PICTURE (132 mins., 1979, G), an entertaining but flawed picture that nevertheless remains the most "cinematic" of all the big-screen adventures, graced by an all-time classic score by Jerry Goldsmith that remains unparalleled in the series for its majestic scope and unforgettable themes.
Plagued by production woes – from a budget that went spiraling out-of-control, to the involvement of several special effects companies (one of which was in seriously over its head), and a Christmas '79 release date that was mandated by the studio – it's a wonder that TMP ever became the box-office success that it did. Its relatively straightforward story – of a seemingly extraterrestrial "cloud" destroying everything that comes in its path as it approaches, and seemingly threatens, Earth — recalls several episodes of the original series (including "The Doomsday Machine" and "The Changeling"), with Captain Kirk and crew setting out to explore the unknown "being" and stop it from destroying life as we know it.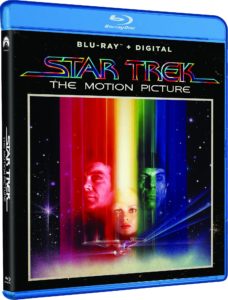 What distinguishes the film from its small-screen counterparts is the lavish visual treatment the movie receives from director Robert Wise, cinematographer Richard Kline, the special effects wizardry of Douglas Trumbull and John Dykstra (among others), and of course, Goldsmith's marvelous score, which provides more dramatic and emotional presence than anything in the actual script – itself mostly culled from what was supposed to be the pilot for a second, abandoned "Star Trek" TV series.
Although I hadn't been born when the original series aired on NBC, I still grew up with the show through the magic of syndicated re-runs. When I was old enough to see ST-TMP, I was captivated by the images and Goldsmith's music the first time I saw the movie on home video in 1982, just a few months before "Star Trek II: The Wrath of Khan" was released to theaters. After 30 minutes or so, however, I remember becoming just a bit bored by the film and its elaborate, though seemingly endless, parade of special effects – a sentiment echoed by the general consensus of critics and fans at the time.
Set against the backdrop of the movie are sterile "dramatic" moments, with only a few notable exchanges between our beloved original crew making one feel at home. The movie's bland secondary characters – Stephen Collins' Decker and Persis Khambatta's Ilia – exchange puppy-dog glances, but they're never developed enough so that we care about them.
What's left that truly does work (aside from Goldsmith's soundtrack) is Spock's rediscovery of his human side as he attempts to probe V'Ger – the little lost space vestibule trying to find its creator — and the interplay between Kirk, McCoy, and our favorite Vulcan as they decide how to save civilization once again in the face of insurmountable odds. Add in a few classic Shatner-isms ("V'Ger! V-O-Y-A-G-E-R. Voyager!"), and you have a lukewarm but still undeniably compelling film that manages to get by simply on the basis of its sheer look and scope.
There have been numerous attempts to "fix" TMP's pacing and restore character elements to the film — first in ABC's network TV broadcast, which restored 12 minutes of footage, and later in Robert Wise's "Director's Edition" DVD, which offered most of those added sequences while trimming some of the fat from the theatrical print. Wise also approved extensive new special effects for that version as well, some of which were more effective than others.
While Paramount continues work on an announced 4K upgrading of the "Director's Edition" (reportedly to premiere first on the Paramount+ streaming service), Paramount's 4K UHD of TMP's theatrical version is a most welcome enhancement over its previous Blu-Ray. The DNR is gone, with some new color grading that looks markedly different than past transfers (Vulcan is a decided red, for example). There are some instances where what appear to be "frozen" grain fields pop up in certain optical shots, but these may be due to the heightened resolution of 4K making the limitations of those hastily-compiled effects shots (some thrown together just days before the movie was theatrically released!) more visible here. Either way, they are minor gripes when the pleasing color and added detail over the old Blu-Ray is included in the mix. With the movie's visuals being its most significant asset (in addition to the score), it's a revelation indeed, while the framing offers a slightly wider, less zoomed-in perspective as well. The Dolby TrueHD audio is magnificent and in-line with the previous Blu-Ray mix, well representing its original multi-track, late '70s Dolby soundtrack, with what seems to be even more robust low-end and balance between dialogue and effects.
Beyond a new isolated score track, the extras (found on the remastered Blu-Ray, which itself offers the same color tone and heightened grain of the UHD transfer) are a reprisal of supplements found on the previous BD. These include "The Longest Trek," which spotlights the genesis of the script's creation, and "Special Star Trek Reunion," which interviews several Trekkies who discuss their cameo roles in the sequence where Kirk debriefs the crew on V'Ger's appearance. There's also a brief "Starfleet Academy: The Mystery Behind V'Ger" segment, two trailers (including the memorable Orson Welles narrated teaser in full multi-track stereo) and TV spots, plus those 12 minutes of deleted scenes (in 16:9 standard-def) as well.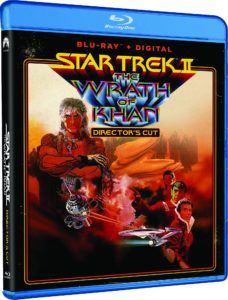 The most welcome carry-over is a fine commentary track with Trek experts Michael and Denise Okuda, Judith and Garfield Reeves-Stevens and Daren Dochterman, which sprinkles insight into the making of the film and its legacy. It's not as anecdote-rich as the Director's Edition commentary but it's a breezy, enjoyable track that fans should enjoy.
Though "Star Trek: The Motion Picture" was a financial hit, fans and critics were, by and large, disappointed by it. For that reason, STAR TREK II: THE WRATH OF KHAN (113 mins., 1982, PG; Paramount) is undoubtedly the reason why Star Trek is still alive and kicking in the 21st century. Trading in the evocative visuals but stilted story of "The Motion Picture" for a more exciting, action-packed, and far more human tale that – as director Nicholas Meyer explains in his commentary – touches upon old age, death, heroism, tragedy and triumph, "The Wrath of Khan" has basically become an iconic film of the early '80s, and not just for Star Trek die-hards.
The movie needs no introduction for most viewers, except to say that it was the film that really got the cinematic series going, providing a strong, character-oriented story with terrific special effects, a sweeping score by James Horner (that placed him firmly on the map), a swift pace, and a phenomenal performance by Ricardo Montalban that remains a highlight of the sci-fi/fantasy genre.
No matter how many times I see the picture, I always get a huge charge out of Montalban's performance as Khan, the vengeance-seeking bad guy who was banished by Captain Kirk back in an episode of the old TV series, "Space Seed." Unlike so many cardboard movie villains, Montalban brings this deranged and yet oddly sympathetic villain totally, completely to life, providing Kirk and the Star Trek universe itself with their most formidable nemesis. The scenes in which he spars with Kirk are charged with so much emotion that I often find myself re-running them because they're so marvelously executed in terms of writing, direction, and – of course – performance.
The most amazing thing about the movie is that Khan and Kirk never meet on-screen. Credited screenwriter Jack B. Sowards had penned a confrontation between the two prior to one of the story's magnificent space battles, but it was dropped over budgetary concerns. A shame, because while "Khan" works splendidly as is, it would have been fascinating to see Montalban and Bill Shatner go at it man-to-man!
Making its 4K UHD debut, "The Wrath of Khan" offers both the theatrical version and the reworked Director's Edition, which adds some dialogue here and there and fleshes out the picture just a bit more than the theatrical cut. This Director's Cut was released on Blu-Ray in 2016 in a transfer that seemed a bit murky and dark – elements which are addressed in the 4K UHD's Dolby Vision grading, which is a tad warmer and better balanced in terms of its brightness by comparison. DNR has been dropped, detail has been increased, while the robust 7.1 Dolby TrueHD audio sounds equivalent to the earlier disc from what I sampled.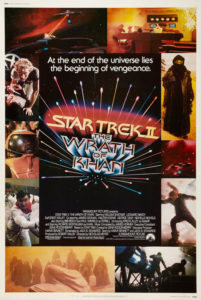 Extras are again reprieved from prior DVD and Blu-Ray releases, highlighted by the reprise of a 2016 half-hour retrospective documentary. Sporting then-new interviews with Meyer, producer Robert Sallin and other members of the production team – plus Trek authority Mark Altman – this is a superior piece than the older DVD Making Of, diving into the picture's production with a heavy accent on its fascinating development that included Meyer selecting various elements out of a handful of different screenplays that had already been written. There are also two returning commentaries (Meyer solo; Meyer with Manny Coto from the prior Blu-Ray) along with Michael Okuda's text commentary.
Among the more interesting carry-overs is the Director's Edition DVD commentary from Meyer that features all kinds of trivia and information. Certainly he covers the production of the film in far greater detail than the same DVD's 30-minute documentary (also returning here) which offers interviews with Meyer, producer Harve Bennett, Shatner, Leonard Nimoy, and Montalban, but is often tedious and dry, marred by close-ups of the participants staring directly into the camera. After a few minutes, viewers may find themselves looking away from the screen while Bennett's eyes are permanently transfixed on them! There's also no discussion of the casting of Kirstie Alley or Merritt Butrick (or anyone else, for that matter), no talk about other deleted scenes, of which there are many.
Meyer's commentary, meanwhile, is fascinating when he talks about working with Shatner (who he says delivered better takes the more he did them) and Montalban (for whom, on the other hand, "less" was "more"), as well as coping with the film's modest budget. He rarely ruffles any feathers, nor talks at length about his complaints over the ending that was changed without his consent, but aside from sporadic moments of self-congratulation, Meyer's talk is candid and quite interesting.
For the original Blu-Ray release of "Star Trek II", Paramount added a new, secondary commentary with Meyer and Trek veteran Manny Coto that's also on-hand here (on the theatrical cut only), which dissects other aspects of the production and compliments Meyer's original talk nicely, albeit with some natural repetition along the way. Other featurettes examine the production design and ILM's work on the film. This fascinating latter segment includes interviews with the ILM staffers who wisely decided to have the FX on the film fall somewhere between the evocative visual design of TMP and the simpler effects of the original series.
An even longer featurette profiles a pair of authors who wrote Khan-inspired books, which is OK for real die-hards (if not blatantly self-promotional), but why not use this space to include other deleted scenes – such as Kirk and Spock's exchange about Saavik's half-Romulan nature and other alternate takes from the TV version. Other returning extras include the trailer in HD, and some ten minutes of promotional interviews with Shatner, Nimoy, DeForest Kelley, and Montalban shot in 1982, shortly before the film's release.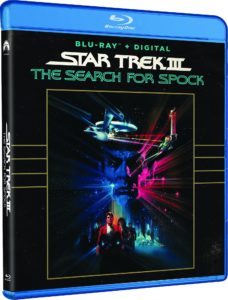 Also carried over from the most recent Blu-Ray disc are several HD featurettes, including "Composing Genesis," a 10-minute interview with James Horner where the composer discusses hanging out with Jerry Goldsmith during the scoring of TMP, how Harve Bennett wanted him to use music from the TV show and TMP while Meyer wanted original, "seafaring" themes; and his concept of using the Kirk-Spock friendship as the driving force for the entire score. It's a short but nice featurette paying proper tribute to Horner, whose musical abilities graced the second and third Trek films, giving both pictures an unforgettable emotional center.
There's also a segment on collecting Trek "relics," a short "Starfleet Academy" segment, and last but not least, a tribute to Ricardo Montalban from Nicholas Meyer that's marred by awkward camera work.
The widespread success of "Star Trek II: The Wrath Of Khan" led Paramount suits to immediately put another sequel in motion, but "The Search For Spock" didn't live up to its predecessor, and disappointingly disposed of several major elements "Khan" introduced along with it (Kirk's son, Kirstie Alley's performance as Saavik). For a number of reasons, "Khan" remains arguably the pinnacle of the entire series on the big-screen, and a bona-fide sci-fi classic that has lost none of its entertainment value.
With Leonard Nimoy taking over the directorial reigns, STAR TREK III: THE SEARCH FOR SPOCK (105 mins., 1984, PG) was quickly put into production and released in June of 1984.
Immediately picking up where its predecessor left off, "Search For Spock" shows the Enterprise crew battered and torn from their battle with Khan, one that left the Enterprise in shambles and Spock dead (well, sort of). Soon, however, Dr. McCoy begins showing signs of a ghostly, post-traumatic stress disorder – as in, speaking like Spock and telling Kirk that he's possibly still out there, somewhere. Meanwhile, the Klingons – lead by the ruthless Kruge (Christopher Lloyd) – have learned of the Genesis Planet and quickly engage in a race against the clock to seize its power. Kirk and company commandeer the Enterprise against Starfleet's wishes, and take off not to stop the Klingons but rather try and find whatever of Spock remains on the quarantined planet.
Written by producer Harve Bennett, "The Search For Spock" is the middle part of what turned into the only true story arc amongst all the Star Trek cinematic adventures. As such, it's the only film in the three-film trilogy that doesn't quite exist on its own merits: it bridges the gap between the more thrilling II and the rousing IV, advances the plot, and does so in an unremarkable but effective enough manner. It doesn't quite get a chance to breathe and is strictly workmanlike in execution (partially due to its multiple, claustrophobic sets, and also in its weird casting of Lloyd and John Larroquette as Klingons), but it nevertheless gets the job done and has a particularly satisfying ending that paved the way for the lighter and more energetic "Star Trek IV: The Voyage Home."
Paramount's 4K UHD looks nifty and again benefits from Dolby Vision grading, which also disposes of the old DNR glossiness of is 1080p Blu-Ray predecessor. The 7.1 Dolby TrueHD audio is robust, while extras include a commentary from Trek vets Ronald D. Moore and Michael Taylor, three HD featurettes (a look at ILM's work on the film; an examination of Trek's involvement with the Science Fiction Museum Hall of Fame; and "Spock: The Early Years"), another Starfleet Academy primer and the "Library Computer" feature from Michael Okuda, replacing his original DVD text commentary.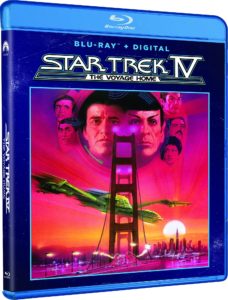 Numerous returnees from the prior DVD include an informative group audio commentary from Nimoy, Bennett, Robin "Saavik" Curtis, and cinematographer Charles Correll. Nimoy is unsurprisingly candid and enlightening when talking about the film, particularly when he discusses how he talked Paramount executives into letting him direct the picture. Bennett explains his "task master" role in the series, Correll talks about the challenges involved with filming entirely on studio sets, and Curtis basically praises the cast for accepting her into the fold (while Curtis seems to be an extremely nice person, one still can't help but lament the absence of Kirstie Alley in the role here).
Behind-the-scenes featurettes include "Captain's Log," a Making Of that sports interviews with Nimoy, Bennett, Shatner, Curtis, and Christopher Lloyd among others. While this is pretty much another talking head featurette, at least it's not quite as dry as the one produced for "The Wrath of Khan," and Bennett doesn't stare right into the camera again. Other, shorter featurettes touch upon ILM's special effects on the film ("Space Docks and Birds of Prey"), the Klingon language (with linguist Marc Okrand), costumes, and a technical account of NASA's own "Genesis Planet" terraforming (don't venture here unless you're a real sci-fi junkie!). Storyboards, photos, and the very brief theatrical trailer (which resembles a TV spot) round out the disc.
While I've always been an admirer of "Star Trek III," I doubt there are many Trekkies who feel this is the best of the series. It is what it is, and includes several strong scenes mixed in with a straightforward plot and stage-bound atmosphere.
With Nimoy having gained experience behind the lens, "Star Trek IV" would arrive two years later and prove to be an overwhelming commercial and critical hit – by and large considered one of the finest sequels ever made.
To complete the solemn story arc of "Star Trek II: The Wrath of Khan" and "Star Trek III: The Search For Spock," director Nimoy and producer Harve Bennett wisely decided to "have a little fun" with STAR TREK IV: THE VOYAGE HOME (118 mins., 1986, PG).
All Paramount execs mandated was that the movie was a time travel picture — the rest was entirely up to the filmmakers, who ultimately collaborated with "Khan" auteur Nicholas Meyer in fashioning a clever, upbeat sci-fi adventure that remains the most successful of the Trek sequels.
After quickly wrapping up plot fragments left over from the preceding two films, the Enterprise crew heads back to Earth in the Klingon Bird of Prey – only to find out that an unknown, alien entity is threatening all life back home. The probe's only method of communication is in the song of humpback whales, who are extinct in the 23rd century. Naturally, Kirk and Spock opt to time-travel to 1986 San Francisco in order to find a living specimen to bring back to the future, but with Spock's resurrected brain not quite functioning yet at 100% and the crew in "fish out of water" territory, the comedic situations are exploited even more than the dramatic possibilities.
There has always been a divergence among Star Trek fans on "The Voyage Home," which is none too surprising since the movie is still the only series entry (with the current exception of J.J. Abrams' new "Star Trek") to find breakthrough success at the box-office with mainstream viewers.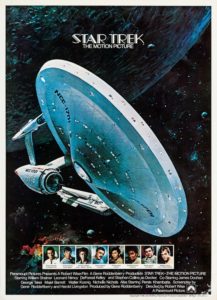 As a fan of the original series, I have always felt that "The Voyage Home" showcases Star Trek at its best. Without a heavy, IV is light as a feather and freed from the formula that has plagued many series entries, while the cast, looking as relaxed as ever, seem invigorated by the sheer scope of the movie, breaking out of the claustrophobic, set-bound trappings of the previous installment. The movie's script, ultimately co-credited to Steve Meerson and Peter Krikes but apparently rewritten completely by Bennett and Meyer, works equally as a comedy and a sci-fi fantasy, with the interplay between Nimoy and Shatner being utterly priceless, despite the obviousness of some of the gags. Even after some 35 years, it's still easy to see why the movie was as popular as it was, grossing over $110 million domestically in '86 dollars (at the time, and for many years, it was the only sequel in the series to pass the $100 million mark).
Paramount's 4K UHD once again renders a superb Dolby Vision-enhanced HVEC encoded transfer (2.35, as is the case with its predecessors) that proves to be an appreciable upgrade on the previous Blu-Ray in terms of overall color tone and picture detail. That old release seemed more affected by its DNR than its counterparts, so this is a major enhancement all told and a must for fans. Leonard Rosenman's festive (and often unnecessarily derided) Oscar-nominated score, meanwhile, gets an added kick from the "high-res" audio that Dolby TrueHD affords, in a lossless 7.1 mix similar to its previous incarnations.
The supplements – again found in the remastered Blu-Ray disc – include a later commentary from current "Star Trek" screenwriters Roberto Orci and Alex Kurtzman, who watch the film from a fan perspective and lend their insight into the film's strengths. New-ish featurettes include "Pavel Chekov's Screen Moments," interviewing Walter Koenig, plus "The Three-Picture Saga" (interviews with Harve Bennett, Nicholas Meyer, the usual Trek scholars and producer Ralph Winter), "Star Trek For a Cause" and yet another short Starfleet Academy primer.
Ported over from the two-disc DVD is a commentary by Leonard Nimoy and William Shatner, together for the first time on a commentary track. No, they don't make too many critical comments (and there's not much discussion on the development of the project, or the reports that Catherine Hicks' part was once intended for Eddie Murphy!), but it's nevertheless a congenial talk that fans should enjoy.
An additional Making Of, "Future's Past: A Look Back," includes interviews with Shatner, Nimoy, Bennett, Meyer, Catherine Hicks, and co-producers Ralph Winter and Kirk Thatcher. There aren't a lot of stories revealed here that fans won't already know (and it isn't overly critical, much like the preceding documentaries), but it's an accessible featurette just the same. Some production footage is nicely interwoven in the segment, and is also included on the companion featurettes "On Location" and "Dailies Deconstruction."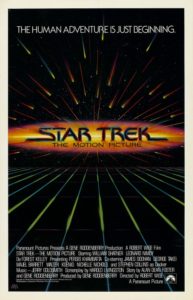 Naturally, there's plenty of material on the special effects ("From Outer Space to the Ocean," "The Bird of Prey"), with the usual storyboards and production stills thrown in for good measure, but the big surprises come in the additional materials Paramount has included here. Especially enlightening are a 13-minute tribute to the late Mark Lenard, who played Sarek, and a fun piece called "Kirk's Women," which features comments from Catherine Hicks and several female guest stars of the original series, reflecting on their work with Shatner. It's a lot of fun, as are the interviews with Shatner, Nimoy, and DeForest Kelley shot on the set in 1986. Additional segments look at time travel, "A Vulcan Primer," "The Language of Whales," the movie's sound design, a tribute to Gene Roddenberry, and are topped off by the original trailer in HD, containing James Horner's music from the preceding sequels — indicating in the process how those themes may have clashed with IV's lighter tone.
"Star Trek IV" is thoroughly appealing from start to end and thoroughly inspired – right down to Rosenman's jubilant and unorthodox (for the series) score – and likely to entertain all except the most die-hard Trek curmudgeons.
Paramount's now-available box-set of STAR TREK: THE ORIGINAL 4-MOVIE COLLECTION includes separate multi-disc cases for both 4K UHD and the remastered Blu-Rays (which will also be released individually on September 21st in attractive original theatrical artwork), along with a 4K digital code. While there's no word on when (or if) the rest of the Trek film series is coming to 4K UHD, here's hoping sales push the remaining entries into what's probably going to be the final frontier for physical media – sooner than later.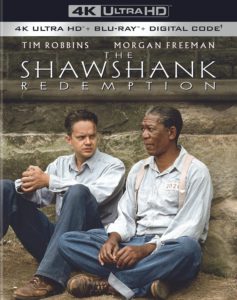 Long before some viewers discovered it on video, prior to it becoming a classic film that was embraced by the masses, Frank Darabont's THE SHAWSHANK REDEMPTION (136 mins., 1994, R; Warner) was a little movie that few people saw.
Yet for those of us who did see the picture upon its original release in September 1994, you knew immediately that Darabont — adapting a Stephen King novella — had produced something truly extraordinary: an absorbing, beautifully acted and masterfully told period story about the relationship between two men (Tim Robbins' Andy Dufrense and Morgan Freeman's "Red" Redding) in a Maine prison, their aspirations to live outside the confines of their existence and eventually break free, both spiritually and physically, from their surroundings.
Splendidly shot by Roger Deakins, designed by Terence Marsh, and scored by Thomas Newman (writing one of his finest and most memorable works), "Shawshank" is one of those rare films where every element of it clicks. Robbins and Freeman are extraordinary, while supporting roles are filled by an array of character actors, from the late James Whitmore to Bob Gunton, Bill Sadler, Clancy Brown and Gil Bellows. All of them are flawless in their articulation of Darabont's perfectly pitched script, which culminates in one of the most satisfying endings you'll see in any film. Now some 27 years after its initial, disappointing theatrical release, and thanks to a myriad of video releases and TV broadcasts, the movie is regarded almost unanimously as one of the finest films of the '90s, which is what some of us who watched it the first time knew all along: in every facet, "The Shawshank Redemption" is pure cinematic gold.
Warner's 4K UHD edition of "The Shawshank Redemption" is out this week and offers a rock-solid HDR10 presentation that deftly replicates the nuances of Deakins' cinematography, while the 5.1 DTS MA soundtrack is the same track found on prior releases. The accompanying Blu-Ray reprises the extras from the previous BD as well, including commentary from Darabont, a proper Making Of retrospective packed with interviews from the cast and crew, and a Digital HD copy.
Coming September 21st also from Warner is a sparkling 4K UHD restoration of Stanley Kubrick's A CLOCKWORK ORANGE (137 mins., 1971, R), the classic adaptation of Anthony Burgess' futuristic novel that provides a wild, controversial take on a futuristic society wherein hooligans like Malcolm McDowell's anti-hero Alex runs amok. Kubrick's swirling camerawork and offbeat narrative tendencies make for a movie that has retained its impact even with scores of similarly-themed, dystopian future pictures having followed in its wake, and Warner's 4K UHD is distinguished by a strong HDR10 presentation with 5.1 DTS MA sound, both along the lines of the studio's previous Kubrick UHDs ("The Shining," "2001"). Extras are reprieved from the also-enclosed Blu-Ray including McDowell and Nick Redman's commentary and numerous featurettes, along with a Digital HD code.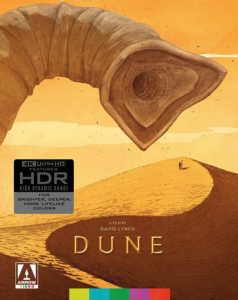 David Lynch's "Dune" might have been a flop when first released to theaters at Christmas time in '84, but the movie has gained a sizable cult following over the years since. A multitude of "Dune" home video releases have popped up all over the globe, some offering just the standard theatrical release version, with others boasting the expanded, three-hour Universal TV version (made without Lynch's involvement) and a myriad of unique supplements. This month Arrow brings fans the premiere 4K UHD edition of DUNE (136 mins., 1984, PG-13) on video, offering a spectacular Dolby Vision HDR presentation of the movie along with some superb new extra features that mean – yes – it's time for another purchase, "Dune" devotees.
This Special Edition (also available on Blu-Ray) does not contain the extended TV cut of the film, which Arrow said was "no longer available" when they tried to license it, so what fans have here is Lynch's theatrical cut – the only officially sanctioned edit of the movie since the director expressed little interest in revisiting this work – and the visual presentation is spectacular. Germany's Koch Films (which is releasing their own 4K UHD next month) meticulously restored the negative of this Dino De Laurentiis production, with heightened detail being the most striking attribute of the new transfer. "Dune" certainly isn't "Flash Gordon" in terms of "eye popping" colors but the technical artistry involved with the production is rendered here more precisely than any previous HD master, including Universal's Blu-Ray from over a decade ago. The 5.1/2.0 audio options are roughly on par with previous editions, so it's the image that receives the most notable upgrade, and from Tony Masters' production design to Freddie Francis' cinematography, all of their work benefits from the higher detail and HDR usage afforded by UHD as well as Koch's own, stalwart restoration process.
Arrow's UHD is available in a couple of different flavors – the 4K UHD Limited Edition I screened is a two-disc set that features the UHD (Dolby Vision, 5.1/2.0 DTS MA) along with a terrific mix of new and archival supplements.
Freshly produced for this release are a pair of commentary tracks, one most notably contributed by Paul M. Sammon, who worked on many '80s genre favorites ("Blade Runner" and "Robocop" among them) in a variety of roles. Sammon was on-set in Mexico City for the hellish production and recounts Lynch's creative process and the heavy politics involved in the movie between DeLaurentiis and Universal, who thought they had the next family-friendly "Star Wars" franchise in their grasp here (they were, obviously, quite wrong). The mounting tension between the respective parties makes for an informative (if occasionally leisurely) commentary from someone who was there, while another track includes podcaster Mike White.
Archival extras include a welcome reprisal of "Impressions of Dune," a retrospective doc shot for the 2003 UK DVD release, and "Destination Dune," a 1983 EPK segment Sammon produced during shooting.
Carried over from Universal's earlier releases are 15 minutes of deleted sequences, most culled off a workprint, with production audio only: these include the knife fight between Paul and Jamis; a longer introduction to the movie with Virginia Madsen's Princess; what appears to be an alternate introduction to the Bene Gesserit sisterhood, with what possibly could be Lynch's voice heard off-camera (I'll leave that to the experts); and two extensions to the film's conclusion, one showing the fate of servant Thufir Hawat and the other setting up Paul's marriage to Princess Irulan (only the latter sequences are fully scored, leaving one to suspect that they were jettisoned at the last minute).
Four other featurettes from the 2005 Universal DVD (totaling about 20-30 minutes) are also on-hand, including "Designing Dune," "Dune FX," "Dune Models," and "Dune Wardrobe," including comments from Raffaella DeLaurentiis, production designer Tony Masters, costume designer Bob Ringwood and others.
The UHD disc is capped by image galleries, trailers and TV spots, while the set is also includes a "Bonus Disc" Blu-Ray that houses Arrow's new featurettes. These include "Beyond Imagination: Merchandising Dune," sporting an interview with Brian Stillman on LJN's toy line, and "Prophecy Fulfilled: Scoring Dune," which includes several members of Toto detailing how the unique soundtrack for the film came together. Rounding out the release is a 2020 interview with make-up artist Giannetto deRossi, and archival interviews with production coordinator Golda Offenheim (2003), co-star Paul Smith (2008) and make-up artist Christopher Tucker.
Arrow's packaging includes a 60-page booklet with multiple essays plus a fold-out double-sided poster and six lobby cards in postcard form. Fans will note Arrow decided not to include "The Sleeper Must Awaken," their heavily-touted new documentary on the making of the film, and that Koch's own release will include said extra, but otherwise, there's not much to quibble with here in terms of the set's transfer, sound and fascinating extras. Highly recommended!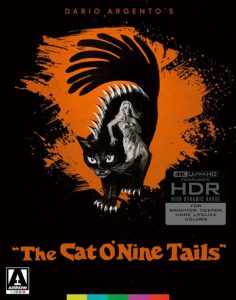 "Dune" isn't the only 4K UHD out from Arrow this month: a 4K restoration is also on-tap of Dario Argento's thriller THE CAT O'NINE TAILS (112 mins., 1971, R), starring James Fransiscus and Karl Malden in a Hitchcockian affair that most Argento fans rate as one of the director's lesser films. However, its straightforward plot and use of 2.35 widescreen may make it more accessible for those not fully immersed in Italian cinema. I even recall seeing the movie on WLNE Providence's "Dialing for Dollars Afternoon Movie" in a horribly dark, cropped TV print in the early '80s, which made watching the new Dolby Vision HDR transfer of Arrow's UHD box-set a particular revelation – Arrow's Blu-Ray of this master a few years ago was solid, but the Dolby Vision grading enables Argento's range of colors to be more fully exploited.
This exclusive Arrow restoration again hails from the original camera negative and offers a number of extras reprised from that release: a fresh commentary by critics Alan Jones and Kim Newman, plus interviews with Argento, writer Dardano Sacchetti, production manager Angelo Iacono, and actress Cinzia DeCarolis; script pages for the lost ending; trailers; and mono Italian or English soundtracks (both lossless), featuring music by Ennio Morricone (who provides a typically off-the-wall, early '70s score). Another essential UHD upgrade for Argento enthusiasts.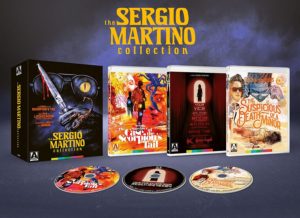 Giallo fans who have yet to buy Arrow's previous Sergio Martino releases should note the label's new Blu-Ray compilation box-set, THE SERGIO MARTINO COLLECTION, housing a trio of key films from an Italian filmmaker renowned for working in a wide swath of genres.
The set kicks off with THE CASE OF THE SCORPION'S TAIL (95 mins., 1971) and segues to YOUR VICE IS A LOCKED ROOM AND ONLY I HAVE THE KEY (96 mins., 1972) which is inspired by Poe but retains a very Italian sensibility as all three of the films here do. THE SUSPICIOUS DEATH OF A MINOR (100 mins., 1975), meanwhile, was the last of Martino's six works in the genre and stars Claudio Cassinelli as a cop on the trail of a Milanese gang apparently responsible for the murder of an underage prostitute. Mel Ferrer co-stars in this 1975 genre favorite, here presented in an Arrow-exclusive 2K restoration from the original negative. Supplements include both English and Italian audio tracks, a commentary from Troy Howarth, and an interview with Martino, while extras on "Scorpion's Tail" include a commentary with writer Ernesto Gastaldi and numerous interviews; and "Vice" boasts another Martino interview and other extensive goodies.
Severin New Releases: Severin's ELOY DE LA IGLESLIA'S QINQUI COLLECTION offers a trio of efforts from Basque filmmaker de la Igleslia ("Cannibal Man"): "Navajeros," "El Pico" and "El Pico 2," which were shot from 1980-84 and star Jose Luis Manzano in a "neorealist trilogy" touching upon the violence and drug use rampant in post-Franco Spain – an addiction that would tragically haunt both Manzano and de la Igleslia alike off-screen. All three films were scanned in 4K from the original negatives in this multi-disc Severin package with extras including interviews with actor Jose Sacristan, historians Mery Cuesta and Tom Whitaker, a panel discussion, trailers on the first two films, 1080p (1.66) transfers and mono Spanish sound…Available separately from Severin is NO ONE HEARD THE SCREAM (92 mins., 1973), an earlier work from de la Igleslia shot under the Franco regime that boasts a cutting final twist and a mix of horror and political commentary at the same time. An interview with scholar Dr. Andy Willis is included with another 1080p (1.85) scan from the original negative and Spanish audio with English subtitles.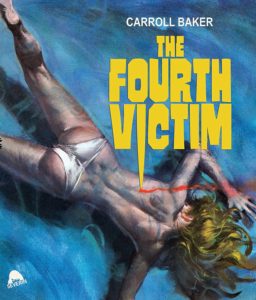 Coming Soon from Severin: Southern horror provocateur Earl Owensby cranked out many a popular genre programmer in the '70s and '80s, and along the way, produced A DAY OF JUDGMENT (97 mins., 1981, Not Rated), an especially strange "Christian slasher" that finds a wretched hive and scum and villainy in the form of a 1930s town receiving its comeuppance via a scythe-wielding killer. Scanned in 2K (1.85) for the first time, this C.D.H. Reynolds-helmed effort offers the kind of unique atmosphere you'd expect from an Owensby production, giving the movie a distinctive flair not seen in most of its brethren from the time. Severin's Blu-Ray also includes an interview with Stephen Thrower and conversations featuring associate producer Worth Keeter and writer Thom McIntyre.
Writer-director John Russo's Pittsburgh-lensed shocker MIDNIGHT (94 mins., 1980) also benefits from the same kind of moody, independent "regional horror" spirit, though this one's a much nastier affair that follows a runaway teen (Melanie Verlin) who gets more than she bargained for after she's abducted by a group of Satan-worshipping rednecks. Shot in 1980, released in most markets in 1982 (in some locales as "Backwoods Massacre"), "Midnight" debuts on Blu-Ray September 28th from Severin featuring a 4K scan (1.66) from the long-rumored uncut version, 5.1/2.0 audio options and plenty of extras: interviews with Russo and crew, make-up artist Tom Savini, and isolated score selections along with an interview with composer Mike Mazzei.
Finally, giallo fans will also want to check out the rarely-screened 1971 import THE FOURTH VICTIM (88 mins.), here presented in English for the first time on Blu-Ray. Carroll Baker and Michael Craig star in this tale of a Brit playboy (Craig) whose latest wife (Baker) begins to wonder if she's next following the deaths of his three previous spouses. Scanned in 2K (2.35) from the original negative, this is a good-looking presentation of Eugenio Martin's genre exercise, here also including the Italian audio, a deleted scene, and interview with Martin biographer Carlos Aguilar.
---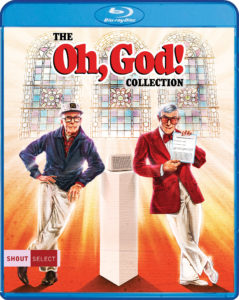 The "Oh, God!" Collection From Shout! Factory
After a late career resurgence that sprung out of a performance in Neil Simon's "The Sunshine Boys," George Burns hit box-office paydirt again – quite a lot of it in fact – with OH, GOD! (98 mins., 1977, PG), essaying The Big Man himself in a contemporary comedy-drama concocted by writer Larry Gelbart and director Carl Reiner. The film became one of the top hits of '77 not named "Star Wars," and today offers a still-resonant story of a supermarket manager (John Denver) who's chosen to spread the word that God's good and humankind – despite the tough sledding of our troubled times – is still on the right track.
Gelbart adapted a book by Avery Corman for this Fall '77 hit, which is actually a lot more thoughtful and less comedic than I anticipated. Denver didn't have much of a career on the big-screen, which is surprising since he's convincing and appealing here, especially during the movie's first half, wherein Denver is recruited by Burns' God and tries to convince the media – be it local news or Dinah Shore – to push out his message. The second half of the movie involving false prophets like Paul Sorvino's southern minister (it's nutty seeing Sorvino briefly paired with Donald Pleasence's priest, a role that must've mostly hit the cutting room floor) and a routine courtroom climax is less fun, and the surprisingly bittersweet finale comes off as a little too "low impact" for its own good.
Growing up I may have seen "Oh God!" at some point but I have much stronger memories of watching its 1980 sequel, OH GOD! BOOK II (94 mins., PG), which seemed more widely circulated on TV, probably because of its kid-friendly story involving a grade-school girl (Louanne) whom Burns' God selects as his newest messenger. Despite some PG-rated humor in places, this is firmly a less sophisticated – and at times downright saccharine – sequel from director Gilbert Cates that didn't replicate the success of its predecessor at the box-office, with Burns remaining appealing but the film coming off like a TV movie, despite the presence of five (!) credited screenwriters.
Despite the second movie's comparatively weak box-office showing, Warner Bros. still opted to produce a third installment in the series, and found a willing collaborator in the form of Andrew Bergman, who was then a hot commodity after the success of "The In Laws." While Bergman's big-screen career was about to take off in the '80s with his script for "Fletch," he dusted off an unsold play involving a struggling singer who sold his soul to the Devil and reworked it as OH GOD! YOU DEVIL (96 mins., 1984, PG).
This is not a film I ever recall seeing before, and as it turns out, despite the film's mostly tepid reviews, this sequel was a happy surprise: a quite lovely and even moving film that sees Ted Wass' hard-working musician selling his soul to Burns' Devil, who promptly has him switch bodies with a hugely popular yet troubled rock star. While Wass eventually finds out life on the other side isn't what it's cracked out to be, he ultimately needs the intervention of the other Burns, with God appearing just in the nick of time to try and get him one more chance.
Bergman's screenplay is surprisingly touching in places and Wass is excellent under the direction of veteran Paul Bogart, in a project that was initially structured for Barry Manilow. Mike Post and John Bettis were brought into compose several original songs (most of which are relegated to the backdrop in the finished film), but once Manilow apparently passed on the project (he'd go off to film the CBS TV-movie of "Copacabana" instead), the studio settled on Wass, who was just coming off the disappointment of "Curse of the Pink Panther." Wass works well off Burns – who's mostly in Old Scratch form here – with a highly capable supporting cast surrounding them in the form of Ron Silver (the rock star's harried manager) and Roxanne Hart (Wass' wife), with recognizable faces like James Cromwell and Robert Picardo also popping up.
"Oh God! You Devil" managed to outperform the second film in the series when it was released in November 1984, but was still mostly brushed off by critics at the time. It's unfortunate since Bergman's screenplay does not adhere to the formula of the previous two movies, preferring to advance a heartfelt story that proves very satisfying on its humanistic scale. The picture is also graced by a wonderful score by David Shire that's easily the best of the series, boasting some majestic orchestral passages and poignant underscoring that likewise elevates the material.
All three "Oh God!" pictures have been brought to Blu-Ray for the first time in a Shout Select box-set. The transfers mostly follow the order of the films, with the original looking freshly transferred, the second film seeming a little less pristine, and the third appearing a bit noisy and ancient in terms of its scan. The mono sound is fine, with Shire's work far outclassing his predecessors – Jack Elliott on "Oh God!" and Charles Fox penning a similarly syrupy score for "Book II."
Trailers and a few nice extra features are on-hand, most notably a lengthy interview with Ted Wass who discusses working with Mike Post and Geoge Burns on "You Devil." Also included are some wonderful segments from "The Tonight Show" with John Denver filling in for Johnny and welcoming guests Burns, Reiner and Teri Garr (who plays Denver's long-suffering wife in the film). There are also segments from a vintage "Jack Benny Show" with Burns playing the Devil, plus a full run of trailers; a talk with "Book II" Assistant Director Tom Lofaro; the archival DVD commentary from "Oh, God!" featuring Reiner, Garr, Gelbart and producer Jerry Weintraub; and new commentaries on all three films from theologian/critic Dr. Donna Bowman.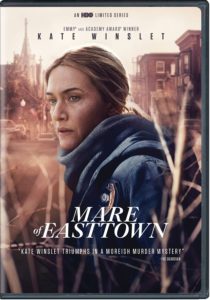 MARE OF EASTTOWN DVD (417 mins., 2021; HBO): Kate Winlset goes outside the box in this gritty but ultimately convoluted HBO series, playing a hard-drinking rollercoaster of a woman – a detective in a small Pennsylvania town – who's trying to hold it together as a divorced Mom while the murder of a young girl – also a single parent – turns all of her daughter's high school class into potential suspects…along with the girl's troubled family members.
"Mare of Easttown" offers committed performances from Winslet, Julianne Nicholson, Jean Smart and Guy Pearce among others, and the show is certainly well-made on any number of levels. What becomes disappointing is the structure of the series, which grows increasingly tedious while the potential suspects are ferreted out. Nevertheless nominated for 16 Emmys, "Mare" debuts on DVD from HBO this week featuring four featurettes, 16:9 transfers and 5.1 soundtracks.
BOSS BABY: FAMILY BUSINESS 4K Ultra HD/Blu-Ray Combo Pack (108 mins., 2021, PG; Universal): Sequel to the 2017 animated hit finds the Templeton brothers (voiced by Alec Baldwin and James Marsden) now grown but wrapped up in the latest Boss Baby's (voiced by Amy Sedaris) adventures, this time revolving around a plan concocted by villainous Jeff Goldblum to steal away childhood from toddlers and turn them into brats. Michael McCullers scripted another adaptation of Marla Frazee's hugely popular books which starts off on the slow side, and in general is hampered by a sluggish (considering the genre) running time, but should still offer the same amount of animated hyjinks for kids as its predecessor. Universal's attractive 4K UHD disc includes Dolby Atmos audio and Dolby Vision HDR, both of which look super (2.39), with extras including the all-new animated short "Precious Templeton: A Pony Tale," featurettes, a lyric video, Blu-Ray disc and Digital HD copy.
YOUNG SHELDON – Season 4 Blu-Ray (336 mins., 2020-21; Warner): Sheldon takes on the challenge of college in this fourth season of the heart-warming "Big Bang Theory" prequel. Also in the CBS series' 4th season: Sheldon's twin sister Mary heads off to middle school while older brother George engages in a business venture, and Meemaw is courted by multiple suitors. It's up to the Cooper parents to hold the clan together in these 18 fourth-season episodes, now on Blu-Ray from Warner featuring 1080p (1.78) AVC encoded transfers and 5.1 DTS MA soundtracks. Extras include the featurette "Cooped Up With The Coopers."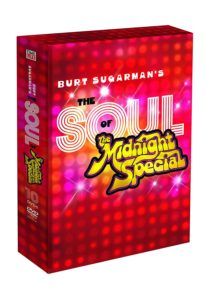 THE SOUL OF THE MIDNIGHT SPECIAL DVD Box Set (Time Life): Unlike some other music series of the 1970s (i.e. "Solid Gold"), producer Burt Sugarman's "The Midnight Special" offered a cavalcade of soul/R&B artists who performed live, uncut, on its stage. Time Life has issued a number of box-sets on home video from the series previously, but this new DVD anthology – "The Soul of 'The Midnight Special'" – is one of the best. From staples like Gladys Knight & The Pips' "Midnight Train to Georgia" to classics by James Brown, Peabo Bryson, Natalie Cole, Commodores, Earth Wind & Fire, Aretha Franklin, Isaac Hayes, Curtis Mayfield, Teddy Pendergrass, Billy Preston, Lou Rawls, Rufus featuring Chaka Khan, Barry White, Bill Withers and many others, this is a dynamic anthology new to DVD. The 10-disc set also includes bonus interviews but it's the uncut performances, many of which feed off the energy from the live audience in front of them, that make this so worthwhile for R&B fans of the era.
Last year Time Life produced one of the year's best DVD retrospectives, commemorating the work of Dolly Parton across multiple fields of entertainment. The 19-disc "Dolly: The Ultimate Collection" was a marvelous effort, much like the label's wonderful "Robin Williams: Comic Genius" package from 2019, since it traversed Parton's career from its origins – in this case, "The Porter Wagoner Show," where Parton got her start – through her superstardom in the '70s and '80s.
For those who didn't to splurge on that entire package, Time Life has produced a pared-down "highlights" package in the form of a 6-disc DOLLY: THE ULTIMATE COLLECTION DVD box-set, which streets on September 21st. This lower-priced "highlights" package includes 11 episodes from Dolly's 80s variety show; her 2009 "Live From London" concert; a Christmas disc featuring two of Parton's appearances on other network TV specials; the 2019 BBC documentary "Dolly Parton: Here I Am"; behind-the-scenes footage; and an interview with Mac Davis.
Film Movement New Releases: Cathy Yan's DEAD PIGS (122 mns., 2018, Not Rated) was the director's debut feature: a satire set amongst a group of characters in Shanghai and Jiaxing, respectively, after thousands upon thousands of dead pigs are discovered floating down the Huangpu River. The characters' respective journeys intersect in an offbeat Chinese import on DVD September 14th from Film Movement sporting a 16:9 transfer with 5.1/2.0 audio, English subtitles, and Renkai Tan's short "Limitation of Life" on the supplemental side.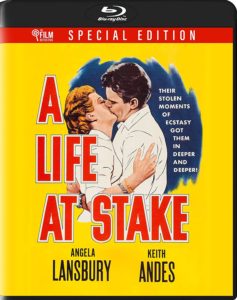 A LIFE AT STAKE Blu-Ray (78 mins., 1955; The Film Detective): Another film noir effort ripe for rediscovery can be found as the latest restoration from The Film Detective: "A Life at Stake" is a punchy mid '50s effort (one with a little more sex and sordidness than its '40s counterparts) starring Keith Andes as an L.A. architect talked into a business deal with the wife (Angela Lansbury) of a real estate mogul. The duo even engage in an affair until Andes figures out there's more to Lansbury than meets the eye, with his life very much on the line as a result.
Paul Guilfoyle helmed "A Life at Stake," which boasts a strong turn from a young Lansbury in a movie that ought to satisfy any hardcore noir buff. The Film Detective's pleasurable Blu-Ray hails from a new 4K transfer from archival film elements (1.37 B&W) with extras including a new Ballyhoo doc, "Hollywood Hitch-hikers: Inside the Filmmakers"; a commentary from scholar Jason A. Ney and a full-color booklet featuring an essay from Ney on Lansbury and "The Last Days of the B Noir" as well.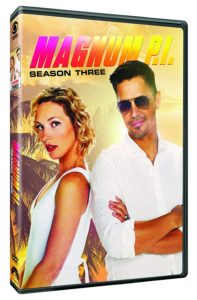 CBS New Releases: Jay Hernandez returns for the third season of the MAGNUM P.I. remake (12 hours, 2020-21), featuring the series' COVID-curtailed 13-episodes spread here across four DVDs. The season begins with Magnum and Perdita Weeks' Higgins working together at the same time she begins a relationship with Jay Ali's Dr. Ethan Shah. Meanwhile, Rick (Zachary Knighton) manages the Island's tiki bar while they all have to combat a hurricane ravaging La Mariana at the same time that two armed killers are on the loose. CBS' DVD set is out this week featuring deleted scenes and a gag reel, 16:9 transfers and 5.1 soundtracks…Season 4 of SEAL TEAM (11 hours, 2020-21) was also impacted by COVID, reducing its episode order, though fans will still want to check out the latest adventures of Jason Hayes (David Boreanaz) and Bravo Team in CBS' DVD package. The four-disc set sports a trio of behind-the-scenes featurettes, a commentary, and deleted scenes, 16:9 transfers and 5.1/2.0 sound.
THE POWER DVD (93 mins., 2020, Not Rated; RLJE Films): Corinna Faith wrote and directed this atmospheric horror outing set during the mid '70s when England rolled blackouts across the country due to a miner's strike. Rose Williams gives a strong performance as a trainee nurse who uncovers a deadly force while she works the night shift at a Royal Infirmary building that's mostly vacant; the scares are predictable but the movie functions well considering its trappings, making it worth a look for horror fans. RLJE's DVD is out September 21st featuring commentary with the actress and director, a photo gallery, 16:9 (2.35) transfer and 5.1 Dolby Digital sound.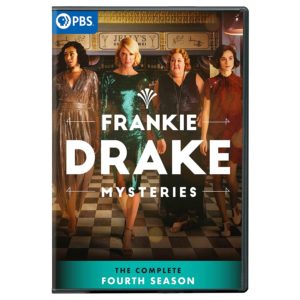 PBS New Releases: New dramatic series on home video this month from PBS include the Fourth Season of FRANKIE DRAKE MYSTERIES (435 mins., 2021), which begins with Frankie, Trudy and their friends wrapped up in a scavenger hunt that proves to be deadly. Other cases include assorted kidnappings, murders and heists, all with a period flair. PBS' multi-disc set is now available sporting 16:9 transfers and stereo sound across three DVDs…Season 1 of GUILT (230 mins., 2019) stars Mark Bonnar and Jamie Sives as brothers who accidentally drive over an old man late one night on a dark street. They attempt to conceal their actions — only to have them unravel — in this BBC Scotland import brought to the U.S. by Mystery and debuting on DVD this month from PBS in a two-disc set. The DVD includes a trio of behind-the-scenes featurettes.
Just in time for Halloween comes EXHUMED: A HISTORY OF ZOMBIES (50 mins., 2020), featuring Dr. Emily Zarka's trek through film, literature, and folklore, looking at how the undead has been portrayed through history and its growing popularity in the 20th and 21st centuries. The hour-long doc is new on DVD featuring a 16:9 transfer and 2.0 stereo sound…A different kind of folklore sleuthing is on-hand in LUCY WORSLEY'S ROYAL MYTHS & SECRETS Volume 2 (160 mins., 2020), featuring three episodes (The Reformation, George IV And The Regency, The Russian Revolution) that seek to uncover the truth behind all three topics, in a multi-disc PBS set (16:9, 2.0) that's now available…Coming September 28th from PBS is the four-part MYSTERIES OF MENTAL ILLNESS (215 mins., 2021), a new documentary examining the topic from its ancient handling through today's cutting-edge scientific treatments. PBS' DVD incudes 16:9 transfers and 2.0 sound.
NEXT TIME: Kino Lorber's Early Fall rundown with big new September releases! Until then, don't forget to drop in on the official Aisle Seat Message Boards and direct any emails to our email address. Cheers everyone!