Message Board (open 24 hours!)
Twitter - @andredursin (for everything else!)
A title that's racked up plenty of frequent-flier miles on home video over the years, ROBOCOP (103 mins., 1987, R/Unrated; Arrow) is back again, this time debuting in a 4K UHD with Dolby Vision HDR grading and Dolby Atmos audio – elements that will enable fans to take full advantage of its previous 2013 MGM 4K restoration supervised by director Paul Verhoeven himself.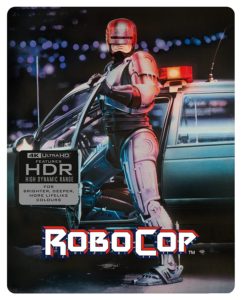 Arrow previously brought this transfer to Blu-Ray in 2015 (after MGM themselves did a year prior) in a sensational Limited Edition package, and now the label helps Robo make the jump to 4K with a similarly configured L.E. box – also available in a two-disc Steelbook as well – that features its Unrated Director's Cut and the original R-rated theatrical edit, plus a wealth of special features from their 2015 edition.
Technically, the 2013 restoration still holds up spectacularly well. Solid detail enriches an image that was poorly presented in MGM's first MPEG-2 encoded format master, with clear detail and natural grain in abundance – elements heightened all the more with high-contrast Dolby Vision HDR grading on UHD. Audio options include a run of 2.0, 4.0 and 5.1 DTS MA mixes plus the new Dolby Atmos track, along with two isolated score tracks (Basil Poledouris' original score and the "Final Theatrical Mix") on the Director's Cut disc. Fans will be able to effortlessly jump from one track to the next selecting which one has the broadest and/or effective sound stage, though if you're not Atmos capable, the 4.0 track sounds the most satisfyingly balanced to my ears.
The reprieved supplements offer a wealth of goodies. Included here are commentaries from historian Paul M. Sammon and a collection of fans; interviews with co-writer Michael Miner, Ed Neumeier, Nancy Allen, casting director Julie Selzer, 2nd unit director Mark Goldblatt, and FX designer Peter Kurran. There's also a 12-minute featurette paying tribute to the uber "masculine" soundtrack of Basil Poledouris featuring comments from someone named Lukas Kendall, Jeff Bond, Robert Townson and Daniel Schweiger. This is a welcome segment that's included alongside a cornucopia of other extras, commentaries and featurettes from MGM's previous home video releases.
Arrow has also assembled assorted "Edited for Television" alternate takes used to supplement "Robocop"'s TV broadcasts. These include overdubbed lines and some alternate versions, presented in both a full 20-minute montage or in a comparison with the Theatrical and Unrated versions (there's also a Theatrical Vs. Unrated comparison featurette for good measure). The full TV cut (95 minutes) is also included in standard-def, putting the cap on a definitive supplemental section for fans – and a must-have for 4K owners.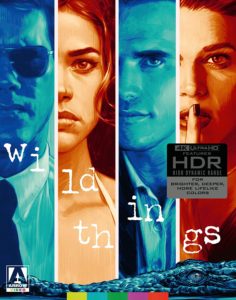 An early format DVD that made only a single appearance on Blu-Ray, John McNaughton's WILD THINGS (108/115 mins., R/Unrated, 1998) also premieres on 4K UHD this month from Arrow featuring both its R-rated theatrical edit and Unrated Director's Cut.
Trashy, mean spirited, yet all in good fun, McNaughton's Spring '98 hit – the one with the big "lesbian scene" between then-blossoming young actresses Neve Campbell and Denise Richards – has remained something of a cult favorite since its original release. One would anticipate that, as time passes, its mix of young stars, '80s leading men (Matt Dillon, Kevin Bacon), and veterans like Bill Murray and Robert Wagner will continue to make the movie a particular favorite among viewers, not to mention the movie's quirky humor and widescreen cinematography. All of these elements give the Florida suspenser a personality missing from the other psycho-thrillers of the decade, i.e. "Basic Instinct" and others of its ilk.
Arrow's Limited Edition UHD looks great, as both the movie's 108-minute theatrical cut and Unrated 115-minute version have been restored in 4K – with Dolby Vision HDR – from the original camera negatives along with uncompressed PCM and 5.1 DTS MA sound. A new commentary with McNaughton and producer Steven A. Jones leads the extras along with fresh, exclusive interviews with the director and Denise Richards.
Carried over from the 1998 Sony DVD is a group commentary track and a Making Of documentary, plus the trailer and "An Understanding Lawyer" outtakes. The Dolby Vision HDR grading enhances Jeffrey Kimball's good-looking widescreen lensing (2.35), while the hard-bound limited edition case includes a collector's booklet sporting new writing on the film; a double-sided fold-out poster plus postcard-sized lobby card reproductions.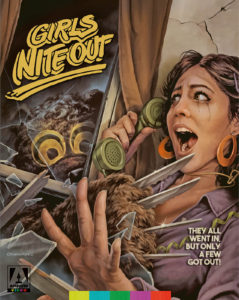 Finally, the fact that Arrow replicated the original Thorn EMI VHS back cover for their GIRLS NITE OUT (96 mins., 1983, R) slipcover adds the perfect "retro" feel to this sorta hum-drum '80s slasher – agreeable enough if you're a genre fan but little more. Top-billed Hal Holbrook is the star slumming for a check in this tale of a bear costume (!) clad killer preying on young women participating in an all night scavenger hunt at their remote Ohio college. A surprisingly bouncy assortment of pop tracks and mostly likeable performances make for an okay B-movie worth watching for aficionados.
Arrow's Blu-Ray offers a 2K restoration (1.85, PCM mono) from "vault elements" and looks appropriately detailed and vintage, unharmed by DNR. The seldom-revived picture offers a new commentary with historian Justin Kerswell and Amanda Reyes, video interviews with cast members Julia Montgomery, Laura Summer, Lois Robbins, Paul Christie, Lauren-Marie Taylor and John Didirichsen, plus an archival interview with Montgomery. Trailers, reversible artwork and an alternate title card for its original moniker, "The Scaremaker," round out another superb Arrow release.
New from MVD this week is THE BEATLES AND INDIA (96 mins., 2021), a documentary by Silva Screen's Raynold D'Silva, who produced, and director Ajoy Bose about the fascinating cultural time when George, John, Paul and Ringo hit the Himalayas searching for spiritual, creative and artistic inspiration. Archival footage, interviews, recordings, and new interviews make for a terrific music/pop culture doc that should be entertaining and accessible beyond hard-core Fab Five devotees. MVD's Blu-Ray (1080p, 5.1) is now available.
---
New & Noteworthy
Never did I think a movie could make Christian Bale's Batman look like Adam West's, but director Matt Reeves' strenuously boring THE BATMAN (176 mins., 2022, PG-13; Warner) manages to be the singular most humorless super-hero movie in cinema history. It's also one of the dullest — a three-hour grind wrapped up in mystery that's never involving, a group of characters that are never appealing, and an emotional flat-line that stays parked in neutral for its entire duration.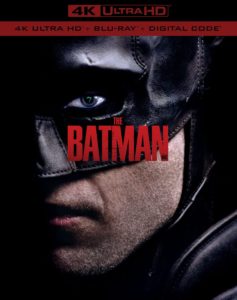 Proclaimed as a masterwork by the same people who think every new comic-book movie is like the latest work from Lean, Welles or Truffaut in their prime, "The Batman" looks the part — and pretty much nothing else. Robert Pattinson mopes about — and nothing else — as a glum Bruce Wayne trying to prevent The Riddler (Paul Dano) from slaying more of Gotham's "elitist" political class, while solving a mystery involving his slain parents, Gotham's main mafia boss (John Turturro), and Catwoman (Zoe Kravitz), who's also out to find her missing roommate. This Riddler is a would-be scary serial killer who uses social media to rev up his followers, but Dano's performance isn't exactly Heath Ledger-worthy — in fact, no matter how much he raises his voice, he's about as scary as the Stay-Puft Marshmallow Man. Also failing to register is Colin Farrell's Penguin, who's just not very interesting either, even though he engages with Batman in one of the movie's central action scenes: a car chase on the Gotham streets that's so poorly choreographed it's nearly impossible to follow what's going on.
Many die-hards raved how marvelous it was to see Batman actually sleuthing for a change — but would it have killed Reeves and co-writer Peter Craig to make a movie where the mystery is actually involving? There's lots of hushed talk about vengeance and the "sins of Gotham's fathers," but outside of Reeves trying to channel Christopher Nolan's far, far superior Dark Knight movies with some "shocking" plot twists — one of which renders Andy Serkis' turn as Alfred almost totally useless — his story just sits there and dies. The plodding pace and lack of humor become so grating and repetitious it's like binging too many episodes of a Netflix series that you can't turn off.
Reeves does deserve credit for the movie's impressive look – spectacularly rendered here in Warner's 4K UHD – which mixes a real world NYC with an occasional dash of "Blade Runner," especially in some of Batman's detective gear, and makes Gotham look like a real living, breathing entity all its own. It's a notable visual achievement, but not one that's backed by a story or characters worth following. In fact, this kind of "density" bogged down Reeves' previous work on the "Planet of the Apes" sequels which were overrated by some — but not nearly as much as "The Batman." Already you can sense the fanboy fervor coming for anyone who doesn't think this is the greatest cinematic achievement of the last decade — but visuals aside, this is an empty, depressing, bleak viewing experience devoid of humor. As in, completely devoid of humor.
It used to be that movies provided an escape for audiences — back in the darkest days of the post-Watergate, Jimmy Carter-led '70s, "Star Wars" became a pop-culture phenomenon with its upbeat derring-do and rousing sense of adventure. Despite the world around us at the moment, "The Batman" offers no such respite from two years of COVID, rising crime, inflation, and the war in the Ukraine — in fact, it's a virtual reenforcement of the world we're living in. How many viewers are truly going to be enraptured by it — walking out I could hear moans of disappointment from others who also found it "boring" — may prove to be revealing, though the lack of competition at the global box-office ensured the film would generate a sequel regardless. At least someone's going to be happy.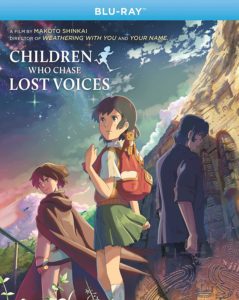 Warner's 4K UHD (2.40) frankly looked even better in Dolby Vision HDR than the theatrical screening I attended, and it may be that the smaller confines of one's home may better suit this movie's leisurely pace. The technical presentation, at least, is superlative, while Dolby Atmos audio is backed with constant effects and the grating repetition of Michael Giacchino's Batman "notes" (I hesitate to even call it a theme). Deleted scenes and featurettes are joined by the Blu-Ray and a Digital HD copy in Warner's UHD.
Coming June 7th from GKids and Shout! Factory are a trio of anime offerings from Japanese filmmaker Makoto Shinkai on Blu-Ray. THE PLACE PROMISED IN OUR EARLY DAYS (91 mins.) was Shinkai's debut feature, set in an "alternate post-war Japan" where a trio of teenagers find themselves in the middle of a fascinating alternate universe; 5 CENTIMETERS PER SECOND (63 mins.) looks at the intimate relationship between star-crossed childhood friends and the relationship they can't ever seem to fulfill as they grow older; and CHILDREN WHO CHASE LOST VOICES (116 mins.) is another character-driven fantasy, set in a place where ancient gods still exist, and a pair of young protagonists who have to unlock its mysteries. All three discs include colorful slipcovers, 1080p (1.78) transfers and both original DTS MA Japanese audio tracks (with optional English subtitles) plus English dubs. Extras across the trio include interviews with Shinkai, conversations with the cast, bonus shorts ("5 Centimeters"), and a commentary from Shinkai and staff on "Children."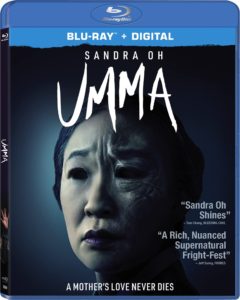 UMMA Blu-Ray (83 mins., 2022, PG-13; Sony): Disappointingly limp supernatural thriller follows Sandra Oh and her daughter (Fivel Stewart) after the remains of Oh's estranged, now-deceased mother arrive from Korea to their rural farm home. Soon Oh is tinged with guilt and haunted by visions of becoming her in a movie that offers some creepiness but is compromised by what comes off like an underdeveloped script by director Iris K. Shim that hobbles its way to a barely 80-minute run time. The resolution, at least, offers more emotional closure than these types of genre films typically do, but one expected more from the premise and producer Sam Raimi's involvement. Sony's no-frills Blu-Ray (2.39, 5.1 DTS MA) is now available featuring a Digital HD copy.
RAY DONOVAN: THE MOVIE DVD (99 mins., 2022; CBS): The long-running Showtime series comes to a close with this send-off Showtime movie, wherein the Donovans are brought back to Boston to close out relationships and dramatic angles from seasons past. Fans seemed to be satisfied with this feature-length wrap-up that star Liev Schrieber co-wrote with series producer David Hollander, bringing back co-stars like Jon Voight for a fitting end. Showtime's DVD (16:9, 5.1) is out this week.
CAGED BIRDS DVD (119 mins., 2020; Corinth Films): Swiss-German import follows a radical lawyer (Marie Leuenberger) as she rallies against Switzerland's restrictive prison system during the 1980s. She's joined in her fight by a jailbreaker (Joel Basman) who ends up helping her cause – but also exploiting her for his own gain – in an interesting dramatic study new on DVD from Corinth Films. The label's DVD is out June 14th (16:9) featuring Swiss/German audio and English subtitles.
TEEN TITANS GO! & DC SUPER HERO GIRLS – Mayhem in the Multiverse Blu-Ray/DVD (79 mins., 2022; Warner): DC engages in its own multiverse mayhem shenanigans after Lex Luthor utilizes a Kryptonian amulet to unleash a goddess that will take over the planet. The Teen Titans and DC Super Hero Girls unite to save us, but first have to cross through the Phantom Zone — and other terrains — in order to make it happen. Two bonus Teen Titans Go! episodes, a single DC Super Hero Girls episode, a DVD and Digital HD copy are included here alongside Warner's now-available Blu-Ray (1080p, 5.1 DTS MA).
LUCIFER: The Complete Fifth Season DVD (900 mins., 2020-21; Warner): Lucifer Morningstar makes his return to Los Angeles but doesn't seem himself while detective Chloe Decker tries to solve not only that puzzle but a number of other cases, from a noirish detective story set in the 1940s to a musical episode (of course, they all have to go there at some point). Season 5 of "Lucifer," which streamed online, includes 16 new episodes presented here on DVD by Warner featuring deleted scenes, a gag reel, 16:9 transfers and 5.1 soundtracks.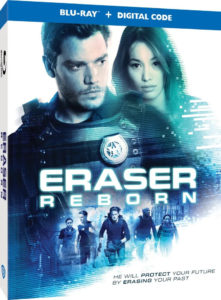 ERASER: REBORN Blu-Ray (103 mins., 2022, R; Warner): Direct-to-video follow-up to the decent, if now mostly forgotten, 1996 Schwarzenegger action vehicle stars Dominic Sherwood as the new U.S. marshal that "erases" high-risk witnesses by faking their deaths. His charge is a crime boss' wife who's about to turn state's evidence, leading him and her to South Africa with killers on their trail. Credit the filmmakers for embracing the tax-friendly shooting locales of Cape Town and integrating them into the story – and not just pretending we're in, say, New England – but John Pogue's effort is mostly formula all the way around. Warner's Blu-Ray (1080, 5.1 DTS MA) is available June 7th sporting a Making Of featurette.
KING TWEETY DVD (82 mins., 2022; Warner): Looney Tunes original animated movie should provide a little fun for both long-time series fans and kids alike, though the bloated running time may test the patience of the former more than the latter. Tweety here finds himself next in line for ruler of an island paradise, while Sylvester uncovers a plot to rub out its new King and Granny continues to indulge her penchant for motorbike stunts. Warner's DVD (16:9, 5.1) is out June 14th along with three classic bonus cartoons.
NEXT TIME: Imprint's AFTER DARK Modern Neo-Noir set and more! Until then, don't forget to drop in on the official Aisle Seat Message Boards and direct any emails to our email address. Cheers everyone!