Message Board (open 24 hours!)
Twitter - @andredursin (for everything else!)
Fun City Editions adds another '80s gem to their Blu-Ray roster this month that's been scarcely circulated since its theatrical debut: Bobby Roth's character drama HEARTBREAKERS (99 mins., 1984, R), an Orion release that fits comfortably alongside other uniquely colored projects from the studio's heyday. In fact, I'd go so far as to say this is one of my favorite releases from FCE yet, as it resurrects a movie many of us have never had the opportunity to see – a worthwhile, finely performed picture about friendship, relationships and romance, themes that are obviously universal beyond its 1984 milieu.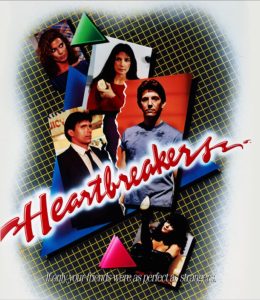 Roth's film follows a tortured L.A. artist (Peter Coyote) and his business-driven friend (Nick Mancuso) at a crossroads: Coyote's Arthur seeks to raise his game in order to get back his frustrated girlfriend (Kathryn Harrold), while Mancuso's Eli is tasked with more responsibilities after the death of his father. He's also infatuated with the alluring manager (Carole Laure) of the gallery hosting Coyote's new work, and as fortunes change for the latter, a romantic competition develops between them.
"Heartbreakers" ends on an inconclusive note in terms of its romantic pairings but comes to a firm, satisfying close in terms of the friendship between Coyote and Mancuso, which is what "Heartbreakers" is most concerned with. Here's a movie that's not really an Allen-esque "ensemble romantic drama" or a "rom com" – it's a film driven by its vivid portrait of male friendship and bonding, which isn't something Hollywood, today, is at all interested in. Especially considering that element, "Heartbreakers" is a refreshing, thoughtful picture with both Coyote and Mancuso embodying well crafted, believable friends having navigated a long relationship with each other, trying to maintain a baseline while dealing with affairs of the heart, set against the backdrop of the Los Angeles art scene in the mid '80s.
Roth seasons the movie with a pulsating score by Tangerine Dream and nuanced cinematography by the great Michael Ballhaus, while the lovely Laure (coming off her role in the Sylvester Stallone/Michael Caine WWII soccer fave "Victory"), Harrold and comedic actress Carol Wayne (best known for her Tonight Show "Mighty Carson Art Players" appearances) all lend strong support (Wayne, unfortunately, drowned a short time after the film was released).
"Heartbreakers" is one of those films whose plot description may not lead you to immediately want to sit down and watch it, yet I was hooked after just a few minutes and highly recommend the picture as a true discovery, especially since the film has seldom been revived outside the VHS era. Fun City's Blu-Ray hails from a 2K restoration (1.85) from the 35mm interpositive, and offers a wealth of new extras including a lengthy interview with the director; conversations, shot remotely and separately, with Coyote and Mancuso; an image gallery; isolated score; a quick introduction from Roth; booklet notes; and a commentary from Chris O'Neill and Bill Ackerman.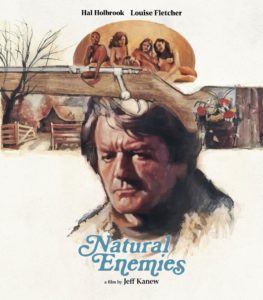 Fun City's newest release is likely to be a far more polarizing picture among viewers: NATURAL ENEMIES (100 mins., 1979, R), a seriously downbeat domestic drama wherein NYC publisher Hal Holbrook finds himself pushed to the brink of wanting to murder his troubled wife (Louise Fletcher) and their three children. Fun? Nope. In fact, writer-director Jeff Kanew's movie — adapted from a Julius Horwitz book — manages to make "Ordinary People" look nearly like a comedic farce with its sour, harsh tone (coincidentally, or not, Kanew would go on to edit that 1980 Oscar winner). That's undoubtedly one of the reasons why the picture earned split reviews amongst critics back in 1979, some calling it an effective Bergman-influenced American drama, others saying its nihilism resulted in a difficult sit that's hard to classify as entertainment.
This is one of those movies that's going to divide viewers pretty hard down the line; for me, I found myself quickly growing tired of Holbrook's one-note, unappealing main character who's too far gone to be found sympathetic — leaving the entire movie repetitious and stifling. Your mileage may vary, especially if you're into the picture's '70s mileau — but I'd rather sit through Ang Lee's "The Ice Storm" for a richer, more emotional evocation of similarly disaffected suburbanites from that time. "Natural Enemies" offers no such catharsis for its characters.
Fun City's Blu-Ray remasters and resurrects this oft-forgotten film in a 2K restoration (1.85) from a 35mm "deposit print held at the Library of Congress." There's an excellent, two-part interview with Kanew along with a commentary from podcaster Bill Ackerman, both of which I found compelling and informative. The trailer is also included plus an alternate ending that concludes the picture on a slightly more satisfying, ambiguous note as opposed to its original "news report" finale, which is second only to Paul Frees' explanation of what happened to the Earth at the end of "Beneath the Planet of the Apes" for its overall bleakness.
---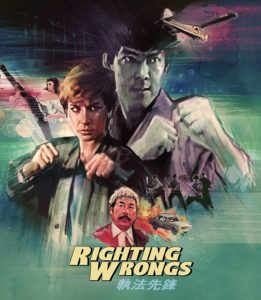 Vinegar Syndrome New Releases
RIGHTING WRONGS Blu-Ray (96 mins., 1986): Yuen Biao, Corey Yuen and Cynthia Rothrock star in this martial arts cult favorite from the mid '80s, with Corey Yuen also directing this effort about a Hong Kong prosecutor who's frustrated at the injustice of the court system – especially after a witness and his entire family is assassinated – and decides to go all Bronson and take down those responsible; Rothrock, meanwhile, plays a detective who tries to stop him before joining up to take down the bad guys.
"Righting Wrongs" has a lot of energy and action set-pieces effectively staged by Yuen, while Rothrock catapulted off this movie into a number of mostly inferior B-pictures, mainly shot in the U.S. The film was retitled "Above the Law" for the U.S. but Vinegar Syndrome's three-disc Blu-Ray preserves no less than three different cuts of the film, from the U.S. release, to its longer Hong Kong version (Cantonese, English, Mandarin) and even longer Chinese cut (Mandarin with English subtitles). What's notable here are the different endings and various alterations between the versions, which have each been included here (1.85, mono) along with many extras: a new commentary track with Rothrock (in addition to an older vintage commentary with the actress); new interviews with Rothrock, actress Karen Sheperd, actors Melvin Wong and Peter Cunningham; archival interviews with Biao, Rothrock, and Cunningham; a video essay with Samm Deighan and Charles Perks; trailers; and a photo gallery. Highly recommended for martial arts fans!
SHRIEK OF THE MUTILATED Blu-Ray (87 mins., 1974): An early drive-in gore favorite among certain horror fans, this low-budget slice of exploitation sends an anthropology professor and his class to a cabin out in the middle of nowhere in the hopes of studying Bigfoot. Yes, Sasquatch Mania was all the rage back in the '70s and this nasty tale from director Michael Findlay offers ample blood and a high body count, all restored here in a 4K scan (1.37) from its original camera negative. Extras include a commentary from, and an interview with, DP Roberta Findlay; a talk with producer Ed Adlum; a 15-minute locations featurette; audio essay from David Coleman; and reversible sleeve art.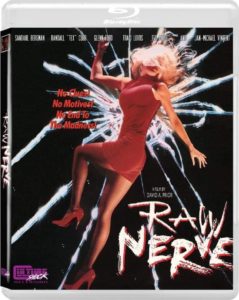 RAW NERVE Blu-Ray (92 mins., 1991, R; Culture Shock): I distinctly recall coming across this watchable early '90s thriller on Cinemax at some point back in high school, as portions of director David A. Prior's independent production – shot on location in Alabama – seemed distinctly familiar to me. It's a curiously compelling B-effort with race car driver Jimmy Clayton (the director's brother, Ted Prior) harboring a number of secrets, from having visions of local murders, to his relationship with his college-bound younger sister (former adult star Traci Lords, trying to go straight). Glenn Ford and Jan-Michael Vincent are the cops assigned to the case, while Sandahl Bergman is the intrepid local reporter attempting to piece it all together. It results in a reasonably satisfying finale, while director Prior stages a number of decent set-pieces, all with a non-Hollywood, early '90s look and feel.
Preserved via a 4K scan (1.85) of the only known surviving film element (a 35mm print), "Raw Nerve" looks detailed and natural in Culture Shock's Blu-Ray. Extras include a commentary featuring Ted Prior, cinematographer Andrew Parke and editor Tony Malanowski (responsible for having preserved this print); plus on-camera interviews with Ted Prior and producer Ruta Aras. There's also the trailer and a vintage blooper reel for good measure, while the stereo sound offers an electronic score by Thomas Chase and Steve Rucker that's more effective in its quieter moments than its bombastic passages.
---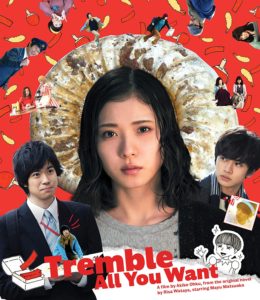 Foreign Fare
SAMPO Blu-Ray (91 mins., 1959; Deaf Crocodile Films): Striking widescreen color cinematography is one of the main draws to "Sampo," a lavish Finnish fantasy about a witch who won't stop at obtaining a rainbow-colored mill that can produce endless reams of salt, gold and grain. A Russian co-production hacked up and released stateside as "The Day The Earth Froze," this strikingly designed film has been fully restored in a smashing 4K restoration (2.35) from its Cinemascope elements and four-track magnetic stereo tapes (5.1), resulting in a spectacular transfer from Deaf Crocodile. Extras include a new commentary track by Stephen R. Bissette, a reprint of a Video Watchdog article on director Aleksandr Ptushko; an interview with Mike Nelson (whose MST3K riffed on "Day the Earth Froze"), and the original trailer.
DON'T LET THE ANGELS FALL Blu-Ray (99 mins., 1969; Canadian International Pictures): A typical suburban family led by patriarch Arthur Hill – reeling from a recent affair – unravels in this Canadian feature debut from director George Kaczender. Working from a script by author Timothy Findley, "Don't Let The Angels Fall" follows Hill's clan (wife Charmion King, sons John Kastner and Jon Michaelson) through a drama of domestic dysfunction presaging works like "Diary of a Mad Housewife" and "Ordinary People." Restored in 2K from the 35mm interpositive (1.33), CIP's Blu-Ray includes a commentary featuring Michaelson; five short films from Kaczender produced from 1964-68; and a booklet.
VIKTORIA Blu-Ray (155 mins., 2014; Big World Pictures): Striking debut feature for filmmaker Maya Vitkova is set during the fall of the People's Republic of Bulgaria where a girl, born without an umbilical cord, is dubbed the country's "Baby of the Decade," at least until the East Bloc disintegrates. A moving drama, history lesson, political allegory and occasionally offbeat comedy all rolled into one, Vitkova's film debuts on Blu-Ray in the U.S. sporting a 1080p (2.39) transfer from Big World Pictures (Bulgarian with English subtitles) and extras including a near-hour long featurette and commentary from Alexandra Heller-Nicholas.
TREMBLE ALL YOU WANT Blu-Ray (117 mins., 2018; Kani Releasing): Mayu Matsuoka stars in this eccentric 2017 Japanese feature as a quiet young woman working in a corporate world where she spends her time looking up fossils online and dreaming about the Jr. High "One" who got away. A goofy colleague challenges her perceptions about relationships in an acclaimed romantic comedy, adapted from Risa Wataya's novel, that earned the audience award at the 2017 Tokyo International Film Festival – yet Akiko Ohku's movie is anything but traditional in its visual construction, constantly shifting from reality to fantasy and keeping one off-guard despite the "conventional" sounding plot it employs. Kani's Blu-Ray (1.85, 5.1) is out sporting an interview with Ohku from this year; interviews with the costume designer and music supervisor; booklet notes and sticker sheets; and more.
---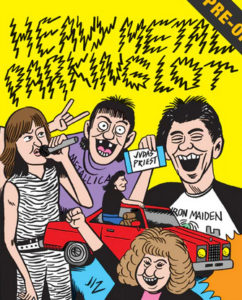 Indie Titles, Documentaries & More
THE OREGONIAN Blu-Ray (81 mins., 2011; Factory 25): Utterly bizarre indie horror follows a young woman (Lindsay Pulshipher) whose mental state is clearly unhinged after she's involved in a car accident, leaving her to walk across the wilds of Oregon meeting one bizarre character (including "Omelette Man" and a giant fuzzy frog) after another. Abrasive and "not for every taste" is the best way to peg "The Oregonian," but some found it brilliantly bizarre – Factory 25's Blu-Ray (1.78) includes commentary with director Calvin Lee Reeder, short movies, behind-the-scenes footage and booklet notes.
LUX AETERNA Blu-Ray (51 mins., 2019; Yellow Veil): Gasper Noe's 51-minute short feature earned a good amount of publicity when it debuted at Cannes in 2019. Beatrice Dalle and Charlotte Gainsbourg play themselves as they prep for a photo shoot by telling stories about witches and failed shows, all the while technical issues lead to psychotic bursts in a "sensory experience" that's expectedly strange in its decidedly "French" perspective. Yellow Veil's two-disc Blu-Ray (2.35, DTS MA) offers a wealth of extras (commentaries, featurettes, short films) plus a 60-page booklet.
HEAVY METAL PARKING LOT Blu-Ray (1986; Circle Collective): John Heyn and Jeff Krulik unknowingly kicked off a sub-genre of music documentaries with this 17-minute 1986 short that simply shot fans outside a Judas Priest concert arena, being themselves during the height of the genre's glory. Circle Collective's Blu-Ray offers the original short (1.33, stereo) plus related features from Krulik, hours of extras, and related films like "Neil Diamond Parking Lot"!
WE'RE ALL GOING TO THE WORLD'S FAIR (86 mns., 2021; Utopia): Strange commentary on social media and especially a teenager's infatuation with the online world follows a girl who becomes involved in the "World's Fair Challenge" online game and documents changes to her existence based on the worldwide circulation of her clips. Jane Schoenbrun's movie is less a horror film than a cautionary tale that is likely to put off some viewers as much as engage them in a dialogue, which seems to be the point. Utopia's Blu-Ray (1.78, 5.1) offers commentary from the director and star Anna Cobb; an interview with the director along with a Fantasia Fest Q&A plus footage from the Chattanooga Film Festival; an extended end sequence; and other supplements.
---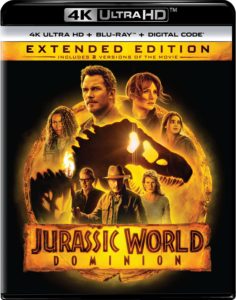 New & Noteworthy
JURASSIC WORLD: DOMINION 4K UHD/Blu-Ray (146 mins., 2002, PG-13; Universal): "Jurassic World"'s Colin Trevorrow returns to direct and co-wrote this "final" entry in the "Jurassic World" trilogy — an overwritten, overplotted finale that's drably shot and offers nothing new at all in terms of special effects set-pieces or dinosaur action.
What's worse, dinos often take back seat to Trevorrow and co-writer Emily Carmichael's main scenario — that a genetically engineered crop of locusts inadvertently produced by an original "Jurassic Park" character, Louis Dodgson (Campbell Scott, who wasn't in the old movie), now threaten the world's food supply unless something can be done. That "something" means two things: first, the bad guys abducting the young girl clone from the last "World" installment, who's since been cared for by series heroes Chris Pratt and Bryce Dallas Howard; while original "Jurassic Park" stars Sam Neill and Laura Dern head to the same European biolab in the hopes of exposing the locusts as products of the company.
It's "nice" that Trevorrow brought back Neill, Dern and Jeff Goldblum (who disappears from the movie for nearly an hour) but none of them are supported by the dialogue they had nearly 30 years ago in Steven Spielberg's original "Jurassic Park." Even worse, the fact the trio — who notably lack the energy they had 30 years ago — have been elevated to co-stars means whatever momentum the movie tries to generate is consistently undercut by having to cross-cut, none too effectively, between "A" and "B" plot strands. The net result comes off feeling more like a "Fast and the Furious" sequel than a "Jurassic Park" movie.
This also means Pratt and Howard's natural chemistry is curtailed — along with whatever emotion there could have been with the raptor "Blue"'s offspring, Beta, also having been abducted by Dodgson's goons. There's simply too much happening in this overstuffed movie for it to register — not enough for the dinos to do and too many human characters, including brief returnees from the original "Jurassic World" and its previous sequel, "Fallen Kingdom," plus a black lesbian pilot whose sole function in the movie seems to be the one line that declares her sexuality.
These are issues that might have been more forgivable had Trevorrow staged this sequel with some exciting set-pieces — but there's literally nothing here we haven't seen before. Dinosaurs lunging at Pratt in an open field? Seen it a bunch of times. Helpless humans trying to use a car as a staging ground to get by a large meateater? Ditto. Flying dinosaurs that attack from the skies — it's all recycled leftovers, making you think COVID protocols may have forced Trevorrow to "reskin" scenes that not only have been produced before, but far more effectively. Even "Fallen Kingdom" had some stylish dino scenes intended to scare audiences, and were more exciting than anything in this particular film.
With Michael Giacchino's forgettable score mostly tossing all of John Williams' themes aside — despite more a direct connection with the 1993 "Jurassic Park" — "Dominion" is the least of this trilogy, and probably ends up neck and neck with Spielberg's misfired "The Lost World" sequel as the nadir for the franchise. The dinos surely still have some cinematic life left in them — but it's time to find some fresh filmmaking voices to bring them back from the brink of extinction.
Universal's 4K UHD is now available sporting a Dolby Vision HDR transfer (2:1) with a thundering DTS:X soundtrack that's superbly mixed. The movie is included in either its theatrical version or an extended version adding some 15 minutes of material into the film — making it an absolutely unmanageable 161 minutes. Extras include a Digital HD copy plus the short "Battle at Big Rock," which is more fun than the film itself; a VFX featurette; and 45-minute long Making Of.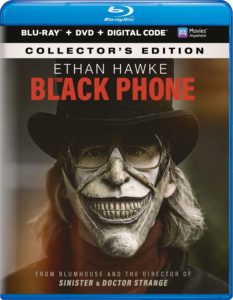 THE BLACK PHONE Blu-Ray (103 mins., 2022, R; Universal): Superior effort from the Blumhouse crowd adapts a story by Joe Hill (Stephen King's son) and works primarily because of the efforts of director Scott Derrickson ("Doctor Strange"). Hill's story, adapted by Derrickson and C. Robert Cargill, offers Mason Thames playing a teenager abducted by a terrifying killer (Ethan Hawke); despite insurmountable odds facing his survival, Thames finds solace in a disconnected phone that improbably connects with Hawke's previous victims. "Black Phone" performed well at the box-office and ranks as one of the better horror entries from prolific producer Jason Blum, with fine performances and a worthwhile story that scores with a satisfying ending. Universal's Blu-Ray (2.39, 7/1 DTS MA) includes a number of deleted scenes, commentary, featurettes, Derrickson's short "Shadowprowler," a DVD and Digital copy.
SNIPER: ROGUE MISSION Blu-Ray (96 mins., 2022, R; Sony): The latest entry in the long-running "Sniper" series brings back Chad Michael Collins as sniper/CIA rookie Brandon Beckett, here going rogue to take down a criminal organization overseeing a human trafficking ring with the help of one of Collins' fellow agents who's gone bad. Oliver Thompson wrote and directed with Ryan Robbins and Sayaka Akimoto co-starring; Sony's Blu-Ray (1.78, 5.1 DTS MA) is a no-frills affair that's now available with a Digital HD copy...Also new from Sony is the superior kids animated musical VIVO (96 mins., 2021, PG), a Sony production that went to Netflix during COVID. This breezy Kirk DeMicco-helmed outing about the title kinkajou and his journey to bring a new song to his owner's old partner with the help of a spunky tween. Original songs by Lin-Manuel Miranda color this fast-paced and fun kids flick, debuting on disc (2.39, 51 DTS MA) with a lovely transfer and a Digital HD code, DVD, featurette and "lyric video" also on-hand.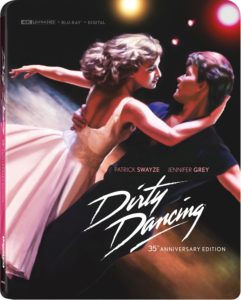 DIRTY DANCING 35th Anniversary 4K UHD/Blu-Ray (105 mins., 1987, PG-13; Lionsgate): Lionsgate's first 4K UHD of the 1987 sleeper smash "Dirty Dancing" (a soundtrack I contributed notes for its stellar 2003 Ultimate CD, by the way!) pretty much reprises the contents of its 2010 and 2017 Blu-Rays while adding a terrific, enhanced Dolby Vision HDR grading of the film plus Dolby Atmos audio.
Back in 2010, fans of the Patrick Swayze-Jennifer Grey box-office smash had good reason to upgrade for the disc's remastered picture and sound alone. An appreciable improvement on the 2007 Blu-Ray, Lionsgate's then-new AVC encode was remastered and freed from the heavy noise-reduction and "jaggies" that plagued its earlier release. All-new 7.1 DTS Master Audio sound, meanwhile, complimented the superior transfer, while an abundance of extras, both new and re-issued from prior editions, was also on-hand.
Among the inclusions was a tribute to Swayze, a trip back to the Virginia locations used in the film, a never-before seen photo gallery and fan reel. Carried over from earlier releases, meanwhile, were deleted, extended and alternate scenes; cast audition footage; a pop-up trivia track; two commentaries (one from writer Eleanor Bergstein, another with various crew members); vintage music videos; outtakes; and the trailer in HD.
Nearly all of these goodies have been brought back for this new 35th Anniversary 4K UHD/BD release, which ups the ante with a strong UHD presentation and a slew of audio options: Dolby Atmos, 5.1 DTS MA or the original 2.0 stereo mix. Visually the 1.85 UHD transfer blows away all previous releases of "Dirty Dancing" on home video, offering color and detail surpassing even the 30th Anniversary Blu-Ray. On the audio side, the Atmos track boasts gains in not only bass and LFE but dialogue clarity as well, making it the new definitive mix of the film. Throw in a Digital HD copy and the Blu-Ray and you have a must-have Lionsgate catalog release for fans, especially those who didn't pick up the Best Buy-exclusive 2021 Steelbook UHD.
---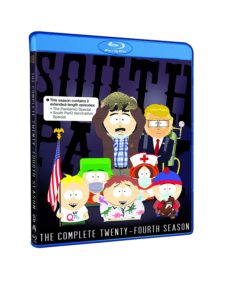 Also New & Noteworthy
SOUTH PARK – Complete 24th Season Blu-Ray (94 mins., 2020-21; Paramount): In lieu of a full season on Comedy Central, Trey Parker and Matt Stone gave us two bulky "South Park" quasi-features that premiered on Paramount+ instead: the "Pandemic Special" as well as the "South ParQ Vaccination Special." Both (kind of) deal with COVID and Randy's Tegridy Farms business, but the laughs are even more scattershot than they've been lately, with whatever comedic momentum that's built up in the early portions of each episode kiboshed by their respective endings (the more recent "Streaming Wars" fared a bit better). "Season 24" runs under two hours and debuts on Blu-Ray August 16th from Paramount (1080p, 5.1 Dolby TrueHD) with no extras.
NCIS: The 19th Season DVD (15 hours, 2021-22; CBS): When special agent Leroy James (Mark Harmon) suddenly retires, the gap is immediately plugged by ex-FBI agent Alden Parker (Gary Cole). New cases include a bioterror attack that exposes members of the NCIS team to a deadly toxin; McGee's mother-in-law being targeted by a killer; and a surprise return from Dr. Ducky Mallard, played by David McCallum. A number of featurettes take viewers behind the scenes of this 19th season of the long-running CBS action drama, along with 16:9 transfers and 5.1 sound in the label's five-disc DVD set.
Also new from CBS this month is NCIS: LOS ANGELES Season 13 (941 mins., 2021-22), with G Callen and Sam Hanna back leading the West Coast team, keeping us safe from Russian ops and other nefarious foes. CBS' DVD is out this week (16:9, 5.1) sporting a gag reel, extended scenes, and featurettes. Finally, BLUE BLOODS Season 12 (856 mins., 2021-22) includes all 20 episodes from the top-rated CBS prime-time drama in a five-disc DVD set, alongside deleted scenes, featurettes, and a gag reel. CBS' multi-disc set streets on August 30th.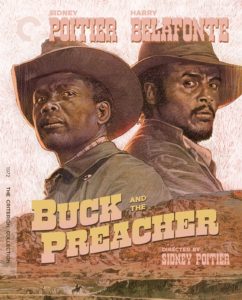 BUCK AND THE PREACHER Blu-Ray (103 mins., 1972, PG; Criterion): Interesting early '70s western offers something of a higher class "Blaxploitation" effort with Sidney Poitier starring as a wagon master who teams up with Harry Belafonte's con man preacher to lead a westward-bound caravan filled with freed slaves – all the while avoiding white bounty hunters who stand in their way. Ernest Kinoy's script plays fast and loose with some revisionist history and "Buck and the Preacher" clearly understands its place in the post-Civil Rights era, though at least Poitier (who directed after firing Joseph Sargent for allegedly not being sensitive enough to minority performers) instills a sense of humor in the material and keeps it moving at 103 minutes. Criterion's Blu-Ray hails from a new 4K restoration (1.85) from Sony and sports new interviews with author Mia Mask and Belafonte's daughter Gina; archival materials sporting Poitier and Belafonte on "Soul!" and "The Dick Cavett Show"; and behind-the-scenes footage of the duo at work.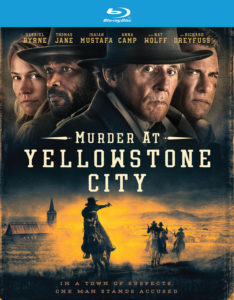 MURDER AT YELLOWSTONE CITY Blu-Ray (127 mins., 2022, Not Rated; RLJE): A terrific cast tries to salvage this B-movie from director Richard Gray. When a prospector whose discovery of gold bolsters the hopes of Yellowstone City residents to turn its poor fortunes around, their dreams are dashed after he turns up dead – leading to the number of suspects and equal drama as the local sheriff tries to sort things out. Gabriel Byrne, Thomas Jane, Anna Camp, Isaiah Mustafa and Nat Wolff pop up – as does Richard Dreyfuss – in a slow-going outing that tries hard but is too bloated to score. RLJE's Blu-Ray (2.39, 5.1 DTS MA) is out August 23rd featuring a Making Of, deleted scenes and commentary.
Film Movement New Releases: Five new releases are on tap this month from Film Movement on DVD.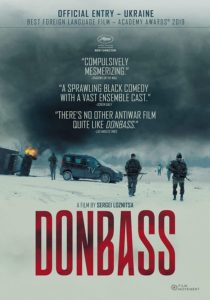 The roster includes no less than four Ukrainian imports. Valentyn Vasyanovych's REFLECTION (127 mins., 2021) follows a Ukrainian surgeon who joins the military to fight against the Russians in the Donbas region. A timely drama that debuts this week on DVD (2.39, 2.0 stereo, Russian/Ukrainian with English subtitles); Sergei Loznitsa's DONBASS (122 mins., 2018) takes a more irreverent, black comic approach to its portrait of the war-torn country, examining the use of misinformation perpetrated by Russian separatist gangs (2.40:1, 5.1/2.0, Russian/Ukrainian with English subtitles); Natalya Vorozhbit's BAD ROADS (105 mins., 2020) examines Russia's stifling influence on the Ukraine via four stories told by the director, adapted from her stage play (2.39, 2.0 Russian/Ukrainian with English subs); finally, Iryna Tsilyk's documentary about an eastern Ukrainian family, making their own movies on the front lines of the current war with Russia, THE EARTH IS AS BLUE AS AN ORANGE (73 mins., 2022) also premieres on DVD this month from Film Movement (1.85, 2.0 Russian/Ukrainian, subtitled).
Also new this month from Film Movement is TAHARA (77 mins., 2020). Madeline Grey DeFreece and Rachel Sennott play teen best friends and former Hebrew schoolmates who become attracted to one another after the latter asks for help learning the art of kissing. Olivia Peace's film (1:1, 5.1/2.0) debuts on DVD this week sporting a commentary with Peace and writer Jess Zeidman amongst other crew members.
NEXT TIME: Wrapping up August with Kino Lorber's latest releases! Until then, don't forget to drop in on the official Aisle Seat Message Boards and direct any emails to our email address. Cheers everyone!