Message Board (open 24 hours!)
Twitter - @andredursin (for everything else!)
Leave it to Vinegar Syndrome to produce a full restoration of THE BIRDS II: LAND'S END (86 mins., 1994, R), the long-forgotten Showtime cable sequel to the Alfred Hitchcock '60s fave. Technically this film is less a sequel than it is a self-contained survival tale of a family encountering an avian attack on a sleepy North Carolina island. Off-camera, it was a struggle of a different kind – an apparently rocky marriage between a director mostly known for schlock (including the worst "Halloween" sequel of them all) and an Emmy/Peabody-winning producer known for his more aspirational TV work. Despite its pedigree, unfair comparisons to Hitch and "Alan Smithee" listed as director, the big surprise with "Birds II" is how entertaining it is – especially if you're able to accept it on its own terms.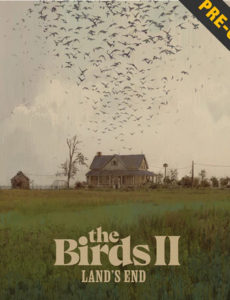 "Birds II" finds married family man Ted (charisma-free "Always" lead Brad Johnson) navigating the rocky waters of marriage with wife Mary (Chelsea Field) and their two young daughters – this after the death of their young son. The group decide to take a vacation in a secluded home on "Gull Island" so Ted can finish up his thesis while Mary takes a gig working for the local photographer (James Naughton, just removed from his Tony win for Broadway's "City of Angels"). All seems sort-of well until the local birds decide to raise a raucous, dive-bombing unsuspecting humans and, most horrifying of all, claiming the life of the family's stalwart pet dog, Scout.
Shot in North Carolina, "Birds II" was one of several Showtime horror sequels that also included the decent "Psycho IV: The Beginning" and even better "When a Stranger Calls Back." "Land's End" doesn't quite belong in their company and was savaged by Hitch-defending critics back at the time of its release – a few home video releases in the '90s later and this has basically become a forgotten "made for TV" affair with fewer fans, it seems, than "Gull Island" has residents.
Yet if you can separate memories of the original film, this is a pleasingly breezy, fast-moving and surprisingly character-centric cable movie that's both well scored and shot – by no less than frequent Clint Eastwood collaborator Bruce Surtees! Director Rick Rosenthal (of "Halloween II" and "Halloween: Resurrection" infamy) apparently clashed with producer David Rosemont over the general direction of the production – yet his decision to spurn a credit in favor of movie pseudonym Mr. Smithee seems more a personal protest than a statement of what's actually on-screen (it's certainly better than his second "Halloween" sequel, 2002's dismal "Halloween: Resurrection").
The performances are decent (Tippi Hedren even shows up as shop owner "Helen"), the Wilmington, N.C. and surrounding locations are nicely captured, and Ron Ramin's orchestral score is a major plus. The bulk of the material and general character interplay are mostly comforting in a mid '90s domestic drama type of way – but then Rosenthal gets going and the last 15 minutes are an absolute gas. Explosions rock the local docks as Ted and Mary try to get off the island, while The Birds do a number on local residents. It's entertaining carnage with surprisingly adequate Peter Kuran special effects which play homage to the original Hitchcock optical work along with more graphic gore shots and the occasional gull-splatter – at least bloody enough to net this a mild R rating.
Vinegar Syndrome's new Blu-Ray goes a long way to helping rectify this obscure sequel's reputation, courtesy of a full 2K remaster (1.33) from its 35mm interpositive. Details and colors are all sprightly and crisp, while the stereo sound is a major asset with Ramin's fine score being one of the movie's strongest elements. Extras include a near hour-long retrospective featuring a few cast and crew members; a tour of locations with production assistant Craig Edwards, who also appears in the former; a terrific interview with Ramin, detailing his work on the movie and extensive background in TV; a still gallery; and a commentary with TV movie authority Amanda Reyes and "Sam Pancake."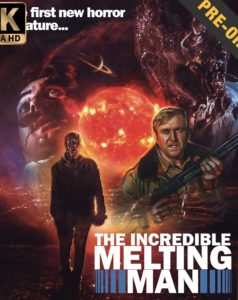 Debuting this month from Vinegar Syndrome on 4K UHD is something that carries a much larger cult following: THE INCREDIBLE MELTING MAN Blu-Ray (84 mins., 1977, R).
A staple on the "Creature Double Feature" circuit for those of us who grew up in the '70s and '80s, AIP's "The Incredible Melting Man" is '70s genre trash that's worth a look for non-discriminating horror fans, starring Alex Rebar as an astronaut who finds out that he can't survive unless he feeds on the flesh of other humans after returning from outer space. Threadbare production values mark William Sachs' 1977 non-opus, which boasts anemic performances and a clunky script that leads to some unintentional humor – yet that's understandable once you find out Sachs' plan was to incorporate a heap of comedy which producer Max J. Rosenberg attempted to torpedo out of the film in post-production (some of Sachs' original intentions, such as an elderly couple driving around at night and running into the creature, remain). Regardless of its helter-skelter origins, nostalgic monster fans and aficionados of silly, slimy drive-in fare ought to gravitate towards the movie – which includes impressive make-up from Rick Baker that was heavily promoted in its advertising.
Vinegar Syndrome's crisply presented 4K UHD (1.85, mono) offers HDR in a new restoration from its original 35mm camera negative. This fresh transfer is also included here on Blu-Ray with a slew of extras, some new, others recycled from past releases. These include a brand-new half-hour interview with Sachs; the director's previous Blu-Ray commentary; a 15-minute interview with script supervisor Sandy King; and archival interviews featuring Sachs, Baker, and effects artist Greg Cannom, plus the trailer.
Also new this month, FORGOTTEN GIALLI Volume 5 continues Vinegar Syndrome's archival resurrection of cult favorite Italian thrillers, with this latest three-disc Blu-Ray box-set offering a trio of genre efforts all newly scanned and restored in 4K from their respective original 35mm camera negatives.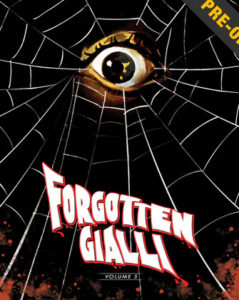 TROPIC OF CANCER (95 mins., 1972) finds a vacationing couple running afoul of narcotics smuggling while on a trip to Haiti. Marcello Masciocchi's wide Techniscope lensing adds an enormous amount of style to Edoardo Mulargia and Giampaolo Lomi's interesting effort, which includes some surrealistic touches along the way, plus a score by Piero Umiliani. Vinegar Syndrome's disc (2.35) includes both Italian and English dubs; a half-hour interview with Lomi; an audio essay from critic Rachael Nisbet; outtakes; trailers and an alternate English title sequence.
NINE GUESTS FOR A CRIME (91 mins., 1977) is one of the endless on-screen adaptations (official and otherwise) of Agatha Christie's benchmark "Ten Little Indians," which receives a Sardinia-shot adaptation here from director Ferdinando Baldi (spaghetti western vet), who recruited an international cast including John Richardson, Arthur Kennedy, Caroline Laurence and Massimo Foschi, while Carlo Savina's score is another plus. Another essay from Rachael Nisbet is included along with an interview with Foschi, the trailer, and both the English and Italian soundtracks in Vinegar Syndrome's Blu-Ray (1.85).
Finally, WHITE DRESS FOR MARIALE (90 mins., 1972) boasts the participation of genre faves Evelyn Stewart, Luigi Pistilli and Ivan Rassimov in a wild and woolly early '70s outing from director Romano Scavolini. Another remastered transfer (2.35) awaits fans here with extras including conversations with Scaolini and Ida Galli (nearly an hour long), plus deleted scenes, trailers, and another audio essay by Rachael Nisbet. The Italian audio is mono with English subtitles.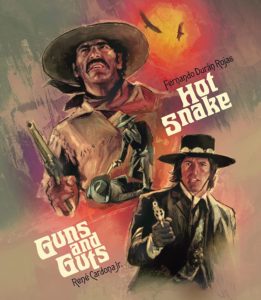 Spaghetti Western fans, meanwhile, looking for something with a little Mexican seasoning ought to check out Vinegar Syndrome's forthcoming double-feature Blu-Ray of HOT SNAKE (86 mins., 1976) and GUNS AND GUTS (90 mins., 1974). These South of the Border sagebrush sagas offer even more violence and gore than their Italian counterparts, with the former a moody Fernando Duran Rojas effort incorporating some supernatural shenanigans involving a local witch who warns a bounty hunter not to take down an outlaw terrorizing the title town. In "Guns and Guts," prolific Mexican director Rene Cardona Jr. spins a Peckinpah-inspired orgy with a wildly over-the-top finale.
Both pictures have been scanned and restored in 4K (2.35) from their original 35mm camera negatives and sport an interview with Rene Cardona III and Spanish soundtracks with newly translated subtitles on "Hot Snake" and SDH subs on "Guns and Guts."
New, Noteworthy & Upcoming
STREETS OF DEATH Blu-Ray (94 mins., 1987, Not Rated; Culture Shock): Mid '80s slasher shot on video debuts on Blu-Ray in a special edition from Culture Shock. Jeff Hathcock's video affair assembles an eclectic cast as a serial killer preys upon L.A. streetwalkers, including former Disney star Tommy Kirk. "Streets of Death" will have appeal to Hathcock's fans (at least anyone who enjoyed "Night Ripper") while others may want to sample before taking the plunge. Culture Shock's Blu (1.33) includes interviews with Hathcock, actor Larry Thomas and cinematographer Michael N.J. Wright; a commentary with Movie Melt! Grindhouse and Exploitation podcasters; and a still gallery.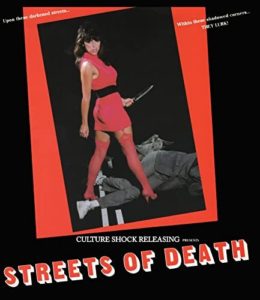 FAULTS Blu-Ray (90 mins., 2015; Yellow Veil Pictures): Riley Stearns wrote and directed this 2015 film starring Mary Elizabeth Winstead as a woman who's been (apparently) brainwashed by a cult named Faults, leading to her parents bringing in a mind control authority (Leland Orser) to try and deprogram her. Things, of course, don't go as planned. Yellow Veil's Blu-Ray (2.35, 5.1 DTS MA) includes a new commentary with Stearns and the crew (plus a 2015 commentary), introduction from the filmmaker, interviews, the short "The Cub," a photo gallery, and trailer among other extras.
SUMMER OF BLOOD Blu-Ray (86 mins., 2014; Factory 25): Offbeat and occasionally very funny indie comedy stars writer/director Onur Tukel as an awkward young man who, after getting dumped, finds himself turned into a vampire while on a series of online dating adventures. Horror and laughs mix in Tukel's 2014 effort, remastered here by Factory 25 (1.78) with a new Tukel commentary (plus his 2014 commentary), deleted scenes, behind the scenes segments, a 24-page illustrated booklet, and interviews with Larry Fessenden and Lloyd Kaufman.
Documentaries, Indie Premieres & More
THE KID BROTHER Blu-Ray (95 mins., 1987; Canadian International Pictures): Acclaimed docu-drama stars 12-year-old Kenny Easterday as himself – a boy who refuses to wear prosthetic limbs and strikes out on his own journey after his family (Caitlin Clarke, Zach Grenier, Liane Curtis and Easterday's real-life brother Jesse) buckle under the pressure of being filmed by a French film crew. Ample '80s atmosphere and lots of warmth permeate this effort from director Claude Gagnon, with CIP's Blu-Ray boasting a 1080p transfer (1.85) restored in 4K from the original 35mm camera negative; commentary with historian Kier-La Janisse and critic Ralph Elawani; a half-hour interview with Gagnon; additional interviews and a booklet featuring a new interview with Jesse Easterday Jr.
HEARTS BEAT LOUD Blu-Ray (97 mins., 2018; Gunpowder & Sky): Brett Haley's indie comedy-drama makes for an appealing view, with single dad (Nick Offerman) attempting to bond with daughter Kiersey Clemons via a musical connection that takes the internet by storm. Ted Danson, Toni Collette and Blythe Danner co-star with Gunpowder & Sky's Blu-Ray (2:1, 5.1 DTS MA) including an all-new, 2022 commentary with Haley, co-writer Marc Basch and composer/songwriter Keegan DeWitt; plus new interviews with Haley and Offerman. These come in addition to numerous extras from previous releases (cast interviews, rehearsal footage, music composition featurette, and more).
ROBINSON'S GARDEN Blu-Ray (119 mins., 1987; LayLine): Kumiko Ota stars in director Masashi Yamamoto's "punk statement" as a Tokyo drug-dealer who leaves her current existence in favor of planting cabbage in a vast, empty concrete landscape on the city's fringes. Tom DiCillo's cinematography brings the director's singular vision to life, here restored in a 1080p (1.85, stereo, English subtitles) transfer with extras including interviews with Yamamoto and DiCillo, and new writing from K.F. Watanabe.
LO SOUND DESERT Blu-Ray (94 mins., 2015; ETR Media): Documentary chronicles the "Desert Rock" music genre hatched in the Coachella Valley, beginning with bands like Kyuss and Queens of the Stone Age, from their humble origins to worldwide success. Ample music and interviews should make this a compelling watch for genre fans, with ETR's Blu-Ray offering a full widescreen transfer (2.35, 2.0 DTS MA) with over an hour of additional footage.
YOU CAN'T KILL MEME Blu-Ray (78 mins., 2021; Utopia): Offbeat documentary by director Hayley Garrigus explores her look at the internet underworld where "memetic magic" is being used by individuals of all sorts of political persuasions in order to push their belief systems onto (a sometimes unsuspecting) public. An hour-long Q&A from Fantasia Festival is included in Utopia's Blu-Ray (1.78, 5.1 DTS MA).
---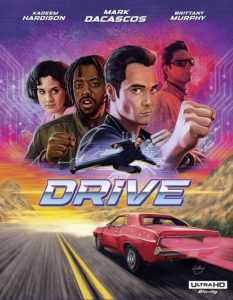 New From MVD
On September 13th, 88 Films and MVD bring 4K UHD owners one of the more obscure titles to grace the format: DRIVE (118 mins., 1997). No, not the arty thriller with Ryan Gosling from a few years ago, but a direct-to-video action affair from the late '90s that's managed, apparently, to generate a small cult following primarily due to its martial arts fight sequences.
The plot is standardish stuff involving a Hong Kong agent (Mark Dacascos) who's been implanted with a device that would've made Tony Stark proud: bio-engineered tech that gives him super abilities. He's been sent to L.A. to sell it to the highest bidder, but finds himself pursued by a collection of bad guys and aided by a down-on-his-luck barfly (Kadeem Hardison) and, eventually, a motel manager (Brittany Murphy, in a weird spot between "Clueless" and larger stardom).
I hadn't seen "Drive" previously and, frankly, I'm not sure how many new fans the movie is going to fetch, even with 88 Films' spiffy UHD presentation. This "Director's Cut" runs 20 minutes longer than its producer-abbreviated released version (it also has David Williams' superior scoring), but just a few minutes of the repetitive "Drive" might be all most viewers need to see: director Steve Wang and writer Scott Phillips put Dacascos and Hardison through standard-issue "buddy movie" cliches (minus a modicum of wit), then get them into tight situations leading to endless fight scenes. Rinse, repeat about a dozen times until the end credits roll. True, the martial arts choreography is strong, yet even the staging of these scenes is flat and uninvolving, as is most of this painfully overlong – if cheerful – affair that frankly could've been trimmed under 90 minutes without any harm to the overall product.
For "Drive" aficionados, though, 88 Films' UHD does include a Dolby Vision HDR (2.35) transfer along with Dolby Atmos audio, though I frankly preferred the 5.1 DTS MA track, which sounds wider and more natural. Extras include a transfer of the shorter released version (Dolby Vision with Dolby Digital sound) featuring an alternate, pounding techno score, along with commentary by Wang, Dacascos, Hardison and fight choreographer Koichi Sakamoto; new interviews; an archival documentary; six deleted scenes; the trailer, and reversible artwork.
Coming later this month from Arrow on Blu-Ray is Tomu Uchida's A FUGITIVE FROM THE PAST (183 mins., 1965), an epic crime drama presented in its full, restored three-hour version.
Considered one of Uchida's crowning works, this film is initially set in 1947 where the police find two dead men in a pawnshop after a typhoon sweeps through Hokkaido and mainland Japan. While the police focus in on a third man seen leaving the establishment, the mysterious Takichi (Rentaro Mikuni), he also takes up with a prostitute (Sachiko Hidari), who, a decade later, seeks answers to questions she would've been better off not asking.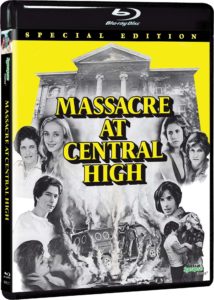 Gritty widescreen (2.40) cinematography graces a movie voted #3 in the list of top Japanese films of the 20th century by Kinema Junpo magazine, and Arrow's Blu-Ray includes uncompressed mono audio; scene-specific commentaries from leading Japanese film scholars; an introduction from writer Jasper Sharp; an image gallery; and newly commissioned artwork by Tony Stella.
MASSACRE AT CENTRAL HIGH Blu-Ray (88 mins., 1976, R; Synapse): Renee Balder's controversial 1976 picture earned critical acclaim – including praise from Roger Ebert – as it spins a (sadly) still-relevant portrait of high school violence. Derrel Maury plays a new student who doesn't back down, even when he learns of bullies at his new high school – and instead of learning to live with them, he fights back. Robert Carradine, Andrew Stevens, Kimberly Beck and Rainbeaux Smith co-star with Synapse's Blu-Ray (1.78, mono) offering a fresh scan supervised by the director; audio interviews by podcaster Mike White with assorted cast members; Michael Gingold's conversation with Balder; an all-new Making Of documentary; a still gallery; and trailers/TV spots.
---
Warner Archive New Releases
RACHEL, RACHEL Blu-Ray (101 mins., 1968, R): It's easy to get this Joanne Woodward/Paul Newman-directed vehicle mixed up with their subsequent film about domestic dysfunction in late '60s/early '70s Connecticut – "The Effect of Gamma Rays on Man-in-the-Moon Marigolds." "Rachel, Rachel" is a different type of picture but, much like the duo's later effort along somewhat similar thematic lines, it's carried entirely by Woodward in a deservedly Oscar-nominated performance (the movie itself not so much, despite earning a curious nom for Best Picture).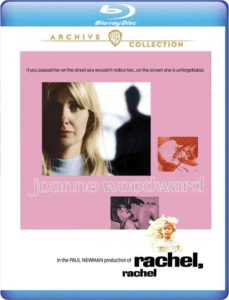 This "interior" drama about a thirtysomething, unmarried school teacher was adapted from a Margaret Laurence novel by Stewart Stern, and becomes precisely the kind of moody, introspective drama you'd anticipate from the era. Newman's Rachel has constantly recurring memories of a sad childhood with her undertaker father (Donald Moffat) while leveraging her current care for her shrewish mother and infrequent attempts at love – namely, an old schoolmate (James Olson) who returns home, looking for some "action."
"Rachel, Rachel" does have some period elements (a few peripheral hippies) but is mostly anchored to its traditional small town setting and Rachel's attempts to break free of her confined existence. It's an episodic movie, slow moving but with a thoughtful script and a terrific performance from Woodward. There are also some early character turns from the likes of Terry Kiser (as a "mod" preacher), Estelle Parsons and "Special Guest Star" Geraldine Fitzgerald. The naturalistic cinematography of Gayne Rescher is solid and Jerome Moross' limited score adds understated poignancy when called upon.
A new scan makes for a gorgeous Warner Archive title here, their Blu-Ray disc including a 1080p (1.85) transfer, clear mono sound, and silent promo footage when the movie was titled under the book's name ("A Jest of God").
ABE LINCOLN IN ILLINOIS Blu-Ray (110 mins., 1940): Robert E. Sherwood's hit Broadway play was adapted for the screen with Raymond Massey repeating his stage role of the 16th President. Sherwood's play, which he and Grove Jones adapted for the screen, hits upon the major historical beats of Lincoln's upbringing, childhood and relationship with Ann Rutledge (Mary Howard), through trading barbs with Stephen Douglas (Gene Lockhart) and later marriage to ambitious Mary Todd (Ruth Gordon). John Cromwell helmed this highly acclaimed RKO release, new on Blu-Ray (1.37 B&W, mono) with the Archive's disc including the 1940 Lux Radio adaptation.
---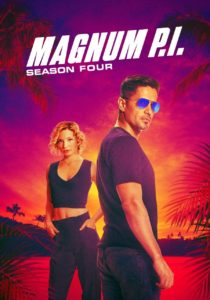 TV on DVD
MAGNUM, P.I. – The Complete Fourth Season DVD (867 mins., 2021-22; CBS): Jay Hernandez's popular turn as Hawaiian P.I. Thomas Magnum in this agreeable network revival of the old Tom Selleck series seemed as if it was coming to an end this past spring. Despite solid ratings, the network pulled the plug on "Magnum" until fans and a new network, NBC, rode to the rescue — thus, these 20 episodes from "Magnum"'s fourth season are, thankfully, not the series' last, and should tide fans over until the series returns later this season. CBS' five-disc DVD package includes 16:9 transfers, 5.1 soundtracks, a gag reel and even some deleted scenes.
Also new from CBS and in time for the upcoming Fall TV season is Season 2 of another revival, THE EQUALIZER (773 mins., 2021-22), which puts Queen Latifah through similar paces as Edward Woodward before her, here playing ex-government op Robyn McCall. With her daughter now understanding her mother's work, McCall is tasked with a series of cases including taking down a group of high-tech bank robbers. A gag reel and deleted scene are included in CBS' DVD (16:9, 5.1), which is available September 20th…In the Fifth Season of SEAL TEAM (629 mins., 2021-22), Bravo team, led by Jason Hayes (David Boreanaz), again deals with foreign missions as well as dangerous tasks domestically. CBS' four-disc DVD (16:9, 5.1) is now available featuring its complete fifth season with extras including behind-the-scenes featurettes, deleted scenes and a gag reel.
Also entering its Fifth Season is YOUNG SHELDON (434 mins., 2021-22; Warner). This time out Sheldon hits his first (and definitely not his last) comic convention while collecting a new assortment of pre-Big Bang friends, meanwhile Missy questions her conventional upbringing and parents George Sr. and Mary try and mend fences with their marriage. 22 episodes from the popular CBS series are new on DVD this month with 16:9 transfers, 5.1 sound, and a special featurette commemorating the series' 100th episode.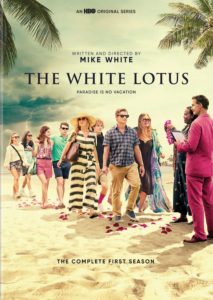 The fan-favorite LUCIFER (520 mins., 2021) picks up with Lucifer having left Los Angeles but not his feelings for Chloe, whose adventures culminate in the Sixth and Final Season of the series, which has leapt from network TV to streaming and retained the bulk of its viewership throughout. This final group of episodes finishes off "Lucifer" in style — complete with a widely praised conclusion — and Warner's DVD brings it home this week with deleted scenes, a gag reel, 16:9 transfers and 5.1 sound.
I can't say I was overly fond of THE WHITE LOTUS (352 mins., 2021), "Enlightened" creator Mike White's latest concoction for HBO. This one is billed as a "social satire" set at a tropical resort wherein a group of disparate characters, all searching for "something," reveal their true natures despite their respective, seemingly placid exteriors. "White Lotus" brings together a talented cast (Connie Britton, Jennifer Coolidge, Steve Zahn, etc.) but unless you're a big fan of "awkward humor" the series never finds a comfortable groove between light and heavy dramatic elements and wears out its welcome pretty quickly. Still, critics and some viewers were entertained, and if you were one of them, Warner's DVD includes sharp 16:9 transfers, 5.1 soundtracks, and two featurettes (the series has since been renewed for another, albeit reportedly self-contained, season).
---
Quick Takes
Well Go USA New Releases – SNIPER: THE WHITE RAVEN Blu-Ray (112 mins., 2021, R; Well Go USA): Not an entry in the long-running "Sniper" franchise, this is a cinematic call to arms from the Ukraine. After enduring a horrifying tragedy in the Donbas region years ago, a former Ukranian physics teacher finds himself being urged to join the fight and become an elite sniper, taking on his Russian counterpart in a modern reworking of sorts of "Enemy at the Gates." This Ukrainian import is new on Blu-Ray with both subtitled Ukrainian audio and an English dubbed track (1080p, DTS MA).
Also new from Well Go USA is PREMAN: SILENT FURY (92 mins., 2020), a Hi-Yah! Original from writer-director Randolph Zaini. This Indonesian import chronicles the desperate efforts of a deaf gangster to protect his child – who just witnessed a mob slaying – from his former allies. Ample action is included in this Well Go release, which comes to Blu-Ray (1080p, DTS MA) on September 27th sporting both Indonesian audio and an English dubbed track.
THE AMUSEMENT PARK Blu-Ray (54 mins., 1975; RLJE): "Night of the Living Dead" auteur George Romero stayed in his native Pittsburgh for a number of follow-up films, including this experimental 1975 piece that was, for a time, forgotten virtually altogether. Unearthed and recently restored, "The Amusement Park" isn't much of a movie — it doesn't even run an hour — but it is an interesting enough slice of paranoia as an elderly man (Lincoln Maazel) finds himself dazed and confused in an amusement park — a victim of aging in a society that has sadly progressed very little in its views towards that demographic in the near half-century since its release. Shot on location and resurrected here in a 1080p (1.33) transfer from the George A. Romero Film Foundation, "The Amusement Park" makes its HD debut with a commentary from Romero associate Michael Gornick with featurettes and a panel interview offering comments from Suzanne Desrocher-Romero, Greg Nicotero and others.
POST MORTEM Blu-Ray (115 mins., 2020, Not Rated; Shout! Factory): Hungarian horror import is set after WWI, where a former soldier who experienced a near-death trauma has become a photographer who takes photos of the living — along with the dead — in what's supposed to produce a photographic memory for the bereaved. The ex-soldier (Viktor Klem) is later brought to a disease-ravaged village with a mysterious orphaned girl by his side in Peter Beregndy's stylishly shot if formulaic period outing, on Blu-Ray September 20th from Scream (2.39, 5.1/2.0 DTS MA). The disc includes deleted scenes and the trailer.
Film Movement New Releases: Emanuel Parvu and Ioana Bugarin star in MIRACLE (118 mins., 2021), a Romanian crime drama about a police detective (Parvu) who's tasked with finding a young woman (Bugarin) who disappears from her secluded convent. A fascinating drama, well crafted, and new on DVD this month from Film Movement (2.39, 5.1/2.0, Romanian with English subtitles) with a deleted scene; commentary from director Bogdan George Apetri; and Apetri's short "A Very Small Trilogy of Loneliness."
NEXT TIME: More of the latest releases! Until then, don't forget to drop in on the official Aisle Seat Message Boards and direct any emails to our email address. Cheers everyone!