Message Board (open 24 hours!)
Twitter - @andredursin (for everything else!)
Brilliantly scored by Jerry Goldsmith and backed by a script – credited to Steven Spielberg, Michael Grais and Mark Victor – that features an identifiable, likable family at its core, POLTERGEIST (114 mins., 1982, PG; Warner) has lost little of its appeal since its original 1982 release. This first of producer Spielberg's consecutive Summer of '82 box-office smashes ("E.T." naturally being the other) has also, finally, been thoroughly remastered for both 4K UHD and Blu-Ray, debuting a fresh new transfer that comes highly recommended for owners of either format.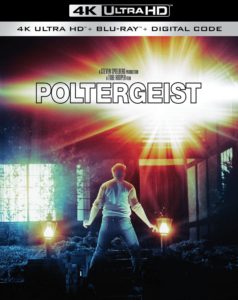 This Spielberg-produced, Tobe Hooper "directed" tale of a suburban family (father Craig T. Nelson, mom JoBeth Williams, and kids Heather O'Rourke, Oliver Robbins and Dominique Dunne) haunted by spirits in their California home has its share of "shock" moments, but also an effective depiction of an otherworldly "other side" that few supernatural films have so successfully evoked – even with all the technical advancements that have occurred in genre films since its original release. The story, a variant on the old "Twilight Zone" episode "Little Girl Lost," has moments of humor and warmth interspersed at various points, as well as suspense and "roller coaster" like thrills provided by superb ILM special effects and a pace that never flags throughout its 114-minute running time. At its core, though, are the natural performances of Nelson, Williams, and the young cast members, who come off as real people that make you care about their plight throughout – and Goldsmith's scoring, which is menacing, lyrical, evocative and thrilling in equal measure.
While understandably not the all-time smash success of "E.T.," "Poltergeist" became a big hit in a crowded, competitive summer marketplace and ultimately one of the Top 10 films of 1982. For a movie that popular, it's striking "Poltergeist" has only received a scant amount of home video releases – most without supplemental content of any kind. This included a weak DVD release (its only format appearance) in 1998, then a merely serviceable 2008 Blu-Ray which viewers have had to put up with for too long.
All of this is perhaps unsurprising — the issue over the creative involvement of writer-producer Spielberg and the debated contributions of Hooper were hotly contested even prior to the film's theatrical release in June of 1982 (remember this 2007 interview with Zelda "Tangina" Rubinstein, who implies that Tobe Hooper was basically under the influence and states that Spielberg handled directing chores on all six days of her shooting?).
Considering Warner's outstanding track record with special editions, you'd have to assume that long-standing "controversy" between Spielberg and Hooper was undoubtedly the reason for the film's mere handful of home video releases sporting uniformly meager supplemental content. And it's a shame, because "Poltergeist" – still a perfect mix of thrills, chills, humor, and appealing characters some 40 years after its debut – has long deserved more.
This week, thankfully, Warner Home Video has done exactly that. A spectacular – and I mean outstanding – 4K remaster (2.39) debuts on both UHD (with HDR10) and Blu-Ray (a new 1080p presentation of this 4K master, housed within the combo pack) September 22nd, and it delivers big time. Especially when compared to the 2008 Blu-Ray, which aged less gracefully with each passing year, the UHD presentation offers everything you could hope for: clear, crisp detail, a better balanced mix of colors, and none of the noise that popped up on that early format Blu-Ray (VC-1) encode. On the audio side, the 5.1 DTS MA track is the best option, offering a terrific sound stage in line with the previous Dolby TrueHD Blu-Ray mix (both, I assume, derived from the original 70mm 6-track Dolby Stereo screenings). Warner did include a 2.0 DTS MA track here but it's hampered by elements that occasionally sound muffled or distorted in terms of dialogue levels and occasionally even Goldsmith's score.
Expectedly, Warner didn't produce new extras, but did include the extras from the Blu-Ray (a half hour of disposable "paranormal expert" interviews) and one trailer (not the one where "leading researchers" detail what a Poltergeist is). The best news, at least, is that the original 1982 MGM "Making of Poltergeist" is included here for the first time in a home video release since the late-format CAV edition MGM/UA put out on laserdisc in the mid '90s. This segment notably shows Spielberg instructing actors and establishing camera angles while credited director Hooper stands by, silently, on the sidelines – adding fuel to the endless fan debate about who really directed the picture.
Regardless of who did what, "Poltergeist" remains a classic of its kind, and now can be seen in a presentation worthy of its abundant entertainment.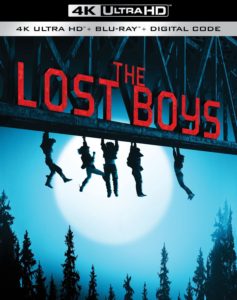 THE LOST BOYS 4K UHD/Blu-Ray (97 mins., 1987, R; Warner): Back in the mid '80s the teen horror genre briefly blossomed with several different vampire efforts competing for audience dollars. While I've always preferred Tom Holland's superb "Fright Night" over Joel Schumacher's dated '80s MTV-esque "The Lost Boys," there are seemingly more fans of this big-haired, loud, glitzy slice of hokum, with brothers Jason Patric and Corey Haim moving to quaint Santa Clara, California with mom Dianne Wiest, only to find out a group of garish looking bloodsuckers, led by nefarious Kiefer Sutherland, stalk the town.
On the plus side, the movie boasts Jami Gertz at her '80s best (she never looked better than here), plus a good assortment of laughs, but "The Lost Boys" is most definitely a product of its era, and under Schumacher's direction, the Janice Fisher-James Jeremias-Jeffrey Boam script is light on scares and heavy on stylized lighting, rock music and other tricks of the time. It might still provide some viewers with a blast of nostalgia, but one wonders what viewers new to its charms will think of it.
It certainly helps that Warner has produced another winning 4K UHD here, debuting a new 4K master of "The Lost Boys" that, like "Poltergeist," premieres this week in a UHD/Blu-Ray combo pack (the Blu-Ray likewise has been remastered). The UHD is obviously the disc of choice here, with spectacular HDR10 grading (1.85) doing full justice to Michael Chapman's slick widescreen lensing – colors that routinely bled in previous home video releases here are eye-poppingly presented, warm but never noisy, which adds to the overall package. The audio is a reprise of the previously issued 5.1 DTS MA mix, while ample extras carried over from previous releases include additional scenes; documentaries; Schumacher's archival commentary; a video commentary featuring Haim and Feldman; featurettes on the production; Lou Gramm's music video; the trailer; and a Digital HD copy.
---
Also New on 4K UHD
The Summer of '85 was not kind to the "teen science" genre that saw three similarly-themed movies released within a month of one another – each one underperforming, though not all relative to expectations. Losing out at the box-office were Disney's "My Science Project," which wasn't intended to be a major player in the marketplace, and Paramount's "Explorers," which – being Joe Dante's follow-up to "Gremlins" – certainly was.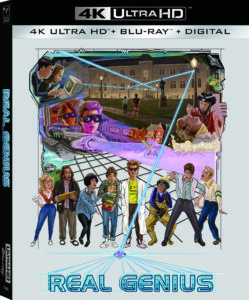 Both pictures struggled to find audiences and were outgrossed, ultimately, by REAL GENIUS (106 mins., 1985, PG; Sony), Tri-Star's entry in the short-lived cinematic sweepstakes, that centers around young genius Gabe Jarret heading off early to college. There, Jarret finds out there's an ulterior motive behind the classroom assignments of the stuffy academic (William Atherton) who recruited him – and it's up to Jarret and his group of campus cohorts, including burnt-out party man Val Kilmer, to take proper revenge.
This slick Brian Grazer production is a good deal more entertaining than either of its genre counterparts from that summer, mainly due to the work of director Martha Coolidge, which surely tempered the more brash, comedic sensibilities of writers Neal Israel and Pat Proft ("Police Academy"), credited with the script alongside Peter Torokvei. Yes, there are still laughs on-hand here, but the characters are appealing and Vilmos Zsigmond wraps the picture up in a cinematic, widescreen appearance that places it notches above the norm for this kind of picture. Kilmer broke through with his casual, charismatic performance here, and Atherton's enjoyable villainy basically reprises his role from "Ghostbusters" in a movie that, obviously, wasn't a blockbuster but still remains a cult favorite from the decade.
Sony has produced a 4K UHD/Blu-Ray combo pack of "Real Genius" that's well worth it for owners of either format. The smashing, flawless UHD contains both Dolby Vision HDR plus Dolby Atmos audio (as well as original 5.1 and 2.0 mixes), while the Blu-Ray includes a remastered 1080p (2.39) transfer with extras including the movie's TV version, the "balloon chair" deleted scene as well as its raw takes, plus Martha Coolidge's archival commentary. Another superlative catalog release from Sony with solid and welcome extras – highly recommended!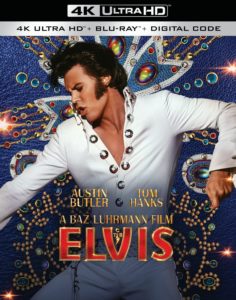 ELVIS 4K Ultra HD/Blu-Ray (159 mins., 2022, PG-13; Warner): Baz Luhrmann's smash "Moulin Rouge" is now over two decades old, leading one to spend a moment (even a passing one) reflecting on how little he's generated of note since that picture's release. "Australia" didn't amount to much, and "The Great Gatsby" got by only because of the hot casting of Leo DiCaprio and Tobey Maguire – nowadays it can be found in virtually every bargain bin collection of Blu-Rays and DVDs, whereever physical media is still sold.
Baz's latest, "Elvis," is a huge disappointment in its own right, and joins Luhrrman's post-"Rouge" content as being mostly disposable. Austin Butler has the performance chops to pass as an Elvis imitator, and the concert sequences in Luhrmann's Aussie-shot film are as vivid and dizzying as you'd anticipate – but too much of the film (and its script by Luhrmann and three other writers) is taken up by Tom Hanks in what's unquestionably one of his worst performances as Elvis' daffy manager Colonel Tom Parker. Hanks miscalculates badly in a turn that was rightly grilled by critics and holds this movie back from being the rollicking guilty pleasure it could've been. The great soundtrack aside, you're better off sticking with Kurt Russell and John Carpenter.
Warner's 4K UHD looks every bit as zesty in terms of its Atmos soundtrack and Dolby Vision/HDR10 grading as you'd expect, with the Blu-Ray, a Digital HD code, and numerous featurettes (on the Blu-Ray platter) also on-hand.
---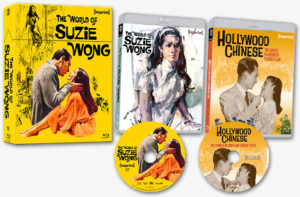 New From Imprint Editions
One of the wonderful discoveries about watching films now over a half-century old are the respective travelogues you can make as a viewer – not just to a foreign land but a time and place that no longer exists. Imprint Editions' latest limited Blu-Ray releases bring audiences the format premieres of two such pictures: one – SECRET OF THE INCAS (101 mins., 1954), long unavailable on home video domestically, transports audiences to colorful Peru while the other, THE WORLD OF SUZIE WONG (126 mins., 1960), contrasts problematic (and dated) source material with images of late 1950s Hong Kong that are priceless to behold.
"Suzie Wong" started off as a book by Richard Mason, was later adapted to the Broadway stage courtesy of writer Paul Osborn and then, finally, became a Ray Stark-produced Paramount movie in 1960. The picture is melodramatic and stiff at times in its portrait of an American artist (William Holden), struggling to make a living off his work, who heads to Hong Kong and meets a girl (Nancy Kwan) who turns out to be the proverbial prostitute with a heart of gold. Their cultural clash is set against the backdrop of a bustling but still antiquated-looking city and it's the location shooting by cinematographer Geoffrey Unsworth and director Richard Quine that gives audiences the rare opportunity to see a HK that would soon be transformed by industry and commercialization.
The picture does boast some effective moments and certainly Holden and Kwan do a fine job under the circumstances, but the overall soap opera-level story is dated and the dialogue sometimes cringe-worthy. Once the location shots end, Quine's direction also becomes lifeless and stagy with John Box's sets coming across as artificial and claustrophobic. What's worse, the story is a bevy of cliches with stereotypical Hollywood Chinese accents and portrayals dominating the bulk of the performances.
"Suzie Wong" was a troubled production from the get-go: director Jean Negulesco was fired and replaced with Quine after shooting Hong Kong sequences that also starred France Nuyen as Suzie. Originally reprising her stage role, Nuyen had to depart the movie while reportedly carrying on an affair with Marlon Brando, leaving her stage understudy Kwan to take over. Holden, meanwhile, was a replacement for the much younger William Shatner, who had originated the artist role on-stage opposite Nuyen (they'd later work together several times, including an episode of "Star Trek").
This isn't a drama that holds up particularly well but the footage of Hong Kong, as well as George Duning's lovely score, still make the picture worthwhile.
Imprint's Limited Edition Blu-Ray box houses the Blu-Ray premiere (1.78, LPCM mono) of "The World of Suzie Wong." This Paramount HD master is definitely from an older source, showing its age but with serviceable detail, especially in its interior, London-shot sequences. Extras include a new commentary by Lee Pfeiffer and Paul Scrabo; a video essay by Elissa Rose; the trailer; and, best of all, the Blu-Ray premiere of TO WHOM IT MAY CONCERN: KA SHEN'S JOURNEY, a wonderful profile of Nancy Kwan from Twilight Time's Brian Jamieson, who wrote, produced and directed this fascinating 2010 chronicle of Kwan's life, from her Hong Kong childhood to breakout performances in "The World of Suzie Wong" and "Flower Drum Song." Her subsequent journey, heartbreaks and triumphs are outlined in a moving, personal documentary narrated by Nick Redman, and offered here in full HD (the title was originally released on DVD by Twilight Time). Imprint's discs come in a hardbound case with a second platter featuring Arthur Dong's acclaimed, highly informative survey HOLLYWOOD CHINESE (89 mins.., 2008), bringing together decades of both positive – and negative – portrayals of Chinese characters on the big screen (1.78, 5.1 DTS HD, 2.0 PCM) with an additional interview with Kwan shot for the documentary.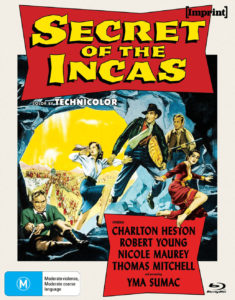 The exotic locations of Machu Picchu are a main part of the entertainment of SECRET OF THE INCAS, a picture which curiously has been missing on home video despite being a Paramount hit back in the mid '50s. Perhaps the movie's absence can be explained by its influence on a little movie that came out decades later – "Raiders of the Lost Ark," which mixed Saturday matinee thrills with an adventure plot more than a bit "reminiscent" of this particular cinematic excursion.
Make no mistake, though: "Secret of the Incas" isn't exactly bursting with big-screen action, as the first third is a talky affair wherein grizzled, cynical tour guide Charlton Heston agrees to help a Romanian refugee (Nicole Maurey), though not for reasons she suspects. The duo steal a plane and head to Machu Picchu in order for Heston's Harry Steele to find an Incan treasure, all the while a rival expedition led by archaeologist Robert Young attempts to do the same.
Around this time it's obvious that Steven Spielberg, George Lucas and presumably Philip Kaufman must have watched this picture, as Steele even stages a "map room" moment in order to retrieve the priceless artifact – and despite his own cynicism, finds himself having a change of heart at the story's end. These story elements carry an undeniable "Raiders" type of aspect, as does Steele's entire wardrobe: the fedora, leather jacket, pants and Heston's five o'clock shadow served as an obvious physical blueprint for Harrison Ford's Indiana Jones.
The movie itself – well, we've all seen more thrilling '50s adventure movies, and it's here where the Lucas/Spielberg crew obviously elevated cinema as an art form with "Raiders," all the while using the same concept from a picture as creaky as "Secret of the Incas." Yet this is nevertheless still an enjoyable enough relic from its era, entertaining if you recognize elements that would be reworked into all kinds of other films – including Yma Sumac's main theme, which was later used in a key moment during the Coen Brothers' "Big Lebowski"!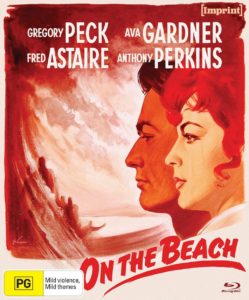 Held off home video in the U.S. for reasons one can only assume are related to the Indiana Jones series (I guess?), Imprint's Blu-Ray debuts what looks like another older HD master (1.78) from Paramount. The print looks a bit speckled and banged-up, the colors likely faded from their original Technicolor glory – but considering the secondary sources and foreign releases fans have had to make do with, this "Secret of the Incas" is likely to be revelatory for its transfer just the same. Astute extras include an interview with Chris Poggiali on the "Raiders" influence; the Lux Radio version with Heston and Maurey; and a commentary by historian Phillipa Berry.
Rounding out the trio of Imprint releases for September is Stanley Kramer's ON THE BEACH (134 mind., 1959), one of the director's numerous "message movies" which has – unlike some of his other works – retained much of its power. That's entirely due to the post-apocalyptic setting of Nevil Shute's original novel, which focuses on a weary crew onboard a U.S. submarine – led by commander Gregory Peck – who's tasked with leaving its Australian port for a radio signal originating from the west coast, all while avoiding a radioactive cloud that's depleting the world's population.
Peck's relationship with Ava Gardner informs this all-star film which also includes Fred Astaire and Anthony Perkins amongst its cast– but Kramer never loses sight of the nightmarish scenario engulfing its characters, giving the movie a nicely understated poignancy instead of over-the-top melodramatics.
MGM's HD master (1.66) is the best of this Imprint trio I reviewed, offering fine grain and clear mono sound. The supplements in this two-disc set – which also includes Lawrence Johnston's 2013 feature "Fallout," focusing on Shute and the movie's production – include commentaries from Adrian Martin and a 2015 commentary written by Dr. Philip Davey, read by actor Douglas Hansell; an audio interview with Peck from 1997; tantilizing, never-before-seen outtakes, location reels and a costume test; Kim Newman on "apocalypse cinema"; 8mm amateur footage capturing the location filming; a video essay from Kat Ellinger; another visual essay by Elissa Rose; radio spots, photo galleries, and a 60-page booklet.
---
Also New & Noteworthy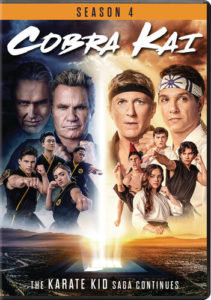 COBRA KAI – Season 4 DVD (341 mins., 2021; Sony): Where "Top Gun: Maverick" set the standard for big-screen revivals of classic movie franchises, "Cobra Kai" has done the same on the small-screen. This smart, funny, winning updating of "The Karate Kid" continues its mix of comedy and teen drama as Daniel (Ralph Macchio) and Johnny (William Zabka) finally team up to take down Cobra Kai at the latest All Valley tournament – but with Cobra Kai now augmented with the return of Terry Silver (Thomas Ian Griffith, reprising his role from the misfired "Karate Kid Part III"), all bets are off. For those without Netflix or fans looking for a physical presentation of the series, "Cobra Kai"'s fourth season is now out on DVD from Sony (16:9, 5.1), sporting deleted scenes, a blooper reel and featurette.
MRS. HARRIS GOES TO PARIS Blu-Ray (115 mins., 2022, PG; Universal): Lesley Manville stars as a London housekeeper who throws caution to the wind and opts to head to Paris in order to buy her own dress by Christian Dior, who's recently fallen on difficult times. Mrs. Harris' subsequent adventures were beloved by readers of Paul Gallico's 1958 novel, previously adapted for TV but brought here to the big screen in an adaptation by director Anthony Fabian that generated some success on the art house circuit earlier this year. Universal's Blu-Ray (2.39, 5.1 DTS MA) is now available sporting deleted/extended scenes, a gag reel and Digital HD copy.
BATMAN: THE LONG HALLOWEEN Deluxe Edition 4K UHD/Blu-Ray (168 mins., 2021, R; Warner): Re-edited edition offers both parts of the DC animated adaptation of the celebrated graphic novel, debuting also on 4K UHD for the first time.
In "The Long Halloween," the Holiday Killer is out and about, infiltrating Gotham's most nefarious, warring gangs — including the Falcone crime family — and with Halloween looming, it's up to the Caped Crusader, Jim Gordon and D.A. Harvey Dent (at least before he becomes Two-Face) to stop him/her. Chris Palmer helmed this adaptation of Jeph Loeb and Tim Sale's limited 13-issue series "Batman: The Long Halloween," which offers solid animation and a strong story line that earned raves when it was published in 1996-97. The first half is sound – but the bloodier and nuttier second half is more compelling, as Poison Ivy, Scarecrow and Mad Hatter break out of Arkham Asylum. With the Holiday Killer still lurking about, the ante is upped while Batman and company try and piece the puzzle together.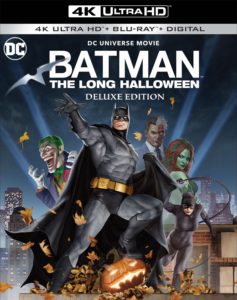 This 4K UHD presentation (HDR10 with 5.1 DTS MA) looks and sounds robust and offers the entire "Long Halloween" in a seamless edit. The combo pack comes with a Blu-Ray of the same R-rated edit and the all-new documentary "Batman: The Long Halloween – Evolution of Evil," plus four bonus cartoons from the DC vault and a Digital HD copy. Recommended strongly for fans, for the 4K upgrade alone, much less its single-episode compilation.
KAMEN RIDER KUUGA – The Complete Series Blu-Ray (18 hours; Shout! Factory): Super-sized Japanese mayhem is in-store for this first entry in the "Heisei Era" of the "Kamen Rider" saga, which spanned through its original manga to all sorts of other visually realized iterations. This 2000-01 series ran for some 49 episodes, all collected here by Shout! Factory in a seven-disc Blu-Ray set with HD transfers (1.78) and DTS MA stereo Japanese soundtracks, English subtitled ("with and without Grongi"). The a/v presentation is superlative and the action crisply rendered after archaeologists unearth both monsters named the Grongi as well as Kuuga's ancient belt – something that enables everyman Yusuke Godai to bond with the material and harness its power. Transforming into Kuuga and with riding a sleek motorcycle that would make 007 proud, Yusuke is tasked with saving humanity in a show that ought to entertain all sorts of "Kamen Rider" fans.
Keith Gordon's low-budget 1988 adaptation of the Robert Cormier novel THE CHOCOLATE WAR (1988, 104 mins., R; MVD) debuts on Blu-Ray later this month as part of the MVD Rewind Collection.
Gordon, who starred in "Christine," effectively handled this tale of humiliation and conformity at a Catholic boys school; "Smallville"'s John Glover is particularly good in the picture as the deceitful Brother and the film's resident heavy. It's not as satisfying as "Heaven Help Us" (Michael Dinner's under-rated, and generally lighter, 1985 film about life at a Catholic high school in the mid '60s), but it's certainly worth seeing and MVD's Blu-Ray does a fine job: the 1080p (1.85) MGM licensed transfer is excellent and finely detailed, while the 5.1 DTS MA audio is also completely fine (a PCM track is also included). Extras have been ported over from MGM's DVD including Gordon's commentary and an interview with the director.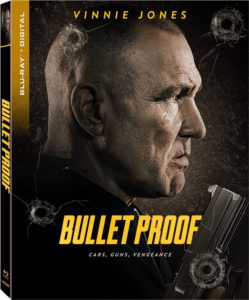 Lionsgate New Releases: Vinnie Jones is the heavy in BULLET PROOF (92 mins., 2022, R), a new thriller from director James C. Clayton. Jones plays a mob boss trying to stop a thief (played by the director) who just stole millions and takes off with Jones' pregnant wife (Lina Lecompte) in tow. It's formulaic but Clayton the director does a good job making the sure his movie keeps moving, resulting in a better-than-average genre exercise with B-level action that's competently executed, and elevated by capable performances which ought to keep genre fans invested. Lionsgate's Blu-Ray (2:1, 5.1 DTS MA) is out September 27th sporting a Digital HD copy and attractive transfer; note this movie is titled "Death Pursuit" in some overseas markets…Coming to DVD from Lionsgate is the History production THEODORE ROOSEVELT (278 mins., 2022), a documentary with filmed segments from producer/author Doris Kearns Goodwin (Leonardo DiCaprio was also involved). The production values are high in the two-part affair, which tries to restore some of Teddy's honor after the "Riot Summer" of 2020 tried to rip his reputation down. Lionsgate's DVD (1.78, 2.0) is available this week sporting the unedited mini-series in a competent-looking a/v presentation.
NEXT TIME: The latest from Kino Lorber as fall kicks off! Until then, don't forget to drop in on the official Aisle Seat Message Boards and direct any emails to our email address. Cheers everyone!