Message Board (open 24 hours!)
Twitter - @andredursin (for everything else!)
Putting a cap on what's been a spectacular year for 4K UHD catalog releases is Kino Lorber's all-new restoration of Joseph Sargent's tense, terrific 1974 thriller THE TAKING OF PELHAM ONE TWO THREE (105 mins., R). For those unfamiliar with this classic New York City-set picture, Walter Matthau stars as a subway transit chief plunged into a terrorist situation when a trio of armed robbers (led by Robert Shaw, just before he set sail in "Jaws") take hostage of a subway train. Shaw's plan? Extortion, of course, but despite being assisted by Martin Balsam and Hector Elizondo, Matthau has a few tricks up his own sleeve that prove to be a bit more than the terrorists can handle.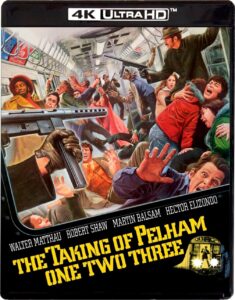 Since this movie was released a short time before I was born, my first viewing of Sargent's film came via MGM/UA's letterboxed laserdisc back in the '90s. To put it mildly, this is what some critics rightly deemed a crackerjack thriller, with smart dialogue (kudos to author/playwright Peter Stone for his literate adaptation of the John Godey book), great performances, gritty, realistic atmosphere, and a pulsating score by David Shire, used in bits and pieces in the film, that ideally complements the emotionally charged story.
"Pelham" was released a few years ago in a rock-solid MGM Blu-Ray with Kino Lorber producing their own, extras-enhanced disc in 2016. This brand new 4K scan of the original camera negative premieres on both UHD and a new Blu-Ray, offering Dolby Vision HDR grading that adds a little added "oomph" to the naturalistic Owen Roizman cinematography but – overall – is respectful to previous transfers in terms of color tone. Detail and compression are improved over previous releases, with the original mono sound and a 5.1 "all channel" DTS MA track offered on the audio side.
This UHD/BD combo brings forth a new commentary with Steve Mitchell and Nathaniel Thompson along with a vintage featurette and assorted extras from the earlier Kino Lorber disc. These include a trio of interview featurettes, running between 10-15 minutes each, offering 2016 conversations with David Shire, Hector Elizondo, and editor Jerry Greenberg. Elizondo's talk should be of the main interest for fans, as he has fond memories of working with his colorful cast members in a New York City that was, in reality, even grungier than it appears in the film (the Transit Authority would not let the filmmakers shoot in a graffiti-adorned car or tunnel, for example). Shire discusses the genesis of his jazz-infused score and how his approach differentiated from the likes of, say, Lalo Schifrin's scores from that era. The nifty theatrical trailer is included along with a "fan commentary" from actor Pat Healy and his brother, film historian Jim, that's breezy and fun to listen to, even if there may not be anything revelatory discussed within it.
If you've never seen "Pelham," by all means make this a must-view — and if you have, the UHD is the now definitive way to experience it. And, of course, stay tuned for the movie's tremendous final scene, with its great freeze-frame last shot and Shire's end credits music making for a marvelous piece of '70s cinema.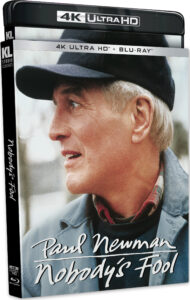 Paul Newman and director Robert Benton collaborated on Paramount's Christmas '94 release NOBODY'S FOOL (110 mins., 1994, R), a low-key drama about a grumpy old man (Newman) whose estranged son (Dylan Walsh) reappears in his snowy upstate New York town, grandson in tow, forcing him to deal with past domestic issues – all the while he sorts out current ones, including the local waitress (Melanie Griffith) whom he flirts with, her contractor husband (Bruce Willis), and Newman's cantankerous landlady (Jessica Tandy).
A "slice of life" movie with winning performances and John Bailey's beautifully tinged cinematography, "Nobody's Fool" was one of Newman's late career hits once it expanded into nationwide release in mid January 1995. Sense of time and place is a major asset to a film that's first-rate in terms of its performances and mood – and despite Newman's advanced age, he exudes a great deal of warmth in a film that's not nearly as depressing as some of his own '70s directorial outings that starred his late wife Joanne Woodward. Benton adapted Richard Russo's book and earned widespread critical kudos plus an Oscar nomination for its star.
Debuting in a new 4K scan of the OCN from Kino Lorber on UHD, "Nobody's Fool" receives a quality home video release at last here in the U.S. The UHD presentation offers Dolby Vision HDR (1.85) and, much like "Pelham," this isn't necessarily a movie that needs or cries out for high dynamic range, yet the movie's hues and Bailey's cinematography both gently benefit from the DV enhancements over the SDR version. Extras include commentary by Jim Hemphill and new interviews with Richard Russo and actress Catherine Dent.
Following "Nobody's Fool" came TWILIGHT (94 mins., 1998, R), a box-office disappointment that failed to live up to the tremendous cast that Robert Benton assembled.
A reunion for Benton with writer Richard Russo – this time penning an original script – "Twilight" finds Newman here playing a weary, veteran cop-turned-PI. Saddled with delivering an envelope at the behest of a cancer-stricken movie star (Gene Hackman) on his last legs, Newman also finds himself drawn to the actor's wife (Susan Sarandon) and, eventually, a murder buried deep in all of their pasts.
The conventional noir set-up and mood of old-time Hollywood fading away sets the perfect stage for "Twilight," which wants, badly, to talk about aging, mortality, the sins of the past, and the desire to do the right thing in the present. It's clearly a "goodbye letter" to cinema's Golden Age, of stars like Newman, Hackman and James Garner (oddly credited only in the film itself) – but it's also a letdown in terms of its scope. Benton's claustrophobic film doesn't offer much in the way of atmosphere or back story – it dives right into its mystery, which is never that involving, and sadly comes off as both stagy and stodgy.
At least the cast tries, and it's an embarrassment of riches in that regard, from the leads down to Stockard Channing as a former police colleague of Newman's to Giancarlo Esposito as his ex-investigative partner. There are also notable early turns from Margo Martindale and Liev Schrieber, even Reese Witherspoon (topless!) in a role that bridges Hollywood's past with its future, yet "Twilight"'s script fails to support them with a drama worthy of their talents.
Still a compelling work because of its stars, "Twilight" falls on Blu-Ray (1.78) in the U.S. on December 27th for the first time. A commentary from Alain Silver and James Ursini is the disc's sole extra, with the transfer and 5.1 DTS MA sound being just fine.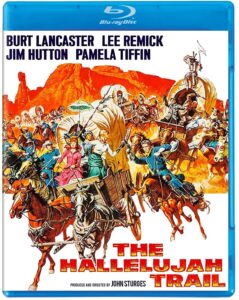 A major improvement over its previous Blu-Ray (a 2018 upscale), THE HALLELUJAH TRAIL (155 mins., 1965) is an overlong western-comedy from director John Sturges, offering Burt Lancaster, Lee Remick, Jim Hutton, Pamela Tiffin plus Donald Pleasence, Brian Keith and Martin Landau in a Cinerama presentation that has long held a cult following (my parents, in particular, were fans way back when). Elmer Bernstein's joyful score is one of the film's strongest assets but one needs to be a big genre fan to be able to make it through the film's sprawling 2½ -hour running time, which feels bloated at every turn.
Fans of the movie enjoyed MGM's laserdisc restoration back in the '90s, yet Olive's 2018 Blu-Ray was a disaster: seemingly mastered from a standard-def source, it scarcely looked better than the big 12" disc that preceded it. Though not a 4K restoration by any means (the source print still looks a bit banged up here and there), "The Hallelujah Trail" has been remastered by MGM with a new transfer of its full "roadshow" version with Overture, Intermission and Exit Music, all in DTS MA 5.1 and 2.0 stereo. The detail, clarity and color of this transfer far surpasses the previous MGM master, and makes Kino Lorber's Blu-Ray a highly recommended upgrade for fans. For extras Kino has added a commentary from Michael Schlesinger and C. Courtney Joyner.
THE GIRL ON A MOTORCYCLE (91 mins., 1968, R): One of the bona-fide cult movies of the late '60s, Kino Lorber debuts an impressive new 4K remaster of "The Girl On a Motorcycle," which was an independently-financed European production. Marianne Faithfull stars as a housewife who splits from her hubby and visits lover Alain Delon in France, recounting the beginning of their affair – and the sleek motorcycle symbolizing her freedom as well as the counter-culture era of the time. Jack Cardiff helmed and shot the picture, preserved here in a superb Euro London Films (1.66) restoration with a vintage Cardiff commentary as well as a new track from historian Alexandra Heller-Nicholas on hand.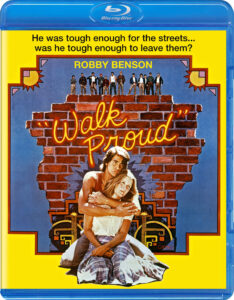 WALK PROUD Blu-Ray (102 mins., 1979, PG): When you think of a late '70s movie focusing on a Chicano kid trying to work out his place between local gangs and a would-be girlfriend from the "other side of the tracks," you don't immediately think of it being a vehicle for Robby Benson – yet that casting, controversial even at the time, propelled this teeny bopper drama from Universal, here revived on Blu-Ray from Scorpion. You'll naturally have to be a Benson fan to get a lot of mileage out of the picture, which is pretty syrupy when it comes to his relationship with girlfriend Sarah Holcomb, whose career stalled out after memorable appearances in the likes of "Animal House" and "Caddyshack," while Evan Hunter's script and Robert Collins' direction are sensitive to the point of being overly earnest. Benson also croons the tune "Adios Yesterday" while a "Jaws 2" soundtrack poster ("All-New Music"!) can be seen in the backdrop of one scene. Scorpion's Blu offers brief interviews with stars Pepe Serna, Panchito Gomez, Irene DeBari and Luis Reyes along with a 2K master (1.85, mono) from a source that seems a little weathered.
LAWS OF GRAVITY Blu-Ray (100 mins., 1992, R): Early '90s character drama follows Brooklyn pals and petty crooks (Peter Greene, Adam Trese) who find themselves embroiled in the sale of illegal handguns by an old friend who returns to town. I don't recall this Island Pictures effort, an indie film from writer-director Nick Gomez, making a lot of noise at the time of its release, but it did launch the careers of Greene plus Edie Falco among other familiar faces. Kino Lorber here debuts a fine MGM master (1.85) here with the trailer and a new commentary by Gomez moderated by Daniel Kremer.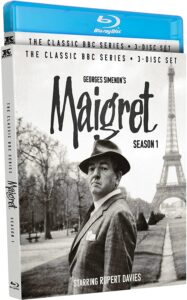 Foreign, Specialty & Vintage Fare
Kino Classics has debuted the Gaumont restorations of two Inspector Maigret double features featuring Albert Prejean as Georges Simenon's intrepid hero. PICPUS/CECILE IS DEAD (91/82 mins., 1943-44) offer fascinating B&W mysteries from France's Golden Age, "Picpus" with Maigret investigating a dead body found at Madame Dumont's new Paris apartment, while "Cecle is Dead" has the intrepid inspector attempting to uncover what happened to a persistent young woman who later turns up dead. Both titles are housed here in a Kino Classics Blu-Ray double feature (1.37 B&W, mono), in French with English subtitles.
The BBC later brought Inspector Maigret to English-speaking audiences with an early '60s TV series considered the "definitive" adaptation of Georges Simenon's books. Starring Rupert Davies as MAIGRET (715 mins., 1960-61), the series adapted Simenon's detective in what the author himself considered "perfect." All 13 first-season episodes have been remastered in HD from Network and Kino Lorber in a double-disc Blu-Ray, available this month from the label (1.33 B&W), remastered from original film elements.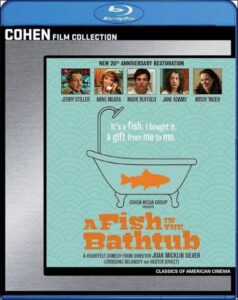 Cohen Film Collection New Releases: Actor Simon Callow worked with producers Merchant Ivory in staging a film adaptation of the Carson McCullers novel/Edward Albee play THE BALLAD OF THE SAD CAFE (101 mins., 1991, PG-13). In directing his sole feature, Callow helmed writer Michael Hirst's adaptation, set in the South where Vanessa Redgrave plays the owner of a small rural town's only Cafe – also the mind behind a moonshine still. Two strangers threaten her existence in this atmospheric film co-starring Keith Carradine and Rod Steiger, with many Merchant Ivory alumni – including composer Richard Robbins – having contributed to the picture. Cohen's new Blu-Ray digital restoration (1.78, mono) also includes a commentary by writer Peter Tonguette…Also New from Cohen is Joan Micklin Silver's A FISH IN THE BATHTUB (98 mins., 1998, PG-13). This indie comedy offers a showcase for Jerry Stiller and Anne Meara playing an estranged couple, married for some 40 years, who hit the rocks, with the latter moving in with son Mark Ruffalo – who has relationship issues of his own. A likeable character piece with Cohen's Blu-Ray (1.85, stereo) also offering an "on stage Q&A" with Micklin Silver and the writers…Director Ralphael D. Silver (her husband) is represented by a Double Feature Blu-Ray, ON THE YARD (102 mins., 1978), starring John Heard as a con artist trying to acclimate to life in a state penitentiary, and A WALK ON THE MOON (95 mins., 1987), a drama set during the Summer of '69 where a peace corps volunteer (Kevin Anderson) clashes in a Colombian village with the cynical worker (Terry Kinney) he's replacing. Both rarely-seen, well-reviewed films include 2.0 stereo tracks and 1080p transfers.
Milestone Film & Video and Kino Lorber premiere Ayoka Chenzira's feature debut ALMA'S RAINBOW (89 mins., 1993), an acclaimed film about a teenager (Victoria Gabrielle Platt) whose blossoming into womanhood is contrasted by her salon-owning, straight mother (Kim Weston-Moran) and her free-wheeling aunt (Mizan Kirby), just returned from a decade overseas. This two-disc Blu-Ray includes a 4K restoration (1.85, 5.1/2.0) of the film with a panel discussion and interviews, plus numerous Chenzira shorts.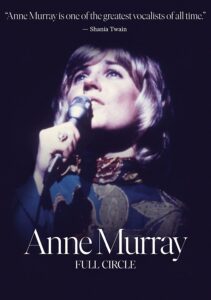 A terrific music documentary, ANNE MURRAY: FULL CIRCLE (91 mins., 2021) profiles the over 40-year career of the Canadian singer, whose work spanned multiple successful genres, from pop and AC to country, across the border and around the world. Kenny Loggins, Gordon Lightfoot, Bonnie Raitt, and Shania Twain are a few of the industry superstars who pay tribute to Murray in this CBC/Network production from directors Morgan Elliott and Adrian Buitenhuis (16:9, 5.1).
Also New on DVD is the enjoyable documentary WORST TO FIRST (63 mins., 2021), the story of New York City's Z100 from its infamous start in the early '80s through to achieving the #1 share in the nation's top market. Nile Rodgers, Joan Jett, Jon Bon Jovi, Debbie Gibson, Geraldo Rivera and Clive Davis are on-hand in Mitchell Stuart's now available doc (1.78, 2.0), sporting deleted scenes and commentary in Gunpowder & Sky and Kino's DVD…Directors Samantha Wishman and Christina Thomas look at the efforts of local women in Georgia's Dade County to open up a new animal shelter in FREE PUPPIES (70 mins., 2022), a cute and insightful look at dog rescue in a quiet part of the country. Deleted scenes, featurettes, a 16:9 transfer and 2.0 audio comprise the First Run Features/Kino Lorber DVD.
---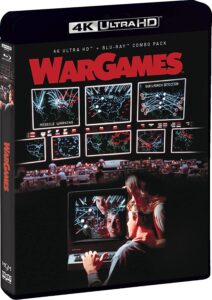 Also New & Noteworthy
WARGAMES 4K UHD/Blu-Ray (113 mins., 1983, PG; Shout! Factory): John Badham's slick, highly entertaining thriller debuts a new 4K scan with Dolby Vision HDR on UHD, along with an accompanying Blu-Ray offering a likewise welcome, remastered 1080p transfer.
This tale of an early '80s high schooler who unknowingly hacks into a defense department simulation and causes all kinds of panic for its confused personnel may appear dated with its period politics and ancient technology (I always wished I owned a personal computer that made those "beeping" noises every time I typed!), but "WarGames" still entertains due to its performances and smart script. Matthew Broderick is perfect as the naive David Lightman, with Ally Sheedy, John Wood, Dabney Coleman and Barry Corbin likewise making the most of their roles in the perfectly-pitched Lawrence Lasker-Walter F. Parkes script, which manages to walk the fine line between a teen picture and a nuclear holocaust thriller, with some effective comedy mixed in between.
It's a balance, though, that nearly didn't happen: "WarGames" was beset by production problems, most notably the fact that Martin Brest (soon to hit the big time with "Beverly Hills Cop") was originally installed as the film's director. Brest began shooting the movie, only to have United Artists executives panic after seeing his darker, less humorous take on the material. Badham replaced him a few weeks into production, and began lightening the tone — from recruiting Parkes and Lasker to work from an earlier, pre-Brest version of their original screenplay, to having cinematographer William A. Fraker literally lighten the film's visual pallet. In the DVD-era documentary on the film, Badham notes how hard he had to work to get Sheedy and Broderick to change their approach to certain scenes, the duo both wondering if they too would be replaced since the movie wasn't working in the eyes of Hollywood suits.
The 45-minute "Loading WarGames" documentary is carried over here to Shout's UHD/BD, and it's a keeper, pulling no punches in terms of discussing the extent of Brest's involvement (he increased Sheedy's role and did all the research on the film's tech) and how much even the completed film owes to his work. Yet it's also clear that Badham's touch was the reason for the picture's enormous commercial success, his humanity and sense of humor crafting more dimensional characters than what might have ended up had Brest completed his own vision of the film.
Interviews with Badham, the writers, Broderick, Sheedy, Corbin, William A. Fraker, composer Arthur B. Rubinstein and others make this a compelling featurette filled with anecdotes, including the revelation that Tom Mankiewicz was called in to write a memorable scene (in one day) between Broderick and Sheedy prior to the film's climax. Outside of some needless – and now dated – "talking head" comments from Harry Knowles and other critics, this is easily one of the better Making Of docs produced in the DVD era. Other extras include the original trailer, two other featurettes, plus an insightful archival commentary with Badham, Lasker and Parkes discussing the film.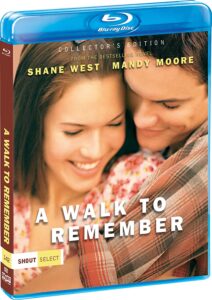 Visually the new 4K presentation (1.85) offers superior compression and detail, not to mention a wider color pallet, than the old MGM Blu-Ray. The Dolby Vision HDR presentation especially shines when it comes to skin tone and contrast, but for those still operating within the parameters of 1080p, the accompanying Blu-Ray offers not insignificant gains in corresponding detail over that decade-old Blu-Ray platter. A 5.1 DTS MA track is included but the superior mix is the original 2-channel Dolby Stereo audio, which when properly matrixed back into surround as intended, offers a comparatively more robust and involving audio presentation.
Also new from Shout! this month is a Shout Select Blu-Ray presentation of A WALK TO REMEMBER (101 mins., 2002, PG-13). One of the many adaptations of author Nicholas Sparks' romantic books to be produced around this time, director Adam Shankman's serviceable film pairs Shane West and Mandy Moore as the teens whose improbable relationship blossoms even while – as is typical for a Sparks story – tragedy looms in the backdrop. The performances are solid and the movie performed well at the box-office despite receiving disinterested critical notices – making it surprising it's taken this long for the film to debut on Blu-Ray. Shout's Blu contains a strong 1080p (2.39, 5.1 DTS MA) transfer with a new interview with Sparks plus archival extras from the DVD (commentary with the director and stars, a Sparks commentary with screenwriter Karen Janszen, music video, etc.)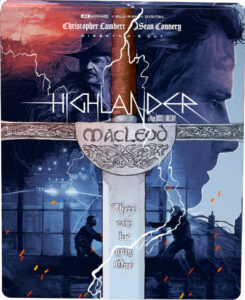 HIGHLANDER 4K Ultra HD/Blu-Ray (116 mins., 1986, R; Lionsgate): Forget the myriad of sequels and TV series that followed: taken on its own terms as a singular piece of sci-fi/fantasy entertainment, director Russell Mulcahy's 1986 box-office flop "Highlander" is a thoroughly romantic, captivating yarn about an immortal Scot named Connor MacLeod (Christopher Lambert) who finds out "there can be only one" and subsequently fights with despicable Clancy Brown across modern-day New York City for the prize of The Coolest Man Who Can't Die.
Along the way, Gregroy Widen, Peter Bellwood and Larry Ferguson's "Highlander" script pauses for flashbacks to 1536 Scotland where we see how Connor came to inherit his blessing (and curse), his training with the charismatic Ramirez (Sean Connery) and how his newfound ability to never age causes his love life to be a shambles. Back in 1985, Lambert falls for a forensics expert (Roxanne Hart) and attempts to prevent Brown from continuing his centuries-old reign of terror.
Breathtakingly shot in the UK, Scotland and New York City, there's something just undeniably entertaining about the original "Highlander." The film's sense of adventure and romance are infectious, and even its sillier attributes – like Brown's scenery-chewing bad guy – are compensated for by Arthur Smith's cinematography, Mulcahy's flashy action scenes, and a score by Michael Kamen that's unquestionably one of the late composer's finest works. It's over-the-top but a lot of fun, serving as the launching pad for decades of neverending spin-offs and sequels — none of which measured up in terms of overall entertainment value.
Though a frequent flier on home video, "Highlander"'s restorations have been few and far between. Debuting this month from Lionsgate in the U.S. is Studio Canal's superlative new 4K scan of the original negative, preserved on 4K UHD with Dolby Vision HDR grading that easily surpasses all previous transfers of the film. The movie's original appearance and natural film grain have been preserved with superb clarity, while audio options include a 5.1 DTS MA track and a pleasing original 2.0 mix preserving the original Dolby Stereo design.
Extras are spread across the UHD and Blu-Ray, offering new elements as well as a myriad of archival inclusions. These include three commentaries (two vintage tracks from the producers and Mulcahy, a new track with writer Jonathan Melville); a fresh hour-long documentary, a segment on the soundtrack (mostly Queen related), and new interviews with Clancy Brown and photographer David James; 2016 interviews with Lambert and Mulcahy; deleted scenes, the trailer, an older Lambert interview, and the 2-hour Kinowelt/Fiction Factory Making Of doc that remains the definitive chronicle of the picture's production. A digital copy is housed inside the Best Buy exclusive Steelbook release. Highly recommended!
HOUSE OF THE DRAGON Season 1 4K Ultra HD/Blu-Ray (615 mins., 2021-22; Warner): Brilliant Dolby Vision HDR and immersive Dolby Atmos sound comprise a spectacular technical package in Warner's 4K UHD of the HBO "Game of Thrones" spinoff's first season. Set over 200 years before the events of its sister series, "House of the Dragon" finds the Targaryens ruling the Seven Kingdoms while trying to stop their own house from unraveling. Big action, fine performances and fan-friendly story lines made this an immediate ratings hit for HBO, with this superlative home video package besting whatever streaming quality you might've seen before.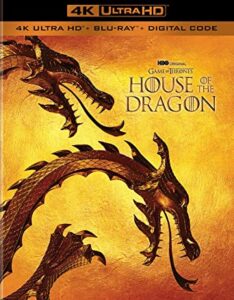 Warner's 4K UHD also includes Blu-Ray discs and Digital HD codes, plus over an hour of bonus featurettes – two of which, "Return to the Seven Kingdoms" and "Welcome to Westeros," are exclusive to this release and offer comments from author George R.R. Martin among others about the new series and its relationship with "Game of Thrones."
COOLEY HIGH Blu-Ray (107 mins., 1975, PG; Criterion): Energetic, highly entertaining period piece was one of the first features to focus exclusively on African-American teenagers (including future "Welcome Back, Kotter" star Lawrence-Hilton Jacobs and Glynn Turman), growing up in the Chicago Cabrini-Green housing projects during the 1960s. Though labeled as a Black "American Graffiti," director Michael Schultz and writer Eric Monte's film is quite different in tenor and tone, with some laughout moments and a moving finale (the two would later reconfigure the material as part of the long-running TV sitcom "What's Happening!!").
A new 4K digital transfer (1.85) premieres here in Criterion's director-approved Blu-Ray along with a new interview between Schultz and writer Racquel J. Gates. There's also a featurette on the production and a 2019 AMPAS panel discussion with cast and crew. The mono sound – packed with numerous Motown hits – is as satisfying as the varied source material allows.
SECRET HEADQUARTERS Blu-Ray (103 mins., 2022, PG; Paramount): Agreeable enough super-hero outing for kids from producer Jerry Bruckheimer sees costumed crimefighter Owen Wilson's son and buddies try to save the world from a conniving businessman (Michael Pena). Henry Joost and Ariel Schulman helmed this wan but watchable exercise in family entertainment, on Blu-Ray December 20th from Paramount (1080p, Dolby Atmos) with a digital HD code, deleted/extended scenes and featurettes all on tap.
---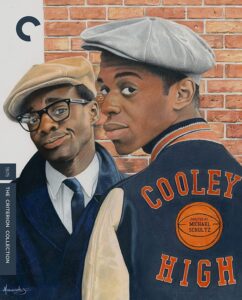 Quick Takes
New From Sony: It looks like a Marvel movie but THE WOMAN KING (135 mins., 2022, PG-13) is the true story of General Nanisca (Viola Davis), who lead an all-woman squad of female warriors in the African Kingdom of Dahomey. Gina Prince-Bythewood's film performed moderately well in theaters and is poised to do well at home, as the movie's mix of human drama and action should play well on home video. Sony's Blu-Ray (2.40, 5.1 DTS MA) is out this week sporting over an hour of bonus content, a commentary, featurettes, and a Digital HD copy…Will Speck and Josh Gordon helmed the agreeable kid flick LYLE, LYLE, CROCODILE (106 mins., 2022, PG), a loose adaptation of the Bernard Waber books that were around when I was a kid. This Columbia production finds Lyle moving in with the Primm family, helping their son make friends while cavorting about, crooning pop tunes (by Justin Paul and Benj Pasek), and enjoying the high life. Kids are likely to enjoy the fun, with Javier Bardem offering adult interest and Shawn Mendes performing the voice of Lyle. Sony's Blu includes four songs, a deleted scene, bloopers, featurettes, music videos, a 1080p (2.40) transfer and 5.1 DTS MA sound.
New on DVD, STRONG FATHERS STRONG DAUGHTERS (94 mins., 2022, Not Rated) is a faith-based film about a businessman who attempts to keep his daughter close to home after she's quickly engaged to a missionary. This family-oriented comedy debuts on DVD (16:9, 5.1) this month from Sony, based on Meg Meeker's bestselling book.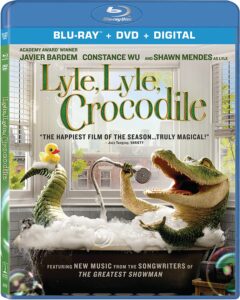 GOODBYE, DON GLEES! Blu-Ray (95 mins., 2021; GKids/Shout!): Atsuko Ishizuka's thoughtful, warm character anime follows a group of teens whose "clubhouse adventures" turn tragic after they're blamed for starting a forest fire. As they head out to prove their innocence, the teens realize the gap separating them as they age in a vividly drawn movie that looks beautiful in GKids' Blu-Ray presentation (1.78, 5.1 English and Japanese audio). The BD/DVD combo also includes an interview with the director and streets December 27th.
THE ROUNDUP Blu-Ray (106 mins., 2022, Not Rated; MPI): South Korean star Don Lee plays "beast cop" Ma Sank-do, who joins up with his captain in trying to piece together why the fugitive they've repatriated from Vietnam is willing to help them out and uncover assorted crimes committed by a killer (Son Sukku). Solid action blends in this Korean import new this week on Blu-Ray (2.39, 5.1 DTS MA), in Korean with subtitles or an English dub.
THE ADVENTURES OF OZZIE AND HARRIET: ULTIMATE CHRISTMAS COLLECTION DVD (7 hours, MPI): The massively popular, long-running (1952-65) TV sitcom turned out over a dozen holiday-themed episodes, all of which have been collected in this special new DVD compilation from MPI. Some 14 full-length episodes are included here in the single-disc release along with bonus songs, the '80s Christmas Special reunion and more.
AND JUST LIKE THAT… DVD (397 mins., 2022; Warner): "Max" original series "And Just Like That…" brings back three of the original "Sex and the City" stars — Sarah Jessica Parker, Cynthia Nixon, and Kristin Davis — for an epilogue looking at Carrie, Miranda and Charlotte's lives, and loves, with the ladies now in their 50s. Fans of its HBO predecessor will naturally be the most receptive to this continuation, which is scheduled for a second season, and debuts in the meantime on DVD in a no-frills Warner DVD (16:9, 5.1).
NEXT TIME: The first discs of 2023! Until then, don't forget to drop in on the official Aisle Seat Message Boards and direct any emails to our email address. Cheers everyone, with warm wishes for a Merry Christmas & Happy New Year to all.