Shout! Factory kicks off the new year with a most welcome Special Collector's Edition of Joe Dante's MATINEE (***½ , 99 mins., PG), a charming character piece starring John Goodman as Lawrence Woolsey, a William Castle-esque B-movie producer heading down to the Florida Keys right as the Cuban Missile Crisis is about to play out. His efforts to sell his newest epic – the B&W chiller "Mant!" – are contrasted with the lives of local teenagers, including an army brat (Simon Fenton) whose little brother is as excited about watching Woolsey's new flick as he is terrified by its subject matter of a "half-man, half ant!" creature running amok.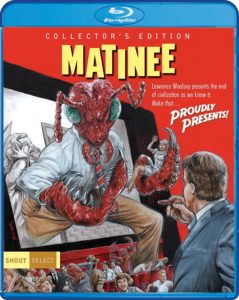 Part coming-of-age comedy, part homage to the sci-fi/horror outbreak of the '50s and '60s, "Matinee" has always been one of director Dante's most appealing and repeatable films. Though little seen at the time of its original release, the well-reviewed picture offers a pleasant mix of performances, gags and poignant moments, with Goodman having a ball as the affable genre promoter and Cathy Moriarty pitch-perfect as his long-suffering leading lady. The "Mant!" sequences are uproariously funny, and while the domestic scenes of "the kids" aren't quite as compelling, there's still a sweetness and simplicity to them as well, even if the male leads (Fenton and Omri Katz) are outclassed by their female counterparts (Kellie Martin and Lisa Jakub).
With Dante regulars both behind (Jerry Goldsmith contributes a splendid score; cinematographer John Hora captures the mostly-Florida shot locales with a nostalgic flair) and in front of the camera (Robert Picardo, Dick Miller, Belinda Balaski), "Matinee" not only fits comfortably within the director's filmography but stands out with its personalized, character-driven storyline. Earlier drafts of the script apparently included a supernatural component that was wisely dropped by "Gremlins 2" writer Charlie Haas, enabling the characters to drive the piece instead of Dante's offbeat humor. There's plenty of that here, too, but "Matinee" ranks as one of his most satisfying films for its balance of nostalgia and comic energy, and memories of a movie-going era long since past.
"Matinee" has already popped up on Blu-Ray from various labels overseas, and this first U.S. release from Shout as part of its "Shout Select" line offers a solid, if not spectacular, 1080p (1.85) AVC encode from the same Universal HD master that comprised those international releases. As older Universal catalog transfers go, it's a cut-above the fray, and Shout's Blu-Ray also debuts a 5.1 DTS MA mix ("Rumble-Rama" has a bit more punch here) as well as the original 2-channel stereo track on the audio side.
Supplements, naturally, are where Shout's disc has a decided edge on the competition. Brand new interviews include conversations with Dante, Jakub, Moriarty, editor Marshall Harvey, cinematographer John Hora, and "Mant!" performer Mark McCracken among others. The participants talk about shooting in Florida (Hora laments the lack of local construction elements) while Dante outlines the movie's lengthy development process, along with Universal saving the day when the independently-financed project's producers fell out, taking their funding with them. Dante's comments are augmented with a longer interview that was shot by Fiction Factory for Carlotta's French BD release, and has been wisely reprised here by Shout. Other extras include vintage EPK behind-the-scenes materials (including a short featurette) and the trailer, along with the "Mant!" segments presented apart from the film, also ported over from the Carlotta release (with Dante's intro) in full high-definition. Warmly recommended when it streets on January 16th.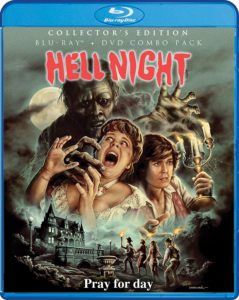 Linda Blair scored one of her rare post-"Exorcist" successes in HELL NIGHT (101 mins., 1981, R), an enjoyably nostalgic if minor thriller that finds a group of college fraternity pledges opting to spend the night in a dusty old mansion…one that's not quite as deserted as it's being billed.
Scream Factory kicks off its 2018 roster with a new Special Edition of "Hell Night," a film produced by "Halloween"'s executive producer, Irwin Yablans, along with Bruce Cohn Curtis. Last seen in an Anchor Bay DVD, "Hell Night" has been resurrected here on Blu in a 4K scan from a sometimes rough-looking archival print that's not always crisp in detail but nevertheless sports an appreciably improved image from that standard-def release. Regrettably, this print is all that could be found and Shout did the best job it could in preserving its appearance, despite the fact that unrated footage had to be spliced in from a secondary source and the image shifts to standard-def for a few seconds here and there accordingly.
The film itself is pretty routine but reasonably fun for fans of early '80s slashers, with Blair playing opposite Vincent Van Patten and future "Powers of Matthew Star" heartthrob Peter Barton. It's a bit long at 100 minutes and Tom DeSimone's direction isn't exactly crisp, yet if you like this kind of thing, "Hell Night" is at least more likeable than most of its contemporaries and graced with a decent score by Dan Wyman.
For extras, Scream has rounded up a BD/DVD combo pack jammed with extras, including new interviews with Blair, Barton, Van Patten, Curtis, DeSimone, co-stars Suki Goodwin and Jenny Neumann plus writer Randolph Feldman, make-up effects artists and others; a radio spot, trailers, a return visit to the Kimberly Crest House with the director, plus the older DVD commentary with Blair, DeSimone, Curtis and Irwin Yablans.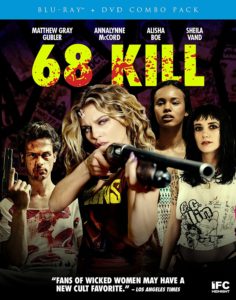 Also new from Shout: Coming January 9th from Scream is 68 KILL (96 mins., 2016, R), a wild and woolly black comic-thriller from writer-director Trent Haaga. Matthew Gray Gubler plays a poor white guy who's so infatuated with his girlfriend (AnnaLynne McCord) that he overlooks her penchant for cheating, killing and new plan on stealing $68,000. TV vets Gubler ("Criminal Minds") and McCord (the current "90210") seem to be having fun in this energetic little indie, brought to home video next week in a Blu-Ray/DVD combo pack from Scream. The 1080p (2.35) transfer and 5.1 DTS MA stereo sound are both fine…billed as Finland's first super-hero effort, RENDEL: DARK VENGEANCE (108 mins., 2017, Not Rated) tells the story of a dark avenger who takes on a vile corporation spilling an untested vaccine into the marketplace. The Batman-like Rendel comes to the rescue in this Finnish import, coming to Blu-Ray January 30th from Shout Factory. Extras in the 1080p Blu-Ray with 5.1 DTS MA Finnish (subtitled) or English (dubbed) audio include an interview with writer-director Jesse Haaja…Comedian Danny Pudi is terrific in THE TIGER HUNTER (94 mins., 2016, Not Rated), the story of an Indian man who travels to the US in the 1970s to follow his childhood crush (Karen David); his efforts to impress her are thwarted when his engineering job falls through and he tries to convince her he's a success just the same. Lena Khan's funny, informed character piece is now available on Blu-Ray in a BD/DVD combo pack sporting a Making Of, the trailer, 1080p (2.35) transfer and 5.1 sound...When Coming January 23rd from GKids is a Blu-Ray/DVD combo pack of MY ENTIRE HIGH SCHOOL SINKING INTO THE SEA (77 mins., 2016, PG-13), Dash Shaw's offbeat animated feature about an earthquake that separates a high school on the cusp on a fault line. Equal parts disaster adventure and high school angst comedy, Shaw's film may not be for all tastes but certainly has a few laughs courtesy of its voice cast (Jason Schwartzman, Lena Dunham, Susan Sarandon and Maya Rudolph). A commentary with Shaw, several of his short films, the trailer, and a featurette comprise GKids' combo pack, which offers a 1080p transfer and 5.1 DTS MA sound when it streets later this month.
New GKids Blu-Ray/DVD combo packs are due out for vintage Studio Ghibli releases, though none were directed by the great Hayao Miyazaki, who instead produced the respective features. The early THE CAT RETURNS (75 mins., G, 1992) is a low-key, childlike fantasy that doesn't hold some of the magic of other Studio Ghibli films, though it's still fun; Mayazaki was a "General Producer" on the 1995 WHISPER OF THE HEART (111 mins., 1995, G) and informed more of its production, as he also wrote this tender, human tale of the romance between a young boy and girl, with just a dash or two of the fantastic added for good measure; and MY NEIGHBORS THE YAMADAS (104 mins., 1999, PG) makes its Blu-Ray debut in the U.S. in a wacky, individualistic adaptation of a Japanese comic strip from director Isao Takahata. Exclusive booklets, "Behind the Microphone" featurettes, TV spots, storyboards, 1080p transfers, Japanese and English DTS MA soundtracks, and DVD discs are packed in these 2-disc combo packs, coming from GKids on January 16th.
---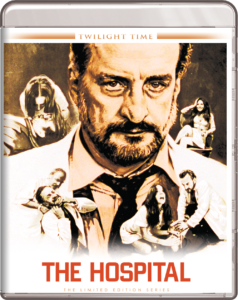 Twilight Time December Rundown
THE L-SHAPED ROOM Blu-Ray (126 mins., 1962). THE MOVIE: Bryan Forbes' adaptation of Lynne Reid Banks' novel is an antiquated yet well-acted period piece about an unmarried, pregnant French girl (Leslie Caron) who moves into a London boarding house. There, she forms a family of sorts with a number of eccentrics including a writer (Tom Bell) she develops an eventually problematic relationship with. Bernard Lee, Brock Peters, Cicely Courtneidge and Patricia Phoenix back up a strong performance from Caron in a film starkly shot in B&W by the great Douglas Slocombe and scored by John Barry. TWILIGHT TIME TECH SPECS: Twilight Time's 1080p (1.66) AVC encoded transfer, licensed through Sony, enhances the clarity of Slocombe's work, with a typically engaging, informative commentary by Nick Redman, Julie Kirgo and Lem Dobbs, isolated music/effects track and the trailer included for extras.
ALICE Blu-Ray (106 mins., 1990, PG-13). THE MOVIE: Following his string of '80s successes, Woody Allen tried to produce more of a light fantasy in the uneven, mostly unsuccessful "Alice." Mia Farrow plays a New York City housewife who falls in love with a musician (Joe Mantegna) while contemplating her existence thanks to the magical potions of a herbalist played by Keye Luke. Able to become invisible, she examines both her past (Alec Baldwin as a deceased lover) and her present marriage to stuffy William Hurt. Allen's cast also includes Julie Kavner, Judy Davis, Cybill Shepherd, Gwen Verdon and Bernadette Peters, and while the performances make the film worthwhile, "Alice" doesn't quite work, or hold up as well as Allen's superior efforts from that era. TWILIGHT TIME TECH SPECS: The MGM-licensed 1080p (1.8) AVC encoded transfer and DTS MA 2.0 track are both perfectly fine. An isolated music/effects track and the trailer round out the release.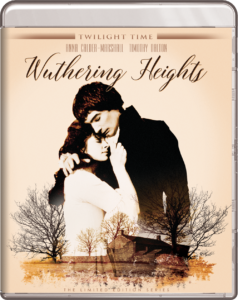 WUTHERING HEIGHTS Blu-Ray (104 mins., 1970, G). THE MOVIE: American-International tried to break out of the exploitation mold, using their higher-end Edgar Allan Poe pictures as a guide for this 1970 adaptation/abridgement of Emily Bronte's novel. The end result was a box-office disappointment that curtailed any hopes of a sequel (that was to continue the story), though the finished product isn't without its appeal – namely, the central performances of Timothy Dalton and Anna Calder-Marshall as Bronte's doomed lovers and a fine score by Michel Legrand. Add in a superb supporting cast (Harry Andrews, Hugh Griffith, Ian Oglivy, Julian Glover, Judy Cornwall) and the AIP "Wuthering Heights" is at least worth a reappraisal, especially now in high-def courtesy of Twilight Time's limited-edition Blu-Ray. TWILIGHT TIME TECH SPECS: Twilight Time's BD includes a commentary from historian Justin Humphreys, an isolated score track of Legrand's contribution, the original trailer, a fine MGM catalog (1.85) transfer and DTS MA mono sound.
THE HOSPITAL Blu-Ray (103 mins., 1971, PG-13). THE MOVIE: Acerbic satire of the health care industry circa 1971 (albeit one that's still relevant today in many ways) from "Network" author Paddy Chayefsky and director Arthur Hiller runs the gamut from slapstick comedy to providing a bleak commentary on the medical profession. George C. Scott was at the height of his career here as a suicidal doctor who's livened up by a young woman (Diana Rigg), the daughter of a patient (Barnard Hughes) with an insidious plot up his sleeve at a Manhattan teaching hospital. Consistently watchable and well-performed, "The Hospital"'s tone is a bit all over the place, making it an interesting, if inferior, companion piece to Chayefsky's "Network." TWILIGHT TIME TECH SPECS: Twilight Time delivers another perfectly acceptable 1080p (1.85) AVC encoded transfer here with DTS MA mono sound, an isolated music/effects track and the trailer.
FOREVER AMBER Blu-Ray (138 mins., 1947). THE MOVIE: Fans of the Golden Age should savor this 1947 Fox drama about a wench (Linda Darnell) who's able to ascend her way through the court of King Charles II (George Sanders) by way of hopping from bed-to-bed. A soapy melodrama helmed by Otto Preminger and elevated by way of David Raksin's gorgeous score, "Forever Amber" also stars Cornel Wilde in an adaptation of Kathleen Winsor's bestseller, one that incorporates everything from the plague to London's Great Fire along with its then-controversial storyline. TWILIGHT TIME TECH SPECS: The colorful (1.33) cinematography of Leon Shamroy is captured splendidly in Twilight Time's new Blu-Ray, which also sports a mono DTS MA soundtrack, isolated score track, trailer, and an A&E Biography special on Darnell's troubled life in the Hollywood studio system.
---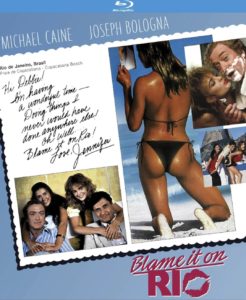 Kino Lorber January New Releases
BLAME IT ON RIO Blu-Ray (99 mins., 1984, R). WHAT IT IS: A nice way to shake the winter doldrums is by revisiting Stanley Donen's sunny 1984 comedy starring Michael Caine as a man who takes a mini-siesta from his wife (Valerie Harper) by joining pal Joseph Bologna and his nubile daughter (Michelle Johnson) on a trip down to Rio. Once he has an affair with the latter, all bets are off in an entertaining if not particularly energetic comedy scripted by Charlie Peters and Larry Gelbart, co-starring a young Demi Moore as Caine's daughter. Engagingly played by all. BLU-RAY BREAKDOWN: A Sherwood production released thru 20th Century Fox, "Blame It On Rio" makes its Blu-Ray debut from Kino Lorber boasting a very pleasant 1080p (1.85) AVC encoded transfer with a nice degree of detail and clear DTS MA mono sound. A commentary from frequent KL Studio Classics commentators Howard Berger and Nathaniel Thompson is on-hand plus the trailer.
THE EXECUTIONER'S SONG Blu-Ray (188/135 mins., 1982; Kino Lorber). WHAT IT IS: NBC TV-mini series looks at the life and execution of Gary Gilmore, a troubled Utah man with a penchant for violence who eventually popped, killing two innocent men while committing a pair of robberies. Lawrence Schiller's two-part production spends the first portion of "The Executioner's Song" detailing Gilmore's turbulent behavior, embodied by Tommy Lee Jones in a striking performance with supporting turns from Christine Lahti (as Gilmore's cousin) and Rosanna Arquette (a young mother Gilmore becomes involved with) standing out. The second half isn't as compelling, with Norman Mailer adapting his novel and spending most of the time on Gilmore's decision to die while various groups (lawyers, the ACLU) argue for more appeals. Though Jones is superb, "The Executioner's Song" feels fairly superficial in its details, and doesn't do a particularly convincing job getting its point across. BLU-RAY BREAKDOWN: Kino Lorber's double-disc set, licensed from CBS, includes two different edits of "The Executioner's Song" (albeit mislabeled): one presents the full 188-minute TV cut, the other Schiller's 135-minute "Director's Cut" with some additional profanity and explicit material intended for the production's feature-length, European theatrical release (that version, which reportedly included Arquette nudity, is not present here). Both transfers are framed at 1.33 and look quite good, with a bonus interview from Arquette included on the supplemental side.
CADILLAC MAN Blu-Ray (97 mins., 1990, R; Kino Lorber). WHAT IT IS: Extremely uneven Robin Williams vehicle was a summer 1990 box-office casualty, though Roger Donaldson's film isn't without its appeal. Williams plays a harried car salesman juggling two women (Fran Drescher, Lori Petty), an outstanding loan to a mafia boss, and the fact his dealership's being held hostage by a man (Tim Robbins) who believes his wife (Annabela Sciorra) is cheating on him. Ken Friedman's script required a lighter touch to really score, as Donaldson amps up the movie's dramatic quotient to highly uneven effect – "Cadillac Man," as a result, never seems entirely clear in terms of its intentions, but Williams is still commanding in a performance that's worth seeing. BLU-RAY BREAKDOWN: Twilight Time's MGM-licensed 1080p (1.85) transfer and DTS MA stereo soundtrack are both satisfactory, with the trailer and a commentary by Donaldson comprising the disc's extras.
THE TAKING OF BEVERLY HILLS Blu-Ray (96 mins., 1991, R; Kino Lorber). WHAT IT IS: Everybody and their brother tried to break into the action craze during the late '80s and early '90s. Nelson Entertainment's offering was this affable lark starring Ken Wahl as a pro football star who takes on a group of criminals who've staged a fake chemical spill in the hopes of ransacking the homes of the rich and famous. Sidney J. Furie's career petered out thanks to duds like "Superman IV" but did, at least, produce this entertaining outing for Wahl, paired here with Matt Frewer and Harley Jane Kozak while combating a villainous (is there any other kind?) Robert Davi. "The Taking of Beverly Hills" isn't remarkable by any means but it's nicely shot in scope (and was designed by Bond vet Peter Lamont) and offers some casual entertainment from the era just the same. BLU-RAY BREAKDOWN: "The Taking of Beverly Hills" finds its way to Blu-Ray in a quality 1080p (2.35) AVC encode with 2.0 DTS MA stereo sound. Extras include a pair of Youtube-derived trailers and a commentary with film historian Howard Berger and "Sidney J. Furie biographer" Daniel Kremer.
---
Also New & Noteworthy
THE BREAKFAST CLUB Blu-Ray (***½, 97 mins., 1985, R; Criterion): John Hughes' seminal high school comedy receives a full-fledged, terrific Criterion retrospective, paving the way (hopefully) for more Hughes' efforts to come. "The Breakfast Club" itself needs little introduction, outside of the fact that it furthered the art form for high-school dramas and teenage pictures in general. While often imitated, Hughes' style has seldom been replicated, nor have its star-making performances and relatable social themes.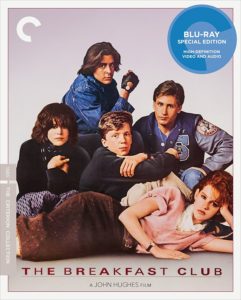 Universal has released "The Breakfast Club" on Blu-Ray previously in a pair of releases – its most recent edition in a 4K restored transfer. That same restoration forms the basis of Criterion's Blu-Ray, along with both a 5.1 DTS MA remix and, for the first time in the format, the movie's original mono soundtrack provided on the audio side. Extras, though, are where the disc takes flight – specifically, some 50 minutes of unused/extended scenes which often paint a different or more informed portrait of the film's main characters. The rest of the extras are a mix of brand-new (interviews with Molly Ringwald and Ally Sheedy, a video essay on Hughes read by Judd Nelson) and reprised supplements (the 2008 Nelson/Anthony Michael Hall commentary and retrospective documentary), plus archival materials like a 1985 Today show clip, 1999 radio interview with Hughes, extracts from a 1985 AFI seminar with Hughes, additional promo/archival interviews, the trailer, and a 2014 "This American Life" interview with Ringwald. Highly recommended!
AMERICAN MADE 4K UHD Combo Pack (**½, 115 mins., 2017, R; Universal): Attractively lensed, entertaining if forgettable vehicle for Tom Cruise finds the star essaying a former TWA pilot who begins working for the CIA and gets wrapped up in the Iran-Contra affair, wedged between the government and its various agencies as well as South American drug cartels. Cruise here reunites with "Edge of Tomorrow" helmer Doug Liman for "American Made," which has plenty of fun jumping through one '80s scandal after another with Cruise's anti-hero as the focal point – how much of it is true is open for debate, despite narration that works overtime to tie up the film's almost fanciful plot strands. 4K Rundown: Universal's 4K UHD of "American Made" is a good-looking disc through and through, with HDR accentuating a wide color pallet that dazzles in Cesar Charlone's cinematography. The DTS X audio is robust, and copious extras include deleted scenes, a number of behind-the-scenes featurettes, a standard Blu-Ray and Digital HD copy.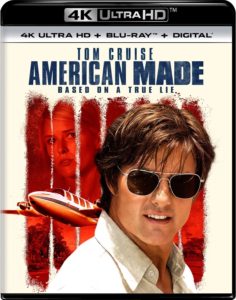 THE MOUNTAIN BETWEEN US 4K UHD Combo Pack (**, 112 mins., 2017, PG-13; Fox): Feeble soap opera/survival story, adapted from Charles Martin's book by Chris Weitz and J. Mill Goodloe, stars Kate Winslet and Idris Elba as survivors of a small plane crash. Stranded in the mountains together, the duo forge a relationship that carries them through a series of tribulations. Both Winslet and Elba are fine, but they deserve better than this weak drama that's never in the least convincing or entertaining. Fox's 4K UHD combo pack does serve up a quality, HDR-enhanced presentation with 5.1 DTS MA audio, a Digital HD copy, and Blu-Ray that offers all of the film's special features (deleted scenes, commentary, and multiple featurettes).
BATTLE OF THE SEXES Blu-Ray Combo Pack (**½, 121 mins., 2017, PG-13; Fox): Steve Carell essays Bobby Riggs, playing opposite Emma Stone's Billy Jean King, in this mildly entertaining recreation of their "Battle of the Sexes" on the tennis court. Valerie Faris and Jonathan Dayton's film captures the early '70s and its changing social climate in a lengthy film that's more about the background leading up to the match as it is their ultimate confrontation. Though "Battle of the Sexes" isn't always focused and not quite as funny or incisive as you might imagine, it's a gently entertaining film with Andrea Riseborough (as a hairdresser who opens up King's sexual orientation), Bill Pullman, Alan Cumming and Elisabeth Shue (Riggs' wife) in support. Fox's Blu-Ray combo pack includes several featurettes and galleries, a 1080p (2.39) transfer, 7.1 DTS MA sound, DVD and a Digital HD copy.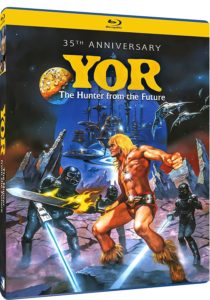 LAUGH-IN: The Complete Second Season DVD (1425 mins., 1968-69; Time-Life). WHAT IT IS: Standalone DVD release of the influential TV comedy's first full season is now available from Time-Life. When it premiered as a one-shot NBC special on September 9th, 1967, "Rowan & Martin's Laugh-In" broke new ground on television. Viewers had scarcely seen such a rapid-fire comic anthology on TV before, and the hour-long program was the right show at the right time in the turbulent late '60s. "Laugh-In" was timely, motivated by generation-gap/culture-clash jokes, the hippie movement, and provided the right tonic for audiences looking to laugh while the country was embroiled in numerous struggles socially, politically and militarily. Ratings for the initial special were strong, leading to a weekly series that aired on Mondays at 8pm starting in January of '68 – a time slot the series would occupy until it signed off, finally, in May of 1973. DVD TECH SPECS: Time-Life's 7-disc Season 2 DVD release of "Laugh-In" streets this week, featuring all 28 episodes from its sophomore season. Interviewees include Dick Martin, Gary Owens and Ruth Buzzi in a year that solidified the series' place in network TV history.
YOR: THE HUNTER FROM THE FUTURE Blu-Ray (88 mins., 1983, PG; Mill Creek): Bonkers and beyond-bad, Italian-lensed caveman epic stars Reb Brown as a warrior who fights giant bats, robots, dinosaurs and other bad guys in a kitchen-sink stew from Antonio Margheriti (aka Anthony M. Dawson). Fitting comfortably alongside other unintentionally comic "Conan" rip-offs like Lou Ferrigno's "Hercules" flicks, "Yor" has developed a cult following over the years thanks to its brainless action and awful special effects. Obviously suited most especially for bad movie lovers, "Yor" makes a surprise Blu-Ray appearance this month thanks to Mill Creek, which has released a quality 1080p (1.78) AVC encode from the Sony vaults of the movie's U.S. theatrical version. John Scott scored the film with additional music provided by Guido and Maurizio De Angelis, who provided a hilarious theme song that's alone worth the price of this low-priced Blu-Ray. The DTS MA mono sound is fine and there are even a pair of extras, including a trailer and a new commentary from Reb Brown, who looks back fondly on this piece of terrible early '80s sci-fi/fantasy cinema.
---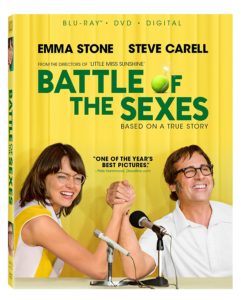 Lionsgate New Releases
MY LITTLE PONY: THE MOVIE Blu-Ray/DVD (99 mins., 2017, PG; Lionsgate): The Mane 6 are tasked with venturing across their home of Ponyville after a dark force threatens their home. Meeting new friends along the way, the gang has a good time in this overlong new animated feature spun off from the long-running toy line and more recent animated series. Lionsgate's Blu-Ray includes a deleted scene, Equestria Girls short, music video, bonus short featurettes, a 1080p (2.39) AVC encoded transfer, 5.1 DTS MA audio, a DVD and Digital HD copy.
Also New From Lionsgate: Paul Solet's BULLET HEAD (94 mins., 2017, R) stars Adrien Brody, Rory Culkin and John Malkovich as a trio of criminals caught in a warehouse, trying to escape from a big heist, when they're pursued by a pit bull involved in criminal Antonio Banderas' fighting ring. A very bizarre and awkwardly performed, European-shot effort that seems to be aiming for some kind of Tarantino-esque flavor, "Bullet Head" bites off more than it can chew on a number of levels. Lionsgate's Blu-Ray, out January 9th, includes deleted scenes, commentary, a number of featurettes including a look at the score, a 1080p (2.39) transfer, 5.1 DTS MA sound and a Digital HD copy.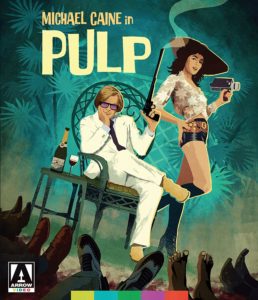 Arrow New Releases: The annals of self-indulgent follow-ups to impressive films counts many a misfire, including PULP (108 mins., 1972), the story of a pulp novelist who's hired to ghostwrite the autobiography of a former actor involved in genre roles. Michael Caine is the writer, Mickey Rooney is the actor whose real-life gangster connections come to threaten both of them in this 1972 follow-up to "Get Carter," one of Caine's more memorable '70s vehicles with director Mike Hodges. Hodges also wrote "Pulp," a movie that did not meet with similar levels of success, going off the rails with wacky characters that get in the way of some engaging performances and a few laughs. Arrow Video's new 2K restoration, approved by cinematographer Ousama Rawi, highlights a good-looking 1080p (1.85) AVC encoded presentation with extras including new interviews with Hodges, Rawi, assistant director John Glen, and Tony Klinger whose father produced the film…from MVD's in-house label comes D.O.A.: A RIGHT OF PASSAGE (95 mins., 1981), a documentary from director Lech Kowalski that follows the Sex Pistols' 1978 seven-city U.S. tour, which culminated in the Sid Vicious-fronted band breaking up. Fans of the Pistols and the punk movement should be thrilled with MVD's Special Edition package, offering both Blu-Ray and DVD presentations (1.33), a feature-length documentary on the film from MTV senior producer Richard Schenkman; a 12-page booklet; the trailer; and uncompressed PCM sound.
NEXT TIME: More of the latest releases! Until then, don't forget to drop in on the official Aisle Seat Message Boards and direct any emails to our email address. Cheers everyone!