Message Board (open 24 hours!)
Twitter - @andredursin (for everything else!)
The modern preoccupation with belated film sequels and remakes has trickled down to even "Blade Runner," Ridley Scott's seminal sci-fi classic that drew neither widespread critical kudos or commercial acceptance when it was first released in 1982. A cult favorite that's obviously been more warmly embraced as the years have passed, Scott is onboard as a producer of BLADE RUNNER 2049 (***, 163 mins., R; Warner), an ambitious follow-up from one of its predecessor's original writers and director Denis Villeneuve, architect of glacially paced works like "Sicario" and "Arrival."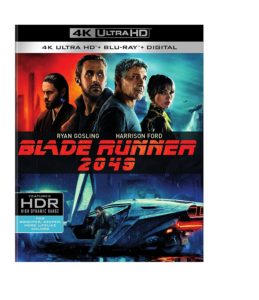 Ryan Gosling here plays the title role: a replicant named K working for the LAPD to hunt down the last remnants of the now-defunct Tyrell Corporation's original automatons. After taking down one such target, K's latest job involves the discovery of a crate bearing human(oid) remains that offer possible evidence of a replicant birth. This leads factions of both corporate interests – in the form of a brilliant but psychotic android maker (Jared Leto) – and the replicants themselves to pursue K and the existence of a "child" that could tilt the playing field towards the androids who desire inalienable rights in a world uncertain of whether they possess a soul.
The hint of a possible replicant uprising feels like the type of modern "sequel building" so prevalent in today's franchise-oriented fare, but such a follow-up would likely betray the more intimate, character-driven dimensions of both "Blade Runner" and this successor, which has a lot of nifty ideas floating around a movie that's not always convincingly tied to its classic forerunner.
Villeneuve and cinematographer Roger Deakins don't attempt to recreate the blue-hued, musty futuristic visuals of Scott and "Blade Runner" DP Jordan Cronenweth, instead crafting an emptier, less colorful visual scheme that's a byproduct of both modern CGI and Budapest shooting locations. Certain plot elements do, of course, directly connect with what came before, though even here, when Harrison Ford reappears as Rick Deckard, he seems like's playing Harrison Ford, not an extension of the original character – ditto for Edward James Olmos' cameo as Gaff, who again doesn't even sound like he did in the original (did he just forget his accent after all these years?). For these reasons, stylistically and otherwise, I'm not sure if "Blade Runner 2049" wouldn't have worked better with a clean slate and/or without as much of a direct line to the first picture – though I have to credit Villeneuve and writers Hampton Fancher and Michael Green for going against the tide of Scott's later "Blade Runner" recuts and bringing back the mystery surrounding Deckard's potential Replicant identity (for those of us who never really cared for that narrative "twist," this picture can be satisfyingly interpreted as if it never happened at all).
If one takes a step back from the sequel component, "Blade Runner 2049" works well as a futuristic noir on its own terms, though the movie even here isn't without its problems. The running time could've been spruced up by a good 15-30 minutes or with an action set-piece or two added into the mix – Villeneuve's overly methodical pacing doesn't always serve the story well, with the few sections of fisticuffs feeling like a total afterthought in relation to the movie's more "existential" moments. Gosling, meanwhile, provides a mostly one-note performance in keeping with his character's background, but he's never a compelling presence – and the less said, the better about the score by Hans Zimmer and Benjamin Wallfisch, which reprises the 1982 "electronic sound" of Vangelis without any of that classic score's nuance or melodic components.
Eventually, "Blade Runner 2049" goes to a satisfying place with a surprisingly emotive ending, ultimately resembling in many respects a hard-boiled detective story updated to futuristic terms. The interesting use of a holographic companion (Ana de Armas) for K is also consistently engaging, and there are moments of brilliance scattered throughout an overlong film that's thoughtful in its extension of its predecessor's thematic concepts.
4K Rundown: "Blade Runner 2049" makes its home video debut this week from Warner Home Video featuring an HDR-enhanced HVEC (2.41) transfer on 4K UHD. Viewers expecting to be "blown away" by HDR highlights may want to pump the brakes just a little, as Deakins' color pallet is decidedly muted in comparison with the original "Blade Runner," whose Final Cut 4K UHD release from Warner ranked as one of the format's crown jewels last year. That's not to say there isn't an appreciable enhancement over the movie's standard 1080p Blu-Ray, as there's still an upgrade in color tone over standard high-definition – it's just a lot more subtle than you might anticipate. On the audio side, an active and loud Dolby Atmos mix is included with just a few meager extras – a couple of featurettes and "prequel" shorts – found on the Blu-Ray along with a Digital HD copy.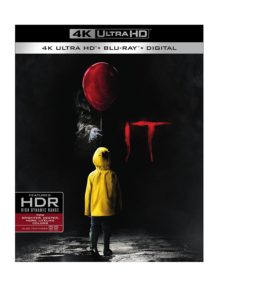 IT 4K UHD Combo Pack (***, 135 mins., 2017, R; Warner): One of last year's biggest box-office hits, this glossy adaptation of Stephen King's book – previously made into a solid TV mini-series in 1990 – is an entertaining studio product that's more thrilling than it is actually scary.
King's horror-ized variant on "Stand By Me" once again finds a group of youngsters in Derry, Maine some 30 years ago terrorized by a demonic clown named Pennywise (Bill Skarsgard) – a horrifying entity that claims the life of Bill Denborough's (Jaeden Lieberher) little brother, Georgie, in the film's terrifying opening sequence. The so-called "Loser's Club," newly augmented by a female social outcast at their school, then bands together to take on Pennywise, whose form shapeshifts from dancing clown to something entirely alien altogether.
Andy Muschietti, who previously helmed the almost-good "Mama," has produced a slick, completely competent film with a solid cast of young unknowns (save "The Kid From Stranger Things") who end up being quite appealing. Shot on location in Canada, with Ontario doubling for Maine, "It" resembles the type of quality studio product we'd see decades ago, taking its time setting up its premise, albeit a period switch to the '80s (the original novel was set in the late '50s) doesn't amount to very much in terms of atmosphere and mood.
The result is an entertaining film with a few effective jump-scares, and Skarsgard's Pennywise is a vivid cinematic creation, even if the actor doesn't get as much to do in terms of performance as Tim Curry did in the earlier TV version. Some of the youthful characters aren't developed all that well either (perhaps excising one or two of them could've given the others more screen time), but Lieberher is emotive in the lead and Sophia Lillis is quite good as the new female (and quite troubled) addition to the club.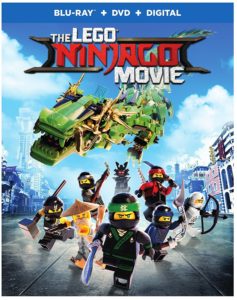 That the film has become a major commercial success is something of a shock – it's not as if the Stephen King "brand" means anything these days (the long-in-development film of the author's popular "Dark Tower" just laid an egg a few months ago), and the property itself is several decades old. Perhaps the rise of "social media clown sightings" gave "It" a real jolt, especially among younger viewers unfamiliar with King and his novel. Combine that with an awful summer and Hollywood had a hungry audience desperate to see anything decent at the movies at their disposal.
"It" certainly fits that bill, and almost feels like a horror movie designed for viewers who don't like them in the first place – the picture isn't at all disturbing, with most of the scares relegated to faux corpses or zombies who frighten the young protagonists. While there's nothing here you haven't seen before, it's been a while since we've seen anything as entertaining in terms of major studio fare, making "It"'s unexpectedly stellar box-office performance perhaps not surprising at all.
4K Rundown: Another solid 4K UHD from Warner, "It" boasts several effective uses of High Dynamic Range (especially Pennywise's glowing eyes!) along with expanded contrast that propels it over Warner's stout 1080p Blu-Ray. It's a strong transfer with Dolby Vision capability for those with DV at home, and both the UHD and Blu-Ray are perfectly framed at 2.41, replicating the theatrical experience (or, in my case, surpassing it, seeing as it took 90 minutes for the stoned guy sitting near us to figure out it was, in fact, his phone that was ringing every other minute!). Special features on the Blu-Ray include 15 minutes of scenes that flesh out some story details and may, in fact, be included in an expanded Director's Cut supposedly coming later this year. A few behind-the-scenes featurettes and a Digital HD copy round out a lightweight but technically tasty release for horror buffs.
Also new from Warner on Blu-Ray is THE LEGO NINJAGO MOVIE (101 mins., 2017, PG), a so-so featurization of the TV series that kids familiar with the series should enjoy. Warner's Blu-Ray includes Dolby Atmos audio along with a DVD, Digital HD copy, Mini-Movies, Music Videos, and a Lego Ninjago TV sneak-peak.
---
Also New & Noteworthy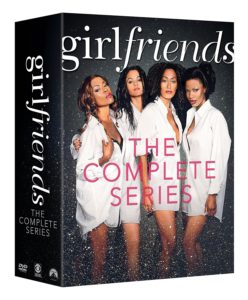 GIRLFRIENDS: The Complete Series DVD (40 hours, 2000-08; CBS): "Girlfriends" was a long-running sitcom that ran on the UPN/CW for the bulk of the 2000's, centering on a trio of L.A. girlfriends relating, romancing and making it through their day-to-day existence together. Tracee Ellis Ross starred in Mara Brock Akil's series, which receives a Complete Series DVD box-set retrospective from CBS this month. The 25-disc set houses all 169 episodes from the series, with the first two seasons framed in their original 4:3 format and Seasons 3-9 in 16:9. Extras include supplements that were housed in the prior, individual DVD season releases, including comments from Akil on selected episodes, behind-the-scenes featurettes, a bonus episode from "The Game" and other goodies, plus 2.0 (Seasons 1-2) and 5.1 (Seasons 3-9) soundtracks. AISLE SEAT BOTTOM LINE: Well-written and performed, this Kelsey Grammer production began its ratings slide in its seventh season, even if the show still maintained its above-average level of quality. Fans should enjoy this Complete Series set nevertheless, in an affordable, low-priced release from CBS.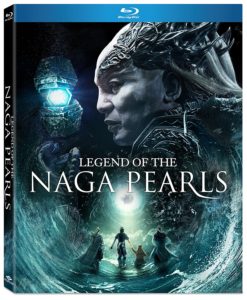 Well Go New Releases: Coming January 23rd from Well Go, CHASING THE DRAGON (128 mins., 2017) is worth a look for fans of Asian stars Donnie Yen and Andy Lau. Yen portrays "Crippled Ho," a real-life Chinese immigrant who arrives in Hong Kong during the early '60s and promptly becomes a drug lord, with Lau playing Lee Rock, a corrupt detective that aids in his ascension. This lengthy HK import offers ample character development and comes to home video in a BD/DVD combo pack from Well Go offering DTS MA Cantonese audio, an English dubbed track, the trailer, and an attractive 1080p transfer…Due out January 30thalso from Well Go is the Hong Kong production LEGEND OF THE NAGA PEARLS (108 mins., 2017).Yang Lei's fantasy that finds Darren Wang as a streetwise young man who holds a group of legendary pearls coveted by a group of fantastical humanoids, the Winged Tribe, who lost their ability to fly and now seek vengeance by wiping out humanity altogether. This is the first film adapted out of a now-lengthy series of Chinese books that tried to establish an original Tolkien-like mythology, and comes to BD at the end of the month from Well Go sporting a 1080p transfer and 5.1 DTS MA Cantonese audio with English subtitles.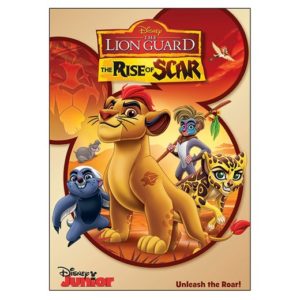 BE COOL, SCOOBY-DOO! Season 1 Part 2 DVD (291 mins., 2017; Warner): The latest incarnation of Scooby-Doo and the gang returns to DVD in a value-packed, low-priced two-disc DVD set from Warner. Featuring over four hours of fun, "Teamwork Screamwork" collects 13 episodes from the series: Scary Christmas, If You Can't Scooby-Doo the Time, Don't Scooby-Doo The Crime; Gremlin on a Plane; Sorcerer Snacks Scare; Saga of the Swamp Beast; Be Cold, Scooby-Doo!; Giant Problems; Eating Crow; I Scooby Dooby Do; El Bandito; Into the Mouth of Madcap; The Norse Case Scenario; and The People Vs. Fred Jones (Courtroom Trauma), all in 16:9 transfers with 5.1 audio.
NELLA THE PRINCESS KNIGHT DVD (94 mins., 2017, Nickelodeon/Paramount): Debut DVD from the new Nickelodeon animated series includes eight stories from the kid-friendly program: Princess Nella's Orc-hestra; That's What Best Friends Are For; Big Birthday Surprise; Sir Clod; The Blaine Game; Knighty Knight Dragons; Inside and Seek: and Up All Night. Nickelodeon's single-disc DVD offers colorful stories young kids should be entertained by, and boasts a 16:9 transfer, stereo sound and a spiffy lenticular slipcover.
THE LION GUARD: THE RISE OF SCAR DVD (141 mins., Disney): Disney Junior animated series finds Kion and the Guard taking on a ruthless enemy which threatens both the Circle of Life and the Pride Lands. Five episodes – The Rise of Scar, The Trouble With Galagos, Janja's New Crew, Baboons!, and Lions of the Outlands – comprise this Disney DVD release, offering over two hours of animated fun for kids plus dandy 16:9 transfers and 5.1 soundtracks.
NEXT TIME: The PINK PANTHER Cartoons on Blu-Ray! Until then, don't forget to drop in on the official Aisle Seat Message Boards and direct any emails to our email address. Cheers everyone!