4K owners have a quartet of new Warner releases ideal for Halloween viewing to select from this October, starting with genre favorites GREMLINS (***½, 106 mins., 1984, PG) and Stanley Kubrick's take on Stephen King's THE SHINING (***, 146 mins., 1980, R), more a piece of visceral, technical achievement than an engaging dramatic experience. While one benefits a bit from the 4K enhancement, the other receives a jaw-dropping transfer that ranks among the best in the format.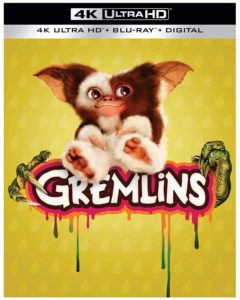 As neither film needs much introduction for fans, what's important here are the 4K UHD, HVEC-encoded, HDR-enhanced transfers of both pictures, and how they stack up with previous home video incarnations.
For "Gremlins," Warner has revisited the title many times over the years, releasing Joe Dante's Summer of '84 blockbuster twice on Blu-Ray. While sporting the same transfer each time (VC-1 encode, Dolby TrueHD audio), the movie surfaced with new extras in a "Diamond Luxe" package several years back. The UHD doesn't include that package's retrospective documentaries, regrettably, and reprises the same initial Blu-Ray disc, leaving the 4K transfer as its sole point of interest. As is often the case, the UHD sports a generally darker transfer than its 1080p counterpart but also richer colors and deeper blacks – these can be seen right off in the Chinatown prologue, with vivid reds standing out via HDR implementation. However, the improvements pretty much end there: there isn't a real sense of heightened grain in the image, and while the textures and colors are sufficiently more robust than any prior home video package, "Gremlins" only warrants a mild recommendation for 4K owners. On the audio end, 5.1 DTS MA audio approximates the Dolby TrueHD mix from its BD predecessors, and a Digital HD copy rounds out the package.
"The Shining," comparatively, has made far fewer appearances on home video. While always remaining in circulation, obviously, Kubrick's film has made just single appearances on DVD (in 1.33) and Blu-Ray (first 1.85 widescreen transfer) prior to Warner's new 4K UHD.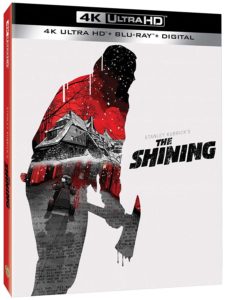 Unlike "Gremlins," though, "The Shining" reaps major benefits in the move to UHD. This presentation is roughly along the lines of Warner's "2001" UHD, again with HDR intensifying Kubrick's visuals, which in "The Shining" are paramount to its effectiveness (less so the one-note characters and dramatic alterations from King's novel). HDR10+ provides an appreciable enhancement to the image here, and details are smashing, crisply conveyed from start to end – in addition to the expected gains one expects in terms of color and contrast. It takes just a few seconds for you to realize – with the film's stunning, opening aerial shots – that you're in for a spectacular 4K presentation that enriches the film you're viewing, making "The Shining" one of the finest catalog releases in this format to date.
Note this is a full restoration and the included Blu-Ray is – much like the BD in Warner's "Unforgiven" 4K UHD release – a new inclusion with its own fresh transfer, derived from the same 4K source. Comparing it with the earlier Blu-Ray, the enhancements are also noticeable (stronger, more accurate colors and added detail), making this combo pack worthwhile for even those who haven't made the leap to 4K just yet.
Guillermo Del Toro's PAN'S LABYRINTH (***, 120 mins., 2006, R) is also new to 4K UHD from Warner.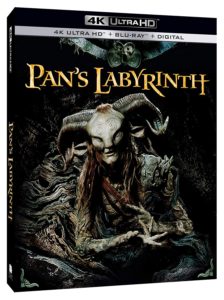 Del Toro's beautifully crafted 2006 dark fantasy centers on a young girl named Ofelia (played with restraint by Ivana Baquero), who encounters a fairy-tale world — populated by mystical and bizarre creatures — where she's given three tasks in order to prove her worth to the king of the dark kingdom. The fantastic, though, is balanced by the harsh reality of Ofelia's "real" world existence in war-torn, 1944 Spain, where her pregnant and sick mother takes her into the countryside, where her new stepfather is a vile commandant working for the fascist government.
"Pan's Labyrinth" is that rare fantasy that works on multiple levels: as a tale of a child who feels threatened and abandoned retreating into a world that could possibly be of her own making, or as a veritable film of the fantastic, a fairy-tale (out of the real Grimm's works) with good combating evil, drawing parallels to the real world while offering its own doses of the supernatural.
I found the film a little slow-moving at times, but the design, visual effects, and cinematography combine to stamp "Pan's Labyrinth" as Del Toro's strongest work. The movie is graphic at times, disturbing and enchanting at others, and it's a mix that certainly will prove to be enthralling for those willing to take the journey.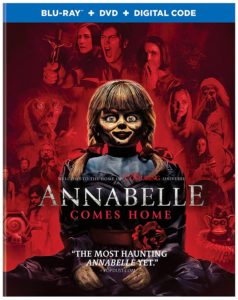 "Pan's Labyrinth" makes an impressive transition to 4K UHD, again with HDR making the use of contrasts more satisfying than its 1080p counterpart, even with a general reduction in the image's overall brightness. A constantly involving DTS MA sound mix, a Digital HD code, and extras carried over from previous releases round out the release.
Finally, more modern thrills are on-hand in ANNABELLE COMES HOME (**½, 106 mins., 2019, R), the not half-bad concluding chapter in the off-shoot of "The Conjuring" series (yes, try and keep up people!). This one, directed by writer Gary Dauberman from a story he wrote with series creator (and here producer) James Wan, does bring back "Conjuring" leads Patrick Wilson and Vera Farmiga – albeit in just a couple of scenes as most of the action is centered around their daughter (McKenna Grace), who's tormented by the doll's spirit alongside her babysitter (Madison Iseman). This "Annabelle" didn't do quite as well at the box-office as its predecessors – perhaps due to franchise fatigue and other "Conjuring" spinoffs like "The Nun" – yet taken on its own terms, Dauberman's movie is actually more likeable than the "Annabelle" pictures that preceded it, offering PG-13-esque scares (it still carries a mostly inexplicable R rating) and at least a satisfying ending. Deleted scenes, featurettes, a 1080p (2.41) transfer and Dolby Atmos audio comprise Warner's Blu-Ray-only combo pack alongside a DVD and Digital Copy.
---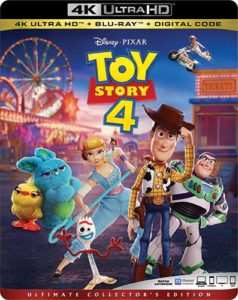 Also New & Noteworthy
TOY STORY 4 UHD Combo Pack (***, 100 mins., 2019, PG; Disney): This unnecessary but entertaining "Toy Story" sequel offers something of a slimmed-down storyline from the series' last outing. Here, the gang heads out on a road trip with new owner Bonnie and her family when Woody and new, beloved utensil "Forky" are captured in an antiques shop presided over by a creepy girl doll with a broken voice box. Old friend Bo Peep is fortunately around to head up a rescue mission and ask Woody if there's life beyond the life of a toy at the same time, leading to the expected frenetic finish.
There are a few laughs and lots of technical wizardry involved with "Toy Story 4" (the water at the film's start shows especially how far photo-realism has progressed over the years since the first Pixar film's release), and all of it goes down nice and easy — even if the latter half is just a standard chase movie.
Kids won't mind but adults may feel like they've seen this all before, and the reality is that they have. There's no new ground being broken in terms of its dramatic terrain, and as evidenced by the 8 (!) credited screenwriters who attended a brainstorming "writer's room" that was needed to concoct a premise for this film, there's really no reason why "Toy Story 4" had to be made to begin with — outside of Disney wanting a surefire hit that keeps the franchise visible for a new generation of youngsters…and future "Toy Story Land" theme park-goers.
Disney's 4K UHD of "Toy Story 4" is out next week, sporting HDR and immersive Dolby Atmos audio. As good as the film looked on the big screen, for me this UHD presentation surpasses it, thanks to a wider range of gorgeous color and detail (my local theater is in dire need of a 4K upgrade). Extra features on the included Blu-Ray offer deleted scenes, featurettes and 1080p (2.39) video/7.1 DTS MA audio. A Digital HD copy is also on-tap.
LOCAL HERO Blu-Ray (***, 111 mins., 1983, PG; Criterion): One of the big independent hits of the early 1980s – one I can recall watching with my parents on VHS – resurfaces on Blu-Ray at long last. Bill Forsyth wrote and directed this low-key comedic tale of an American oil executive (Peter Riegert) who's sent to Scotland to scout for the perfect location for an oil refinery. There, he meets – and is eventually enchanted by – a succession of small-town residents, including Denis Lawson and Peter Capaldi, not to mention the vivacious Jenny Seagrove. Burt Lancaster provides a cameo as the Texas oil tycoon (a bit off his rocker as well) who dispatches Riegert in a most amusing comic concoction that never overplays its hand – "Local Hero" tends to meander and get under your skin, in a good way, as Forsyth's original screenplay leisurely works its understated magic.
Criterion's anticipated Blu-Ray (1.78, PCM uncompressed mono) boasts a new 2K restored transfer with a 2018 commentary between Forsyth and critic Mark Kermode. Other extras include a new conversation with Forsyth and critic David Cairns; a 1985 documentary on the bravura work of cinematographer Chris Menges; a South Bank Show episode from 1983 on the production; an archival documentary made during the shoot; a 1983 interview with Forsyth; and the trailer.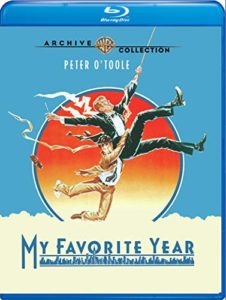 Warner Archive New Releases: A Mel Brooks production, MY FAVORITE YEAR (***, 92 mins., 1982, PG) is a breezy and enjoyable, fictional take on Brooks' own early days, writing for "The Sid Caesar Show" when Errol Flynn appeared as a special guest. While Brooks' interaction with Flynn was apparently uneventful, the comic flights of fancy concocted in Dennis Palumbo and Norman Steinberg's script takes a Flynn-like, drunken matinee idol (Peter O'Toole) to New York for a live appearance on a popular TV series. Future "Perfect Strangers" star Mark-Linn Baker is Brooks' alter-ego here, a staff writer who ultimately babysits the thespian, driving him around for episodic adventures including a run-in with his family.
Though a little bit labored at times with some melodramatic turns that come off as contrived (the movie's not developed enough to sustain those detours), "My Favorite Year" mostly coasts on the good will of its performances, O'Toole especially. Under Richard Benjamin's direction, the movie is an entertaining slice of nostalgia, seasoned with period tunes and a few laughs. Later adapted (unsuccessfully) as a Broadway musical (the movie itself feels like a "book" that could've used some songs), this October '82 MGM release makes its Blu-Ray debut from Warner featuring a detailed and satisfying 1080p (1.85) AVC encode with DTS MA mono sound, the trailer, and an older commentary with Benjamin.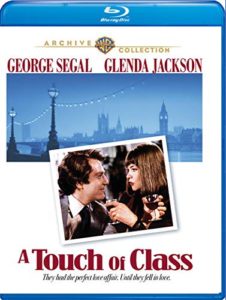 "My Favorite Year" is one of a trio of new Archive Blu-Rays well worth checking out. A TOUCH OF CLASS (***, 106 mins., 1973, PG) is another well-reviewed comedy making its high-def debut – an acclaimed rom-com starring George Segal and Glenda Jackson: he's married, she's divorced, but they spark an immediate chemistry once they meet in London and decide to carry on an affair in Spain. Melvin Frank's 1973 film generated five Oscar nominations (including Best Picture) and earned Jackson her second Best Actress Oscar – it's a lovely widescreen romp, preserved here in a splendid 1080p (2.35) AVC encoded transfer on Blu-Ray, that's only let down by a downbeat ending, in-step with its era, but out of sync with the rest of the picture…Finally, one of RKO's top dramas of the late '40s, THE SET-UP (72 mins., 1949), makes a welcome, surprising Blu-Ray appearance thanks to Warner Archive. This Robert Wise-directed boxing drama stars Robert Ryan as a veteran fighter whose manager (George Tobias) wants him to take a dive. Playing out in "real time," this is a potent, noir-driven piece with ample color and character detail for a short feature, and both Ryan and Audrey Totter – as the boxer's wife – are superb. An archival commentary from Wise and Martin Scorsese leads the extras in Warner Archive's Blu-Ray along with another top-notch 1080p (1.33) B&W transfer and DTS MA mono sound.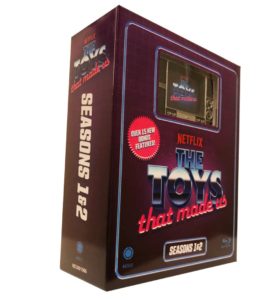 THE TOYS THAT MADE US – Seasons 1 and 2 Blu-Ray Box Set (Apprx. 8 hours, 2018; Screen Media): Most-welcome Blu-Ray of the terrific Netflix documentary series from creator Brian Volk-Weiss that profiles iconic '80s toy lines (Kenner's Star Wars, Hasbro's G.I. Joe and Transformers, plus Barbie, He-Man, Lego, Star Trek and Hello Kitty). Each hour-long episode is sure to appeal to nostalgia buffs while still presenting an enlightening, entertaining doc that even those unfamiliar with the toys should enjoy. After debuting on DVD last year, Screen Media brings us a Complete Seasons 1 and 2 Blu-Ray box offering three discs of fun – not just 1080p transfers of the series itself, but a whole third disc of extras, with over a dozen additional segments debuting here on BD. Recommended!
WONDERS OF THE SEA 4K Ultra HD Combo Pack (83 mins., 2019; Screen Media): Arnold Schwarzenegger produced, narrates and appears in "Wonders of the Sea," but it's the awe-inspiring cinematography of Jean-Michel Cousteau and his team that make this a cut-above for documentaries involving our natural world. Now available from Screen Media in a 4K Ultra HD/Blu-Ray combo pack (even though the production was shot in 3D and apparently was quite effective in that format), this feature-length chronicle of life in and around the ocean floor – from Fiji to the Bahamas – offers colorful, spectacular shots of sharks, fish, and other inhabitants of our seas. Ecological concerns are raised, naturally, but they aren't as heavy-handedly conveyed as in other productions, making this a recommended view for kids and adults alike. Screen Media's 4K UHD includes HDR and 5.1 sound, with the Blu-Ray and extras sporting an interview with Arnold, Making Of featurette, and music video "Heart of the Ocean."
---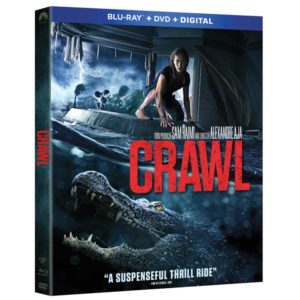 Halloween Thrills
CRAWL Blu-Ray (**, 87 mins., 2019, R; Paramount). FRIGHTFUL PLOT SUMMARY: A swimmer at the University of Florida (Kaya Scodelario) finds herself trying to save her injured father (Barry Pepper) from the clutches of actual gators during a Category 5 hurricane in Alexandre Aja's latest. Unlike Aja's free-wheeling remake of "Piranha," though, "Crawl" is a repetitious, one-note affair that struggles to even reach the 90-minute mark with its slender story. Michael and Shawn Rasmussen's script focuses entirely on the two main characters, pausing ever so briefly to introduce a few characters who show up as sacrificial lambs, while our protagonists endure a brutal fight for survival. These "we're here to help!" scenes are utterly predictable – if you have a speaking line in the film and you aren't the two leads, you're a goner – and the formula of the duo getting into close scrapes, then getting away, only to repeat the same process, becomes tiresome – even if both Scodelario and Pepper form a tandem that's easy to root for. BLU-RAY SPECS: Debuting October 15th from Paramount on Blu-Ray, the studio's BD includes a good looking 1080p (2.35) transfer of the green screen laden affair – in fact, the film was shot on-location…in Serbia! The 7.1 DTS MA sound is alright with a motion comic of an alternate opening, deleted/extended scenes, the DVD and Digital HD copy completing the package. AISLE SEAT BOTTOM LINE: "Crawl" managed to net a surprising amount of positive reviews but received only a lukewarm reaction at the box-office. Frankly it's not hard to see why, as Aja had a lot more fun with man-eating fish than the hurricane-juiced gators he elicits only moderate thrills from here.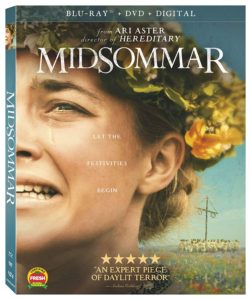 MIDSOMMAR Blu-Ray (**, 147 mins., 2019, R; Lionsgate). FRIGHTFUL PLOT SUMMARY: "Hereditary" auteur Ari Aster is back with another grizzly tale of fractured relationships, this time revolving around a troubled college student (Florence Pugh), her boyfriend (Jack Reynor) and their friends, who head to Sweden to join a Midsommar festival with rituals that extend (of course) beyond the bounds of good taste, common sense, and most international laws. Disturbingly painted, "Midsommar" offers a compelling portrait of a girl on the brink of a psychological meltdown and, generally, plays more intriguingly than "Hereditary" – yet its bleak, clinical coldness, agonizing shock-value scenes and prolonged running time still come off as heavily self-indulgent. BLU-RAY SPECS: Lionsgate's "Midsommar" is out this week featuring a 1080p (2:1) transfer, 5.1 DTS MA sound, a Digital HD copy, "Let the Festivities Begin: Manifesting Midsommar" featurette and DVD copy. Note a Director's Cut was playing the rounds last month but is not included here. AISLE SEAT SCARETASTIC BOTTOM LINE: "Midsommar" gets under your skin and is well-shot, yet your mileage will vary, particularly considering one's reaction to Aster's prior horror outing.
3 FROM HELL 4K Ultra HD Combo Pack (115 mins., 2019, Unrated; Lionsgate). FRIGHTFUL PLOT SUMMARY: Rob Zombie's follow-up to "House of 1000 Corpses" and "The Devil's Rejects" brings back the trio of Baby Firefly (Sheri Moon Zombie), Otis Driftwood (Bill Moseley) and Captain Spaulding (Sid Haig). Having miraculously survived the shootout at the end of "Rejects," the group are out of prison and head for Mexico in a belated sequel that's worth it for Zombie fans — but probably few else. BLU-RAY SPECS: In a dynamic 4K UHD presentation coming October 15th, Lionsgate's release includes HDR, 7.1 Dolby TrueHD audio, a four-part documentary, commentary with Zombie, Blu-Ray and Digital HD code. AISLE SEAT BOTTOM LINE: For Zombie buffs. Everyone else should take their tricks or treats elsewhere.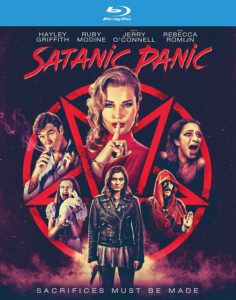 SATANIC PANIC Blu-Ray (89 mins., 2019, Not Rated; RLJ). FRIGHTFUL PLOT SUMMARY: A pizza delivery girl (Hayley Griffith) finds herself the centerpoint of a Satanic sacrificial rite in Chelsea Stardust's wild and wacky horror comedy, which mixes gore and gags with an appealing lead in Hayley Griffith. Jerry O'Connell and Rebecca Romjin make appearances as well. BLU-RAY SPECS: Rolling out October 22nd on Blu-Ray, RLJ's disc includes a Making Of and two additional featurettes, a 1080p (1.85) transfer and 5.1 DTS MA sound. AISLE SEAT SCARETASTIC BOTTOM LINE: One of the better independent horror offerings on disc this Halloween, "Satanic Panic" is mildly amusing and worth a look for genre buffs.
Well Go New Releases: Something different from Hong Kong, KUNG FU MONSTER (104 mins., 2018; Well Go USA) is period-set – in the final years of the Ming Dynasty – yet offers a refreshing twist on the usual historical fare. Here, a member of the Imperial Secret Police has to capture and tame a rare creature — a gift from the Bruneain Empire – and later, scramble to prevent it from becoming a military asset. Well Go's Blu-Ray of this 2018 Hong Kong release includes Mandarin DTS MA audio, a 1080p transfer and English subtitles…Coming October 15th from Well Go, just in time for Halloween, is THE LINGERING (87 mins., 2018), a modern tale of terror about a man who's forced to return to the house where he and his mother were tormented by a supernatural presence when he was a child. This 2018 Hong Kong production includes Cantonese DTS MA audio and English subtitles…Due out October 29th from Well Go is LEGEND OF THE DEMON CAT (120 mins., 2017), a HK period drama set during the Tang Dynasty. There, a General's wife is possessed by an ancient demon, leading to an unlikely alliance between a poet and a monk who uncover how the death of a courtesan a century before plays into their attempts to save her. Well Go's Blu-Ray offers both Mandarin DTS MA and English dubbed audio with trailers and a fine 1080p transfer.
ANNA AND THE APOCALYPSE DVD (93 mins., 2019, R; Cinedigm): Anna (Ella Hunt) is forced to give up the holidays in order to wage a desperate battle against zombies who've stormed her hometown of Little Haven in John McPhail's genre mashup. This independent production boasts high school angst, black comedy, horrific gore and original songs (!) – yet the cumulative result is a mixed-up affair seriously dragged down by a leaden, depressing ending. Cinedigm's DVD (16:9, 5.1) is now available sporting a behind-the-scenes featurette.
---
Also New & Noteworthy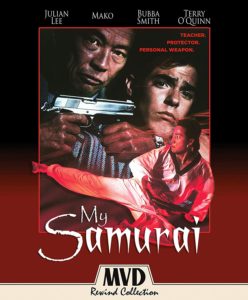 MY SAMURAI Blu-Ray (87 mins., 1992, R; MVD): Entertaining enough "Karate Kid"-inspired, early '90s feature stars John Kallo as a young teen who becomes a witness to a murder, and promptly utilizes the skills of his martial arts master (Julian Lee) to evade both the culprits and the police who want to detain him. Mako, Bubba Smith, and Terry O'Quinn provide the veteran thespian chops to Fred Dresch's rough-around-the-edges enterprise, which is endearingly silly and not half-bad after a rough start. MVD's Blu-Ray is due October 15th featuring a new 1080p transfer (1.85) of the original R-rated cut; new interviews with Lee and Mark Steven Grove; fresh conversations with Jim Turner and Christophe Clark, a photo gallery, the trailer, mini-poster and one of MVD's delightful "Rewind Collection" throwback, faux-VHS slipcovers.
MPI New Releases: Dev Patel headlines THE WEDDING GUEST (97 mins., 2018, R), Michael Winterbottom's new film starring Patel as a man who heads from Britain to Pakistan to kidnap a soon-to-be-wed woman (Radhinka Apte). The situation spirals out of his control, sending them both on the run in this IFC Films co-production now on Blu-Ray sporting a 1080p (2.40) transfer and 5.1 DTS MA audio…Debuting exclusively on DVD this month from MPI is the Sundance Selects release THE QUIET ONE (99 mins., 2019), a documentary about the founding Rolling Stones member Bill Wyman. Always known for being the "quiet one," Wyman's work with the band is explored in this career-spanning profile, chronicling the band's origins and rise to fame, and attempts to maintain a straight line through the "sex, drugs, rock 'n roll" era. Oliver Murray's doc is well worth checking out, especially for Stones and classic rock fans, and the DVD offers a 16:9 (1.85) transfer with 5.1 Dolby Digital sound.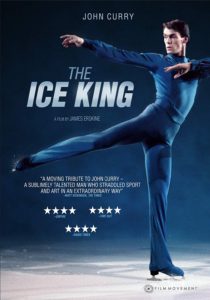 New From Film Movement: Coming October 8th, THE ICE KING (89 mins., 2019) is James Erskine's documentary on the life, troubled times and on-ice triumphs of Britain's figure skating champion. After coming out on the night of his 1976 Gold Medal performance, Curry had to deal with the constant public perception over his sexuality – and well as his own, well-documented personal demons – and all of it is chronicled in this well-rounded and compelling portrait of Curry, both on and off the ice. Film Movement's DVD (1.78, 5.1/2.0 stereo) sports a Q&A with Erksine and a featurette on musical director Stuart Hancock's creation of the soundtrack…Available October 15th from Film Movement, ULYSSES & MONA (82 mins., 2019) stars Eric Cantona as a secluded, tortured artist in his 50's who left his family. Manal Issa plays the young art student searching for him in Sebastien Betbeder's acclaimed French comedy, making its debut on DVD with a 1.33 transfer, 2.0 French audio (English subtitles), and Aino Suni's thematically similar, Finnish short "Wolf Carver" on the supplemental end.
MAIDEN Blu-Ray (97 mins., 2018, PG; Sony): Tracy Edwards spearheaded the first all-female team to enter the world-renowned Whitbread Round the World sailing race in 1989 — this after her attempts to join assorted crews were met with sexism amidst other assorted excuses. Alex Holmes wrote and directed this superb documentary on Edwards' voyage, from her efforts to break into the race on-land, to her (and her crew's) adventures battling 50-foot waves and icebergs on the high seas. "Maiden" is undeniably compelling and is now on Blu-Ray (1.85, 5.1 DTS MA) from Sony. The disc includes a Filmmaker Q&A (with Edwards on-hand as well) plus a featurette.
---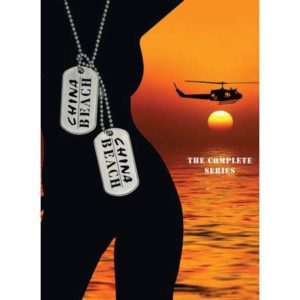 TV on Disc
Available again is Time-Life's superior DVD box-set of the 1988-1991 Vietnam soap opera CHINA BEACH (aprx. 60 hours), which represents one of the most satisfying and comprehensive DVD releases of its kind to date.
This ABC series, which aired on Wednesday nights at 10pm basically for the duration of its run, was one of several attempts at bringing the Vietnam War to television in the form of a serialized drama. CBS had tried but failed to muster a consistent audience with their more battlefield-oriented "Tour of Duty," but ABC and Warner Bros. TV fared better in the ratings with "China Beach."
This multiple Emmy-winner starred Dana Delaney as Colleen McMurphy, a nurse at an EVAC hospital and USO entertainment center populated with both hard-working medical personnel (Robert Picardo's Dr. Dick; Marg Helgenberger's K.C., Colleen's assistant and a former addict; Concetta Tomei's hard-nosed Major Lila Garreau) and singers and entertainers who passed through the facility (Chloe Webb's Laurette Barber, Nan Woods' Cherry White among them). Most of the latter were concentrated in the show's earlier episodes, while the later lives and loves of the various characters were touched upon in the present-day as the program concluded at the end of its fourth season. Speaking of that, series in the '80s and '90s didn't always have a chance to provide the type of closure that "China Beach" was able to, but it's something that serves the series well for the first-time viewers used to today's more serialized programs.
This slightly trimmed-down, 19-disc box-set houses all 62 episodes of the series in full-screen transfers and stereo soundtracks. The licensing of the innumerable period songs used on the soundtrack was a major hang-up in terms of licensing; from Diana Ross & The Supremes' "Reflections" as its main theme to tracks by Bob Dylan, Aretha Franklin, James Brown and Van Morrison, Starvista and Time Life claim to have cleared 268 songs, taking over a year to do so. The efforts, though, will be more than worth it for fans, who've had to live with comprised "some music was altered for this home video release" disclaimers across other series too many times over the years. "China Beach"'s soundtrack is integral to the atmosphere of the program and any edits to its soundtrack would've compromised its effectiveness.
Special features are abundant – though comprise roughly half of the extras that were on the previous Starvista release. Still, the five-plus hours of extras make for a superb DVD package, affordably priced from Time-Life.
THE VIKINGS Season 5, Volume 2 Blu-Ray (443 mins., 2018-19; MGM/Fox): Second half of "The Vikings"' fifth season begins with a new Dark Age dawning for Scandinavia after Ivar the Boneless begins his reign. With the likes of Bjorn and Lagertha having fled, new problems arise with Duke Rollo's return while Floki battles the elements in desolate Iceland. More action, blood, sword fights and political intrigue dominate the back end of "Vikings" Season 5, now on Blu-Ray from Fox featuring 1080p transfers, 5.1 DTS MA sound, extended versions of all 10 episodes, deleted scenes and featurettes.
NEXT TIME: Kino Lorber October Wrap with MY BOYFRIEND'S BACK, HERCULES IN THE HAUNTED WORLD, PHOBIA and more! Until then, don't forget to drop in on the official Aisle Seat Message Boards and direct any emails to our email address. Cheers everyone!