One of the first major Italian productions to import U.S. stars, ULYSSES (94/103 mins.), offered Kirk Douglas as the titular sailor of Homer's poem, trying to get home to Ithaca and his beloved wife Penelope, but whose adventures at sea bring him into confrontations with the horrifying Cyclops, dangerous Sirens and alluring Circe. Not as broadly performed as subsequent Hercules fantasies starring the likes of Steve Reeves, this Dino DeLaurentiis/Carlo Ponti production has long been viewed in substandard home video releases in North America, but has at last been restored in a new Kino Lorber Blu-Ray featuring a spectacular 4K Studio Canal remaster.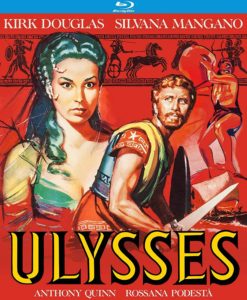 The movie itself is presented in two different versions: the 94-minute English dub as well as a longer 103-minute Italian language print. Both transfers look utterly spectacular compared to past versions you may have come across: not only is the source material itself unblemished, but the transfer is detailed and ripe with color, enhancing the picture's production. Mario Camerini helmed the film but Harold Rosson ("Singin' in the Rain") shot it, giving the international co-production an interesting fusion of Italian and American filmmaking sensibilities. The film is fairly faithful to its source as well, with a screenplay credited to some seven different writers including Ben Hecht – and while "Ulysses" is not a classic, it's still entertaining. Certainly it starts off on the rocky side, but once it settles into Ulysses' quest at sea, the film becomes more engrossing and saves its best portions for the end. Douglas looks physically fit and consistently engaged here, while Anthony Quinn is a particular standout as Antinous, who has his designs on Penelope (Silvana Mangano) while her husband is missing in the Aegean.
It's a film whose positive attributes are made much more palatable in this Blu-Ray restoration debuting in the U.S. from Kino Lorber. The single-disc includes both versions along with English opening and closing credits offered in the supplement (a must to understand the film's closing, unless you're fluent in Italian) and trailers. Another standout is Tim Lucas' essential commentary on the Italian cut, which outlines the movie's then-unique cinematic origins – rich in anecdotes and production detail, and itself highly recommended.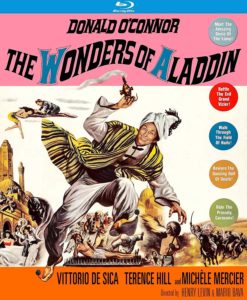 Several years later, "Singin' in the Rain" star Donald O'Connor flew to Tunisia and Rome to shoot THE WONDERS OF ALADDIN (93 mins., 1961) while he was under contract with MGM. This co-production between producer Joseph E. Levine and Lux Film Production may not be the most exciting fantasy of its era, yet this is still a good looking Cinemascope adventure with O'Connor playing Aladdin opposite Vittorio DeSica as the Genie and Noelle Adam and Michelle Mercier as the female leads. This is more a costume piece than a Harryhausen production, with special effects that mostly take a back seat to the movie's overall pageantry, captured here by director Henry Levin (coming off Fox's "Journey to the Center of the Earth") and Mario Bava, who was listed as co-director in certain European prints, having helmed roughly 20% of the picture (and supervised the Italian dubbing).
Speaking of that, this 4K Studio Canal master (2.55) is something of a hodgepodge of existing prints – the movie starts off looking rough (in what appear to be scenes roughly adhering to the U.S. version) but makes a huge improvement about 25 minutes in, with source materials suddenly shifting from substandard to pristine. Some footage never before seen in the U.S. has been included throughout, though certain material from the movie's longer Italian release remains discarded – no matter, this is as definitive a presentation of the movie as we're likely to see. Tim Lucas' outstanding audio commentary chronicles the movie's fascinating production history, different versions and placement in Mario Bava's filmography. The DTS MA mono sound is passable, the movie sporting an Angelo Lavagnino score that could've benefitted from more prominent, stereophonic mixing.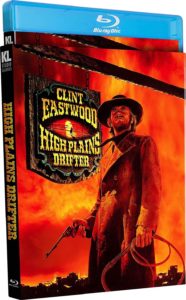 Clint Eastwood Remasters From Kino Lorber
One of Clint Eastwood's later westerns, HIGH PLAINS DRIFTER (105 mins., 1973, R), rides back onto Blu-Ray for the first time this month from Kino Lorber in a new Special Edition. While the transfer is the same as the previous Universal Blu-Ray (which is a good thing because it holds up so well here), KL has produced a wealth of new supplementary materials that breathe new life into the picture – an enhancement the label has also afforded for a handful of other Eastwood titles this month.
"Drifter" is an odd, moody genre outing, written by Ernest Tidyman and directed by Clint himself, starring Eastwood as a nameless drifter who aids the members of a small town from a gang of gunmen who had killed their prior sheriff. Supernatural overtones abound (is Eastwood that dead sheriff, or a messenger sent to exact revenge?) in this early '70s favorite which Universal first did justice on Blu-Ray several years ago: the AVC encoded transfer (2.35) was one of the studio's best catalog efforts, with pinpoint detail and a wide range of colors benefitting Bruce Surtees' Panavision cinematography.
Kino Lorber's Blu-Ray reprises that transfer with the addition of the movie's original 2-channel audio (a 5.1 DTS MA track is also included) and a host of new extras. These include a commentary from director/historian Alex Cox and new interviews with supporting stars Marianna Hill, Mitchell Ryan and William O'Connell. A vintage featurette, "A Man Named Eastwood," is also present here plus vintage trailers, TV and radio spots, a promo gallery, and two "Trailers From Hell" segments featuring Josh Olson and Edgar Wright.
Kino Lorber has also released – and in most instances remastered – several other Eastwood '70s Universal titles, all which come with a strong recommendation for Clint fans.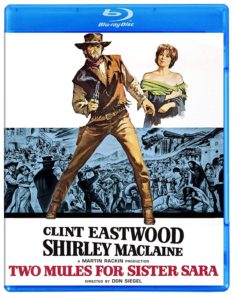 On the western front, Eastwood previously worked with veteran directors John Sturges and Don Siegel, to mixed results, on earlier Universal sagebrush sagas JOE KIDD (88 mins., 1972, PG) and TWO MULES FOR SISTER SARA (105/114 mins., 1970, PG). The latter is easily the more interesting of the duo, pairing Eastwood with Shirley MacLaine as a nun who joins with Mexican freedom fighters in a period outing with an Ennio Morricone score. "Two Mules" has been here remastered in a 4K transfer (2.35) debuting the movie's 105-minute U.S. theatrical version on one disc with the more familiar 114-minute International Cut on the other. Both transfers have a warmer hue than Universal's earlier BD (which only offered the longer version) while Alex Cox provides another commentary and a number of radio spots/trailers, image gallery, and vintage "At Home With Clint" interview comprise the extras.
"Joe Kidd" was a disappointment for Eastwood given its pedigree, the star appearing in an original Elmore Leonard screenplay under the direction of Sturges, who previously notched classics with genre outings "The Magnificent Seven" and "Gunfight at the O.K. Corral." This one doesn't nearly match the excitement of Sturges' best films, with Eastwood playing a former mercenary who works with a landowner (Robert Duvall) to stop a Mexican revolutionary (John Saxon). Lalo Schifrin provides the score in a good-looking picture that's passable but doesn't invite repeat viewings. Kino Lorber's Blu-Ray utilizes Universal's prior master (2.35) and looks fine, with mono sound, another new Alex Cox commentary and interview with veteran character actor Don Stroud – noteworthy for his detailing the poor relationship Eastwood had with Sturges, leading to the movie ultimately being a misfire.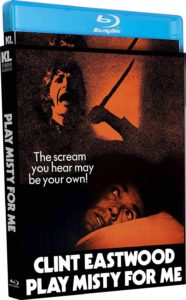 Eastwood was looking to branch out from westerns during this era, and also starred in three diverse pictures meant to expand his box-office portfolio (note Kino Lorber previously released his directorial outing "Breezy" on Blu-Ray earlier this summer, which I reviewed here).
PLAY MISTY FOR ME (102 mins., 1971, R) is one of the most fondly-remembered of those "contemporary Clint" vehicles: a hugely entertaining precursor to '80s psycho-thrillers like "Fatal Attraction" from Eastwood (who directed) and screenwriters Jo Heims and Dean Riesner. Here, Clint plays a Bay Area disc jockey stalked by a psychotic (Jessica Walter) in a film shot by Bruce Surtees in and around Clint's Carmel, California home. The film is still effective after all these years and is enhanced here by a terrific Kino Lorber Special Edition, starting with a brand new 2K remastered (1.85) transfer that's an upgrade on Universal's earlier Blu-Ray with a wider color gamut and more satured hues. Tim Lucas provides a thoughtful, and as always astute, commentary, while there's a online-conducted recent interview with Eastwood's co-star, Donna Mills, and a video essay from Howard S. Berger. Other extras have been carried over from past releases, including a Laurent Bouzereau produced documentary, "The Beguiled, Misty, Don and Clint" featurette, photo montages, trailers and more. The DTS MA mono sound is fine, sporting a Dee Barton original score and effective use of then-modern jazz and Errol Gardner's classic ballad, "Misty."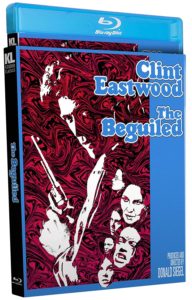 One of Eastwood's strangest films, the offbeat THE BEGUILED (105 mins., 1971, R) is one of those major studio films that could only get made when executives try to indulge a major star's artistic instincts. This adaptation of Thomas Cullinan's book makes for a disturbing, psychologically complex study of a Union soldier who picks the wrong girls academy to be stranded in after he's injured behind enemy lines. Geraldine Page anchors an otherwise young female cast in a Don Siegel-directed outing that's still shocking for its more sadistic passages and overall atmosphere of sexual repression. This is another superb new 2K mastered transfer (1.85) that debuts on Blu-Ray here from Kino Lorber, with the disc also offering a recent interview with Melody Thomas (Scott) and a commentary with Kat Ellinger. A John Landis "Trailers From Hell" segment, the trailer, and the same "Beguiled, Misty Don and Clint" featurette from above are also included along with clear mono sound.
Finally, Clint tried his hand at a James Bond-esque espionage thriller with THE EIGER SANCTION (129 mins., 1975, PG), an adaptation of a best-selling book by "Trevanian." Eastwood plays a retired assassin – now an art collector – who's pressed back into service after a double agent murdered one of his friends. Eastwood directed this Zanuck/Brown production that enlisted the same composer who worked on what became a much bigger hit for the producers in 1975 – John Williams, whose music for "Jaws" would follow this film's release by a single month. Williams' score is one of the highlights of a leisurely film that benefits from effective scope cinematography and location work, yet never quite shifts into a gear needed to generate suspense. Another new 2K remastered transfer (2.35) debuts here with richer colors than Universal's previous, barebones Blu-Ray; Kino Lorber also adds extras including a commentary from critic Nick Pinkerton, a new interview with actor Reiner Schone, archival interview with actress Heidi Bruhl, an 8-minute promo reel, and trailers/promotional materials.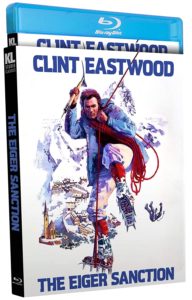 In all, these six releases should be of enormous interest for Eastwood fans and well worth a purchase, whether or not one has owned the earlier Blu-Rays Universal released, both for their supplemental materials and (in most cases) enhanced, newly remastered transfers. Highly recommended!
Also new this month from Kino Lorber are a wide range of titles that, as always, should appeal to a diverse array of movie buffs.
A follow-up of sorts to the classic sketch comedy "Kentucky Fried Movie," AMAZON WOMEN ON THE MOON (85 mins., 1987, R) less consistently sends up an assortment of movie genres and – par for the course for its era – TV and home video trends. John Landis "presented" and was one of several directors – alongside Joe Dante, Carl Gottlieb, Peter Horton and Robert K. Weiss – of this amusing comedy that scores with segments that mock "In Search Of…" (with Henry Silva), The Invisible Man (with Ed Begley, Jr. as the mad scientist who doesn't realize he's actually quite visible!), and even Siskel & Ebert, with a pair of critics reviewing a man's uneventful life after his passing. Familiar faces abound – Rosanna Arquette, Steve Guttenberg, Carrie Fisher, David Alan Grier, Arsenio Hall, Kelly Preston, Ralph Bellamy and many others – with most vignettes that generate a laugh followed by segments that are lucky to raise a chuckle. Still, it's fun overall, and I always laugh when I think of the "Video Pirates" segment, where swashbuckling pirates raid a vessel of MCA Home Video titles! ("Video discs? What good are they?")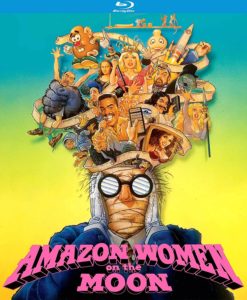 Making its long-overdue premiere on Blu-Ray, Kino Lorber's Blu includes a perfectly acceptable Universal catalog master (1.85 with segments in 1.37), DTS MA mono sound and a number of extras. These include a retrospective featurette on the movie's production with Landis, Dante and others; deleted scenes as well as more recently discovered outtakes from Dante's personal archive; the trailer; and a new commentary with Kat Ellinger and Mike McPadden.
Though silly, lightweight and decidedly "'70s," BUCK ROGERS IN THE 25TH CENTURY (1979-81) was a Glen A. Larson production that was hugely entertaining for kids back in the day – myself included. In fact, I was so swept up in this TV series – even at age 5 – that when one episode was unexpectedly pre-empted for a "Sanford and Son" rerun, my Mom went so far as to call NBC headquarters in New York to find out what happened while it was supposed to air! The show only lasted two seasons but still made a big impression on a "Star Wars"-satiated youngster like myself: the weekly mix of outerspace adventure, wacky guest stars (Jack Palance's turn in "Planet of the Slave Girls" is an all-timer), dashing heroism (embodied by Gil Gerard's charismatic turn as Buck) and voluptuous female leads (Pamela Hensley and Erin Gray) filled in the gap on the small-screen for "Star Wars"/"Star Trek"-like fantasy, even if it's on a decidedly more juvenile scale here.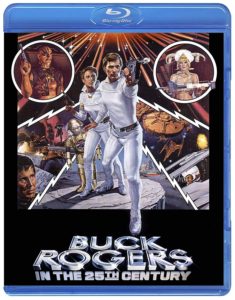 Interestingly, the show wasn't configured as a weekly series but rather a series of TV movies, with Universal deciding during production to release the first installment as a theatrical feature. Even if it's little more than a condensed, PG-rated version of what would become the series' first two episodes, the theatrical BUCK ROGERS IN THE 25TH CENTURY (89 mins., 1979, PG) still hit box-office paydirt in Spring '79 and convinced Universal that the show needed to go on – this time on a weekly basis as opposed to occasional two-hour installments.
The series debuted the following Fall (the premiere featuring some alternate/reshot material) and would go onto become a cult classic, and Kino Lorber has packaged both the entire series on Blu-Ray this month (Season 1 is infinitely better than Season 2), as well as just the theatrical movie separately if you choose to go that route. The movie features a brand new 2K master (1.85) that's noteworthy since it's only been presented previously in standard-definition across other, international Blu-Ray releases of the series. The transfer is great, a 9-minute preview reel is also on-tap plus radio spots, the trailer, and a new, enjoyable commentary with Steve Mitchell and Nathaniel Thompson.
"The Complete Collection" box-set houses the movie plus the entire series – as well as the feature-edited versions of multi-part episodes "Planet of the Slave Girls," "Journey to Oasis" and "Time of the Hawk" – in nearly-as-solid 1080p transfers (1.33) with clear mono sound and 10 episode commentaries from writer Patrick Jankiewicz. There are also two new interviews, a 20-minute conversation with Erin Gray and a shorter talk with "Hawk" himself, Thom Christopher.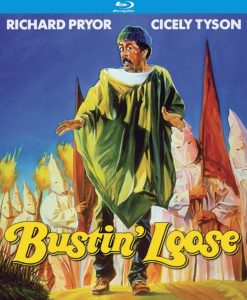 Richard Pryor produced and starred in BUSTIN' LOOSE (94 mins., 1981, R), one of the comedian's more successful solo features, for Universal in 1981. Though R-rated, this is easily one of Pryor's more "family friendly" films (profanity excepted), with Pryor playing a street smart hustler coerced into transporting a group of special education students and their straight-laced teacher (Cicely Tyson) across the country. A set-piece that pits Pryor against the KKK is legitimately funny and the script – credited to Roger L. Simon from a Pryor-Michael S. Glick original story – offers a framework for the movie's somewhat uneasy mix of Pryor comedy and feel-good sentimentality, which a short time later, almost certainly would've been packaged more towards PG territory. As it is, "Bustin' Loose" is entertaining enough for its era, and Kino Lorber's BD debuts the film in HD with a solid if unspectacular 1080p Universal catalog master (1.85) with mono sound and a commentary from historian Sergio Mims.
GRACE OF MY HEART (115 mins., 1996, R) stars Illeana Douglas in Allison Anders' sadly disappointing period study of a Carole King-like artist, trying to make it in the 1950s as a songwriter, who finally "finds her voice" as a performer during the 1960s. "Grace of My Heart" has a phenomenal backdrop and subject matter but spends less time on music and the period than it does – regrettably – exploring Douglas' relationships with different men in her life (Matt Dillon, Eric Stoltz, John Turturro). The cast is great and there's one terrific song – "God Give Me Strength," which Elvis Costello co-wrote with Burt Bacharach – but too much of the film centers on conventional romantic dramatics, spanning a wide period of time with much of the backdrop only superficially explored. Kino Lorber and Scorpion's Blu-Ray includes a Universal-licensed 1080p (1.85) transfer, 5.1/2.0 DTS MA sound options, a commentary with Anders, featurette, deleted scenes and the trailer.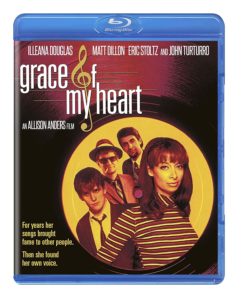 One of Hollywood's groundbreaking dramas of the 1940s, the harrowing THE LOST WEEKEND (101 mins., 1945) still packs a punch in its frank depiction of alcoholism, even considering its age. Ray Milland is the NYC writer who finally loses it during a bender in Charles Brackett and Billy Wilder's adaptation of Charles Jackson's novel – an assured, confidently produced picture that was bold for its era and retains its intelligence and much of its emotional power. Even better, Kino Lorber here bows the film on Blu-Ray in a new 4K master (1.37) with extras including Joseph McBride's commentary and a radio adaptation. The DTS MA mono sound is fine, spotlighting Miklos Rozsa's equally distinguished original score.
One of the classic TV cop series of all-time, DRAGNET (88 mins., 1954) burst onto the big-screen in a full-color feature from Jack Webb himself, who stars as Joe Friday and also directed. Here, Friday works with officer Frank Smith (Ben Alexnader) to find out who murdered a former convict. This Universal release is well worth a look both for fans and newcomers to the series itself; Kino Lorber's Blu-Ray houses either 1.75 or 1.37 transfers (both AVC encoded in nice shape) with the trailer and a commentary from historian Toby Roan.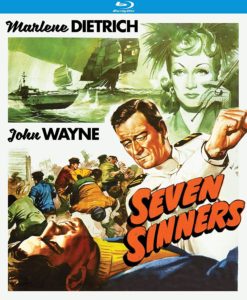 John Wayne '40s Favorites: Two early features starring John Wayne debut on Blu-Ray this month from Kino Lorber. SEVEN SINNERS (87 mins., 1940) offered The Duke as a Navy officer who falls for South Seas saloon singer Marlene Dietrich. Crooning "I've Been in Love Before" and "The Man's in the Navy," Dietrich does her thing in a Joe Pasternak production packed with character actors (Albert Dekker, Broderick Crawford, Reginald Denny) and a fun climax. Kino Lorber's Blu-Ray includes a commentary from David Del Valle and C. Courtney Joyner and the trailer, a 1080p (1.37) transfer and mono sound…THE SHEPHERD OF THE HILLS (98 mins., 1941), meanwhile, places Wayne in the more familiar confines of a robust outdoor adventure. In Henry Hathaway's 1941 Paramount release, Wayne plays a moonshiner whose community is uprooted by the arrival of a mysterious stranger. This Ozark-set drama, adapted from Harold Bell Wright's story, boasts beautiful Technicolor cinematography and a satisfying story that makes it well worth a look. Kino Lorber's Blu-Ray is highlighted by a 1080p (1.37) transfer, mono sound, and commentary from critic Simon Abrams.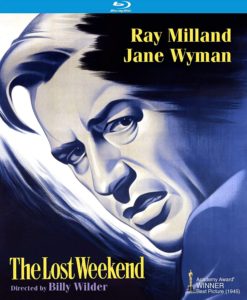 Phil Joanou was once a Spielberg protege back in the '80s, helming episodes of "Amazing Stories" and the terrific teen offering "Three O'Clock High." His more recent output has been far more scattershot, as witnessed by THE VEIL (93 mins., 2016, R), a barely-released horror study of a cult mass-suicide survivor who returns to the scene of the horror with a documentary crew that soon regrets that decision. Jessica Alba, Lily Rabe and Thomas Jane Star, with Joanou directing from a script by comedy writer Robert Ben Garant ("Night at the Museum"). Kino Lorber's Blu-Ray is comprised of a 1080p (2.35) transfer, 5.1 DTS MA sound, commentary with Joanou, the trailer, and an interview with Jane and Janou.
Kino Lorber has packaged their own Blu-Ray of the oft-released MAD MAX (93 mins., 1979, R), the movie with Mel Gibson launching his career as a tough cop in a world where unhinged loonies – including Hugh Keays-Byrne as the nefarious "Toecutter" – attack unsuspecting motorists and innocent civilians. Max's battles with his own bosses – desperately hoping to keep "heroes" on the road – are contrasted with the violent attacks of the gangs, and once Max's partner is killed and his wife and child targeted by the thugs, Max turns from desperation to anger in a soon-to-be-post-apocalyptic society quickly spiraling out of control.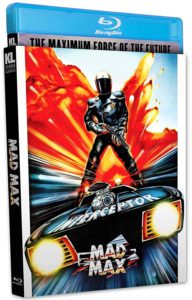 Though "Mad Max"'s world is only semi-futuristic compared to the subsequent series films that followed, it's still a bleak, and captivating, environment that director George Miller captured on-screen – particularly considering the era in which the movie was originally released. The various car chases and action sequences deliver the goods, and while the picture – penned by Miller and producer Byron Kennedy from James McCausland's original story – isn't as compelling or tightly packaged as the film's immediate (and superior) sequel, the original "Mad Max" remains one of the most important productions to originate Down Under. The picture ignited Gibson and Miller's respective careers, single-handedly ushered in a whole genre of similarly-themed cash-ins, and along with the works of Peter Weir, announced the Aussie film industry as a major player in world cinema.
It's also a movie that's perpetually had to shake off a nagging reputation that it's inferior to its sequel – something not helped by the fact that many of us originally saw the film second, after "The Road Warrior" was released, and usually in lousy TV prints at that. With its widescreen Todd-AO dimensions cropped, and its original Aussie dialogue dubbed by Samuel Arkoff's American-International, it's no wonder "Mad Max" came off for many years as the weaker sibling compared to "The Road Warrior." Still, taken on its own terms as an appetizer before the main course, and with its technical trappings restored, it's an involving, memorable picture with striking directorial choices.
Kino Lorber's Blu-Ray is being released alongside a 4K UHD rendition which I haven't yet seen. This Blu-Ray includes a brand new interview with George Miller alongside a smattering of extras carried over from past releases by other labels – these include a retrospective documentary and an insightful audio commentary featuring cinematographer David Eggby, Jon Dowding, Tim Ridge and Chris Murray, plus interviews with Mel Gibson, Joanne Samuel and David Eggby, trailers, radio spots, and both the Australian audio and English dub tracks. The 1080p (2.35) transfer on the Blu-Ray seems in-line with previous releases.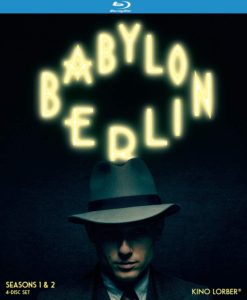 One of the most acclaimed European shows of recent years, BABYLON BERLIN (759 mins.) debuts on Blu-Ray in North America in a four-disc Season 1 & 2 set from Kino Lorber, as well as a separate Season 3 package (603 mins., 2020). Both editions feature 1080p (1.78) transfers with 5.1/2.0 German audio and English subtitles – a splendid gateway for new viewers to discover this tale of a young cop (Volker Bruch) who joins a Berlin vice squad in 1929, a time of turbulent transition in Germany. Liv Lisa Fries, meanwhile, plays a stenographer who doubles as a flapper at night while hoping to join the homicide investigators she assists. Heavy atmosphere and excellent production values permeate the series, which garnered international awards and is presented in a dynamite package superior to its Netflix domestic broadcasts. Behind-the-scenes materials include a documentary and trailers...Kino Classics and Lobster Films' THE JEWISH SOUL: TEN CLASSICS OF YIDDISH CINEMA is a five-disc Blu-Ray compilation that covers a broad range of Yiddish movies -- from musicals to fantasies and book adaptations. This anthology sports "The Dybbuk" (in both 123-minute restored and alternate 99-minute versions), "Mir Kumen On," "American Matchmaker," "Overture to Glory," "Tevya," "The Yiddish King Lear," "Her Second Mother," "Motel the Operator," "Eli Eli" and "Three Daughters" -- mostly U.S. productions produced between 1937-1950, all presented in B&W transfers with a 24-page booklet and commentaries on select movies from historians like J. Hoberman and others. New subtitle translations by Yiddish writer/actor Allen Lewis Rickman also adorn each movie with vintage subtitles also available on alternate versions of "American Matchmaker," "Eli Eli" and "Her Second Mother."
Artsploitation Films imports the Canadian horror flick WELCOME TO THE CIRCLE (93 mins., 2019, Not Rated), the story of a father and his daughter who become trapped in a demon-worshipping cult. Artspolitation's Blu-Ray includes a 1080p transfer, 5.1 DTS MA and 2.0 Dolby Digital sound…Japanese composer Ryuichi Sakamoto is profiled in RYUICHI SAKAMOTO: CODA (101 mins., 2019), a documentary not just about his music but also his own mortality following a cancer diagnosis. This documentary from director Stephen Nomura Schible debuts on Blu-Ray November 3rd also featuring the full-length Sakamoto documentary feature "At the Park Avenue Armory" (2018), also from Schible…Virgil Films and Kino Lorber bring Philadelphia Eagles fans a tribute in MAYBE NEXT YEAR (83 mins., 2019), a look at four Eagles fans and various their ups and downs – culminating in an unlikely Super Bowl title. This Kyle Thrash-directed doc is new on Blu-Ray featuring a 1080p transfer and 5.1 sound.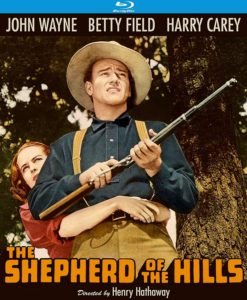 New on DVD from Kino Lorber and Greenwich is JIMMY CARTER: ROCK & ROLL PRESIDENT (96 mins., 2020), a documentary from writer Bill Flanagan and director Mary Wharton that focuses on the President's election and use of musicians like Willie Nelson, the Allman Brothers, Bob Dylan and others who assisted in his campaign – and also performed at the White House once he took the White House. Kino Lorber's DVD of this CNN Films production includes a 16:9 transfer and 5.1/2.0 sound…Season 5 of THE BUREAU (545 mins., 2020) finds JJA taking over management of the Bureau while Marie-Jeanne is sent to Egypt for field work. Mathieu Amalric and Florence Loiret Caille return along with Mathieu Kassovitz for this fifth season of the acclaimed French series. Kino Lorber's DVD includes all 10 episodes on three discs with 16:9 transfers and 5.1/2.0 French audio with English subtitles…New releases from Greenwich Entertainment include HARRY CHAPIN: WHEN IN DOUBT, DO SOMETHING (93 mins., 2020), a documentary by Rick Korn about Chapin's work trying to end world hunger, as well as THE DONUT KING (94 mins., 2020), Alice Gu's profile of Ted Ngoy, a Cambodian refugee who created a vast donut empire after arriving in the U.S. in 1975. Both discs include 16:9 transfers and are available this month…Finally, also new on DVD from Kino Lorber are Rodd Rathjen's BUOYANCY (92 mins., 2019), a drama about human trafficking in Cambodia, as well as PRAIRIE TRILOGY (108 mins., 1977/1980), a trio of documentaries from award-winning filmmakers John Hanson and Rob Nilsson.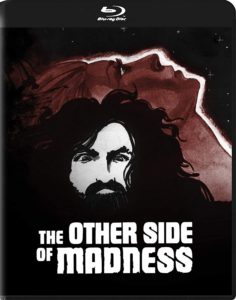 Also New & Noteworthy
THE OTHER SIDE OF MADNESS Blu-Ray/CD Collector's Edition (81 mins., 1971; The Film Detective): Prolific producer Wade Williams and director Frank Howard were the first to bring the horrifying Manson Murders to the screen with their exploitation quickie "The Other Side of Madness." Shot before Manson and his followers had been sentenced for the Tate-LaBianca murders, this black-and-white feature is a predictably odd, surreal assemblage of footage featuring re-enactments (drawn from court records), some scenes shot at the actual Spahn Ranch and music from Charles Manson himself. Those with an interest in the murders, and the era, may find this time capsule to be of interest – certainly it's a product of its time in terms of style and approach, finding ample revenue from the drive-in circuit during its day.
Another superb restoration from The Film Detective, "The Other Side of Madness" is new to Blu-Ray this month sporting a 4K restored transfer (1.37 B&W) from the original 35mm negative with trailers from both theatrical releases (it was re-issued as "The Helter Skelter Murders"), a new documentary on the production with Wade Williams, booklet notes from Alexander Tuschinski, and a CD recreating the original vinyl album, sporting songs written and performed by Manson.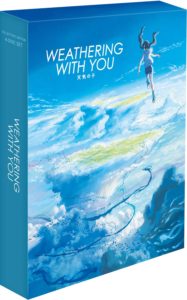 WEATHERING WITH YOU 4K UHD/Blu-Ray Limited Collector's Edition (112 mins., 2019, PG-13; Gkids/Shout): The director of the acclaimed "Your Name," Makoto Shinkai, spins a modern romantic story revolving around a high school freshman who leaves his island home for the streets of Tokyo. There, he meets, and is instantly intrigued by, a girl who has the power to clear the dank, dreary skies over the city.
This is a superior anime feature that Shout previously released on Blu-Ray back in September. That package offered an interview with Shinkai, featurettes, an interview between Shinkai and Yumiko Udo, trailers, TV spots, a 1080p (1.78) transfer, and 5.1 DTS MA English and Japanese audio. As good as that release was, fans may well want to upgrade to this deluxe packaged Shout! Limited Edition sporting an exclusive 4K UHD disc that also includes the feature-length documentary "The Making of Weathering With You." That in-depth examination of Shinkai's creative process is only found here in this LOVELY hardbound package, also including a copy of the CD soundtrack, a mini-poster, decal sticker, and a 104-page book with colorful artwork.
Warner Archive New Releases: When an heiress (Myrna Loy) decides to slap a newspaper editor (Spencer Tracy) with a libel suit, he sends in his fiancee (Jean Harlow) and friend (William Powell) to try and rectify the situation in LIBELED LADY (98 mins., 1936), an MGM production regarded by many as one of the Golden Age's top comedies. Tracy, Harlow, Loy and Powell are all terrific in this farce helmed by Jack Conway and scripted by Muairine Watkins, Howard Emmett Rogers and George Oppenheimer from Wallace Sullivan's story – it's certainly a funny romp for its time with plenty of laughs and a lot of energy to spare. Warner Archive's Blu-Ray is yet another in a long line of superb period-era transfers (1.37 B&W) from the Turner/MGM vaults with extras including the short "Keystone Hotel," MGM bonus shorts, an audio-only MGM radio promo, and the trailer.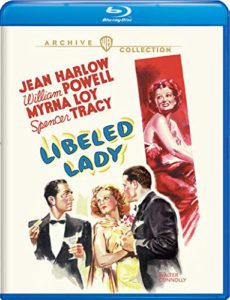 Also new this month from Warner Archive is the full-color MGM musical extravaganza THE PIRATE (101 mind., 1948), a tuneful if stagy affair starring Judy Garland as a Caribbean woman who believes actor Gene Kelly is really the scalawag of the seas he pretends to be. The script by "Father of the Bride" scribes Albert Hackett and Frances Goodrich gives the stars a decent opportunity to dance and croon their way through Cole Porter songs including "Be a Clown," though this 1948 production isn't necessarily the best effort of veteran director Vincente Minnelli and producer Arthur Freed. Nevertheless worthy of a look for musical buffs, "The Pirate" looks smashing in Warner Archive's new restoration (1.37) from the original Technicolor negative – extras include a commentary by historian John Fricke, a Making Of, vintage comedy and cartoon shorts, a stereo remix version of "Mack the Black" plus audio-only outtakes, promo radio interviews and much more. The 2.0 DTS MA mono audio is just fine.
PENINSULA Blu-Ray/DVD (118 mins., 2020; Well Go USA): Yeon Sang Ho's follow-up to the international smash "Train to Busan" finds a former soldier returning to the undead-filled peninsula to carry out a top-secret mission. Survivors, of course, complicate his task in another Korean production that should satisfy zombie-hungry audiences. Well Go USA's Blu-Ray combo pack debuts this month sporting a 1080p transfer, Dolby Atmos audio, a Korean audio track and an English dub, plus a Making Of, interviews and trailers.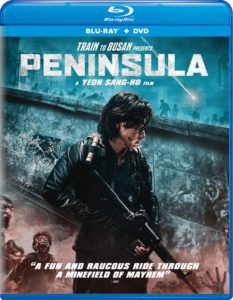 NOMAD: IN THE FOOTSTEPS OF BRUCE CHATWIN Blu-Ray (89 mins., 2020; Music Box): Werner Herzog's latest documentary odyssey finds him paying tribute to friend and fellow adventurer Bruce Chatwin – providing anecdotes about their shared interests, film clips, interviews, and stories from around the globe. Music Box's Blu-Ray of "Nomad" – an especially personal work for Herzog – is available this week featuring a bonus interview with the director, a 1080p transfer and 5.1 Dolby Digital sound.
Lionsgate New Releases: A sequel to "The Forbidden Kingdom" but not sold that way in the U.S., IRON MASK (121 mins., 2020, PG-13) is a muddled martial arts fantasy that wastes a good cast, including Jason Flemyng and, together for the first (and probably last) time, Arnold Schwarzenegger and Jackie Chan. Oleg Stepchenko's Chinese fantasy offers tepid CGI work and a wild story that's hard to figure in a mismash that might make more sense if you've seen this film's 2016 predecessor. Lionsgate's Blu-Ray is out November 24th featuring a 1080p (1.85) transfer, 5.1 DTS MA sound and a Digital HD copy…Sensitive performances from Charlie Plummer and Taylor Russell inform Thor Freudenthal's WORDS ON BATHROOM WALLS (111 mins., 2020, PG-13), a teen drama about a young man (Plummer), recently diagnosed with a mental illness, who's inspired by a girl (Russell) to overcome adversity and live life fully in spite of his condition. Annasophia Robb, Molly Parker and Walton Goggins co-star in this adaptation of Julia Walton's book, newly released to Blu-Ray this week from Lionsgate (2.39, 5.1 DTS MA) with a photo gallery, the trailer, and Digital HD copy on-hand.
New from RLJE: The Acorn original THE NEST (392 mins., 2020) is new on DVD from RLJE this month. Martin Compston and Sophie Rundle topline this Scottish drama about parents who deal with surrogacy and possible fraud after they hit a young woman who later agrees to carry the last embryo of Rundle's hopeful mother. David Hayman co-stars in this well-reviewed crime drama, presented in a two-disc set with a half-hour featurette, a 16:9 (2:1) transfer and 5.1 sound…Season 1 of CRAIG ROSS JR.'S MONOGAMY (210 mins., 2017) debuts on DVD featuring a group of couples trying to salvage their marriages by engaging in a radical experiment dubbed "Switch Therapy." RLJE's DVD contains 1.78 transfers and 2.0 soundtracks and is now available.
NEXT TIME: The annual Aisle Seat Holiday Gift Guide! Until then, don't forget to drop in on the official Aisle Seat Message Boards and direct any emails to our email address.