Returning to Blu-Ray from Kino Lorber after a pair of Twilight Time limited edition releases is John Frankenheimer's terrific THE TRAIN (133 mins., 1964; Kino Lorber). The director – coming off two of his most memorable '60s outings ("The Manchurian Candidate" and "Seven Days in May") – here works from an original Franklin Coen-Frank Davis screenplay that finds Burt Lancaster as Labiche, a French rail worker who becomes involved in a scheme to save priceless artwork from a Nazi train headed for Germany in the final days before the Allies liberated Paris.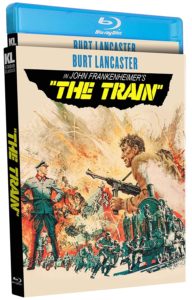 Opposition comes in the form of Paul Scofield, essaying the Nazi commandant determined to see this last gasp of his failing movement's glory through, only to run into resistance from the initially ambivalent Labiche. Only eventually does Lancaster's hero decide to prevent the works from the great masters from falling into German hands – using it as a last opportunity to fight back against the Nazi oppressors who invaded their country.
With its stark B&W cinematography by Jean Tournier and Walter Wottitz, "The Train" is often heralded as one of Frankenheimer's finest films, even if it flew under the radar for many years until Twilight Time resurrected it on Blu-Ray in both 2014 and again two years later.
Those releases both sold out and Kino Lorber has revived the film once again in a welcome Blu-Ray that incorporates much of the same content. That includes the MGM licensed transfer (1.66), which occasionally shows the wear and tear present in its source elements, but is freed from any obvious DNR manipulation and boasts enormous gains in detail over the DVD. The mono audio is as effective as the original mix allows (Maurice Jarre's score lacks the kind of grand stereophonic stage it deserves), with extras including the trailer, an isolated score track, Julie Kirgo's booklet essay, and Frankenheimer's original commentary. Kino Lorber has also swapped out TT's commentary for their own exclusive commentary track featuring Steve Mitchell and Steven Jay Rubin, while a "Trailers From Hell" segment with Brian Trenchard-Smith completes the package.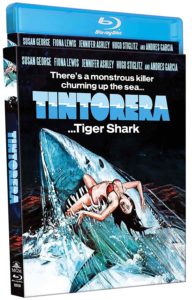 Scorpion Releasing brings viewers a definite slice of the Exploitation '70s with TINTORERA (87 mins., 1978, R), a Mexican B-offering that finds shark hunters Hugo Stiglitz and Andres Garcia competing for fins and females they "shag" (sometimes together) from the nearby beach resorts. Susan George, Fiona Lewis and Priscilla Barnes ("Three's Company") are a few of the lovely females, occasionally topless, who parade through this silly Rene Cardona-helmed affair that's broken up every now and then by scenes of actual shark hunting and marine creatures getting harpooned. Suffice to say one such shark decides to take a bite out of the local populace, resulting in Stiglitz going full Quint in the final minutes…well, not really, but that's as much plot as you'll get in this Hemdale adaptation "based on the bestseller by Ramon Bravo."
"Tintorera" is less a "Jaws" ripoff than a sun-and-sand drama of its time. It's hard to envision the moppy-haired, fuzzy-bearded Stiglitz as a sexual magnet, but the '70s were obviously a different time so who's to know. The pleasures of the movie are grounded in the Cancun-lensed scenery and not much in the characters or story line, which was trimmed down for a U.S. theatrical release, here preserved on Blu-Ray by Scorpion, working from an attractive HD master (1.85) by MGM. Die-hard fans may lament the lack of the movie's longer Mexican version, but there's enough entertainment on-hand here to satisfy most drive-in nostalgia buffs of the era. The commentary by Troy Howarth and Rod Barnett is fine but has some occasional gaps (probably due to something MGM didn't like), plus the trailer and a clear 2.0 DTS MA mono soundtrack featuring an early score by none other than Basil Poledouris! There's not a lot of "Conan" like potential in this particular outing, but it's pleasant enough and boasts a song performed by Carol Connors, crooning for another soggy sea saga just a short time after her involvement in Ennio Morricone's score for "Orca: The Killer Whale."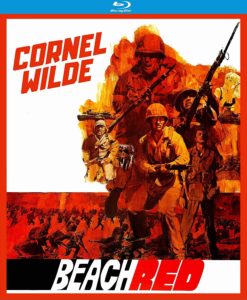 Cornel Wilde's directorial outings are usually worth a look, and BEACH RED (105 mins., 1967) is no different – a brutal and unflinching account of an American squad led by Wilde and Rip Torn that try to push through a jungle in the Pacific in order to find the Japanese, only to run into massive resistance. This is one of those later "war is hell" type, Pacifist-leaning exercises that's violent and not exactly "fun" to watch, but gets its point across in spite of a clearly modest budget, adapted from Peter Bowman's novel. Kino Lorber's no-frills Blu-Ray (1.85, DTS MA mono) includes a trailer…A WWII film of a much different kind is on-hand in THE SECRET WAR OF HARRY FRIGG (110 mins.., 1968). Paul Newman didn't lay too many eggs at the box-office, but the seldom-discussed late '60s war comedy about a fast-talking, conniving private sent to free five Allied generals behind enemy lines in Italy – but veers off in the process to romance an Italian contessa (the stiff Sylva Koscina) – made little noise upon its original release. It's a mildly enjoyable, if occasionally slow-going, affair with Newman playing opposite a terrific supporting cast of familiar comedic talents, including Tom Bosley, Norman Fell and Buck Henry, and all of it captured in scope by DP Russell Metty. Kino Lorber's Blu-Ray (2.35) looks good and sports a commentary from Daniel Kremer and Nat Segaloff plus the trailer.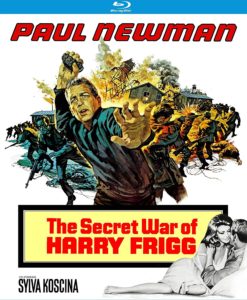 Three more Universal licensed titles from the '60s debut on Blu-Ray this month, two of them sagebrush adventures starring Dean Martin. The genial TEXAS ACROSS THE RIVER (101 mins., 1966) is the superior of the duo, pairing Dino with Alain Delon in a Michael Gordon-directed widescreen western comedy bolstered by Joey Bishop's turn as Martin's Indian sidekick and a fine supporting cast (Peter Graves, Michael Ansara, Andrew Prine). A commentary with Samm Deighan and the trailer are included with a fine 1080p (2.35) transfer and DTS MA mono sound. ROUGH NIGHT IN JERICHO (104 mins., 1968) is a more solemn genre exercise, finding Martin as the bad guy – a corrupted former lawman – whose stranglehold over a small town is challenged by George Peppard's US Marshal. Jean Simmons is the female lead in a violent, comparatively dour affair captured here in a 1080p (2.35) transfer with another Samm Deighan commentary included…Gregory Peck plays CAPTAIN NEWMAN, M.D. (126 mins., 1963) in David Miller's film set in a domestic military hospital's psychiatric ward during WWII. This adaptation of Leo Rosten's novel runs the gamut from comedy to melodrama and boasts an interesting cast (Angie Dickinson, Eddie Albert, James Gregory, Robert Duvall, Dick Sargent, Larry Storch, Bobby Darin) but doesn't quite come together. A perfectly fine 1080p (1.85) transfer accompanies this 1963 Universal production preserved here along with the trailer and another Samm Deighan commentary.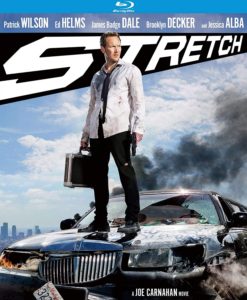 The presence of Frank Darabont's involvement as director is undoubtedly the reason Kino Lorber released BURIED ALIVE (93 mins., 1990, PG-13) on Blu-Ray. However, outside of Darabont's early credit on this 1990 USA cable movie, there's scant reason to invest your time in this hum-drum story of a philandering wife (Jennifer Jason Leigh) cheating on her husband (Tim Matheson) but eventually biting off more than she can chew. William Atherton co-stars and is also interviewed in Kino Lorber's fine Blu-Ray (1.37) with other extras including a commentary by Bryan Reesman and trailers…One of the all-time controversial, hoax exploitation films makes its home video premiere at long last: INGAGI (82 mins., 1930) has long held a special interest amongst buffs, as this 1930 "documentary" cobbles together actual African jungle footage from other sources with shot-in-Tinseltown material involving a number of totally fake "discoveries." These include a cult that sacrifices women to gorillas as well as phony animals like the "tortadillo" – elements that contributed to the FTC banning the film in 1933, with the picture not having been commercially distributed for at least a half-century thereafter. Kino Lorber's Blu-Ray (color-tinted 1.33) is now available, restored in 4K from Library of Congress elements, with extras including a commentary by historian Kelly Robinson, another commentary by Something Weird curator Bret Wood, a trailer gallery, and information about the restoration.
Two more recent Kino Lorber titles highlight more recent, eclectic genre offerings: Joe Carnahan's STRETCH (94 mins., 2014, R) stars Patrick Wilson as a limo driver in Hollywood who takes a job with a billionaire (James Badge Dale) in order to pay off his debts. His chores run the gamut from the wild to the woolly in a free-wheeling Carnahan affair that's punchy, brief and pretty entertaining if forgettable. Brooklyn Decker, Jessica Alba, Ray Liotta and David Hasselhoff comprise the supporting cast with Kino Lorber's Universal-licensed Blu-Ray (2.35) including commentary with Carnahan, his son and daughter; another commentary with historian Eddy Von Mueller; the trailer; and interview with Wilson…Veteran screenwriter Skip Woods helmed the 1998 thriller THURSDAY (87 mins., R), offering Thomas Jane as a former L.A. tough guy living the good life in suburbia when his former partner (Aaron Eckhart) shows up with a suitcase and involves him in drug dealers and cops alike trying to take him down. Paulina Porizkova, Paula Marshall and Mickey Rourke also appear in this Polygram production, here preserved on BD (1.85) sporting historian Sally Christie's commentary, an interview with Jane and the trailer.
Also New on Blu-Ray is the acclaimed Italian import MARTIN EDEN (128 mins., 2019), Pietro Marcello's adaptation of a 1909 Jack London novel, moved to an "unspecified" moment in Italian history where a young writer (Luca Marinelli) attempts to break out of his working class background, become a success and marry a beautiful student (Jessica Cressy) from a different wealth strata. This is an intentional throwback to Italian films from the '60s and '70s, with Kino Lorber's Blu-Ray including a 1080p transfer, Italian 5.1/2.0 audio with English subtitles, an interview with Marcello, commentary by Gionvanna De Luca, a virtual Q&A with the director and star, and the trailer…Season 1 of the Finnish TV series BORDERTOWN (649 mins., 2016) bows in high-definition this month from Kino Lorber. This gritty crime drama is set in a town on the border between Russia and Finland – a locale that a chief investigator moves his family to, hoping things will be quiet. Of course, they're not – a serial killer is running about – and he's tasked with stopping the killer before it preys upon his family. Kino Lorber's three-disc BD includes 1.78 transfers, 2.0 DTS MA stereo sound, and English subtitles.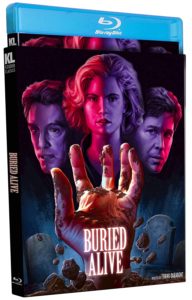 The German soccer drama THE KEEPER (120 mins., 2020) relays the true story of German soldier and POW Bert Trautmann, who became a football superstar playing goalie at Manchester City in post-WWII England. This fascinating film works as a personal drama and sports story worthwhile of a watch; Menemsha Films and Kino Lorber's DVD includes a 16:9 (2.35) transfer and 5.1/2.0 sound…Making a DVD debut from Cohen Film Collection is their 2K restoration of SUDDEN FEAR (110 mins., 1952), David Miller's noir that's been restored for this superb Cohen release. Joan Crawford, who received a Best Actress nomination for her work here, plays a playwright who never wishes she married a downtrodden actor (Jack Palance) harboring a dark secret. Palance also nabbed an Oscar nomination (Supporting) for his work on the film, with Charles Lang's likewise celebrated B&W cinematography making for a delicious treat for film noir buffs – along with Elmer Bernstein's smoky early score. Cohen previously released this restoration on Blu-Ray back in 2016 and Kino Lorber now bows this same presentation on DVD, the disc also including a commentary by Jeremy Arnold and a re-release trailer.
Documentary and Special Interest Releases: On Blu-Ray, MARIO RUSPOLI: PRINCE OF THE WHALES (79 mins., 2011) chronicles the life and times of Mario Ruspoli, a documentarian who helped innovative the non-fiction cinematic form. This 2011 work from Florence Dauman marks its U.S. premiere here and serves as a primer for Rusolpi's works, with eight collected shorts contained herein offering a sampler of his importance to the medium. Metrograph Pictures and Kino Lorber's Blu-Ray is now available…Tania Cypriano's BORN TO BE (92 mins., 2019) looks at the work of Dr. Jess Ting at the Mount Sinai Center for Transgender Medicine and Surgery in NYC. Kino Lorber's DVD is available on January 19th sporting a 16:9 transfer, 5.1/2.0 sound and deleted scenes for extras.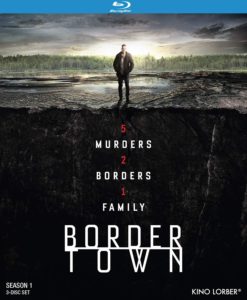 On DVD, Virgil Films offer a pair of new releases: TRAFFICKED, A PARENT'S WORST NIGHTMARE (108 mins., 2020) is an independently produced drama starring Kristy Swanson and Mark Boyd as parents who hire private investigator Dean Cain to find their missing 16-year-old (16:9, 5.1), while NASRIN (92 mins., 2021) provides a biography of "the world's most honored human rights activist and political prisoner," Nasrin Sotoudeh, and her work in the Iranian women's rights movement. Olivia Colman narrates (16:9, 2.0) and the DVD is available, like "Trafficked," on January 26th.
Kino Lorber and Greenwich Entertainment bring viewers Ryan White's documentary ASSASSINS (104 mins., 2020), an examination of the murder of Kim Kong-un's brother in a crowded Malayasian airport…Carolyn Jones' IN CASE OF EMERGENCY (80 mins., 2020) is a new look at public health challenges in the face of COVID, following ER nurses and patients in seven unique settings across the country…Hubert Sauper's EPICENTRO (112 mins., 2020) provides an eclectic look at a "Utopian Cuba," from the explosion of the USS Maine in 1898 to the use of a rising cinema art form for propaganda. Kino Lorber's DVD includes a 16:9 (1.78) transfer and 5.1/2.0 stereo audio in English and Spanish with optional subtitles…Finally, THE CHANGIN' TIMES OF IKE WHITE (93 mins., 2019), Daniel Vernon's examination of a rising music star who recorded an album inside a prison after serving a life sentence for murder. His subsequent release is a part of this fascinating story out on DVD January 26th (1.78, 2.0 stereo).
Warner Archive New Releases
Kicking off Warner Archive's January releases is a welcome high-definition upgrade of THE PAJAMA GAME (102 mins., 1957), a Broadway musical from the same creative team behind "Damn Yankees": writer/co-director George Abbott (this time co-writing with Richard Bissell), composers Richard Adler and Jerry Ross, choreographer Bob Fosse, and co-director Stanley Donen, who helped bring this story about labor strife at the Sleeptite Pajama Factory to the screen. The original show was fun and the screen version captures most of it intact with leads Doris Day and John Raitt developing some chemistry together as well. Another Warner release owned (like "Damn Yankees") by its creators, "The Pajama Game" made a new DVD appearance last year from Warner Archive and here gets a solid 1080p (1.78) AVC encoded enhancement with nice colors and clear 2.0 DTS M,A mono sound. A new extra – the deleted song "The Man Who Invented Love" – premieres here along with the theatrical trailer.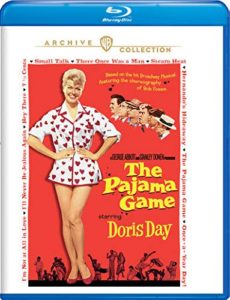 One of the classic "college musicals" also makes a highly anticipated Blu-Ray debut this month from Warner Archive: the 1947 MGM version of GOOD NEWS (93 mins.), a property that had been previously brought to the screen as an early talkie in 1930. This Technicolor extravaganza adds new songs (including Oscar nominated "Pass That Peace Pipe") and a zesty energy from director Charles Walters (later director of the classic "Easter Parade") and screenwriters Betty Comden and Adolph Green. June Allyson and Peter Lawford are terrific as the seemingly mismatched football star and brainy student who tutors him, with Mel Torme also appearing in a favorite of many musical fans. This remastered, beautiful Warner Archive transfer (1.37) offers mono sound; the deleted song "An Easier Way"; excerpts from the 1930 version; an MGM radio promo; and the trailer. Warmly recommended!
Longer, more developed and just as entertaining as its predecessor, AFTER THE THIN MAN (112 mns., 1936) was the second in MGM's delightful mystery-comedy series starring William Powell and Myrna Loy as Nick and Nora Charles. They return here, along with director W.S. Van Dyke, for this first follow-up in the series, set in the Bay Area where the Charleses have to defend Nora's cousin (Elissa Landi) after her no-good husband goes missing. Jimmy Stewart co-stars in what's widely regarded as one of the best in the series despite its heftier running time; Warner Archive's Blu-Ray boasts a crisply rendered B&W transfer (1.37) with extras including a Robert Benchley short and classic cartoon "The Early Bird and the Worm"; a radio show with Powell and Loy; radio promo; and the trailer…Cary Grant and Betsy Drake play a couple who want to bring a new addition into their home in ROOM FOR ONE MORE (95 mins., 1952), an enjoyable, if sentimental, 1952 Warner Bros. comedy from veteran Norman Taurog, who directed the then-married stars in a picture that served as the basis for a short-lived TV sitcom a decade later. Warner Archive's Blu-Ray includes a pair of classic Warner cartoons, the trailer, a 1080p (1.33) transfer and 2.0 DTS MA mono sound featuring a score by Max Steiner.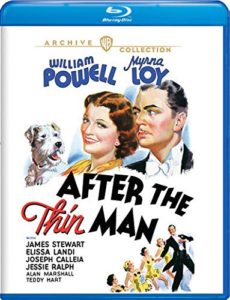 TV on DVD New Releases: The seventh and final season of THE 100 (677 mins., 2020) opens with Clarke and the rest of our heroes trying to meld together the various factions after the destruction of Sanctum, while battling new adversaries and mysteries of the Anomaly. This long-running, cult favorite series has been preserved here with 1080p transfers and DTS MA sound in Warner's multi-disc Blu-Ray release….Season 2 of LEGACIES (678 mins., 2021) continues to chart the goings on at the Salvatore Boarding School for the Young and Gifted, where students do battle with monsters and Malivore, the ancient Evil. Teen action and adventure with Warner's multi-disc DVD including 16:9 transfers and 5.1 Dolby Digital soundtracks.
Season 2 of MANIFEST (557 mins., 2020) finds the survivors of Flight 828 continuing to uncover what happened to them after their plane disappeared, only to reappear years after the fact with none of them having aged. 13 second-season episodes have been preserved here by Warner Archive on DVD with both 16:9 transfers and 5.1 Dolby Digital sound…One of the odder recent serialized series, YOU (494 mins., 2019) stars Penn Badgley as a psychopath who here leaves New York City – and any traces of his most recent murder spree – as becomes attached to a new unwitting victim (Victoria Pedretti) in Los Angeles. Greg Berlanti and Sara Gamble continue their adaptation of Caroline Kepnes' novel and Warner Archive's DVD (16:9, 5.1) preserves its second season on January 26th.
---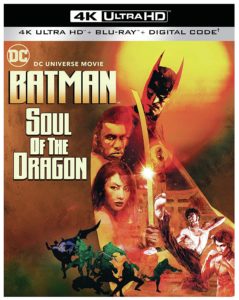 Also New & Noteworthy
BATMAN: SOUL OF THE DRAGON 4K UHD/Blu-Ray (83 mins., 2021, R; Warner): You've got to hand it to the folks running DC's home entertainment division, as they've "remixed" the Dark Knight origin to suit the form of an early '70s martial arts action-adventure – more or less. It's like "Enter the Bat-Dragon" as Wayne teams up with Richard Dragon, Ben Turner and Lady Shiva to take down a vile bad guy in an "Elseworlds" tale that's a decent outing for Bat-fans, especially those looking for something a little different. The R-rated "Soul of the Dragon" debuts this week on 4K UHD in a HDR10 package with DTS MA 5.1 audio and extras including two featurettes, a look at "Justice Society: World War II," two bonus cartoons, a Blu-Ray copy, and Digital HD code.
DOOM PATROL: The Complete Second Season Blu-Ray (461 mins., 2020; Warner): The highlight of the defunct DC Unlimited streaming service, "Doom Patrol" is back for another season of weird fantasy, action and humor. Led by their estranged leader Niles Caulder (Timothy Dalton), the Doom Patrol is your typically nutty assortment of less-popular heroes – Robotman (Brendan Fraser), Negative Man (Matt Bomer), Elasti-Woman (April Bowlby), Cyborg (Joivan Wade) and multiple-personality afflicted Crazy Jane (Diane Guerrero) – who team up here to battle their respective pasts, with the addition of Niles' daughter (Abigail Shapiro) into the mix, Warner's Blu-Ray includes 1080p transfers and 5.1 DTS MA soundtracks…Also new from Warner is Season 1 of the TNT series SNOWPIERCER (459 mins., 2020), a serialized adaptation of Bong Joo Ho's predecessor to his Oscar winning "Parasite," set on a futuristic train with over 1000 cars circling the globe with the last vestiges of mankind onboard. Jennifer Connelly and Daveed Diggs lead an ensemble cast in this dramatic rendering of the graphic novel and movie, brought to Blu-Ray January 26th from Warner (1.85, 5.1 DTS MA) with a digital copy and numerous behind-the-scenes featurettes all included…Finally, SCOOBY-DOO! AND GUESS WHO? The Complete First Season (585 mins.) is the latest installment of the long-running Hanna-Barbera franchise. This one takes a welcome throwback approach to the characters, tasking the Mystery Inc. gang with investigating an assortment of mysteries with the help of celebrities like Batman, Sia, Chris Paul, George Takei, Steve Urkel (!) and many others. All 26 Season 1 episodes have been assembled here in a four-disc DVD Warner release with stereo sound.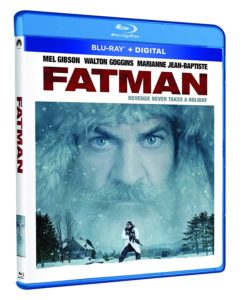 FATMAN Blu-Ray (99 mins., 2020, R; Paramount): Mel Gibson playing Santa Claus obviously holds some kind of curiosity value, but this surprisingly (mostly) witless "black comedy" manages to completely botch its premise of a modern day Santa being on the hit list after a spoiled rich kid receives a lump of coal and sends his hired gun (Walton Goggins) after him. "Bad Santa" this isn't, even as writer-director brothers Ian and Eshom Nelms attempt to hit Coen Brothers-inspired levels of irony – and fail across the board. Paramount brings this joyless direct-to-demand production to Blu-Ray (2.35, 5.1 DTS MA) later this month, the disc including a Digital HD copy, deleted scenes, commentary from Gibson and company, and a storyboard-to-film featurette…Also new from Paramount is their first "Paramount Presents" release of the new year: a remastered edition of Danny Kaye's THE COURT JESTER (101 mins., 1955), the full-color, VistaVision musical with Kaye starring alongside the likes of Glynis Johns, Angela Lansbury, Mildred Natwick and Cecil Parker. Marking its 65th Anniversary, "The Court Jester" has been remastered from a 6K film transfer of the original VistaVision negative and looks spectacularly colorful and crisp. Extras include a new featurette with Leonard Maltin and the trailer, a Digital copy, and DTS MA mono audio.
SPELL Blu-Ray (91 mins., 2020, R; Paramount): Loretta Divine vamps it up as a black magic practitioner who holds a plane crash survivor (Omari Hardwick) hostage in a watchable but ultimately underwhelming supernatural outing written by veteran scribe Kurt Wimmer. Paramount's Blu-Ray includes a DTS MA soundtrack, 1080p transfer, Digital copy, 15 deleted scenes and over an hour of bonus content…Debuting on DVD is the latest Bruce Willis just-for-the-money cameo, BREACH (92 mins., 2020, R), a predictable and dreadful tale about a creature stalking the last remaining humans after they flee Earth following a catastrophic plague. Willis, Thomas Jane and Rachel Nichols appear with "Riverdale"'s Cody Kearsley in a mundane exercise from director John Suits. Paramount's DVD (16:9, 5.1) of the Saban Films co-production debuts this week with a digital copy.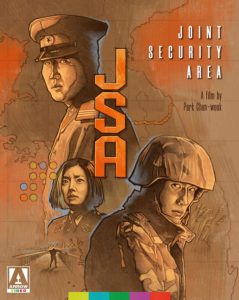 JSA: JOINT SECURITY AREA Blu-Ray (109 mins., 2000, Not Rated; Arrow): Visionary Korean filmmaker Park Chan-wook's early film "JSA" gets the deluxe treatment this month from Arrow. Prior to his groundbreaking "Oldboy" and "The Handmaiden," Park helmed this tense look at life hanging on by a thread in the demilitarized zone between North and South Korea, where two North Korean soldiers have turned up dead and an injured South Korean soldier escapes to safety. A neutral team of investigators is dispatched to uncover the truth in this South Korean award-winner here restored in a 1080p (2.35) AVC remastered transfer with 5.1 DTS MA and 2.0 PCM Korean soundtracks; a new commentary by critic Simon Ward; isolated music/FX track; a new interview with Asian cinema writer Jasper Sharp; two archival featurettes on the production; a series of vintage intros to the film from the cast; two music videos; behind-the-scenes and opening ceremony montage; trailers and TV spots.
SYNCHRONIC Blu-Ray (103 mins., 2019, R; Well Go USA): Anthony Mackie and Jamie Dornan play paramedics who are called to the scene of a number of strange accidents they initially believe are the result of a new party drug – one that does very improbable things to those that ingest it. Justin Benson and Aaron Moorhead, directors of "The Endless," helmed "Synchronic," which comes to Blu-Ray from Well Go on January 26th. The disc includes commentary with the directors, an alternate ending, a Making Of, featurettes, a 1080p transfer and DTS MA sound.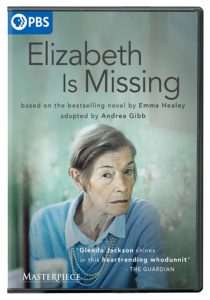 PBS New Releases: Glenda Jackson makes her first screen appearance in 27 years in the Masterpiece production ELIZABETH IS MISSING (90 mins., 2019) as an elderly woman attempting to solve the disappearance of her best friend, all the while combating her own dementia. PBS' DVD (16:9, 2.0 stereo) is now available…The single-disc PBS DVD AGATHA CHRISTIE (90 mins., 2018) includes a pair of documentaries looking at Christie herself ("Inside the Mind of Agatha Christie") as well as "Agatha Christie's England," which focuses in on the real locales that informed her writings. This PBS DVD streets on January 26th featuring 2.0 stereo sound and 16:9 transfers.
On the Nature side comes SANTA'S WILD HOME (53 mins., 2020), a chronicle of Lapland and its varied wildlife and changing seasons, shot with superb photography; and the BBC Earth production PRIMATES (160 mins., 2020), which was filmed on over 28 expeditions around the globe, from Borneo to Madagascar, as it profiles the primate world in three distinct parts. Both DVDs offer top-notch 16:9 transfers and 5.1 sound…Finally, from Frontline comes A THOUSAND CUTS (100 mins., 2020), a profile of the authoritarian regime of Philippine president Rodrigo Duterte as seen through the perspective of crusading journalist Maria Ressa. Ramona S. Diaz's film is new on DVD this month from PBS (16:9, 2.0 stereo).
COME PLAY Blu-Ray (96 mins., 2020, PG-13; Universal): Overly familiar, if reasonably well told, supernatural tale about an autistic boy (Azhy Robertson) who "befriends" an unseen creature/monster/spirit via his electronic voices recycles materials from countless other movies — especially the superior Japanese genre exercise "Dark Water." Still, writer-director Jacob Chase's film draws sensitive characters to back the familiar happenings, making it a more restrained effort than one might anticipate — if, ultimately, still best left to genre aficionados. Universal's Blu-Ray (2.39, 5.1 DTS MA) is now available and offers a digital HD code.
Film Movement January Releases: A Native American teen (Kendai DelaCerna) sets out along the Stark River to find her estranged mother in ONCE UPON A RIVER (92 mins., 2020), writer-director Haroula Rise's adaptation of Bonnie Jo Campbell's bestselling novel. Film Movement's DVD (2.39, 5.1/2.0) is now available featuring a bonus segment on Zach Rae's music…Midi Z's THE ROAD TO MANDALAY (108 mins., 2020) is a potent drama focusing on Burmese immigrants who sneak past Thailand security forces and across the Mekong river. This acclaimed Taiwanese import is new on a DVD (1.85, Chinese/Burmese/Thai with English subtitles) that also includes Chinese director Wei Shujun's short "On The Border" as a bonus feature…Finally, documentary filmmaker Deborah Shaffer's QUEEN OF HEARTS (75 mins., 2020) profiles Audrey Flack, an artist whose 40-year career evolved from expressionism in the '50s to '70s photo-realism. Her controversial career is profiled here alongside her parenting of an autistic child in a Bacchus Films release, recently distributed by Film Movement on DVD. The disc (1.78, 5.1/2.0) includes deleted scenes and a filmmaker Q&A at the Ashland Independent Film Festival.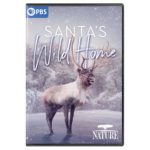 New From Sony on DVD: A couple of recent Sony DVD releases include the story of a Flipina teen who wants to become a country star, YELLOW ROSE (94 mins., 2020, PG-13), which was directed and co-written by Diane Paragas (16:9, 5.1); the well-reviewed independent buddy film THE CLIMB (94 mins., 2020, R), starring Michael Angelo Covino and Kyle Marvin (who also directed, wrote and produced together) in a film about BFF's who eventually discover they may need to spend some time apart (2:1, 5.1). Sony's DVD also includes commentary, deleted scenes, and the duo's original short; and THE LAST SHIFT (90 mins., 2020, R), Andrew Cohn's drama about an aging fast-food worker (Richard Jenkins) who tutors his young replacement (Shane Paul McGhie) in a quiet drama nicely played by both actors (2:1, 5.1).
NEXT TIME: More of the Until then, don't forget to drop in on the official Aisle Seat Message Boards and direct any emails to our email address. Cheers everyone!