Message Board (open 24 hours!)
Twitter - @andredursin (for everything else!)
No series in the history of the cinematic horror genre has endured as long as the Universal Monster classics of the 1930s and '40s – a time marked by the Great Depression, the rise of Hitler's Germany and America's eventual involvement in WWII. At the outset, the Universal films were hugely successful with audiences seeking an escape, but by the time the U.S. became embroiled in the conflict, the popularity of the studio's trademark monsters became less inviting to viewers, who turned their attention to war-time enemies as the cinematic nemesis of choice. Before that happened, however, Universal established a litany of Monster Classics that would inspire long-running franchises and become favorites of viewers for generations to come.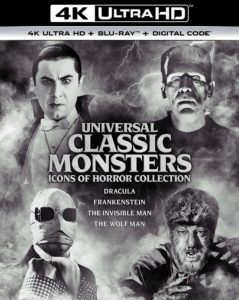 Universal brings the Monsters – at least the initial "big four" entries in the Dracula, Frankenstein, Wolf Man and Invisible Man series – to 4K UHD this October for the first time with UNIVERSAL CLASSIC MONSTERS: ICONS OF HORROR COLLECTION. This UHD/Blu-Ray combo preserves a quartet of the studio's genre benchmarks, all presented in brand new 4K remasters (1.37 B&W, high bit-rate HVEC endcodes) with HDR and the same supplements that have graced previous releases of these films.
Looking at Tod Browning's 1931 DRACULA (75 mins.) is virtually like gazing upon the Bela Lugosi classic for the first time, as HDR and a new 4K transfer enhance the details and deep contrast levels of this fresh remaster, which is indeed darker but more nuanced than its Blu-Ray counterpart. The movie is best remembered for its opening Transylvanian set-piece that introduces viewers to Lugosi's unforgettable count, and while the London sequences tend to be static and dull by comparison, the increased detail seen here in the UHD presentation even makes the talky, later sections of the picture more interesting. The DTS MA mono sound is nearly crackle-free, and Philip Glass' Kronos Quartet score (which makes the stilted drawing room sequences a bit livelier at least) is also available in Dolby Digital stereo.
Supplements include two commentary tracks reprised from prior editions: an authoritative discussion by historian David J. Skal and a later talk with Steve Haberman (screenwriter of the awful Mel Brooks spoof "Dracula: Dead and Loving It"), both offer enlightening analysis and artistic commentary on the film; "The Road to Dracula" (35 mins.), hosted by Carla Laemmle, returns here from its original DVD appearance, as does the still gallery "Dracula Archives" (8 mins.), while "Lugosi: The Dark Prince" (36 mins.), a carry-over from the 75th Anniversary DVD, sports interviews with historians and directors including Joe Dante who pay tribute to Lugosi's career. Trailers are included for the whole Universal "Dracula" series (Dracula, Dracula's Daughter, Son of Dracula and House of Dracula), and an eight-minute restoration featurette (HD) includes a look at the studio's efforts to restore both the English and Spanish language versions as a part of their centennial efforts, noting that a portion of the Spanish "Dracula" had to be taken from an international print as the studio's negative was badly damaged during the third reel. Speaking of the Spanish "Dracula," it too has been lovingly restored here in a new 4K UHD encode that's perhaps not quite as crisp as the Lugosi version, even if the elements seem to be, on balance, in healthier condition. An optional introduction with star Lupita Tovar is included as well.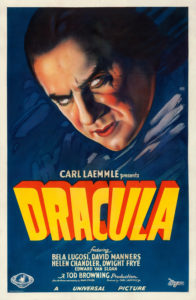 James Whale's FRANKENSTEIN (71 mins.) introduced viewers to Boris Karloff in his legendary role as the Frankenstein monster, and while the film remains a striking work for its 1931 release date, it pales in comparison to "The Bride of Frankenstein," which sadly wasn't included here. Minus Franz Waxman's classic score, the 1931 original isn't as playful or inventive as Whale's sequel, making one hope Universal produces another 4K box-set next Halloween with its inclusion.
"Frankenstein" once again includes a number of supplements carried over from prior releases: "The Frankenstein Files" is an engaging 45-minute account of picture's production and legacy; "Karloff: The Gentle Monster" (36 mins.) is a carryover from the 75th Anniversary release; "Frankenstein Archives" is another 10-minute assortment of stills; "Boo!" is a fun 1932 Universal "Brevity"; commentaries are provided by Rudy Behlmer and Sir Christopher Frayling; and a full trailer gallery boasts the original coming attractions for Frankenstein, Bride of Frankenstein, Ghost of Frankenstein, Frankenstein Meets the Wolf Man and House of Frankenstein. Also present on the "Frankenstein" disc is Kevin Bronlow's fine 1998 TCM documentary, "Universal Horror." This examination of the beginnings of Universal's monster franchises is narrated by Kenneth Branagh and offers ample vintage footage, interviews and an entertaining look into the genre's origins.
In between "Frankenstein" pictures, James Whale helmed a magnificent adaptation of H.G. Wells' THE INVISIBLE MAN (71 mins.), a 1933 classic that, in certain ways, holds up better than any of Universal's earliest genre outings for sheer dramatic impact. Claude Rains gives a memorable performance as a scientist who slowly goes mad after an experiment renders him invisible – a portrayal that relies heavily on his voice since Rains is only on-screen for a few minutes. John P. Fulton's visual effects, especially for their era, are superb, and Gloria Stuart believably renders Rains' sympathetic girlfriend.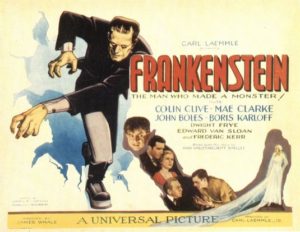 Arguably the healthiest looking of the original, early '30s Universal Monsters classics, "The Invisible Man" appears in top form with this new HDR-enhanced HVEC transfer – there's still a bit of filtering present in some sequences (like "The Mummy," some scenes seem to be affected more than others), but on balance the transfer is exceptionally good for any film of its vintage. Special features include the original DVD doc, "The Invisible Man Revealed" (35 mins.) plus production photographs, trailers for the Invisible Man series, and commentary by Rudy Behlmer.
Scripted by Curt Siodmak, Universal's 1941 favorite THE WOLF MAN (70 mins.) stars Lon Chaney Jr. as Larry Talbot, who becomes cursed with the fate of a werewolf after wandering in the forests of Wales and bitten by one of the creatures. Claude Rains plays Talbot's father, and the supporting cast includes Maria Ouspenskaya and Bela Lugosi as the Gypsies who predict Talbot's fate, along with Evelyn Ankers as his love interest and additional supporting turns from Ralph Bellamy and Patric Knowles. The settings, atmosphere, and direction (by George Waggner) are all top-notch and the movie compares favorably with the Universal chillers of the period.
Once again, a new, fine-grain 4K remaster graces this Universal presentation with bountiful extras, highlighted by David J.Skal's "Monster by Moonlight" documentary, a DVD carryover hosted by John Landis, which is an engaging look into the Wolfman's creation and phenomenon as the last great character to originate from Universal's "Golden Age" horror cycle. Eschewing the testimony of countless historians (as were utilized in Skal's other documentaries) in favor of interviews with make-up artist Rick Baker (who discusses Jack Pierce's lasting legacy) and screenwriter Siodmak, the program is entertaining and enlightening, even though it uses a generous selection of film clips from the Wolfman's subsequent cinematic appearances to round out the program. Of special interest to film music fans will be the discussion of "The Wolf Man"'s musical score by Frank Skinner, Hans Salter, and Charles Previn, which is given a few minutes of analysis in the documentary by John Morgan and conductor William Stromberg. Morgan notes how most film scores today consist of musical wallpaper while Stromberg discusses one particular cue that had been cut down in editing, where Talbot watches a Gypsy burial. The "Archives" section also contains an abundance of still-frame photographs and publicity shots, underscored by the original music without dialogue.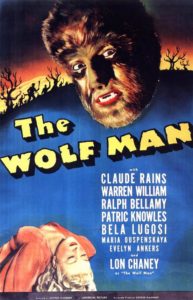 Universal authority Tom Weaver's insightful commentary also returns, along with the eight-minute "The Wolf Man: From Ancient Curse to Modern Myth" (10 mins.) and the 2009 effort "Pure in Heart" (37 mins.), a loving tribute to Lon Chaney, Jr., with historian Gregory Mank, Rick Baker, Joe Dante, Kim Newman and others paying respect to the original Larry Talbot. Trailers for Werewolf of London, The Wolf Man, Frankenstein Meets the Wolf Man, House of Frankenstein, House of Dracula and She-Wolf of London round out the disc, which also includes the Jack Pierce documentary "He Who Made Monsters."
All the discs are contained in a hardbound "digibook" with original poster artwork, similar to the initial Blu-Ray Monsters anthology Universal released in 2012. Speaking of those discs, Blu-Rays accompany each UHD (these are identical to their last format go-around and are not newly remastered) along with a 4K digital code for the quartet. Highly recommended for Halloween viewing, though I fully expect a second volume for 2022 featuring "Bride of Frankenstein," "The Mummy," "Creature From The Black Lagoon" and "Phantom of the Opera" to be on the docket!
---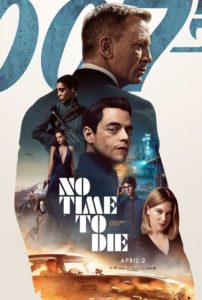 New in Theaters (SPOILERS)
NO TIME TO DIE (**, 163 mins., PG-13): The long-delayed conclusion to the Daniel Craig/James Bond era is a huge disappointment. Droning on for a 2½-hour plus run time that's never justified, this 25th Eon 007 film – Craig's fifth – is marked by routine, forgettable action, a lack of wit, and finally, an ending that's intentionally "controversial" and seems to confirm what director Danny Boyle hinted years ago when he walked off the picture: that this was less a James Bond movie than a Daniel Craig therapy session.
That, without divulging all the details (sorry in advance folks, but you'd better see this quickly as there's no way around spoilers), sums up director Cary Joji Fukunaga's bloated affair. The story line — credited to Fukunaga, Phoebe Waller-Bridge and the veteran Eon duo of Neil Purvis and Robert Wade — is so convoluted that portions of it still make no sense at the end (if anyone can explain why the "bad CIA guy" wants to kill Bond and his girlfriend, have at it) — but it's the entire tone of this movie that's just odd. It's still a "Bond movie" to a degree but mostly plays like a wholly different type of dreary spy thriller that's in-step with what Craig likely wanted – one featuring a softer, more domesticated 007 than the tough-as-nails creation of Ian Fleming that Craig embodied at the start of this cycle. That evolution ends up being an entirely unconvincing one, especially within the context of the four films that preceded it, and also as far away from its original source as one can possibly imagine. Even worse, this shift isn't a positive for Craig himself, who's far less convincing in scenes when he's supposed to display emotion as opposed to serving as a brooding 007 of few words.
The screenplay is also hampered by having to exist as a direct "Spectre" sequel that carries on its (equally unimpressive) predecessor's formula of tedious action shot in dingy confines, with much of the set-pieces involving Bond running up and down stairs and claustrophobic corridors, marked by bland sets and desaturated cinematography. Remi Malek may be billed here as the movie's official "bad guy," yet he's mostly wasted and relegated to the movie's finale, wherein Fukunaga tries to evoke classic Bond endings where villains take an eternity to spell out their plans and set up shop on a secluded island. Unfortunately, while you might feel like he's paying homage to classic Bond formula, someone forgot to include "fun" in this picture's equation as the movie laughably concludes with a teary-eyed finale that sends Bond to the same big-screen hero graveyard that Han Solo and Luke Skywalker have recently been buried in (look out Indiana Jones, I'm guessing you're next!).
Despite the overall disappointment level, "No Time To Die" isn't unwatchable and stays afloat with minor pleasures — Lea Seydoux manages to be even more attractive and fetching here than she was in "Spectre," and Ana De Armas is fun for a few, very fleeting minutes while Bond heads to Cuba (sadly, she exits the film as quickly as she enters it). 007 fan-service can be felt in Daniel Kleinman's opening titles, which offer a few "Dr. No dots," and Hans Zimmer's surprisingly deft score, which boasts brassy Barry flourishes and smart callbacks to Bond movies past. Those ghosts, though, eventually haunt a film that can't seem to make up its mind as to what it wants to be — a Bond movie that doesn't seem like it actually wants to be one, right down to the blaze of glory finale that's likely to irritate portions of its fanbase, which may have been its star's point in the first place.
NEXT TOMORROW: Sony's COLUMBIA CLASSICS - ULTRA HD 4K COLLECTION Volume 2! Until then, don't forget to drop in on the official Aisle Seat Message Boards and direct any emails to our email address. Cheers everyone!