Message Board (open 24 hours!)
Twitter - @andredursin (for everything else!)
One of my earliest movie-going memories was sailing up and down the coast of Maine with my parents during the summers of 1980 and '81. A few of the towns we'd anchor in had movie theaters and occasionally we'd end up rowing into shore and walking into an old-time neighborhood movie theater, like the one that happened to be playing THE FOUR SEASONS (108 mins., 1981, PG), the feature directorial debut of M*A*S*H's Alan Alda and by far his biggest box-office hit.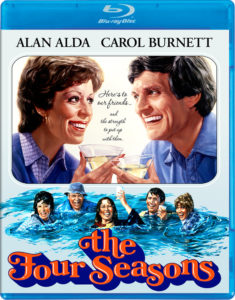 Now, I was far too young to really understand what was going on during this film, but I still remember the sight of Jack Weston's Mercedes crashing through the ice at the film's conclusion and people roaring with laughter – the kind that was infectious even to a not-quite 7-year-old.
While I remember that moment fondly, "The Four Seasons" hasn't circulated a whole lot over the years – surprising for a box-office smash that became one of the Top 10 hits of 1981. However, just as they did for Alda's charming follow-up, "Sweet Liberty" (1986). Kino Lorber has resurrected both this picture – and Alda's earlier "The Seduction of Joe Tynan" – and given them new life on Blu-Ray, enabling many of us to appreciate the film again, and for the first time in high-definition as well.
Working from his own screenplay, "The Four Seasons" manages to offer profound insights into the nature of friendship while being simultaneously superficial in certain areas. The movie stars Alda and Carol Burnett as one of three married couples entering into middle age who vacation with one another – Rita Moreno and Jack Weston's pairing provide most of the comedic elements in Alda's episodic film, with the dramatic components coming via the surprise divorce of the third couple, played by Len Cariou and Sandy Dennis. In fact, after Cariou's character brashly takes up with a younger woman (the very fetching Bess Armstrong), the dynamic between the group shifts as surely as the seasons that mark the passage of time in Alda's movie.
There are a lot of laughs in "The Four Seasons," some nice location filming from Victor J. Kemper (in Vermont, Virginia, Georgia and the Virgin Islands), and believable performances from the ensemble – though to be fair, Alda's writing, while being successful at conveying the movie's overall message (that if you want friends, you're going to have to put up with all of their idiosyncrasies), mostly functions on a "TV level." Despite spending nearly two hours with these people, we know very little about how them and their backgrounds – especially the female characters, with the movie providing a thankless role for Burnett in particular. At one point Armstrong's character complains about being "the other woman" and not fitting in the group, yet outside of her own description, there's literally nothing the audience knows about her beyond this line. Excepting Cariou's reasons for leaving Dennis, the characters' respective motivations are scarcely examined in general, with much of the dialogue setting up punch lines or dramatic predicaments the group find themselves in. It's still a very appealing, warm and likeable film, even if it's mostly on a surface level.
"The Four Seasons" opened in Spring of '81 and played throughout the year (hence my summer viewing with my folks), providing adult viewers with an oasis of alternative programming from an onslaught of genre classics that dominated the marketplace that summer ("Raiders," "Superman II," "Clash of the Titans," "For Your Eyes Only," etc.). This long-overdue 1080p master (1.85) from Universal looks a little aged but is generally pretty good, with a mono soundtrack, trailer/TV spots, and a commentary from journalist Bryan Reesman included.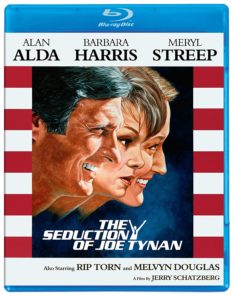 Prior to Alda's triumph with "The Four Seasons," he wrote – but did not direct – the political drama THE SEDUCTION OF JOE TYNAN (107 mins., 1979, R), another Universal title that makes its long-overdue debut on Blu-Ray this month thanks to Kino Lorber.
Alda plays a well-intentioned and generally goodhearted senator who juggles a number of situations involving his public persona and voting record – especially concerning a Supreme Court nominee with a checkered past – and issues at home involving his wife (Barbara Harris) and teen daughter (Blanche Baker). Complicating things is a civil rights activist (Meryl Streep) who brings more than her agenda to the table, and starts an affair with Tynan, who finds his life at home and in the public eye being increasingly split apart.
It's hard to envision a lot of "Joe Tynans" in Congress these days – but perhaps there never really were at the time of its production either, as Alda's view of D.C. and its assorted power players seems much more idealistic and Capra-esque than real. In Alda's drama, there aren't any conservative opponents with ideological disagreements – the politicians here range from old-school Democrats to new-school Democrats, which only detracts from what could've been a more fiery relationship between Alda and Streep's characters. The main sparks, then, are provided by Harris' frustrated and overly patient spouse who cares more about keeping her kids together than in advancing her husband's growing political ambitions – Harris, as always, is terrific here, and nearly all of Alda and director Jerry Schatzberg's most effective moments involve her character.
Very much worth a view on Blu-Ray despite its shortcomings, "The Seduction of Joe Tynan" here includes a competent Universal master (1.85) with 2.0 DTS MA audio. This isn't one of Bill Conti's more memorable scores from what was his most prolific period – and seems to have less to do as the movie progresses – while Kino has included the trailer, radio spots, and another commentary by Bryan Reesman on the supplemental side.
Jean-Claude Van Damme had developed a solid rep amongst action fans by the time he was recruited to star in HARD TARGET (100 mins., 1993, Unrated; Kino Lorber), a late summer '93 release from Universal that marked the first American feature for its director, HK action auteur John Woo. Making its 4K UHD debut this month from Kino Lorber, "Hard Target" can be dopey in the same manner as Woo's second American feature, "Broken Arrow," yet when the action finally kicks into gear, the movie delivers in a way that only a genre exercise from its era possibly could.
Sam Raimi was one of the producers on "Hard Target," and recruited his "Darkman" co-writer, Chuck Pfarrer, to pen the screenplay. While most plot descriptions instantly peg this as a variation on "The Most Dangerous Game" (which itself would be shortly, and more straightforwardly, remade as the Ice T/Rutger Hauer New Line effort "Surviving the Game"), Pfarrer's story places its hunters (Lance Henriksen, a pre-Mummy Arnold Vosloo) and their pursuit of human quarry against a secondary story involving a woman (Yancy Butler) trying to piece together her father's disappearance. She hires local New Orleans military vet Van Damme for the job, only to find out her estranged – and homeless – pop was killed as part of the rich people's "sporting contest," a discovery that soon sends her and JCVD into the backwoods bayou in order to survive.
"Hard Target" takes a little too long to get going and could've used an additional Van Damme set-piece or two during its first hour – yet the second half is pretty fun, filled with some seriously good stunt work (JCVD and/or his double riding on top of a motorcycle) and outlandish situations that Woo mostly frames in his trademark slow-motion. These sequences are, expectedly, well choreographed and ultimately put the film over the top, making it something short of a classic but reasonably fulfilling as a guilty pleasure.
Kino Lorber's 4K UHD edition debuts an attractive 4K remaster, graded with Dolby Vision HDR (1.85) bathed in the movie's warm colors as captured by cinematographer Russell Carpenter. The dynamic range is expectedly wider than the remastered Blu-Ray (based on the same 4K scan, and available in this set or separately in its own standalone release), though there is a hang-up with the audio on the UHD, where effects come out of the reversed left/right speakers in its 5.1 track. The original two-channel Dolby mix (2.0) also has an obvious problem with dialogue blaring out of every speaker as well – but the good news is that Kino Lorber immediately announced an easily accessible replacement program so there is no need to wait on a fresh batch of discs before purchasing.
All-new supplements include fresh conversations with John Woo, Lance Henriksen, Yancy Butler, and stunt coordinator Billy Burton. These were understandably conducted over Zoom and lend some insight into the film's production, while the trailer and a slipcover complete a recommended release for fans looking for a bit of Van Dammage this holiday season.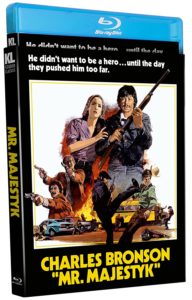 One of Charles Bronson's better films from the 1970s, MR. MAJESTYK (103 mins., 1974, PG) offers Bronson as a former Vietnam vet who's settled into farming watermelons in Oregon. His tranquil existence is, naturally, threatened by both his neighbors and corrupt cops – not to mention a mob hit man (Al Lettieri) in an engaging Elmore Leonard screenplay that affords Bronson an opportunity to play a more sympathetic role than usual while he engages in the usual fisticuffs and shootouts. Richard Fleischer handles the material with a veteran hand, and Linda Cristal and Lee Purcell provide the strong female presence in the picture.
"Mr. Majestyk" has been remastered here in a new 2K master (1.85) that, like many of these recent "second time around" MGM titles, offers an increased color range and superior contrast levels that top MGM's serviceable older master. Sweetening the pot is an insightful commentary from Bronson expert Paul Talbot, who provides insight into the movie's production; interviews with Lee Purcell and cinematographer Richard H. Kline; the TV spot and trailers.
The 1976 ABC TV movie 21 HOURS AT MUNICH (101 mins., 1976) is a workmanlike, docudrama account of the terrorist attack on the 1972 Munich Olympics. Here, the Palestinian terrorists (led by Franco Nero) are portrayed in cold, clinical terms while the Israeli athletes they eventually take hostage – en route to a spectacularly botched rescue mission – are likewise showed in a detached, "just the facts" manner by director William Graham and writers Edward Hume and Howard Fast. The trio, working from a Serge Groussard book, spend as much time on the efforts of the chief of police (William Holden) to stop a potential massacre from taking place which, ultimately, it more or less does anyway.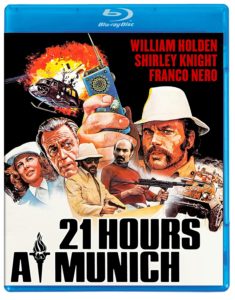 Using actual location shooting and footage from the Games helps (Jim McKay's narration even opens the film), but "21 Hours at Munich" is surprisingly bland and passionless – for those of us who didn't live through the moment, it's useful through its reported historical accuracy, but the dramatic engagement is small, and not even the efforts of composer Laurence Rosenthal are up to his usual standard. Kino Lorber's Blu-Ray includes good-looking, dual 1.33 and 1.78 aspect ratios licensed through MGM – though Jost Vacano's lensing was clearly intended for the former, as the latter appears overly cramped. The trailer is also on-tap plus a new commentary from historian/screenwriter Gary Gerani.
'70s Remasters: Two early '70s cult hits with Elliott Gould that have already been a part of the Kino Lorber library have been newly reissued by the label – one with a fresh 4K remaster to boot.
The movie that requires the least amount of introduction between the duo is clearly THE LONG GOODBYE (112 mins., 1973, R), the UA adaptation of Raymond Chandler's Philip Marlowe mystery from writer Leigh Brackett that was unconventionally – but also brilliantly – brought to the screen by director Robert Altman in what's one of the auteur's finest films. Gould's offbeat performance as Marlowe is fascinating while Altman balances with the framework of a '40s noir set with the sensibilities of the cynical '70s. In fact, this remains one of the most invigorating of oft-mentioned early '70s film staples, with Vilmos Zsigmond's scope lensing and John Williams' savvy score mixing perfectly with Altman's take. The result is at-times weird and wonderful, and enhanced here with a new 4K remaster (2.35) that's warmer in color tone and more satisfying in its overall appearance to MGM's older catalog effort, which Kino Lorber previously released on disc.
Extras here include a new, consistently informative commentary track by Tim Lucas along with a smattering of extras from both MGM's DVD (featurette interviews with Altman, Gould and Vilmos Zsigmond) and Arrow's 2013 Blu-Ray (featurettes with David Thompson, Tom Williams and Maxim Kakubowski), plus trailers, radio/TV spots, and a Trailers From Hell segment. Another great touch: the cover utilizes the original artwork of Mad Magazine's Jack Davis.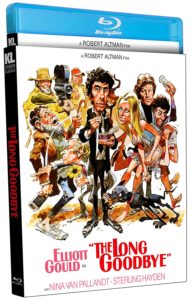 Gould, who had been going through a dry spell, followed up the movie with BUSTING (92 mins., 1974, R), Peter Hyams' directorial debut that chronicles the adventures of a pair of tough L.A. cops (Gould and Robert Blake) who won't stop going after a local crime boss (Allen Garfield) even after they get demoted. This production from future "Rocky" producers Irwin Winkler and Robert Chartoff effectively serves as an early blueprint for the cop-buddy genre, but Hyams – working from his own screenplay – instills a hard edge that makes this a memorable, sharp 90-minute police procedural that was especially fresh for its time. This Kino Lorber Blu-Ray is a reissue of their previous 2015 release including a fine MGM catalog master (1.85, mono) with the trailer and two commentaries: one with Peter Hyams, and another track with Elliott Gould and critic Kim Morgan.
Cult Favorites: A movie which has always carried a small cult following despite the fact it's been notoriously difficult to find, Allan Arkush's GET CRAZY (92 mins., 1983, R) is a wild and woolly comic collage showing the backstage shenanigans prior to a New Years Eve Concert at L.A.'s "Saturn Theater." Arkush's movie follows the efforts of its manager/promoter (Allen Garfield) to mount a disparate collection of musical acts, ranging from reclusive folk performers to a boozy British star (Malcolm McDowell), all the while his staff – led by hard-working Daniel Stern – struggles to ready the physical production while juggling the nutty personalities they have to corral.
"Get Crazy" offers a big cast – Gail Edwards, Ed Begley Jr., Stacey Nelkin, Robert Picardo, Miles Chapin, Paul Bartel, Lee Ving, Lou Reed and Lori Eastside among them – in a movie that's frantic and zany from its first frames to the end. Perhaps too zany, since I found the movie's "Airplane!"-styled humor to be scattershot in its effectiveness – yet whether the film works for you or not will depend on your fondness for its era and its music. Arkush instills the film with the same sensibilities that he brought to "Rock 'N Roll High School," and if you're into the early MTV era of pop music and a cross-section of performers from its time, "Get Crazy" will likely carry a fair amount of appeal. Those lacking a fondness for the overall scene the movie presents may struggle to be entertained.
One thing that's certain is Kino Lorber's Blu-Ray offers a spectacular package for fans. "Get Crazy" apparently bypassed a remastered DVD because the movie's elements couldn't be located. This Blu-Ray offers a new 2K master (1.85) that's reasonably healthy in its appearance, carrying Arkush's approval – something that carries over to a new commentary track (with Eli Roth and Daniel Kremer also on-hand) and a feature-length documentary. While the latter is hampered by its Zoom assemblage of on-camera interviews, there are plenty of great anecdotes and laughs to be had as Arkush talks with an array of participants from the film's production. Three music videos, the trailer, a Trailers From Hell segment, "Fan Fiction with No Dogs in Space" featurette, and a slipcover are also included. One thing that should be noted is that the movie was released in Dolby Stereo but the 2.0 DTS MA mix here varies from occasional multi-channel flourishes to single-channel mono, likely a case of us having to live with the surviving elements in the MGM vaults (Arkush noted in older interviews that the "sound elements" were a hold-up for the DVD release that never happened, so this may be a carryover from that).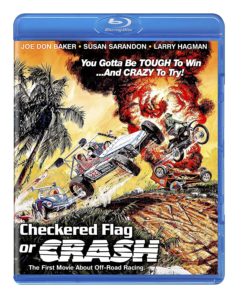 New from Code Red and Kino Lorber is CHECKERED FLAG OR CRASH (95 mins., 1977, PG), a highly obscure Universal release that you might surmise was just one of a million films produced during the "Smokey & The Bandit"/"Eat My Dust" era of late '70s car chase pictures. A closer inspection reveals this Fred Weintraub/Paul Heller production about an international car rally, the Manilla 1000, its star competitor (Joe Don Baker), obnoxious promoter (Larry Hagman), and the reporter covering it all (Susan Sarandon), was a cut above in terms of its physical production. Director Alan Gibson brought along the great British cinematographer Alan Hume to Manila, where this Philipines-lensed affair was attractively lensed in anamorphic widescreen.
The movie isn't much of anything dramatically but the interesting setting, Sarandon's appeal, and the restoration of its widescreen dimensions here in Code Red's 2K master (2.35) make this the first real opportunity anyone will have had to see "Checkered Flag or Crash" in its proper aspect ratio since its theatrical run. Kino Lorber's disc includes the trailer and a mono soundtrack, one that does feature an agonizingly bad title song.
Also new from Code Red are a pair of genre exercises: BLUE MONKEY (96 mins., 1987, R) is a Sandy Howard production shot in Canada for tax purposes. Helmed by Canadian horror specialist William Fruet, it's a watchable, low-budget "Aliens" knockoff with detective Steve Railsback – back from outer space after "Lifeforce" – attempting to stop a growing insect from busting out of the hospital it's contained in. John Vernon and SCTV vets Joe Flaherty and Robin Duke pop up for some minor laughs in a likewise minor horror exercise – one that graced VHS rental stores with its memorable RCA/Columbia cover art – that's here transferred from uncut 35mm negatives (1.78) and presented with trailers and DTS MA sound...Director Brett Leonard shot onto the map with the low-grade horror feature THE DEAD PIT (102 mins., 1989, R), the story of an insane doctor (Danny Gochnauer) who experiments on his patients and sends them into the basement of an asylum. These patients/undead eventually are freed once an earthquake rocks the building just as a young woman (Cheryl Lawson), suffering from amnesia, shows up on the scene. Pretty low-grade horror antics follow in Leonard's pre-"Lawnmower Man" feature, presented here on Blu by Code Red with a 2K scan from the original negative (1.78); what's billed as a new commentary with Leonard, his long-time collaborator Gimel Everett (who died in 2011) and star Jeremy Slate; and older on-camera interviews with Lawson, Leonard, Everett, and Slate.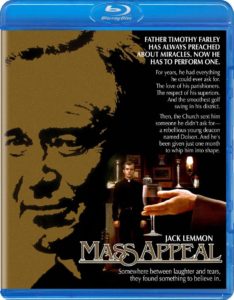 The last of Code Red's releases this month couldn't possibly be a bigger change of pace: the agreeable 1984 filming of the hit Broadway play MASS APPEAL (99 mins., 1984, PG).
Jack Lemmon stars and is mostly the whole show in this tale of a hugely popular Catholic priest whose Sunday masses seem more like talk shows, with "Father Tim" cracking jokes and passing a microphone around to his parishioners! Challenging his views is a brash Deacon-in-training (Zeljko Ivanek), who puts Father Tim in a predicament as he attempts to steer young Mark Dolson onto the path of parish success – while trying to understand his idealistic crusades that may threaten to ultimately turn Father Tim's parish against them both.
Glenn Jordan helmed this Christmas '84 Universal release which Bill C. Davis adapted from his stage play. Both are successful at opening up Davis' source to the screen, adding a "heavy" in the form of Charles Durning's stoic Monsignor, and utilizing Bill Conti's score to give the picture a pleasantly "classical" feel. The shortcomings come in the character of the young man, who seems infallible and humorless for the most part, and writing that occasionally comes off as overly "cute" and "stagy" – but Lemmon is so good here, especially in the film's most moving moments, that "Mass Appeal" carries its appeal all the way through to the end.
A movie that didn't make much at the box-office, "Mass Appeal" here debuts in HD courtesy of an acceptable Universal catalog master (1.85, mono) with the trailer as the only extra in Code Red and Kino Lorber's disc.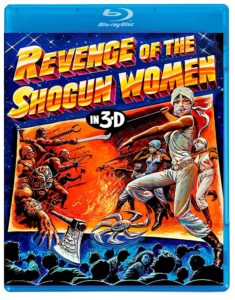 The 3-D Film Archive and Kino Lorber bring us another long-lost gem from the 1970s this month: REVENGE OF THE SHOGUN WOMEN (86 mins., 1977, R). This Hong Kong import hails from Mei-Chun Chang, the director of "Dynasty," which the 3-D Film Archive also brought us a few months back. This similarly-produced widescreen affair is set in turn of the (18th) century China, wherein some 13 females find themselves being trained to become stealthy, martial arts-trained "nun assassins" seeking revenge on the men who respectively raped and attacked them. The 3-D effects come at you fast and furiously in "Shogun Women," which didn't circulate as much as "Dynasty," probably because of the movie's enhanced sex and violence. Here restored in both polarized and anaglyphic versions (with a pair of red/cyan glasses), the picture offers a good amount of depth of field effects, even though the story isn't all that engaging and the film stalls out after a decent start. Kino Lorber's Blu-Ray (2.35) also includes a trio of similarly remastered 3-D shorts (1953's "College Capers" and "Persian Slave Market," plus 1973's "Two Guys From Tick Ridge").
Universal Comedies: Before finding her hallmark role on "I Dream of Jeannie" (read below), Barbara Eden coincidentally (or not) starred in the wan Universal comedy THE BRASS BOTTLE (89 mins., 1964). This is a formulaic slice of mid '60s fluff that finds both Eden and future "Odd Couple" star Tony Randall honing their comedic chops in a watchable yet pedestrian tale of a harried architect (Randall) whose wishes are granted after he unwittingly becomes the master to a forever-imprisoned genie (Burl Ives). Eden is Randall's fiancee in a movie that feels at times like a prospective TV pilot for a subsequent sitcom, the kind that Eden would soon become a star in. Kino Lorber's Blu-Ray includes a serviceable Universal master (1.85) with the trailer and a new commentary with Lee Gambin that incorporates an interview with Eden herself.
Marlon Brando wasn't renowned for his comedic talent but he sill manages to be serviceable as a con man opposite competing con man David Niven on the French Riviera in BEDTIME STORY (99 mins., 1964). This is a colorful, breezy effort with the duo each vying for the hand of heiress Shirley Jones in a Stanley Shapiro-Paul Henning screenplay that fared even better as a vehicle for Steve Martin and Michael Caine in the superior 1988 remake "Dirty Rotten Scoundrels." In fact it's interesting how similar the two films are, with Shapiro and Henning's script credited alongside the remake's writer, Dale Launer, yet Martin and Caine yield more laughs than the comparatively uptight Brando and Niven do here. Kino Lorber's Blu-Ray (1.85, DTS MA mono) debuts the film this month in HD with trailers and a new commentary by Howard Berger and Nathaniel Thompson.
Studio Canal has superbly remastered many of the early works of the great Alfred Hitchcock, and continues their efforts with Hitch's 1932 mystery-suspenser (with comedic overtones) NUMBER SEVENTEEN (63 mins.). Leon M. Lion stars as a homeless man who finds a corpse; meanwhile, things become even more complicated once detective John Stuart appears on the scene, only to have a woman (Anne Grey) fall through the roof, bringing with her a missing necklace and a telegram from her missing father. Fast-paced fun with Hitchcock mixing genres with the kind of aplomb we'd expect from his later films, and Kino Lorber's Blu-Ray houses the BFI's 4K restoration (1:20) with ample extras: audio of the Hitch/Truffaut interviews, the documentary "Hitchcock: The Early Years," an introduction from Noel Simsolo, trailers, and an exclusive commentary from historian Peter Tonguette.
Kino Lorber's fifth Blu-Ray anthology of vintage film noir titles, FILM NOIR: THE DARK SIDE OF CINEMA V, includes three '50s programmers for genre fans: BECAUSE OF YOU (1952) stars Loretta Young as the sexy, blonde girlfriend to a man who turns out to be a gangster. After turning her life around behind bars, she becomes a nurse with an attraction for a battle-scarred Jeff Alexander in a romantic drama making its first official home video release since the VHS era. Ray Danton and Leigh Snowden star in 1956's OUTSIDE THE LAW, the story of an ex-con who avenges the murder of a fellow Army soldier by going undercover in order to stop a counterfeit ring. Finally, Tony Curtis is a San Francisco traffic cop who turns in his badge in order to catch the killer of a Bay Area priest in THE MIDNIGHT STORY (1957). All three B&W films have been licensed through Universal and include 1080p (1.33) transfers with new commentaries by Samm Deighan, Richard Harland Smith, and Jason Ney across the three respective pictures.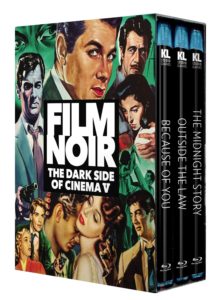 Now available from Milestone Film & Video is the 1956 documentary THE MYSTERY OF PICASSO (78 mins.),a fascinating look at the artist and his creative process. French filmmaker Henri-Georges Clouzot's dazzling cinematic treatment captures Picasso at work with both B&W 1.33 and full color 2.35 aspect ratios that make this a rich documentary scored by Georges Auric and shot by Claude Renoir. Kino Lorber's Blu-Ray includes a new 4K restoration with optional English subtitles; two academic commentary tracks; and an interview with Maya Picasso.
GOMORRAH: Season 2 Blu-Ray (618 mins., 2016): Second season of Stefano Sollima's series version of Roberto Saviano's book (and subsequent award-winning movie) finds the Savastano clan at a crossroads, as their criminal hold over Naples seems to be at a close. With rivals vying for control of Camorra, the stakes are high in this sophomore season of "Gomorrah." Kino Lorber's Blu-Ray (1.85, 5.1/2.0) includes Italian audio with English subs or alternate dubbed English language tracks for its 12 episodes.
Also New From Kino: Alex Camilleri's film LUZZU (94 mins., 2021) follows a Maltese fisherman who has to choose between fixing the traditional fishing boat of the title or decomission it for a payout – and go along with a black market operation decimating the Mediterranean fishing industry that he's part of. Two documentary shorts, an original screen test and commentary from Camilleri and star Jesmark Scicluna are included in Kino's DVD (16:9, 5.1/2.0 Maltese with English subtitles)...From Kino and Greenwich Films comes LOVE IT WAS NOT (84 mins., 2020), a superb documentary from Maya Sarfaty about a Jewish Auschwitz survivor who's asked by the wife of the SS officer she had an affair with 30 years prior to testify on his behalf. Greenwich's DVD is now available (16:9, 2.0, English subtitled). Also new from Kino and Greenwich is Debbie Lum's documentary TRY HARDER! (84 mins..), a look at one of the best-performing public schools in the country – San Francisco's Lowell High – and how it functions with a predominantly Asian-American student population. It'd be interesting to get updates on how the school is functioning right now in relation to the even-more current state of affairs out there, but this is still a compelling view on DVD December 28th (16:9, 5.1/2.0)...Finally, Artspolitation brings viewers PLAYDURIZM (87 mins., 2020), Gem Deger's independent film about a young man who wakes up in a strange, surreal world with no idea where he is or how he got there. Commentary, deleted scenes, a music video and the trailer are all included in the Blu-Ray (2.39, 5.1/2.0 English/Turkish with optional English subtitles).
---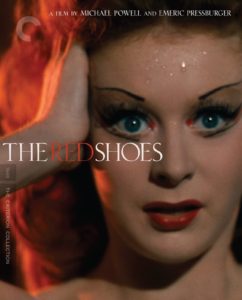 Aisle Seat Pick of the Week
Michael Powell and Emeric Pressburger's THE RED SHOES (133 mins., 1948) has long been one of the jewels in the Criterion canon, and the label's recent foray into the 4K UHD realm brings with it a fresh new release for this late '40s film classic from "The Archers." Golden Age movie buffs need little introduction to this beautifully saturated Technicolor extravaganza, starring Moira Shearer as the aspiring ballerina – but it's the cinematography of Jack Cardiff that's the real star of the show. This deservedly-lauded classic works both as a sumptuously shot drama and a piece of surrealist fantasy, with the movie's central dance sequence being its standout sequence.
Criterion brought "The Red Shoes" to laserdisc, DVD and Blu-Ray, and this new 4K digital master (1.37) works off the movie's 2009 restoration and includes mono sound and Dolby Vision HDR grading. The result is as breathtaking as you'd hope, while special features have been mostly reworked from previous Criterion discs. These include the 1994 commentary featuring critic Ian Christie with comments from Cardiff, composer Brian Easdale, stars Marius Goring and Moira Shearer, and admirer Martin Scorsese; a 2000 documentary on the production; an interview with Powell's widow, Thelma Schoonmaker Powell, from the 2009 Cannes Film Festival; recordings of Jeremy Irons reading Powell and Pressburger's novelization of the film plus the original Hans Christian Andersen fairy tale; publicity stills and photos; booklet note essays, and a copy of the Blu-Ray as well.
---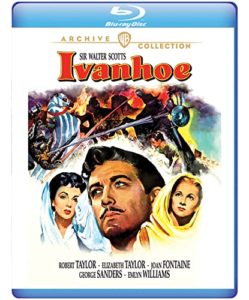 Warner Archive New Releases
I assume this is going to be sacrilege for some but I confess I found the early '50s MGM action-adventure IVANHOE (107 mins., 1952) often dull. The Technicolor hues leap off the screen, there's a good cast, and a grand Mikos Rozsa score – but Richard Thorpe's languid direction and an overly convoluted story, adapted from Sir Walter Scott's popular book, conspire to make this a talky affair that's missing a lot of "swash" from its "buckle." What's worse, even though the cast is filled with the likes of Elizabeth Taylor, Joan Fontaine and George Sanders, its lead performance – a stilted Robert Taylor – makes Ivanhoe's quest to restore King Richard to the throne a hollow, emotionless affair. Warner Archive's new Blu-Ray of "Ivanhoe" does look absolutely spectacular in terms of its warm colors and crispness (1.37) while the mono sound is robust. Extra features here include the trailer and the Oscar-winning Tom & Jerry classic cartoon "The Two Mouseketeers."
Also new from Warner Archive this December is the Jimmy Cagney classic ANGELS WITH DIRTY FACES (97 mins., 1938). Cagney and Pat O'Brien here collaborated in this 1938 Warner gangster favorite with the former playing Rocky Sullivan and O'Brien the boyhood pal turned priest who fights his former friend's neighborhood influence. Humphrey Bogart, Ann Sheridan and the Dead End Kids also appear in a memorable Michael Curtiz-helmed drama backed with a Max Steiner score and ample Blu-Ray extras. These include a "Warner Night at the Movies" 1938 optional viewing assembly (news reel, shorts, cartoon, etc.), a featurette, a radio production, and Dana Polan's commentary. All this comes in addition to a superb 1080p (1.33) remaster with mono sound.
---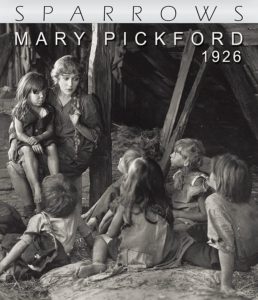 Also New This Month
The kind of adult-oriented drama you would find during the pre-Code era, SPARROWS (95 mins., 1925; VCI) stars Mary Pickford as the eldest child being held at a "baby farm" where kids with unwed mothers would be sold to adoptive parents or into slave labor. William Beaudine helmed this elaborate silent effort with a strong human center at its heart, and VCI's Blu-Ray – out this week – offers a brand-new restoration of the movie produced and restored by the Mary Pickford Foundation. A 35mm nitrate print and a 35MM safety dupe negative were utilized here as part of the Library of Congress' restoration, with the Mary Pickford Foundation scanning these elements in 4K. A new score by Cameron and Taylor Graves was newly added to this edition, resulting in a healthy looking transfer for the 95-minute feature. The disc is nicely packaged by VCI as well featuring essays and rare photographs, making it a must for silent fans.
The Film Detective closes out 2021 with one of its most ambitious sets: THE SHERLOCK HOLMES VAULT COLLECTION, which takes a look at four early '30s Sherlock Holmes adventures before Basil Rathbone became The World's Most Famous Detective for a long-running series at Universal.
Included here are a group of movies that some viewers may be familiar with from public domain releases, three of them starring Arthur Wontner as Holmes with Australian actor Ian Fleming as Dr. Watson. These include SHERLOCK HOLMES' FATAL HOUR (84 mins., 1931), THE TRIUMPH OF SHERLOCK HOLMES (75 mins., 1935) and SILVER BLAZE (71 mins., 1937), the latter also known as "Murder at the Baskervilles." All three of these British productions from Twickenham Studios have been remastered from sources that are far from pristine but are generally watchable – less so is the set's fourth picture, A STUDY IN SCARLET (72 mins., 1933), which features Reginald Owen as Holmes in a seldom-adapted mystery that's been mastered from a very rough looking print with coarse audio that's intermittently difficult to understand.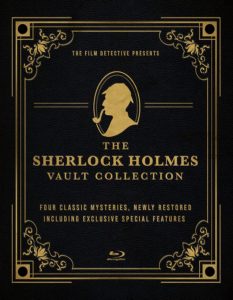 The Film Detective has done their customarily outstanding job with supplements here, which is a good thing since the problematic nature of the source materials makes appreciating the films difficult on their own. New commentaries are included here on all four movies: "Scarlet" includes commentary with Peter Atkins and David Breckman, along with a new Ballyhoo documentary on these early Holmes pictures named "Elementary Cinema"; "Triumph" boasts a commentary by Jason Ney with a 1964 TV episode from "Blind Man's Bluff" (1964), bonus short "Copper Beeches" and "The Adventures of Sam Sherman" featurette; "Fatal Hour" includes a commentary from Jennifer Churchill, several very vintage shorts produced between 1900-18, another part of the "Sam Sherman" featurette and a radio broadcast recreation; and "Silver Blaze" offers the conclusion of the Sam Sherman featurette, commentary by Phoef Sutton and Mark Jordan Logan and bonus shorts. Insightful essays provide a nice finishing touch on an ambitious set that's worth it mainly for die-hard Conan Doyle cinephiles.
Arrow New Releases: I'm not sure what spurred on the sudden interest in the box-office failures of Dan Aykroyd, with Shout (inexplicably) releasing a "Collector's Edition" of his disastrous directorial debut "Nothing But Trouble" (!), and Arrow choosing to revisit the wan 1988 comedy MY STEPMOTHER IS AN ALIEN (108 mins., PG-13). What's next – a Criterion edition of the godawful Aykroyd/Gene Hackman buddy flick "Loose Cannons"?
This busted entry in the '80s sci-fi/fantasy sweepstakes pairs Aykroyd – here playing straight man – and his widowed scientist with a nubile extraterrestrial who responds to his intergalactic experiment and arrives in the form of none other than Kim Basinger. Her "Celeste" attempts to acclimate to the human world with predictable, sitcomy-results – think along the lines of "Splash!" – while Aykroyd attempts to convince his young daughter (Alyson Hannigan) that this sexy visitor is worth keeping around the planet.
A production of the short-lived Weintraub Entertainment Group, "My Stepmother Is An Alien" began life as a serious script by Jerico (Stone) before studio honchos decided it would work better as a comedy. A number of writers toiled on the project before it became a Christmas '88 release for director Richard Benjamin, who does what he can with material that wastes the talents of Aykroyd – then coming off one of his biggest hits with "Dragnet," here stuck in a Disney-esque type of role Dean Jones used to play – while Basinger valiantly recycles the comedic chops she displayed to more moderate success in Blake Edwards' "Blind Date." The end result failed to find an audience, none too obviously because its PG-13 rated elements made it unsuitable as a "family movie," while the story was too light and saccharine for teens and adults.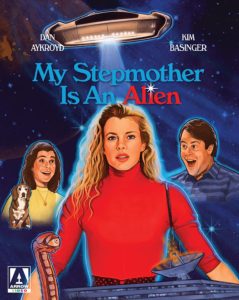 Arrow's Blu-Ray offers up a new 2K restoration (1.85, 2.0 DTS MA) for fans plus an audio interview with Richard Benjamin and a commentary from Bryan Reesman. There's also an essay from Amanda Reyes that tries so hard to work in political commentary and read subtext into this film that it nearly challenges the label's release of "Sixteen Candles" for most outrageously self-indulgent "booklet note academia."
Also new from Arrow is their next volume in GIALLO ESSENTIALS. This "Yellow Box" contains Massimo Dallamano's WHAT HAVE THEY DONE TO YOUR DAUGHTERS? (1974); Sergio Martino's TORSO (1974); and Andrea Bianchi's STRIP NUDE FOR YOYUR KILLER (1975). All three films include new 2K restorations plus two versions of "Torso" (the Italian and English language cuts); commentaries from Troy Howarth, Kat Ellinger, and Adrian J. Smith and David Flint; interviews with surviving cast/crew members, video essays, booklet notes and other odds and ends ideal for Italian cinephiles.
From 88 Films comes DISCIPLES OF SHAOLIN (107 mins., 1975, Not Rated), one of many kung fu efforts from the prolific Shaw Brothers. This is a fairly routine affair with Alexander Fu Sheng as a shaolin student who gets wrapped up with a rival clan after he takes a new job at a textile mill; Chi Kuan-Chun co-stars in a movie that offers some effective kung-fu sequences though nothing here is out of the ordinary. It'll be best appreciated by genre vets, with 88 Films' Blu-Ray (2.35, remastered from the original 35mm negative) sporting extensive booklet notes; both English and Mandarin PCM audio, with newly translated English subtitles; new commentaries with genre vets Mike Leeder and Arne Venema, and another track with historian Samm Deighan; the trailer; and a new Frederic Ambroisine interview with Jamie Luk.
---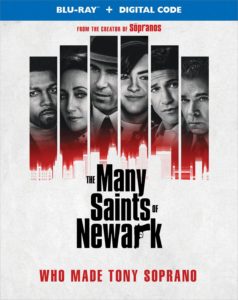 Quick Takes
THE MANY SAINTS OF NEWARK Blu-Ray (120 mins., 2021, R; Warner): Alternately absorbing and frustrating prequel feature to "The Sopranos" from its creator, David Chace – who scripted with Lawrence Konner (he co-wrote "Superman IV" but I won't hold it against him!) – is set decades back. Michael Gandolfini essays his late father's legendary role of Tony Soprano but most of the action is devoted to a convoluted series of scenes involving Jersey gangsters taking on the then-reigning DiMeo crime family. Well produced – as you'd anticipate – "Many Saints" struggles to find a comfortable rhythm as a feature, with director Alan Taylor trying both to do too much, and too little, with Chace's script, which may have been better off in series form. Two featurettes, deleted scenes, a Digital HD code, 1080p (2.39) transfer and Dolby Atmos sound grace Warner's now-available Blu-Ray.
RESIDENT EVIL: INFINITE DARKNESS Blu-Ray (105 mins., 2021, Not Rated; Sony): Original animated series follows agent Leon S. Kennedy as he looks into a hacking incident at the White House while then-Terrasave staff member Claire Redfield looks into the inauspicious origins of a virus in a country she recently visited. This Resident Evil series, which debuted on Netflix, chronicles the early investigations of two long-running series characters via CGI animation that die-hard fans might enjoy. Sony's Blu-Ray (1.85, 5.1 DTS MA) includes a good-looking 1080p transfer with a half-hour Making Of featurette.
THE GARDENER DVD (89 mins., 2021, R; Lionsgate): British action-thriller set in the UK countryside stars Gary Daniels as a thug whose gang gets ready to "home-invasion" a wealthy family — only to run into resistance from the estate's gardener (Robert Bronzi) whose background includes, of course, having a "special set of skills" at his disposal. Lionsgate's DVD is out December 28th (2.39, 5.1) and includes a surprising amount of special features: two commentary tracks, a Making Of, deleted scenes, bloopers and a trailer.
NEXT TIME: The first discs of 2022! Until then, don't forget to drop in on the official Aisle Seat Message Boards and direct any emails to our email address. Cheers everyone, with warm wishes for a Merry Christmas & Happy New Year to all.