Message Board (open 24 hours!)
Twitter - @andredursin (for everything else!)
Kicking off 2022 with the singular Best Blu-Ray of 2021, Arrow Video's SHAWSCOPE: VOLUME 1 offers a treasure trove of widescreen shenanigans across a variety of genres, though with a special focus on (of course) kung fu thrillers. The Shaw Brothers Studio – with its very WB-like shield of its own – became synonymous with martial arts extravaganzas during the 1970s, and Arrow's eight-disc, 12-movie set pays tribute to them all in the form of a spectacular Blu-Ray anthology enriched by insightful supplements and numerous newly-restored transfers – plus two CD's worth of library music culled from several of the films.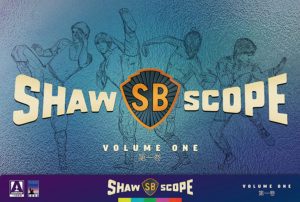 In many ways, the most entertaining film included here is the first: KING BOXER (1972), which was better known in the U.S. as FIVE FINGERS OF DEATH. This is an undeniably fun Shaw Brothers production that was one of the first kung-fu imports to hit North America – in fact it was picked up by Warner Bros. just a few months before Bruce Lee's "Enter the Dragon" became a worldwide sensation. "King Boxer" offers a standard story – martial arts student wants to win a tournament, enrages a local gang, trains to beat them but encounters resistance outside the dojo – but with narrative elements that made it more appealing to western audiences. Add in zesty fight scenes and music tracked from all kinds of places – including John Barry's "Diamonds Are Forever" score and, more memorably, the "Ironside" theme! – and you have a picture that set the standard for numerous pictures to follow, not to mention would be a heavy influence on Quentin Tarantino, who paid homage to the movie in his "Kill Bill" movies decades later.
Next up in the set is THE BOXER FROM SHANTUNG (1972), which tells the story of a young boxer who gets wrapped up in the Shanghai underworld. This 134-minute Shaw production turned up in the U.S. in 1980 in a severely cut version, while FIVE SHAOLIN MASTERS (1974) offers an exciting tale of Shaolin Monastery fighters who rise up against their Manchu oppressors. The fight sequences are vividly choreographed in this acclaimed Shaw Brothers effort, while the entertaining soundtrack is comprised of RCA library music from Italy, including numerous tracks by Piero Piccioni and Carlo Savina among others. The follow-up SHAOLIN TEMPLE (1976) is a prequel of sorts, set earlier in the Qing Dynasty era, showing the Henan monastery before it burns down, though it's not quite as entertaining.
The Shaw Brothers – like others – sought to capitalize on the success of Dino DeLaurentiis' "King Kong" with their own Giant Monster opus: MIGHTY PEKING MAN (1977), which is an insanely goofy, off-the-wall tale of a Himalayan giant and an attractive "jungle girl" (Evelyn Kraft) which Simon Abrams' notes aptly describe as a "triumph of bad taste over common sense." This cult favorite, which Siskel & Ebert once championed on their show, offers a slightly sexier and bloodier take on kaiju material than its Toho (and U.S.) counterparts, and manages to be hugely entertaining.
A young Gordon Liu, meanwhile, co-stars in CHALLENGE OF THE MASTERS (1976) as the oft-adapted Chinese folk hero Wong Fei-hung, while another Tarantino festival favorite, EXECUTIONERS FROM SHAOLIN (1977), shows off the kinetic action stylings of director Lau Kar-leung in an exciting genre exercise that's one of the best films in the set (the score, meanwhile, concludes with tracks culled from Akira Ifukube's score for "War of the Gargantuas"). Ditto the bravura genre exercise THE FIVE VENOMS (1978), an instant hit globally at the time of its release, and packed with flair and fun that stamped it as an all-time kung fu classic. Its follow-up, CRIPPLED AVENGERS (1978), was released as "Return of the 5 Deadly Venoms" stateside, but it's not a sequel but rather an agreeable "Greatest Hits" recycling of elements from director Chang Cheh's previous works, "Five Venoms" included.
Several genre mash-ups round out the box: Alexander Fu Sheng stars in CHINATOWN KID (1977), a Shaw Brothers change of pace that follows a Hong Kong immigrant trying to make it in San Francisco, but finds he can't outrun his martial arts background after he gets wrapped up with rival clans vying for control of Chinatown; there's action but also ample doses of comedy in HEROES OF THE EAST (1978), set in 1930s Shanghai and starring Gordon Liu, who also toplines the most comedic film of the lot, DIRTY HO (1979), which includes plenty of sight gags and slapstick humor.
Each of the films has received 1080p (2.39) transfers, with "King Boxer," "The Boxer From Shantung," "Challenge of the Masters," "Crippled Avengers," the original long version of "Chinatown Kid" and "Dirty Ho" newly rescanned in 2K by Ritrovata from their original 35mm negatives. The other transfers, including a shorter version of "Chinatown Kid," were culled from Celestial's 2003-07 1080p masters and generally look pretty good on their own as well, while mono soundtracks include their original English dubs, regional Mandarin audio and Cantonese (when the film was dubbed into that language).
A glossy, oversized 60-page book includes extensive notes on each film and the history of the Shaw Brothers, plus the various stars who appear throughout the dozen pictures herein. And, of course, an endless supply of supplements can be found on the Blu-Rays themselves, from commentaries to alternate standard-def versions and U.S. theatrical credit sequences, interviews, video appreciations from Tony Rayns, and capping off the box, two CDs featuring DeWolfe library music as prominently heard in "Shaolin Temple," "Mighty Peking Man," "Chinatown Kid," "Five Venoms," "Crippled Avengers" and "Dirty Ho."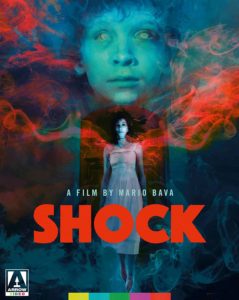 It's simply a spectacular limited-edition package that's a must for hard-core kung fu fans and casual viewers alike, packed with colorful widescreen action and extras that will educate and entertain for long after the movies themselves are watched and appreciated. One of Arrow's finest efforts to date, and one of the best Blu-Ray boxes ever released – period!
Also new from Arrow this month: Michael Venus' SLEEP (102 mins., 2021, Not Rated) is the director's debut feature about a woman looking for answers after her mother finds out the village she's seen in her nightmares is actually real. Disturbing and eerie, this German import scored acclaim with indie viewers and debuts here in an Arrow Limited Edition (2.39, 5.1 German with English subtitles) featuring commentary with Kim Newman and Sean Hogan; an Alexander Heller-Nicholas visual essay; interviews; deleted scenes and other extras…Mario Bava's SHOCK (93 mins., 1977, Not Rated) is the final film from the prolific Italian director: a tale of a mental breakdown, as opposed to pure horror, yet populated with Bava's recurring themes and visual flair. Daria Nicolodi and John Steiner star with Arrow's Blu-Ray (1.85, mono English or Italian) featuring a 2K restoration from the original camera negative; commentary from Tim Lucas; a video interview with co-writer Lamberto Bava; additional video appreciations and interviews, and US TV spots featuring its domestic title, "Beyond the Door II"…finally, Yasuzo Masumura's RED ANGEL (95 mins., 1966) tells the story of a young, female Japanese nurse tending to the wounded along the front lines of the Japan-China war in 1939. Masumura's film is starkly shot in B&W scope and has been presented here on Blu-Ray (2.35, mono Japanese with English subtitles) alongside a new commentary from scholar David Desser; an introduction by Tony Rayns; a video essay by Jonathan Rosenbaum and the trailer.
---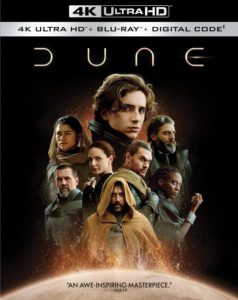 New on 4K UHD
DUNE 4K UHD/Blu-Ray (155 mins., 2021, PG-13; Warner): Denis Villeneuve's highly anticipated big-screen rendition of Frank Herbert's classic sci-fi tome proves to be a disappointment across a number of levels.
The all-star cast, at least, mostly fits the bill, with Timothee Chalamet starring as the young Paul Atreides – the supposed Messiah of a desert planet where "the spice must be flow." Unfortunately for Paul and his parents (Oscar Issac, Rebecca Ferguson), they're nearly wiped out in an attack from the planet's former rulers, the vile Harkonnen, presided over by a giant sloth-like menace, the Baron (menacingly embodied by Stellan Skarsgard). Ultimately, the survivors from the House of Atreides are supported by Dune's native people, the Fremen, who are marked by their spice-affected blue eyes and have managed to exist in a world where conditions are unrelentingly harsh and giant sand worms swarm its desert landscape.
"Dune"'s sprawling narrative is, as any sci-fi fan knows, a difficult nut to crack and Villeneuve, working from a script he's credited with alongside Jon Spaihts and Eric Roth, decided to end the story just when things get interesting. And that he does – abrup tly, even concluding with a line of dialogue telling the audience "this is just the beginning." Not since Ralph Bakshi decided to send ticked-off audiences of his "Lord of the Rings" off into the parking lot has a filmmaker so unsatisfyingly decided to cut a movie short, and it's even worse here since Villeneuve has scarcely given viewers "the good stuff" – more like a 2½ hour preamble.
Yet that's not the only problem with "Dune." Villeneuve's movie simply doesn't feel "alive" – the performances, the tone, the dialogue…all of it has the somnolent mood of his previous work, yet the lifelessness also extends to the movie's production design. This is a shockingly barren looking world that doesn't feel "inhabited" – the art direction often resembles conceptual drawings with Villeneuve placing his characters around the widescreen frame opposite mostly blank walls and sparsely decorated sets, making this futuristic society look more like "The Flintstones." The end result is just as drab and dull to look at as the wordy, tedious film is to listen to – despite my best efforts, it took several viewings just to finish the movie, as its emotional flatline gives you little incentive to connect to its characters.
Comparisons to David Lynch's infamous 1984 "Dune" are inevitable, but despite that adaptation's admittedly rocky rendering of Herbert's story, it's striking just how much more energetic and exciting Lynch's film is from a pure cinematic perspective, outclassing this effort in terms of production design, score, and cinematography. Villeneuve's "Dune" may be more "competent" in terms of its core storytelling, but it's so bland, this veritable prologue of a movie scarcely registers a pulse.
Warner's 4K UHD does benefit from a high bit-rate, Dolby Vision graded transfer (2.39) and Dolby Atmos audio – all of which easily surpasses what I had previously consumed in an HBO Max stream earlier in the Fall. Details and clarity are high, and the included Blu-Ray offers roughly an hour's worth of behind-the-scenes content.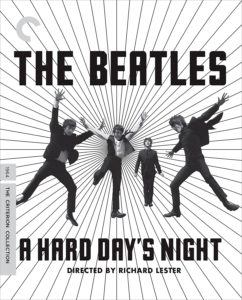 A HARD DAY'S NIGHT 4K UHD/Blu-Ray (87 mins., 1964; Criterion): Richard Lester's free-wheeling musical comedy captures The Beatles at the height of "Beatle Mania" on both sides of the Atlantic, with slapstick comedy and a then-groundbreaking level of "meta" awareness as the Fab Four star as "themselves" while performing many of their all-time hits. Lester's editorial rhythms and handling of the material catapulted his career while cementing The Beatles as cultural icons for a generation (and beyond).
Criterion's new 4K UHD restoration of "A Hard Day's Night" was approved by Lester himself and includes Dolby Vision HDR, which adds some nuance to the original B&W cinematography (the included Blu-Ray is likewise based off this new restoration, in 1080p). Three different audio tracks were supervised by audio producer Giles Martin at Abbey Road, including the original mono, an uncompressed stereo track, and a 5.1 DTS MA remix. In addition to an archival commentary, the 4K/BD combo includes 1964 interviews with the Beatles; a 1994 documentary on the production; a 2002 Making Of featuring Lester and music producer George Martin among others; a program about Lester's early work incorporating a 2014 interview with the director; his 1960 short "The Running Jumping & Standing Still Film"; and 2014 programs on both Lester's directorial work as well as Beatles biographer Mark Lewisohn, who offers his thoughts on the movie. Highly recommended!
JUICE 4K UHD (94 mins., 1992, R; Paramount): 30th Anniversary edition of the 1992 inner-city thriller made a name out of Tupac Shakur, who essays one of four Harlem friends who becomes infatuated with increasingly violent crime – much to the frustration of one of his "crew," an aspiring DJ played by Omar Epps. Atmospherically drawn and finely-executed, this directorial debut of cinematographer Ernest Dickerson feels authentic and sustains a level of tension throughout its brief running time. Paramount's 4K UHD trumps the movie's previous Blu-Ray edition with Dolby Vision HDR that effectively preserves the movie's visual aesthetic; it also boasts commentary from Dickerson, featurettes on the film, the cast, and the film's popular soundtrack, plus vintage interviews. The 5.1 DTS MA soundtrack is the same as its last Blu-Ray release and is appropriately bass-heavy and atmospheric.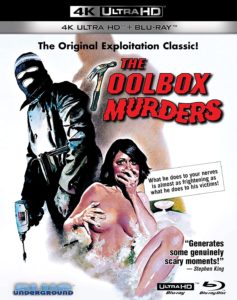 THE TOOLBOX MURDERS 4K UHD (94 mins., 1978, Unrated; Blue Underground): Before "Halloween" and "Friday the 13th" launched the slasher genre, Dennis Donnelly directed this occasionally gross but more often than not tedious affair with a crazy handyman using his bag of tools to take out "immoral" women on the streets of L.A. Former child actress (and later animal rights activist) Pamelyn Ferdin stars alongside "Land of the Lost" veteran Wesley Eure in this 1978 release, which was infamous at the time for its violence but comes across today as a product of its era.
An early Blu-Ray release for Blue Underground, "The Toolbox Murders" debuts on 4K UHD in a brand new, impressive 4K 16-bit scan from the original, uncut negative. With Blue Underground's customary Dolby Vision HDR grading, this is a sizable enhancement from its previous restoration, while Dolby Atmos audio is included for the first time alongside previous 5.1 and original mono mixes. A bounty of riches on the supplemental side include a new commentary from Troy Howarth and Nathaniel Thompson and many interviews on the likewise remastered Blu-Ray platter featuring Denni Donnelly, actress Kelly Nichols, and Wesley Eure, plus a David Del Valle retrospective on Cameron Mitchelll and a video essay from Amanda Reyes and Chris O'Neill.
HALLOWEEN KILLS 4K UHD (105/109 mins., 2021, R/Unrated; Universal): Less a movie than a 105-minute trailer for the third (and presumably final) entry in this contemporary "Halloween" trilogy, director-writer David Gordon Green gives us a real "pffft" of a feature here that spends 2/3 of its running time introducing us to a variety of characters — only to kill them off — while leads Jamie Lee Curtis, Judy Greer and Andi Matichak sit in a hospital room. Eventually the stars of this movie do show up to do something — well, at least two of them — while Curtis literally spends the entire film in that hospital bed, opposite a recovering Will Patton, who I assume will muster enough energy to eventually get out of bed and play a role in this year's "Halloween Ends."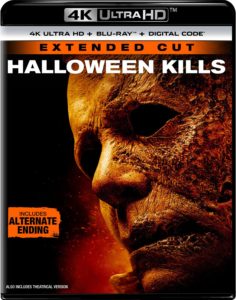 That leaves the rest of this wholly unnecessary film to be comprised of Myers murder sequences, mostly played so broadly (with comics like Lenny Clarke and MadTV alumnus Michael McDonald on the death list) that the scenes start comically before becoming gory — yet at no point are they ever scary or suspenseful.
There are numerous cameos and a reasonably fun (if brief) recreation of Donald Pleasence to go around, but the story is non-existent, with the entire movie one big set-up for the third installment. And one could easily stay home (as I did), watch this on Peacock and still feel the groans from theatrical audiences when the movie's title flashes on-screen at the end — a veritable middle finger to people who paid to see a functioning film with a beginning, middle and end.
Universal's 4K UHD of "Halloween Kills" is chock full of extras, including a longer cut (with four additional minutes and an alternate ending), featurettes, and a commentary with Green, Curtis and Greer. The Dolby Vision HDR transfer is indeed impressive with Dolby Atmos audio comprising the robust UHD platter; the Blu-Ray and a Digital HD copy are also on tap.
---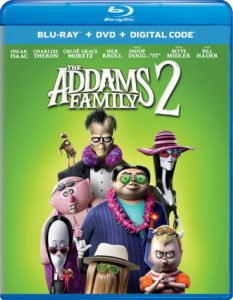 Also New & Noteworthy
Also new from Universal is THE ADDAMS FAMILY 2 (93 mins., 2021, PG), a genial sequel to the 2019 animated "Addams" kid flick from MGM. This time around, Morticia and Gomez decide to have some higher quality "family time" by taking their fast-growing kids Wednesday and Pugsley – along with Uncle Fester and the rest of the crew – on a vacation in their haunted camper. Comedic shenanigans ensue in a follow-up that repeats the good humor from its predecessor in a way that should entertain kids and make their parents at least feel like it's not a chore to sit through its 90-minute run time. Featurettes, a 1080p (1.85) AVC encoded transfer and 7.1 DTS MA sound comprise Universal's Blu-Ray along with a DVD and Digital HD code.
COBRA KAI: Season 3 DVD (326 mins., 2020; Sony): The marvelous third season of "Cobra Kai" continues what's hands-down the best "reboot"/belated sequel to any '80s movie property. This time – while Miguel continues his physical recovery from the second-season high school brawl – dueling dojos continue to throw a wedge between ex-Karate Kid Daniel LaRusso (Ralph Macchio) and Johnny Lawrence (William Zabka), the recovering bad guy from John G. Avildsen's 84 box-office hit. Entertainingly written and played, "Cobra Kai" continues to be a winner across the board; Sony's DVD includes its complete third season (1.78, 5.1) along with deleted scenes and a blooper reel, and is now available.
TOM AND JERRY: COWBOY UP! DVD (75 mins., 2022; Warner): Original Tom & Jerry animated movie finds the sometime-friends, sometime-rivals saddling up with a cowgirl and her brother whose home is being threatened by a land barron – requiring Jerry's trio of little nephews to help wrangle a posse of prairie dogs and other obstacles. Breezy hyjinks for kids with Warner's DVD (16:9, 5.1) available January 25th.
---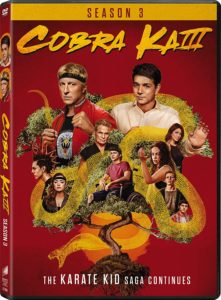 Newly Remastered
JACK FROST Blu-Ray (89 mins., 1997, R; MVD)/JACK FROST 2: REVENGE OF THE MUTANT KILLER SNOWMAN (91 mins., 2000, R; MVD): The early days of DVD brought with it these recognizable direct-to-video indie horror efforts from writer-director Michael Cooney – films which have a small cult following and have been newly remastered by MVD via a pair of slipcase-adorned "MVD Rewind Collection" Blu-Rays.
Not to be confused by the Michael Keaton kiddie-flick bomb of the same name (remember that one?), "Jack Frost" is an over-the-top, intentionally campy tale of a serial killer (Scott MacDonald) who becomes an actual snowman after fusing with freezing slush via a toxic, genetic material spill. Christopher Allport is the cop who put Frost away and has to do it again in a low, low budget genre exercise heavy on the comedy, and featuring an early performance from soon-to-be "American Pie" lead Shannon Elizabeth. Cooney's film was well-received enough by fans to lead to a sequel, yet the lame "Jack Frost 2" – which finds Frost stalking Allport and his wife (Eileen Seeley) again, this time on a tropical vacation – offers even less of the same, with weaker gags punctuating a sequel only hardcore fans of its predecessor could love.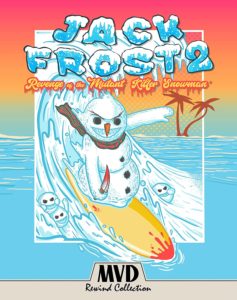 MVD's Rewind Collection Blu-Rays include solid 1080p (1.78) AVC encoded transfers and PCM 2.0 stereo soundtracks – the original "Jack Frost," which features a 2K scan from 35mm vault elements, also includes a 5.1 DTS MA track. A cornucopia of extras include introductions from Cooney, commentaries with the director and new commentaries featuring "Hack the Movies" podcasters, a Zoom interview with Scott MacDonald, a separate on-camera interview with the actor, an interview with cinematographer Dean Lent (Jack Frost 1), additional behind-the-scenes featurettes (Jack Frost 2), collectible mini-posters and more.
LIAR LIAR Blu-Ray (86 mins., 1997, PG-13; Shout! Factory): One of Jim Carrey's biggest box-office smashes has been remastered in Shout Factory's "Shout Select" Blu-Ray release of his 1997 hit "Liar Liar."
This genial farce worked the manic Carrey comedy formula into an amusing though somewhat sentimental vehicle, with its star essaying a workaholic attorney who has to tell the truth for 24 hours after his son's birthday wish improbably comes true. Tom Shadyac's direction keeps things moving along with a capable supporting cast – Maura Tierney, Jennifer Tilley. Amanda Donahoe, Cary Elwes – lending some weight to a movie that finds Carrey in top form, at the height of his commercial appeal.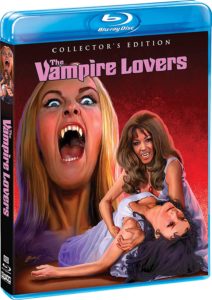 Shout's Blu-Ray includes two new featurettes looking back at the writing and casting of the film, plus assorted legacy extras (deleted scene, outtakes, Shadyac's commentary), a 1080p (1.85) transfer and 5.1/2.0 soundtrack options.
Also New From Shout this month: Hammer fans should be thrilled with the label's newly remastered Collector's Edition Blu-Ray of THE VAMPIRE LOVERS (91 mins., 1970, R), the 1970 thriller that marked the start of the studio's "Karnstein Trilogy." Ingrid Pitt stars as the vampiress trying to make the moves on young Madeline Smith while George Cole provides the opposition (Peter Cushing also makes an appearance as "The General"). Shout's brand new Blu-Ray includes a fresh, smashing new 4K scan (1.85) of the original camera negative, thereby surpassing the older (if perfectly capable) MGM master on Scream's first effort. All-new extras include a commentary by Steve Haberman and Constantine Nasr; interviews with critic Kim Newman, Jonathan Rigby, and Madeline Smith, who also reads an audio essay. Ample extras from the previous release include two other commentaries (one featuring Roy Ward Baker, another sporting Hammer historians Marcus Hearn and Rigby), plus a Making Of, photo gallery; trailer; radio spot; earlier Smith interview; and a reading of "Carmilla" with Pitt among other goodies.
CINEMA OF DISCOVERY: JULIEN DUVIVIER IN THE 1920s Blu-Ray (Flicker Alley): Ambitious and fascinating Flicker Alley compilation pays tribute to the French director Julien Duvivier, a name perhaps not specifically known to American audiences yet whose place in world cinema remains strong amongst historians and buffs.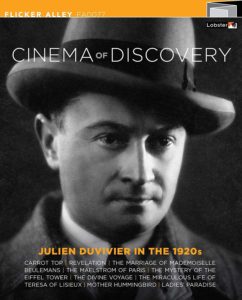 This five-disc Blu-Ray anthology include no less than nine of Duvivier's features from the late 1920s – all of them meticulously restored from the best surviving elements by Lobster Films, culled from a myriad of sources worldwide. Included here are Carrot Top (1925), Revelation (1927), The Marriage of Mademoiselle Beulemans (1927), Mother Hummingbird (1930), The Maelstrom of Paris (1928), The Miraculous Life of Teresa of Lisieux (1929), The Mystery of the Eiffel Towel (1928), The Divine Voyage (1928) and Ladies' Paradise (1930), all human dramas with emotional components that still make their respective stories contemporary today.
Video appreciations on all 9 films are included with critic Hubert Niogret and historian Patrick Brion; additional introductions on 8 of the films by Serge Bromberg; restoration demonstrations; a scoring featurette on "The Divine Voyage" by classical ensemble L'Octuor de France and composer Antonio Coppola; extensive image galleries; all-new English subtitle translations; and a deluxe 48-page booklet spotlighting comments from Duvivier's son, Christian, essay notes from Serge Bromberg along with rare photos. A must for French cinephiles and historians alike.
---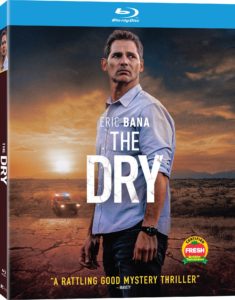 Quick Takes
THE DRY Blu-Ray (117 mins., 2020, R; IFC Films): Eric Bana is back on-screen in this Australian production, starring as a federal agent who returns to his hometown after some two decades for the funeral of his childhood friend. While there, he investigates the older death of a 17-year-old girl in a character-driven, effective dramatic thriller from director Robert Connolly. IFC's Blu-Ray (2.40, 5.1 DTS MA) includes a number of behind-the-scenes featurettes for a movie that's recommended and anchored by Bana's central performance.
Also new from RLJE this month on DVD is HINTERLAND: The Complete Series (21 hours, 2013-16). This absorbing, BAFTA-winning show stars Richard Herrington as a former London cop trying to seek solace in coastal Aberystwyth, only to run into a series of crimes that require him to push past his dark side and work with local DI Mared Rhys (Mali Harries). All three seasons have been compiled here in Acorn's DVD box-set, now available, which sports 16:9 transfers, 5.1 soundtracks, and behind-the-scenes featurettes for all three seasons.
Well Go New Releases: Ryoo Seunbg-Wan's ESCAPE FROM MOGADISHU (122 mins., 2021) utilizes a standard action framework to go alongside its premise involving the real-life civil war in Somalia during the early '90s. There, diplomats including those from rival North and South Korea are forced to join together in order to flee the fractured, war-torn country. Well Go's Blu-Ray includes production documentaries, a Making Of, trailers, a 1080p transfer and both Korean and English audio options.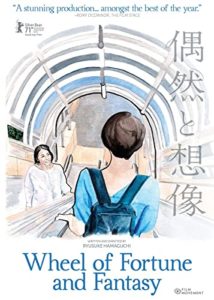 EMA Blu-Ray (107 mins., 2021, R; Music Box Films): Mariana Di Girolamo and Gael Garcia Bernal play married artists whose relationship crumbles after they spurn their adopted son, with Di Girolamo's protagonist flinging herself into a supposedly liberating existence of dance and debauchery. Pablo Larrain's acclaimed Chilean import offers strong performances and visual flair, and comes to Blu-Ray this month from Music Box. The disc includes a 1080p (2.39) transfer, 7.1 DTS MA audio (Spanish with English subtitles), a collectors' booklet, select scene commentary by choreographer Jose Vidal, trailers and a photo gallery.
Film Movement New Releases: Ryusuke Hamaguchi's WHEEL OF FORTUNE AND FANTASY (121 mins., 2021) is the newest film from the "Happy Hour" director, offering another fascinating tapestry of stories with characters connected by coincidence and love itself coming together and, in some instances, pushing one another apart. A well-reviewed Japanese import, "Wheel of Fortune and Fantasy" debuts on Blu-Ray featuring a 1080p (1.85) AVC encoded transfer and 5.1/2.0 Japanese audio (English subtitled), plus Neo Sora's short "The Chicken" (14 minutes) as a bonus feature…American teenager Joy Womack became the first American student to graduate from the Bolshoi Ballet, and her unique story is chronicled in Dina Burlis and Sergey Gavrilov's documentary JOY WOMACK: THE WHITE SWAN (91 mins., 2021). This feature-length profile of Womack's journey makes for a fascinating piece on DVD from Film Movement (1.78, 2.0) also sporting additional interviews and a behind-the-scenes featurette.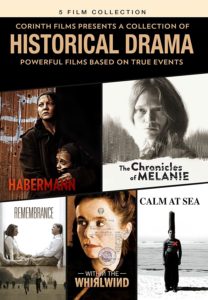 CORINTH FILMS – HISTORICAL DRAMA Collection DVD (Corinth): Five-disc DVD set from the Corinth label includes the 2011 French film "Calm at Sea"; the German/Czech import "Haberman" (2010); the drama "Remembrance" (2010); the Latvian import "The Chronicles of Melanie" (2016); and the 2019 war-time drama Within the Whirlwind" with Emily Watson.
AMITYVILLE UPRISING DVD (85 mins., 2021, R; Lionsgate): There's not much Amityville in this "Amityville," as writer-director Thomas J. Churchill spins a story about zombies who rise out of toxic sludge caused by a military base's chemical spill. Don't be expecting much haunted house horror here, more a "Walking Dead"-inspired, low-budget exercise in familiar genre trappings. Lionsgate's DVD (1.78, 5.1) is now available.
New From Mill Creek: Mill Creek releases a pair of multi-disc DVD compilations offering intriguing Sony catalog titles on January 25th.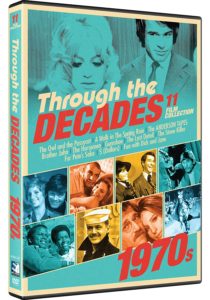 The 12-movie THROUGH THE DECADES: 1960s DVD anthology boasts a number of mostly comedic affairs, including the Tony Curtis/Dean Martin comedy "Who Was That Lady?," plus a quartet of Jack Lemmon comedies ("The Notorious Landlady," "Under the Yum Yum Tree," "Good Neighbor Sam," "Luv"), Warren Beatty and Jean Seberg in "Lilith," Steve McQueen in "Baby the Rain Must Fall," Stephen Boyd in "Genghis Khan" (okay, unintentional comedy), the 1965 Warren Beatty vehicle "Mickey One," Dean Martin in "How to Save a Marriage (And Ruin Your Life)," Jerry Lewis and Peter Lawford in "Hook, Line and Sinker," and finally, the Marlon Brando/Jane Fonda/Robert Redford outing "The Chase."
THROUGH THE DECADES: 1970s does exactly what you'd expect, offering 11 '70s pictures with mostly a more dramatic flair: "A Walk in the Spring Rain" with Anthony Quinn and Ingrid Bergman; Warren Beatty in "$"; Streisand and George Segal's teaming in "The Owl and the Pussycat" plus Babs again in "For Pete's Sake"; Sean Connery in Sydney Lumet's "The Anderson Tapes"; the little-seen Sidney Poitier drama "Brother John"; Omar Sharif in "The Horsemen"; Albert Finney in "Gumshoe"; Jack Nicholson in "The Last Detail"; the Charles Bronson outing :The Stone Killer"; and last but not least, Segal again opposite Jane Fonda in "Fun With Dick and Jane."
BILLIONS: Season 5 DVD (12 hours, 2020-21; CBS): Fifth season of the Showtime series finds the rivalry between Bobby Alexrod (Damian Lewis) and Chuck Rhoades (Paul Giamatti) reignited while Mike Prince (Corey Stoll) challenges the dominance of Axe Capital, where Taylor Mason (Asia Kate Dillon) has been forced back to defend its employees and their assets. All 12 fifth season episodes of "Billions" — which feature Julianna Margulies as a guest star — have been collected here in CBS' now-available DVD (16:9, 5.1), a four-disc set.
NEXT TIME: Kino Lorber's January rundown including THE GREAT ESCAPE in 4K UHD! Until then, don't forget to drop in on the official Aisle Seat Message Boards and direct any emails to our email address. Cheers everyone!