Message Board (open 24 hours!)
Twitter - @andredursin (for everything else!)
So many films from the 1990s have fallen through the cracks in the transition to high-def, never mind Ultra HD. One of the catalogs that has received especially short shrift is the library of Savoy Pictures, an independent studio that distributed a handful of memorable films including Robert DeNiro's "A Bronx Tale" and the Ray Liotta sci-fi thriller "No Escape." My favorite among their few dozen releases was LAST OF THE DOGMEN (118 mins., 1995, PG), a sweeping romantic western that represented one of the last gasps of Mario Kassar's Carolco Pictures, and a film that remains a wonderful, old-fashioned adventure that's been long overdue for rediscovery.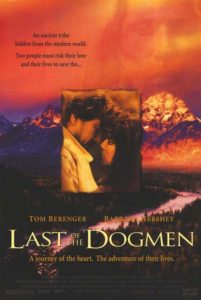 Tab Murphy – whose career began with a script for "Gorillas in the Mist" but later jumped to a prolific amount of work in Disney animation – wrote and directed his original screenplay about a lost tribe of Cheyenne still living, unspoiled by civilization, in Montana's vast Oxbow Quadrangle. They're stumbled upon by a grizzled, cranky tracker named Lewis Gates (Tom Berenger), who's been assigned to find the whereabouts of three armed convicts who have fled into the wild. After uncovering the remains of the men, Gates returns to civilization at the behest of the town sheriff – also his former father-in-law (Kurtwood Smith) – who tasks Gates with an explanation for their apparent deaths. He finds it with the help of an anthropologist (Barbara Hershey) with whom he shares a combative, yet slowly developing, relationship, with the couple finding themselves more attracted to the ways of the improbably long-lost "Dogmen" than the modern world they come from.
We hear the word "throwback" used a lot today, but "Last of the Dogmen" was indeed a real throwback at the time of its release. PG rated with the kind of story that could appeal to anyone, Murphy's effort is wonderfully lyrical, big and old-fashioned– even more so than something like Kevin Costner's "Dances With Wolves," which this picture was unfairly grouped in with. Murphy instills a sense of mystery in the movie, utilizing the Mexican and Canadian shooting locations to superb widescreen effect, and crafts a straightforward, uncluttered story with appealing performances from the two leads. Berenger and Hershey's characters should've warmed up to one another a little sooner than they do, yet they still work well off each other and provide a contemporary grounding for the picture's classic genre sensibilities.
The majestic widescreen visuals are captured by cinematographer Karl Walter Lindenlaub, who had just come straight off Carolco's last big hit, "Stargate," as did composer David Arnold. And speaking of the music, what a score Arnold delivered for this film – broad, beautiful and supportive at every turn, this is my favorite of all of Arnold's soundtracks, and is rightly hailed by the filmmakers in Kino Lorber's Blu-Ray commentary track.
"Last of the Dogmen" opened right after Labor Day in 1995 and I recall enjoying it tremendously back then. Alas, the movie didn't make much noise commercially despite receiving a number of positive reviews from major critics like Siskel & Ebert and Leonard Maltin. Like most Savoy releases, the picture would end up being released on home video by HBO and despite the fact that it seems to have been kept in print for many years, we've never had a quality HD transfer of the movie to enjoy until now.
Kino Lorber's new Blu-Ray of "Last of the Dogmen" marked the first time I had watched the film since a home video release over 20 years ago. The good news is the film really holds up – unlike Costner's 1990 Oscar winner, the preachiness is dialed down in favor of a flavorful, appealing premise, an "old fashioned" entertainment that tells its story with a confidence and style from an era that had already long diminished from view by the time it was released.
The disc's 4K restored (2.35) AVC encoded transfer is spectacularly clear, warmly-hued and just superb – a treat for anyone who might have only seen the movie in standard definition. Extras include an insightful and affectionate commentary with Murphy and producer Joel B. Michaels, along with the trailer and TV spot.
It's worth noting the movie has both its "intended" soundtrack available here in 2.0 and 5.1 formats, as well as the theatrical soundtrack (also 2.0 and 5.1), featuring a studio-added narration by Wilford Brimley. This latter track tries to set the movie within the context of an "Old West" folk legend of sorts, and was so obviously thrown in after the fact that it was clear to viewers who saw the movie originally back in '95 that it wasn't supposed to be there. It's also completely unnecessary, so that its inclusion here is just for posterity's sake, as the disc defaults to the narration-free track upon start up (HBO first included this Brimley-less track in its DVD release).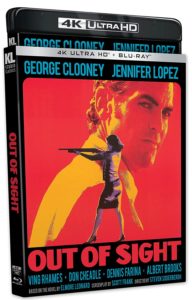 Elmore Leonard's novels have been adapted through the years in everything from the disastrous Cannon release "52 Pick-Up" to Barry Sonnenfeld's successful '90s take on "Get Shorty." Riding on the coattails of both that film and Quentin Tarantino's "Jackie Brown" was OUT OF SIGHT (125 mins., 1997, R; Kino Lorber), Steven Soderbergh's hit that's arguably the best of the lot, mainly because its director strikes the perfect balance between a complicated crime drama and an often loony character study, never succumbing to cuteness (like "Get Shorty" did at times) or an abundance of gratuitous violence.
It helps that George Clooney and Jennifer Lopez, the two leads of "Out of Sight," generate an abundance of chemistry at prime spot in their respective careers: Clooney perfectly acclimating himself to the big-screen after the enjoyable but little-seen programmer "The Peacemaker," and Lopez making an early splash on-screen in a positively fetching performance, both in a smartly written caper-thriller adapted by Scott Frank from Leonard's novel. Clooney plays a bank robber who ends up kidnapping Lopez's federal marshal after a springing from a Florida prison; what happens next is, of course, an intricate but uncluttered heist scheme involving recently released Wall Street banker Albert Brooks, and how Detroit boxer/thief Don Cheadle, Clooney's pal Ving Rhames, stoner ex-con Steve Zahn, and, of course, Lopez all play a role in Clooney's "last big score." Each character is well-defined in the script, and Lopez and Clooney's romance is satisfying and warm, providing a strong backdrop for the movie's main storyline to work itself out.
"Out of Sight" works in part because of the performances – Rhames, Zahn, and Cheadle all offer sterling support while Michael Keaton turns up in a hilarious cameo role – and while strong ensemble acting isn't anything new in movies of this sort, the fact that Soderbergh's direction of this material – at least considering his more offbeat, less "commercial" films up to that point in his filmography – is so assured comes as a happy surprise. The movie isn't as briskly paced or as broadly comic as "Get Shorty," but it's no less entertaining because of it – in fact, "Out of Sight" has more of a believable and realistic tone because characters aren't consistently spitting out glib one-liners in every other line of dialogue. Soderbergh and Frank seem content to let the movie move at an offbeat clip, allowing the characters to slowly develop at a speed that enables them, and not the caper at-hand, to be the real highlight of the picture. After having directed "sex lies and videotape," Soderbergh spent much of the '90s turning out uneven pictures that often displayed a flatline of emotion (save "King of the Hill," his underrated adaptation of A.E. Hotchner's childhood memoir), but "Out of Sight" firmly re-established Soderbergh's career for years to follow.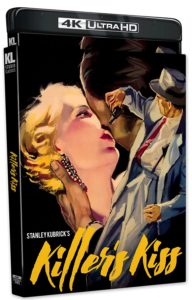 Kino Lorber debuts "Out of Sight" on 4K UHD this month, the disc including Dolby Vision HDR and 5.1 DTS MA sound. This is a glitzy, satisfying transfer that looks well composed and faithful to the movie's original visual design. Extras include a Making Of, deleted scenes, two trailers, and a commentary by Soderbergh and Scott Frank.
Also new on 4K UHD from Kino Lorber this month is Stanley Kubrick's KILLER'S KISS (67 mins., 1955), a minor early work from the great auteur. This UA release is a B-movie in every facet, albeit one that's impressively staged in crisp B&W and boasting a powerkeg of a finale.
Jamie Smith plays a minor league boxer who falls for a nightclub dancer (Irene Kane, aka future TV journalist Chris Chase), much to the chagrin of her boss, a thug played by Frank Silvera, who promptly abducts her, forcing Smith to scour the streets of New York searching for her.
"Killer's Kiss," written by an uncredited Howard Sackler, isn't fully developed as a dramatic work and is best recommended for Kubrick fans, who – between Kino Lorber's new 4K scan of the original negative (1.37 with Dolby Vision HDR), and the movie's boxing match and finale – should find ample reason to appreciate its technical attributes if nothing else. The affordably priced UHD comes with the trailer and a new commentary by historian Imogen Sara Smith.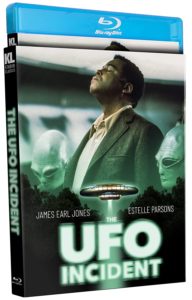 Also New on Blu-Ray From Kino Lorber
On Blu-Ray this month is a memorable – if somewhat underwhelming – 1975 TV-movie that sci-fi fans may remember from the era, THE UFO INCIDENT (92 mins.). The story of a mixed-race Boston couple, Betty and Barney Hill, and their alleged abduction by aliens while driving through New Hampshire in 1961 – as recounted under hypnotherapy – became a bestselling book by John G. Fuller named "The Interrupted Journey."
This Universal-produced network movie retains some chilling elements of their account, but the overly theatrical performances of James Earl Jones and Estelle Parsons in the lead roles seem designed to compensate for Richard A. Colla's pedestrian, stagy direction. "The UFO Incident" is a serviceable, relatively uninspired effort as the couple relay their trauma to a doctor played by Bernard Hughes, and one could envision this subject matter fueling a more developed, cinematic presentation that's yet to be produced.
Kino Lorber debuts "The UFO Incident" on Blu-Ray this month in a good-looking Universal-licensed 1080p (1.33) master. Extras include a commentary by Gary Gerani along with a feature-length doc (!) on composer Billy Goldenberg, "Romantic Mysticism: The Music of Billy Goldenberg."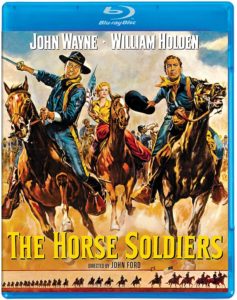 THE HORSE SOLDIERS (119 mins., 1959) isn't regarded by most critics as one of director John Ford's finest outings, but it's still a quite entertaining Civil War tale with Union colonel Wayne sparring with compassionate doctor William Holden as he leads a charge into Confederate territory, destroying railroads and disrupting the opposition's supply lines. Constance Towers, meanwhile, plays the requisite love interest for the Duke: a southern woman who finds her allegiance being tested by Wayne's formidable charms.
MGM released a Blu-Ray of "The Horse Soldiers" back in 2011. That disc was quite good, but this is a brand new 4K master that's even better, offering a warmer color spectrum over the previous release. What's more, a new commentary from Ford authority Joseph McBride gives the film some historical context and production insight. The mono sound is encoded as DTS MA and actually packs a fairly strong punch.
Occasionally some titles slip through the cracks – or in this instance, literally fell out of the shipping box around Christmas time, banished to the closet floor where they would be uncovered, months later, like some kind of ancient relic. Such was the case with GAMBIT (109 mins., 1966), one of the more entertaining of all '60s "caper comedies" in the Hitchcock/"Charade" era, and here receives a sparkling 4K (2.35) restored Blu-Ray transfer from Universal and Kino Lorber. This globe-spanning adventure stars Shirley MacLaine as a dancer who gets wrapped up in cat burglar Michael Caine's attempts at stealing a Chinese artifact belonging to an Arab tycoon (Herbert Lom). Caine and MacLaine have potent chemistry and it helps that the Jack Davies-Alvin Sargent script is superior – so is the direction of Ronald Neame in this mid '60s favorite. Kino's Blu-Ray includes an archival commentary from Neame, a new commentary by historians Howard S. Berger, Sergio Mims and Nathaniel Thompson, and the trailer.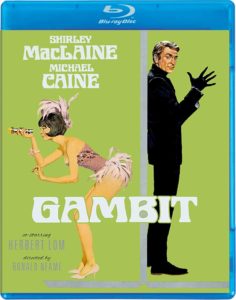 Curt Siodmak fans will get the most enjoyment out of the 1957 Universal programmer LOVE SLAVES OF THE AMAZONS (81 mins.), which sounds like a hoot but is more of a howler. Don Taylor and Eduardo Ciannelli head south of the border are the ones unlucky (or is it lucky) to be captured by a lost tribe of Amazons in a movie that promises Brazilian locations, lovely girls, alligators and other local wildlife – but mostly serves up a tired plot (concocted by Siodmak himself) that's not much fun. Kino Lorber's Blu-Ray does include a new 2K master (2:1) with rich color, trailers, and a commentary by historians Bryan Reesman and Max Evry.
Cult fare from the '70s is on-tap in the AIP offering SAVAGE SISTERS (86 mins., 1974, R), which stars Gloria Hendry, Cheri Caffaro, and Rosanna Ortiz as bad-ass female soldiers about to overthrow an island paradise in Eddie Romero's Filipino-lensed B-movie. A new 2K master (1.85) licensed from MGM is on-tap here plus a commentary with James G. Chandler and Ash Hamilton along with the trailer…Aussie cult director Brian Trenchard-Smith served up an audience favorite with STUNT ROCK (86 mins., 1978, PG), an Edward L. Montoro production that features Grant Page as a stuntman from Down Under who takes advantage of work in L.A. by taking a job for a "theatrical rock band." Great stunts and a very poky script mix for a small-scale entertainment here presented with a fresh new 4K transfer (2.35) with plenty of extras: commentary with Trenchard-Smith, Page and Margaret Trenchard-Smith; a 2009 archival interview with the director; the trailer; another conversation with Brian and Margaret Trenchard-Smith; and bonus interviews from the Aussie film industry documentary "Not Quite Hollywood".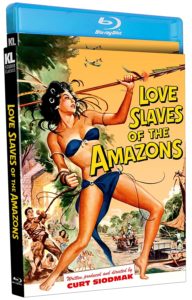 One of the more entertaining genre TV movies of its time, ANTS! [aka IT HAPPENED AT LAKEWOOD MANOR] (95 mins., 1977) is a fun slice of silliness wherein posh party-goers at the upscale Lakewood Manor find themselves attacked by environmentally-ticked off ants. Robert Foxworth – soon to take on mutated bears in John Frankenheimer's hilariously inept "Prophecy" – has the beard and frothy mop going with a superbly talented cast behind him, including Lynda Day George, Bernie Casey, Myrna Loy, Brian Dennehy and even Suzanne Somers. This Alan Landsburg production ("In Search Of…") was written by Guerdon Trueblood (later to do a polish on Lansburg's "Jaws 3-D") and hits Blu-Ray for the first time in a superior Kino Lorber release. The disc includes both 1.33 and cropped-widescreen 1.85 framing, plus extras including audio interviews with cast members Anita Gillette, Barry Van Dyke, Moosie Drier, and Barbara Brownell, plus Lansburg's daughter, Valerie, and a commentary from Lee Gambin.
FILM NOIR: THE DARK SIDE OF CINEMA VII includes three more genre titles on Blu-Ray – all with new 2K B&W masters – each hailing here from the late 50s. Byron Haskin – veteran of both film noir and George Pal extravaganzas – serves up John Payne as THE BOSS (89 mins., 1956), a WWI vet who rides the political train all too well, utilizing corruption on his way up the ladder, in a taut script from a then-blacklisted Dalton Trumbo. This UA release includes a commentary by Alan K. Rode. In CHICAGO CONFIDENTIAL (75 mins., 1957), Brian Keith stars as an attorney taking on the mob after they try and frame a murder on a union leader (Dick Foran) who won't play ball with them. Vol. VI concludes with THE FEARMAKERS (85 mins., 1958), starring Dana Andrews as a Korean War vet who's been brainwashed while fighting overseas, and finds himself working in a Washington, D.C. PR firm overrun with Commies. Jacques Tourneur ("Out of the Past") helmed this independent noir outing, presented here with a commentary by historian Jason Ney. All the 1080p B&W transfers are crisply delivered, even if "The Boss" is the sheer cut-above title in this particular roster.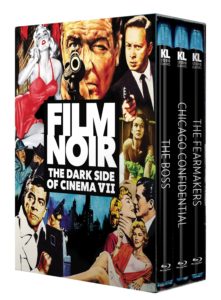 THE MYSTERIOUS DR. FU MANCHU/THE RETURN OF DR. FU MANCHU Blu-Ray Double Feature (82/73 mins., 1929-30): Sax Rohmer's classic pulp villain first hit the screen in 1929's "Mysterious Dr. Fu Manchu," which also marked the first of three performances by Warner Oland as the master bad guy. The future Charlie Chan star goes after Jean Arthur's Lia Eltham, brainwashing her to do his bidding, in a rather creaky early talkie (a silent version was also produced) from veteran Rowland V. Lee. Meanwhile, Neil Hamilton – who would help out Adam West's Batman decades later – co-stars as Arthur's beloved. Both Arthur, Hamilton and Lee returned for the 1930 sequel "The Return of Dr. Fu Manchu," where Fu Manchu meddles in the young couple's wedding.
Both of these Paramount pre-Code offerings have been dusted off for Blu-Ray in new, detailed 2K black-and-white transfers (1:20) licensed from Paramount. For fans of pre-Code Hollywood and Fu Manchu especially these pictures have some novelty value, and are enriched – as usual – by new commentaries from Tim Lucas, whose meticulous research into the films and Rohmer's title character make for an engaging tour of early cinematic history.
Kino Classics and the George Eastman Museum present a detailed 4K restoration of Ernst Lubitsch's third American movie THREE WOMEN (70 mins., 1924), starring Pauline Frederick and May McAvoy as a mother and daughter who vie for the hand of Lew Cody's opportunist, who's looking to get his hands on the ladies' $3 million fortune. A new orchestral score by Andrew Earle Simpson and a commentary from historian Anthony Slide adorn Kino's Blu-Ray (1.33 B&W, silent with intertitles).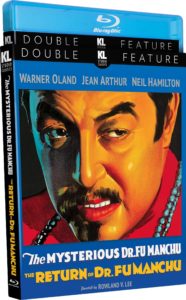 Cohen Media Group New Titles: The artwork makes it look like "Mission: Impossible," but the 2012 low-budget British production LAST PASSENGER (96 mins., R) is something else altogether: a claustrophobic thriller about a group of passengers on a train headed down the tracks for destruction, with only a matter of minutes standing in the way of certain doom for the group. Dougray Scott stars in David Nooshin's film, which made little noise outside the UK seemingly, but debuts here on Blu-Ray from Cohen in a 1080p (2.39) transfer with 5.1/2.0 sound; trailers, featurettes, "sound bites" and B roll footage…Guy Pearce, Felicity Jones and Amy Ryan star in Drake Doremus' character study BREATHE IN (97 mins., 2012, R), the story of a married music teacher (Pearce) who spurns his wife (Ryan) and daughter (Mackenzie Davis) for an infatuation with an exchange student (Jones) they agree to host. A Making Of and interview with Doremus are included in Cohen's Blu-Ray of the independent drama (2.39, 5.1/20 DTS MA).
PASSION IN THE DESERT Blu-Ray (91 mins., 1997, PG-13): Lavina Currier's strange, visually attractive film stars Ben Daniels as a French officer who, lost in the Sahara while fighting for Napoleon, comes across a mysterious ruin and a leopard with whom he comes to share a strange bond. Honore de Balzac's novella was adapted by Currier for this independent production, shot in English here and new on Blu-Ray from Kino Lorber. The disc includes a 2.0 stereo soundtrack and fine 1080p (1.85) transfer.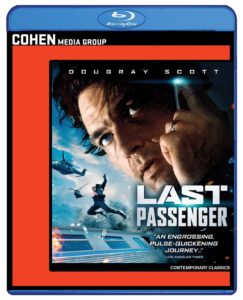 Documentary Corner: A marvelous documentary about the short life of musician Leon Beiderbecke, known simply as BIX (116 mins., 1981), this feature-length profile from Brigitte Berman uses archival photographs, very rare film footage and interviews with greats Hoagy Carmichael and Artie Shaw to bring the cornetist/composer's existence to life. Richard Basehart narrates with Kino Lorber's now-available DVD featuring a 16:9 transfer and 5.1/2.0 stereo sound – all based off Oren Edenson's new restoration with a fully remastered soundtrack by Daniel Pellerin…another excellent music documentary, BLEEDING AUDIO (92 mins.) profiles the rise and fall of Oakland "pop punk" band The Matches, from their early cult following in the early 2000's through a decline during the "digital revolution" of the 21st century. Worthwhile viewing for fans and casual viewers alike, Kino's Blu-Ray here includes a 1080p (1.78) transfer and 5.1/2.0 sound.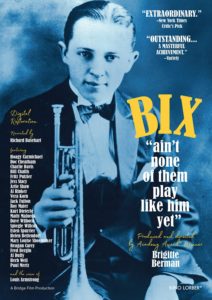 On DVD from Virgil Films, ALIEN ABDUCTION: ANSWERS (84 mins., 2022) is John Yost's exploration of the controversial subject matter. Yost, who directed and appears in the piece, joins with noted genre expert/author Whitley Strieber in re-assessing the abduction phenomena, especially in light of the UFO hearings and disclosures of recent months. Virgil's DVD (16:9, 2.0) is out June 21st…Coming June 28th is HELLO, BOOKSTORE (86 mins.), A.B. Zax's documentary about Lennox, Mass.' attempts to keep its beloved bookstore alive through the struggles of COVID. The feature-length production includes a 16:9 transfer and both 5.1/2.0 sound.
World Cinema Premieres: New this month from Kino Lorber, HIT THE ROAD (93 mins., 2021) is Panah Panahi's (son of celebrated Iranian filmmaker Jafar Panahi) feature debut – a road-trip movie following two middle-aged parents and their children as they travel over the Iranian landscape. Kino's Blu-Ray (1.85) is in Persian with English subtitles (5.1/2.0)…the Israeli import AHED'S KNEE (109 mins., 2021) is focused on an Israeli filmmaker who brings one of his recent movies to a small village – there a government employee tells him what he can and cannot say at a Q&A following the screening. Director Nadav Lapid's film is presented here along with a "Film Comment Live" session with the writer/director, a 1080p (2.39) transfer and both 5.1/2.0 Hebrew sound with English subtitles…the Canadian/French co-production CHARLOTTE (92 mins., 2020) is an anime-styled telling of the life of Charlotte Salomon, a German-Jewish artist who creates an artistic masterpiece on the eve of WWII. Kino Lorber's Blu-Ray debuts June 28th with deleted scenes, behind-the-scenes footage, trailers, a 1080p (1.85) AVC encoded transfer and 5.1/2.0 stereo….Finally, Season 2 of ROCCO SCHIAVONE: ICE COLD MURDERS (417 mins., 2018) again stars Marco Giallini in the lead role — an irascible detective exiled from Rome and assigned to Aosta, an Alpine tourist town with a bevy of offbeat cases for him to decipher – this time with his past playing a role. All eight second-season episodes of the RAI series are new on Blu-Ray from Kino Lorber (1.78, 5.1/2.0 Italian with English subtitles).
---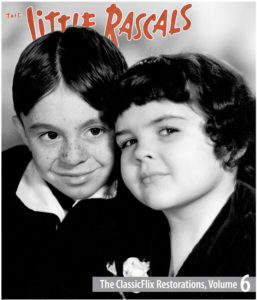 Comedy on Disc
Audience tastes were changing by the mid 1930s and Hal Roach Studios was a little late to the game. With more viewers preferring longer-form features, the two-reel comedy – a Roach specialty – was on the chopping block. That meant a drastic scaling back of these long standing productions, though THE LITTLE RASCALS (254 mins., 1936-38; ClassicFlix) still remained popular enough that production would continue for another slate of adventures for Spanky, Alfalfa and the gang.
With the two-reel art form here shortened to one-reelers (with a single exception), Roach cranked out some 23 final Our Gang shorts until MGM bought out the series (where it would continue through the mid '40s, and for years thereafter in syndicated TV reruns, entertaining future generations like myself). ClassicFlix's Volume 6 Blu-Ray release of the series includes the final episodes produced by Hal Roach Studios between 1936-38, all freshly scanned from 35mm film elements (1.37 B&W). Included herein are Bored of Education, Two Too Young, Play as You Exit, Spooky Hooky, Reunion in Ryhthm, Glove Tops, Hearts are Thumps, Rushin' Ballet, Three Smart Boys, Roamin' Holiday, Night 'n' Gales, Fishy Tales, Framing Youth, The Pigskin Palooka, Mail and Female, Our Gang Follies of 1938 (the sole two-reeler), Canned Fishing, Bear Facts, Three Men in a Tub, Came the Brown, Feed 'em and Weep, The Awful Tooth and Hide and Shriek. Highly recommended, needless to say, for any series fan!
One of the seminal sitcoms of the early days of television, THE ADVENTURES OF OZZIE AND HARRIET (1952-54, MPI) ran for some 14 seasons on ABC, broadcast from the early '50s through the birth of the "mod" era of the mid-late '60s. With husband and wife Ozzie and Harriet Nelson playing themselves along with sons David and Rick, this situation comedy managed to showcase the clan – and the on-screen adolescence of the Nelson kids – in gently amusing, conventional story lines that laid the groundwork for many, many family shows to follow.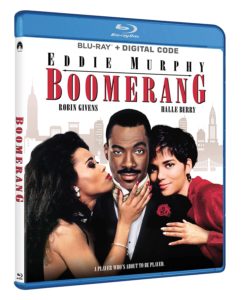 Even though the series ran for some 435 (!) episodes, it was never as visible in syndicated reruns as the likes of "Leave It to Beaver." MPI has completely remastered the series from the original film negatives here and given those of us who never really latched onto the show a new chance to enjoy its amusing comedic antics. Separate Season 1 and 2 DVD releases each showcase some 39 B&W episodes with familiar guest stars and plenty of family-friendly entertainment to spare.
BOOMERANG Blu-Ray (116 mins., 1992, R; Paramount): Mild Eddie Murphy vehicle attempted to pivot the then-struggling star into romantic comedy/leading man territory, which it does with somewhat agreeable results. Under the direction of Reginald Hudlin ("House Party"), "Boomerang" has some decent energy as ladies man Murphy meets his match in equally aggressive corporate-type Robin Givens, also his new boss. Halle Berry makes a splash in one of her first big lead roles while Martin Lawrence, David Alan Grier, Chris Rock and John Witherspoon provide some laughs in the script by comedy vets Barry Blaustein and David Sheffield. A moderate box-office performer better known for generating the smash hit single "End of the Road" by Boyz II Men – #1 throughout basically the entire summer of 1992 – "Boomerang" debuts on Blu-Ray from Paramount featuring a 1080p (1.85) transfer, 5.1 DTS MA soundtrack, Hudlin's commentary and deleted scenes.
---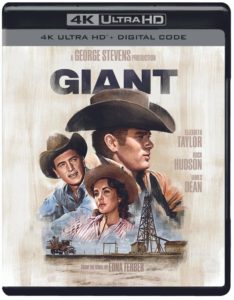 Warner 4K UHD New Releases
'50s icon James Dean's final picture prior to his untimely passing, GIANT (197 mins., 1956, G; Warner) is George Stevens' sprawling soap opera – based on Edna Ferber's book – that offers Dean as the young hand on Rock Hudson's Texas ranch, with Elizabeth Taylor as Rock's new wife and the object of both of their affections. Though the film is lengthy, the sincerity of Stevens' direction, the fine performances and Dimitri Tiomkin's superb score have made it a perennial favorite of '50s cinephiles.
It's always a cause for celebration when one of the major labels remasters a '50s catalog favorite for UHD and Warner has done a generally superb job with "Giant." This is a no-fuss release – the only extra is an archival commentary with George Stevens, Jr., critic Stephen Farber and co-writer Ivan Moffat – making the a/v presentation the reason for movie buffs to upgrade from their Blu-Ray. The HDR10 transfer appears to have superior color accuracy than the previous 1080p release while there's more fine grain apparent in the presentation. The optical dissolves do remain blurry (and can last for minutes at a time), but the sections struck from the original negative look superlative. The DTS MA mono audio is robust, but one wishes the movie had the kind of stereophonic soundtrack to match its big-screen splendor.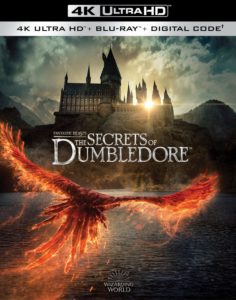 Also new from Warner on 4K UHD this week is the third (already?) entry in the Harry Potter prequel series, FANTASTIC BEASTS: THE SECRETS OF DUMBLEDORE (143 mins., 2022, PG-13; Warner). Alas, this franchise remains one that's playing to diminishing returns, as its appeal lies mainly with Potter cultists and few others.
This latest sequel follows a young Dumbledore (Jude Law) and Newt Scamander (Eddie Redmayne) as they try to take down the dark wizard Gellert Grindelwald (Mads Mikkelsen, replacing the canceled Johnny Depp). Despite having J.K. Rowling attached as a screenwriter with Steve Kloves and director David Yates back – the main creative team behind the later Potter entries – "Dumbledore" is a lot of bland bombast without any of the charm of its predecessors, wrapped up with too many uninteresting characters and the usual array of visual effects, which give off a "been there, done that" feel throughout.
Warner's 4K UHD is out this week featuring Dolby Vision HDR and Dolby Atmos sound. The accompanying Blu-Ray also houses deleted scenes and a number of featurettes with the cast and crew. A Digital HD code rounds out the combo pack.
---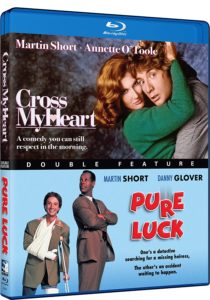 New From Mill Creek
There aren't too many movies with a "Lawrence Kasdan Presents" credit, but CROSS MY HEART (91 mins., 1987, R) was one of the few. The third Martin Short feature released within a year back in '86-'87, this little romantic comedy bombed at the box-office and has had few chances to find an audience over the years.
One of only two movies to be directed and co-written by prolific producer Armyan Bernstein (who would find more success as the co-founder of Beacon Pictures a short time later), "Cross My Heart" is nearly a two-character stage play adapted to the screen. Coming off at times like a cousin to another Universal R-rated comedy of the era – "Casual Sex?," which was adapted from a stage play – Bernstein and Gail Parent's script focuses on the third date of a would-be couple played by Short and Annette O'Toole. He's just been fired from his job and decides to host her, following a dinner date, at the upscale home of his friend (a swinging bachelor played by Paul Reiser); she's a divorcee who's "not as sweet" as she seems, and has a seven-year-old daughter she's reluctant to tell him about.
Both characters, then, harbor personal secrets which they'll eventually divulge – with some comedic predicaments – throughout the course of this exercise, which makes for a breezy, appealing movie – the kind that would never dot a multiplex in 2022. Short displays some seldom-utilized dramatic range here and O'Toole, always an underappreciated leading lady, is a good on-screen match with him. There are a number of funny lines and, even if some of the dialogue seems a little much (and the project a little "stagy"), "Cross My Heart" is well worthwhile as an '80s rom-com with strong performances from both leads.
Mill Creek's new Martin Short double-feature Blu-Ray – which couples "Cross My Heart" with one of Short's worst movies (the 1991 comedy "Pure Luck") – boasts a perfectly good 1080p transfer and 2.0 DTS MA stereo soundtrack, bringing audiences a quality presentation of this little-seen November '87 Universal release. Kasdan recruited a number of his collaborators to work on the film including composer Bruce Broughton, whose score is intertwined with a number of familiar soft rock tunes from the time (including Smokey Robinson's "One Heartbeat").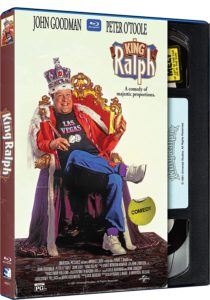 Also on the disc is the 1991 Short comedy PURE LUCK (96 mins., 1991, PG). where the comedian is teamed with Danny Glover in one of the many U.S. remakes of French comedies to populate theaters in the '80s and early '90s. Danny Elfman was too busy to write a full score but did contribute a theme for this August '91 Universal release, which performed decently at the box-office despite serving as an inauspicious debut to American features for Australian director Nadia Tass. Mill Creek's presentation hails from a serviceable Universal (1.85) catalog master.
Also New From Mill Creek on Blu-Ray, as part of the label's "Retro VHS" line, is KING RALPH (97 mins., 1991, PG), an underwhelming vehicle intended to launch "Roseanne" co-star John Goodman as a big-screen leading man. Despite heavy promotion and marketing tie-ins with Burger King, "King Ralph" didn't become a Whopper at the box-office – yet this formulaic culture clash comedy wherein Goodman's Vegas entertainer improbably becomes the last member of Britain's Royal Family (wiped out in a lightning strike!) offers a few modest laughs, mostly for the scenes where Goodman plays off the likes of Peter O'Toole and a villainous John Hurt. "Major League"/"The Sting" writer David S. Ward also directed, and Mill Creek's Blu-Ray (1.85, 2.0 DTS MA) includes a decent transfer plus one of the label's Retro VHS collectible slipcovers…Another Double Feature pairs two George Clooney efforts from the late '00s – the underwhelming thriller THE AMERICAN (105 mins., 2010, R) and the period pigskin effort LEATHERHEADS (114 mins., 2008, PG-13), which despite a historical setting and fun premise concerning the early days of pro football, never percolates. Mill Creek's 1080p (1.85/2.35) transfers and 5.1 soundtracks are fine.