Message Board (open 24 hours!)
Twitter - @andredursin (for everything else!)
Imprint's latest releases include two '60s seafaring adventures along with a Biblical epic more "serious" than Saturday Matinee in its overall tone. Each limited-edition Blu-Ray marks its respective picture's premiere HD release, though some of the source elements vary in terms of quality. The films themselves, though, each come heartily recommended, offering a diversity of entertainment for movie buffs.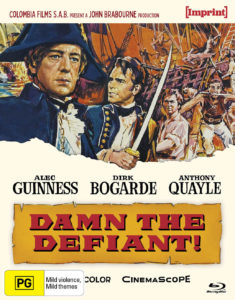 DAMN THE DEFIANT! (101 mins., 1962) is most satsisfying of the three films – producer John Brabourne's follow-up to "Sink the Bismarck!," offering a maritime drama from a whole different era. In this adaptation of Frank Tilsley's "Mutiny" from screenwriters Nigel Kneale and Edmund H. North, Alec Guinness plays a weary veteran commander of a British warship during the Napoleonic wars; Dirk Bogarde is his untrustworthy first-mate looking to step over him on his way up the ladder; and Anthony Quayle looks to cause trouble of his own as one of the grizzled crew hoping to improve their pathetic living conditions.
Prolific director Lewis Gilbert helmed this robust, exciting adventure (titled simply "H.M.S. Defiant" in Europe) that looks great in widescreen and offers a nice mix of action and more intimate drama between the British officers and their disgruntled – though, ultimately, not entirely unpatriotic – crew. While Guinness himself was reportedly unmoved by the final product, the picture affords both him and Bogarde just enough character interest to get by, while there are several ship pillages, cannon fire, and naval battles to go around.
A Columbia title that bypassed a Blu-Ray in the U.S., "Damn the Defiant!" looks pretty solid here in its HD (2.35) master. The AVC encoded transfer of this Cinemascope-lensed, European-shot effort (mostly in Spain) is mostly quite good with the source elements looking aged here and there but, generally speaking, sufficiently healthy all told. The print has its share of speckling but it hasn't been filtered unlike the other two catalog titles reviewed below. Even better is the stereophonic sound encoded in a PCM 2.0 stereo track that features some effective directional passages, especially during the battle scenes.
Welcome special features include nearly 90 minutes (!) of new interviews with surviving crew and cast members, plus an informative 16-minute discussion on the production with historian Sheldon Hall. A commentary from the engaging tandem of Kim Newman and Barry Forshaw is filled with laughs and lots of trivia, making for a nice companion piece after having taken in a viewing of the film itself.
Not on the same level but still a fair amount of fun, the 1964 Columbia adventure THE LONG SHIPS (126 mins.) is one of those "Saturday Matinee" flicks that's part camp, part comic book, and 100% brainless entertainment for viewers of all ages.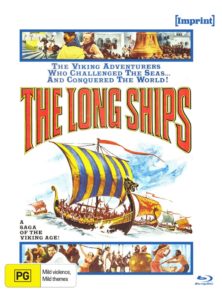 Richard Widmark plays a Viking (!!) shipwrecked in a Moorish kingdom presided over by Prince Sidney Poitier (just coming off his Oscar win for "Lilies of the Field"). Widmark spins some wild yarns about a giant gold bell dubbed the "Mother of Voices," which leads Prince Sidney to torture Widmark about its whereabouts — but not before Dick the Viking stages a miraculous escape back to his homeland. After an apparently uneventful journey home, he joins up with brother Russ Tamblyn, kidnaps the Viking King's daughter (Rosanna Schiaffino), and steals his boat in an attempt at claiming the Bell.
Long-time Ray Harryhausen collaborator Beverley Cross co-wrote this colorful widescreen adventure: like a B-grade variation on "The Vikings," but in some ways just as much fun. Widmark's miscasting is a bit much at times, but he's certainly energetic enough, and is supported by a strong production shot in Yugoslavia, a good supporting cast (Poitier is indeed "The Man"), and Dusan Radic's sweeping orchestral score. Christopher Challis' Panavision cinematography is terrific, and there's even an opening title sequence and prologue concocted by Maurice Binder of James Bond fame. Add in some lovely looking ladies, sprawling battle scenes, and tongue-in-cheek humor, and "The Long Ships" stays afloat with ridiculous, escapist entertainment that still pleases today.
Of the trio of Imprint July releases, "The Long Ships" falls somewhere between "Defiant" and "Barabbas" in terms of a/v quality. The image looks aged and there's some heavy filtering going on at times, but it's the best master that exists in the Sony vault so fans will have to live with it. The mono sound is clear, and supplemental features include a new commentary with critic Phillipa Berry and brief interviews with actresses Jeanne Moody and Julie Samuel. The disc is capped by separate conversations with Sheldon Hall and Kim Newman, both of whom share an affection for this cult favorite and its rocky production history, aye!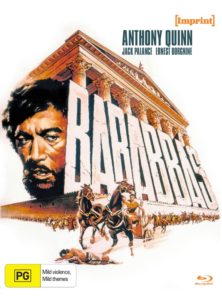 The era of the Biblical film was waning by the early 1960s when BARABBAS (137 mins., 1961) hit theaters. Not a big box-office success, the expensive Dino DeLaurentiis production now comes across as one of the more interesting, and certainly introspective, pictures that premiered in the wake of "Ben-Hur" and "King of Kings," with this adaptation of Par Lagerkvist's novel functioning as a defacto sequel of sorts. Opening with Christ's crucifixion, it follows the subsequent travails of the thief and murderer Barabbas, who was given another opportunity at life when Jesus was chosen to die.
Anthony Quinn's performance anchors this episodic and consistently compelling production as Barabbas' personal belief system slowly evolves – more or less – through a series of trials including a memorable section that had to have inspired Ridley Scott's "Gladiator," with Barabbas taking on a dastardly Roman (a delightfully sneering Jack Palance) in combat.
There are a lot of unusual elements to "Barabbas," including a very low-key finale that's anything but the big triumphant conclusion one might anticipate from a film of its era – but credit director Richard Fleischer, making one of several DeLaurentiis productions, for dialing it back, along with screenwriter Christopher Fry, who faithfully adapted the source material.
"Barabbas"' HD master (2.35) is apparently the only one in existence at Sony and it's unfortunate because this is a problematic presentation in terms of color (only starting at the 94 minute mark does the movie's color pallet seem natural) and clarity, as there's a lot of noise-reduction and associated filtering going on. Other transfers of the film on streaming and home video seem to have originated from this same source, so whatever benefits Imprint can bring to the table in terms of the disc's high bit-rate AVC encoding are minimal at best. (Could be the negative is lost and/or locked away in Dino's vault somewhere in Europe, as the movie has never looked good on the small screen).
That said, if you want to own the film on home video in currently its "best" presentation, the Blu-Ray still works because of its 2.0 PCM stereo soundtrack and superb extras. These include an interview with historian Sheldon Hall while Kim Newman and Barry Forshaw package an informative if occasionally irreverent commentary on the picture. An older, half-hour Fiction Factory piece on Fleischer and his career rounds out the disc.
---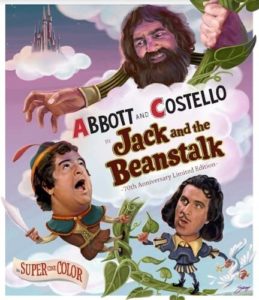 New From ClassicFlix
During the early '50s Lou Costello and Bud Abbott broke away from Universal, producing several features independently. One of those efforts, JACK AND THE BEANSTALK (78 mins., 1952; ClassicFlix), was distributed by Warner Bros. but, over time, fell into the public domain, where it languished for decades in one inferior home video release after another. Making matters worse, some TV prints originated from a "preview version" of the movie, utilizing footage that ended up being cut from the actual theatrical run.
"Jack and the Beanstalk" was recently released on Blu-Ray by another label but don't let that confuse you as the only release worth picking up is ClassicFlix's spectacular new Limited Edition. This has been — as is often the case with any restoration from Bob Furmanek and the 3D Film Archive team — painstakingly restored in 4K from 35mm "SuperCinecolor" elements (1.37) that feature the original WB logos, the Sepia-toned introduction and epilogue segments, and of course, the full color main body of the film, which offers A&C in a gentle, "Wizard of Oz"-esque musical comedy variation on the fairy tale.
No, this isn't A&C at their prime — the songs are forgettable and the humor is hit and miss — but it's still a picture that the duo's fans have long enjoyed, though never really appreciated due to the public domain trap the movie fell into. ClassicFlix's Blu-Ray — which really is limited — gives viewers the first real opportunity to see the picture in an elevated technical format at long last, and even with some portions of the source materials being in better shape than others, all of it bests any old VHS, laser or TV broadcast you might remember from your own childhood.
ClassicFlix's Blu-Ray also includes a wonderful array of extras, most especially an informative commentary by A&C expert Ron Palumbo, augmented with interviews excerpts between Palumbo and co-star David Stollery. Lou Costello's youngest daughter, Chris, provides a brief introduction while we also get newly discovered footage of A&C performing "Who's On First" from 12/2/40; new featurettes on the music and the Cinecolor process; sections on deleted scenes and alternate footage (some of which, as I mentioned before, was shown on various TV broadcasts); publicity materials, coming attraction reels, and numerous other surprises are all in-store for Abbott & Costello fans in a must-have Blu-Ray that's bound to sell out sooner than later.
---
---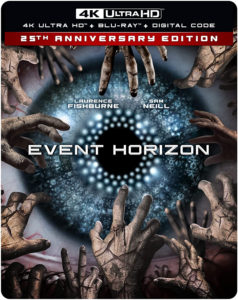 New From Paramount
There are good movies, and there are bad movies. Then there are bad movies which end up as great Blu-Ray discs. A horror fan favorite despite being a box-office letdown, EVENT HORIZON (95 mins., 1997, R; Paramount) debuts on 4K UHD this August in a strong a/v package from Paramount.
It's not as if the movie is unwatchable or doesn't have some positive aspects: Paul (W.S.) Anderson's film was a major British production, augmented by American studio money, and offers both impressive cinematography by Adrian Biddle and evocative production design by Joseph Bennett. The cast is also terrific: Laurence Fishburne, Sam Neill, Kathleen Quinlan, Joely Richardson, Jason Isaacs and Sean Pertwee manage to create one of the more impressive ensembles you'll see in any sci-fi/horror genre piece.
The problem with "Event Horizon" then and now remains the story: a ship, deep in space, attempts to uncover what happened to the vessel Event Horizon, which was presumed lost until it turned up in the far reaches of the galaxy, minus any signs of actual life. On the case are captain Fishburne, crew Quinlan, Richardson, Isaacs and Pertwee, and mysterious doctor Neill, who may know more than he's saying about the secretive mission.
Philip Eisner's original story had to do with an alien force inhabiting the deserted ship but Anderson and producer Jeremy Bolt opted to alter the premise to suit a "haunted house in space" plot. The monsters were excised but the visions of hell itself remained — along with a messy script that rips off "The Shining," "Dead Calm," "Hellraiser," "Alien," "Aliens," "2010″ and "Lifeforce," to name just a few. The movie's premise is similar to Michael Crichton's novel "Sphere" (which opened a short time after "Event Horizon" in its own, ill-fated film adaptation), which wouldn't have been so much of a problem had the movie not developed its own characters and dramatic situations uniquely.
Instead, despite its visuals, the picture becomes increasingly ridiculous as it goes along, ultimately succumbing to unintentional laughs and one of the worst fade-out endings of its era. Thinly-drawn characters make all the usual mistakes of running down dim corridors and succumbing to their own private demons, while horror fans will have to weigh the decent quotient of gore on-hand (and there was even more in Anderson's original cut) with ample doses of cringe-inducing dialogue (like Neill's "we don't need eyes where we're going!" and the cliched, "ethnic" comic relief supplied by Richard T. Jones, who asks female crew mates if they'd like "something hot and black inside" them).
Though still viewed today as a missed opportunity by and large, "Event Horizon" makes for a dazzling 4K UHD with Dolby Vision HDR. The DTS MA mix is the same as previous releases but Adrian Biddle's cinematography is elevated by the format's higher contrast and "pop out colors" afforded by the UHD's HDR.
Extras are carried over from Paramount's older Blu-Ray. Anderson talked for years about restoring his grizzly "hell" footage and offering a longer cut of the movie, which he lamented didn't happen back in '97 due to a lack of post-production time. That being said, Anderson did willingly trim his two-plus hour version down for the eventual 97-minute theatrical release, noting the first cut was too long…but then realizing now that the theatrical cut isn't long enough.
Unfortunately, Anderson couldn't locate all the elements needed to restore the movie, so what we have here is a high-def presentation of "Event Horizon"'s released version with an archival commentary from Anderson and Bolt, along with a bounty of extras offering what remains of the deleted sequences.
The highlight of the extras is a fascinating, thorough documentary running over 100 minutes, featuring new interviews with Anderson, Bolt, Jason Isaacs and even the two fellows who comprise "Orbital" (who added techno elements to Michael Kamen's orchestra, resulting in a loud, pulsating score) talking about the movie. It's a bit dry and could have used some editing — some of the speakers repeat the same information a few times over the course of its duration — but it's nevertheless essential for "Event Horizon" fans. An additional documentary, "The Point of No Return," includes more technically-oriented featurettes, primarily devoted to the filming and effects.
Even more revealing are the tantalizing deleted sequences, including an alternate climax (albeit without dialogue but rather commentary from Anderson), other unfinished scenes (one of which was written by "Seven" and "Sleepy Hollow" scribe Andrew Kevin Walker), and an unused prologue in storyboard form. Some of the material had to be culled off surviving videotaped footage, though all of it points to an even more graphic and bloody movie than the still-violent final cut that was eventually released.
"Event Horizon" is a movie that looks good, sounds good, and is fairly well acted, but ultimately fails to provide a coherent and suspenseful story to match its creepy tone and atmosphere. Regardless of how you fall on the movie, though, there's no question Paramount's 4K UHD ought to be a must-have for the film's fans.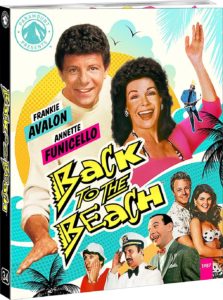 BACK TO THE BEACH Paramount Presents Blu-Ray (92 mins.,1987, PG; Paramount): Sporting a dynamite stereo soundtrack (with a bouncy score by Steve Dorff), the summer '87 release "Back to the Beach" attempted to both satirize and update the Frankie & Annette "Beach Party" films, right down to its casting of…Frankie & Annette. This mildly diverting mix of music, surf, sand, and spoof was apparently rewritten by "Bosom Buddies" co-creator Chris Thompson (while a whopping 17 writers reportedly toiled on the project, the 5 credited scribes include James Komack and "Star Trek IV" writers Steve Meerson and Peter Krikes), and stars not only Frankie and Annette as the now-grown former teen heartthrobs but also cameo appearances by the likes of everyone from Dick Dale and Bob Denver to Don Adams, Pee-Wee Herman, Jerry Mathers, Tony Dow, and (yes) O.J. Simpson!
Though the humor is a little strained at times (it could've used less of the couple's obnoxious teen son), "Back to the Beach" — which earned unlikely raves from Siskel & Ebert after debuting without the benefit of release-day critic screenings — is still worth a look if you're an aficionado of the original American-International hits of the '60s, and features an upbeat soundtrack (with several song numbers) that's hard to get out of your head (regrettably, the best one — "We'll Go On Forever" — wasn't even included on the movie's original soundtrack!).
Premiering on Blu-Ray for the first time, "Back to the Beach" (1.85) has been restored from original film elements and looks vibrant and warmly colored. The 5.1 DTS MA track provides a rollicking good time, while Lyndall Hobbes — a young Australian woman who became a prolific director of music videos and made her only feature here — is interviewed about the movie's challenging production process.
---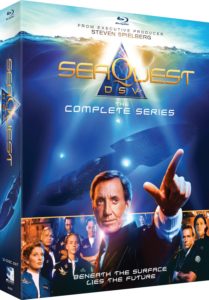 New From Mill Creek
September 12, 1993: sci-fi/fantasy fans are gripped throughout the nation as two of the most anticipated TV series of the year are about to debut…opposite one another in the same Sunday 8pm time slot. Which one do you chose? The first adventures of the Man of Steel since the Christopher Reeve era ended – "Lois & Clark" – or the even pricier, Steven Spielberg-produced NBC series SEAQUEST DSV, which reunited the director of "Jaws" with its star, Roy Scheider. It was a tough call but, being bored in the dorm during freshman year of college, I stuck with Steven in the hopes that "SeaQuest" would do for oceans what "Star Trek" did for intergalactic space exploration.
Of course, it didn't take long before most of us realized this lavish fantasy (45 hours, 1993-95) was a bigger disappointment than Spielberg's previous TV foray, "Amazing Stories." All the elements were in place with Scheider playing Captain Nathan Bridger, fearless leader of a high-tech, futuristic naval submarine with Jonathan Brandis as his teen son and an intrepid crew navigating the seas, meeting up with villains and creatures alike. While expectations were high, behind-the-scenes strife led to a turbulent run and a revolving door of producers and writers – silly, uneven scripts (check out William Shatner in an early episode stint as moustached dictator "Tezlov") put the final nail in the coffin, though NBC kept the show going in the hopes it would eventually turn itself around. "Seaquest" did endure through two full seasons and even managed to generate a third season renewal – albeit one canned after 13 episodes, by which point even Scheider had the good sense (as did Spielberg) to walk away.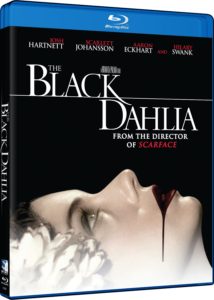 Still a series fondly remembered by its fans (there was even a Super Nintendo game), "SeaQuest DSV" debuts on Blu-Ray (1.33, 2.0 DTS MA stereo) this month from Mill Creek. The 10-disc set includes very solid 1080p AVC encoded transfers and stereo sound – it's worth nothing "SeaQuest"'s then-pricey CGI effects were rendered in the era before high-definition, so the VFX shots look inferior in terms of crispness and clarity to the rest of the series. By and large, though, the encoding is superior for Mill Creek and the package, which includes all 57 episodes, also sports special features like deleted scenes and new interviews with creator Rockne S. O'Bannon (who had more success with the TV adaptation of "Alien Nation") plus series directors Bryan Spicer, John T. Kretchmer, and "Happy Days" alum Anson Williams.
THE BLACK DAHLIA Blu-Ray (122 mins., 2006, R; Mill Creek): Brian DePalma's 2006 misfire remains a crushing disappointment since it squandered compelling source material (namely, a James Ellroy novel), atmospheric cinematography from Vilmos Zsigmond and a spectacularly noir-ish score by Mark Isham that's easily one of the composer's finest works. Sadly, Josh Friedman's script — following a pair of detectives (Josh Hartnett and Arron Eckhart) as they investigate the death of a young actress (Mia Kirshner in a totally thankless role) in early '40s Hollywood — is an absolute mess that borders on the incoherent, jumping from one plot to another and then climaxing with one of the most convoluted denouements you'll ever see in a movie of this sort! DePalma's eye for visual flair is on-hand as usual, but this one is a turkey that ranks with his biggest failures, and Fiona Shaw's unintentionally hilarious, totally unhinged performance as suspect Hilary Swank's mother must be seen to be fully believed. Mill Creek's Blu-Ray (2.35, 5.1 DTS MA) is perfectly serviceable – buy the soundtrack album instead.
---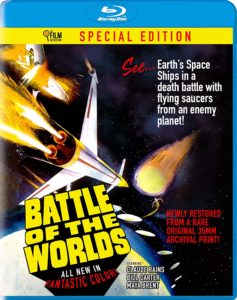 Also New & Noteworthy
BATTLE OF THE WORLDS (84 mins., 1961; The Film Detective): Newly remastered from an original 35mm archival print, "Battle of the Worlds" is poised to entertain a new generation of Italian cinema fans as well as '60s sci-fi enthusiasts. Antonio Margheriti's film about an asteroid that's surrounded by flying saucers and headed towards Earth falls in an intriguing place in the genre, between comparatively stoic '50s alien invasion films and more colorful, international outings of the '60s which Margheriti and cinematographer Marcello Masciocchi contribute to here. Claude Rains leads the cast in a fantasy that's a little rocky in its overall construction but offers enough ideas to make it worthwhile for buffs. The Film Detective's Blu-Ray (1.85, mono) likely looks and sounds superior to any previous transfer since its 4K scan originates from a 35mm print in decent shape; terrific extras include a Ballyhoo doc on Margheriti's prolific work in the sci-fi genre and a commentary from writer Justin Humphreys.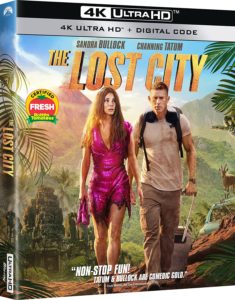 THE LOST CITY 4K Ultra HD/Blu-Ray (111 mins., 2022, PG-13; Paramount): Sandra Bullock attempts her own "Romancing the Stone" with this disappointingly feeble action comedy, wherein Bullock's bestselling (and sexually repressed) author is joined by the far more popular hero (Channing Tatum) of her tomes' cover artwork on a real adventure: locating a lost city for nefarious Daniel Radcliffe. The premise is sound but, whether it was because of COVID or not, the execution is lacking in a heavily green-screened outing long on sass and short on charm. Paramount's 4K UHD (2.39, Dolby Atmos) looks nifty with Dolby Vision HDR grading and a Blu-Ray also sporting several extras, including deleted scenes, bloopers, featurettes, and a Digital HD copy.
New on 4K UHD from Warner is the latest DC Universe movie, GREEN LANTERN: BEWARE MY POWER (82 mins.. 2022, PG-13; Warner), which debuts the new incarnation of the latest Green Lantern: John Stewart, a marine who joins up with Green Arrow and Thanagarian Hawkgirl (have to put the Thangarian in there now apparently) while engaging in a galactic war with bad guys like Sinestro. There's a lot of plot in this Jeff Wamester-helmed production, on 4K UHD (HDR10, 5.1 DTS MA) this week from Warner. The combo pack also includes a Digital HD copy and Blu-Ray sporting a pair of bonus cartoons and the featurette "John Stewart: The Power and the Glory."
---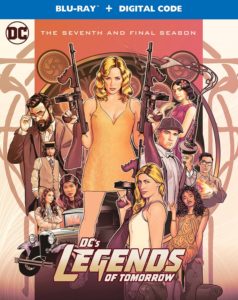 Quick Takes
DC's LEGENDS OF TOMORROW: The Seventh and Final Season Blu-Ray (546 mins., 2022; Warner): The uneven DC comic book series decides to stay "stuck", for the most part, in a throwback era — 1920s Chicago — with the gang hoping to travel to NYC. There, they plan to locate Dr. Gwyn Davies, an early time-travel pioneer, whom they believe can send them back to their present (future). Plenty of fighting androids and light humor comprise this agreeable, 13-episode conclusion of the CW series, now on Blu-Ray (1.78, 5.1 DTS MA) from Warner sporting a digital copy and several extras: a gag reel, unaired scenes, Season 7 "SDCC@Home Cast Panel" segment, and "Captain at the Helm" featurette, celebrating the show's 100th episode.
NADIA: THE SECRET OF BLUE WATER Blu-Ray (980 mins., GKids/Shout! Factory): When teen inventor Jean befriends the mysterious Nadia — who holds a crystal called the Blue Water — he's quickly plunged into a wild adventure set in 1889. Hideaki ANNO, creator of "Neon Genesis Evangelion," started his career with this exciting Japanese series that's been restored in a meticulous 4K restoration from GKids and Shout! Factory. Anime fans should groove to this adventure, presented on five Blu-Rays (1.33) with Japanese 2.0 DTS MA audio and English subs, or an English dubbed track. A 20-page booklet sports character artwork while a Prologue and TV spots round out the release…Also new from Shout! for family viewers is GULLIVER RETURNS (90 mins., 2021), an animated sequel that finds Gulliver heading back to Lilliput at the behest of his smaller friends to take on a new enemy threat. Inspired by "an original idea by Ukrainian President Volodymyr Zelensky," "Gulliver Returns" offers mostly simplistic animation albeit in full widescreen (2.39) on Shout's DVD — it's passable stuff for younger viewers. The DVD, out August 9th, includes 5.1/2.0 English audio.
YELLOWBRICKROAD Blu-Ray (100 mins., 2010, Unrated; Lightyear): Indie horror effort from writer-directors Andy Mitton and Jesse Holland follows a group of researchers who soon wish they never set out to uncover the reason for an entire New Hampshire town's disappearance back in 1940. Nihilistic though fairly competently filmed, "Yellowbrickroad" here resurfaces in an "updated" Special Edition with two new featurettes and a handful of fresh cast/crew interviews. Lightyear's BD disc (1.78, 5.1/2.0) also carries over the original Mitton-Holland audio commentary from 2010 (Available August 9th).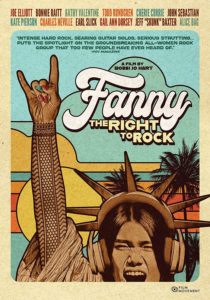 Film Movement New Releases: Coming on DVD this month from Film Movement is Bobbi Jo Hart's music documentary FANNY: THE RIGHT TO ROCK (96 mins., 2022) which follows two Filipina-American sisters whose Sacramento, California garage band would evolve into Fanny — the first all-woman recording group to produce an LP from a major label. The group's legacy is chronicled in this entertaining "Behind the Music" type feature, with Film Movement's DVD (1.78, 5.1/2.0) sporting over 35 minutes of additional footage…Leonie Krippendorff's COCOON (95 mins., 2020) tells how a 14-year-old teen discovers her affections for another girl during a memorable summer. This sensitive German import debuts on DVD (1.39, 5.1/2.0 German with English subtitles) August 9th with Ida-Maria Olva's short "Summer of Bees" included as an extra feature.
MID-CENTURY Blu-Ray (105 mins., 2022, R; Lionsgate): Relatively interesting indie thriller at least starts off with an intriguing premise, as ER doctor Sarah Hay and her husband head to a weirdo architect's gorgeous modern home — not knowing the spirits of the man's dead wives are still out and about. Sonja O'Hara's direction and Mike Stern's script try for a while to hold the film above water, but the last third fails to get the job done, even with a decent cast including Shane West and Bruce Dern. Lionsgate's Blu-Ray (2:1, 5.1 DTS MA) is now available sporting a digital HD copy.
HOT SEAT Blu-Ray (99 mins., 2022, R; Lionsgate): Looks like Mel Gibson has inherited Bruce Willis' mantle as the new king of home video check-cashing, with Mad Mel here relegated to second billing in the story of an IT expert (top billed Kevin Dillon) who finds out he has a bomb strapped to his desk chair. While Dillon is coerced into stealing digital funds and framed for being a terrorist, it's up to Mel's diffusion expert to uncover all the pieces behind the conspiracy in James Cullen Bressack's competently performed yet uninspired thriller. Lionsgate's Blu-Ray (2.39, 5.1 DTS MA) is out August 9th sporting a Digital HD copy.
BABY ASSASSINS Blu-Ray (95 mins., 2021, Not Rated; Well Go USA): Wild Japanese import follows the carefree life of two teen assassins — but this is no "La Femme Nikita," as the girls in "Baby Assassins" brood less and enjoy their existence more, at least until they run afoul with a Yakuza. Hugo Sakamoto's fast-moving Hi-Yah! original debuts on Blu-Ray August 16th from Well Go, the disc sporting DTS MA Japanese audio and English subtitles.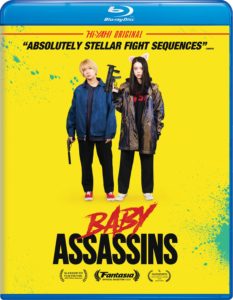 WHITE ELEPHANT Blu-Ray (92 mins., 2022, Not Rated; RLJ Entertainment): Reportedly one of the recent movies that really illustrated Bruce Willis' deteriorating off-screen condition, "White Elephant" offers Michael Rooker as an ex-marine/current mafia enforcer working for boss Willis when an assassination attempt is witnessed by two cops. Olga Kurylenko and John Malkvich star in Jesse V. Johnson's straight-ahead action pic that's not terrible whenever guns are drawn — but the "dramatic scenes" lack tension or any kind of energy from the burned-out cast. RLJE's Blu-Ray (2.39, 5.1 DTS MA) hits August 2nd.
New Shudder Releases From RLJE: The horror channel and RLJE give fans a pair of new DVD releases this month. SLAPFACE (86 mins., 2020) serves up the story of a lonely boy who befriends a monster after the death of his mother. Things, naturally, don't go down well in Jeremiah Kipp's one-note, bleak affair, which offers a stifling, claustrophobic atmosphere and decent performances. RLJE's DVD (2.39, 5.1) is now available sporting a Q&A video with the cast/director, a behind-the-scenes featurette and photo gallery…Also now available, and much more engaging, is HELLBENDER (83 mins., 2021), a not entirely developed but intriguing tale of a teen who awakens her thirst for blood at the same time she and her mom perform in a small metal band. Witches abound in this weirdly effective little film, shot in a plain, documentary style from writer-directors Toby Poser and Zelda and John Adams. RLJE's DVD (1.85, 2.0) includes a featurette, music videos, bloopers and behind-the-scenes footage.
CORDELIA DVD (92 mins., 2020; Screen Media): Antonia Campbell-Hughes stars in the title role: a young woman in London who, with her twin sister being away for the weekend, becomes unraveled after meeting and falling for her suspicious neighbor (Johnny Flynn). Adrian Shergold directed this rocky, weird thriller that seems to "out-twist" itself en route to a hugely unsatisfying end. Screen Media's DVD (16:9, 2.0/5.1) is now available…Also new from Screen Media is THE GOOD NEIGHBOR (106 mins., 2021) starring Luke Kleintank and Jonathan Rhys Meyers as neighbors who hit a woman and flee the accident scene. After Kleintank meets the victim's sister, though, he wants to make amends — setting off Meyers, who just wants to keep it a secret at any cost. Screen Media's DVD (16:9) includes 2.0/5.1 audio options.
Finally, coming on Blu-Ray August 9th from Screen Media is CODE NAME BANSHEE (93 mins., 2022). Here, Antonio Banderas plays an ex-assassin who has to pop out from cover in order to work with his protege (Jaime King) after she finds out a bounty has been placed on Banderas' back. Pretty routine stuff with the duo taking on the covert CIA ops tasked with rubbing them out; Screen Media's disc includes a 1080p transfer and 2.0/5.1 audio options.
NEXT TIME: More of the latest releases! Until then, don't forget to drop in on the official Aisle Seat Message Boards and direct any emails to our email address. Cheers everyone!