Message Board (open 24 hours!)
Twitter - @andredursin (for everything else!)
The kind of picture built for Blu-Ray rediscovery, DREAMCHILD (94 mins., 1985, PG) is a film that received some critical acclaim back upon its original release but has been nearly forgotten entirely since. Acclaimed author Dennis Potter's original drama examines an elderly Alice Hargreaves (Coral Browne) – the inspiration for Lewis Carroll's "Alice in Wonderland" – as she arrives in America to commemorate the marking of what would've been Carroll's 100th birthday. Flashing back upon her life while dealing with issues that remain in her present, Alice's thoughts are filled with contrasts – the dark and dreary, the poignant and inspirational – as she comes to terms with them all.
"Dreamchild" isn't a movie for kids – nor was it well-served by a dismally washed-out VHS release on the Thorn EMI/HBO label back in 1985. Lifeless colors dominated a movie that's only partially dreary in its emotional range, as Potter's film probes both the elements surrounding young Alice's (Amelia Shankley) relationship with a quasi-creepy Carroll, aka Reverend Dodgson (Ian Holm), as well as the older Alice's combative association with artistic material that simultaneously brought the world great joy. The relationship between them makes for a thoughtful and compelling film interspersed with fantasy sequences – featuring grotesque puppets created by Jim Henson's Creature Shop – and only marred by an unnecessary secondary story line involving Alice's young traveling companion (Nicola Cowper) and a New York City hustler (Peter Gallagher). Browne is superb and director Gavin Millar generates some poetic moments thanks to Potter's screenplay, culminating in a moving ending.
Despite being well-reviewed, "Dreamchild" didn't make much noise at the box-office, especially in the U.S., where distributor Universal didn't give it a commercial push. Meanwhile, any attempts at a revival were likely marred by its association with Henson, falsely creating the impression that the Thorn EMI production was something of a family movie. Kino Lorber's Blu-Ray (1.85, mono) should rectify its reputation, hopefully, as this superlative HD master offers far more detail, color and striking imagery than its ancient home video masters did. Billy Williams' cinematography is at times quite artful and is restored here to a dimension no one has seen since its theatrical release. A commentary from Lee Gambin and the trailer are also included. Recommended!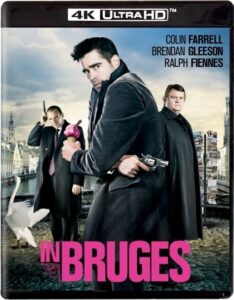 Fans of Martin McDonagh's cult movie IN BRUGES (107 mins., 2008, R) rejoice: a new Dolby Vision HDR master awaits you in Kino Lorber's 4K UHD premiere of the month. This is one of those moody black comic thrillers that's either going to hook the viewer, bringing them along for the ride, or confound other audiences unable to grasp its decidedly offbeat take on Irish hitmen (Colin Farrell, Brendan Gleeson) hanging out in Belgium, and getting into trouble with a crime boss (Ralph Fiennes), after things went wrong during a recent job. McDonagh recruited Coen Bros. favorite Carter Burwell to score the movie but this melancholy film isn't a Coen-esque wannabe, boasting a little more poignancy than what you might anticipate from the material, with superb performances from all three leads. The script does yield some laughs as well, even as its wild range of emotions keeps you constantly guessing where it's all headed. Not having seen "In Bruges" before I can't comment on a comparison between this 4K UHD and previous Blu-Rays, but Kino's combo pack does look reasonably natural with Dolby Vision HDR (2.39), four featurettes, EPK materials, deleted scenes, the trailer, and a Blu-Ray struck from the same source — graded and approved by cinematographer Eigil Bryld — contained within.
There's something to be said for the appeal of low-budget '80s action movies, which often employed anything and everything in the playbook in order to maximize on-screen carnage on the cheap.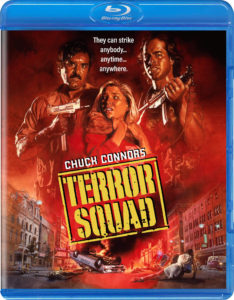 One of the more "homegrown" of them all is TERROR SQUAD (92 mins., 1987, R), an action thriller shot entirely in Kokomo, Indiana. Now, don't let the Midwest settings, cornfields and small-town trappings deter you: director Peter Maris' film is a jaw-dropping stunner, though not for reasons its producers intended.
Chuck Connors (of course) stars as the local police chief who can do little but pursue a group of terrorists after they attempt to take down a nuclear power plant. When their plan fails, the killers drive around town, mowing down pedestrians (one of whom gets struck – twice – in one of the most unintentionally funny on-screen kills of its kind ever), blowing up water towers, and later, taking hostage a crew of would-be "Breakfast Clubbers" who all seem to be closer to their 30's than their actual teenage years.
"Terror Squad" is silly, repetitive and ultimately something of an endurance test, but its "let's put on a show and blow stuff up!" mood is both infectious and strangely cheerful. Maris stages a central car chase that lingers on for nearly a full third of the running time, during which Connors and his hapless deputies fail on every level to stop the middle-eastern invaders and their endless supply of ammo. It all ends on a school bus – which magically changes shape and size in its concluding moments!
While nobody is going to mistake this as a good movie, "Terror Squad" might be right up your alley if you're looking for a goofy party film best served with a cold crew or two. Code Red and Kino Lorber's Blu-Ray hails from a 2K master (1.85, 2.0) and includes a brief interview with Kavi Raz, veteran TV star ("St. Elsewhere"), reduced here to playing a stereotypical villain – though, admittedly, every role in this thinly-drawn affair is a cardboard cliché.
"Terror Squad" also could've been improved with something more than a pokey synth score that was apropos of its era. Yet even "Terror Squad"'s soundtrack is superior to one of the all-time worst scores in cinema history that (dis)graces Cannon's MERCENARY FIGHTERS (92 mins., 1988, R).
What's worse is that the movie itself isn't all bad – in fact it's one of the better action vehicles from the end of Golan-Globus' run with The Cannon Group. Reb Brown ("Yor") stars as one of several mercenaries (Jim Mitchum and Ron O'Neal being two of the others) working under the supervision of Peter Fonda in an effort to stave off a revolution in a small African nation. However, Brown ultimately finds out he's been played, and attempts to save a British nurse and turn the tables on the forces who hired them all.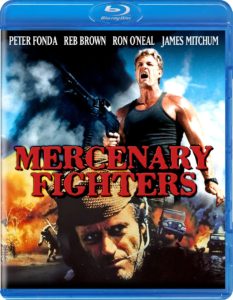 Decently executed action scenes and South African lensing distinguish "Mercenary Fighters" from the usual Bronson/Norris fare, despite the reduced budget on-hand here in relation to those "A" grade (for Cannon) efforts. Yet it's unfortunate Cannon didn't just recycle old library music than hire Howard Morgan to write what's, unquestionably, one of the dreariest of all synth soundtracks from the 1980s. Cheap sounding in its tone and thematic variety, Morgan's electronic "diddling" evokes memories of, say, a bad Mexican "telenovela" – yet even that would likely be an insult to the music that underscores that genre.
With a different score "Mercenary Fighters" might've had a chance to rank as one of the best Cannon films of its type – as it is, it's still not a half-bad view for genre aficionados, especially in Kino Lorber and Code Red's new 2K master (1.85) supplied by MGM with the trailer as its sole extra. Just be ready to try and tune out its dreary soundtrack – static might've been more effective!
SOME GIRLS Blu-Ray (94 mins., 1988, R): Quite odd "coming of age" picture that's anything but your typical '80s teen comedy stars one of the genre's faves – Patrick Dempsey – as a college student who heads north of the border to find out why his girlfriend (Jennifer Connelly) dropped out of school. After arriving in Quebec he meets Connelly – who proceeds to dump him almost immediately – and her eccentric family, including dad Andre Gregory (an academic who likes working in the nude) and a pair of sisters (Ashley Greenfield, Sheila Kelley) who take more of a shine to him than Connelly herself.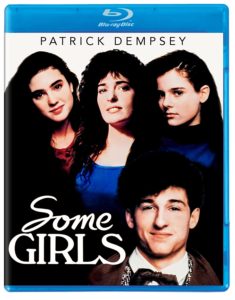 "Some Girls" was produced by Robert Redford's company on a limited budget but, even considering its modest pedigree, performed badly in a token theatrical release for MGM/UA before heading straight to tape. Admittedly, it's difficult to envision how much commercial potential there was within Michael Hoffman's film, which is much more concerned with its offbeat characters and wintry Canadian locations than providing a cohesive central story. Eventually – after a lot of whimsy but few laughs and little romance – the movie settles down with some effective moments very late in the game, yet even these are too late considering the uneveness of the rest of the picture.
Hoffman provides a commentary on "Some Girls" with some material that stretched beyond the movie included in an online-conducted interview between Hoffman and moderator Daniel Kremer. The trailer is on-hand with Kino Lorber's good-looking Blu-Ray (1.85, 2.0 DTS MA) also offering an engaging early score by James Newton Howard.
THE EXTREME ADVENTURES OF SUPER DAVE Blu-Ray (91 mins., 2000, PG): In the days before "Jackass" hit it big in theaters, MGM attempted to catapult TV stars like Steve "Crocodile Hunter" Irwin and "Super Dave Osborne" into theatrical film formats with non-existent box-office results.
"Super Dave" was the on-screen alter-ego of Bob Einstein – brother of Albert Brooks – whose comedic take on Evel Knievel became a successful Showtime series in the late '80s and early '90s. Some time later, Einstein managed to get MGM to fund an entire feature based on his character of a hapless stuntman whose efforts routinely culminated in a disastrously inept outcomes.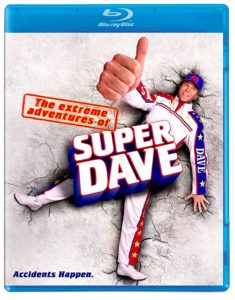 Helmed by production designer Peter MacDonald (credited with replacing Russell Mulcahy on "Rambo III"), "The Extreme Adventures of Super Dave" is certainly a bizarre effort, mixing stunts with a "story" for its lead character's antics – which it does via a hackneyed tale of a sick young boy, with a single-parent mom, who needs a heart operation. "Jackass" would soon show that merely sticking to the core concept of its small-screen predecessor was a better route to follow, though you can't fault Einstein – who also wrote and produced the film – with trying, especially not after the $15 million budget (!) MGM provided for what ultimately amounted to an expensive direct-to-video movie.
Kino Lorber debuts "Super Dave" on Blu-Ray (1.85, 2.0 DTS MA stereo) with a fine transfer, the trailer, and a commentary by MacDonald with omni-present Daniel Kremer moderating. Despite the solid presentation, the disc again confirms that Einstein's original Showtime series was much funnier.
HUDSON HAWK Blu-Ray (100 mins., 1991, R): Over-budgeted box-office flop from the summer of '91 was a vanity project for co-writer and star Bruce Willis, who recruited "Heathers" director Michael Lehmann to helm this tale of an affable burglar coerced into stealing daVinci paintings. Danny Aiello is "Hawk"'s buddy, Andie MacDowell the love interest, and Sandra Bernhard and Richard E. Grant a pair of wacky villains in a lighthearted lark that's become something of a cult favorite among the film's devotees over the years. Certainly the locales and Michael Kamen's pleasant score lend a strong assist to an ego-inflating affair for "Bruno," which Kino Lorber has recruited for Blu-Ray in what looks like the first of a welcome new pact with Sony and their library. Previously issued on Blu domestically by Mill Creek, this is a superior package for fans boasting better encoding (1.85) than the previous MC disc and tons of extras from Sony's 2007 Special Edition DVD which that release also left off – commentary from Lehmann (light on details, sadly, about the troubled production), deleted scenes, featurettes, and the trailer.
JASON'S LYRIC Blu-Ray (119 mins., 1994, R): One of numerous African-American urban dramas to net a release in the wake of John Singleton's "Boyz N The Hood," "Jason's Lyric" stars Allen Payne as a young Houston man inspired to escape his violent surroundings, at the same time his brother (Bokeem Woodbine) enters into hustling drugs and engaging in criminal activity. Jada Pinkett delivers a strong performance as the girl who challenges Payne to rise above his brother and fractured family before it's too late in Doug McHenry's 1994 Polygram release. Earning stronger reviews for its performances than drama, Kino Lorber's no-frills Blu-Ray (1.85, 2.0 DTS MA) includes the trailer and a high bit-rate transfer.
---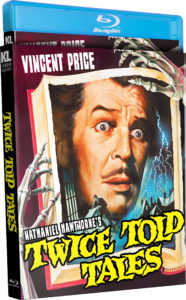 '50s and '60s Favorites
TWICE-TOLD TALES Blu-Ray (120 mins., 1963): Hoping to piggyback on the popularity of American-International's Edgar Allen Poe chillers, Admiral Pictures and UA lured their big star, Vincent Price, over for this anthology of stories from author Nathaniel Hawthorne. The three tales include "Dr. Heidegger's Experiment," "Rappaccini's Daughter," and "The House of the Seven Gables" – a story which Price appeared in back in a far superior Universal picture in 1945. This version doesn't work nearly as well in its condensed, "horrorized" effort, but the vivid color cinematography serves this early '60s effort well, and "Twice Told Tales" – even if it's not on the level of its AIP counterparts – functions sufficiently as a vintage slice of terror from the "Creature Features" era.
Kino Lorber has re-issued its 2015 Blu-Ray with a collectible slipcover but otherwise repeats the content of that release. That includes a perfectly solid transfer (1.66) AVC encode, with an image so clear the old-age make-up for Price and co-star Sebastian Cabot is more visible than ever. Extras include the trailer, a Mick Garris "Trailers From Hell" version of same, and a fine commentary from historians Richard Harland Smith and Perry Martin.
Also newly re-issued with a slipcover is THE OBLONG BOX (96 mins., 1969, R), Gordon Hessler's Poe adaptation by screenwriters Lawrence Huntington and Christopher Wicking, offering Vincent Price as a secretive plantation owner and Christopher Lee the mad doctor who enjoys experimenting on the flesh. This is a straight re-pressing of Kino's previous Blu-Ray, offering a 1080p (1.85) MGM master with commentary by historian Steve Haberman; radio spots and the trailer; and Price narrating "Edgar Allan Poe's Annabel Lee."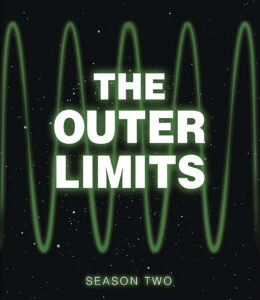 Another major, and quite welcome, reissue this month is the Complete Second Season of THE OUTER LIMITS (867 mins., 1964-65), remastered with all 17 episodes presented in crisp B&W masters from MGM (1.33). This second season offers a litany of guest stars from future "Star Trek" stars William Shatner, Leonard Nimoy and James Doohan; your soon-to-be "Batman," Adam West; other familiar (or about-to-be) TV faces like Eddie Albert, Ted Knight, and Robert Culp; and breakout stars like Robert Duvall. As with Kino's Season 1 Blu-Ray, the package is graced with a bountiful assortment of extras: alternate cuts of "The Forms of Things Unknown" and "The Galaxy Being"; commentaries by the likes of Tim Lucas, David J. Schow and Steve Mitchell among others; 12 episode promos for various TNT broadcasts, with Penn & Teller host segments and other extras from their broadcast on the cable channel (i.e. interviews with producer Joseph Stefano, Cliff Robertson among others); a Showtime interview with Schow; a Paley Festival interview panel featuring Schow, Stefano and Martin Landau; "Project Unlimited" with commentary by Schow; vintage promos, TV spots and plenty more. This package joins a newly reissued set of THE OUTER LIMITS' Season 1 (1632 mins., 1963-64), which includes 32 episodes in similarly strong B&W Blu-Ray transfers and plenty of insightful commentary tracks.
PARAVISION DREAMS: The Golden Age 3-D Films of Pine and Thomas Blu-Ray: Special 3D Blu-Ray anthology houses the 3-D Film Archive's restorations of three '50s Paramount releases from producers William H. Pine and William C. Thomas. Previously available from Kino Lorber individually but each out-of-print, this slipcover-adorned release brings all three back in circulation for a most reasonable price.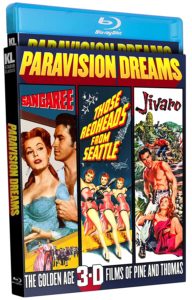 The set includes Fernando Lamas and Arlene Dahl in 1953's SANGAREE (94 mins.) plus the 1954 Lamas/Rhonda Fleming collaboration JIVARO (92 mins., 1954). The best of the batch, though, is THOSE REDHEADS FROM SEATTLE (90 mins., 1953), a fascinating curio that was both the first 3D film musical (and there aren't many in that genre to begin with) as well as the first widescreen release from Paramount altogether. The story, such as it is, involves a woman (Agnes Moorehead) who journeys with her four daughters (Rhonda Fleming, Teresa Brewer, and "The Bell Sisters") to the Yukon to be with their father during the Gold Rush. Alas, they find out he's been murdered, leading the ladies to try and find the culprit while working for a local saloon owner (Gene Barry) and singing and dancing along the way.
"Those Redheads…" is, predictably, quaint stuff, but the 3D presentation – as it is with "Sangaree" and "Jivaro" – in Kino Lorber's Blu-Ray (1.66) is terrific, layered with dimensional effects. The sound here is backed by a meticulously restored, three-channel stereophonic soundtrack that offers crisp separation (the original mono track is also on-hand). Demos of both the video and audio restorations are included plus the trailer, a 2006 Fleming interview, and enlightening commentary with Furmanek, Hillary Hess, Greg Kintz and Jack Theakston. Extras on "Sangaree" include a restoration demo, trailers and a Lux Theater adaptation, while "Jivaro" boasts a commentary and a shot-by-shot 3D deconstruction.
ACE HIGH Blu-Ray (122 mins., 1968, PG-13): Interesting late '60s spaghetti western bridges the gap between high-minded Sergio Leone-directed efforts and the zany, more lighthearted imports featuring dependable box-office duo Terence Hill and Bud Spencer, which followed well into the 1970s. This Guiseppe Colizzi-helmed outing features Hill and Spencer (in a sequel to an earlier film they made) while adding in "The Good, The Bad & The Ugly"'s Eli Wallach in a picture that mostly plays it straight with its familiar tale of quasi-bad guys who join up to stop a desperado. "Guest Star" turns, meanwhile, are provided by Brock Peters and Kevin McCarthy, intended to score with American audiences. Mildly entertaining yet overlong and best recommended to genre fans, "Ace High" has been remastered in a great 4K scan (2.35) of the original camera negative while Alex Cox provides a commentary on the film's production.
BRIGHT VICTORY Blu-Ray (97 mins., 1951): Sensitive performances and direction by Mark Robson color this highly-regarded Universal drama. Arthur Kennedy plays a soldier blinded during WWII who comes to deal with his injuries and inherent racism – via a relationship in a military hospital with wounded James Edwards – while falling for his nurse (Peggy Dow). Robert Buckner produced and wrote this adaptation of Baynard Kendrick's book "Lights Out" and Robson receives strong turns from all of his leads, resulting in a movie more poignant, thankfully, than maudlin. Kino Lorber's Blu-Ray offers a finely textured 2K master (1.37 B&W) with a new commentary by Gary Gerani.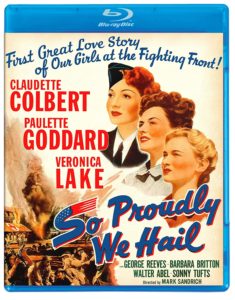 More obvious in its dramatic approach is the earlier Paramount offering SO PROUDLY WE HAIL (126 mins., 1943), an episodic WWII account about Army nurses serving in the Pacific, from their harrowing efforts to keep the wounded alive to their assorted relationships, both romantic and platonic, in a war-torn environment. Claudette Colbert, Paulette Goddard and Veronica Lake lead a familiar cast in a picture that's appropriately patriotic (to be expected with the movie having been filmed with the full cooperation of the Army and Red Cross) and a little glossy, but nevertheless entertaining. Miklos Rozsa provided the score, and Julie Kirgo (nice to hear her insights again) contributes a commentary on Kino Lorber's Blu-Ray (1.37 B&W), derived from a new 2K master at Universal.
THE LAST TRAIN FROM MADRID (77 mins., 1937): A dynamite cast backs this story of disparate refugees who leave their home during the Spanish Civil War – making for a Paramount variation on "Grand Hotel" with a brisk running time under the direction of James Hogan. The cast makes it worth a look: Dorothy Lamour, Lew Ayres, Gilbert Roland, Lionel Atwill, Robert Cummings, Helen Mack and a young Anthony Quinn are all on-hand. Kino Lorber's Blu-Ray is derived from a 2K Universal master (1.37 B&W) with a new commentary by Bryan Reesman detailing the movie's production and reception (Graham Greene called it "probably the worst film of the decade"!).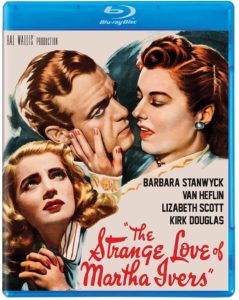 A well-regarded slice of film noir, THE TURNING POINT (85 mins., 1952) stars William Holden as a hard-nosed reporter who's brought into chronicle a takedown of a local crime syndicate on behalf of a tough district attorney (Edmond O'Brien) – Holden's childhood friend, who's also, alas, involved in the very element he's railing against. William Dieterle helmed this crisp B&W noir effort from Paramount, debuting on Blu-Ray in a Paramount-licensed (1.37 B&W) new 4K transfer of 35mm film elements. The result is a great looking title for noir buffs, with genre historian Alan K. Rode providing an informative commentary.
Fans of the genre, though, should be most excited by the spectacular new 4K transfer (from a 35mm fine grain element) of noir favorite THE STRANGE LOVE OF MARTHA IVERS (116 mins., 1946). This delectable Hollywood affair stars Barbara Stanwyck as a woman who worries the truth about her aunt's death is going to be revealed once her former boyhood crush Van Heflin returns to town. Meanwhile, Kirk Douglas is Stanwyck's D.A. husband in a somewhat convoluted film that's nevertheless superbly performed – Lizbeth Scott and Judith Anderson co-star – with memorable Robert Rossen dialogue and a great Miklos Rozsa score. Certainly this new Blu-Ray restoration (1.37 B&W) from Paramount blows away an out-of-print release from Film Chest nearly a decade ago, and boasts another insightful commentary from Alan K. Rode as well.
---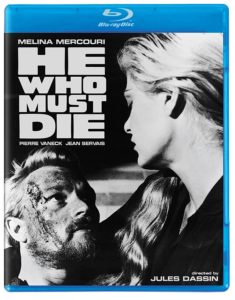 Foreign Fare
HE WHO MUST DIE Blu-Ray (128 mins., 1958): Director Jules Dassin's widescreen parable starring Melina Mercouri is set after WWI, where a Greek village stages a Passion Play once every seven years. While the townspeople set locals in the roles of Jesus, Judas, and Mary Magdalene, the Greek-controlled area becomes a stage for a modern restaging of the Passion itself, complete with refugees being part of the play. MGM's widescreen master (2.35, French with English subtitles) preserves the Cinemascope framing of Dassin's film, with a new commentary by Daniel Kremer included on the supplemental side.
Yves Boisset's THE COP (98 mins., 1970, R) offers a plum role for Michel Bouqet, playing an honest cop who rails against the system after his partner is killed. Frustrated by the lack of justice he finds, Bouqet utilizes more illegal forms of coercion, torture and blackmail to get revenge. A French predecessor to the likes of "Death Wish," with Francoise Fabian, Gianni Garko and Aldolfo Celi co-starring. Kino Lorber's Blu-Ray (1.66) includes French audio and English subs with the trailer and a commentary from Howard S. Berger, Steve Mitchell and Nathaniel Thompson.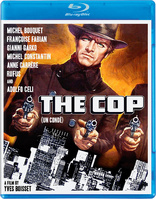 More contemporary fare can be found in Mounia Akl's COSTA BRAVA, LEBANON (104 mins., 2021), which tells the story of a family who leaves the unsteady urban area of Beirut behind for a mountain home – only to have the government build a new toxic waste dump nearby, and force them to choose between two bad outcomes. Akl's well-reviewed film arrives on Blu-Ray from Kino Lorber featuring a 1080p (1.66) AVC encode with 5.1/2.0 sound (Arabic with English subtitles), a behind-the-scenes segment, deleted scenes, Q&A, trailer, and a featurette on the director, who co-wrote the picture with Clara Roquet.
BLOOM UP (88 mins., 2020) is Mauro Russo Rouge's documentary about an Italian couple who work a pet shop by day but turn into swingers at night. A contemporary tale of sexual relationships, "Bloom Up" debuts on Blu-Ray in a superb transfer accentuating the movie's slick visual stye (2.39, 2.0 Italian with English subtitles)…Jake Wachtel's KARMALINK (101 mins., 2021) follows Phnom Penh, a teen boy delving into dreams of his past life in this interesting tale mixing conventional Buddhist beliefs with the digital reality of the contemporary world. Kino Lorber's Blu-Ray (1.85, 5.1/2.0) includes Khmer audio with English subtitles and is now available.
Martin Scorsese lent his name to the Croatian import MURINA (95 mins., 2021), a coming-of-age drama set along the Adriatic coast, where a 17-year-old girl seeks a way out of her daily existence and seems to receive it in the form of a mysterious rich, older man. Gracija Filipovic's performance in the title role earned acclaim and Kino Lorber's Blu-Ray (2.39, 5.1/2.0) captures the movies settings and powerful emotions splendidly. Extras include a Q&A with director Antoneta Alamat Kusijanovic and an introduction with the filmmaker, plus the trailer.
---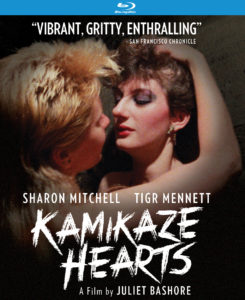 Documentaries & Special Interest
Kino Classics debuts KAMIKAZE HEARTS (87 mins., 1986) this month on Blu-Ray in a restoration from the UCLA Film & Television Archive. This is an unusual film from director Juliet Bashore that captures a torrid love affair between two women, set against the seedy underbelly of San Francisco's X-rated "underground" circa the mid 1980s. Kino Classics' disc, presented in association with UCLA Legacy Project Outfest, includes interviews with Bashore, stars Sharon Mitchell and Howie Gordon, a look at the film's legacy, commentary, trailers, and Bashore's 1990 short "Crash."
Kino Lorber debuts Paul Auster's enjoyably performed character drama THE INNER LIFE OF MARTIN FROST (93 mins., 2006) on Blu-Ray this month. Auster's film follows a novelist (David Thewlis), trying to get back on track by taking a break from his long-gestating novel, whose arrival in a country house results in the discovery of a woman (Irene Jacob) who may or may not be real, and may or may not be associated with his own writing. Kino Lorber's Blu-Ray (1.85, 2.0) also includes the two-part interview "Running Off to the Circus: Paul Alter on Film," plus a Making Of and booklet interview.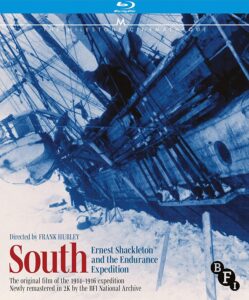 With the discovery of Ernest Shackleton's vessel "Endurance" last year, the BFI and Milestone Films found the perfect time to restore the original 1919 documentary SOUTH: ERNEST SHACKLETON AND THE ENDURANCE EXPEDITION (81 mins.). Produced by Shackleton himself with Frank Hurley, this offers priceless footage of what was considered one of the greatest feats in exploration, as Shackleton and five of his men survived an 850-mile journey in the open ocean after trying to cross Antarctica via the South Pole. This new restoration offers an orchestral score by Neil Brand, commentaries, archival audio recordings and additional documentary segments.
One of the greatest pitchers in baseball history, Nolan Ryan, is the focus of Bradley Jackson's terrific FACING NOLAN (102 mins.), a documentary which pays a special focus on the batters who faced him in the box over his many decades playing Major League Baseball. If you're a fan of the game, "Facing Nolan" ought to have a strong appeal, with Jackson's effort new on Blu-Ray (1.85, 5.1 DTS MA) with an extra Q&A featuring Ryan, Tom House and Pitching Ninja; plus clips and a Q&A from the SXSW festival…Also new from Obstructed View on DVD is UNITY TEMPLE: Frank Lloyd Wright's Modern Masterpiece (55 mins., 2020), a piece by filmmaker Lauren Levine that looks at the $25 million restoration of Frank Lloyd Wright's 100-year-old building, also his first public commission. Brad Pitt narrates (16:9, 5.1/2.0) with a 47-minute bonus discussion panel and photo gallery also on-hand.
The life of former counter-culture guru and current "cyber futurist" Stewart Brand is told in WE ARE AS GODS (94 mins., 2021). This profile of a figure who became a major influence on Silicon Valley types including Steve Jobs offers an interesting mix of his past – as one of Ken Kesey's "The Merry Pranksters" – and his future, looking ahead to preserving (or "reegineering") extinct species. David Alvarado and Jason Sussberg's documentary is now available from Greenwich and Kino Lorber on DVD (1.85, 5.1/2.0).
---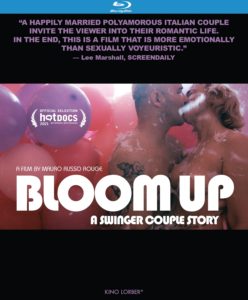 Also On DVD
New from the Cohen Film Collection is the BERNARD-HENRI LEVY COLLECTION. This special two-disc DVD anthology includes four of the French director's efforts: "The Oath of Tobruk" (2012), "The Battle of Mosul" (2017), "Peshmerga" (2016) and culminating with his most recent picture, "The Will to See" (2022). All four films are 16:9 enhanced (1.78/1.85) with 5.1/2.0 audio in French with English subtitles.
The terrific THE AUTOMAT (79 mins., 2001) focuses on the Horn & Hardart chain of restaurants found in NYC and Philly from the late 19th century onwards, which sold fast food to all consumers of all backgrounds. Mel Brooks is one of the participants in this fascinating documentary filled with interviews and great historical footage (Hummie Mann, Brooks' later composer, also provided the score). Kino Lorber's DVD (1.78, 2.0) includes an extended talk with Brooks, commentary with director Lisa Hurwitz, archival footage, and more.
This month's Greenwich Films DVD releases include the Halmy Brothers documentary THE YOUTH GOVERNOR (86 mins., 2022), detailing how 4,000 teenagers simulate every element of their state government with a trio of them vying for an election (1.78, 5.1/20)…in Christophe Cognet's FROM WHERE THEY STOOD (115 mins., 2021), the director fascinatingly looks at Nazi concentration camp prisosners who managed to take photos of their hellish surroundings, preserving WWII from their own personal perspectives. Greenwich's DVD includes a 1.66 transfer, in French with English subtitles…Finally, THE JACKIE STILES STORY (93 mins., 2021) is a profile of the all-time (at least for some 16 years) leading scorer in NCAA women's basketball and her stalwart work ethic. Brent Huff's documentary profile is now on a Virgil DVD including a 16:9 transfer and 5.1 sound.
---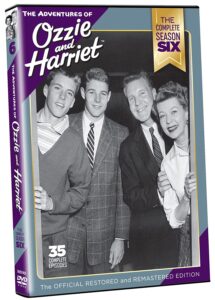 Quick Takes
One of the seminal sitcoms of the early days of television, THE ADVENTURES OF OZZIE AND HARRIET (1954-58, MPI) ran for some 14 seasons on ABC, broadcast from the early '50s through the birth of the "mod" era of the mid-late '60s. With husband and wife Ozzie and Harriet Nelson playing themselves along with sons David and Rick, this situation comedy managed to showcase the clan – and the on-screen adolescence of the Nelson kids – in gently amusing, conventional story lines that laid the groundwork for many, many family shows to follow.
Even though the series ran for some 435 (!) episodes, it was never as visible in syndicated reruns as the likes of "Leave It to Beaver." MPI has completely remastered the series from the original film negatives here and given those of us who never really latched onto the show a new chance to enjoy its amusing comedic antics.
Seasons 1 and 2 were released in June, with Seasons 3 and 4 in late July. Out this week are Seasons 5 and 6 which include 39 fifth and 35 sixth season episodes — all uncut — on DVD. The transfers are again crisp and in fine shape, with a litany of guest stars popping up and offering family-friendly, wholesome fun for the whole family.
AQUA TEEN HUNGER FORCE – The Complete Collection 20-Disc Set (Warner): One of the Cartoon Network's wackiest (and raunchier) series returns to DVD this month in a Complete 20-Disc set.
This compilation offers all 139 episodes of "Aqua Teen Hunger Force," which debuted some 22 years ago, as seen in seven different DVD "Volumes". There's also the one and only season of "Aqua Unit Patrol Squad," featurettes, interviews, and the 2007 "Aqua Teen Hunger Force Colon Movie Film For Theaters," which marked the first Adult Swim property to hit the big-screen.
Warner's 20-disc set is housed in an oversized clamshell case which is similar to other "space saving" box-sets carrying over a dozen discs. It's practical yet sparse in its presentation, but might be worth it for newcomers or fans of the show, still tied to DVD, who are looking to cut down on shelf space.
THE HOUSE OF THE LOST ON THE CAPE Blu-Ray (105 mins., 2021; Shout! Factory): Japanese anime follows two runaways: a young eight-year-old named Hiyori who lost her family and ability to speak, as well as teenager Yui. The duo run into an old lady who offers them a seaside home where they're tasked with tending to lost travelers — leading to beings named "Fushigitto" popping up in their new residence. Shinya Kawatsura spins a moving picture with Shout's Blu-Ray (5.1 DTS MA Japanese or English with subtitles) including a Q&A from the director and "Yui and Kiwa's Secret Recipes."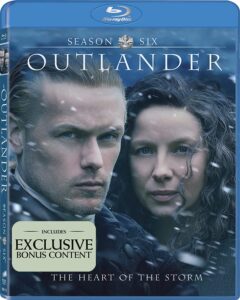 OUTLANDER – Season 6 Blu-Ray (528 mins., 2022; Sony): The hit Starz adaptation of the bestselling book series finds Claire and Jamie trying to forge a new life during Colonial times at Fraser's Ridge, but with the knowledge that the Revolution is coming. Having to defend land given to them by the King but also interacting with different forces in an environment that's about bring about the birth of America, the duo hold strong to their beliefs while "Outlander" successfully shifts gears into a new historical setting — with all the superb production values that graced its previous five seasons.
Sony's Blu-Ray (1.78, 5.1 DTS MA) is out this week sporting BD exclusive extras (the leads' original auditions; deleted scenes; episode commentaries; and "The Shootout at Fraser's Ridge" featurette) plus other supplements (two blooper reels, etc.). The transfers and soundtracks are all flawless while a Digital HD copy is also included.
KUNG FU – The Complete Second Season DVD (549 mins., 2022; Warner): Season 2 of the contemporary CW reworking of the David Carradine franchise again follows Nicky as she tries to keep Chinatown safe while balancing her family obligations. Meanwhile, archnemesis Zhilan reappears just as billionaire Russell Tan appears with bad intentions on his mind. This effective mix of drama and martial arts action returns to DVD this month with Warner's DVD offering a 16:9 transfer and 5.1 sound plus a gag reel.
THE HOUSE OF THE LOST ON THE CAPE Blu-Ray (105 mins., 2021; Shout! Factory): Japanese anime follows two runaways: a young eight-year-old named Hiyori who lost her family and ability to speak, as well as teenager Yui. The duo run into an old lady who offers them a seaside home where they're tasked with tending to lost travelers — leading to beings named "Fushigitto" popping up in their new residence. Shinya Kawatsura spins a moving picture with Shout's Blu-Ray (5.1 DTS MA Japanese or English with subtitles) including a Q&A from the director and "Yui and Kiwa's Secret Recipes."
NEXT TIME: WAR OF THE WORLDS in 4K! Until then, don't forget to drop in on the official Aisle Seat Message Boards and direct any emails to our email address. Cheers everyone!