Message Board (open 24 hours!)
Twitter - @andredursin (for everything else!)
Movie buffs hoping for a few remastered 4K transfers of holiday favorites have much to celebrate this month, with brand-new HDR presentations of "A Christmas Story" and "National Lampoon's Christmas Vacation" (two of my favorites) leading the way from Warner and Paramount jumping into the fray with a new UHD of PLANES, TRAINS & AUTOMOBILES (93 mins., 1987, R; Paramount), writer-director John Hughes' perennial favorite that's highlighted by over an hour of previously unreleased deleted scenes.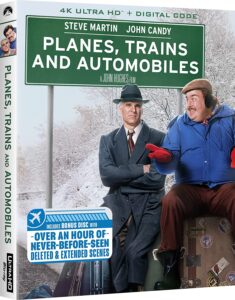 One of Hughes' best films (and arguably his finest feature as a director), this teaming of John Candy and Steve Martin (both tremendous) was just a modest box-office performer back in December '87, when it was outgrossed by the saccharine, cuddly "Three Men and a Baby." Decades later, "Planes, Trains" is the movie audiences keep coming back to – a spirited holiday travel comedy with a heartwarming ending. It's a shame Hughes subsequently abandoned making movies for audiences outside of the 13-and-under crowd, since this picture (one of his few R-rated efforts – albeit only for one well-remembered, profanity-laced Martin tirade directed at Edie McClurg) remains an annual favorite with a distinctive Thanksgiving flair.
Despite its success, "Planes, Trains" has been a problematic title on home video, with Paramount's previous Blu-Ray suffering from a heavy use of DNR. Hopes were high this new 4K UHD would easily best that release, taking full advantage of the medium, yet Paramount's Dolby Vision HDR graded presentation (1.85) is still a firmly uneven affair. Fluctuations in grain are evident in many scenes, leading to jarring shifts from what look like freshly remastered frames to a softness exhibiting filtering and other processing artifacts. Overall, this is still an upgrade from the Blu-Ray but far from Paramount's best work in the format (see my review of "Blue Hawaii" below for an example of the latter). The DTS MA 5.1 soundtrack is more impressive, featuring an eclectic mix of songs and Ira Newborn score, nearly all of which was tossed aside by Hughes in post-production.
For extras, the big draw here is the bonus "Lost Luggage" Blu-Ray boasting some 75 minutes of previously unseen deleted/extended scenes, mostly taken from Hughes' personal video tape archive. These are rough in nature but still fascinating to see play out as part of the filmmaking/editorial process. Other extras include the Hughes career retrospectives "John Hughes: The Voice of a Generation" and "Heartbreak and Triumph: The Legacy of John Hughes," each examining his creative process and lasting legacy in an enlightening pair of half-hour programs (included among the interviewees are Hughes collaborators Lauren Shuler Donner, Howard Deutch and Marilyn Vance, plus film alumni Matthew Broderick, Alan Ruck, Jon Cryer and Lea Thompson). A trio of older featurettes (in SD) are mainly comprised of material from the picture's EPK and a Digital HD copy rounds out the release.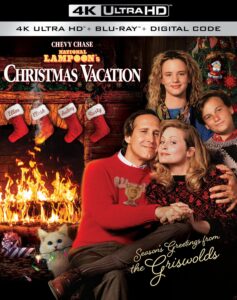 John Hughes wrote and produced no less than three holiday-themed pictures that have become yuletide perennials (plus the occasional box-office misstep like 1994's "Miracle on 34th Street" remake): "Planes, Trains and Automobiles" (1987), "Home Alone" (1990) and 1989's NATIONAL LAMPOON'S CHRISTMAS VACATION (97 mins., PG-13; Warner).
The third entry in the "Vacation" series would be the only one that Hughes himself produced and had creative control over – a significant attribute that's clearly apparent throughout the hilarious holiday misadventures of Clark (Chevy Chase) and Ellen (Beverly D'Angelo) Griswold as they attempt to serve up a Christmas feast for their respective clans. Brilliantly cast with character actors (E.G. Marshall, Doris Roberts, John Randolph, Diane Ladd) as the grandparents, memorable supporting roles for Julia Louis-Dreyfus and Nicholas Guest as the Griswolds' yuppie neighbors, the return of Randy Quaid as Cousin Eddy, and the best Rusty (future "Big Bang Theory" star Johnny Galecki) and Audrey (Juliette Lewis) of the entire series, "Christmas Vacation" remains an absolute classic. Most of it is due to Hughes' sensibilities, which inject an honest amount of heart into the material – just enough sentiment that the movie builds up an effective amount of emotion as Clark's well-intentioned efforts at providing the "perfect Christmas" go up in smoke. Chase, himself, is pitch perfect here, playing a smarter Clark who's not as much of a buffoon as he was portrayed in the earlier "Vacation" pictures, in material that's surprisingly richly observed and uproarious throughout.
Warner's 4K UHD has been newly released and provides fans with a dynamic HDR10 presentation (1.85) that usurps both Blu-Rays issued in the format. Details come across a bit more clearly here, colors via HDR radiate a little bit more, but the transfer isn't over-processed and is respectful of its original cinematography. The net result is a superb looking disc complimented by a new 5.1 DTS MA track (along with the original 2.0 mix), a trailer, and archival commentary with the cast, director Jeremiah S. Chechik and producer Matty Simmons, along with a Digital HD copy. Of special note is Angelo Badalamenti's lovely scoring for the film (still sadly unreleased) plus the great, unheralded Mavis Staples title song from the prolific songwriting duo of Barry Mann and Cynthia Weil.
"Christmas Vacation" is just one of four Warner 4K UHD holiday offerings this season, each of which boasts a clear and compelling reason for fans to upgrade from previous releases.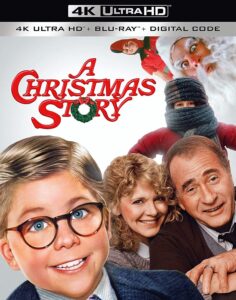 A CHRISTMAS STORY (93 mins., 1983, PG) needs the least introduction perhaps of any holiday movie – at least any produced in the post-1970s era. Bob Clark's classic adaptation of Jean Shepherd's anecdotal tales of growing up in the 1940s Midwest receives a much-needed, and welcome, 4K remaster (1.85) here, sporting an HDR10 grading that enables the warm Christmas lights of its era to gleam a bit more – and with noticeably less compression noise – than even Warner's previous Blu-Ray remaster. The mono sound is exactly the same as previous releases, as are the supplements (featurettes, commentary from Clark and star Peter Billingsley), but regardless, this is a highly recommended upgrade for UHD owners, for a title that gets a lot of play each and every holiday season among many of us.
The Will Ferrell comedy ELF (97 mins., 2003, PG) has never been a personal favorite of mine. This cute, appealing but somewhat under-developed comedy stars Ferrell as the North Pole's only human elf, "Buddy." Wanting to meet his real dad (an under-written role for James Caan), Buddy ventures to the big city where he tries to spread Christmas cheer and falls for cute department store clerk Zooey Deschanel.
Director Jon Favreau's movie has its heart in the right place and generates a fair amount of laughs during its first half, but as gentle a fantasy as "Elf" is, the final result just never really gels. The comedy is hit-or-miss and while there are some neat references to Rankin-Bass animated specials mixed in (along with Bob Newhart as the Head Elf and Buddy's adoptive father), the picture doesn't hit on all cylinders when it comes to the "domestic" drama of our big elf's human family – making for a film whose set-up is much more entertaining than its tedious, forgettable back end.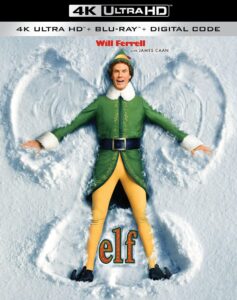 Yet another strong HDR10 remaster awaits fans here on UHD at least, the HVEC encoded image (1.85) bearing vast gains in detail and color over the comparatively mediocre old New Line Blu-Ray. Extras include Ferrell/Favreau commentaries, deleted scenes, loads of featurettes and a Digital HD copy.
Last out of the gate here is THE POLAR EXPRESS (100 mins., 2004, G), the elaborate, candy-coated Robert Zemeckis adaptation of Chris Van Allsburg's book of the same name.
Centering on the recollections of a young boy just old enough to have his doubts about the existence of Santa Claus, "The Polar Express" offers Tom Hanks playing no less than five different "roles": the boy, his father, the conductor of a magical train that transports our young hero to the North Pole, a ghostly hobo who rides on top of it, and Santa himself. While at the North Pole, our nameless protagonist (dubbed "Hero Boy") – along with the other children onboard the Polar Express – learn something about the true meaning of Christmas and the ability to believe.
Meticulously designed with the most capable CGI available at the time, "The Polar Express" was and still is a strange film: a warm-hearted holiday fantasy with creepy, half-human/half-animated performances set against a fully animated cinematic world, and a story that would have been more effective as a half-hour TV special as opposed to a 100-minute theatrical feature.
The latter is unsurprising, since Van Allsburg's beloved children's book is only a few dozen pages, and screenwriters Zemeckis and William Broyles, Jr. had to artificially lengthen the material for the big screen. Still, what's disappointing is the manner in which the filmmakers expand the story: after a strong start, the journey to the North Pole feels endless, with saccharine Alan Silvestri-Glen Ballard songs, an out-of-place Steven Tyler performance near the end, uninteresting side characters, and a succession of "action" sequences that do, admittedly, show off the film's amazing visuals.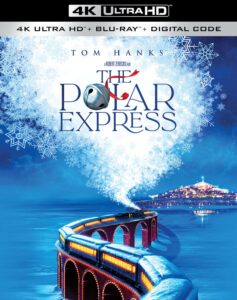 I kept on wondering what "The Polar Express" might have been like had Zemeckis simply shot the film with real human beings instead of the "performance capture" figures he ultimately utilized. Similar to how video games attempt to convey actual human movement, Zemeckis had Hanks and other performers act out the characters in front of a green screen. Later, a collection of CGI artists digitally animated them, working from the actors' references but adding some of their own ideas into the final product.
The result is an odd viewing experience: there are times, yes, when you truly believe it's Tom Hanks acting out a part, but others when the actions of the juvenile protagonist feel off-balance. While Hanks' conductor and hobo characters work well enough, the "Hero Boy" movements and expressions are often awkward and take too long to register, and as a result, you become aware that what you're watching isn't "real." Even as a sucker for holiday movies, the uncomfortable melding of genuine human performance and digital CGI made me detached from the film and its message: I seldom felt emotionally engaged in what was happening, and the ending in particular left me cold.
Ultimately, despite all the good intentions and the evocative visual design of the film (its characters notwithstanding), "The Polar Express" isn't the perennial classic one might have hoped, though the 4K UHD transfer of Warner's HDR10 presentation (2.35) does offer stronger colors than past Blu-Ray and DVD renditions. Extras include numerous featurettes taking viewers behind the scenes, a 5.1 DTS MA soundtrack and Digital HD copy.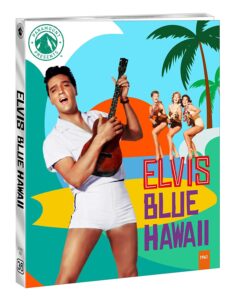 Also new on 4K UHD this month is a classic film, not a holiday movie, but one that any movie buff would be happy to receive as a present this Christmas season: CASABLANCA (102 mins., 1943; Warner), a picture that needs no introduction to Golden Age fans. This Michael Curitz-helmed Warner Bros. staple, offering Humphrey Bogart and Ingrid Bergman in two of their most indelible roles – backed by an outstanding supporting cast and Max Steiner score – has never looked better than it does here. Warner's HDR10 grading (1.37 B&W) looks as detailed as you'd expect a film of its vintage to appear, with subtle enhancements in contrast over earlier tranfers. Extras include an intro from Lauren Bacall, vintage commentaries from Roger Ebert and Rudy Behlmer, deleted scenes, outtakes, cartoons, a 1947 radio drama, and plenty of outstanding retrospective documentaries. A digital code and Blu-Ray are also housed in the now-available combo pack.
Last but not least among this week's 4K UHD releases is a jaw-dropping edition of Elvis Presley's terrific (some might call it his best) 1961 movie vehicle BLUE HAWAII (101 mins.; Paramount). Elvis sings his way back from the service and onto the Island where he deals with his girlfriend (Joan Blackwood) and his parents (including mom Angela Lansbury, then just 10 years Elvis' senior) while taking a job at the former's travel agency. Hit songs – including "Can't Help Falling in Love" – dominate with widescreen cinematography that positively sings in a 4K UHD transfer that's nothing short of one of the year's best catalog transfers in the format.
Pinpoint, crisp detail and sumptuous colors are present in every shot, making the viewer feel as if they've traveled back in time to Elvis' heyday and the pleasures of Hawaiian locations circa the very early 1960s. This Paramount effort (2.35) is one of the label's best Dolby Vision efforts to date – a flawlessly delivered Paramount Presents package packed alongside a Blu-Ray, 5.1 DTS MA soundtrack, Digital Copy, and extras including a photo scrapbook, collectible slipcover, and James L. Neibaur's commentary.
---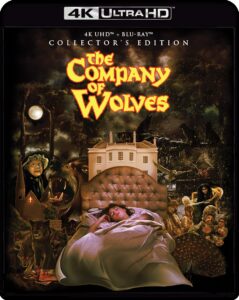 More Catalog Favorites
THE COMPANY OF WOLVES Blu-Ray (91 mins., 1984, R; Shout! Factory): Offbeat chiller – less a horror movie than an allegory of a young girl's coming of age, set against an alternately dreamy/nightmarish fairy tale backdrop – receives a spellbinding 4K restoration courtesy of Scream Factory.
Director Neil Jordan co-scripted Angela Carter's own adaptation of her short story, which finds a teen (Sarah Patterson), on the verge of womanhood, living in a village stalked by lupine predators that come in both obvious and less transparent guises. Angela Lansbury is the dotting grandmother trying to warn young "Rosaleen" of the dangers lurking outside the home, enabling Carter and Jordan to spin a number of folksy vignettes, all dressed up with Anton Furst's (future Oscar-winning production designer for Tim Burton's "Batman") unforgettabe art direction and George Fenton's outstanding score. "The Company of Wolves" isn't an overly "likeable" film, and some of its messaging is a little heavy-handed, but if you're looking for an atmospheric picture that looks spectacularly "filmic" in 4K, it comes highly recommended.
Shout! Factory's 4K UHD premieres a glorious new master licensed from ITC (1.66) with the original Dolby Stereo (2.0 DTS MA) sound and a number of new extras, notably interviews with George Fenton, who comments on the creation of his acclaimed soundtrack, along with actress Georgia Slowe. There's also an archival commentary with Jordan plus a Shout exclusive, new commentary featuring producer Chris Brown and stars Micha Bergese and Kathryn Pogson.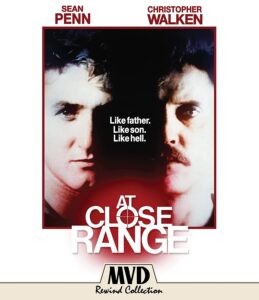 AT CLOSE RANGE Blu-Ray (115 mins., 1986, R; MVD Rewind): Sean Penn stars as the young son of a Pennsylvania psycho (Christopher Walken), who ends up joining his father in criminal activity along with his brother (Penn's real-life sibling, Chris). When the going gets tough, however, Walken's nutcase dad shows that he'll spare no one – not even his kin – in order to save his own skin.
James Foley directed "At Close Range," a strongly performed, atmospheric family crime saga based on a true story from the late '70s. Penn gives one of his better performances and Walken is downright creepy and believable in a role that ranks with some of his best work, while the wonderful Mary Stuart Masterson is notable in one of her earliest lead roles. "At Close Range," scripted by Nicholas Kazan, is hard to classify as "entertainment," as the picture's icy characters and disturbing elements make for a film that's occasionally uncomfortable to watch, yet those attributes also add to its authenticity.
Previously available as a Twilight Time title, "At Close Range" is back on Blu-Ray as part of the MVD Rewind Collection, reprising that disc's transfer (2.35, 2.0) and extras. These include a commentary with Foley and Nick Redman along with the trailer and an isolated score track of Patrick Leonard's ''80s score, which featured the hit Madonna song "Live To Tell" (Madonna and Penn, of course, were in the midst of their relationship at the time of its production).
Also new from MVD is SKI PATROL (91 mins., 1990, PG), a low-rent but still amusing 1990 knock-off of the "Police Academy" formula from the same producer, Paul Maslansky. This one offers the same tried-and-true slapstick gags and broadly comic performances with some future stars sprinkled in, including comedian George Lopez and future A-list comedy director Paul Feig. They're joined by the likes of T.K. Carter, the late Leslie Jordan, Ray Walston, Martin Mull, and forgettable leads Roger Rose and Yvette Nipar in a movie that functions now as a bona-fide kitchen sink hodge-podge of '80s comedy cliches. Yet, there's a genuine mirth and merriment on-hand in director Richard Correll's effort, which debuted to scant box-office in January of 1990 but managed to develop a tiny cult following that discovered it on video tape thereafter. MVD's MGM licensed catalog presentation (1.85, 2.0) is just fine with the trailer as its sole extra.
EARTH GIRLS ARE EASY Blu-Ray (100 mins., 1988, PG; Lionsgate): Julien Tempe's career never really took off after the failure of "Absolute Beginners" and this 1987 sci-fi musical comedy, produced by DeLaurentiis Entertainment Group before the studio filed for bankruptcy. Picked up by Vestron Pictures and reworked in post-production (reportedly doctored with reshoots and new songs), this innocuous slice of '80s fluff features beautician Geena Davis and pal Julie Brown (who also co-wrote) mixing it up with aliens played by Jeff Goldblum, Jim Carrey and Damon Wayans. The movie doesn't really come together but it's glossy, good looking fun, especially here in the Vestron Collector's Series Blu (2.35, 2.0 DTS MA). Terrific extras include interviews with Temple, Brown, cinematographer Oliver Stapleton, production designer Dennis Gassner, and makeup artist Robert Clark, plus deleted scenes, Brown's commentary, a digital copy, and full run of promo galleries and trailers.
---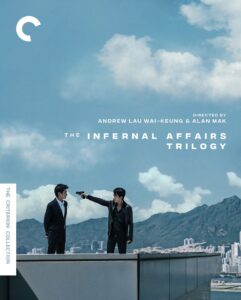 Also New & Noteworthy
THREE THOUSAND YEARS OF LONGING Blu-Ray (108 mins., 2022, R; Warner): George Miller's movies have been separated by years in their making, which makes this adaptation of an A.S. Byatt short story a point of interest for cinephiles…even though this is one of Miller's weaker, least interesting films, which might explain its non-existent box-office returns in the admitted graveyard of post-pandemic Hollywood. Tilda Swinton plays an academic who improbably meets Idris Elba's Djinn, possessing the ability to grant her three wishes, resulting in a personal odyssey that plays out with modest special effects and some visual flair – but it never kicks into another gear, with a regrettably weak conclusion. Warner is releasing this MGM release on Blu-Ray with a fine 1080p transfer and Dolby Atmos audio, but no extras at all (the title is also available on 4K UHD).
THE INFERNAL AFFAIRS TRILOGY Blu-Ray (Criterion): The original Hong Kong thriller that inspired Martin Scorsese's "The Departed" receives the 4K digital restoration treatment (101 mins., 2002) this month in a digipack along with its two follow-ups: "Infernal Affairs 2," which is a prequel to its predecessor (119 mins., 2003) while the third film (shot simultaneously) concludes the trilogy (118 mins., 2003). Crisp action and character interplay between stars Tony Leung Chiu-wai and Andy Lau Tak-wah, representing the different sides of Hong Kong's police and its criminal underbelly, make for a dynamic trilogy ranked highly by HK cinema devotees.
Criterion's magnificent Blu-Ray ought to be a must-have for any fan of the film. In addition to the restored 4K transfers (2.35), extras include commentaries by co-director Andrew Lau Wao-eung and Alan Mak on the first two films; an alternate ending on the original; new interviews with Mak and Lau; archival interviews with cast and crew; Making Of programs; behind-the-scenes footage, deleted scenes, outtakes, trailers, new English subtitle translations and an essay from critic Justin Chang.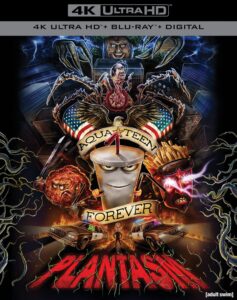 AQUA TEEN FOREVER: PLANTASM 4K UHD/Blu-Ray (76 mins., R, 2022; Warner): The Aqua Teens are back as Frylock, Shake, Meatwad and Carl team up to take down the vile Neil, Elmer, and everyone else at the corporate hell known as Amazin. All the original cast members return for this feature-length continuation of the Matt Maiellard-Dave Willis series, here in full 4K UHD (!) with HDR10 and 5.1 DTS MA sound. The accompanying Blu-Ray houses deleted scenes, a music video, behind the scenes material, and an alternative cut of the film, whole both the UHD and Blu-Ray offer a commentary with insights for fans. A Digital code, collectible slipcover and included poster round out the now-available combo pack from Warner.
TOM AND JERRY: SNOWMAN'S LAND DVD (76 mins., 2022; Warner): All-new animated movie pits Jerry and nephew Tuffy up against Tom and Dr. Doublevay, who are out to steal the magic from Jerry's magical pal Larry the Snow Mouse. While not a project that harkens back to the Golden Age of animation, at least the design style recalls the calls Hanna-Barbera cartoons of yore, with modest laughs that should appeal to kids. A 16:9 transfer and 5.1 sound, plus three bonus cartoons, are included in Warner's DVD, out November 29th.
THE OFFER DVD (541 mins., 2022; Paramount): Entertaining and well-mounted look at the behind-the-scenes turmoil that led up to the release of "The Godfather," from producer Albert S. Ruddy's involvement to the hiring of iconoclast director Francis Ford Coppola. Miles Teller, Dan Fogler, Matthew Goode and Giovanni Ribisi form a strong cast in a Paramount+ original series that you needn't be a huge fan of "The Godfather" to fully appreciate (though it helps!). Paramount's DVD includes deleted scenes, featurettes, a 16:9 transfer and 5.1 sound.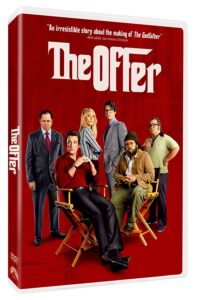 HONK FOR JESUS. SAVE YOUR SOUL Blu-Ray (103 mins., 2022, R; Universal): Adamma Ebo's satire offers the irresistible teaming of Regina Hall with "This Is Us" standout Sterling K. Moore – the duo playing a southern Baptist church's wife and her husband, the Pastor of a million-dollar generating enterprise, who suffer the consequences after a scandal rocks the duo and their congregation. Ebo's irreverent outing offers strong performances from the duo plus Nicole Beharie, late of the Fox series "Sleepy Hollow." Universal's Blu-Ray (1.78, 5.1 DTS MA) is now available with deleted scenes, a gag reel , alternate opening and Digital HD copy included.
Also new from Universal is BROS (116 mins., 2022, R), which offers Billy Fichner and Luke Macfarlane in a ribald Judd Apatow-produced comedy with a twist — the leads are gay men. Despite considerable press expended on promoting this fall Universal release, box-office returns were not existent — read what you will into that but the resulting film, beyond the premise, is a predictable reworking of past efforts from the Apatow stable, as "Forgetting Sarah Marshall" helmer Nicholas Stoller relies on a similar pattern of raunchy gags and "heartfelt" drama. Could it be that audiences (who have generally yet to return to the multiplex beyond the typical franchise blockbuster) are just uninterested in the formula? Universal's Blu-Ray (2.35, 5.1 DTS MA) is now available featuring deleted scenes, a gag reel, DVD and Digital HD copy.
JEEPERS CREEPERS REBORN Blu-Ray (88 mins., 2022; Screen Media): The Creeper is back in this ho-hum outing about a couple who head to a horror convention where the film's heroine starts having premonitions about the villain's actual rebirth. Low rent scares minus even the moody atmosphere of its previous installments, "Reborn" debuts on Blu-Ray this week in a no-frills Screen Media disc (1080p, 2.0/5.1).
NEXT TIME: A Kino Lorber Post-Thanksgiving Feast! Until then, don't forget to drop in on the official Aisle Seat Message Boards and direct any emails to our email address. Cheers everyone!